*We may earn a commission for purchases made using our links. Please see our disclosure to learn more.
A hybrid kayak paddleboard is amazing! These versatile watercraft combine the stability of a paddleboard with the functionality of a kayak, offering a unique and enjoyable experience for anyone that loves the water.

That's why – In this article, I will discuss the features, benefits, and factors to consider when choosing a kayak paddleboard hybrid. Additionally, I will give you my top 5 SUP kayak hybrids of 2024, providing detailed information and reasons for their selection.
But first, let's address the elephant in the room…
What Is A Hybrid Kayak Paddleboard?
Before delving into the specifics, it's essential to understand what a kayak paddleboard hybrid is.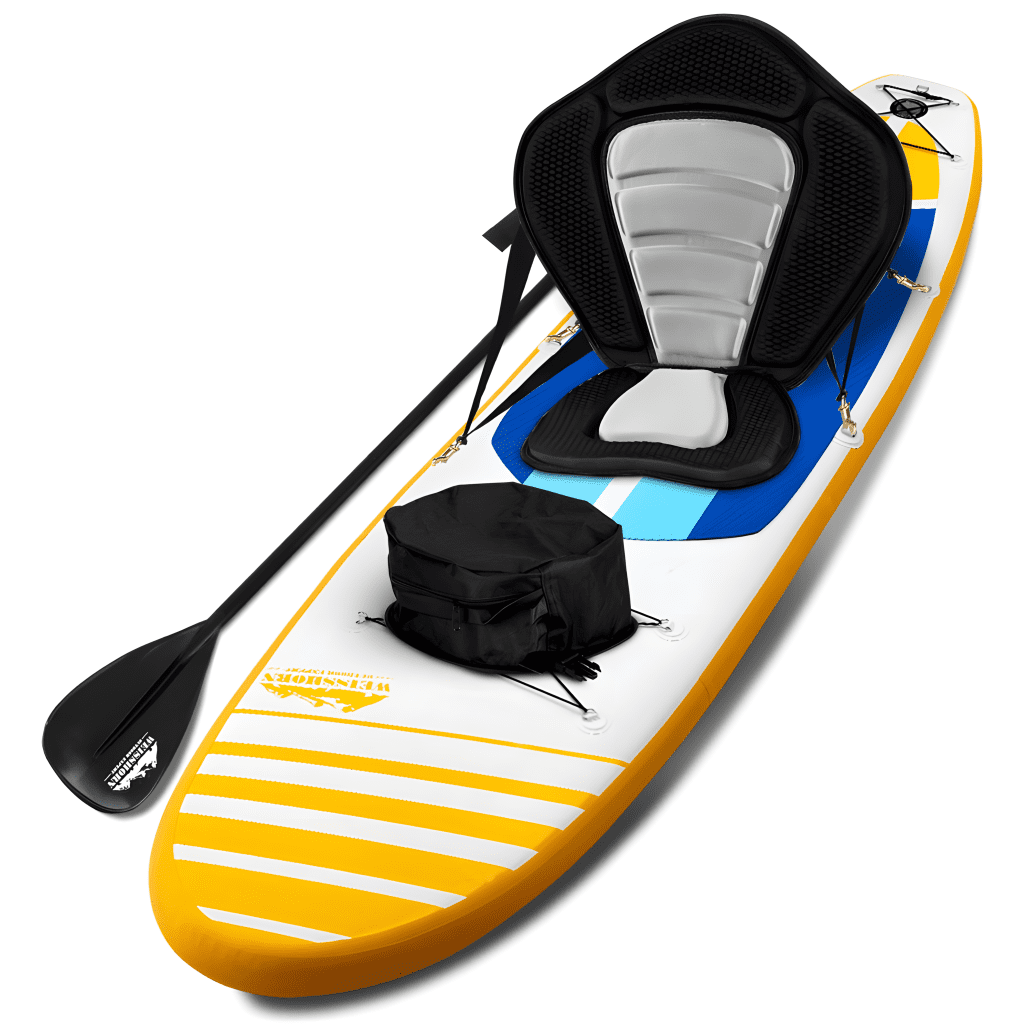 This innovative watercraft combines the design elements of a traditional paddleboard and a kayak, resulting in a versatile and multipurpose vessel. The hybrid features a wide and stable platform similar to a paddleboard, enabling users to stand and paddle comfortably. Additionally, it incorporates a seating area and footrests, allowing users to sit and paddle like they would in a kayak. The hybrid design offers flexibility and adaptability for various water activities, making it an ideal choice for enthusiasts seeking both tranquility and adventure on the water.
Benefits Of A Kayak Paddleboard Hybrid:
Versatility:
One of the key advantages of a kayak paddleboard hybrid is its versatility. Whether you prefer standing up and paddling, sitting down and paddling, or a combination of both, the hybrid design accommodates various preferences and activities.
Stability:
The wider platform of a kayak paddleboard hybrid provides excellent stability, making it suitable for beginners and those who value balance and ease of use.
Maneuverability:
The hybrid's design allows for easy maneuverability, enabling users to navigate through different water conditions and explore tight spaces with agility.
Storage capacity:
Many kayak paddleboard hybrids come equipped with storage compartments, allowing users to bring along essential gear, snacks, and personal items for extended adventures on the water. This let's you skip having to buy other accessories to make your trip fulfilling.
Fitness benefits:
Engaging in paddleboarding and kayaking activities offers numerous physical and mental health benefits, including improved cardiovascular fitness, enhanced core strength, and stress relief. You engage different muscle groups when you sit vs. stand so you can get easy relief from fatigue on longer paddle sessions.
So you can see that there is a LOT to love when it comes to getting a hybrid kayak paddleboard. They are a really great option for people that want to enjoy the best of both worlds when it comes to owning a kayak and paddleboard at the same time.
Top Hybrid Kayak Paddleboards Of 2024
Now when it comes to which is the best hybrid kayak paddleboard option for 90% of people, there are a few clear winners.
---
BEST HYBRID KAYAK PADDLEBOARD PACKAGE
---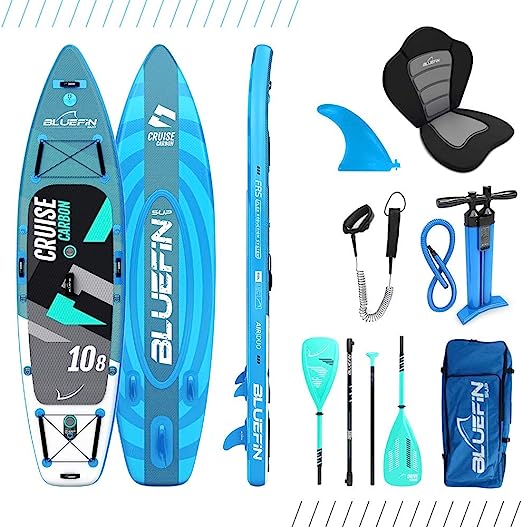 Where To Buy: Amazon
Key Features & Benefits:
– Contains everything you need to convert between a paddleboard and a kayak on demand

– High quality materials, budget friendly compared to other options and built by a great company.

– Includes a 5 year warranty in case you have any problems with it.
If you're searching for a high-performance and meticulously designed paddleboard, look no further than the Bluefin Cruise Carbon. It stands out from the rest with its precision construction and exceptional features.
One of the standout aspects of the Bluefin Cruise Carbon is its FRS (Flex Reduction System) carbon composite rail, which offers unparalleled strength and stability. The rail is created using robust carbon fiber rovings woven in a diagonal twill pattern. This unique 3K carbon fiber rail layer combines stiffness and flexibility, resulting in a lightweight material that ensures outstanding tension and rigidity. The carbon mid-rail is heat-welded between the internal and external rail tape, further enhancing its strength and performance.
Another remarkable feature is the Air Duo inflation system, a groundbreaking advancement in inflatable SUP construction. With an independent inflation loop inside the main air chamber, the Carbon model achieves remarkable rigidity, volume, and durability. The Carbon can even float on the inflation loop alone, making it a remarkable safety feature and contributing to its overall stiffness.
Furthermore, the Bluefin Cruise Carbon offers versatility with its kayak conversion kit. By utilizing the provided D-rings, you can easily transform your SUP into a kayak within seconds. Simply attach the comfortable padded seat and replace the SUP handle with the specialized kayak paddle blade. The integrated Helmlock attachment point is universal and provides a convenient way to capture your action-packed adventures with an Action Camera and Action Camera Mount (sold separately).
Technical Specs
Dimensions: 10.7 x 2.7 feet
Thickness: 6 inches
Materials: Drop-stitch nylon construction
Weight: 14.5 pounds
Weight Capacity: 287 pounds
PROS
CONS
– Included in a comprehensive beginner-friendly SUP package

– Lightweight and portable design, ensuring easy transportation

– Durable construction for long-lasting use

– Carbon fiber paddle for a lightweight and manageable paddling experience

– Two cargo areas for convenient storage of belongings

– Seat can be attached in multiple positions, providing flexibility and customization options
– The hybrid may feel slow in terms of speed

– Tracking ability may be lacking

– The center fin may fit loosely in its housing
---
BEST BUDGET-FRIENDLY HYBRID KAYAK PADDLEBOARD
---
Where To Buy: Amazon
Key Features & Benefits:
– Budget friendly hybrid that is great for beginners.

– Large board (10' x 33" x 6") makes it easy to balance and fun to ride for someone that just wants to paddle casually.

– Includes a 2 year warranty in case you have any problems with it.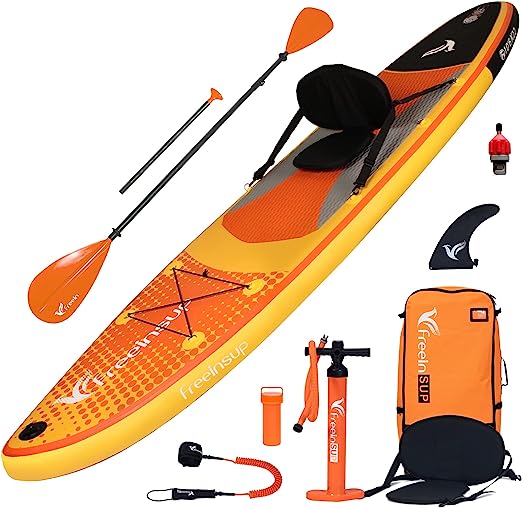 This board is perfect for beginners! The inclusion of a kayak seat ensures optimal balance and stability, catering specifically to beginners seeking a seamless paddling experience. And when the time comes for a more exhilarating adventure, simply detach the seat and it becomes a stand up paddleboard.
This board boasts an ultra-stable size of 10' x 33" x 6", so that it caters to beginners' needs. The large size makes it easy to balance on it so that the person riding it can immerse themselves into the paddling experience with confidence.
The board has an innovative D-ring design, enabling effortless attachment or removal of the kayak seat. This unique feature grants you the freedom to seamlessly switch between two distinct paddling modes, accommodating your preferences and style. The practical paddle, equipped with a buoyant foam insert, ensures easy floating on the water's surface.
It also includes a dedicated Go-pro base located at the front which is very convenient if you want to film your paddling (Go Pro not included)
It also includes a high-efficiency dual action pump, delivering swift and hassle-free inflation. Featuring two inflation modes, the hand pump enables you to inflate the board in 3-10 minutes (depending how strong you are). Additionally, the package includes an electric pump adapter so that you can connect the air valve of the SUP to an onboard electric pump. This convenient addition eliminates the need to purchase a separate pump, ensuring a seamless setup process.
Technical Specs
Dimensions: 10.6 x 2.6 feet
Thickness: 6 inches
Materials: PVC construction
Weight: 18.7 pounds
Weight Capacity: 286 pounds
PROS
CONS

– Great budget-friendly option

– Lightweight and easily portable in a travel backpack

– Complete package with all necessary accessories included

– Equipped with a two-plus-one fin setup for enhanced stability and maneuverability

– Built-in action camera mount for capturing your adventures

– Convenient bungee rigging for securing your belongings during paddling
– Tracking performance may be subpar without the fin

– The provided pump and paddle may not meet high-quality standards and may require replacement
---
BEST HYBRID KAYAK PADDLEBOARD FOR FISHING ENTHUSIASTS
---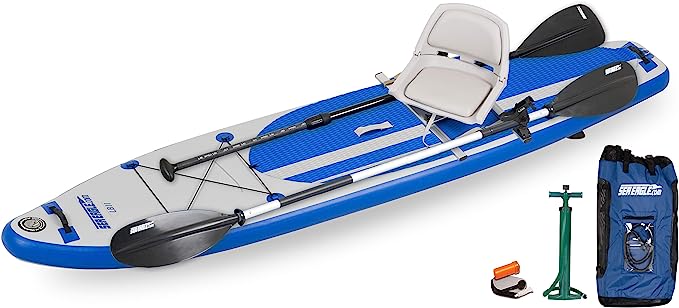 Where To Buy: Amazon
Key Features & Benefits:
– Has everything you need to switch between a SUP and kayak on demand.

– Has a great swivel chair and scotty rod holders that let you fish on your board.

– Extremely high quality and will last you for years (if you look after it)
The new Sea Eagle Inflatable LongBoard SUP Series gives you a truly versatile hybrid SUP experience! It lets you indulge in a wide range of activities including sitting, standing, surfing, fishing, touring, and even practicing yoga on this exceptional SUP hybrid.
It features a 6″ thick drop stitch material that enhances buoyancy, rigidity, and stability. But that's not all—It also includes a 4″ nose/entry rocker, followed by a subtle continuous board rocker, and concluding with a 2″ tail rocker. These combined attributes significantly elevate the overall performance, handling, and stability of the board allowing for seamless transitions between sitting, standing, surfing, and touring.
Equipped with a full-length EVA foam Diamond Deck Pad, this SUP offers great traction and foot comfort during for extended tours. The inclusion of a custom Performance Kick Tail serves to prevent slipping off the tail and assists with blind foot placement, ensuring a secure and confident riding experience. With conveniently placed front and rear grab handles, you have easy access and control wherever you need it. And let's not forget the Paddle Pocket, designed to keep your paddle securely in place.
Technical Specs
Dimensions: 11 x 2.5 feet
Thickness: 6 inches
Materials: 1100 Decitex Reinforced drop-stitch construction
Weight: 30 pounds
Weight Capacity: 200 pounds
PROS
CONS

– Two-plus-one fin setup allows for adaptability in various water conditions

– Lightweight construction facilitates effortless transportation and storage

– EVA foam deck pad enhances traction and promotes proper foot positioning

– High PSI inflation provides a rigid board feel akin to a hard board

– Complete package includes paddle, hand pump, carry bag, and repair kit
– This board will sink for the heavier riders because it has a relatively low weight capacity of 200 pounds.

– You can't remove the side fins which is very inconvenient
---
BEST PERFORMANCE HYBRID KAYAK PADDLEBOARD
---
Where To Buy: Amazon
Key Features & Benefits:
– Extremely high quality and easy to convert between a paddleboard and kayak.

– It has ample space for coolers and other accessories that will make your paddleboard experience better.

– 2 Year warranty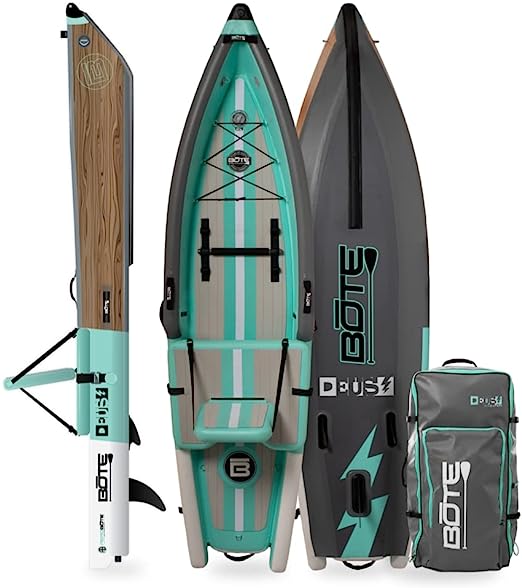 The Deus kayak paddleboard hybrid gives you a whole bunch of versatility with its design. It has a removable top chamber that lets it effortlessly transform from a kayak to a stand-up paddleboard, giving you the best of both worlds in one incredible watercraft.
Constructed using AeroBOTE Technology, the Deus is designed for convenience and portability. It easily converts from a travel bag into a 12'6″ kayak in just minutes. When it's time to hit the road, it packs down to a compact size of 39 × 18.5 × 11.5 inches and weighs only 50 lbs, fitting comfortably in its high-quality bag for hassle-free transportation.
The Deus is feature-rich, offering a customizable experience. With a removable seat back, foot bar, and top, you can tailor the setup to your preferences. The integrated D-rings provide convenient attachment points for securing your cooler, anchor, or rope, enhancing your overall experience on the water. The complete kit includes a roller bag, hand pump, center fin, foot bar, and repair kit, giving you everything you need to get started. All that's left is to grab your kayak or SUP paddle, and you're ready for endless adventures.
Technical Specs
Dimensions: 11 x 2.75 feet
Materials: Drop-stitch PVC construction
Weight: 50 pounds
Weight Capacity: 300 pounds
PROS
CONS
– It has a lowered point on the back that lets you easily climb on the board again after swimming

– The top chamber that is easy to remove makes this an AMAZING hybrid design

– It has ample space for your pets to come aboard

– The deck is textured, grippy and will be easy to stand on even when wet.
– It is a performance board so that means it's quite pricey.

– Be warned that it is pretty heavy once set up so this makes it a bit harder to transport.
---
BEST HYBRID KAYAK PADDLEBOARD FOR KIDS
---

Where To Buy: Amazon
Key Features & Benefits:
– This board will give your kids a fun and safe introduction to watersports.

– It has an elevated seat to prevent your kids from getting so wet when sitting on it.

– Has a lowered back that is perfect for helping young kids to get back on the board after swimming or falling into the water.
The Hi Five by Perception draws heavy inspiration from the award-winning design of its larger counterpart, the Hi Life 11. However, it has been specifically crafted as a child-friendly watercraft, retaining all the key characteristics and features that make the Hi Life 11 exceptional.
In my opinion, it truly stands out as one of the finest SUP-kayak hybrids designed exclusively for kids. Here's why:
This 6-foot watercraft offers a generous front deck area and a molded-in, elevated seat, ensuring a seamless transition between kayaking and paddleboarding. Moreover, the built-in tethering point allows your little one to relax while being towed around.
With its 8-inch thickness, the Hi Five sits higher in the water, which can help keep your children drier during their adventures.
Similar to its larger counterpart, the Hi Life 11, it features a swim-up deck platform that makes it easier for kids to climb back onboard after swimming.
Suitable for children aged 5 to 14, the board has a weight capacity of up to 120 pounds. It also incorporates Solo Mount accessory recesses, providing opportunities for customization and enhancing its versatility.
The Hi Five is a truly remarkable watercraft, offering children an exceptional experience on the water. With its child-friendly design and impressive features, it certainly lives up to Perception's claim of being the "ultimate kids' watercraft.
Technical Specs
Dimensions: 6 x 2 feet
Thickness: 8 inches
Materials: Polyethylene construction
Weight: 21 pounds
Weight Capacity: 120 pounds
PROS
CONS
– Has a large area that your child can use to stand up on

– It has a thicker design making it sit higher in the water for stability (and to prevent so much wetness)

– It has a front section that attaches to another board and lets you tow it

– Swim up platform at the back that makes it easy to get back onto the board from the water.
– The seat is hard (it has no padding)

– You need to buy a non-slip deck separately if you intend to use the board as a paddleboard.
Now that we have examined the top five kayak paddleboard hybrids individually, let's get into how to actually choose the right hybrid kayak paddleboard for your needs
Factors To Consider When Choosing A Kayak Paddleboard Hybrid:
When selecting the best kayak paddleboard hybrid for your needs, it's important to consider several factors:
SUP Kayak Dimensions & Weight Capacity:
When selecting a kayak paddleboard hybrid, it's crucial to consider the dimensions and weight capacity, regardless of whether you opt for a SUP, a kayak, or a combination of both. The size of the SUP plays a vital role in its performance and stability on the water. Factors such as length, width, and thickness contribute to the overall experience. Additionally, the dimensions also influence the weight of the hybrid. It's important to find a balance and avoid a SUP kayak that becomes overly burdensome to carry or transport to the water.
Equally important is the weight capacity of the hybrid. Typically, SUPs can support weights ranging from 200 to 500 pounds, depending on their construction and design. Hard SUPs generally have a lower load capacity, usually falling within the range of 200 to 300 pounds. On the other hand, inflatable SUPs tend to offer a bit more flexibility, with an average weight capacity of around 400 pounds. Considering your weight and any additional gear or equipment you plan to carry is essential to ensure the hybrid can accommodate your needs effectively.
By carefully assessing the dimensions and weight capacity of the kayak paddleboard hybrid, you can make an informed decision that aligns with your preferences and requirements, ensuring an enjoyable and comfortable experience on the water.
Intended Use & Your Experience Level:
Determine the primary activities you plan to engage in with your hybrid and assess your experience level BEFORE you buy a hybrid.
If you are a beginner – then you want to look a hybrid that offers stability and ease of use. You'll get this from a wider and more stable hybrid kayak paddleboard with all the accessories already included.
For specific activities like touring or fishing, choose a hybrid designed for those purposes so that you're not stuck with something that isn't going to give you exactly what you want.
It's also worth considering that SUP kayak hybrids are NO high-performance boards. They are more like all-rounders so if you're looking for performance specifically then it might be worth considering going for a specialized kayak or paddleboard to match your needs.
So it's really important that you decide what you want first – and then match those needs with a hybrid kayak paddleboard.
Additional Equipment & Versatility:
The versatility of SUP kayak hybrids is one of their standout features, although it's important to note that not all models offer the same level of versatility. Some hybrids excel in versatility due to the inclusion of specific features that enhance their adaptability.
Surprisingly, the level of versatility a hybrid SUP provides can be attributed to the presence and positioning of D-rings on the board. These metal rings serve as attachment points for various accessories, including a kayak seat and other equipment. Therefore, the number of D-rings on the board directly correlates to its versatility. A higher quantity of D-rings translates to increased possibilities for customization and attachment of additional gear.
Aside from D-rings, several other features and accessories contribute to the overall versatility of a hybrid SUP.
These include:
An adaptable, two-in-one paddle: Having a paddle that can be adjusted and used as both a kayak paddle and a SUP paddle adds convenience and versatility to your water adventures.
Removable fins for improved tracking performance: Fins play a crucial role in steering and stability. The ability to remove or adjust them allows for customization based on different water conditions and activities.
Multiple grab handles: Strategically placed grab handles make it easier to transport and maneuver the hybrid, especially when transitioning between paddleboarding and kayaking.
Rod holders (for fishing enthusiasts): Built-in rod holders provide a dedicated spot to secure fishing rods, enhancing the hybrid's suitability for fishing excursions.
Front and/or rear bungee rigging for onboard storage: Bungee rigging systems create secure storage areas on the hybrid, allowing you to bring along essential gear, snacks, or personal items.
Removable foot bar or brace (in kayak mode): This feature provides support and stability when paddling in kayak mode, ensuring a comfortable and efficient paddling experience.
A cushioned deck pad: A deck pad with cushioning improves traction, comfort, and foot positioning, enhancing overall stability and control during paddleboarding and kayaking activities.
By considering these additional features and must-have accessories, you can choose a hybrid SUP that offers a higher level of versatility, meeting your specific preferences and expanding the range of activities you can enjoy on the water.
Storage Capacity:
Assess the storage options available on the hybrid, considering whether it gives you the space that you need to store things like food, drinks and your cellphone while on board. This comes down to what you plan to do on your hybrid because if you're interested in touring (i.e. longer paddles) then it might be worth looking into a SUP cooler that can match your needs because it will be a more budget friendly option that investing in a hybrid kayak paddleboard with extra space. The choice is yours.
Durability and construction:
When considering a kayak paddleboard hybrid, the most popular and easily accessible option is an inflatable SUP hybrid. These hybrids essentially consist of inflatable paddle boards with a removable seat, and the addition of the seat significantly enhances the experience.
If you decide to go for an inflatable SUP hybrid, the predominant choice of material is PVC. However, it's important to pay attention to the overall quality and durability of the material used. Additionally, it is recommended to check whether the board is constructed using single or double drop-stitch technology, with the latter being the preferred option due to its enhanced strength and rigidity.
On the other hand, there are also rigid hybrid SUPs available, typically constructed from rotomolded polyethylene. These rigid hybrids tend to be heavier compared to their inflatable counterparts. However, they offer the advantage of increased robustness and durability. Additionally, their shape and design characteristics resemble that of a traditional kayak, providing a kayak-like experience on the water.
Regardless of the type of hybrid you choose, it is crucial to prioritize high-quality materials. The material used in the construction of the board directly influences its overall performance, weight, durability, lifespan, and price. Opting for a board made from premium materials ensures a great experience and long-term enjoyment of your hybrid.
Conclusion:
In conclusion, the kayak paddleboard hybrid is an excellent choice for water enthusiasts seeking a versatile and enjoyable experience on the water. With their combined features of stability, maneuverability, and adaptability, these hybrids offer a unique blend of paddleboarding and kayaking. Going for a hybrid option could well be the best choice for many people!
FAQs
What's the difference between a kayak and a paddleboard?
A kayak is a narrow and enclosed watercraft that requires sitting down and paddling with a double-bladed paddle. On the other hand, a paddleboard is a wider and more stable platform that allows users to stand up and paddle with a single-bladed paddle.
Can beginners use a kayak paddleboard hybrid?
Absolutely! Kayak paddleboard hybrids are suitable for beginners, offering excellent stability and ease of use. They provide a gradual transition for those new to paddleboarding or kayaking, allowing users to start with more stability and eventually progress to standing and paddling.
How much does a kayak paddleboard hybrid cost?
The cost of a kayak paddleboard hybrid varies depending on the brand, features, and quality. Entry-level hybrids may start around $500, while more advanced models can range from $1,000 to $3,000 or more.
Can I use a kayak paddleboard hybrid for fishing?
Yes, many kayak paddleboard hybrids are designed with fishing in mind. They often feature built-in fishing rod holders, accessory mounts, and ample storage space for fishing gear.
Do kayak paddleboard hybrids require any special maintenance?
While kayak paddleboard hybrids generally require minimal maintenance, it's important to rinse them with fresh water after each use to remove saltwater or debris. Additionally, inspecting and tightening any hardware and storing the hybrid properly can help prolong its lifespan.