*We may earn a commission for purchases made using our links. Please see our disclosure to learn more.
Ride the Wave of Excitement!
Are you ready to make a splash in 2023? Paddleboard enthusiasts, hold onto your boards because this year's paddleboard events and competitions promise to be bigger and better than ever before! Whether you're a seasoned pro or a newbie eager to dip your toes in the water, join us as we ride the wave of excitement and dive into the world of paddleboard events in 2023.
The Thrill of the Paddleboard Competition
Picture this: You're on your trusty paddleboard, gliding gracefully over the glistening water, surrounded by a group of fellow enthusiasts. The sun is shining, the wind is in your hair, and the sense of camaraderie is palpable. That's the magic of paddleboard events and competitions.
Why should you get in on the action? Well, here's the scoop:
1. Fun and Adventure: Paddleboard events are all about fun and adventure. It's a chance to challenge yourself, meet new people, and explore stunning waterways.
2. Skill Enhancement: Competing pushes your skills to the limit. Whether you're into racing, freestyle, or endurance challenges, there's always room for improvement.
3. Community: Paddleboard events bring together a community of like-minded individuals who share your passion for the sport. It's a fantastic way to connect with fellow paddleboard enthusiasts.
4. Stunning Locations: Many events are held in picturesque locations, making it an opportunity to enjoy breathtaking scenery while doing what you love.
5. Prizes and Glory: Who doesn't love a bit of friendly competition? Many events offer prizes, and you could even earn bragging rights as the champion!
Noteworthy Paddleboard Events in 2023
Now that you're pumped up about paddleboard competitions, let's take a sneak peek at some of the most exciting events happening in 2023:
1. PaddlePalooza 2023
When: June 10th-12th
Where: Miami, Florida
What: This three-day festival includes races, yoga sessions, and even a paddleboard parade. It's a blend of sport and celebration in the Sunshine State!
2. SUP Surf Pro 2023
When: August 5th-7th
Where: Oahu, Hawaii
What: If catching waves on your paddleboard sounds thrilling, this event is for you. Watch pros showcase their skills or join the competition if you're up for the challenge.
If you're open to an adventure yourself then one of the best things to do on Oahu is to SUP to Chinaman's Hat and then hike it.
3. The Great Lakes Expedition
When: September 15th-20th
Where: The Great Lakes
What: An epic multi-day adventure for those seeking the ultimate paddleboard journey. Explore the stunning Great Lakes while bonding with fellow adventurers.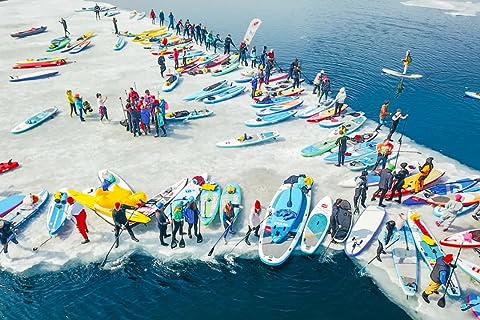 4. River Rumble SUP Race
When: October 7th-9th
Where: Chattanooga, Tennessee
What: A thrilling race through the beautiful Tennessee River Gorge, suitable for all skill levels. Expect challenging rapids and breathtaking scenery.
5. SUP Yoga Fest
When: November 18th-20th
Where: San Diego, California
What: Combine your love for yoga and paddleboarding in this serene and revitalizing event. Namaste on the water!
6. SUP Race Clinic
When: November 29th- December 3rd
Where: Bangalore, India
What: This is a new SUP race clinic that is being help for the first time to try and bring paddleboarding to India. This is a big deal! So if you want to take a trip to Bangalore to experience this for yourself, then it will most likely be a life changing adventure.
Preparing for Paddleboard Competitions
Ready to take the plunge and participate in these events? Here are some tips to help you prepare:
1. Training: Build your strength, stamina, and paddleboarding skills. Practice regularly to ensure you're in peak condition.
2. Gear: Invest in a quality paddleboard and the right equipment for your chosen event. Don't forget safety gear like a life jacket and leash.
3. Nutrition: Fuel your body with a balanced diet to ensure you have the energy needed for competition day.
4. Mental Preparation: Stay calm and focused. Visualization techniques can help you mentally prepare for the challenges ahead.
5. Registration: Be sure to register for your chosen event well