*We may earn a commission for purchases made using our links. Please see our disclosure to learn more.
Are you ready to embark on a thrilling paddleboarding adventure? Look no further than Mission Bay! As a passionate paddleboarding enthusiast and advisor, I'm here to provide you with all the information you need to know about paddleboarding in Mission Bay. From exploring the scenic beauty to choosing the right equipment and ensuring your safety, this article will guide you through every aspect of paddleboarding in this stunning location. Let's dive in!
Exploring the Beauty of Mission Bay
Mission Bay, nestled in the heart of San Diego, is a paddler's paradise. Its calm and protected waters make it an ideal spot for paddleboarding. With over 4,200 acres of water and 27 miles of shoreline, Mission Bay offers breathtaking views, abundant marine life, and it is an amazing place to explore. From tranquil lagoons to trendy taverns, there's truly something for everyone!
Getting Started with Paddleboarding in Mission Bay:
If you're new to paddleboarding, Mission Bay is a fantastic place to begin your journey. The calm waters provide a gentle learning environment, making it easier for beginners to find their balance and get comfortable on the board. Whether you choose to paddleboard solo or join a guided tour, Mission Bay offers options for all skill levels.
Choosing the Right Equipment
Before you hit the waters of Mission Bay, it's crucial to choose the right paddleboarding equipment. When renting or purchasing a paddleboard, consider factors such as size, stability, and maneuverability. Beginners may prefer wider and more stable boards, while experienced paddlers might opt for sleeker and faster models. Additionally, don't forget to invest in a proper paddle and safety gear, including a leash and a personal flotation device (PFD).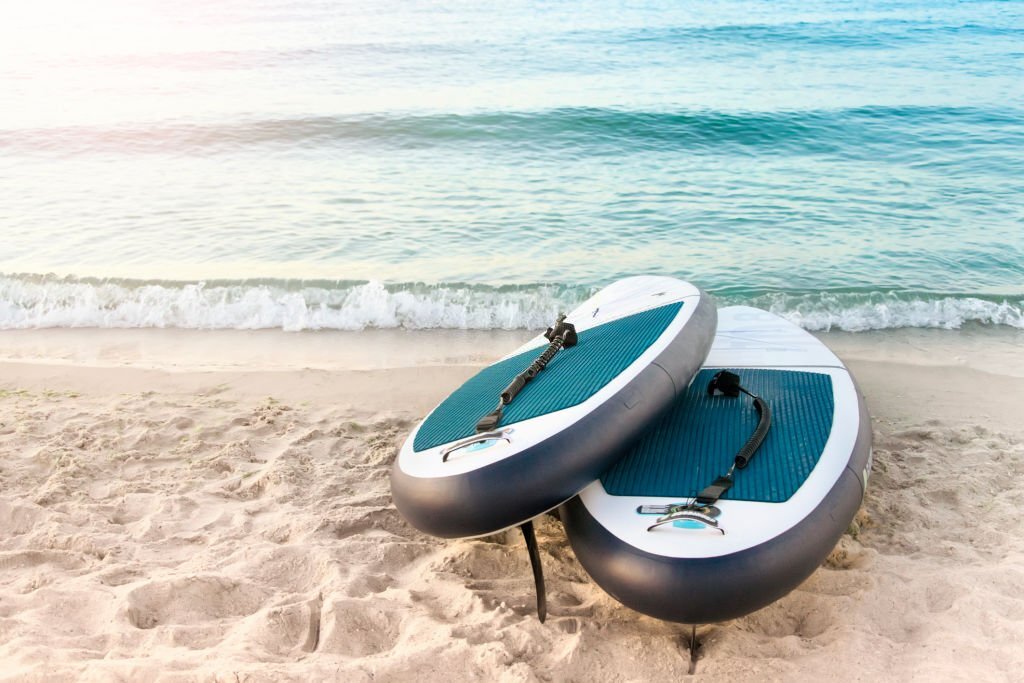 Safety Tips:
While paddleboarding is a fun and rewarding activity, safety should always be a top priority. Here are some essential safety tips to keep in mind when paddleboarding in Mission Bay:
Wear a PFD: Always wear a properly fitted personal flotation device (PFD) when paddleboarding, regardless of your swimming abilities.
My Recommendation: Onyx MoveVent Life Vest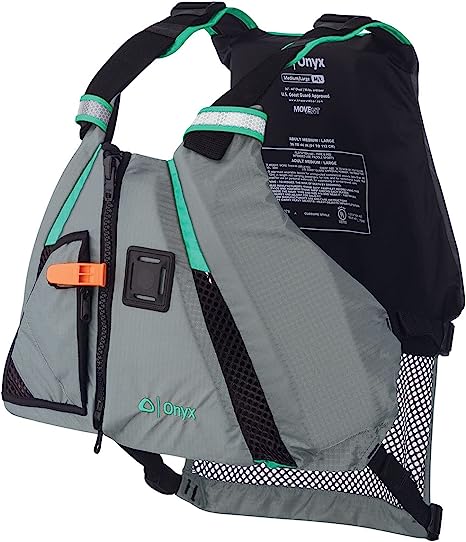 The best thing about this life jacket is that it's specifically designed for paddling! Mobility is everything and this will let you paddle without being obstructed on every stroke. It also has ventilation panels in the front and back to keep you cool. And the best part? Because of it's design it actually stays in place when you're paddling.
Check the Weather and Tides: Before heading out, check the weather forecast and tide conditions. Avoid paddleboarding in strong winds, high waves, or during hazardous weather conditions.
You can check out the 7-day weather forecasts here.
Learn Proper Techniques: Take the time to learn and practice proper paddleboarding techniques, including how to fall safely, maneuver the board, and navigate through different water conditions.
Be Aware of Your Surroundings: Stay alert and be aware of other watercraft, swimmers, and potential hazards in Mission Bay. Respect wildlife and protected areas, and maintain a safe distance from marine animals.
Buddy System: Whenever possible, paddle with a buddy or inform someone about your paddleboarding plans, including your estimated time of return.
Best Times to Paddleboard in Mission Bay
Mission Bay offers fantastic paddleboarding opportunities year-round. However, certain times of the day and year provide optimal conditions. Early mornings and late afternoons often offer calmer waters and beautiful lighting for a serene paddleboarding experience. Additionally, weekdays tend to be less crowded than weekends, providing a more peaceful and enjoyable outing.
Mission Bay's 10 Best Paddleboarding Locations:
Mission Bay is not only about paddleboarding on its open waters but also about discovering its hidden gems. Here are 12 of the best spots to for paddleboarding in mission bay.
Sail Bay:
Sail Bay is a popular paddleboarding destination known for its calm waters and stunning views. Paddle along the picturesque shoreline and enjoy the peaceful ambiance.
Location: Google Maps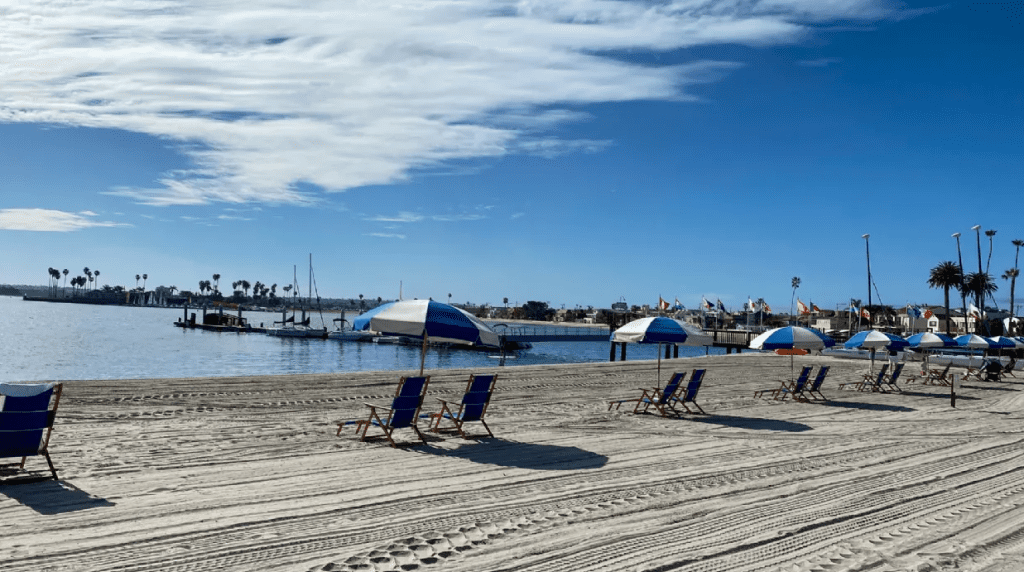 Mariner's Basin:
Mariner's Basin offers a scenic and serene setting for paddleboarding. Explore the calm waters and soak in the natural beauty of the surrounding landscape.
Location: Google Maps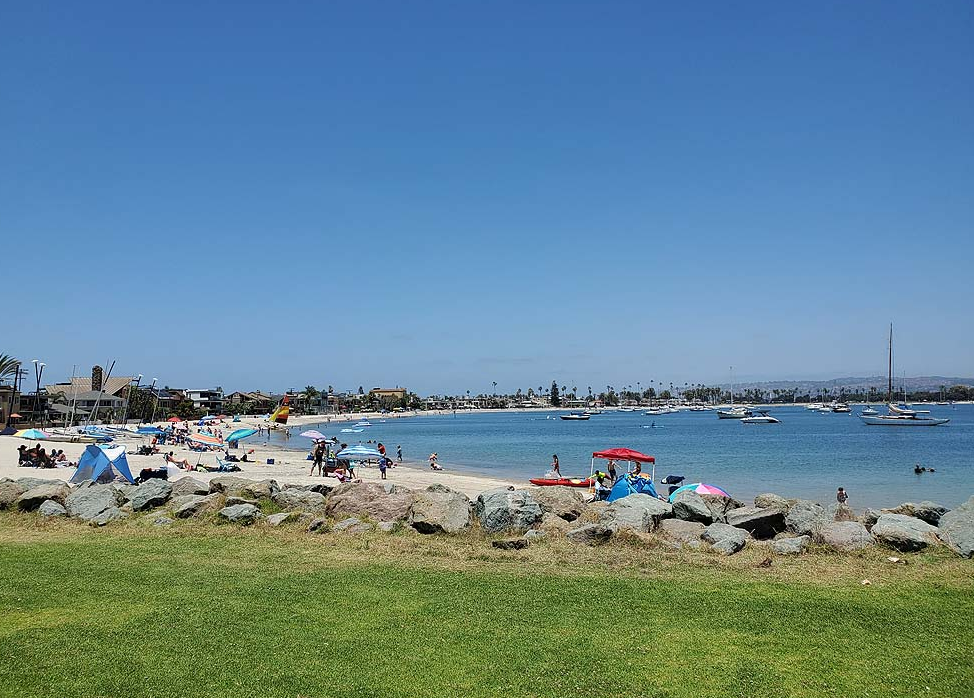 Santa Clara Point:
Located on the eastern shore of Mission Bay, Santa Clara Point is a fantastic spot for paddleboarding. With its sandy beach and gentle waves, it's perfect for beginners and experienced paddlers alike.
Location: Google Maps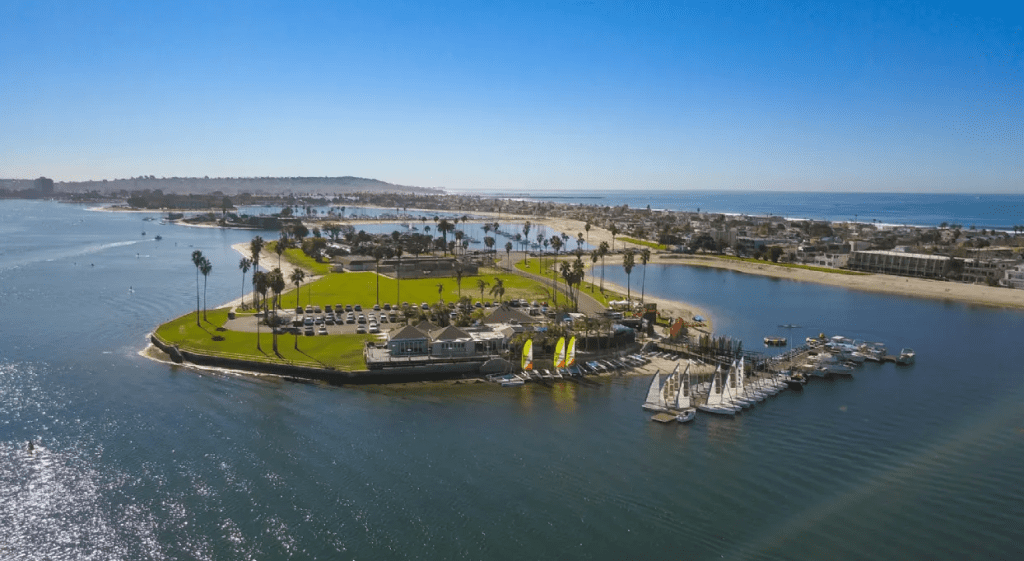 Crown Point:
Crown Point is a hidden gem in Mission Bay, offering a tranquil and less crowded paddleboarding experience. Enjoy the beauty of the bay and take in the panoramic views.
Location: Google Maps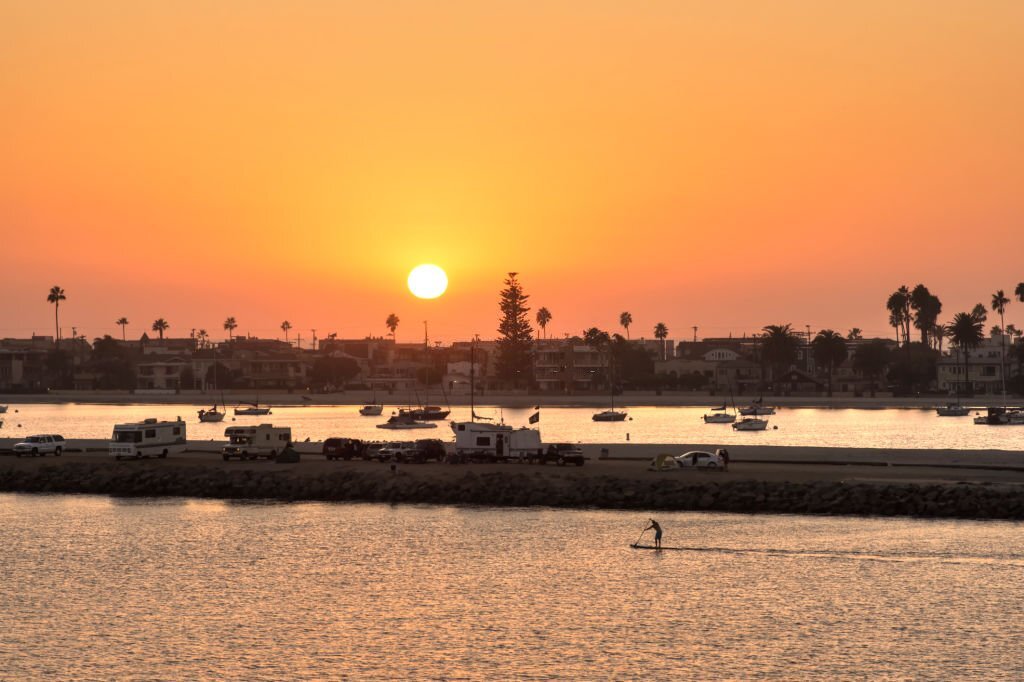 Fiesta Island:
Fiesta Island is a must-visit location for paddleboarding enthusiasts. With its expansive sandy beaches and calm waters, it provides ample space for paddling and exploring. Plus the happy doggo's are just an extra!
Location: Google Maps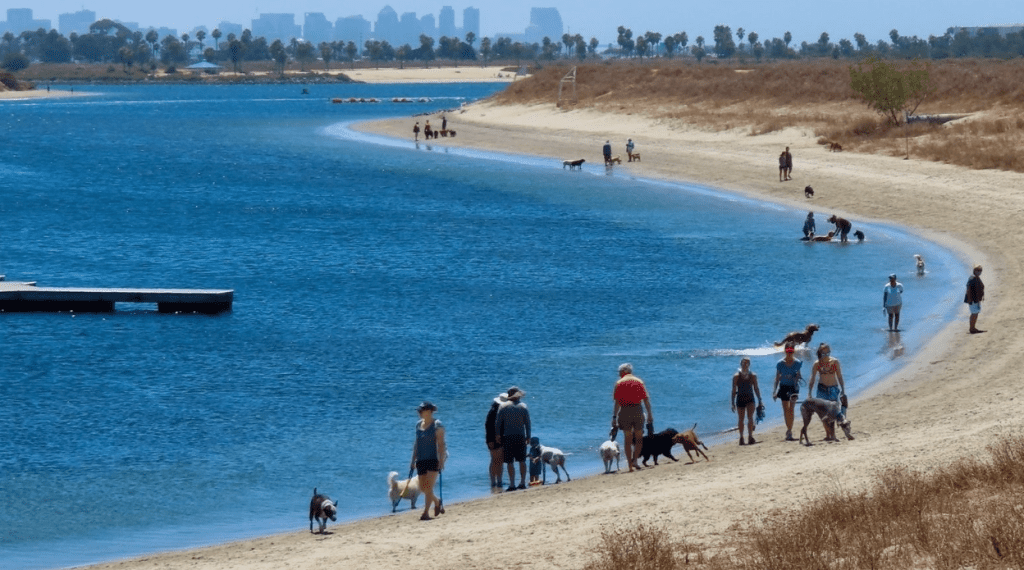 De Anza Cove:
De Anza Cove is a popular launch point for paddleboarding adventures. Its protected cove offers a safe and enjoyable experience, especially for beginners and families.
Location: Google Maps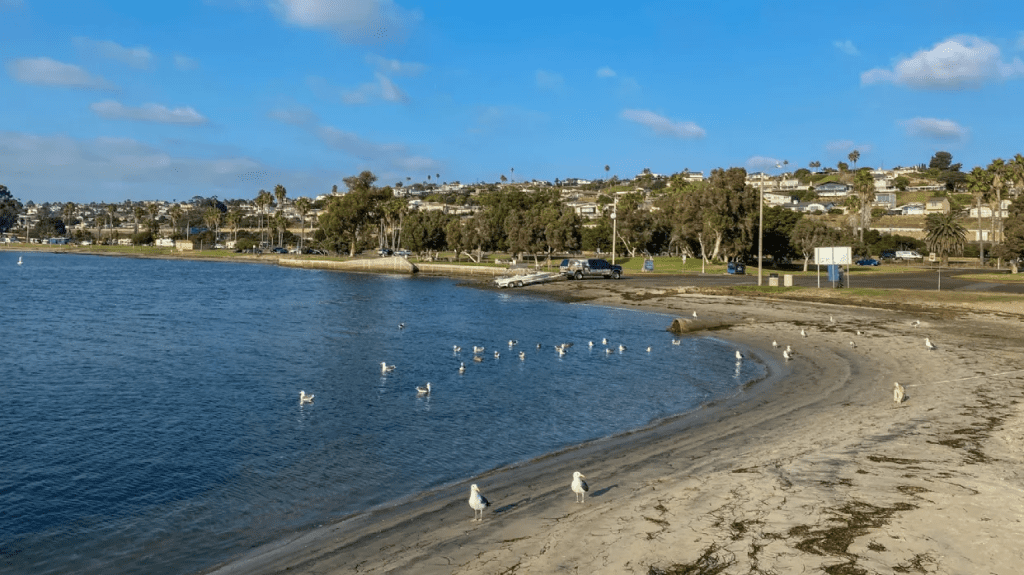 Vacation Isle:
Situated on the northwestern side of Mission Bay, Vacation Isle offers a variety of water activities, including paddleboarding. Enjoy the scenic surroundings and paddle along its shores.
Location: Google Maps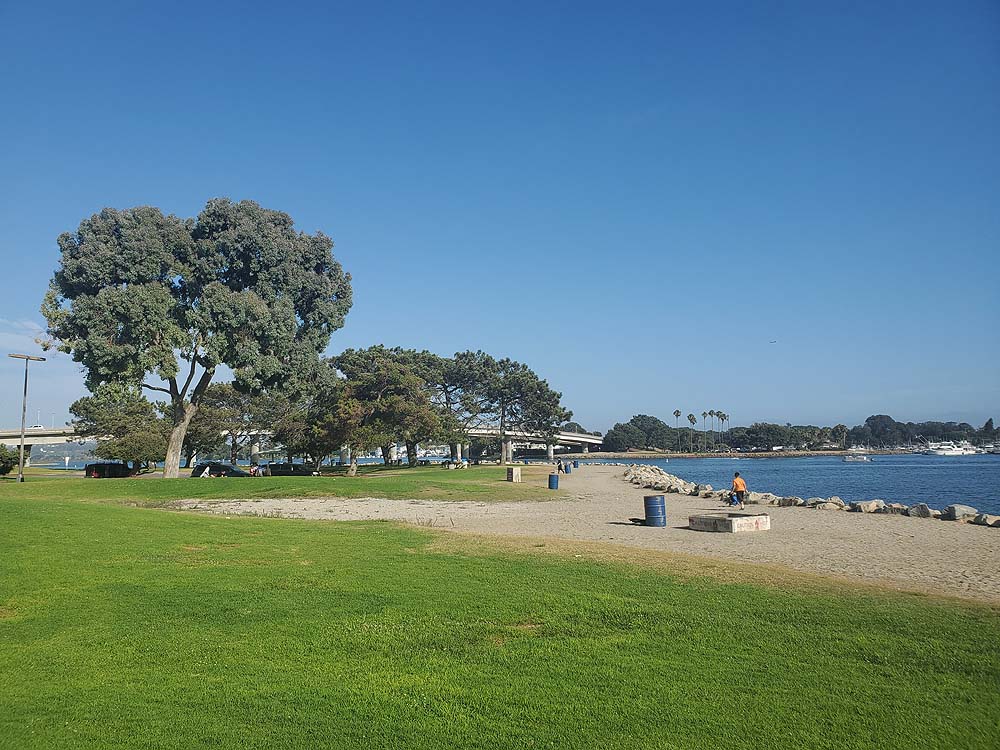 Bonita Cove:
Bonita Cove is a beautiful spot for paddleboarding with its calm waters and sandy beach. It's a great place to launch your board and explore the bay's scenic wonders.
Location: Google Maps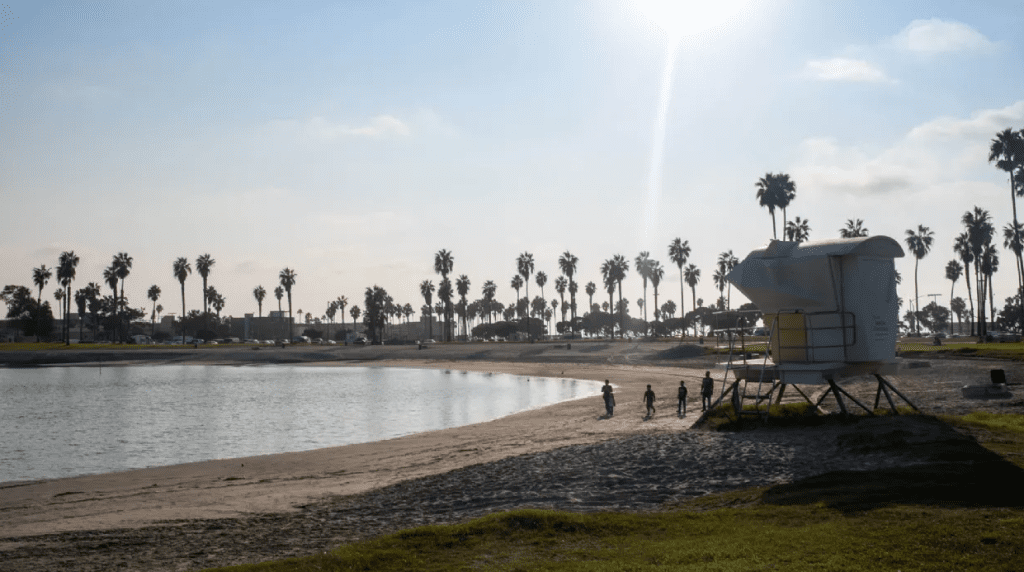 Mariner's Point:
Mariner's Point is an excellent location for paddleboarding enthusiasts. With its convenient launch area and stunning views, it provides a memorable experience on the water.
Location: Google Maps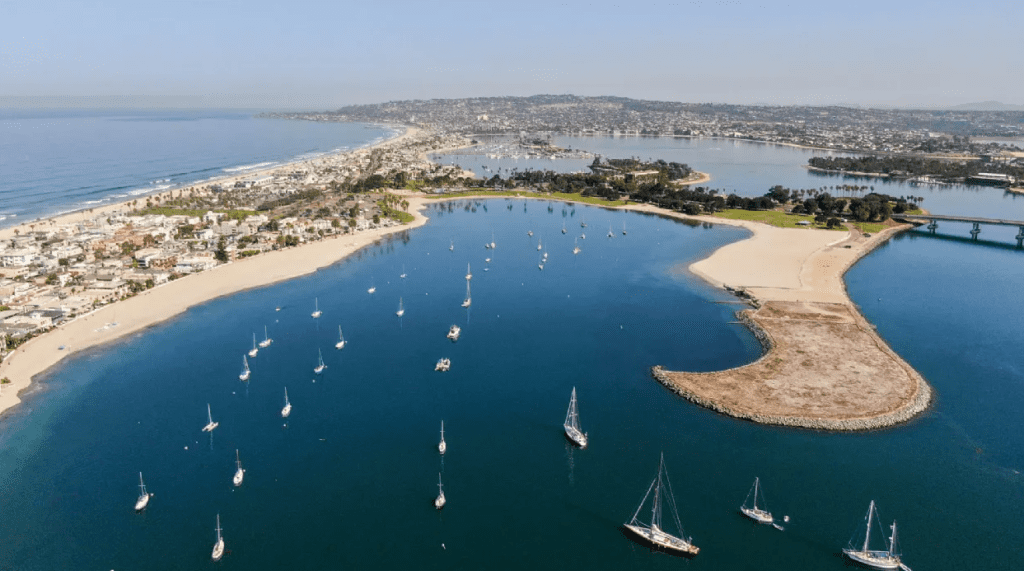 North Cove:
North Cove is a peaceful and less crowded area in Mission Bay, making it an ideal place for a serene paddleboarding session. Enjoy the tranquility and connect with nature.
Location: Google Maps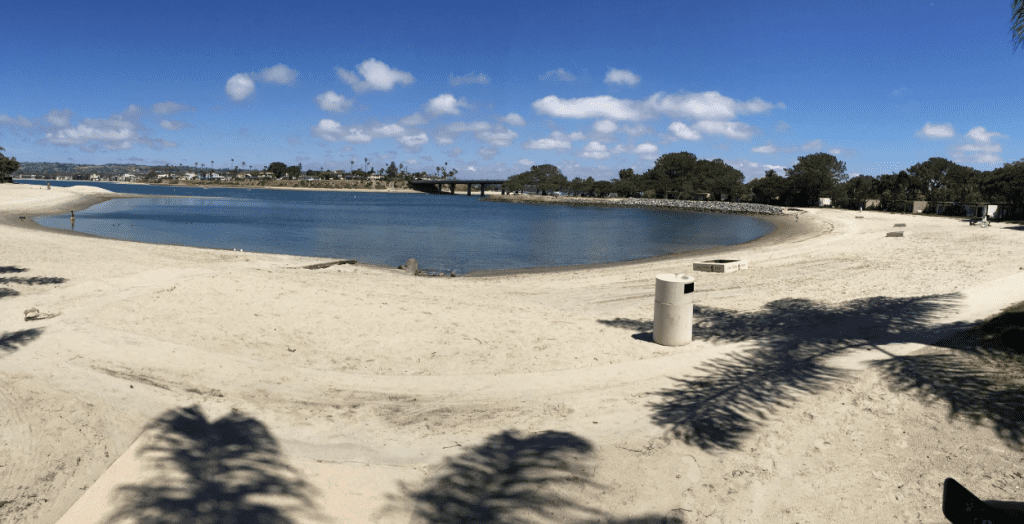 Remember to always check local regulations and guidelines before paddleboarding in these locations. Stay safe, respect the environment, and have a fantastic time exploring the best paddleboarding spots in Mission Bay!
And if you want more information about Mission Bay beaches then this is an amazing website for you to do some research.
Paddleboarding Tours and Lessons in Mission Bay
For those seeking a guided paddleboarding experience or looking to improve their skills, Mission Bay offers a range of paddleboarding tours and lessons. Joining a tour or taking lessons can provide valuable insights, enhance your technique, and allow you to explore the bay's most captivating spots under the guidance of experienced instructors.
Places to Rent Paddleboarding Equipment:
When it comes to paddleboard rentals in Mission Bay, there are several options to choose from. Here are some of the top rental companies and their prices:
Paddleboard San Diego: Located in Fanuel Street Park, they offer weekday rentals. Prices range from $25 for one hour to $50 for a 3-hour session. It's a convenient spot to experience paddleboarding.
Hui Hui Stand Up Paddleboard Rentals: Found near Sail Bay, they provide rentals at $45 for 4 hours or $70 for 8 hours. It's a great opportunity to explore the beauty of Sail Bay on a paddleboard.
Mission Bay Aquatic Center: Located at Santa Clara Point, they offer rentals at $28 for a 2.5-hour session. Alternatively, you can opt for a monthly membership of $29 (minimum 4 months) and enjoy a daily 2.5-hour rental. Plus, they even provide a complimentary rental on your birthday!
Action Sport Rental: Found at the Bahia, the Catamaran, and Paradise Point, they offer different rental durations. You can try it out for just $25 for one hour. If you're looking for more time, they have options such as $45 for 2 hours, $75 for 4 hours, and $100 for a full 8-hour day.
Cheap Rentals: Situated on Mission Blvd., they offer pocket-friendly prices. Rent a paddleboard for $15 per hour, $40 for the entire day, $50 for 24 hours, $100 for 4 days, or $150 for a week-long adventure.
Mission Bay Sportcenter: Located at Santa Clara Point, they have affordable rates starting at $18 for one hour. You can also choose from options like $36 for 2 hours, $54 for 4 hours, or spend the entire day for $75.
These rental companies offer different rates and locations, allowing you to choose the one that suits your preferences and budget. Whether it's for a few hours or a full day, renting a paddleboard in Mission Bay provides an exciting opportunity to explore the stunning waters and enjoy a memorable experience.
Tips for a Memorable Paddleboarding Experience in Mission Bay
To make your paddleboarding adventure in Mission Bay truly unforgettable, here are a few additional tips:
Capture the Moment: Bring a waterproof camera or use a smartphone case to capture stunning photos of your paddleboarding experience and the natural beauty of Mission Bay.
Pack Essentials: Don't forget to bring essentials such as sunscreen, a hat, sunglasses, drinking water, and snacks to stay protected and energized during your paddleboarding excursion.
Respect the Environment: As a responsible paddleboarder, respect the environment and practice Leave No Trace principles. Dispose of trash properly and avoid disturbing wildlife or damaging sensitive habitats.
Conclusion
Paddleboarding in Mission Bay is an incredible experience that combines adventure, tranquility, and the beauty of nature. Whether you're a beginner or an experienced paddler, Mission Bay offers the perfect setting to explore and enjoy this popular watersport. By following the safety tips, choosing the right equipment, and immersing yourself in the stunning surroundings, you're bound to create unforgettable memories on your paddleboarding journey in Mission Bay.
FAQs: Paddleboarding Mission Bay
Are there any age restrictions for paddleboarding in Mission Bay?
Paddleboarding in Mission Bay is suitable for all ages. However, it's essential to ensure that children are accompanied by adults and wear appropriate safety gear.
Can I bring my dog along for a paddleboarding adventure in Mission Bay?
Yes, many paddleboarding enthusiasts enjoy bringing their dogs along for the adventure. Just make sure your furry friend is comfortable around water and wears a canine life jacket for added safety.
Wear comfortable, moisture-wicking clothing that allows for ease of movement. Consider wearing a swimsuit or quick-drying shorts and a rash guard to protect against sun exposure. For more information on what to wear, read this article.
Can I paddleboard in Mission Bay during winter months?
Yes, paddleboarding is possible throughout the year in Mission Bay. However, water and air temperatures may be cooler during the winter months, so it's advisable to wear appropriate layers and consider a wetsuit for added warmth.
Are there any rules or regulations I need to follow when paddleboarding in Mission Bay?
While paddleboarding in Mission Bay, it's important to abide by local rules and regulations. Familiarize yourself with any specific guidelines regarding speed limits, navigation, and areas designated for paddleboarding to ensure a safe and enjoyable experience.