*We may earn a commission for purchases made using our links. Please see our disclosure to learn more.
I'll be honest… I really like the Body Glove paddleboard – The Body Glove Performer 11. It's a versatile SUP that can be used in many locations and by different skill levels.
That's why in this article – I'm going to be doing a detailed review on the this inflatable SUP so that you have all the information you need to decide if it is right for you.
Let's jump into the review 🙂
A Summary Of The Body Glove Paddleboard Package
Body Glove is well known for being a top watersports apparel and accessories company that was originally founded in America by twin brothers Bill and Bob Meistrell. They have devoted their entire lives to creating the best possible watersports equipment that they can, and their paddleboards are no different.
Their new range of Body Glove Performer 11's are a great SUP range that can be used by adults and kids alike (it was specifically designed for families) and it is very easy to use and responsive on the water.
Where To Buy: Amazon
Detailed Specs:
Length: 11'
Max Load: 320 lb.
Width: 34"
Weight: 24 lb.
Thickness: 6"
You can see that the Body Glove Performer has a very unique and interesting design attached to it in the most recent model. It is fairly wide at the center (34″) and then it dramatically tapers in the nose giving it a sharp and pointed shape.
The pupose of this design is the give you enhanced stability with the width, but then the sharp nose is meant to give it maneuverability and the ability to cut through choppy waters waters without feeling slugglish and difficult to manage.
This paddleboard is best suited for cruising, flat water and for families that want to use it at their vacation homes. I wouldn't categorize it as a high-performance (advanced) paddleboard.
It also comes as a complete package that includes the following items:
11′ Body Glove Paddleboard (Performer Model)
Backpack Carry Bag
3-Piece Paddle
Paddleboard Leash
Dual Action Hand Pump
Repair Kit
Dry Bag For Your Cellphone
It comes as a full set that contains everything that you need to use the SUP and get out in the water.
PROS
CONS
– Lightweight and easy to carry

– Includes everything you need in one complete package (no life jacket included)

– Easy to maneuver and responsive in the water

– Has a reinforced bumper on the nose that adds durability.

– Great for all levels

– Affordable price
– Is missing grab handles in the frton and back

– There have been issues with the side seams becoming unstuck and being required to be glued

– The 4.5″ fins can make it a bit harder to track if you're paddling fast.
So that's a quick summary of everything that we will be covering in the article.
Best Place To Buy: Amazon
If you prefer watching a video then this is a great unboxing video:
Body Glove Paddleboard Performer 11 – In Depth Information
Let's jump into a more detailed review on the new Body Glove paddleboard range so that you can get an idea of exactly what you're buying.
The Board: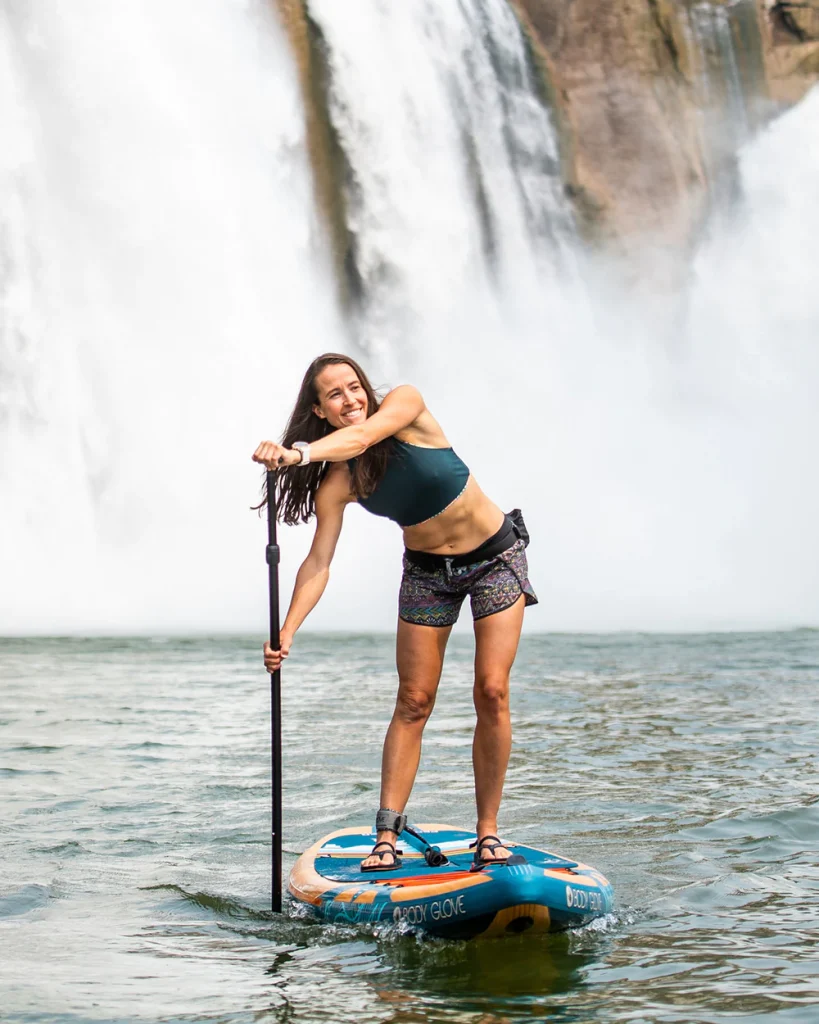 Body Glove's latest offering, the Performer SUP, boasts an intricately designed drop-stitch construction that showcases an elegant wood grain pattern on both the SUP and paddle blade. A burst of vibrancy is introduced through chevron stripes, while a 2024 addition comes in the form of laser-engraved foot placement guides on the EVA deck pad, contributing to an engaging and dynamic aesthetic. However, aesthetics are just the tip of the iceberg.
Stretching 11 feet in length, this SUP is equipped with front bungee storage, albeit lacking rear storage capacity. It's worth noting that the front storage space is slightly more modest compared to our experiences with other tested SUPs. Nonetheless, Body Glove compensates by incorporating two compact D-rings on either side at the rear of the board, providing the means to secure larger items like a cooler.
The Fins:
Paddleboard manufacturers usually take one of two routes when configuring their fin setups: a solitary center fin plate or a trio of fins. Additionally, they make a choice between two types of fin attachment methods: snap/slide-in or screwplate fins. The latter involves manually tightening a small screw and washer within a track to secure the fin.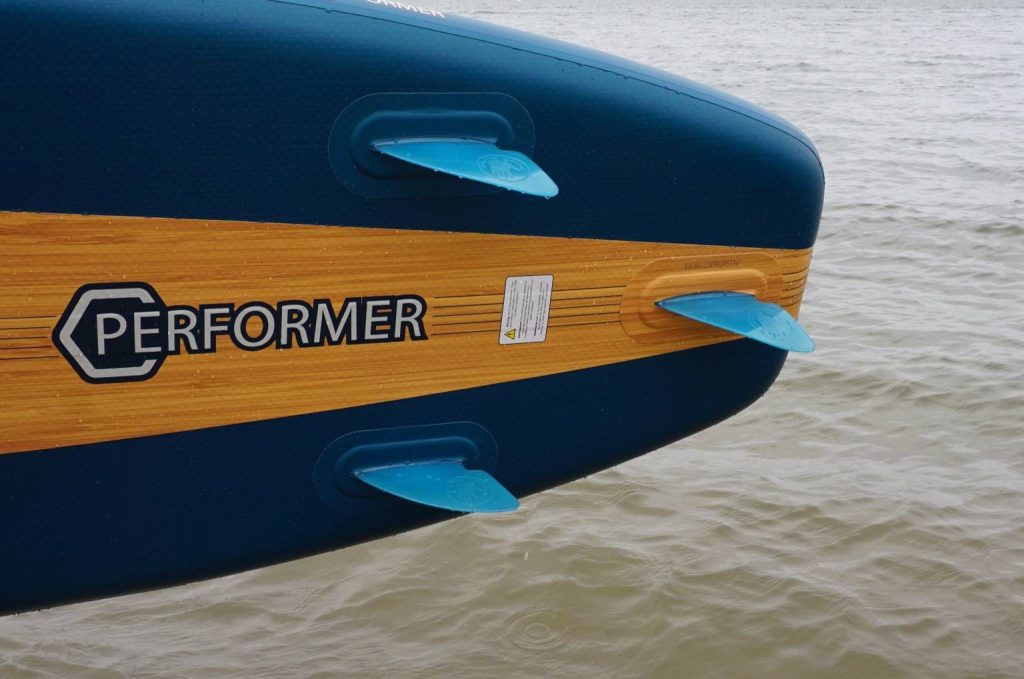 In a less conventional approach, Body Glove opted for a rubber polymer, permanent fin setup. Unlike other options, there's no hassle of installation or the risk of misplacing these fins. They're designed to stay affixed to the board and exhibit some flexibility to endure minor collisions and bends when rolling up the SUP for storage.
Performance-wise, the fins served me adequately. They excelled in propelling and maneuvering the board, although their tracking abilities left something to be desired. This can be attributed to their inherent pliability.
Such fin arrangements are seldom witnessed in inflatable SUPs, making it an intriguing experience to put them to the test. Nevertheless, their influence on performance is noticeable. Despite the flexible fins, the SUP itself maintains commendable rigidity, similar to other inflatables, resulting in a stable and balanced experience on the water.
The Accessories: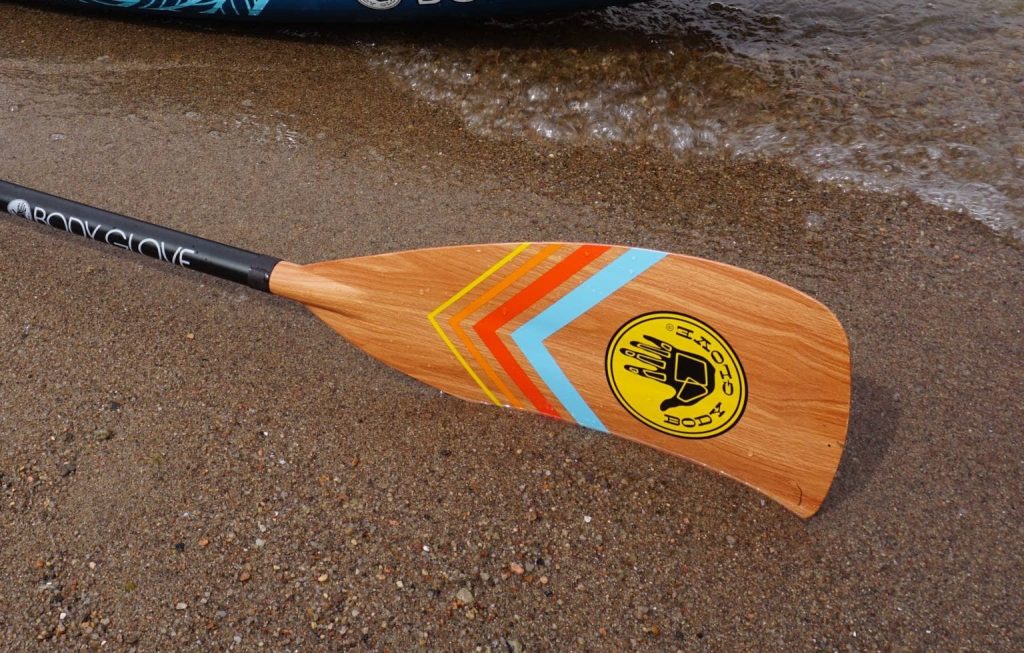 Impressively, Body Glove enhances its SUP package by including not only a paddle but a duo of pumps – both manual and electric. The durability of the paddle stood out during testing, alongside its user-friendly adjustability and comfortable grip.
In an innovative move, the board also introduces a distinctive paddle holder that's unlike anything we've encountered before. Positioned along the center of the board, it allows the paddle to be securely fastened directly to the center handle.
The neoprene-Velcro handle wraps snugly around the paddle shaft, providing a cozy and secure fit. This feature adds a touch of uniqueness for those considering a SUP for frequent trips to their local lake.
Conclusion:
Introducing the final innovative addition to the Performer lineup – a noteworthy move starting in 2022. Body Glove has introduced a remarkable initiative by partnering with One Tree Planted. For every Performer sold, a tree will be planted, allowing your purchase to contribute positively to the planet.
Overall, this board is an excellent choice for beginners, demonstrating impressive performance on the water. However, it's fair to express a desire for a few more standard features considering the price point. While the fins exhibit commendable durability, their tracking capabilities leave room for improvement.
Final Points
One noticeable absence on the board is the lack of grab handles at the front and tail, which could facilitate carrying by two people, easy shore pulling, and gear loading. While not a deal-breaker, having grab handles would undoubtedly be preferable over the included plastic tow-point provided by Body Glove.
In the grand scheme of things, most of the minor concerns raised by our resident paddle expert are just that – minor. The Performer package provides an inclusive and ready-to-go experience at an exceptional value. If you're seeking convenience and excitement on the water, the Body Glove Performer unquestionably earns a spot on your SUP shortlist.
FAQs
Can you add a kayak seat to this board?
This is actually a negative point for me because there are no D-rings on the side of the board that you would usually use to attach the kayak seat. So the short answer is no, you can't. But you can purchase D-rings and glue them to the SUP to allow for attachment of a kayak seat.
Is the Body Glove paddleboard suitable for kids?
Yes – Body Glove designs their paddleboard to be family friend so they are perfect for kids and even your pets. This is an all around board that is great for the entire family.
Can I use this for paddleboard surfing?
While you could use it for surfing, because of the tri-fin setup I have noticed that it feels a little wobbly at faster speeds. The length also makes it a bit more bulky so in general I would recommend that you get another board for surfing instead.
Do I need any prior experience to paddleboard?
No prior experience is necessary to start paddleboarding, as it's relatively easy to learn. Many beginners find success after just a few tries. Taking a beginner's lesson or practicing in calm waters can help you quickly gain confidence and basic skills.
What safety equipment should I have while paddleboarding?
Safety is paramount. Essential safety equipment includes a personal flotation device (PFD) or life jacket, a leash to keep you connected to the board, and a whistle to signal for help. Additionally, consider wearing appropriate sun protection, such as a hat, sunscreen, and sunglasses with UV protection.