*We may earn a commission for purchases made using our links. Please see our disclosure to learn more.
As a lover of all things water, I've explored many rivers and lakes, but there's something truly magical about chagrin river kayak and paddleboard.
With its amazing beauty and captivating surroundings, this river offers an unparalleled experience for kayaking and paddleboarding aficionados of all skill levels.
And that's why I'm so excited to unveil the best spots to kayak & paddleboard In Chagrin River, Ohio.
Ready?
Exploring Chagrin River: A Paddleboarders Paradise
The Chagrin River isn't just a waterway – it's pretty much the perfect spot for people that are looking for calm and nature.
Nestled amidst lush greenery and pretty landscapes, the river beckons kayakers and paddleboarders to explore its waters. Whether you're a seasoned pro or a first-time paddler, the Chagrin River caters to all skill levels.
So know that my beautiful descriptions of the Chagrin river are out of the way 😉 Let's jump into some of the best locations that you can explore in and around the Chagrin river region.
Chagrin River Kayak And Paddleboard Spots To Explore
Location #1: Riverbend Park
Riverbend Park stands as a testament to the natural beauty of the Chagrin river region. Launching your kayak or paddleboard here guarantees an awe-inspiring journey. The clear waters reflect the surrounding trees, creating a symphony of colors. As you paddle along, keep an eye out for the diverse wildlife that calls this area home (more on that below).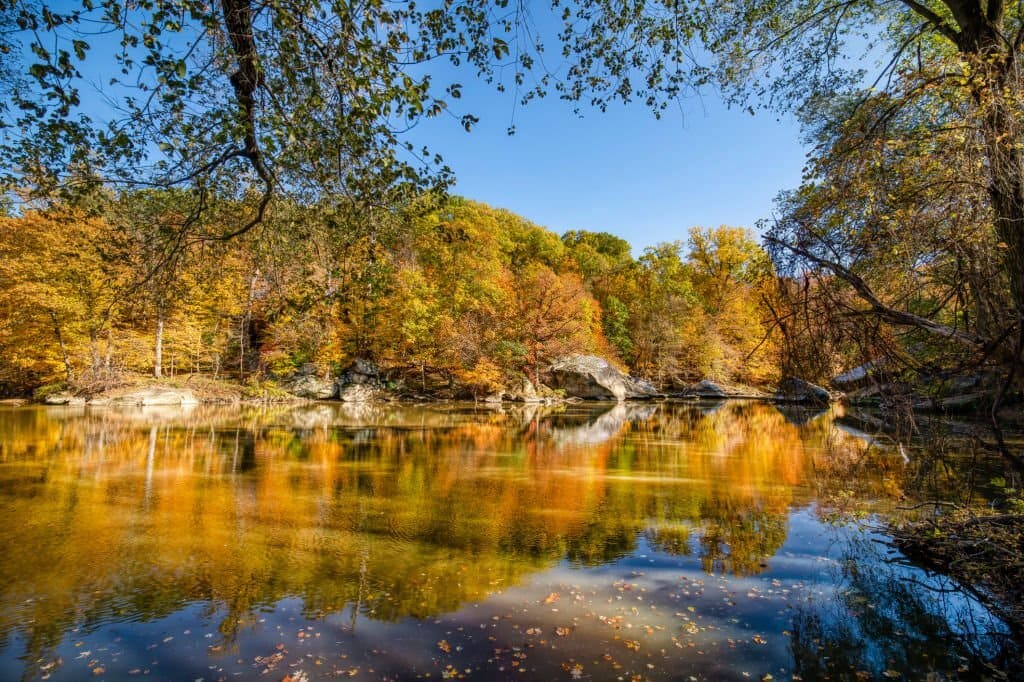 Location: Google Maps
Location #2: Chagrin River Road Launch
For those who seek easy access, the Chagrin River Road Launch is an ideal starting point. The calm currents make it a perfect spot for beginners looking to gain confidence on the water. The gentle flow allows you to savor the journey and immerse yourself in the stunning vistas.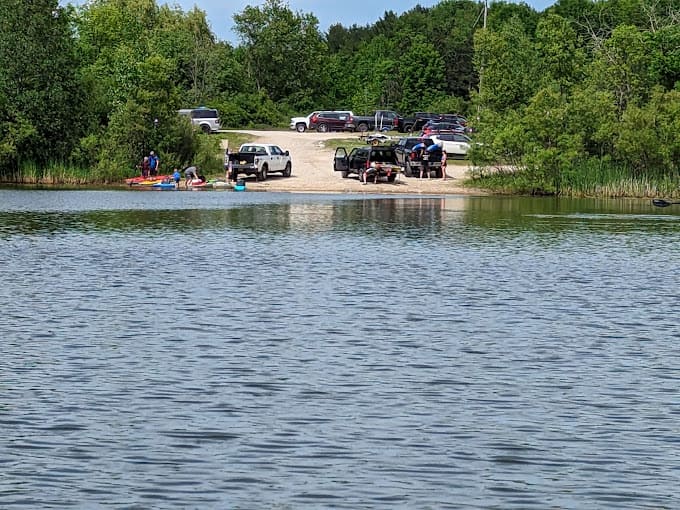 Location: Google Maps
Location #3: Eldon Russell Park
Eldon Russell Park is a gem that offers a blend of tranquility and adventure. As you navigate the river's twists and turns, you'll be greeted by stretches of untouched landscapes. The park's well-maintained launch area ensures a seamless experience, allowing you to focus solely on the joy of paddling.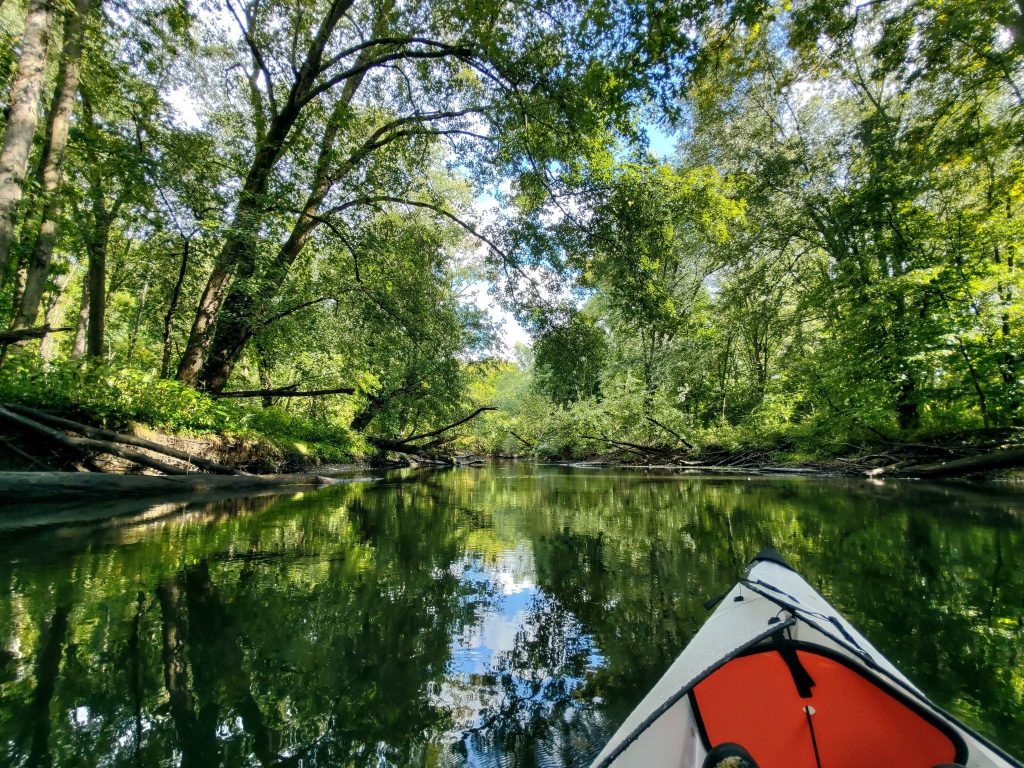 Location: Google Maps
Location #4: Squaw Rock Park
Squaw Rock Park offers a unique blend of history and nature. Launch your kayak or paddleboard near the iconic Squaw Rock and paddle along the river as it winds through this scenic park. The rock formations and lush surroundings add a touch of mystique to your journey and they are 100% worth checking out.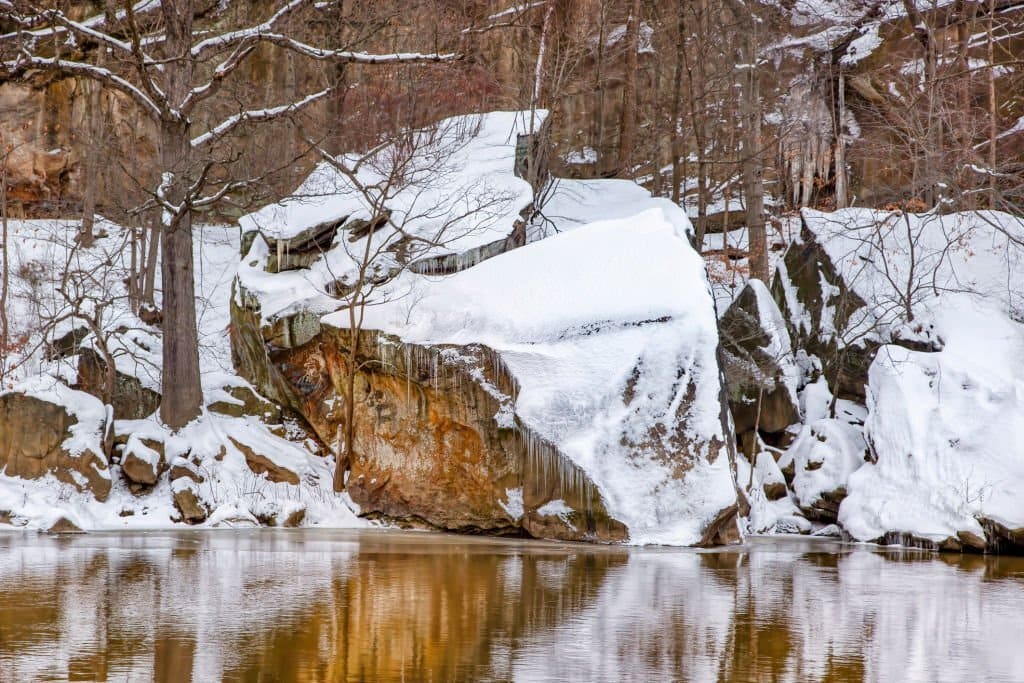 Location: Google Maps
Location #5: Scenic Overlook Launch
For a panoramic view of the Chagrin River's beauty, head to the Scenic Overlook Launch. The elevated launch point offers a stunning perspective of the river's meandering path, allowing you to appreciate the river's gentle curves and the landscape beyond.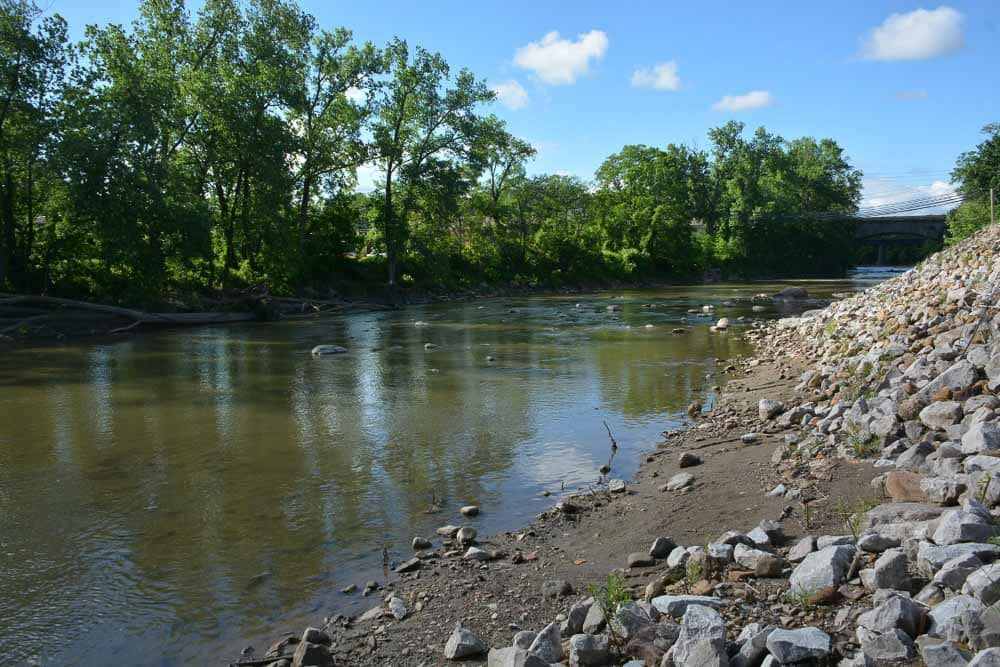 Location: Google Maps
Location #6: Chagrin Falls Exploration
Don't miss the opportunity to paddle up to Chagrin Falls—a charming village that's a true gem of the region. Marvel at the waterfall's beauty from your kayak or paddleboard, and perhaps even dock to explore the village's quaint shops and eateries. If you're looking for a great date idea to do with your partner then this is an awesome option for you 🙂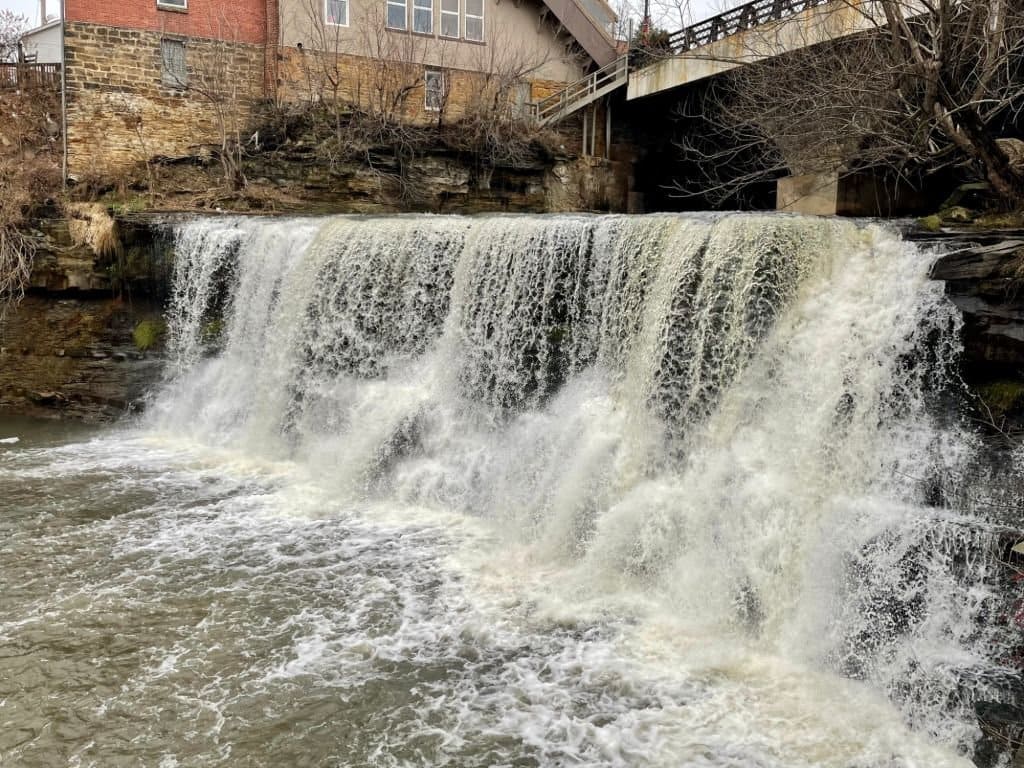 Location: Google Maps
Location #7: Eastlake Metropark Marina
If you're seeking a change of pace, venture to Eastlake Metropark Marina. Launch your watercraft here and explore the marina's calm waters before venturing into the broader expanse of the Chagrin River. There are some really amazing boats here that you can look at enjoy also (I always dream of owning a yacht).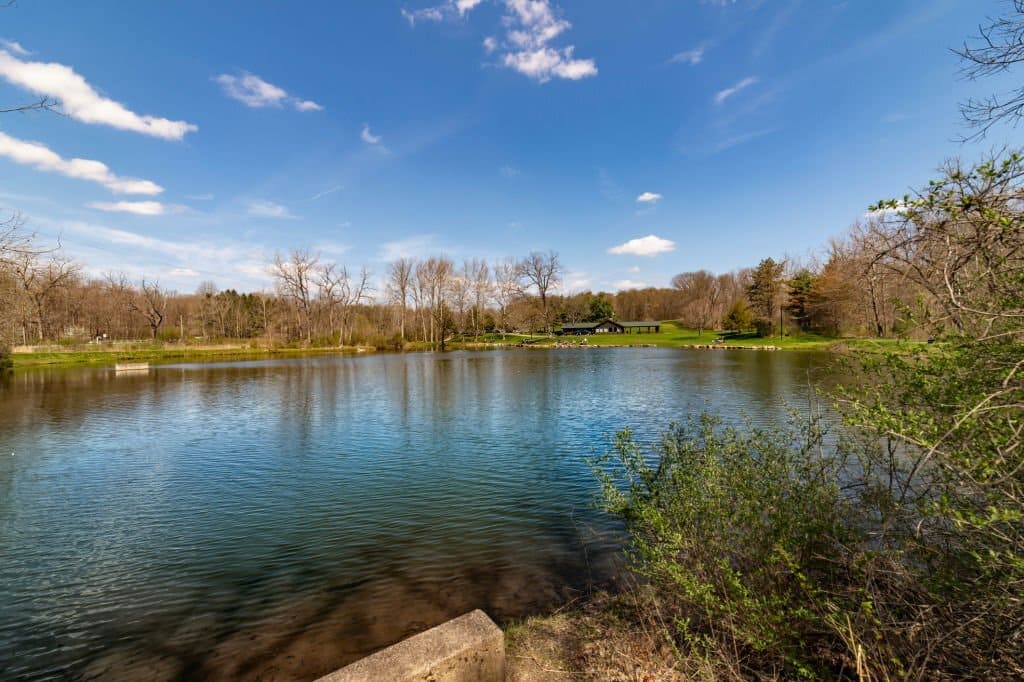 Location: Google Maps
Location #8: Riverside Nature Center
Immerse yourself in nature's wonders by visiting the Riverside Nature Center. Paddle your way to this educational hub and learn more about the local ecosystem, so that you can appreciate the wildlife more as you chagrin river kayak and paddleboard more.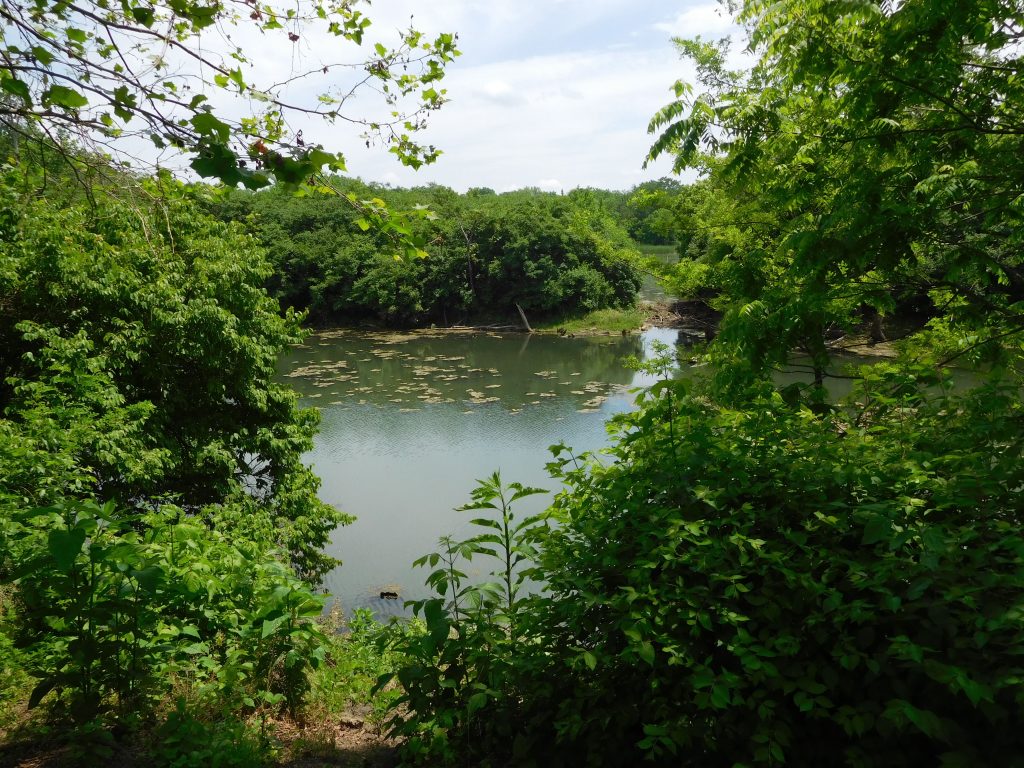 Location: Google Maps
A Calming Adventure: Paddling Downstream
Tranquil Waters and Scenic Beauty
Paddling down the Chagrin River is really pretty! The tranquil waters create a soothing effect and it can immediately alleviate anxiety and the stresses of everyday life. Each stroke of your paddle becomes a meditation that you can use to calm yourself down and enjoy nature.
And make sure that you keep an eye out for our furry friends…
Wildlife Encounters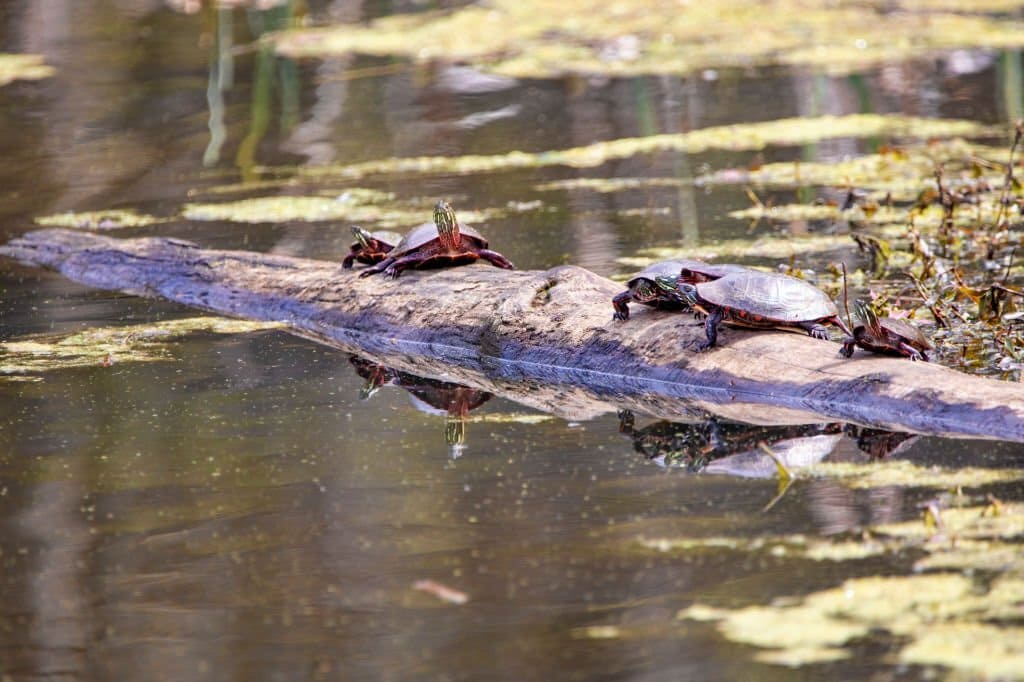 The river's appela isn't limited to its landscapes alone; it's also a prime location for seeing some amazing wildlife. As you glide along, keep an eye out for herons wading in the shallows, turtles sunbathing on rocks, and the occasional deer that might venture to the water's edge. Because it's such a secluded location in many parts, the animals are really trusting and you can get some nice photo opportunities. Remember to pack your GoPro because it is the perfect spot for it.
Should You Paddleboard Or Kayak In Chagrin River?
And now we get to the age-old debate…
Which is better – Kayaking or paddleboarding?
While kayaking offers a relaxed experience on the water, paddleboarding offers a unique way to connect with the river. Standing atop the paddleboard provides a heightened vantage point, letting you watch the flow of the river from the top. I also believe that paddleboarding gives you a better view of the animals.
The toss up is that kayaking is easier if you're a beginner because you don't have to worry about balancing while you stand.
Fishing Opportunities
For fishing enthusiasts, the river's quiet corners are home to various fish species. Cast your line and hope that you get some nibbles or if you're brave then find a secluded spot where the current is light and take your fishing paddleboard there.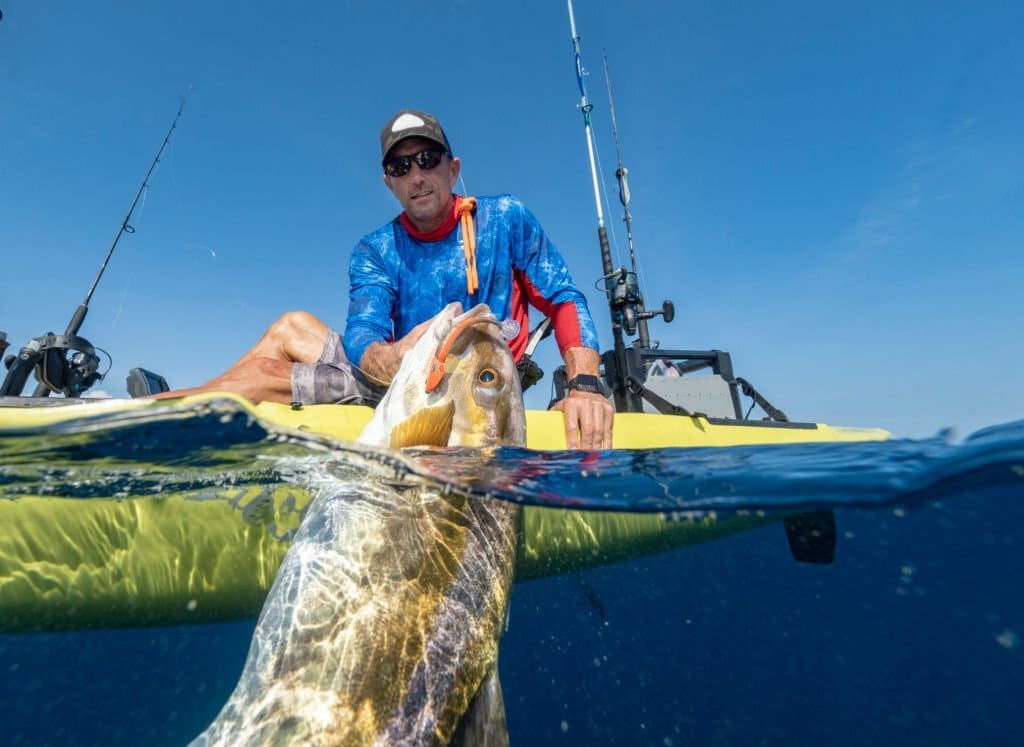 Picnicking by the Banks
The river's banks are adorned with inviting spots for a riverside picnic. After a rewarding paddle, take a moment to relish your surroundings while savoring a well-deserved meal.
Best Locations To Rent Paddleboards & Kayaks In Chagrin River
Here are some of my favorite spots for chagrin river kayak and paddleboard rentals:
Price: $50 per person for tours (2 person minimum)
Address: 4002 Jennings Rd, Cleveland, OH 44109, United States
Directions: Google Maps
Their sunset guided tours are really fun, so I can definitely recommend them.
Price: $65 per person for 3-4 hour tours
Address: 12274 Abbott Rd, Hiram, OH 44234, United States
Directions: Google Maps
Contact Number: +1 330-569-7621
Chagrin River Kayak and Paddleboard Safety Tips:
Embarking on a kayaking or paddleboarding journey requires more than just enthusiasm; it demands preparation and knowledge to ensure a safe and enjoyable experience.
Choosing the Right Equipment
Selecting the appropriate kayak or paddleboard is crucial. Consider your skill level, the type of water you'll encounter, and the duration of your adventure. A well-suited equipment choice can make all the difference in your comfort and control on the water.
Checking Weather Conditions
Before setting out, check the weather forecast. Clear skies can quickly transform into thunderstorms, impacting your safety on the river. Always prioritize your well-being and be prepared to reschedule if conditions aren't favorable.
Here is a widget that contains the weather in Chagrin River so that you can plan your trip:
CLEVELAND WEATHER
Understanding River Flow
The Chagrin River's flow varies throughout the year. Understanding its rhythm and seasonal changes will help you navigate its waters more effectively. Research and local advice are invaluable resources in this regard and I would recommend talking to the paddleboard rental locations.
Wearing a Life Jacket
No matter how confident a swimmer you are, wearing a life jacket is non-negotiable. It's your safety net and a crucial element of responsible paddling.
The Best Time to Chagrin River Kayak & Paddleboard
The Chagrin River's beauty evolves with the seasons. Spring brings lush greenery and blooming wildflowers, while autumn paints the landscape with warm brown notes.
Each season offers a distinct perspective, making every visit a unique experience. I personally enjoy autumn the most because it is pretty – but each to their own.
Conclusion
The Chagrin River in Ohio isn't just a waterway; it's a realm of wonder waiting to be explored. Kayaking and paddleboarding here offer not only a physical adventure but also a spiritual connection to nature. So, gear up, embrace the currents, and let the Chagrin River's magic carry you to places you've never imagined.
Chagrin River Kayak and Paddleboard FAQs
Is kayaking suitable for beginners on the Chagrin River?
Absolutely! The Chagrin River offers spots with gentle currents that are perfect for beginners to get their feet wet.
Can I bring my own kayak, or are rentals available?
Both options are available. You can bring your own equipment or explore local rental options for convenience. Read above for some details on my favorite places to rent kayaks and paddleboards in Chagrin River.
Are there any guided tours for paddleboarding in the area?
Yes, some outfitters offer guided paddleboarding tours, providing insights into the river's history and natural wonders. I talk about this above (if you're a skimmer then go and read it 😉 )
What should I wear during my paddling adventure?
Opt for comfortable, moisture-wicking clothing and water shoes to ensure a pleasant experience.
Are there any restrictions or regulations I should be aware of?
It's essential to familiarize yourself with local regulations and respect nature's balance while enjoying your paddling adventure.