*We may earn a commission for purchases made using our links. Please see our disclosure to learn more.
Stand-up paddleboarding has gained immense popularity in recent years, attracting outdoor enthusiasts of all ages. However, just like any water-based activity, there are inherent risks involved -that's why a paddleboard life jacket is an extremely important investment that you should be seriously looking into.
Let's explore why wearing a paddleboard life jacket is essential and the factors to consider when choosing the right one for you.
Importance of wearing a life jacket while paddleboarding
Many paddlers take for granted how important a life jacket is, and that's a big mistake. I've personally been in a situation where I was caught in a rip in the ocean while SUPing and I remember the feeling of blind panic that came with it. A life jacket is that extra layer of defense that keeps you safe, you might not feel like it does anything most of the time… But you REALLY don't want to be in a situation where you need one and it's not there.

Here are a few reasons why you should seriously consider getting a high-quality life jacket.
| | |
| --- | --- |
| Safety on the water | Safety should always be the top priority when engaging in water sports. While paddleboarding may seem relatively safe compared to other water activities, accidents can happen, especially in unpredictable weather conditions or when fatigue sets in. Wearing a life jacket provides an extra layer of protection and increases your chances of staying afloat in case of a fall or other emergencies. |
| Legal requirements | Many regions and countries have specific regulations regarding the use of life jackets while engaging in water sports. It's essential to familiarize yourself with the local laws and ensure compliance to avoid fines or penalties. Even if it's not mandatory in your area, wearing a life jacket is strongly recommended for your safety and peace of mind. |
| Protection and buoyancy | Life jackets are designed to provide buoyancy and keep you afloat in the water. In the event of an accident or if you find yourself in deep water, a life jacket can significantly reduce the risk of drowning by keeping your head above water. Additionally, life jackets often have padding and impact-resistant materials that can offer some protection against collisions or falls. |
So now that we've covered how important they are, let's talk about my favorite paddleboard life jacket of 2024.
The 9 Best Paddleboard Life Jackets Of 2024:
Here's the summary of my top picks for all the page skimmers out there 😉
If you want some more detail about each one, then read below because we will be diving into all the nitty gritty details that you need to make a decision.
Let's begin…
Where To Buy: Amazon
Key Features:
– Style: Belt
– Weight: 7.2 ounces
– USGC Rating: Type V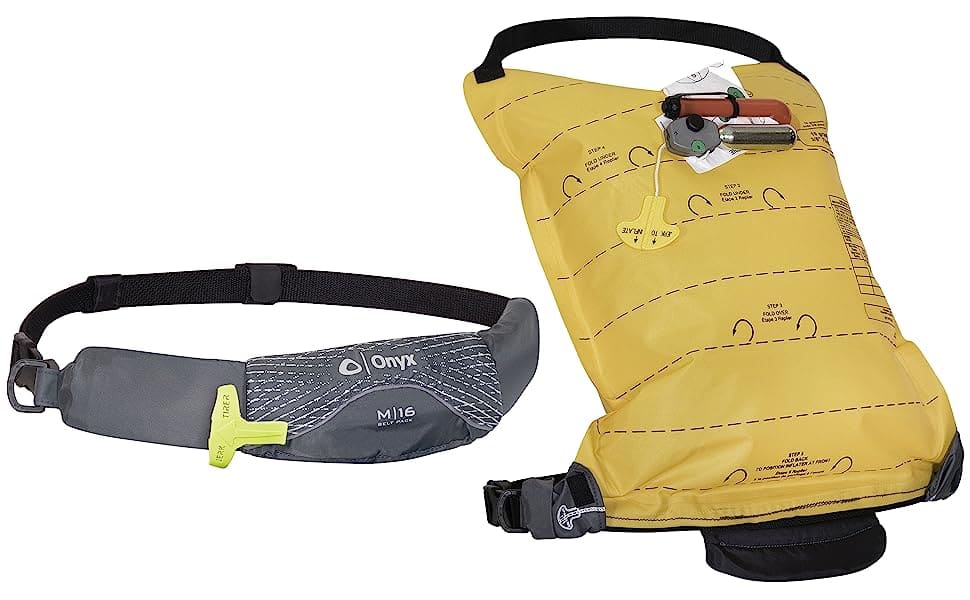 PROS
CONS
– Small and non-restrictive
– Great for experienced paddlers and confident swimmers
– Easy to inflate in the water
– Can barely feel it when on
– More expensive
The Onyx M-16 is hands-down the best belt paddleboarding life jacket that I've ever seen. It is small, non-restrictive and it feels like nothing is on you when you're paddling. But if you ever have an instance where you fall into the water then you can rest easy knowing that it's there for you. In a few moments you could have a life jacket when you need it. This is perfect for confident swimmers and experienced paddlers because it's so small and unassuming. If you're more of a beginner then it can also work, but just know that you'll have to inflate it in the water with a CO2 cartridge.
---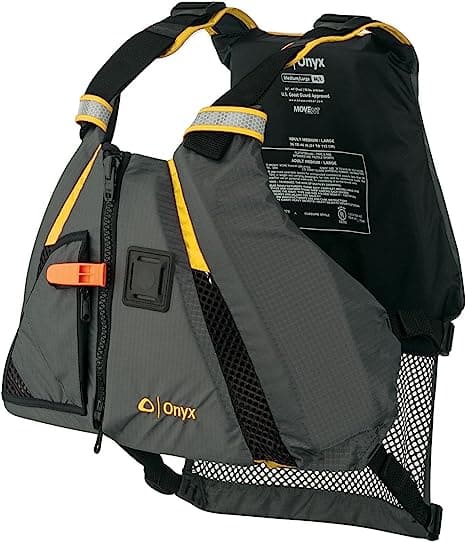 Where To Buy: Amazon
Key Features:
– Style: Vest
– Weight: 1 pound
– USCG Rating: Type III
PROS
CONS
– Allows for shoulder movement when paddling
– Mesh in the lower back stops you from sweating excessively
– Very comfortable
– Great for beginners and kids
– Less mobile than a belt life jacket
I have tried many life jackets, and for a beginner paddleboarder this is the one that I always recommend. It is extremely buoyant, comfortable and visible in the water (even in low light). And while it does struggle with being bigger than a belt life jacket, it will provide you with the extra buoyancy that you need as a beginner. If you are a more advanced paddler, then this isn't the right pick for you… But if you're someone that's relatively new to the sport and wants peace of mind that you'll be safe and comfortable, then this is your life jacket!
---
Where To Buy: Amazon
Key Features:
– Style: Vest
– Weight: 0.9 lbs
– USCG Rating: Type II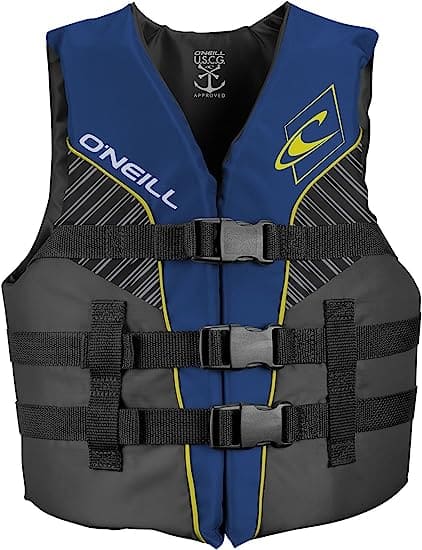 PROS
CONS
– Perfect for kids
– Light-weight and small
– Gives your arms space to move without chafe or friction
– Extremely buoyant
– Maximum weight of 90 pounds (41 kg)
If you're looking for a paddleboard life jacket for a child then your search is over! This is a great paddleboarding life jacking option that will be a gamechanger for anyone that gets it. It has a small minimalist design that means it's non-restrictive yet extremely buoyant. It fits snug and allows for mobility when paddling… and it's great quality! O'Neill really knows how to make watersports equipment and this isn't any different. The only negative that I could find is that it matches a maximum weight of 90 pounds, so a youth can quickly grow out of this, but otherwise it's perfect.
---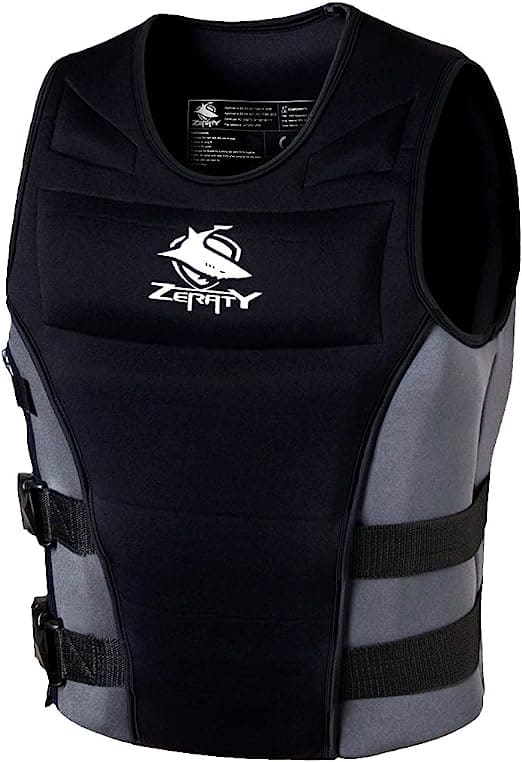 Where To Buy: Amazon
Key Features:
– Style: Vest
– Weight: 0.9 lbs
– USCG Rating: Type III
PROS
CONS
– Great for impact protection
– The adjustable side straps let you mould it to your body shape
– Not ultra buoyant so it won't stop you from duck-diving when surfing.
– Good quality materials
– Need to get the sizing right or else it's not comfortable.
If you're someone that's looking to get into paddleboard surfing then this is your best option because it has impact protection along with buoyancy. This is important because when you surf you'll be hitting the water harder with wipeouts from the waves and there's also the added pressure of hitting sand banks so impact protection is a smart move. I love that it's not as buoyant as other life jackets – it will keep you afloat but not unable to duck-dive. It's comfortable and fits snug when you get the sizing right and it serves its exact purpose. And another big benefit is that it protects you from the sun.
---
Where To Buy: Amazon
Key Features:
– Style: Vest
– Minimum Weight: 44 lbs
– USCG Rating: Great For Good Boys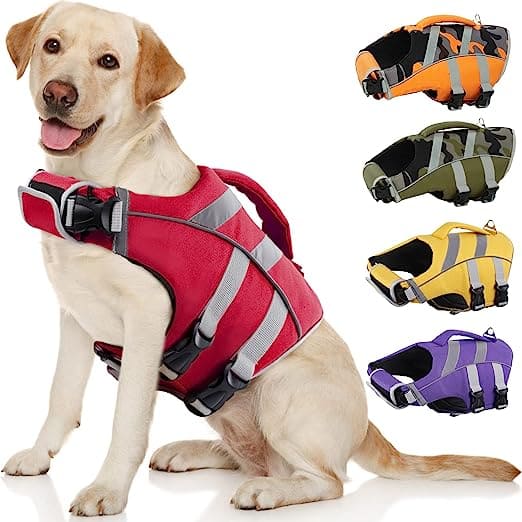 PROS
CONS
– Comfortable and visible in the water
– Has sizes for x-small to xx-large doggos
– Let's your good boy/girl be a part of the fun instead of staying at home
– Very durable
– Might not be as buoyant for larger dogs (so they must be able to swim)
I'm a big believer that your good boy or girl should never be left out of anything fun, and paddleboarding is just one of those things. If you're looking to bring your dog along for the ride then this is a great product for you. It's a good fit even for smaller dogs and it makes them highly visible in the water. My doggo loves it and moves around freely enjoying the water with it, which is what matters. Considering that this will last for a long time – I think it's a no-brainer purchase for the price.
---
THE BEST OF THE REST
---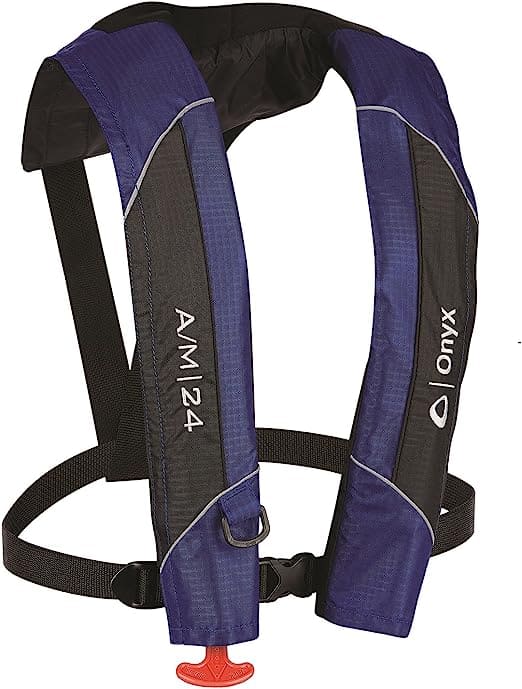 Where To Buy: Amazon
Key Features:
– Style: Vest
– Weight: 1lb
– USCG Rating: Type III
PROS
CONS
– Very comfortable and lightweight
– Has a nice fit even for larger guys or gals
– Worn by the US Coast Guard (so you know its good)
– High quality materials
– You get weird tan lines if paddleboarding shirtless.
This is a really nice paddleboard life jacket. It's used by the US Coast guard so you can immediately assume that it's high quality and safe, the only reason that it isn't on the top of my list is because I prefer to have something small (like the Onyx M-16 above) so that's why I didn't go with it but it's still a really impressive life jacket that I could whole-heartedly recommend. It's lightweight and slender design feels comfortable on you and if you need to inflate it then it only takes a few seconds.
---
Where To Buy: Amazon
Key Features:
– Style: Vest
– Weight: 1.7lb
– USCG Rating: Type III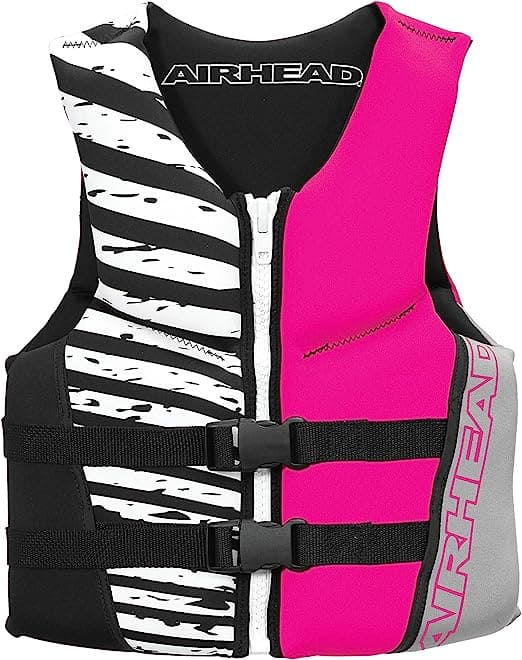 PROS
CONS
– Wicked material dries really quickly in the sun
– Snug fit that molds onto your body and doesn't move around in the water
– Very soft and comfortable
– Buckles allow you to match it to your specific body type
– Women's life jacket sizing only
Airhead is known for making awesome life jackets for a reason, because they are really good at it. This wicked 'kwik-dry' lifejacket is really nice to use – it is made up of soft, fast drying fabric that stays comfortable all day long. It has nice belt straps that let you mold it to your unique body shape and it also stays in place in the water (instead of coming up over your head). The only downside is that it's sizing is for women so guys need to look at some of the other options, but it's a great choice for all you ladies out there.
---

Where To Buy: Amazon
Key Features:
– Style: Belt
– Weight: 1.7lb
– USCG Rating: Type V
PROS
CONS
– Minimalist design makes you feel like it's not even on your body.
– Inflates really quickly with the CO2 canister
– Bright colored internal vest is highly visible
– Includes a D-ring that lets you clip your accessories to the life jacket.
– Not as buoyant as the Onxy belt life jacket.
I really like the Bluestorm Cirro 16 life belt because it was intentionally designed with paddleboarders in mind. It is highly visible even in the lowest light conditions, it's comfortable and minimalist design means that it is unassuming and doesn't get in the way of you paddling. It's fully adjustable so you know it will fit and the 'jerk to inflate' cord is extremely fast (a few seconds to inflate). If you're looking for a reliable belt paddleboard life jacket then this is a good purchase.
---
So now that you know my top picks for paddleboard life jackets in 2024, let's talk about the different factors that you should consider when choose one.
Factors to consider when choosing a paddleboard life jacket
Selecting the right life jacket for paddleboarding can seem overwhelming with the wide variety of options available. However, by considering the following factors, you can make an informed decision that meets your specific needs:
| | |
| --- | --- |
| Type of life jacket | There are different types of life jackets suitable for various water activities. For paddleboarding, the most common types are inherently buoyant life jackets and inflatable life jackets. Inherently buoyant life jackets are made with foam or other buoyant materials and provide constant flotation. Inflatable life jackets are compact and comfortable, inflating upon contact with water or manually with a pull cord. |
| Buoyancy rating | Life jackets come with different buoyancy ratings, which indicate how much flotation they provide. The higher the rating, the more buoyant the life jacket is. When choosing a paddleboard life jacket, consider your weight, body type, and the conditions in which you'll be paddleboarding. It's crucial to select a life jacket with sufficient buoyancy to keep you afloat comfortably. |
| Fit and comfort | A properly fitting paddleboard life jacket is essential for both comfort and safety. Look for adjustable straps and buckles that allow you to customize the fit. The life jacket should snugly fit your body without being too tight or restrictive. Consider trying on different sizes and styles to find the one that feels the most comfortable and secure. |
| Mobility and range of motion | Paddleboarding requires a wide range of arm and upper body movement. Ensure that the life jacket you choose doesn't impede your mobility or restrict your range of motion. Look for life jackets with strategically placed armholes and streamlined designs that allow for natural movement while providing adequate buoyancy. |
| Additional features | Some paddleboard life jackets come with extra features that can enhance your overall experience. These may include pockets for storing small items, attachment points for accessories like whistles or lights, reflective panels for increased visibility, or even hydration packs. Consider your personal preferences and the specific features that would benefit your paddleboarding adventures. |
Another common question that often comes up is how the US Coast Guard Classifications work, so here's a quick guide:
PFD Classifications by the U.S. Coast Guard
When it comes to personal flotation devices (PFDs), the U.S. Coast Guard has established five distinct types based on their design, flotation capabilities, and recommended usage. Each type serves a specific purpose and ensures safety in various water environments.
Type I
Type I PFDs, also known as Off-Shore Life Jackets, provide the highest level of flotation among all PFD types. While they may appear bulky and somewhat restrictive, they offer exceptional buoyancy. These PFDs are ideal for open waters, rough conditions, or remote areas where rescue operations might take longer. In the event of unconsciousness, Type I PFDs are designed to turn the wearer face up in the water, maximizing survival chances.
Type II
Type II PFDs, referred to as Near-Shore Buoyant Vests, are intended for general boating activities in calm inland waters with a high likelihood of quick rescue. Compared to Type I PFDs, they are less bulky while still capable of turning the wearer face up when unconscious.
Type III
Type III PFDs, known as Flotation Aids, are commonly used for dynamic water activities like water skiing, fishing, canoeing, kayaking, and paddleboarding. These PFDs offer a balance between flotation and comfort, allowing for ease of movement. However, they do not have the capability to turn the wearer face up in the water.
Type IV
Type IV PFDs are throwable devices, often in the form of seat cushions or rings. While they serve as convenient backup devices to wearable PFDs, they have limitations. They are not suitable for children, non-swimmers, or individuals who are unconscious. IV PFDs are primarily intended for use in emergencies or for assisting others in the water.
Type V
Type V PFDs are categorized as Special Use Devices. These PFDs are designed for specific conditions or activities and often come with specific usage criteria to ensure compliance with the law. Some Type V devices require mandatory wear, while others must be carried on the boat or vessel. In this article, all the inflatable devices featured are Type V PFDs that must be worn at all times for legal compliance.
What Are The Actual Regulations For Paddleboard Life Jackets?
Stand-up paddle boards (SUPs) are officially categorized as vessels by the U.S. Coast Guard, and this classification carries specific regulations regarding the use of life jackets or flotation devices. Whenever you venture beyond the surf zone or designated swim areas on an SUP, these regulations come into effect to ensure your safety on the water.
According to the U.S. Coast Guard regulations, children aged 12 and under are required to wear an approved flotation device at all times while paddling. The approved devices include Type I, Type II, or Type III flotation devices. The purpose of this regulation is to provide additional safety measures for younger paddlers, as they may be more vulnerable to accidents or fatigue.
For paddlers aged 13 and above, the regulations state that they must either wear or carry an approved Type I, Type II, or Type III flotation device on board at all times. Alternatively, they can choose to wear a Type V flotation device continuously while paddleboarding. This allows older paddlers some flexibility in choosing between wearing or carrying a device as long as they meet the specified types.
Conclusion
When it comes to paddleboarding, safety should never be compromised. Wearing a life jacket is a crucial step towards ensuring your well-being on the water.
I hope that by considering the factors discussed in this article and showing you the the best paddleboard life jacket of 2024, so that you can make an informed decision and find the perfect life jacket that suits your needs and enhances your paddleboarding experience.
FAQs
Is wearing a paddleboard life jacket mandatory?
While it depends on your local laws and regulations, it is strongly recommended to wear a life jacket for your safety, even if it's not mandatory.
Can I use a regular life jacket for paddleboarding?
While it's possible to use a regular life jacket, it's advisable to choose a life jacket specifically designed for paddleboarding as they offer better mobility and comfort when you're paddling.
Are inflatable life jackets safe?
Yes, inflatable life jackets are safe when used correctly and maintained according to the manufacturer's instructions. They provide excellent buoyancy and are comfortable to wear.
How do I ensure a proper fit for my life jacket?
To ensure a proper fit for your life jacket, follow these steps:
Adjust the straps and buckles to snugly fit the life jacket around your torso.
Make sure the life jacket is not too tight or too loose. It should allow you to move comfortably without riding up.
Check that the armholes are positioned correctly and allow for unrestricted arm movement.
Test the fit by lifting your arms and bending forward to ensure the life jacket stays in place.
If possible, try the life jacket on in the water to ensure it provides adequate buoyancy and keeps you afloat.
Can I wear a life jacket over a wetsuit or other clothing?
Yes, you can wear a life jacket over a wetsuit or other clothing. However, it's important to consider the extra bulkiness that may affect the fit and comfort. Make sure the life jacket can still be adjusted properly to provide a secure fit.