*We may earn a commission for purchases made using our links. Please see our disclosure to learn more.
Top Paddleboard Brands and Models
Are you ready to embark on a thrilling adventure across the water's surface? Paddleboarding is an exciting way to explore lakes, rivers, and oceans, and choosing the right paddleboard is crucial. In this blog, we'll provide you with in-depth reviews of some of the leading paddleboard brands and models. Let's dive in!
Atoll Paddle Boards
Atoll Paddle Boards has gained a reputation for producing high-quality inflatable paddleboards that are both durable and versatile. Their inflatable SUPs (Stand-Up Paddleboards) are perfect for beginners and experienced paddlers alike. With a focus on stability and performance, Atoll boards offer:
Atoll boards are constructed using military-grade PVC material, making them incredibly rigid and durable. They can withstand bumps and scrapes without losing their shape.
These paddleboards are known for their stability, thanks to their 32-inch width. Beginners can confidently stand up and paddle without fear of tipping over.
Atoll boards are designed for smooth gliding and effortless maneuverability. Whether you're cruising on calm waters or tackling light waves, they perform admirably.
Tower Paddle Boards
Tower boards are perfect for those who want a blend of performance and aesthetics. Here's what sets them apart:
Design: These Paddle Boards boast a minimalist and timeless design. Their sleek appearance makes them stand out on the water.
Material: Boards are constructed with military-grade PVC, ensuring durability and rigidity. They can handle various water conditions with ease.
Portability: Tower SUPs are inflatable and come with a convenient backpack for easy transportation. This makes them a great choice for travelers and adventurers.
iRocker Paddle Boards
iRocker is a well-known brand that offers a wide range of inflatable paddleboards suitable for all skill levels. The boards are design with both performance and affordability in mind. Key features include:
Versatility: iRocker boards are versatile and can be used for a variety of activities, including yoga, fishing, and touring.
Inflation System: iRocker boards come with a dual-chamber, triple-action hand pump, allowing for quick and easy inflation.
Accessories: Many iRocker packages include essential accessories like adjustable paddles, a leash, and a backpack for storage and transportation.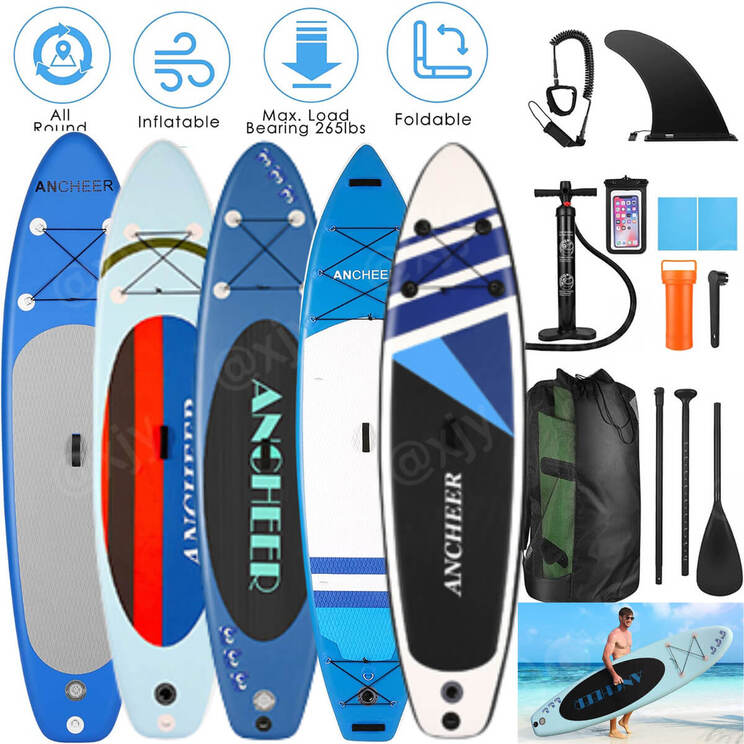 Red Paddle Co
Red Paddle Co is a renowned British brand that specializes in inflatable paddleboards. Their commitment to innovation has earned them a strong following among paddlers worldwide. Key highlights of Red Paddle Co boards include:
MSL Fusion Technology: Red Paddle Co uses MSL Fusion Technology, which results in lighter, stiffer, and more durable boards.
Quality Accessories: Their boards come with high-quality accessories, including a Titan pump for quick inflation and a travel-friendly backpack.
Variety: Red Paddle Co offers a wide range of boards designed for various activities, from recreational paddling to racing and surfing.
BOTE Paddle Boards
BOTE is a brand that stands out for its unique designs and innovative features. They offer a range of paddleboards designed to cater to specific needs and preferences. Here's what you can expect from BOTE boards:
Design Innovation: BOTE boards known for their innovative features, such as the integrated Tackle Rac receivers and cooler tie-downs, which are perfect for fishing enthusiasts.
Durability: BOTE boards built to last, thanks to their military-grade PVC construction. They can withstand rough conditions and heavy use.
Stability: The stability of BOTE boards makes them suitable for yoga, fishing, and recreational paddling. They offer a secure platform for various activities.
Top Paddleboard Brands and Models
When choosing a paddleboard, it's essential to consider your skill level, intended activities, and personal preferences. Each of these paddleboard brands and models offers unique features and advantages, catering to a wide range of paddlers. Whether you prioritize stability, performance, portability, or versatility, there's a paddleboard out there that's perfect for you. Happy paddling! Also Read>>