*We may earn a commission for purchases made using our links. Please see our disclosure to learn more.
When it comes to paddleboarding, you generally get three types of boards: A foam paddle board, an inflatable paddleboards and a fibreglass (hard) paddleboards. Generally speaking people seem to look down on foam paddle boards and perceive them as a beginner board.
But in this article I want to dispel those myths and tell you everything that you need to know about a foam paddle board and if it's right for you in 2024.
Now, the easiest way to understand the pros and cons of a foam paddle board is to understand how it is constructed.
Understanding the Construction of A Foam Paddle board
Foam paddle boards have a unique construction that sets them apart from other types of paddleboards. Let's take a closer look at the key components of a foam paddle board.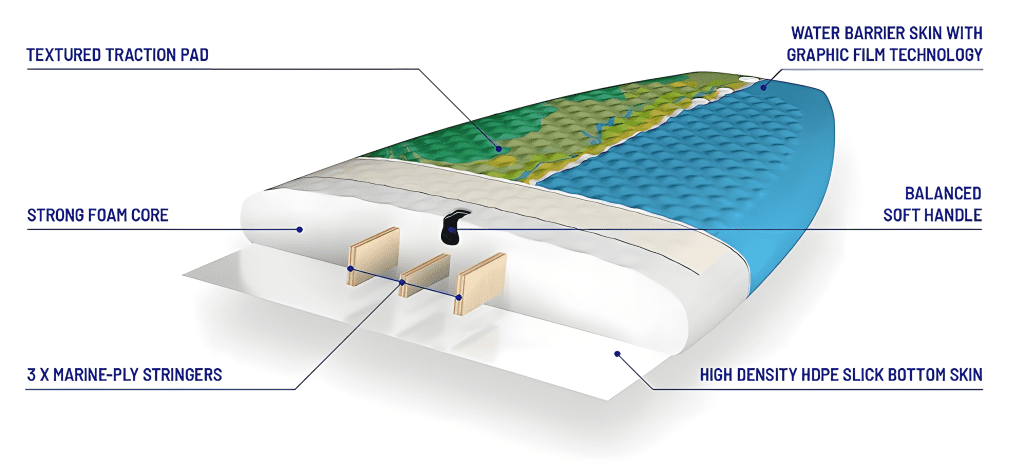 | | |
| --- | --- |
| Strong Foam Core | The foam core is the heart of a foam paddle board. It is typically made from expanded polystyrene (EPS) foam, known for its lightweight and buoyant properties. The foam core provides the board's structure and buoyancy, allowing it to float on the water's surface. |
| Marine Ply Stringers | To add strength and rigidity to the foam core, foam paddle boards often have one to three marine-ply stringers. These prevent the board from snapping half when you stand on it. |
| Fiberglass Skins | To add strength and rigidity to the foam core, foam paddle boards often have one or more layers of fiberglass on the top and bottom. These fiberglass layers help protect the foam core and enhance the board's overall durability. |
| Traction (Deck) Pad | The deck pad is a soft and grippy surface that covers the top of the foam paddle board. It provides traction and comfort for the rider, allowing them to maintain a secure footing while paddling. Deck pads are typically made from EVA foam, which is water-resistant and provides a cushioned feel. |
You can see from how these boards are constructed that they are specifically designed to have a foam interior instead of an inflatable tube or being made of solid fibreglass. The whole point of this is to provide stability, buoyancy and create an extremely forgiving board on the water that many beginners love.
But what are the other benefits?
Other Benefits of Foam Paddle Boards
Foam paddle boards come with several benefits that make them a popular choice among paddleboarders:
| | |
| --- | --- |
| Affordability: | Foam paddle boards are generally more affordable compared to their fiberglass or epoxy counterparts, making them an excellent entry-level option. |
| Stability: | The foam core of these boards provides exceptional stability, allowing riders to feel confident and balanced on the water. |
| Comfort: | The soft deck pad on foam paddleboards offers a comfortable and cushioned surface, reducing fatigue during longer paddling sessions. |
| Durability: | Foam paddle boards are highly durable and impact-resistant, making them more resistant to dings and dents compared to traditional fiberglass boards. |
| Lightweight: | These boards are lightweight, making them easy to carry and transport, especially for individuals who may struggle with heavier boards. |
So now that you know all about the benefits and construction of a foam paddleboard, how do they compare to other SUPs?
Foam Paddleboards vs. Inflatable and Solid Paddleboards
Summary:
| | |
| --- | --- |
| Board Type | Pros & Cons |
| Foam Paddleboards | Foam paddleboards offer excellent stability, durability, and affordability. They are lightweight, forgiving, and ideal for beginners. However, they may lack the same speed and maneuverability as solid or inflatable boards. |
| Inflatable Paddleboards | Inflatable paddleboards are highly portable, easy to store and transport. They offer good stability and versatility, with the ability to adjust the board's firmness. However, they may not provide the same rigidity and performance as solid or foam paddle boards. |
| Solid Paddleboards | Solid paddleboards, typically made of fiberglass or epoxy, offer excellent performance, speed, and maneuverability. They are ideal for more experienced riders and those looking for high-performance paddling. However, they can be heavier, more expensive, and less forgiving compared to foam or inflatable boards. |
Based on the summary above, you should have a good idea of how all the different paddleboards compare against each other. If you want a more detailed analysis on the solid paddleboards then visit this article:
Fiberglass Paddleboard vs. Inflatable Paddleboard: Which Should You Buy?
What Is The Best Foam Paddle Board On The Market Right Now?
When it comes to choosing a foam paddleboard, there is one board that is lightyears ahead of everyone else in the space called the Wavestorm. There is an adult version and a junior version for the whole family.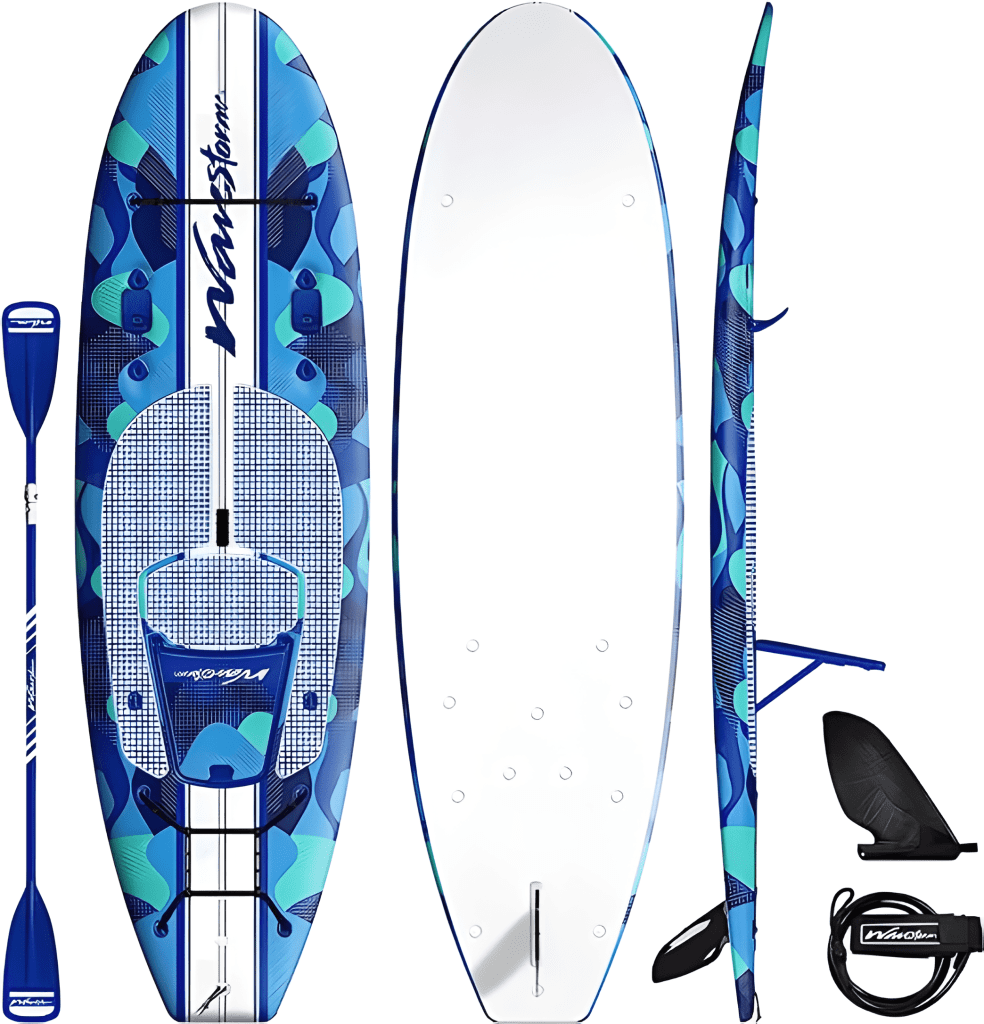 Where To Buy: Amazon
Specs & Features:
– 9 Foot 6 Inches In Height
– Weighs 35 Pounds
– Includes Collapsible Foot Rests & Seat
– Has 3x Marine Ply Stringers For More Rigidity
This is in my opinion the best foam board on the market right now. It was created by a well know company called Agit Global and it will give you exceptional performance for a great price. Honestly if you're going the foam SUP route then this will be a purchase that you'll love for a very long time. It comes with collapsing seat, footrest and removable finds so that you can design it for the paddle you want.
And it also includes everything else that you need to get in the water and having fun.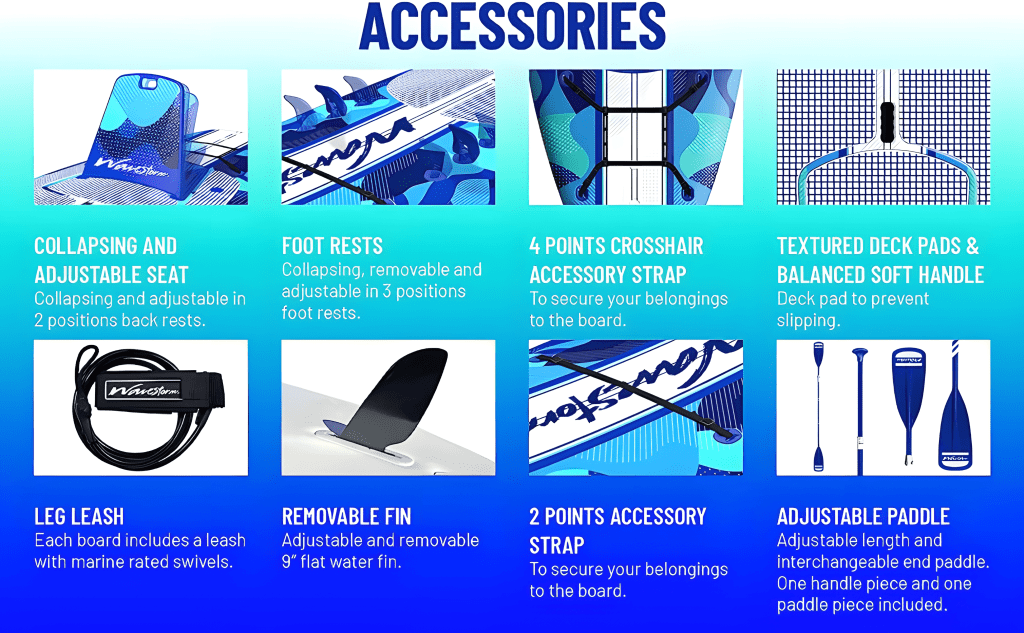 ---
Where To Buy: Amazon
Specs & Features:
– 8 Foot In Height
– Weighs 15 Pounds
– Recommended Weight Capacity = 130 lbs
– Has 3x Marine Ply Stringers For More Rigidity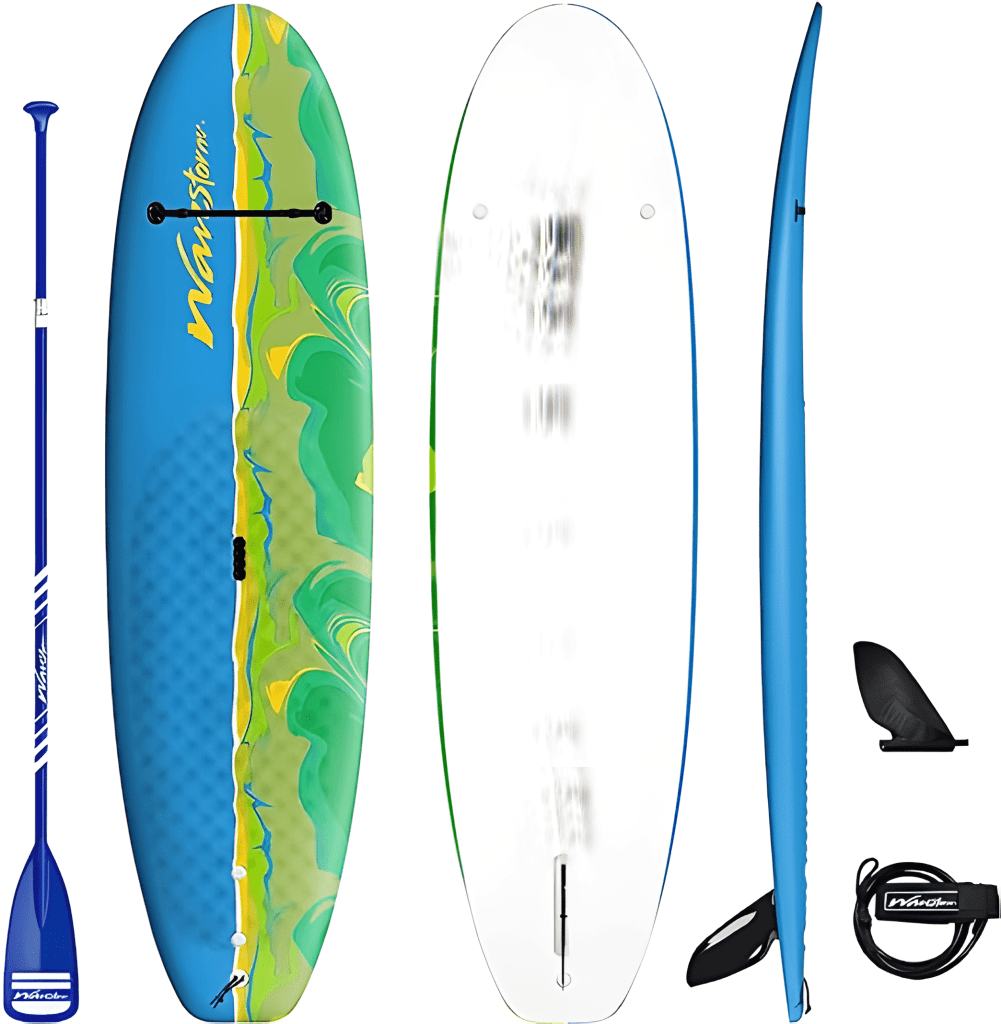 Just like the adult version above, the Wavestorm youth foam paddleboard is just as good! It is smaller and thinner than the adult board – but you need to consier that this board is for children. Unfortunately it doesn't include the adjustable chair and foot rests, but you want to tire your children out anyway 😉
Here are the accessories that it comes with: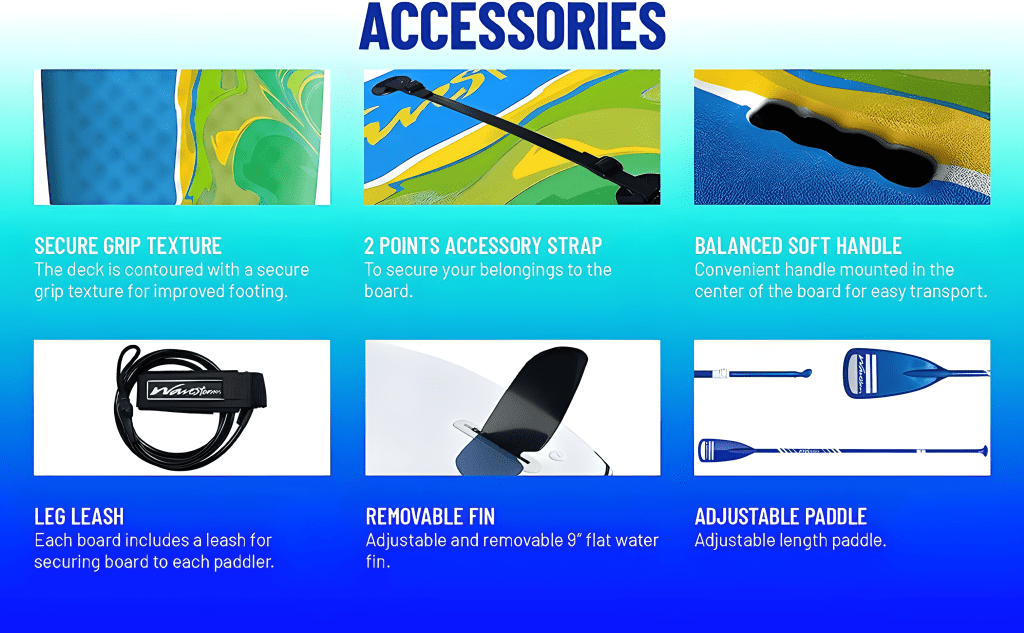 So those are the two best foam paddleboards on the market right now, and I don't think that you can go wrong with either of them (unless you're an adult on the childrens SUP board, don't do that!).
But maybe you have your eye on another board, or you just want more information about how to choose a foam paddle board, that's what the next section is for.
Other Considerations When Choosing A Foam Paddle Board
Make sure that you understand the following points when it comes to choosing a foam paddleboard.
Board Length and Width
The length and width of the board play a significant role in its stability and performance. Longer and wider boards offer enhanced stability, making them suitable for beginners or riders looking for a more relaxed and stable ride. Shorter and narrower boards, on the other hand, provide increased maneuverability and speed, making them a better choice for more experienced paddlers.
Weight Capacity
It's essential to consider the weight capacity of the foam paddle board to ensure it can support your weight and any additional gear you may bring on board. Choosing a board with a higher weight capacity will ensure optimal performance and stability on the water.
Skill Level
Consider your skill level when selecting a foam paddle board. If you're a beginner, opt for a board that offers excellent stability and forgiveness. More experienced paddlers may prefer boards with a sleeker design and increased maneuverability.
Riding Conditions
Think about the type of water conditions you'll be paddling in. If you'll mainly be on calm lakes or flatwater, a wider board with more stability is ideal. For ocean or river paddling, a narrower board with better maneuverability may be more suitable.
How to Care for Your Foam Paddle Board
Taking proper care of your foam paddle board will ensure its longevity and performance. Here are some essential care tips to keep in mind:
Cleaning and Maintenance
After each use, rinse your foam paddleboard with fresh water to remove any saltwater or debris. Use a mild soap or paddleboard cleaner to gently clean the board's surface. Avoid using abrasive brushes or cleaners that could damage the deck pad or fiberglass layers.
Storage Tips
Store your foam paddle board in a cool and dry place, away from direct sunlight. Excessive heat and prolonged sun exposure can cause the foam core and deck pad to deteriorate over time. If storing the board outside, use a board cover or UV-resistant bag to protect it from the elements.
Repairing Minor Damage
If your foam paddle board sustains minor damage, such as a small ding or scratch, you can repair it yourself using a repair kit specifically designed for foam boards. Follow the instructions carefully to ensure a proper and long-lasting repair.
Here is my favorite foam repair kit for a foam paddle board (make sure you get this if you're grabbing a foam SUP to save time):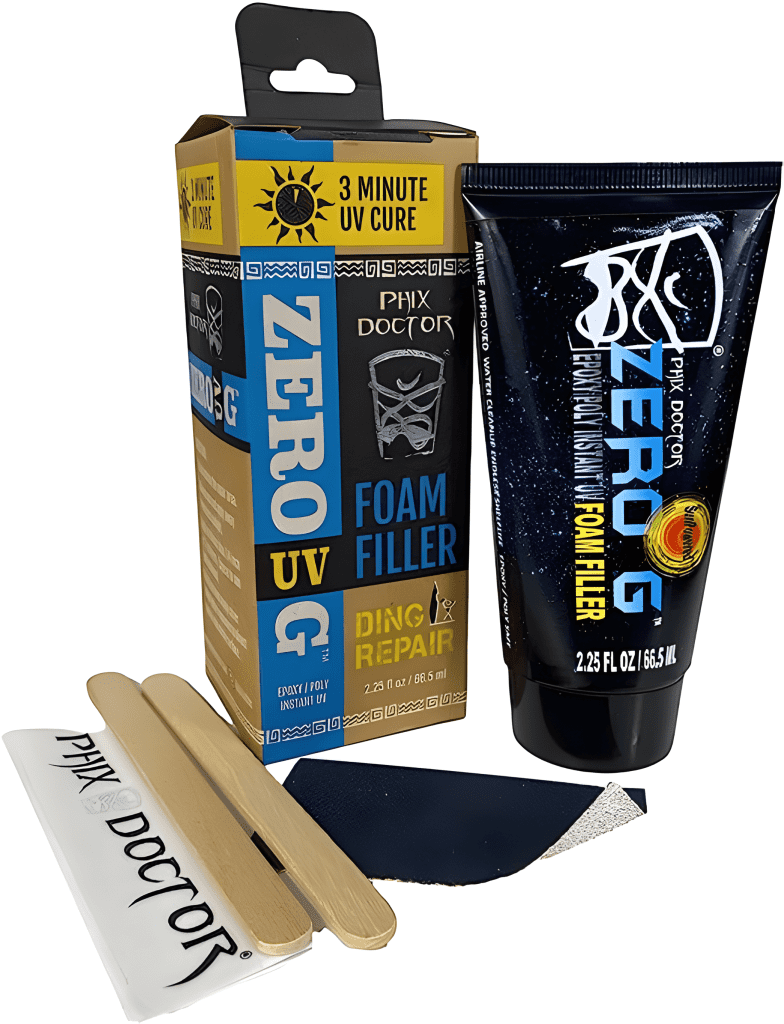 Where To Buy: Amazon
Specs & Features:
– Safe for foam paddleboards
– Self-sealing in the sun (in less than 3 minutes)
– Non-toxic and easy to clean up
This repair kit is an absolute lifesaver if you have a hole or ding in your foam paddleboard and I strongly recommend that you grab it if you're looking for a great repair kit.
Tips for Paddling with a Foam Paddle Board
To make the most of your foam paddle boarding experience, here are some helpful tips to keep in mind:
Proper Paddle Technique
Focus on using the correct paddle technique to maximize efficiency and minimize fatigue. Stand with your feet shoulder-width apart, engage your core, and use your torso to generate power in each stroke. Keep your arms slightly bent and avoid leaning too far forward or backward.
Safety Precautions
Always wear a personal flotation device (PFD) or life jacket when paddleboarding, regardless of your skill level or swimming ability. It's also a good idea to familiarize yourself with local water regulations and safety guidelines, such as knowing the right of way and avoiding restricted areas.
Conclusion
Foam paddle boards provide an excellent option for individuals looking to explore the world of stand-up paddleboarding. With their lightweight, stability, and affordability, they are particularly well-suited for beginners and riders seeking a forgiving and comfortable ride. By understanding the construction, advantages, disadvantages, and care tips for foam paddle boards, you can make an informed decision when choosing the right board for your needs. So grab your paddle, hop on a foam paddle board, and start enjoying the amazing benefits of stand up paddle boarding!
FAQs
Can I use a foam paddle Board for surfing?
Yes, foam paddle boards can be used for surfing. Their stability and buoyancy make them a popular choice for beginners learning to catch waves. However, if you're an experienced surfer looking for high-performance maneuvers, you may prefer a solid or fiberglass board.
Can I repair a significant damage or puncture on a foam paddle board?
While minor dings and scratches can be repaired on foam paddleboards using repair kits, significant damage or punctures may require professional repair. It's best to consult a paddleboard specialist or a reputable repair shop for proper assessment and repair options. Refer above for my foam repair kit recommendation.
Are foam paddle boards suitable for long-distance paddling?
Foam paddleboards can be used for long-distance paddling; however, they may not offer the same speed and efficiency as solid or touring-specific paddleboards. If you plan on frequently paddling long distances, you may want to consider a board designed for touring.
Can I use a foam paddle board in rough water conditions?
Foam paddleboards can handle moderate chop and small waves. However, for rough water conditions, such as heavy surf or strong currents, it's recommended to use a board specifically designed for those conditions, like a solid or specialized surfing paddleboard.
Can children use foam paddle boards?
Yes, foam paddleboards are an excellent choice for children due to their stability and forgiving nature. Always ensure children wear proper safety gear, including a properly fitted PFD, and supervise them while paddleboarding.
Remember, choosing the right paddleboard is a personal decision based on your preferences, skill level, and intended usage. Take the time to test different boards and consult with experts to find the perfect foam paddleboard that will provide you with countless hours of paddling enjoyment.