*We may earn a commission for purchases made using our links. Please see our disclosure to learn more.
I love paddleboarding Newport Beach. There's something just so special about California and I adore gliding across the waters early in the morning or under a golden sunset.
Paddleboarding has exploded in this coastal paradise, and it's not hard to see why. Whether you're a beginner looking to try out a new water activity or an experienced paddleboarder seeking adventure, Newport Beach has something to offer for everyone.
In this article – I will telling you everything that you need to plan a paddleboarding trip to Newport Beach, California. Ready? Let's go 🙂
Getting Started with Paddleboarding
Paddleboarding, also known as stand-up paddleboarding (SUP), involves standing on a large board and using a paddle to propel yourself through the water. It's an excellent way to explore the coastal beauty of Newport Beach and connect with nature.
There are two main types of paddleboards available – inflatable and solid. Inflatable boards are more convenient for storage and transport, while solid boards offer better performance in the water.
To get started, you'll need some essential gear, including a paddle, a life jacket or personal flotation device (PFD), and appropriate clothing. It's essential to wear a leash to keep the board attached to you in case of a fall.
Once you've gone through that article and you're prepared with what to wear on your trip, let's talk about where to SUP in Newport Beach.
Paddleboarding Newport Beach: Choosing the Right Spot
One of the joys of paddleboarding in Newport Beach is the abundance of picturesque spots to choose from.
Whether you're a beginner or a seasoned pro, there's a perfect location for you. Places like the Back Bay, Newport Harbor, and Crystal Cove offer calm waters ideal for beginners. For those seeking more adventure and waves, the ocean side of Newport Beach is a great choice.
When selecting a spot, consider factors like water conditions, safety, and the presence of marine life. Remember to be respectful of local rules and guidelines to preserve the beauty of these natural areas.
Here are 5 Amazing Spots To Visit When Paddleboarding Newport Beach:
Location #1: Newport Harbor:
Newport Harbor is a bustling yet beautiful location for paddleboarding. With its network of channels and calm waters, it provides an excellent opportunity to explore the marinas, luxury yachts, and waterfront homes. Paddleboarding here offers a unique perspective of the vibrant coastal lifestyle.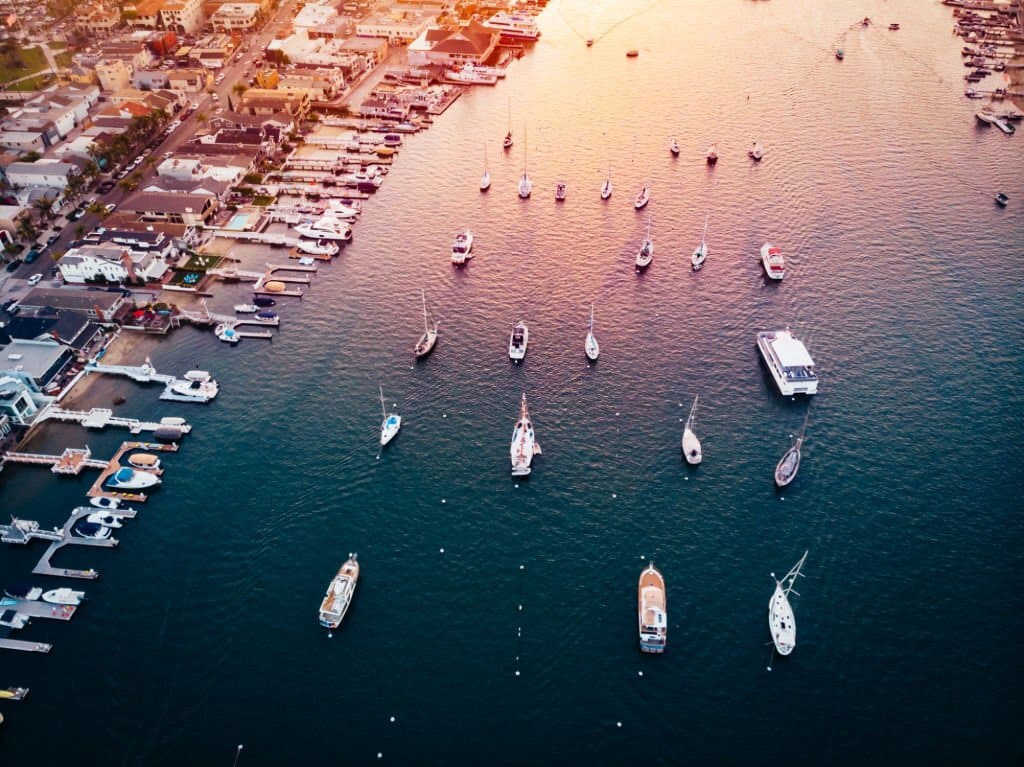 Location: Google Maps
Location #2: Back Bay:
The Back Bay in Newport Beach offers a serene and picturesque setting for paddleboarding. The calm waters and stunning views of the surrounding nature make it an ideal spot for beginners and leisurely paddlers. You can glide through the estuary and observe various bird species and other wildlife along the way.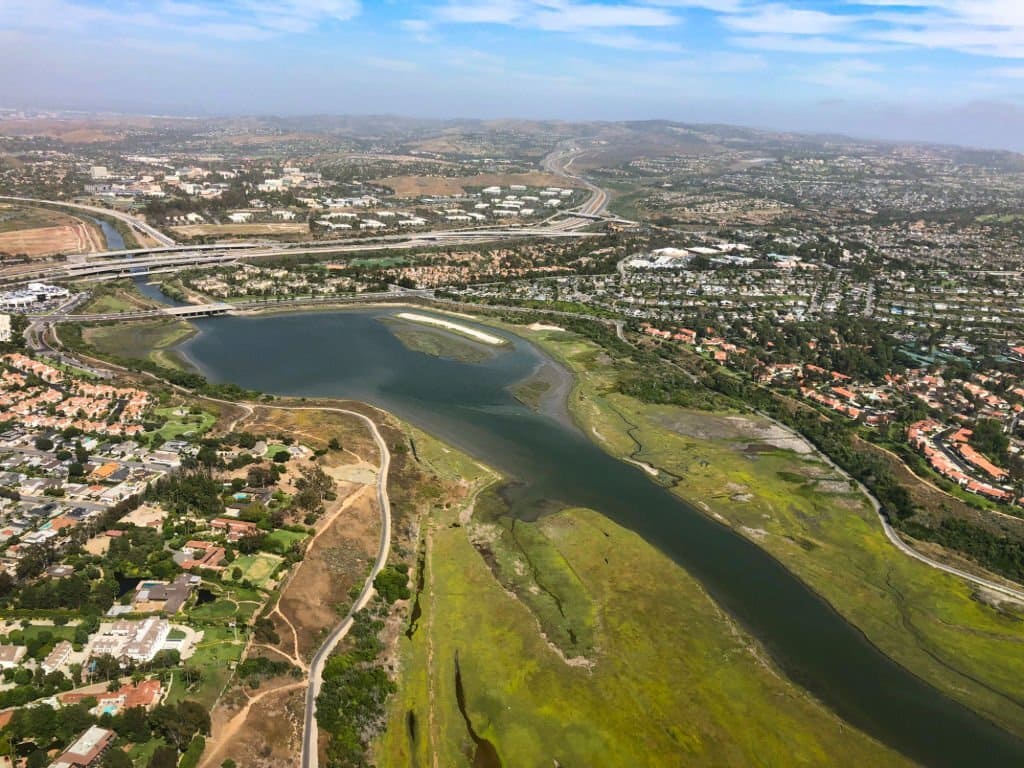 Location: Google Maps
Location #3: Crystal Cove State Park:
For those seeking a more adventurous paddleboarding experience, Crystal Cove State Park is the place to go. The park's coastline features rocky cliffs and coves, creating an exciting backdrop for your paddling adventure. Keep an eye out for dolphins and sea lions that often frequent this area.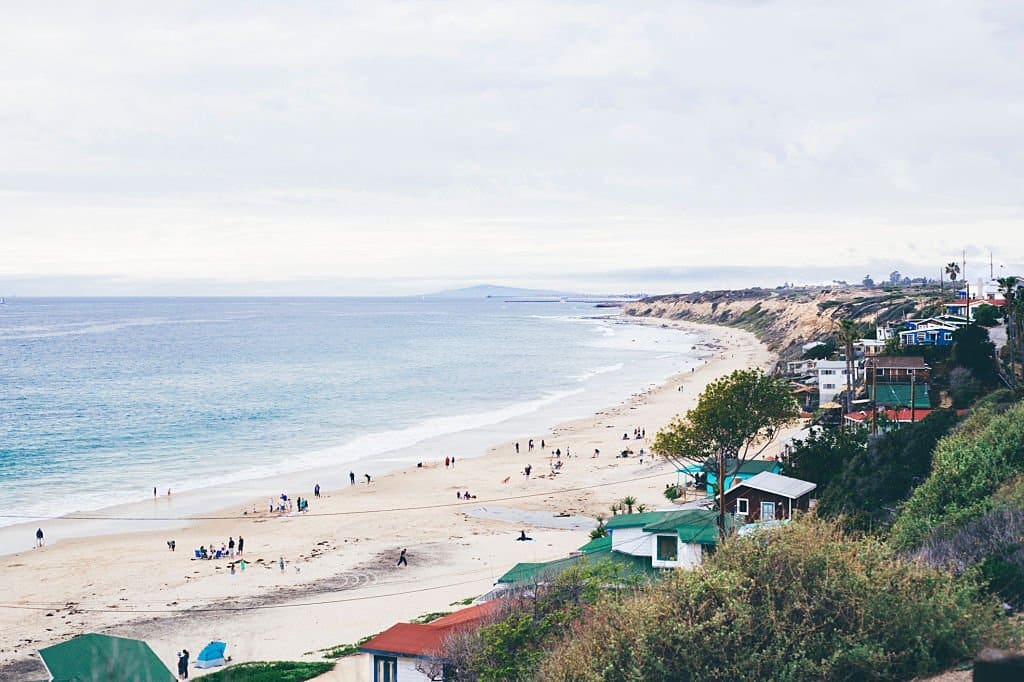 Location: Google Maps
Location #4: Corona del Mar State Beach:
Corona del Mar State Beach is a popular destination known for its beautiful sandy shoreline and clear waters. Paddleboarding here allows you to enjoy the sun, surf, and occasional gentle waves. It's a great spot for both beginners and experienced paddleboarders.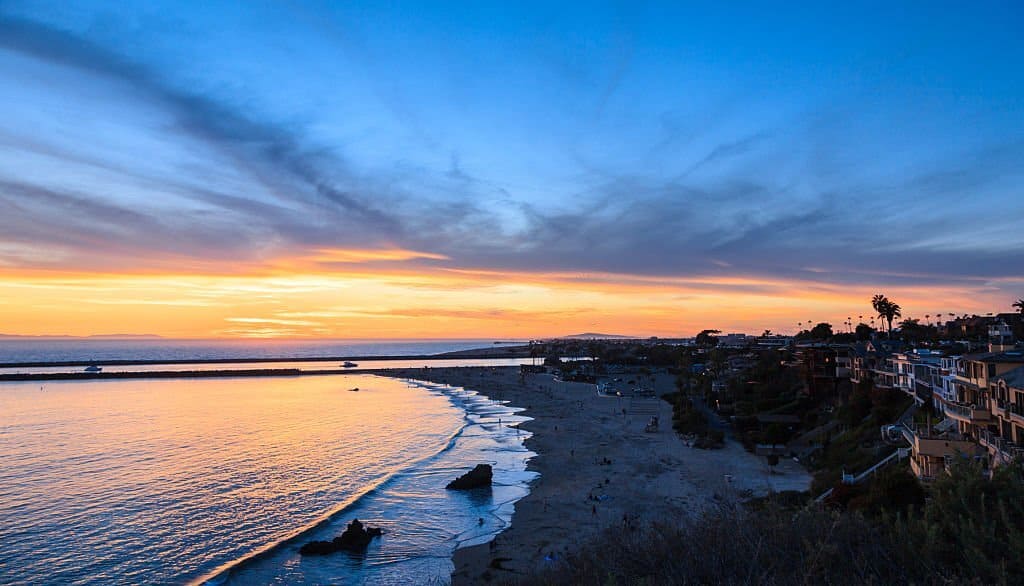 Location: Google Maps
Location #5: Balboa Island and Peninsula:
Paddleboarding around Balboa Island and Peninsula offers a delightful mix of calm bay waters and the open ocean. Explore the charming island community and take in the scenic views of the Pacific. If you're lucky, you might even spot some sea turtles swimming by.
Location: Google Maps
Paddleboarding Techniques and Safety Tips
Before heading out, it's essential to learn some basic paddleboarding techniques. Find your balance by placing your feet shoulder-width apart and keep your gaze forward. Use your paddle with a long, smooth stroke to move efficiently through the water. Don't be discouraged if you fall off the board a few times; it's all part of the learning process!
Here's a quick instructional video on how to stand on a paddleboard:
Safety should always be a top priority. Wear your PFD at all times, and consider using a whistle to signal for help if needed. Check weather conditions before heading out and be aware of changing tides and currents. If the wind picks up suddenly, it's best to head back to shore.
Make sure to review what you should wear to stay safe while paddleboarding:
Benefits of Paddleboarding
Paddleboarding offers numerous benefits beyond the sheer fun of the activity.
On a physical level, it's an excellent full-body workout that engages your core, legs, and arms. It also helps improve balance and coordination. But it's not just about physical health – paddleboarding can do wonders for your mental and emotional well-being too. The serene environment and the gentle rhythm of paddling have a calming effect, reducing stress and anxiety.
Moreover, paddleboarding is eco-friendly as it creates minimal impact on the environment. It allows you to get close to marine life without disturbing their natural habitat. Here are the different types of marine animals in Newport Beach.
Where to Rent or Buy Paddleboarding Equipment
If you're new to paddleboarding, it's a good idea to rent equipment first to see if it suits you. Newport Beach has several rental shops offering paddleboards and other gear for a reasonable price. Some shops even provide guided tours, which can be a great way to explore the area with an experienced paddleboarder.
Here are the best places to rent in Newport Beach:
Price: $20 per hour
Address: 1500 W Balboa Blvd #101, Newport Beach, CA 92663, United States
Directions: Google Maps
Contact Number: +1 949-396-4580

Paddleboarding Tours and Classes
For a more immersive experience, consider joining a guided paddleboarding tour. These tours often take you to hidden gems and points of interest that you might miss otherwise. Experienced guides also provide valuable insights into the local ecosystem and history.
If you're new to paddleboarding, taking a class is highly recommended. Trained instructors can teach you the fundamentals of balance, paddling techniques, and safety, ensuring you start off on the right foot.
Here is my recommendation for lessons and tours:
Price: $20 per hour
Lessons: $80 per person
Tours: $52 per person
The have a really fun SUP Glow tour where you can do a nighttime adventure with a glowing SUP.
*IMPORTANT – This is only for experienced paddleboarders.
Exploring Marine Life while Paddleboarding Newport Beach
Paddleboarding offers a unique opportunity to connect with nature and observe marine life up close. In Newport Beach, you might encounter playful dolphins, majestic sea lions, and a variety of seabirds during your paddling adventures. However, it's crucial to respect their space and not disturb them. Keep a safe distance and avoid making loud noises.
To have a more enriching experience, consider bringing along a waterproof guidebook to identify the different species you encounter.
Best Time For Paddleboarding Newport Beach
Newport Beach enjoys a mild climate throughout the year, making it suitable for paddleboarding almost any time. However, the best time to paddleboard depends on your preferences and the experience you're seeking.
During the summer, you can enjoy warm waters and longer daylight hours, perfect for leisurely paddling and sunset sessions. In the winter, the coastline transforms, offering unique sights and a chance to see migratory birds.
Newport Beach Weather:
Make sure that you check the weather before you go, here is a detailed weather guide:
NEWPORT BEACH WEATHER
Paddleboarding for Fitness and Yoga
For fitness enthusiasts and yogis, paddleboarding presents a unique way to exercise and practice yoga on the water. Performing yoga on a paddleboard adds an extra challenge as you engage your core to maintain balance. It's a refreshing experience that brings you closer to nature and enhances the mind-body connection.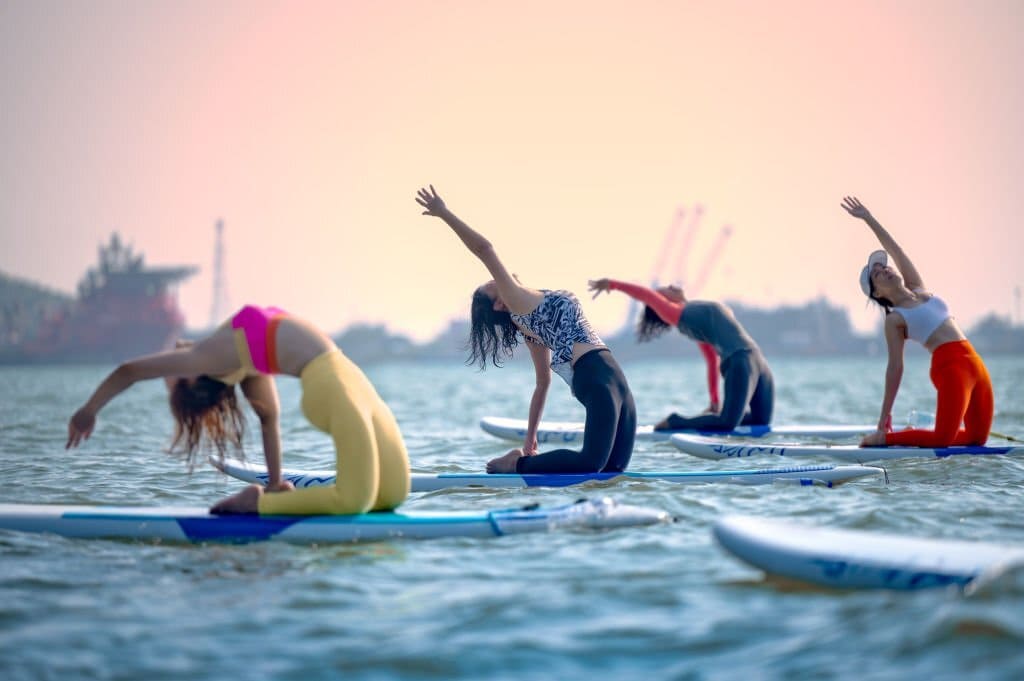 Numerous guided yoga sessions on paddleboards are available in Newport Beach, giving you the chance to enjoy both yoga and paddleboarding simultaneously.
Paddleboarding and Environmental Conservation
As lovers of the ocean and its inhabitants, paddleboarders have a responsibility to protect the marine environment. While exploring the waters, be mindful of your impact and avoid disturbing the delicate ecosystems.
You can also participate in beach cleanups and other conservation initiatives to give back to the environment and preserve the beauty of Newport Beach for generations to come.
Conclusion
Paddleboarding in Newport Beach, California, is a thrilling and enriching experience that brings you closer to nature while providing numerous health benefits. From tranquil harbors to the vastness of the Pacific Ocean, there's an array of breathtaking spots to explore. Whether you're a beginner or an experienced paddleboarder, Newport Beach has something to offer everyone.
So, grab your paddleboard, soak in the sun, and immerse yourself in the beauty of Newport Beach from a unique vantage point.
FAQs
Can I paddleboard if I've never done it before?
Absolutely! Newport Beach has calm waters suitable for beginners, and taking a lesson will help you get started.
Do I need to be a strong swimmer to paddleboard?
While it's ideal to know how to swim, wearing a life jacket ensures your safety regardless of your swimming abilities.
Is paddleboarding a good workout?
Definitely! Paddleboarding engages various muscle groups, providing an excellent full-body workout.
Can I paddleboard with my kids?
Yes, paddleboarding is a family-friendly activity. Just ensure your children wear life jackets and stay close to you.
What should I wear while paddleboarding?
Opt for comfortable and lightweight clothing that you don't mind getting wet. Don't forget to apply sunscreen for sun protection.
Where else is there good paddleboarding in California?
There are so many different destinations to paddleboard in California that I could write entire articles on it (I probably will). But if you're looking for a short answer then I recommend Laguna Beach. Not only is it great for paddleboarding but there are also so many unique things to do in Laguna Beach that you could pack an entire vacation itinerary full with this place. So that's my recommendation 🙂