*We may earn a commission for purchases made using our links. Please see our disclosure to learn more.
Paddleboarding Aruba is an experience like no other! Nestled in the Caribbean, Aruba lets you enjoy the perfect tropical paradise. Great food… great people… And even greater paddleboarding!
Let's embark on a journey through the azure waters of Aruba and explore 10 places that you can't miss on a paddleboard (P.S. You might even get to spend time with some flamingos 🦩)
Why Is Paddleboarding in Aruba So Special?
Aruba's charm lies not only in its white sandy beaches and swaying palm trees but also in its inviting waters. The steady trade winds, warm climate, and crystal-clear waters make Aruba an idyllic destination for paddleboarding.
It has something for everyone and paddleboarding Aruba gives you a great way to explore the island because you can see it from a different angle, along with having the freedom to paddle out wherever you want.
So without further ado:
Paddleboarding Aruba: 10 Amazing Spots To Explore Today
Here is a detailed map that you can use to explore (if you're someone that loves maps). Otherwise read below to see more details on each location:
Let's start with location 1 🌴 🦜
Location #1: Eagle Beach
Nestled along the western coast, Eagle Beach is a tranquil haven for paddleboarders. The powdery white sand and gentle waves create an ideal setting for a serene paddleboarding experience. As you gracefully glide over the calm waters, the divi-divi trees along the shore create a picturesque backdrop, making Eagle Beach a must-visit spot.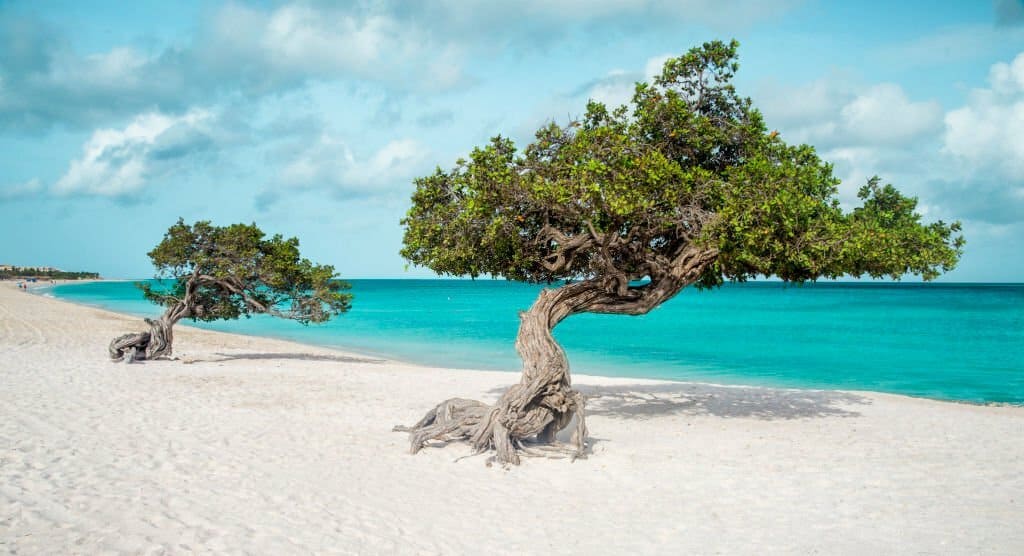 Location: Google Maps
Location #2: Boca Catalina
For those in search of crystal-clear waters, Boca Catalina is a paradise waiting to be explored. The vibrant marine life visible beneath the surface adds a mesmerizing element to your paddleboarding adventure. The shallow depth and calm conditions make Boca Catalina perfect for both beginners and experienced paddlers.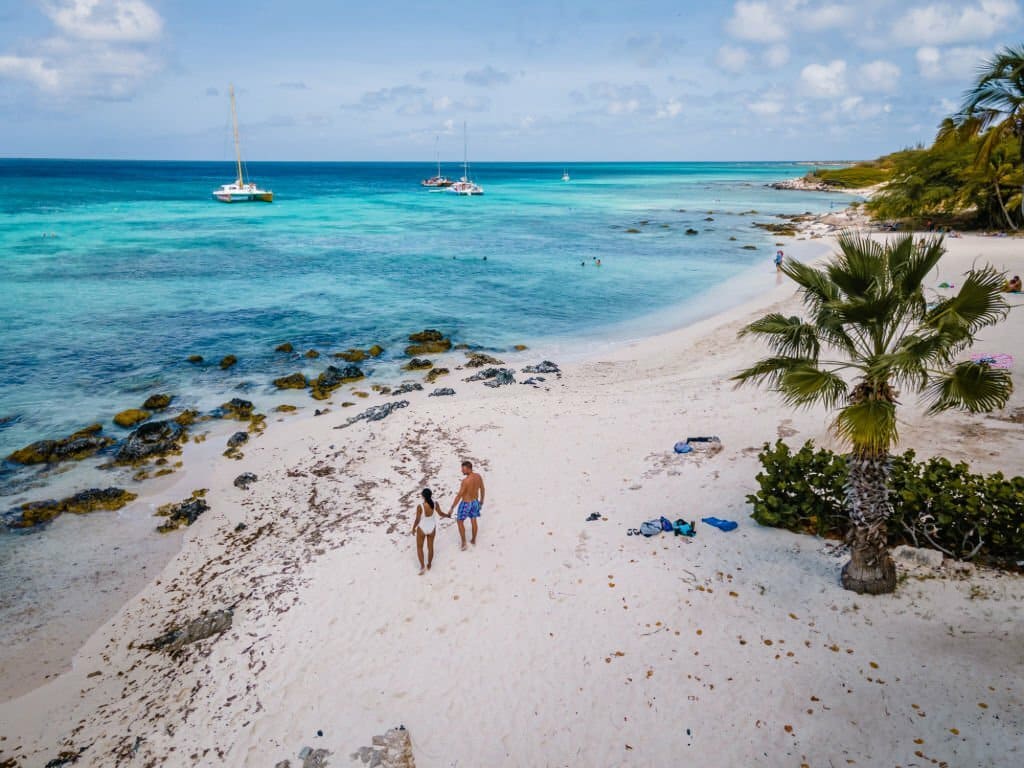 Location: Google Maps
Location #3: Mangel Halto
Escape the crowds and discover the hidden gem that is Mangel Halto. This secluded spot offers a unique paddleboarding experience amidst mangroves and coral formations. The vibrant marine ecosystem and the tranquility of Mangel Halto create an enchanting atmosphere, making it a favorite among those seeking a more private paddleboarding session.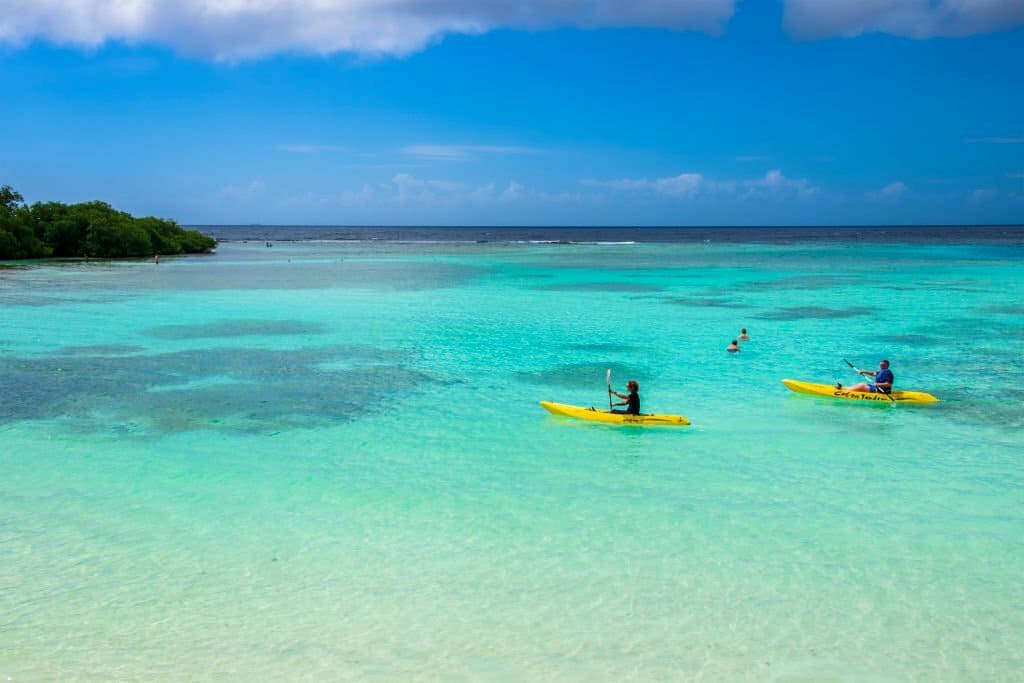 Location: Google Maps
Location #4: Arashi Beach
Arashi Beach strikes the perfect balance between a tranquil escape and adventurous exploration. The gentle waves beckon paddleboarders to embrace the water, while the scenic beauty of Arashi Beach provides a feast for the eyes. It's a place where you can paddle at your own pace, enjoying the serenity of the surroundings.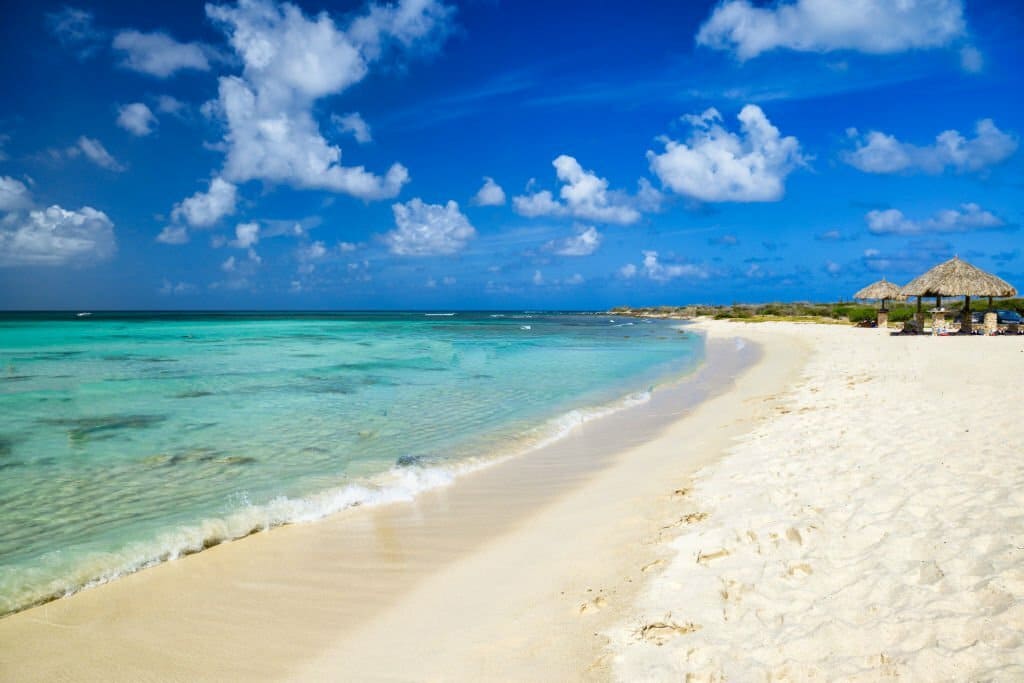 Location: Google Maps
Location #5: Baby Beach
If you're new to paddleboarding, Baby Beach is your go-to spot. The shallow, calm waters offer an ideal environment for beginners to practice their paddling skills. The gradual increase in depth allows for a gradual transition from the shore to deeper waters, ensuring a safe and enjoyable experience.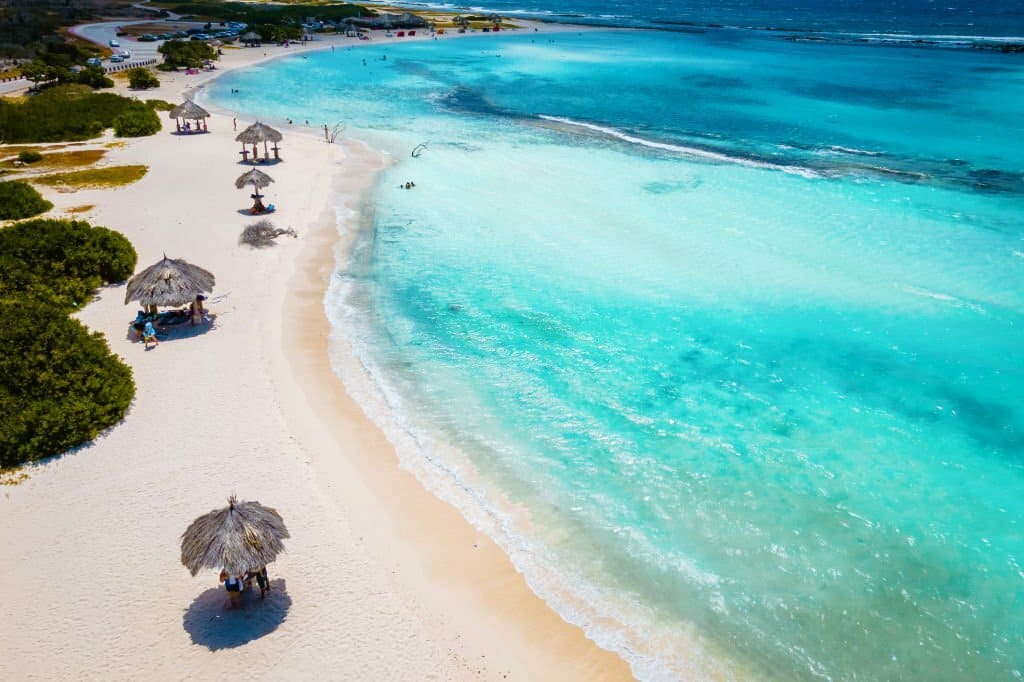 Location: Google Maps
Location #6: Hadicurari Beach
Hadicurari Beach is a dynamic hub for water sports enthusiasts. While windsurfers harness the power of the trade winds, paddleboarders can gracefully navigate the waves. The energetic atmosphere and variety of water activities make Hadicurari Beach a lively destination for those seeking both excitement and tranquility. Just be prepared for some wind!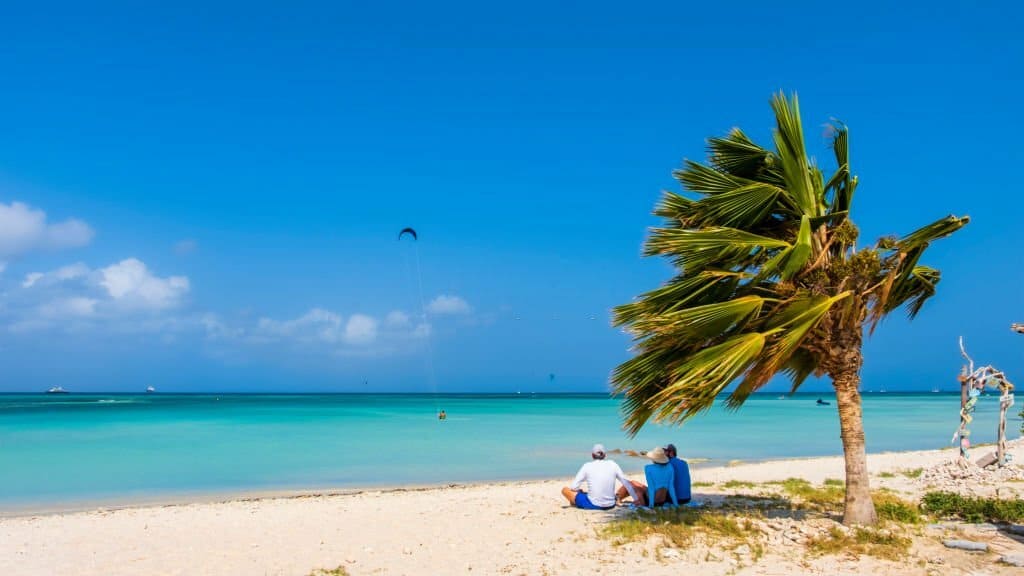 Location: Google Maps
Location #7: Rodgers Beach
For a serene paddleboarding experience, Rodgers Beach offers a peaceful escape. The calm waters and the absence of crowds create an intimate setting for paddlers. As you glide along the shore, you'll be enveloped in the tranquility that defines Rodgers Beach, making it a top choice for those seeking a more relaxed paddleboarding session.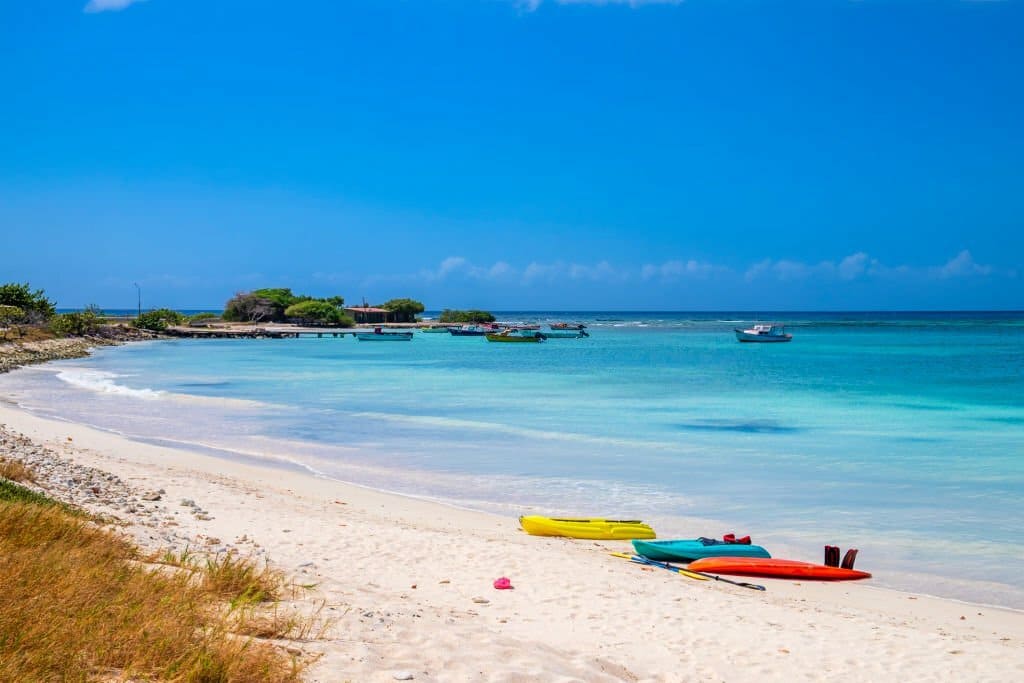 Location: Google Maps
Location #8: Andicuri Beach
Andicuri Beach beckons the adventurous souls eager to explore the untamed side of Aruba. With its rugged coastline and more challenging conditions, Andicuri Beach provides a thrilling paddleboarding experience. Navigate through the waves and relish the raw beauty of nature at this off-the-beaten-path location.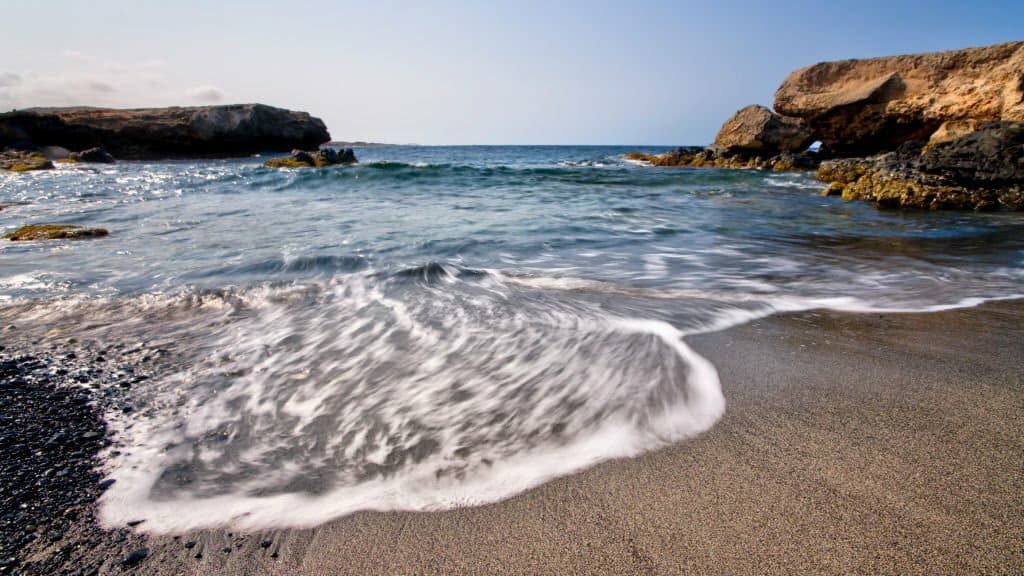 Location: Google Maps
Location #9: Palm Beach
Palm Beach, with its vibrant atmosphere and lively surroundings, offers a unique paddleboarding experience. The bustling energy of the area complements the beauty of the turquoise waters, creating an exciting yet picturesque setting for paddleboard enthusiasts. It's a place where you can immerse yourself in the lively Aruban spirit while enjoying a paddle on the water. This is paddleboarding Aruba at it's finest.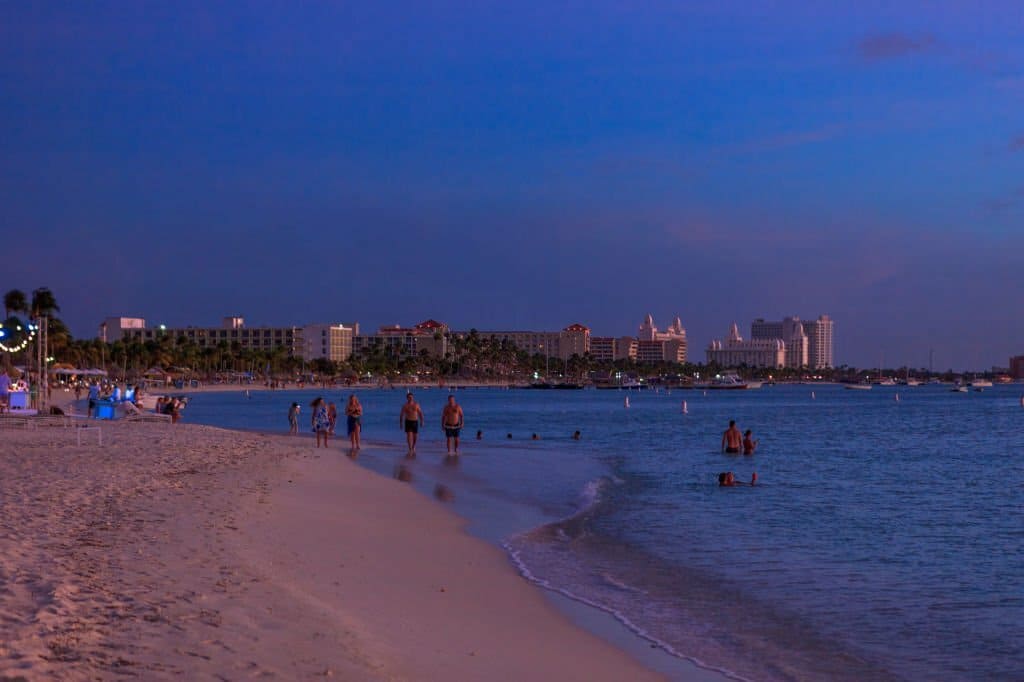 Location: Google Maps
Location #10: Blackstone Beach
For those seeking a secluded retreat, Blackstone Beach is a hidden gem. Away from the popular tourist spots, this lesser-known beach provides a quiet space for paddleboarders to unwind. Paddle along the shoreline and relish the solitude, surrounded by the untouched beauty that defines Blackstone Beach. You will just have to paddle out a bit to get into the calmer waters. You got this!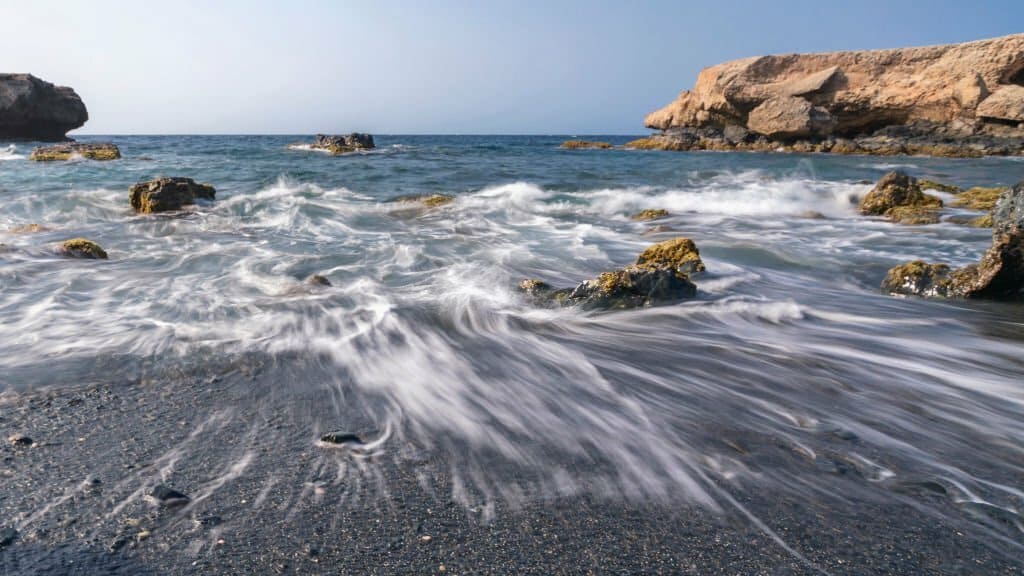 Location: Google Maps
Okay – so you know some of the top locations now, let's talk about equipment and safety.
The first question I get asked a lot is…
Should You Rent Or Buy A Paddleboard?
The answer is – "it depends".
Not what you wanted to hear, but here's the reason why I say that…What is your intention?
Considering a new sport for exploration, fitness, and fun with friends? Invest in your own paddleboard then because it will be yours and you'll get exactly what you want.
However, if you're trying paddleboarding in Aruba for the first time and you don't know if you like it then it's most likely a good idea to try a rental board 🙂.
The other major factor is how would you get your SUP to Aruba? You could take it on a plane but that's often expensive and not worth the hassle.
So like I said before – I'm a big believer in owning your own paddleboard, but it needs to be in the right circumstances.
But if you're going to rent when you visit Aruba, then here are some of the best companies to rent from (with prices)
Best Places To Rent When Paddleboarding Aruba:
Let's get into the rental options…
Aruba surf and paddle school is a nice company with really friendly people. You can do a lesson, tour or just paddle for the day with a rental (they have great prices too!)
Rental Price: $25 per hour
Tour Price: $95 for 2 hour tour (2 people)
Address: J.E. Irausquin Blvd, Noord, Aruba
Directions: Google Maps
Contact Number: +297 593 0229
This company also does paddleboard yoga which is really fun in Aruba because of the flat water 🙂
Rental Price: $20 per hour
Address: L.G. Smith Blvd, Noord, Aruba
Directions: Google Maps
Contact Number: +297 593 0166
Safety Tips for Paddleboarding Aruba
Before embarking on your paddleboarding journey, it's crucial that you always prioritize the safety of you and the people around you.
Use these tips to make sure that you're safe:
Always Check The Weather Conditions
The weather can always be unpredictable, so I recommend that you check the weather before you head out onto the water. Aruba is tropical, so you don't want to be stuck in the scorching sun without sun cream and a hat.
Here is a detailed weather report for Aruba:
ARUBA WEATHER
Wear Proper Safety Gear
You want to always be wearing safety gear especially in the sea. This includes a life jacket and leash. These precautions ensure you'll have a worry-free paddleboarding experience.
Capturing Memories: Photography and Paddleboarding
Enhance your paddleboarding experience by capturing breath-taking memories with your camera. The unique viewpoint from your paddleboard provides unmatched photo opportunities. I highly recommend considering a GoPro for its unparalleled performance in the world of paddleboarding if it fits your budget.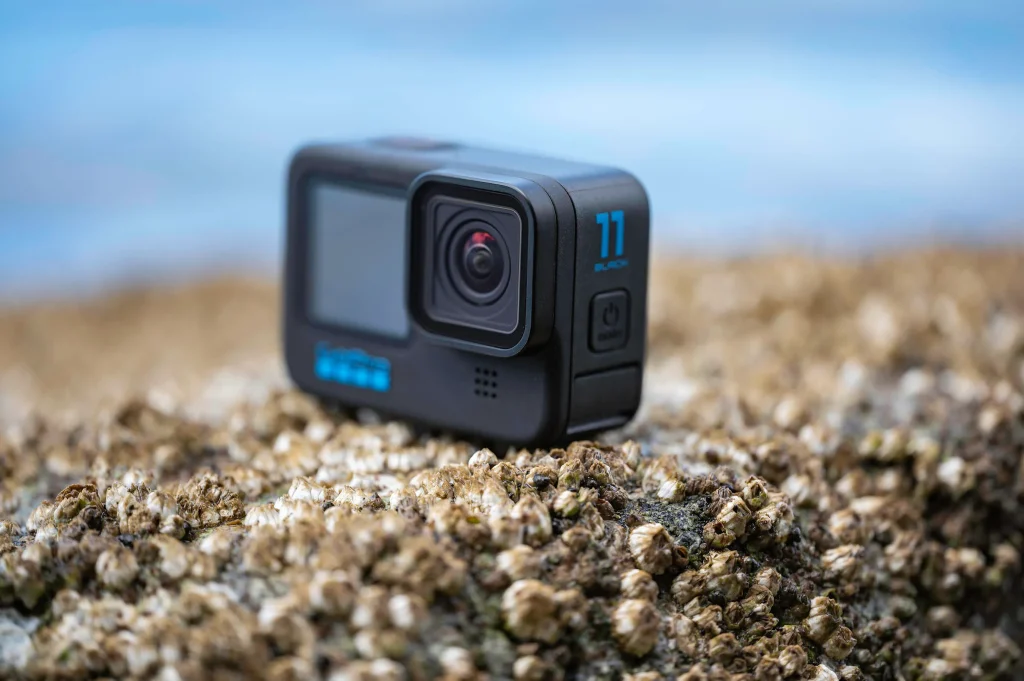 Where To Buy: Amazon
Key Features:
– 27MP Camera
– Waterproof
– 1.9 Inch Screen Size
– Emmy Award Winning Hypersmooth 5.0 Stabilization
– Great Battery life.
Embracing the Aruban Culture
Beyond paddleboarding, Aruba offers a rich cultural experience. Indulge in local flavors, savoring traditional dishes, and immerse yourself in the vibrant music and dance that define Aruba's unique culture. Interact with the friendly locals and gain insights into the island's history for a more enriching overall experience.
Make sure that you take the effort to see the flamingos when you're in Aruba 🙂 They really are amazing (and friendly).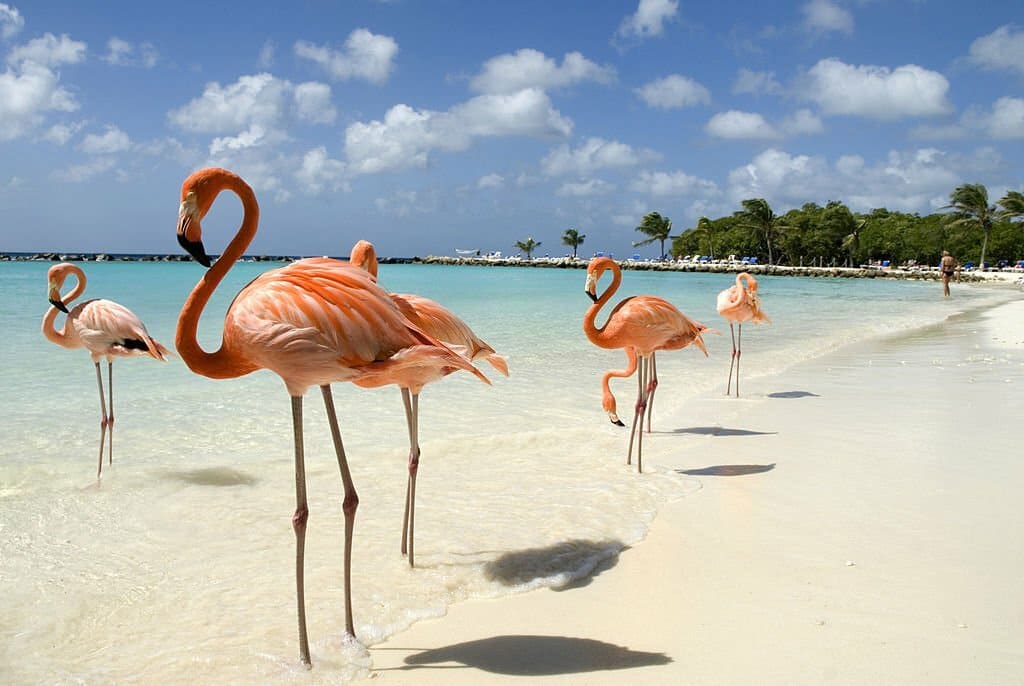 Conclusion
In the heart of the Caribbean, Aruba emerges as a haven for paddleboarding enthusiasts. Each beach, with its distinctive charm, offers a unique paddleboarding experience. Whether you seek relaxation, adventure, or a mixture of both… Aruba's diverse coastline has something to offer every paddler.
So, grab your paddle, visit Aruba, and let the turquoise waters be your guide! 💦
Paddleboarding Aruba FAQs
Is paddleboarding suitable for beginners in Aruba?
Absolutely! There are several beaches, such as Baby Beach, with calm and shallow waters ideal for beginners.
Are there rental options for paddleboarding equipment in Aruba?
Yes, many local shops and water sports facilities offer paddleboard rentals, making it convenient for visitors. Read in the rental option section above to see some recommendations that you can try when paddleboarding Aruba.
What is the best time of the year for paddleboarding in Aruba?
Aruba's climate is favorable year-round, but the dry season from January to August is often preferred for outdoor activities.
Are there guided paddleboarding tours available?
Yes, local guides are available for hire, offering insights into the best paddleboarding spots and ensuring a safe experience. Read above for some recommendations on paddleboarding tours that I've found.
Do I need to be an experienced paddleboarder to enjoy Aruba's waters?
Not at all! There are various beaches suitable for all skill levels, and beginners can easily find calm waters to practice and enjoy paddleboarding. If you love island life then you can't go wrong with paddle boarding in Barbados, it's well known for its long stretches of white beaches and it will give you a similar experience.