*We may earn a commission for purchases made using our links. Please see our disclosure to learn more.
If you're looking for somewhere new to visit then paddleboarding Atlanta, Georgia should be your next stop! In this article, I will share seven incredible places that I highly recommend for paddleboarders that want to explore Atlanta.
From serene lakes to majestic rivers, Atlanta offers a diverse range of paddleboarding experiences. So grab your paddleboard, put on your sunscreen, and let's dive into the top paddleboarding spots in Atlanta, Georgia.
Location #1: The Chattahoochee River
When it comes to paddleboarding, the Chattahoochee River is an absolute gem. With its pristine waters and picturesque surroundings, it provides an enchanting backdrop for your paddleboarding adventures. Imagine gliding along the tranquil river, surrounded by lush greenery and the soothing sound of flowing water and you'll get a sense of what it's like on this river.

One of the reasons I love paddleboarding on the Chattahoochee River is because of the calmness of its waters. Unlike the open sea or busy lakes, the river offers a serene and peaceful environment, perfect for a relaxing paddleboarding session. And on top of that – you can also see diverse wildlife here! Keep an eye out for graceful herons, playful otters, and even majestic bald eagles. The river's ecosystem is teeming with life just waiting for you to visit.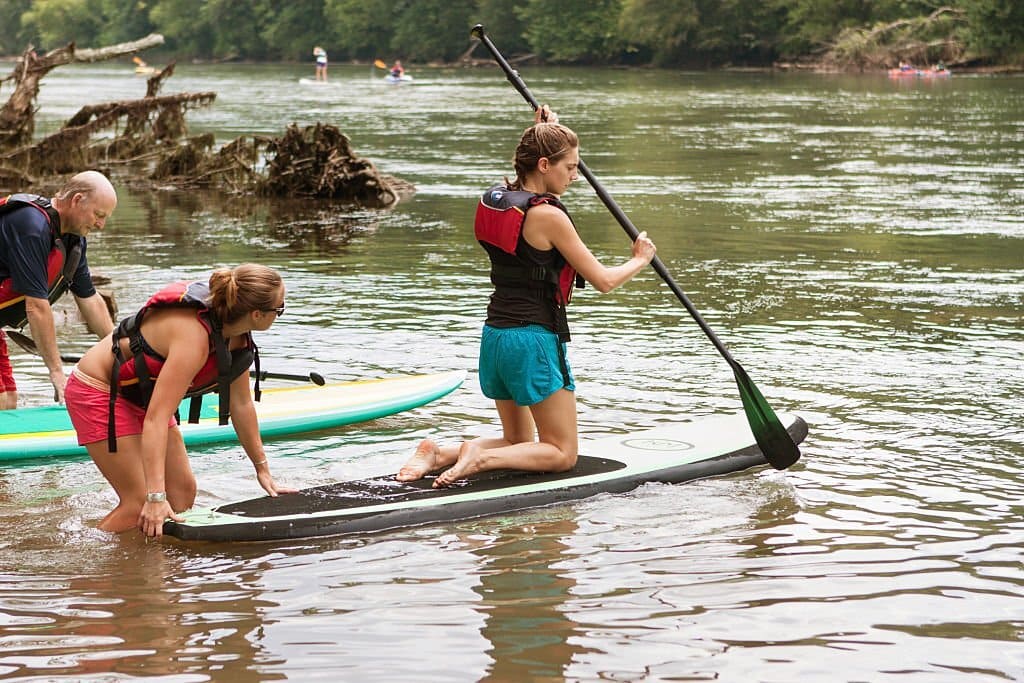 Location: Google Maps
Location #2: Lake Lanier
If you prefer paddleboarding on a larger body of water, then Lake Lanier is the place to be. It is a large, beautiful lake that offers plenty of room for paddlers to explore and enjoy the water. You can embark on a leisurely paddle or challenge yourself with longer distances to get your sweat on.
There are dozens of rental services that are readily available, making it easy to obtain a paddleboard even if you don't own one. Additionally, you can try your hand at other water activities such as kayaking or jet skiing so that it's fun for the whole family.

One of the most captivating aspects of paddleboarding on Lake Lanier is the opportunity to explore its scenic islands and hidden coves. There are so many hidden spots to find if you take the time to look for them 🙂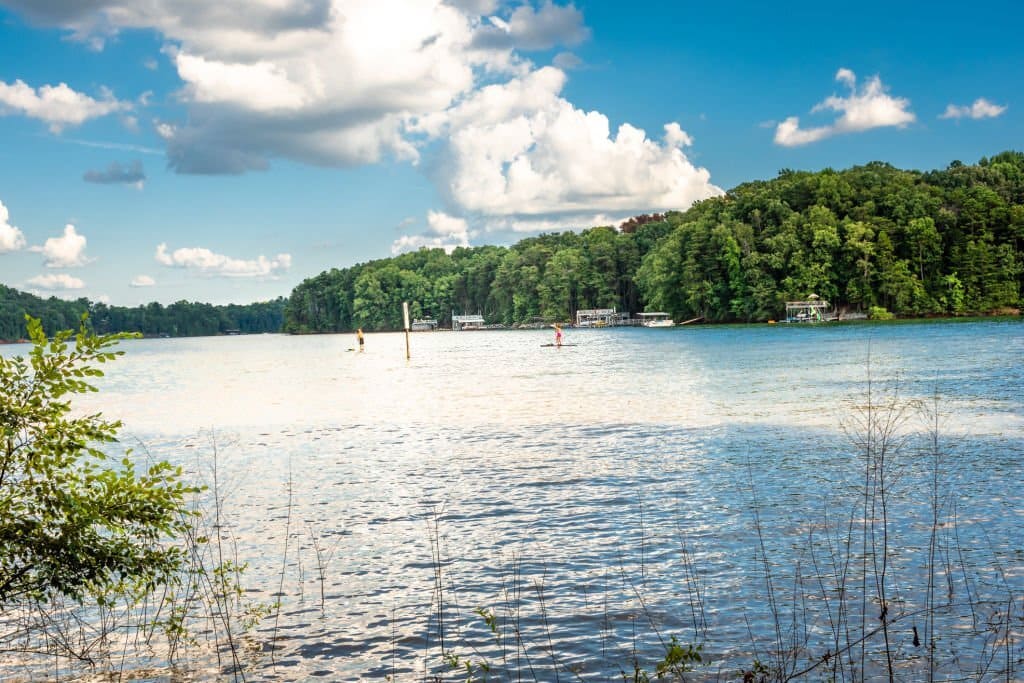 Location: Google Maps
Location #3: Stone Mountain Lake
For a truly unique paddleboarding experience, head to Stone Mountain Lake. With the iconic Stone Mountain as your backdrop, you'll feel like you're paddleboarding in a postcard. The view is simply breathtaking, and it adds an extra touch of magic to your paddle. The waters are calm and gentle, allowing you to paddle at your own pace while taking in the serene surroundings. It's a perfect spot for beginners or those seeking a more relaxed paddleboarding experience.
If you're planning a family outing, Stone Mountain Lake is a fantastic choice. The lake is known for its family-friendly environment, with picnic areas and other amenities available. You can introduce your loved ones to the joy of paddleboarding while creating lasting memories together.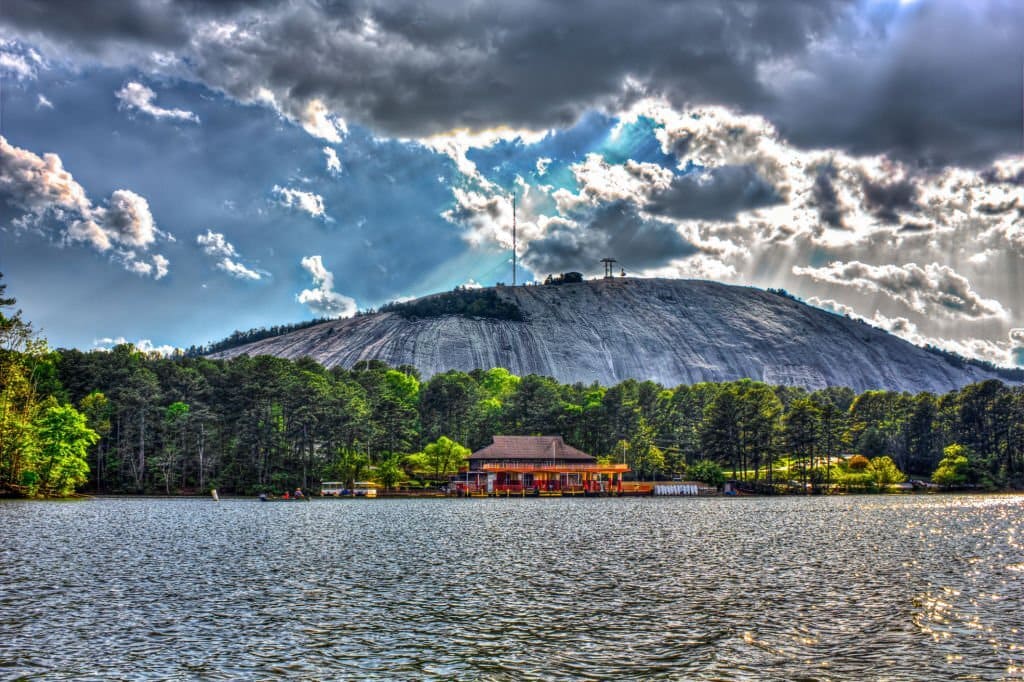 Location: Google Maps
Location #4: Lake Allatoona
Lake Allatoona, located just north of Atlanta, offers a nice reservoir that is perfect for paddleboarding. The calm waters and beautiful surroundings create a peaceful atmosphere for your next adventure. And one of the highlights of paddleboarding on Lake Allatoona is the stunning shoreline.
As you paddle along, you'll be treated to picturesque views of the surrounding forests and rolling hills. The shoreline is dotted with coves and inlets, providing opportunities for exploration and relaxation. And lake Allatoona is not only a great spot for paddleboarding but also offers various recreational activities. You can plan a camping trip and spend a weekend immersed in nature. The lake also provides opportunities for fishing, swimming, and hiking, ensuring a well-rounded outdoor experience.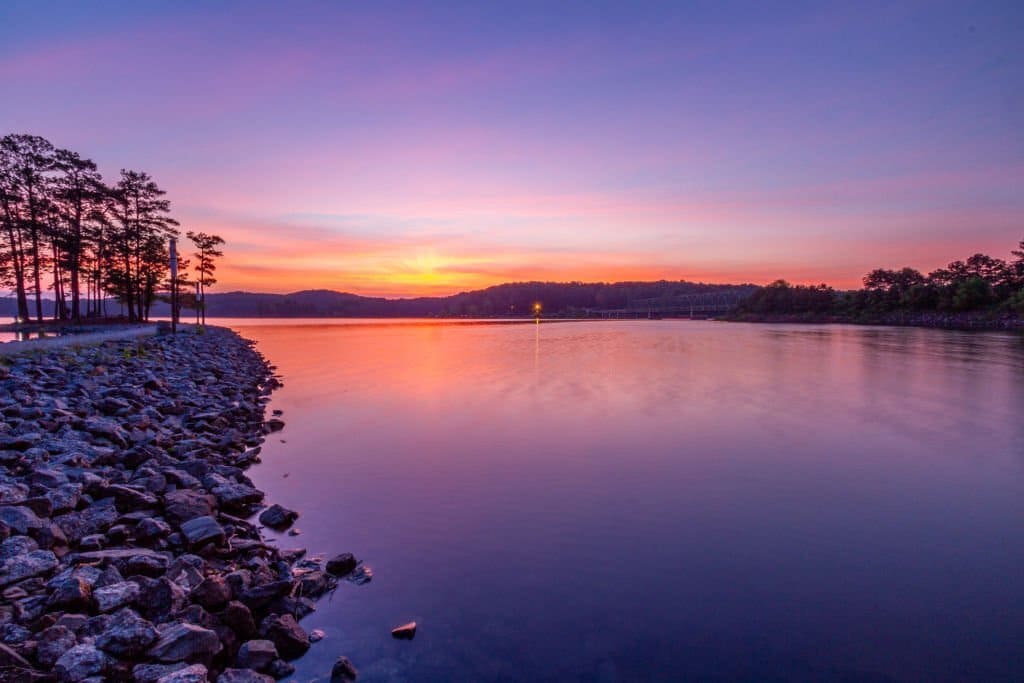 Location: Google Maps
Location #5: Sweetwater Creek State Park
Sweetwater Creek State Park, located just west of Atlanta, is another picturesque reservoir that is ideal for paddleboarding. The calm and clear waters of the reservoir make it a peaceful destination for paddlers. As you paddle along, you can take in the beauty of the surrounding forested hills and immerse yourself in nature.
One of the unique aspects of paddleboarding at Sweetwater Creek State Park is the opportunity to explore the historic mill ruins. Paddle your way closer to the ruins and witness the remnants of the New Manchester Manufacturing Company, a textile mill that played a significant role in Georgia's history.
After your paddleboarding session, you can venture onto the park's nature trails and see some amazing wildlife. Keep an eye out for wildlife sightings, including deer, birds, and other native species.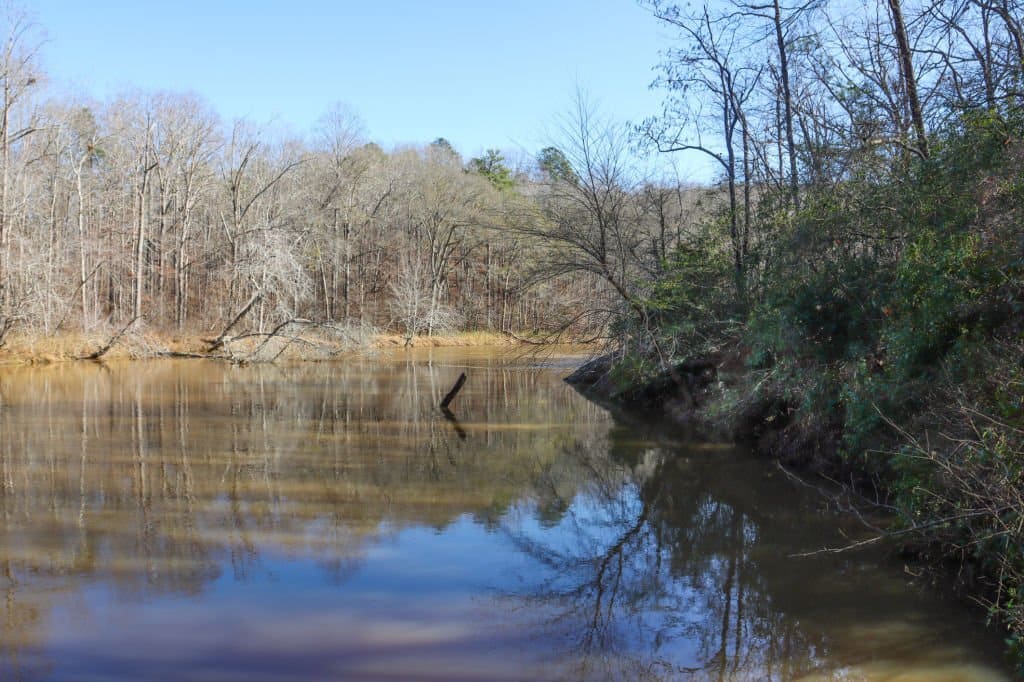 Location: Google Maps
Location #6: Morgan Falls Overlook Park
Located on the banks of the Chattahoochee River, Morgan Falls Overlook Park looks over another peaceful reservoir that is ideal for paddleboarding. The calm waters provide a glorious environment for paddlers of all skill levels. Whether you're a beginner or an experienced paddleboarder, you'll find this spot to be worth the trip.
After your paddle session, you can explore the park's nature trails, or relax at one of the picnic areas that are all around you. If you're into fishing then you can also cast your line while exploring the reservoir. It's a chance to catch some fish and create unforgettable moments on the water.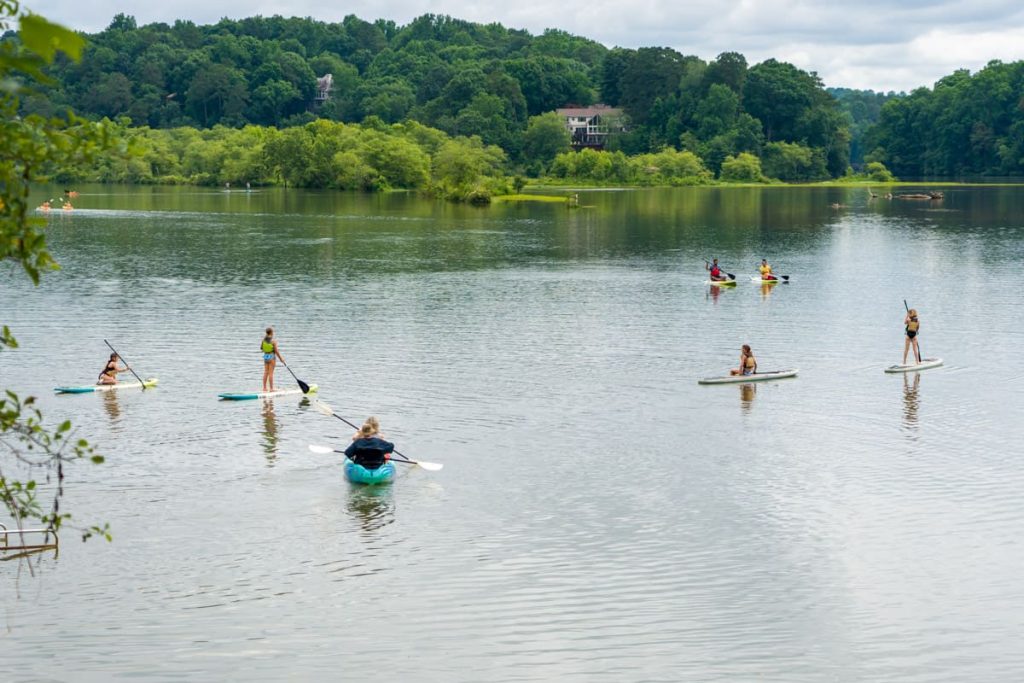 Location: Google Maps
Location #7: West Palisades Trail
The West Palisades Trail is a beautiful location when paddleboarding Atlanta. As you meander through the canyons, you'll be greeted with breathtaking views at every turn. The towering cliffs and rock formations create a dramatic backdrop, making this paddleboarding experience truly unforgettable.

Experienced paddleboarders seeking an adrenaline rush will find it on the West Palisades Trail. The trail features challenging rapids that add an exciting element to your paddleboarding adventure. It's a thrilling experience that pushes your skills to the limit and rewards you with a sense of accomplishment at the end.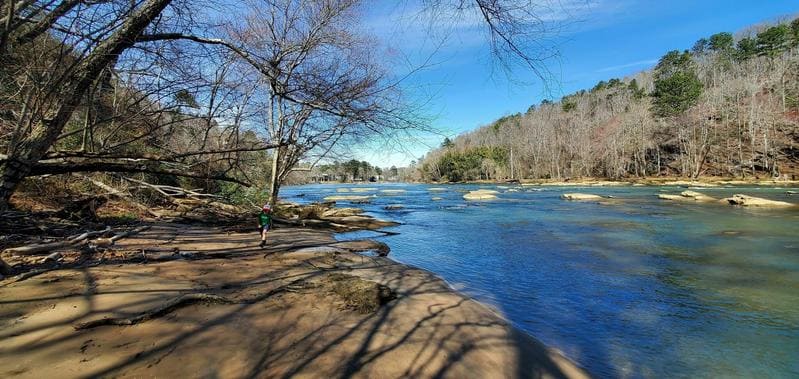 Location: Google Maps
Paddleboarding Atlanta: Equipment and Safety Tips
When you paddleboard in Atlanta, it's crucial to prioritize safety and have all the right information. Here are some essential tips to get you on your way:
Have The Essential Equipment:
Safety is extremely important when it comes to paddleboarding because you are out on the water, exposed to the elements and it is very easy for things like sunburn, dehydration and faulty equipment to cause you issues.
This is what you're going to need for paddleboarding Atlanta so that you know exactly what to wear when you go out on your first paddle.
Paddleboard (opt for a wider paddleboard if you are new or a beginner)
Paddleboard paddle
Sunscreen, hat and glasses
Lifejacket
Leash
If you have those then you'll be all set and ready to go, but you might want a few more accessories:
Check the weather conditions and tide schedules before heading out.
ATLANTA WEATHER
This will make sure that you know exactly what to wear and whether you need sunscreen or not when you head out for your paddle.
Use a leash to ensure your board stays connected to you.
This might seem obvious but you'll be in the water so you want to make sure that the board stays attached and you don't lose it. This is the purpose of your leash, and you want to make sure that you have a high quality coiled leash so that it doesn't drag in the water or get snagged on rocks and seaweed.
Familiarize yourself with basic paddleboarding techniques.
Make sure that you have a basic understanding of paddleboarding and how to stand before you hit the water so that you aren't caught unprepared.
Stay hydrated and protect yourself from the sun with sunscreen and a hat.
This is really important because it can get hot in Hawaii, so make sure that you protect yourself and your loved ones with the right sun equipment for paddleboarding.
Invest in high-quality paddleboarding equipment
If you're not planning on renting then you want to make sure that you have good equipment such as a stable board and a proper paddle. It's essential for a safe experience!
Paddleboarding Atlanta: Rentals and Tours
If you don't have your own paddleboard or prefer to try different locations, Lake Mead and the surrounding areas offer various rental and tour options. Local outfitters provide a range of paddleboard rentals, including hourly and daily rates. Additionally, guided tours are available for those who want to explore the lake with the expertise of a knowledgeable guide.
Here Are Some Recommendations:
Price: $100 for a full day
Address: 5820 Charleston Park Rd,
Cumming, GA 30041, United States
Directions: Google Maps
Phone: +1 404-843-0428

Festive Water, LLC
Price: $70 for a full day
Address: 5285 Lake Pointe Center Dr Suite A,
Cumming, GA 30041, United States
Directions: Google Maps
Phone: +1 404-422-9569
Conclusion: Paddleboarding Atlanta, Georgia
Atlanta, is a hidden gem for paddleboarding enthusiasts. From the serene waters of the Chattahoochee River to the breathtaking views at Stone Mountain Lake, there's something for everyone. Whether you're seeking tranquility, exploration, or an adrenaline rush, these six incredible places offer unforgettable paddleboarding experiences. So grab your paddleboard, explore Atlanta's waters, and immerse yourself in the beauty of nature.
FAQs
Can I rent a paddleboard at these locations?
Yes, many of these locations offer rental services for paddleboards, making it convenient for visitors who don't own their own equipment.
Are these places suitable for beginners?
Absolutely! While some locations may have more challenging conditions, there are plenty of spots suitable for beginners. Just make sure to choose the right location based on your skill level and comfort.
Are there any safety precautions I should take while paddleboarding?
Yes, it's always important to prioritize safety. Make sure to wear a life jacket, stay aware of your surroundings, and follow any specific guidelines or regulations set by each location.
Can I paddleboard with my kids?
Yes, some of the mentioned locations, such as Stone Mountain Lake and Morgan Falls Overlook Park, are family-friendly and suitable for paddleboarding with kids. Just ensure that they wear appropriate safety gear, they are comfortable in the water and have a paddleboard that suits children.
What is the best time of year to go paddleboarding in Atlanta?
The best time for paddleboarding in Atlanta is during the spring and fall seasons when the weather is mild and the water temperatures are comfortable. However, paddleboarding can be enjoyed year-round in Atlanta, as long as you dress appropriately for the weather conditions.