*We may earn a commission for purchases made using our links. Please see our disclosure to learn more.
When it comes to stand up paddleboarding, Fort Lauderdale is a paradise waiting to be explored. I've had the joy of discovering some incredible spots that offer not just the thrill of paddling but also stunning views and unforgettable experiences.
Recently I spent some time with locals that told me the best locations to explore for all skill levels, and that's why I created this article…
Whether you're a beginner looking for calm waters or an experienced paddler seeking a challenge, Fort Lauderdale has something for you!
Let's get into it 🙂
Paddleboarding Fort Lauderdale: Best Locations
Location #1: Hugh Taylor Birch State Park
One of my absolute favorite spots for a serene paddleboarding session is High Taylor Birch State Park. Picture this: gliding across the tranquil waters, the golden hues of sunrise reflecting off the water's surface. This park offers a calm inlet perfect for beginners. The early morning light, combined with the stillness of the surroundings, makes for an enchanting experience that sets the tone for a wonderful day.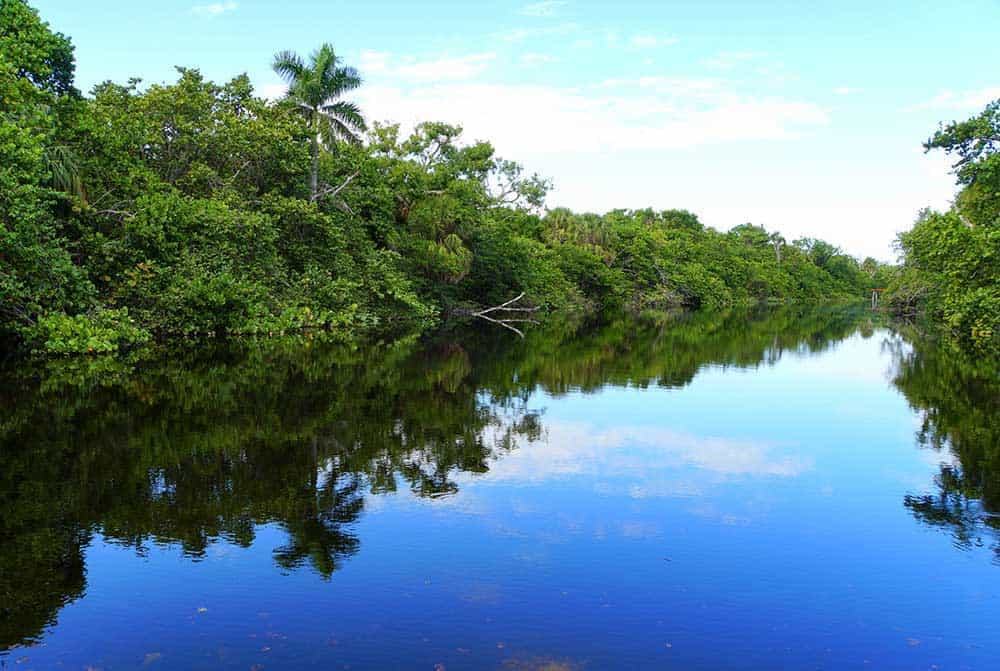 Location: Google Maps
Location #2: Intracoastal Waterway
For a more urban yet equally captivating paddleboarding adventure, head to the Intracoastal Waterway. This waterway runs parallel to the coastline, providing a unique perspective of Fort Lauderdale's vibrant cityscape. Paddle past luxurious yachts and waterfront mansions while feeling the gentle sway of the water beneath you. It's an excellent opportunity to connect with the city's upscale atmosphere.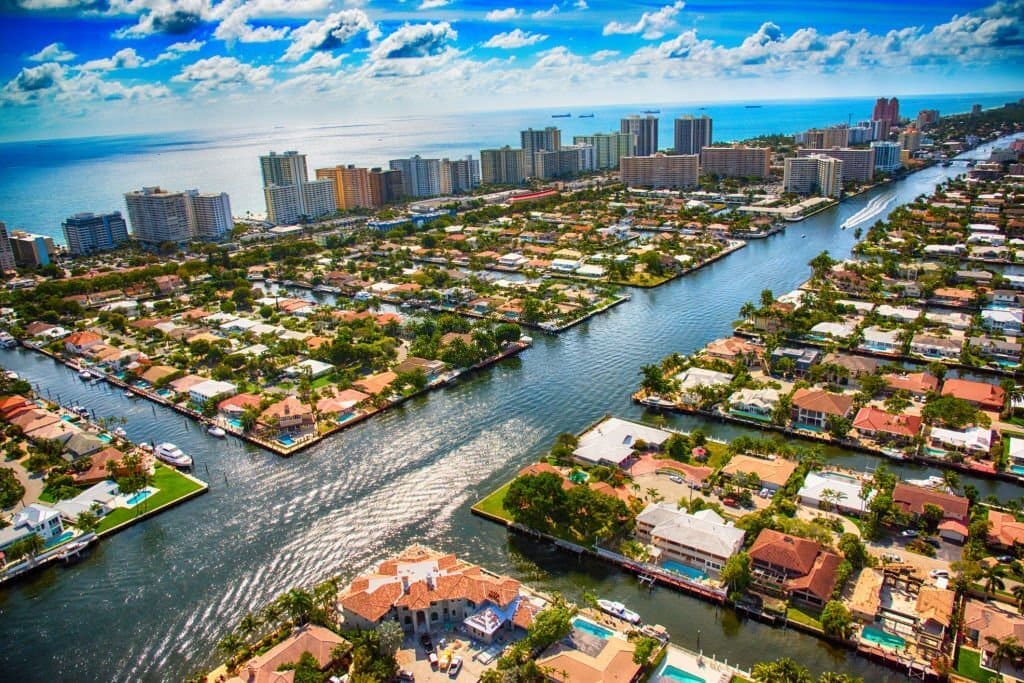 Location: Google Maps
Location #3: West Lake Park
If you're seeking a peaceful escape from the city's hustle and bustle, West Lake Park should be on your list. This hidden gem boasts serene water trails surrounded by lush mangroves and abundant wildlife. The calm waters make it a haven for birdwatchers and nature enthusiasts. Paddling through the narrow mangrove tunnels is like entering a secret world of tranquility.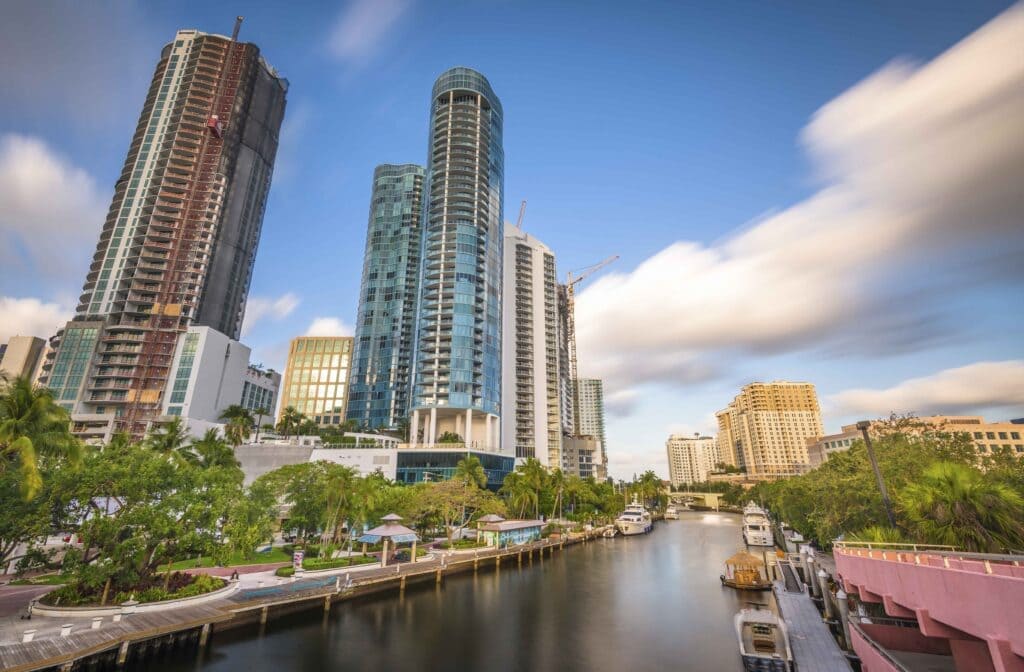 Location: Google Maps
Location #4: Hollywood Beach
As the day winds down, there's a special spot that offers an enchanting paddleboarding experience – Hollywood Beach. Paddle along the coast as the sky transforms into a canvas of breathtaking colors. This is a magical way to end your paddleboarding day in Fort Lauderdale and then check out for a nice meal or cold beer after your day paddling.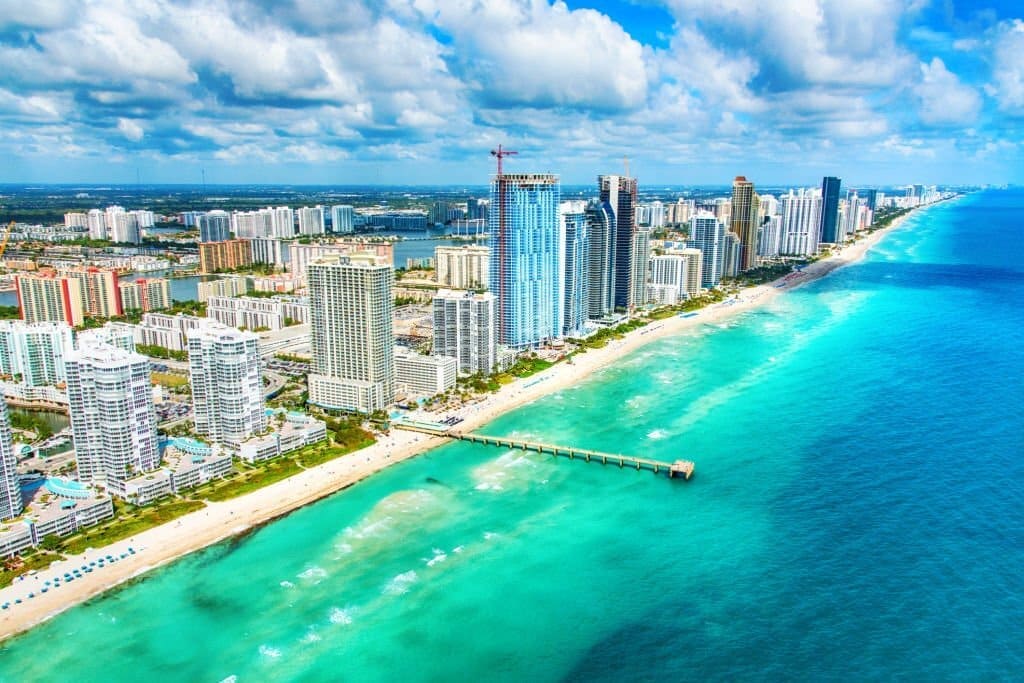 Location: Google Maps
Location #5: Las Olas Beach
Las Olas Beach isn't just for sunbathing; it's also a fantastic paddleboarding spot. Launch your board from the sandy shores and paddle along the coastline, taking in the stunning views of the ocean and the city. The waves here can provide an exciting challenge for more experienced paddleboarders, adding an element of fun to your adventure.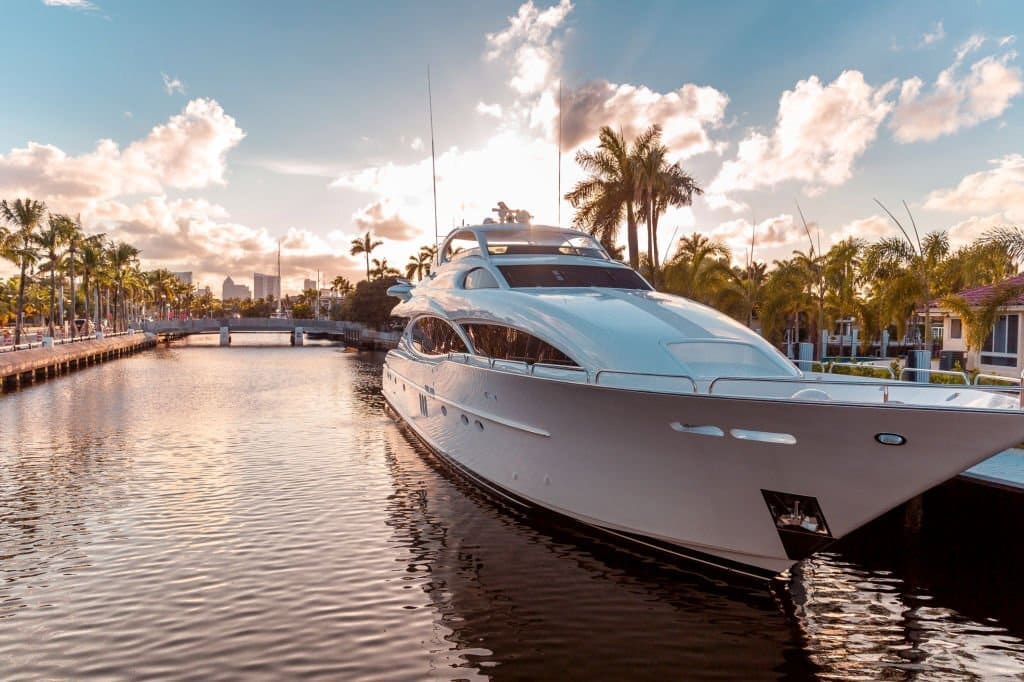 Location: Google Maps
Location #6: Anne Kolb Nature Center
For a truly immersive nature encounter, look no further than the Anne Kolb Nature Center. This ecological oasis features a network of water trails that wind through mangroves, marshes, and open water. The abundance of wildlife, including manatees and dolphins, ensures that every paddle here is a unique and unforgettable experience.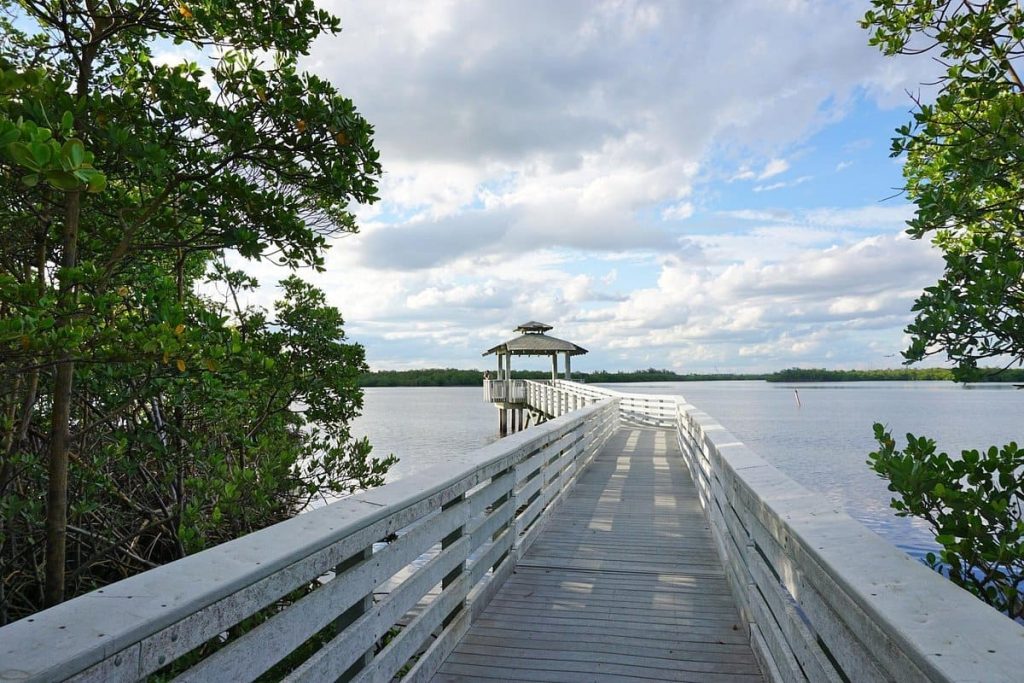 Location: Google Maps
Location #7: New River
Last but not least, explore the heart of Fort Lauderdale's downtown by paddleboarding along the New River. This urban waterway takes you through the heart of the city, passing by iconic landmarks and lively bars and restaurants. It's an unconventional way to experience the urban vibe of Fort Lauderdale while enjoying the water.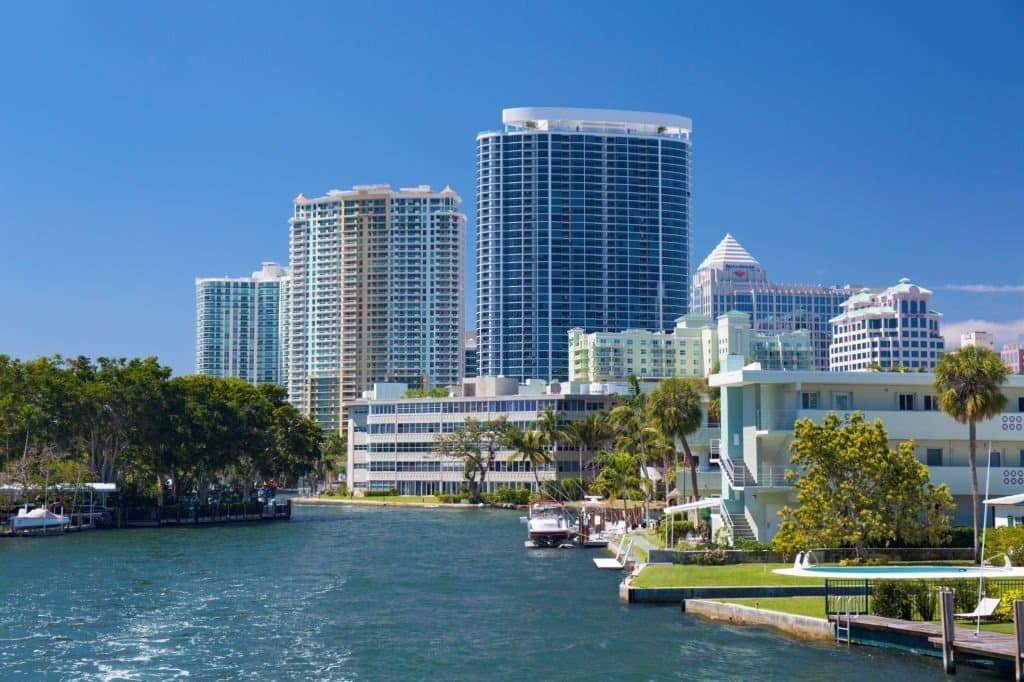 Location: Google Maps
So now that you know the best locations, let's address a common question…
"Should I Buy A Paddleboard?"
I believe that it is always better to own your own paddleboard because then you can get exactly what you want and it's high-quality.
So my answer is this – If you want to bring paddleboarding into your life then it's worth grabbing a SUP. They aren't very expensive anymore (you can get really nice budget options nowadays) and then you can go on as many adventures as you want with your board.
But I also get t if you want to rent a board, so here are some great locations to rent a SUP when paddleboarding Denver.
Best Places To Rent When Paddleboarding Fort Lauderdale
So here are a few of my favorite spots to rent a SUP:
Adventure Outdoor Paddle (**MY TOP PICK**)

Directions: Google Maps
Address: 210 E Ruby Street, Tavares, Fl 32778
Phone: (352) 217-5012
This is a great company to look at. They have paddle tours where you can explore Florida while also getting local food or beer. This is a great way to spend a day out on the water exploring Florida.
Here's where you can get more details:
1: Paddle & Bru Beer Tour
Price: $69.95 for a 2-3 hour tour

2: Paddle & Grub Tour
Price: $69.95 for a 2-3 hour tour
Other Companies
Paddles Outdoor Rentals: This is the #1 recommended rental company located in Crystal River. You can rent out a paddleboard for $45 and explore the area. I would recommend taking a Partyboard which gives you a few hours to experience Florida on the water.

Address: 469 NE 1st St, Crystal River, FL 34429, United States
Contact Number: 1 (352) 586-5259
Kayak Jacks Paddle Sports: I love Kayak Jacks because of their Eco Tours. For $30 you can get a self-guided Eco Tour where you can explore the mangroves in Holmes Beach. Or you can do a guided Eco Tour which is also great for only $50. It's definitely worth checking this company out because they have some of the best prices I've seen.
Address: 5501 Marina Dr, Holmes Beach, FL 34217, United States
Contact Number: +1 941-538-1448
Sarasota Paddleboard Company: Sarasota is also a very solid company that you can rent from located in the Lido Key and they even deliver to you. A great option is to do a sunset paddleboard session and you can get a SUP with lights below. This is a really unique experience. You can get a 3 hour rental for $45 + Tax.
Address: Lido Key and Longboat Key, FL 34429, United States
Contact Number: +1 941-6508-2241
Preparing for a Paddleboarding Adventure
Before you embark on your paddleboarding journey, it's essential to be well-prepared. Here are a few tips to ensure a smooth and enjoyable experience:
Choose the Right Board:
Select a board that suits your skill level and the type of water you'll be paddling on. A wider and more stable board is great for beginners, while narrower boards are better for experienced paddlers.
Dress Comfortably:
Opt for comfortable clothing that allows for a wide range of movement. Don't forget sunscreen, a hat, and sunglasses to protect yourself from the sun.
Bring the Essentials:
Pack essentials like water, a waterproof bag for your belongings, a whistle for emergencies, and a leash to keep your board connected to you.
Safety Tips for Paddleboarding Fort Lauderdale
While paddleboarding is a fantastic activity, safety should always be a priority. Here are some safety tips to keep in mind:
Wear a Life Jacket:
Regardless of your swimming abilities, always wear a properly fitted life jacket.
Check the Weather:
Before you head out, check the weather forecast and water conditions. Avoid paddling in strong winds or rough waters.
Here is a detailed weather guide for Fort Lauderdale:
FORT LAUDERDALE WEATHER
Stay Hydrated:
Paddleboarding can be physically demanding. Bring enough water to stay hydrated throughout your adventure.
Conclusion
Fort Lauderdale offers an array of incredible paddleboarding spots that cater to different preferences and skill levels. From serene sunrise sessions to urban explorations, each spot provides a unique experience that combines the joy of paddling with the beauty of nature and the excitement of the city. So grab your board, soak in the sun, and embark on an unforgettable paddleboarding journey in Fort Lauderdale!
FAQs
Is paddleboarding suitable for beginners in Fort Lauderdale?
Absolutely! Fort Lauderdale has calm waters and beginner-friendly spots like Birch State Park and West Lake Park.
Do I need prior experience to paddleboard at Las Olas Beach?
While prior experience is helpful, you can still enjoy paddleboarding at Las Olas Beach. Just be prepared for some waves.
Are there guided paddleboarding tours in Fort Lauderdale?
Yes, many tour operators offer guided paddleboarding tours that cater to various skill levels.
What's the best time of day to go paddleboarding?
Early mornings are ideal for calm waters and breathtaking sunrises, but you can paddleboard throughout the day.
Can I bring my own paddleboard to Hugh Taylor Birch State Park?
Yes, you can bring your own board. The park also offers rentals if you prefer.
Remember, paddleboarding is about enjoying the journey and the scenery, so take your time and savor every moment on the water.