*We may earn a commission for purchases made using our links. Please see our disclosure to learn more.
If you're looking for the ultimate paddleboarding experience, you're in for a treat. Paddleboarding Santa Monica is one of the best spots that you could ever ask for! It truly is a coastal paradise and I'm excited to tell you about it.
Why Choose Santa Monica for Paddleboarding
Santa Monica is more than just a famous tourist destination; it's a paddleboarding haven. With its gentle waves, favorable climate, and awe-inspiring coastal scenery, this Californian gem beckons paddle enthusiasts like me.
The calm waters of the Santa Monica Bay provide an ideal environment for both beginners and seasoned paddlers to explore, relax, and connect with nature.
Paddleboarding Santa Monica: 6 Top Spots To Explore Today
Location #1: Santa Monica Beach
Santa Monica Beach stands as the flagship spot for paddleboarding aficionados. The combination of a wide sandy coastline and inviting waves makes it perfect for paddleboarding novices. Picture yourself gliding along the water, soaking in the panoramic views of the Santa Monica Pier and the majestic Pacific coastline. You'll find rental shops here too, so don't worry if you don't have your own gear.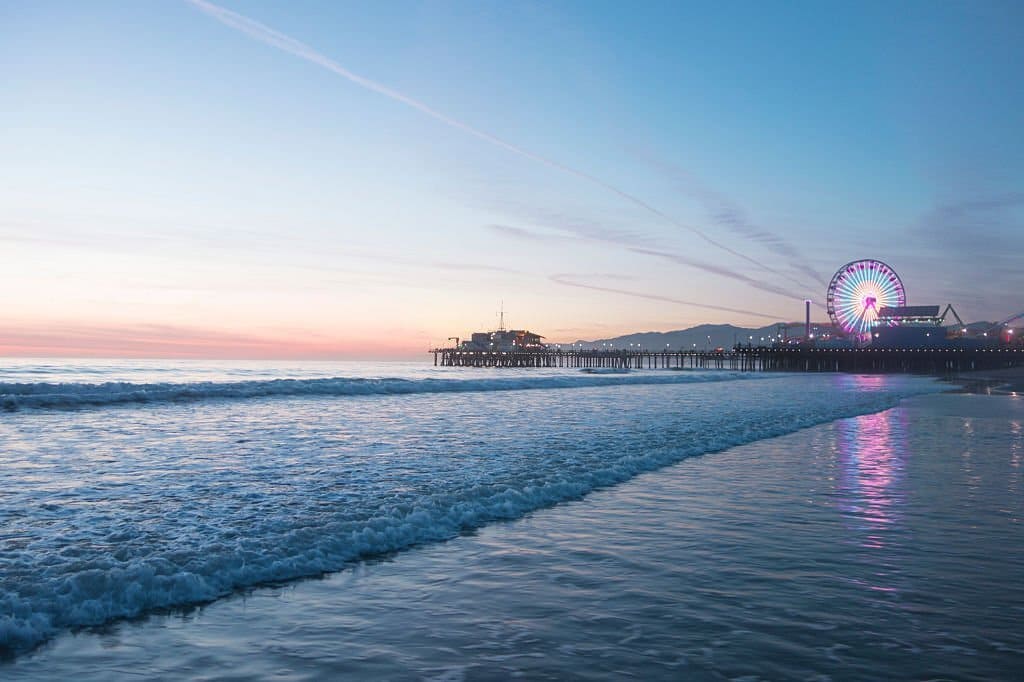 Location: Google Maps
Location #2: Marina del Rey
For those seeking a more tranquil paddleboarding outing, Marina del Rey fits the bill. This idyllic marina offers calm waters and a serene atmosphere, ideal for leisurely paddling. You can explore the marina's intricate waterways, passing by luxurious yachts and charming waterfront restaurants. It's like a paddle-powered tour of extreme wealth.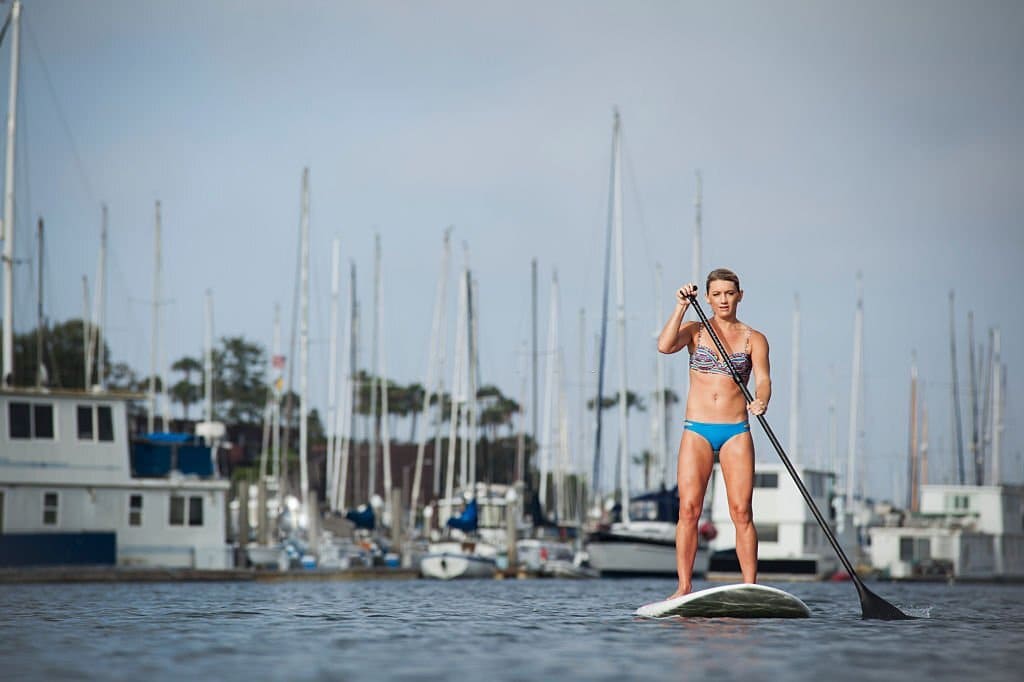 Location: Google Maps
Location #3: Malibu's Paradise Cove
A bit farther down the coast lies the captivating Paradise Cove in Malibu. This secluded paradise boasts crystal-clear waters and awesome rock formations. It's not only a fantastic paddleboarding spot but also an excellent location for snorkeling. The rich marine life here will leave you in awe. Paddle out, anchor, and have fun.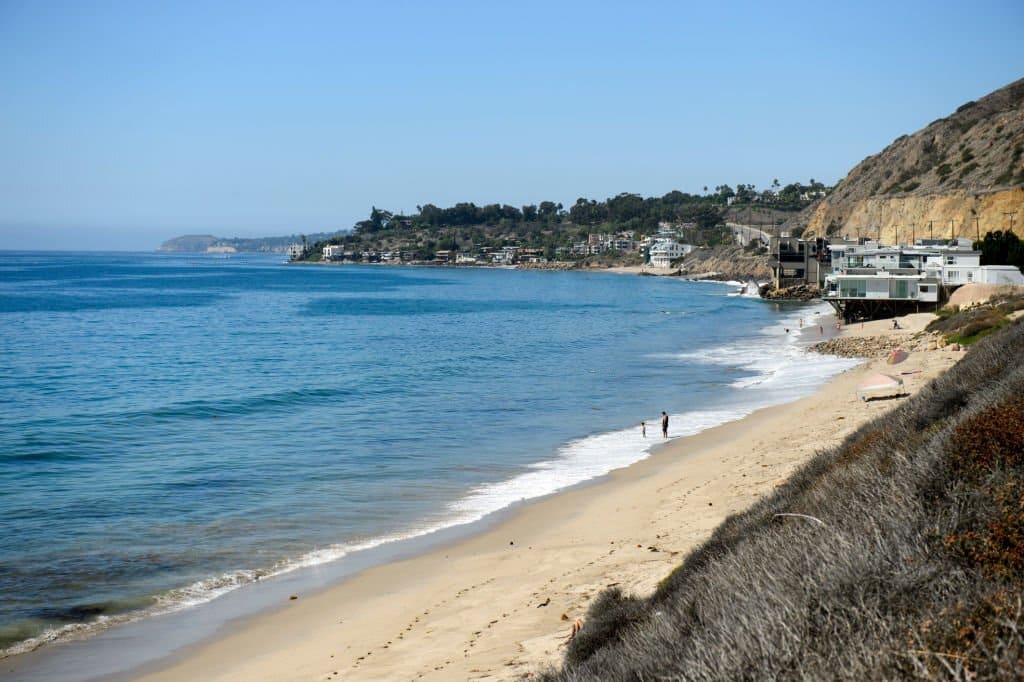 Location: Google Maps
Location #4: Will Rogers State Beach
For a blend of stunning scenery and paddleboarding excitement, Will Rogers State Beach is the place to be. The waves are well-suited for both beginners and intermediate paddlers, making it an ideal spot for a balanced experience. While paddling, you'll be treated to breathtaking views of the Santa Monica Mountains, creating a seamless blend of nature and adventure.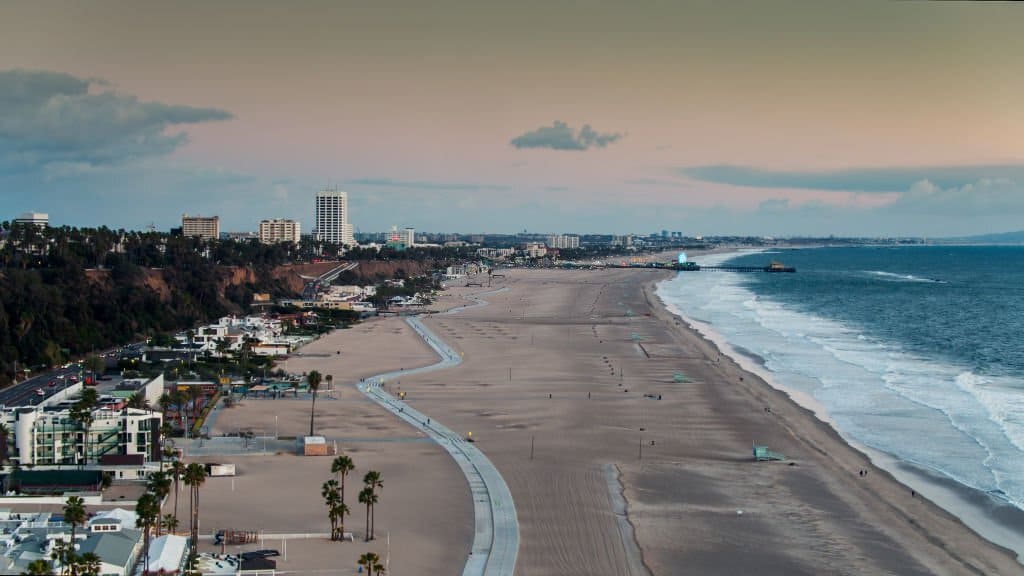 Location: Google Maps
Location #5: Point Dume State Beach
Nestled between rugged cliffs and azure waters, Point Dume State Beach offers an idyllic paddleboarding experience. This spot is renowned for its stunning sea caves and vibrant marine life. Paddle along the coastline and explore hidden coves, all while soaking in the beauty of the surrounding landscape.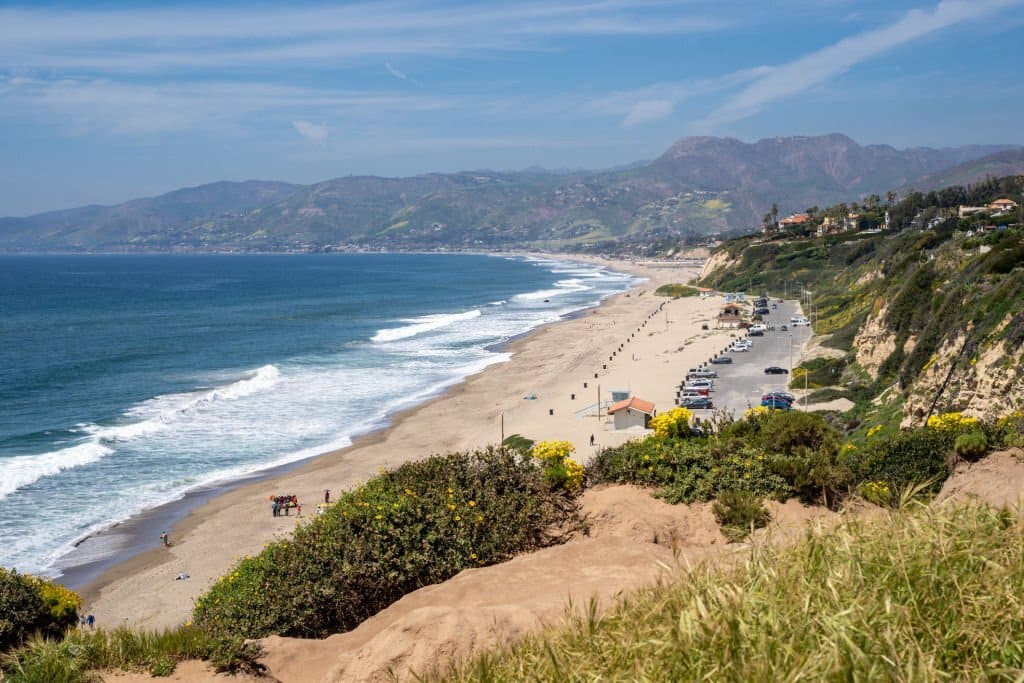 Location: Google Maps
Location #6: Topanga State Beach
Topanga State Beach is a true gem for paddleboarding enthusiasts who appreciate a more relaxed atmosphere. The calm waters and picturesque surroundings make it an excellent spot for practicing yoga on your board or simply enjoying a calming paddle. Take in the serene coastal views and relish the peaceful escape this spot provides.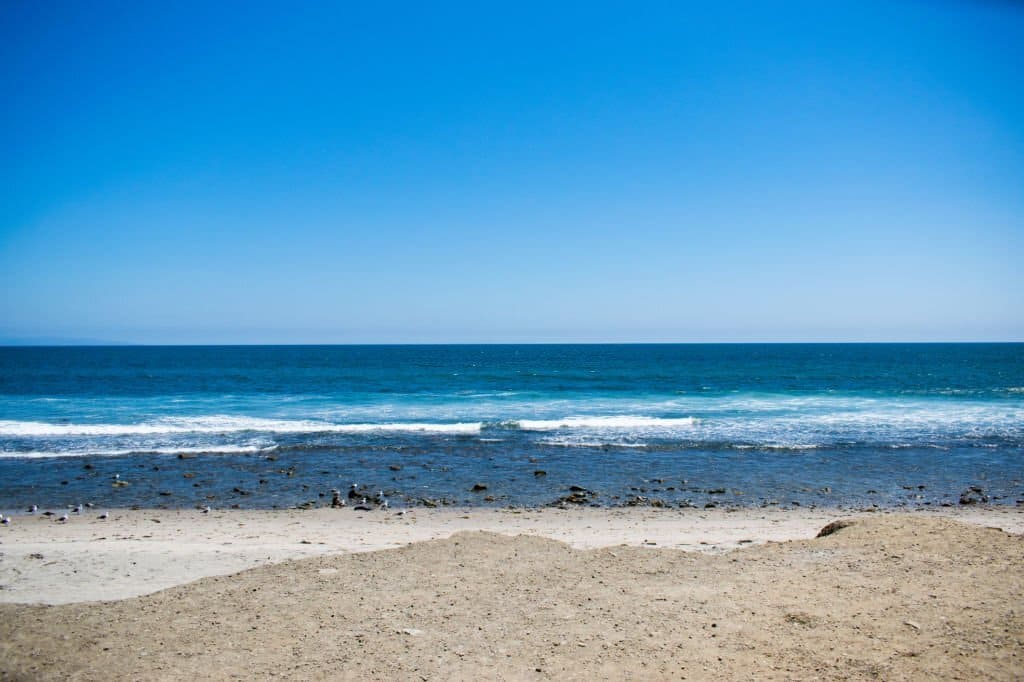 Location: Google Maps
Rentals and Lessons
If you're new to paddleboarding or didn't bring your own gear, don't worry about it. Santa Monica offers a range of rental shops that provide top-notch paddleboards and safety equipment. Many of these shops also offer lessons for paddlers of all skill levels. So whether you're a first-timer or looking to refine your technique, expert instructors are here to guide you.
Here are some of my favorite places:
Rental Price: $22.50 p/hour
Tour Prices: $35 for a Sunset Paddle & $70 for a Guided Marina Paddle
Address: 4175 Admiralty Way, Marina Del Rey, CA 90292, United States
Directions: Google Maps
Contact Number: +1 310-989-4350
Rental Price: $50 for 4 hours
Lesson Prices: $140 for a 2 hour lesson
Address: 1654 Ocean Ave, Santa Monica, CA 90401, United States
Directions: Google Maps
Contact Number: +1 310-694-8428
Safety Tips for Paddleboarding Santa Monica
Before embarking on your paddleboarding journey, it's crucial to prioritize safety.
Check Weather Conditions
The ocean can be unpredictable and it also gets extremely hot in Santa Monica, so it's always a smart move to check the weather before you make any paddling decisions.
You can get a detailed weather report here for Santa Monica:
SANTA MONICA WEATHER
Wear Proper Safety Gear
You want to always be wearing safety gear especially in the sea. This includes a life jacket and leash. These precautions ensure you'll have a worry-free paddleboarding experience.
Exploring Marine Life While Paddleboarding Santa Monica
One of the joys of paddleboarding in Santa Monica is the opportunity to connect with marine life. The Santa Monica Bay is teeming with diverse creatures, from playful dolphins to curious sea lions. As you paddle, keep your eyes peeled for these fascinating beings, but remember to maintain a respectful distance to protect their habitat.
Combining Paddleboarding with Yoga in Santa Monica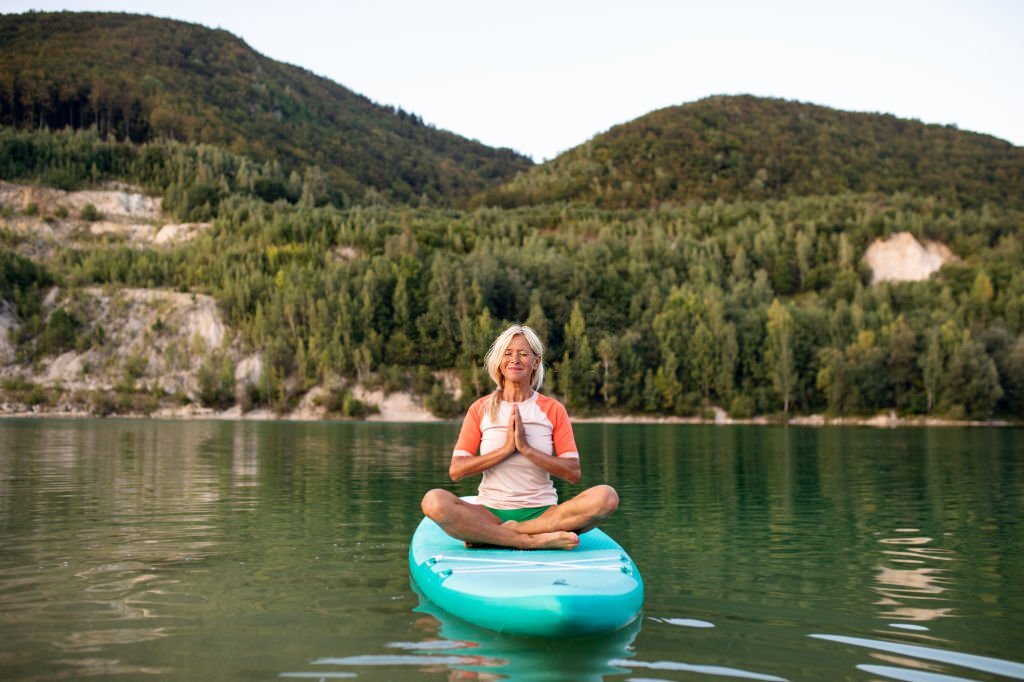 For a holistic experience, consider combining paddleboarding with yoga in Santa Monica's calm waters. Imagine practicing yoga poses on your paddleboard, surrounded by the soothing sounds of the ocean. It's a perfect fusion of balance and tranquility, taking your mindfulness practice to a whole new level.
Paddleboarding Events and Community in Santa Monica
Santa Monica's paddleboarding community is vibrant and welcoming. Throughout the year, you'll find various paddleboarding events that cater to different interests and skill levels. These events not only enhance your paddleboarding skills but also provide opportunities to connect with like-minded individuals who share your passion for the sport.
Capturing Memories: Photography and Paddleboarding
Bringing your camera along on your paddleboarding excursions can lead to stunning memories. The unique perspective from your paddleboard offers unparalleled photo opportunities. I would strong recommend investing into a GoPro if you have the means because they are unparalleled when it comes to paddleboarding
My Recommendation: GoPro HERO 11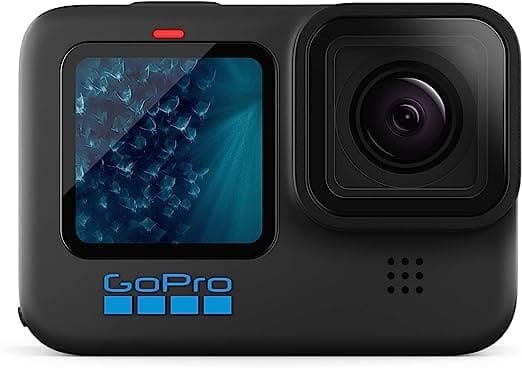 Where To Buy: Amazon
Key Features:
– 27MP Camera
– Waterproof
– 1.9 Inch Screen Size
– Emmy Award Winning Hypersmooth 5.0 Stabilization
– Great Battery life.
Getting a GoPro was one of the best purchases that I made when it comes to recording my paddleboarding adventures and it's something that I believe that you could never go wrong with.
Healthy Benefits of Paddleboarding
Paddleboarding isn't just about having fun; it's a fantastic workout too. Engaging your core muscles for balance and propelling yourself forward with each stroke is a full-body exercise. Plus, the calming effect of the water and the fresh ocean air contribute to reduced stress levels. It's a win-win for your physical and mental well-being.
Choosing the Right Paddleboard for You
Selecting the right paddleboard can greatly enhance your experience. Whether you prefer stability, speed, or versatility, there's a paddleboard suited for your preferences. Try out different types and sizes to find the one that aligns with your style and aspirations. Remember, your paddleboard is your trusty companion on your aquatic adventures.
Conclusion
Santa Monica is a paddleboarding paradise that offers something for everyone. From picturesque beaches to serene marinas, the city's diverse spots provide endless opportunities for paddlers to connect with nature and explore the beauty of the ocean. So, gear up, paddle out, and immerse yourself in the paddleboarding wonder that is Santa Monica.
FAQs about Paddleboarding Santa Monica
Is paddleboarding suitable for beginners in Santa Monica?
Absolutely! Many paddleboarding spots in Santa Monica are beginner-friendly with calm waters and rental options. Make sure you have an understanding of how to stand on the board and you're good to go!
Are there any age restrictions for paddleboarding?
Paddleboarding is suitable for all ages, but children should be accompanied by adults, and everyone should be comfortable in water.
Can I see marine life while paddleboarding?
Yes, Santa Monica's waters are home to various marine species, and you might spot dolphins, seals, and even whales from your board.
What's the best time of day to paddleboard for beginners?
Mornings are often ideal for beginners due to calmer winds and gentler waves.
Do I need to be physically fit to paddleboard?
While a basic level of fitness helps, paddleboarding can be adapted to various fitness levels, and it's a great way to improve overall strength and balance over time.