*We may earn a commission for purchases made using our links. Please see our disclosure to learn more.
Welcome to my guide on how you can go about paddleboarding Shem Creek. I've explored many of the spots in the area and I'm excited to give you my top recommendations on how to make it an amazing experience for you.
Whether you're a beginner or an experienced paddler, Shem Creek offers a great variety of beautiful locations that you can explore. Let's jump in!
Paddleboarding Shem Creek: Location and Overview
Shem Creek is located in Mount Pleasant, South Carolina. It's a picturesque tidal creek that flows into Charleston Harbor and it's well known for its stunning views, abundant wildlife, and vibrant culture. It is located on the East Coast and is a family-friendly vacation location for all of these reasons.
Now – one of the primary reasons why Shem Creek is a favorite among paddleboarders is its breathtaking natural beauty. As you glide along the creek, you'll be surrounded by lush marshes, towering palm trees, and vibrant birdlife. The serene atmosphere creates a truly immersive and tranquil SUP experience.
So let's jump in to the best locations to paddleboard there.
Best Places To Paddleboard Near Shem Creek
I've listed below my top 6 favorite places to paddleboard in the Shem Creek area along with recommendations of equipment and rental options in the area.
Location #1: Shem Creek Park
Shem Creek Park is an excellent starting point for your paddleboarding adventure. This park provides easy access to the water, making it convenient for beginners and those looking for a relaxed paddle. Enjoy the stunning views of the creek, observe local wildlife, and soak in the peaceful surroundings as you navigate the calm waters.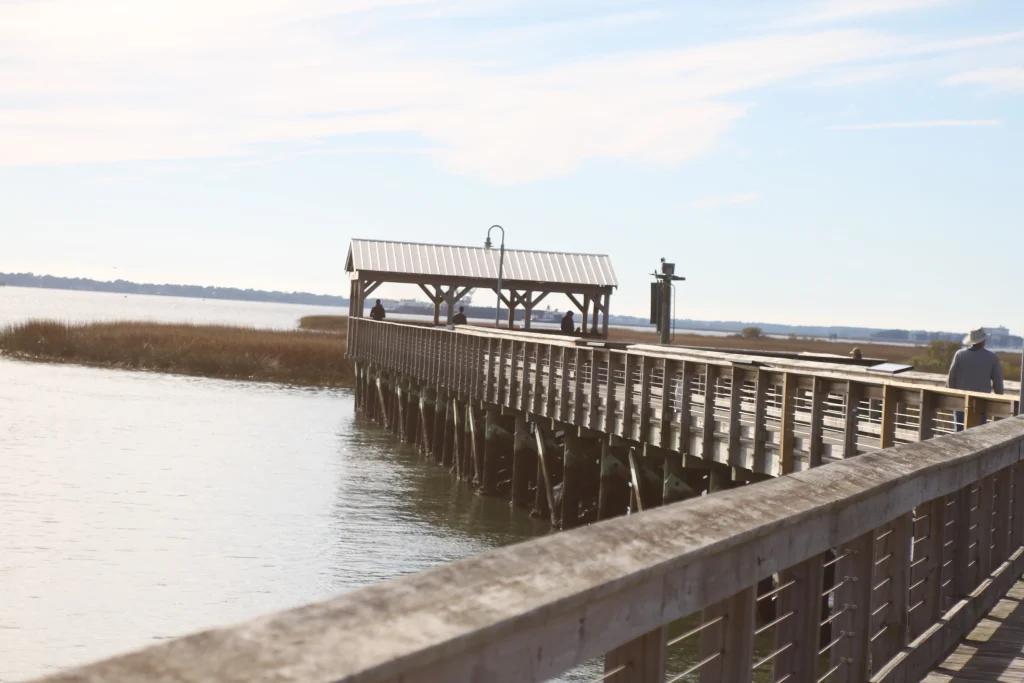 Location: Google Maps
Location #2: Shem Creek Waterfront
For paddleboarders seeking a more dynamic experience, the Shem Creek Waterfront is a must-visit location. This vibrant area offers a mix of serene waters, bustling marinas, and waterfront restaurants. Paddle along the shoreline, witness the charm of the historic district, and take in the lively atmosphere while enjoying your paddleboarding session.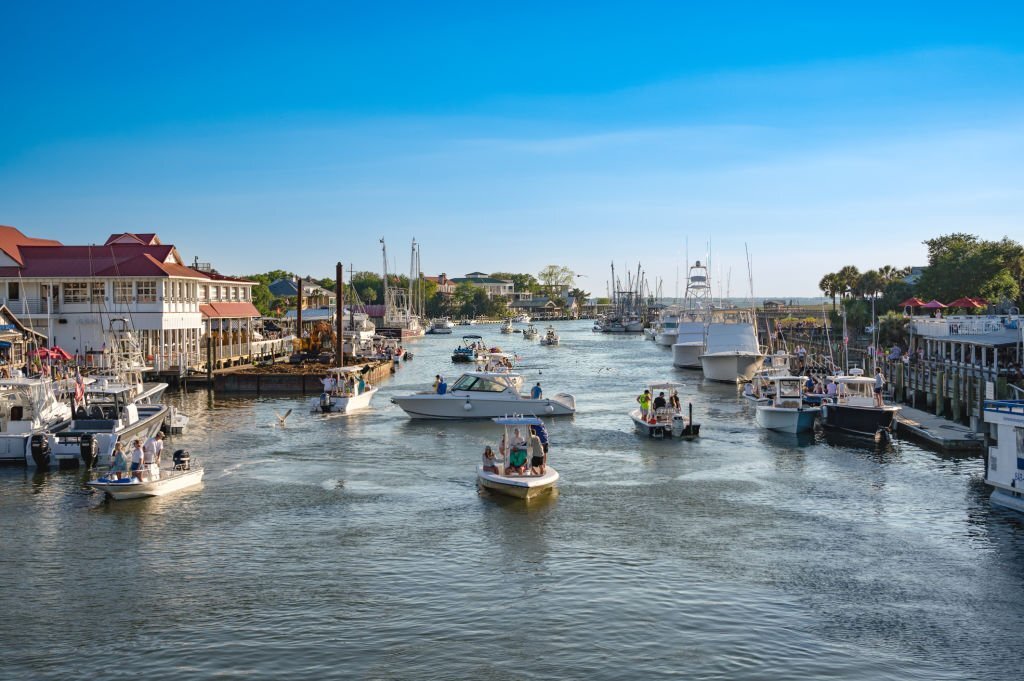 Location: Google Maps
Location #3: Sullivan's Island
A short distance from Shem Creek, Sullivan's Island is another incredible spot for paddleboarding. This barrier island boasts pristine beaches, clear blue waters, and a laid-back ambiance. Launch your paddleboard from one of the public beach access points and explore the island's shoreline, witnessing stunning ocean views and the occasional playful dolphins.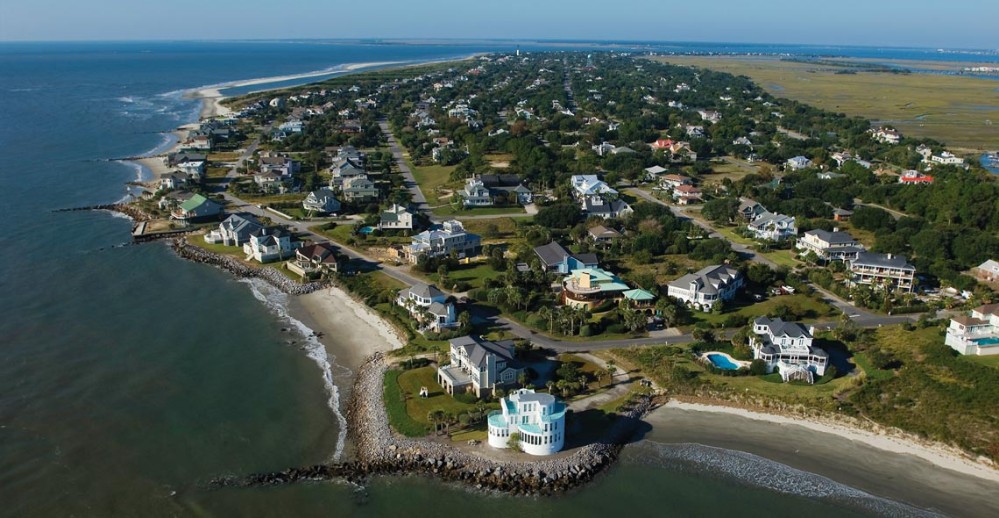 Location: Google Maps
Location #4: Isle of Palms
If you're looking for a paddleboarding experience with a touch of adventure, head to the Isle of Palms. With its expansive coastline, the Isle of Palms offers plenty of space to explore and enjoy the open water. Paddle along the beach, revel in the gentle ocean waves, and take in the beauty of this coastal paradise.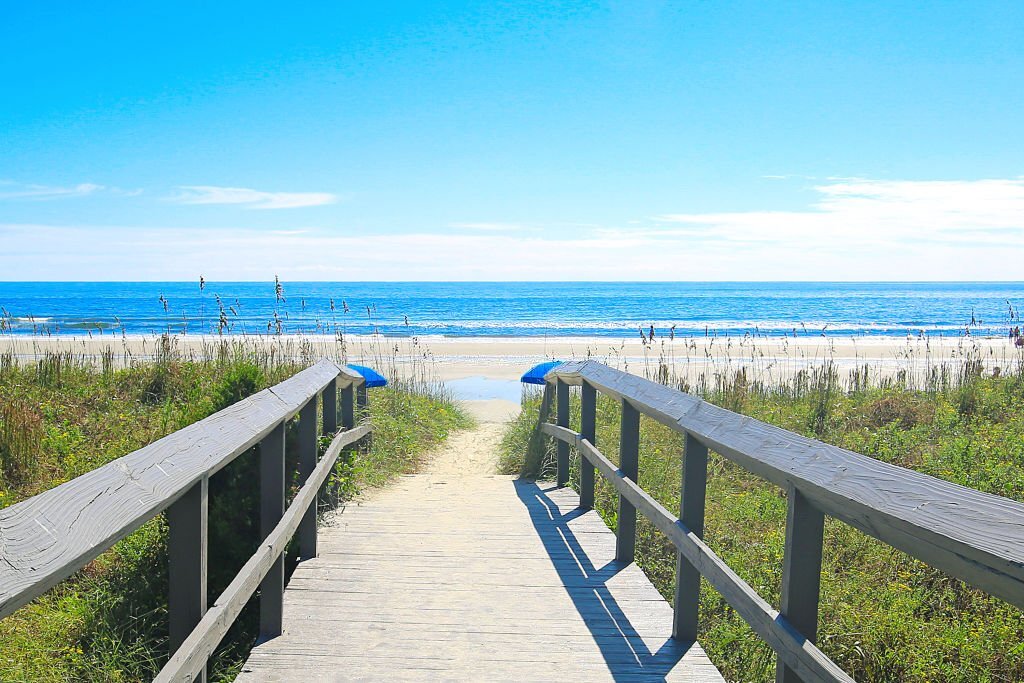 Location: Google Maps
Location #5: Patriot's Point
Patriot's Point is another fantastic location for paddleboarding near Shem Creek. Located across the harbor from downtown Charleston, this historic naval and maritime museum offers stunning views of the city skyline. Launch your paddleboard from the public boat ramp and explore the waters surrounding the USS Yorktown aircraft carrier and other historic vessels. Paddle along the harbor, take in the historical significance of the area, and enjoy the unique perspective of Charleston's maritime heritage.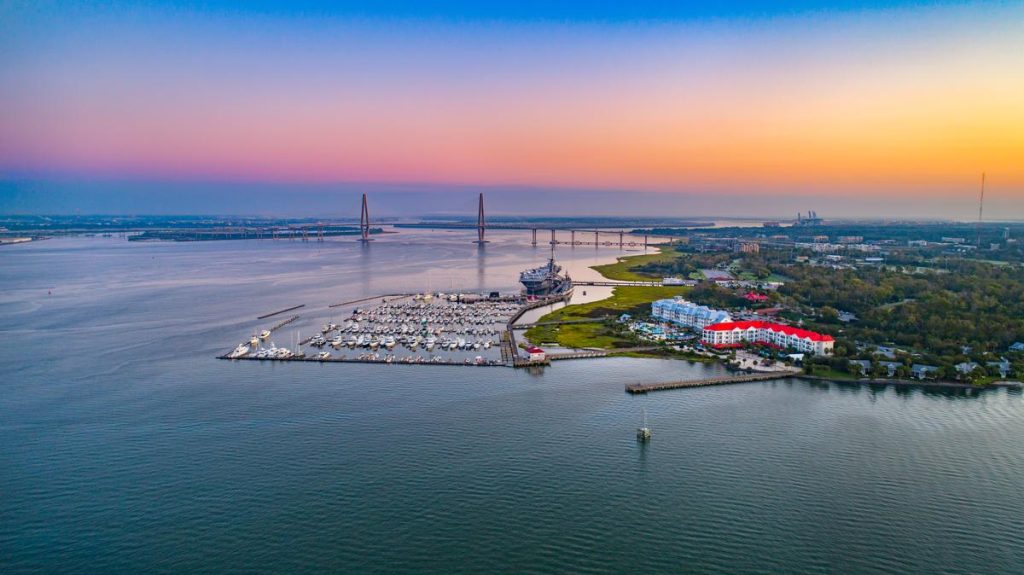 Location: Google Maps
Location #6: Hobcaw Creek
Hobcaw Creek, situated just a short distance from Shem Creek, provides a serene and secluded paddleboarding experience. This quiet creek meanders through scenic marshes and offers a tranquil setting away from the crowds. With its peaceful ambiance and abundant wildlife, including egrets and herons, Hobcaw Creek is an excellent choice for nature lovers seeking a more intimate paddleboarding experience. Launch your board from one of the public access points and immerse yourself in the beauty of this hidden gem.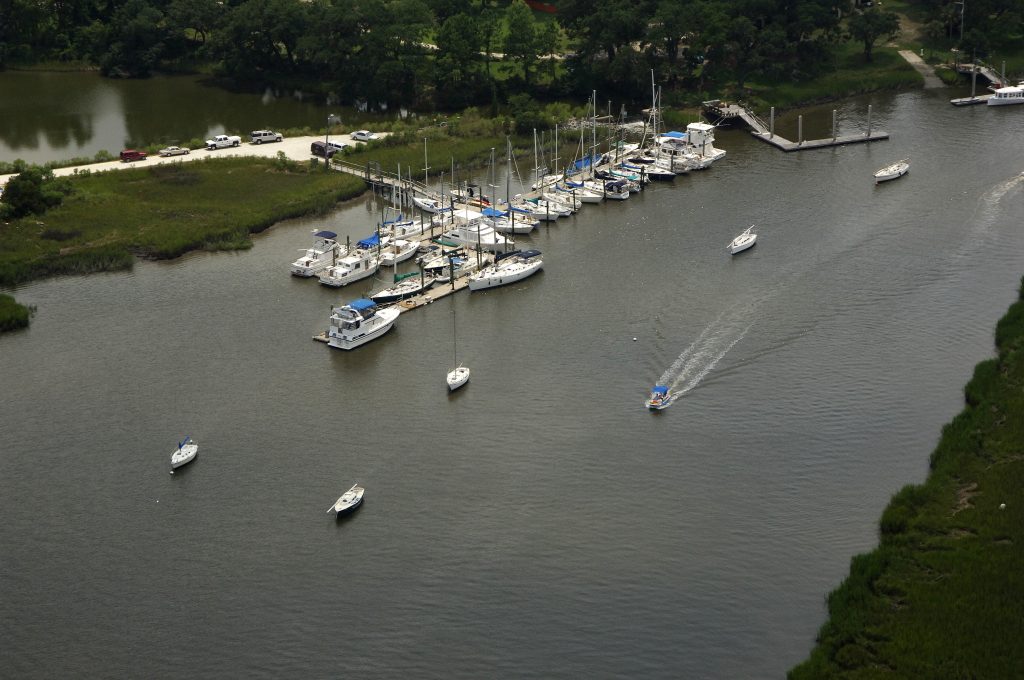 Location: Google Maps
Paddleboarding Shem Creek: Equipment and Safety Tips
Before embarking on your paddleboarding journey, it's crucial to prioritize safety. Here are some essential tips:
Have The Essential Equipment:
Safety is extremely important when it comes to paddleboarding because you are out on the water, exposed to the elements.
This is what you're going to need for paddleboarding Shem Creek so that you know exactly what to wear.
Paddleboard (opt for a wider paddleboard if you are new or a beginner)
Paddleboard Paddle
Sunscreen, hat and glasses
Lifejacket
Leash
And if you have those then you're all set 🙂
Check the weather conditions and tide schedules before heading out.
You can check it here with this updated weather widget below.
CHARLESTON WEATHER
This will make sure that you are well prepared with everything you need before you go.
Use a leash to ensure your board stays connected to you.
This might seem obvious but you'll be in the water so you want to make sure that the board stays attached and you don't lose it.
Familiarize yourself with basic paddleboarding techniques.
Make sure that you have a basic understanding of paddleboarding and how to stand before you hit the water so that you aren't caught unprepared.
Stay hydrated and protect yourself from the sun with sunscreen and a hat.
This is really important because it can get hot in South Carolina, so make sure that you protect yourself and your loved ones with the right sun equipment for paddleboarding.
Investing in high-quality paddleboarding equipment
If you're not planning on renting then you want to make sure that you have good equipment such as a stable board and a proper paddle. It's essential for a safe experience!
Paddleboarding Shem Creek: Rentals and Tours
If you don't have your own paddleboard or prefer to try different locations, Shem Creek and the surrounding areas offer various rental and tour options. Local outfitters provide a range of paddleboard rentals, including hourly and daily rates. Additionally, guided tours are available for those who want to explore the creek with the expertise of a knowledgeable guide.
Here Are Some Recommendations:
Coastal Expeditions on Shem Creek
Price: $30
Directions: Google Maps
Address: 514 Mill St # D,
Mt Pleasant, SC 29464, United States
Contact Number: +1 843-884-7684

They also do excellent tours where you can see dolphins and experience the wildlife of the area on a kayak or paddleboard (Prices around $60)
Price: $45
Directions: Google Maps
Address: 1 Shrimp Boat Ln, Mt Pleasant,
SC 29464, United States
Contact Number: +1 843-568-3222
They are having 15% off specials using the promo code (WEEKDAYSALE) for a discount on paddleboarding.
Also don't be afraid to explore the rest of South Carolina – There are some beautiful things to see like the Congaree national park, where you can hike, explore and remember to take your dogs with you.
Conclusion
In conclusion, Shem Creek, South Carolina, is a fantastic destination for paddleboarding enthusiasts. From the scenic beauty of Shem Creek Park to the vibrant atmosphere of the Mount Pleasant Waterfront, each location offers a unique experience. Whether you're seeking tranquility or adventure, the best places to paddleboard in Shem Creek will cater to your preferences. So grab your paddleboard, make sure you're on top of all the beach rules, and enjoy the unforgettable moments on the serene waters of Shem Creek.
FAQs
Can I paddleboard in Shem Creek if I'm a beginner?
Absolutely! Shem Creek offers calm waters and convenient access points, making it an ideal location for beginners to try paddleboarding.
Are there any rental shops near Shem Creek?
Yes, there are several rental shops near Shem Creek where you can rent paddleboards for your adventure. They offer flexible rental options to suit your needs. See the options above for more information.
Is paddleboarding in Shem Creek suitable for children?
Yes, paddleboarding in Shem Creek can be a family-friendly activity. It's important to ensure children wear appropriate safety gear and are accompanied by an adult.
Are there any wildlife encounters while paddleboarding in Shem Creek?
Yes, Shem Creek is known for its diverse wildlife. It's common to encounter various bird species, dolphins, and other marine life during your paddleboarding session. Here are some of the other animals that you can see.
Can I bring my own paddleboard to Shem Creek?
Absolutely! If you have your own paddleboard, you can bring it to Shem Creek and launch from the designated access points. Just remember to follow safety guidelines and respect the environment.
Remember to have fun, respect the environment, and enjoy your paddleboarding experience in Shem Creek, South Carolina!