*We may earn a commission for purchases made using our links. Please see our disclosure to learn more.
If you're looking for a breath-taking Rocky Mountain paddleboard adventure, then you've come to the right place. The Rocky Mountains truly are a stunning natural beauty, and in this article – I'll guide you through the 15 best places to paddleboard in the Rocky Mountains, each offering unique features and unforgettable adventures.
Welcome To Your Next Rocky Mountain Paddleboard Adventure:
Paddleboarding has gained immense popularity in recent years, and for good reason. It combines the tranquility of being on the water with the excitement of physical activity. The Rocky Mountains, with their majestic peaks and pristine lakes, provide an exceptional backdrop for paddleboarding enthusiasts.
Why Paddleboarding in the Rocky Mountains?
Unparalleled Scenery: The Rocky Mountains boast some of the most awe-inspiring landscapes on Earth. Picture yourself gliding across crystal-clear alpine lakes, surrounded by towering mountains and vibrant forests.
Escape into Nature: Paddleboarding allows you to immerse yourself in the tranquility of nature. The Rocky Mountains offer a sanctuary where you can disconnect from the hustle and bustle of everyday life and embrace the serenity of the great outdoors.
Fitness and Wellness: Stand-up paddleboarding is a fantastic full-body workout that engages your core muscles, improves balance, and enhances cardiovascular health. It's a rejuvenating activity that provides both physical and mental benefits.
Other Factors to Consider:
Before embarking on your paddleboarding adventure, there are a few factors to consider:
Skill Level: Different lakes in the Rocky Mountains cater to varying skill levels. Some lakes are calm and ideal for beginners, while others may have stronger currents and require more experience. Choose a location that matches your skill level.
Weather Conditions: Weather can greatly impact your paddleboarding experience. Check the forecast before heading out and be aware of wind patterns, thunderstorms, or other adverse conditions that may affect safety on the water.
Equipment: Ensure you have the appropriate paddleboard, personal flotation device (PFD), leash, and any additional gear necessary for your trip. Safety should always be a top priority.
The 15 Best Lakes To Rocky Mountain Paddleboard:
1 – Lake Louise
Heading to the heart of Banff National Park, Lake Louise offers a mesmerizing paddleboarding experience. This iconic turquoise lake, surrounded by snow-capped peaks, creates a picture-perfect setting for exploration. Beginners can enjoy the calm waters near the shoreline, while more experienced paddleboarders can venture further out to witness the lake's full grandeur.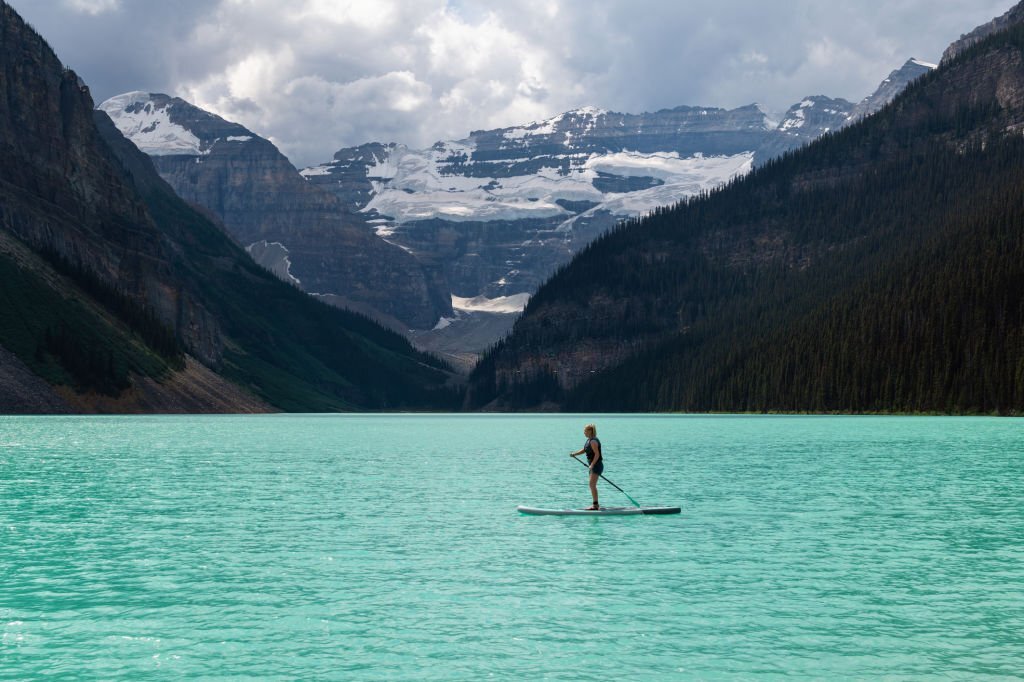 Location: Google Maps
2 – Moraine Lake
Nestled in the Valley of the Ten Peaks, Moraine Lake is a true gem in the Canadian Rockies. Its stunning turquoise waters, towering mountains, and dense forests make it an ideal spot for paddleboarding. As you glide along the lake, you'll feel a profound sense of peace and connection with nature.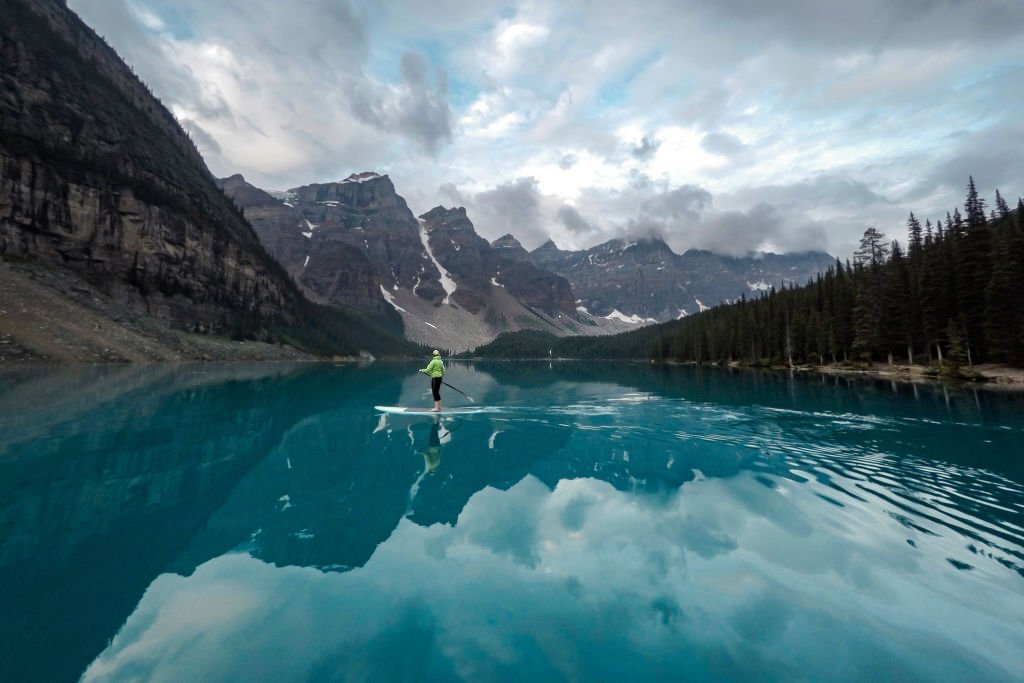 Location: Google Maps
3 – Bow Lake
Bow Lake, located along the Icefields Parkway, is a hidden paradise for paddleboarding enthusiasts. With its tranquil waters and magnificent glacier views, it offers a serene escape from the bustling tourist areas. Paddle along the shoreline and marvel at the pristine wilderness that surrounds you.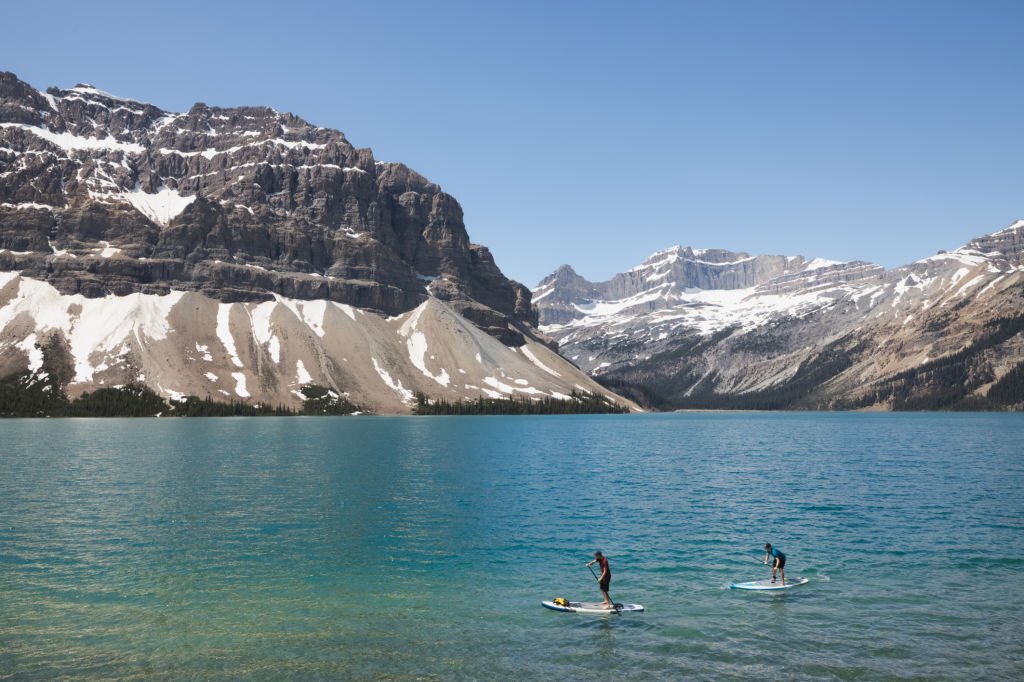 Location: Google Maps
4 – Peyto Lake
Peyto Lake, known for its intense turquoise color, is a sight to behold. Located in Banff National Park, it attracts adventurers from around the world. Paddleboarding on Peyto Lake allows you to witness the lake's vibrant hues up close and experience a sense of awe that words cannot describe.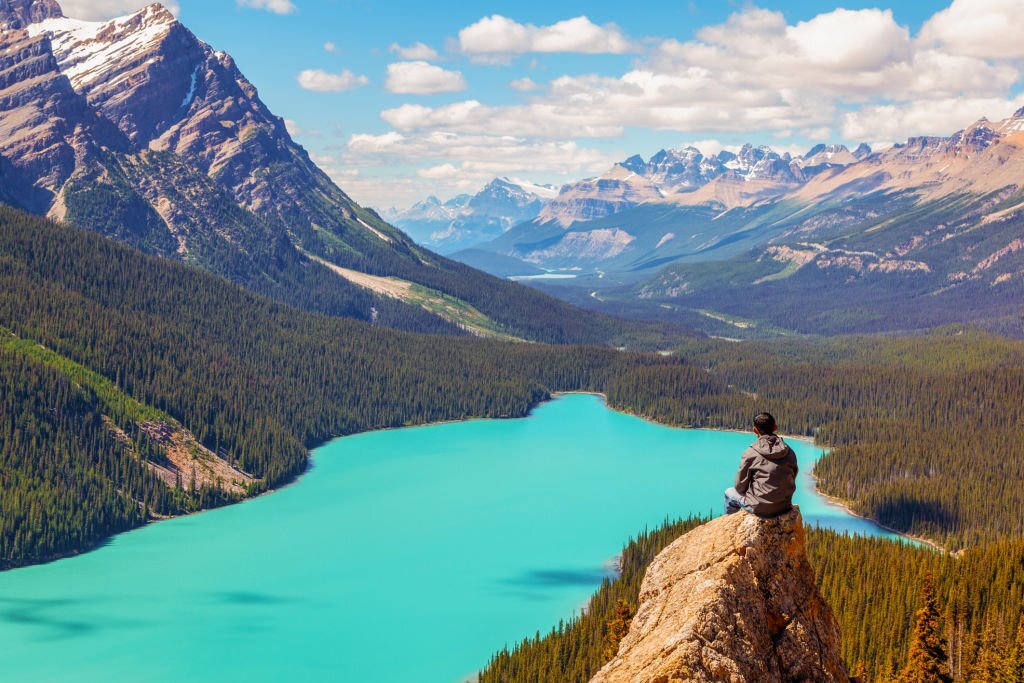 Location: Google Maps
5 – Emerald Lake
Nestled in Yoho National Park, Emerald Lake is a hidden paradise for paddleboarders. Surrounded by lush forests and towering peaks, this emerald-green lake offers a tranquil haven for those seeking serenity and natural beauty. Paddle along its calm waters and let your worries fade away.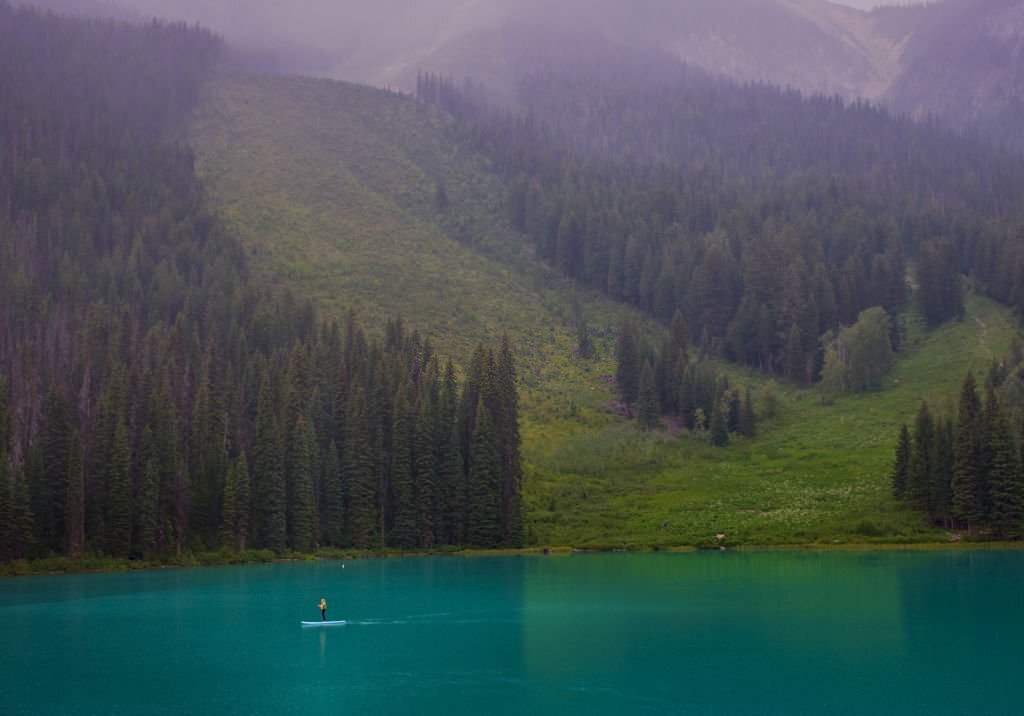 Location: Google Maps
6 – Maligne Lake
Jasper National Park's largest natural lake, Maligne Lake, is a must-visit for paddleboarding enthusiasts. Its mesmerizing blue waters, set against a backdrop of majestic mountains, create a surreal experience. Explore the lake's many bays and witness the diverse wildlife that call this place home.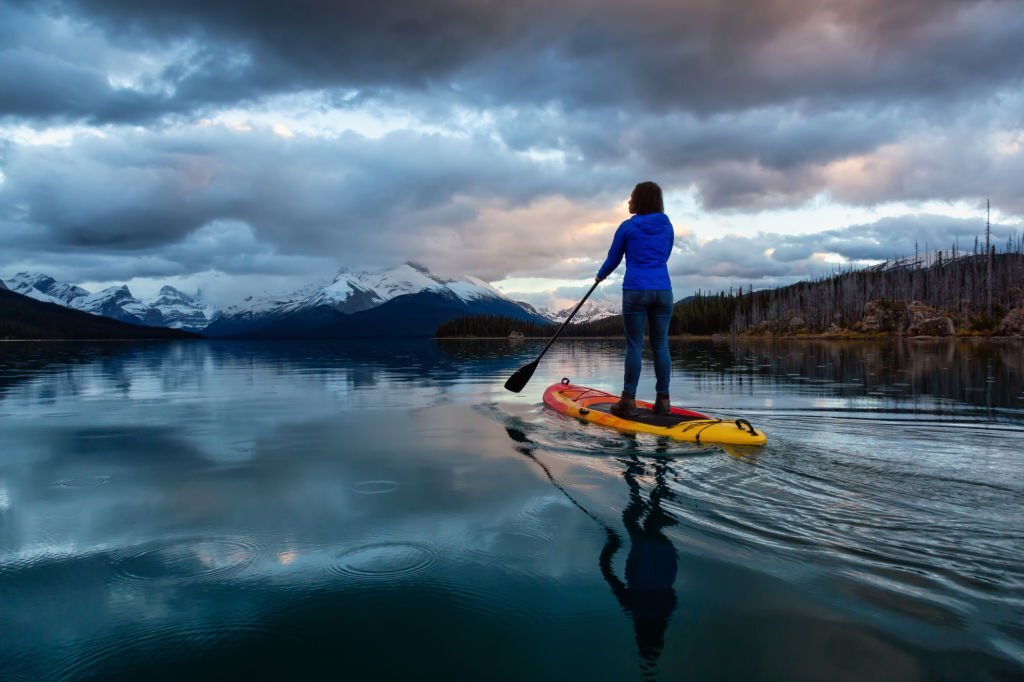 Location: Google Maps
7 – Vermilion Lakes
Located near Banff, the Vermilion Lakes offer a peaceful paddleboarding experience. These interconnected lakes provide an opportunity to paddle through serene marshlands, surrounded by stunning views of Mount Rundle and the Canadian Rockies. Capture the reflections of the mountains on the calm waters for a truly remarkable experience.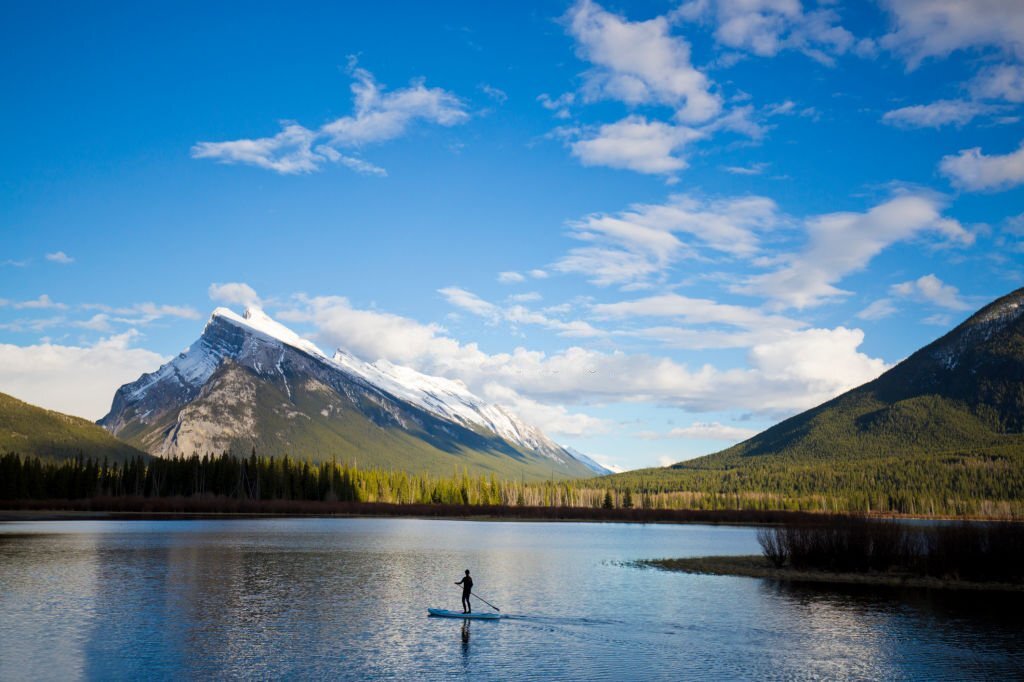 Location: Google Maps
8 – Two Jack Lake
Two Jack Lake, situated just minutes away from Banff, is a favorite among locals and visitors alike. Its crystal-clear waters and breathtaking mountain vistas make it an idyllic spot for paddleboarding. Take in the fresh mountain air as you paddle along the shoreline and soak in the natural beauty that surrounds you.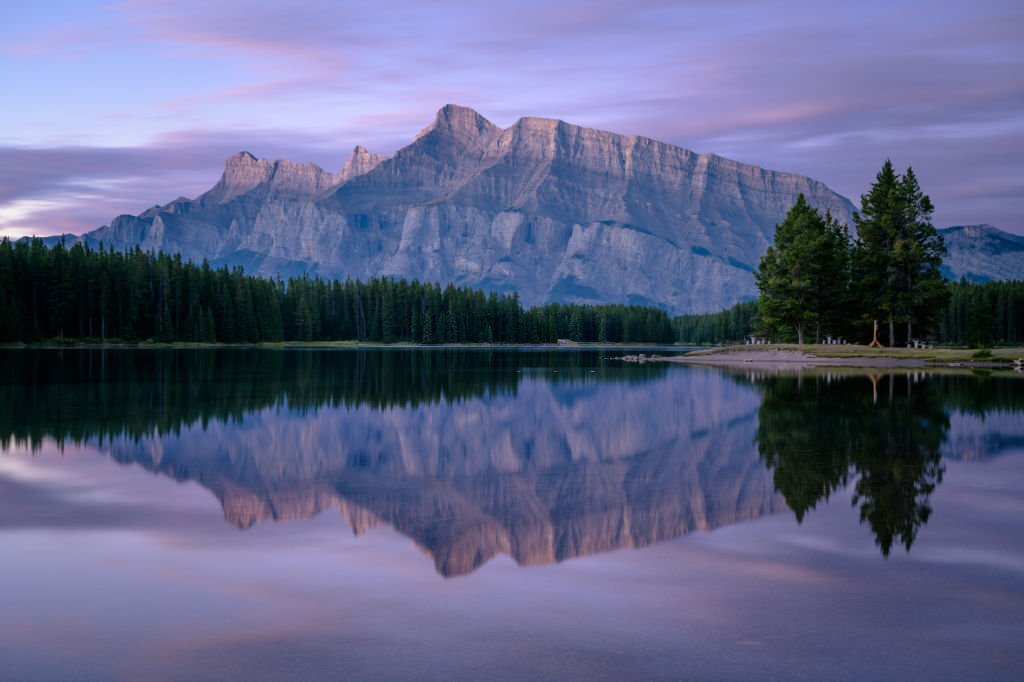 Location: Google Maps
9 – Johnson Lake
If you're seeking a family-friendly paddleboarding destination, look no further than Johnson Lake in Banff. With its shallow and warm waters, it's an ideal place for beginners and children to learn paddleboarding. Enjoy a leisurely paddle along the tranquil lake, surrounded by lush greenery and picturesque views.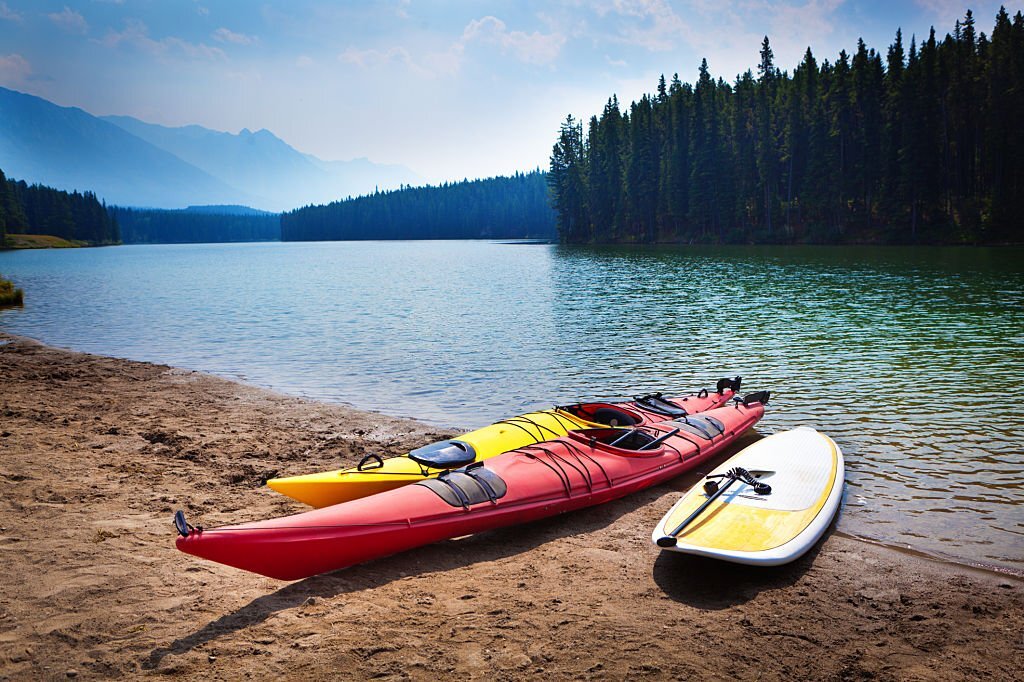 Location: Google Maps
10 – Spray Lakes
Spray Lakes, located near Canmore, offers a rugged and adventurous paddleboarding experience. This series of interconnected lakes provides endless opportunities for exploration. Paddleboarding here allows you to witness the raw beauty of the Rocky Mountains and embrace the untamed wilderness.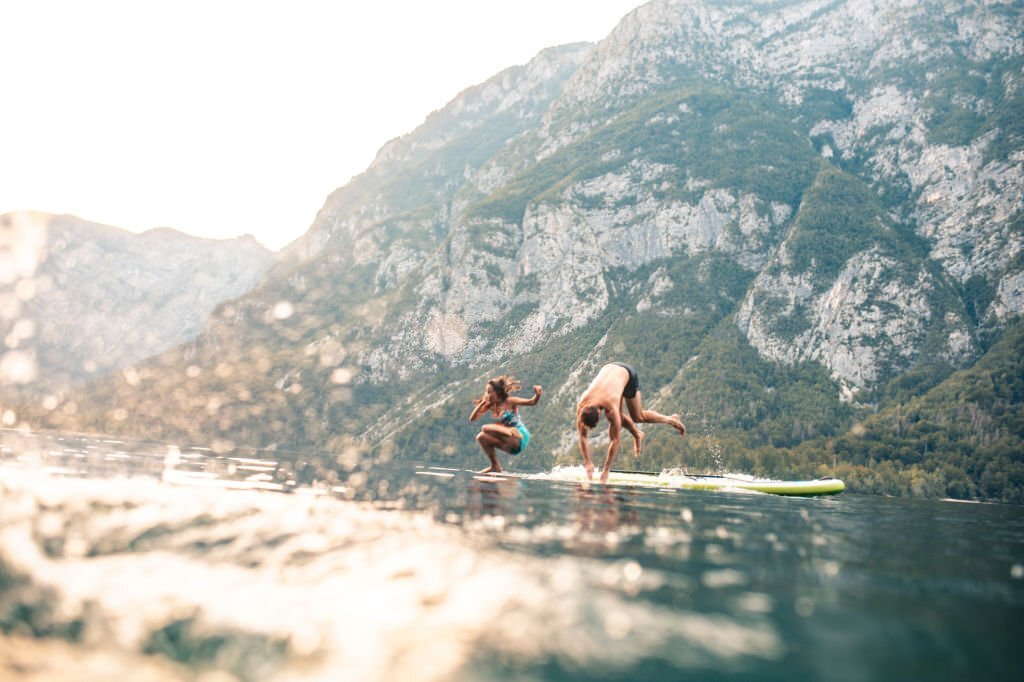 Location: Google Maps
11 – Ghost Lake
Ghost Lake, situated in the foothills of the Rocky Mountains, is a hidden gem for paddleboarding enthusiasts. Its calm waters and scenic surroundings create a serene atmosphere. Embark on a paddleboarding journey and revel in the tranquility of this hidden oasis.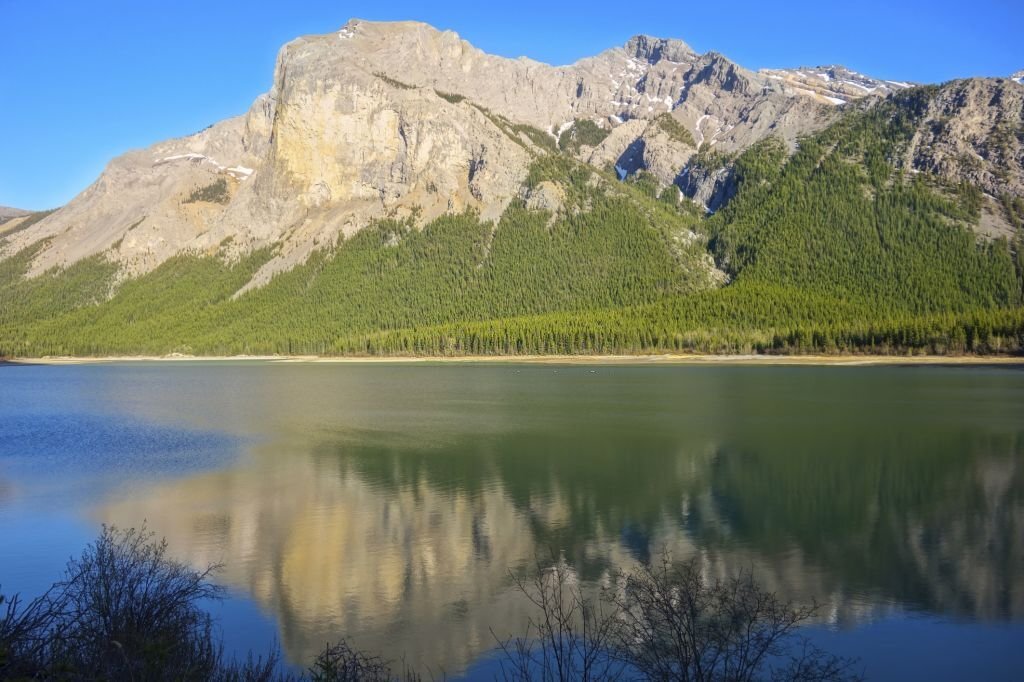 Location: Google Maps
12 – Upper Kananaskis Lake
Upper Kananaskis Lake, nestled in Peter Lougheed Provincial Park, is a pristine mountain lake that beckons paddleboarders with its beauty. Surrounded by towering peaks and dense forests, it offers a peaceful and secluded paddling experience. Immerse yourself in the tranquility of this hidden gem.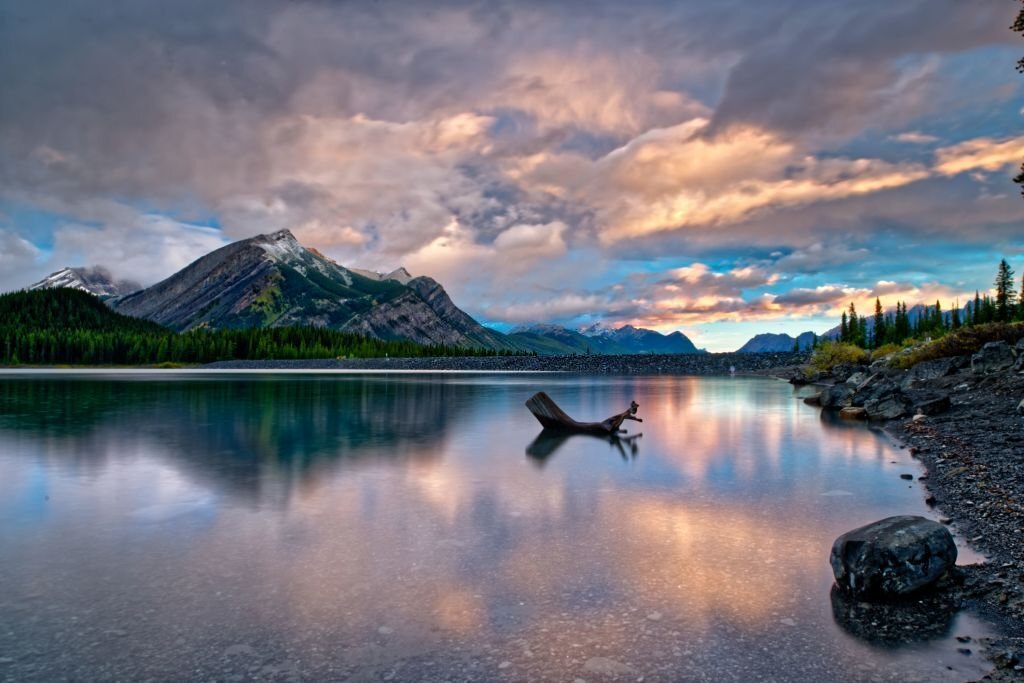 Location: Google Maps
13 – Abraham Lake
Abraham Lake, located in the Canadian Rockies near Nordegg, is renowned for its frozen bubbles phenomenon in winter. However, even in the warmer months, it remains a remarkable paddleboarding destination. Experience the unique combination of turquoise waters, stunning cliffs, and abundant wildlife as you paddle across the lake.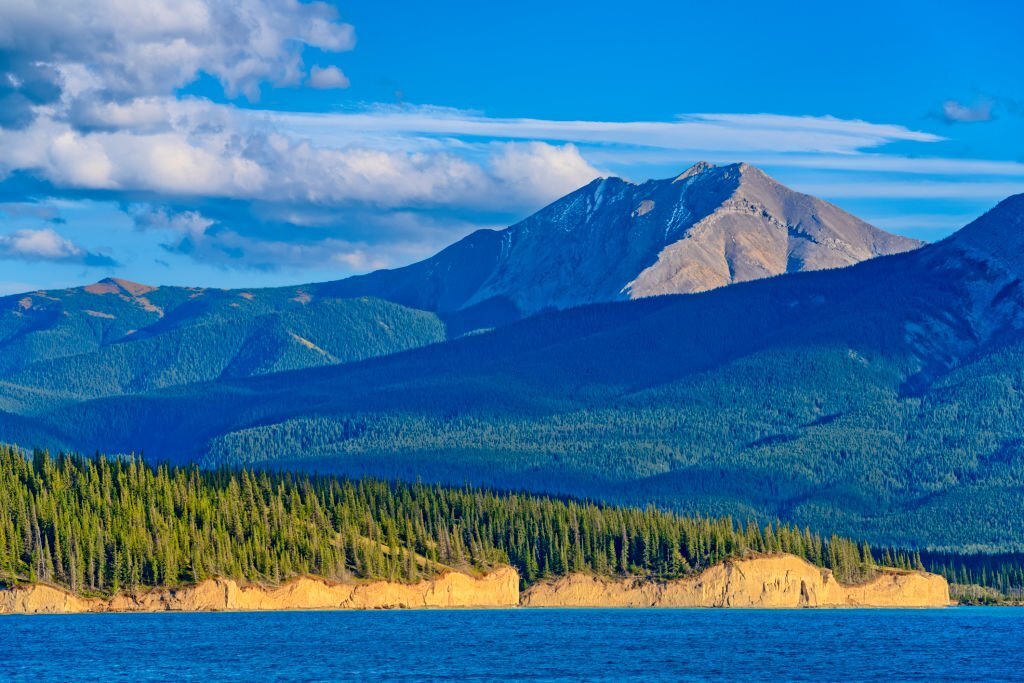 Location: Google Maps
14 – Lake Minnewanka
Lake Minnewanka, the largest lake in Banff National Park, is a haven for outdoor enthusiasts. Paddleboarding on its expansive waters allows you to explore its hidden coves and witness the dramatic mountain landscapes that surround it. Feel the gentle breeze as you glide along the lake's surface, taking in the grandeur of your surroundings.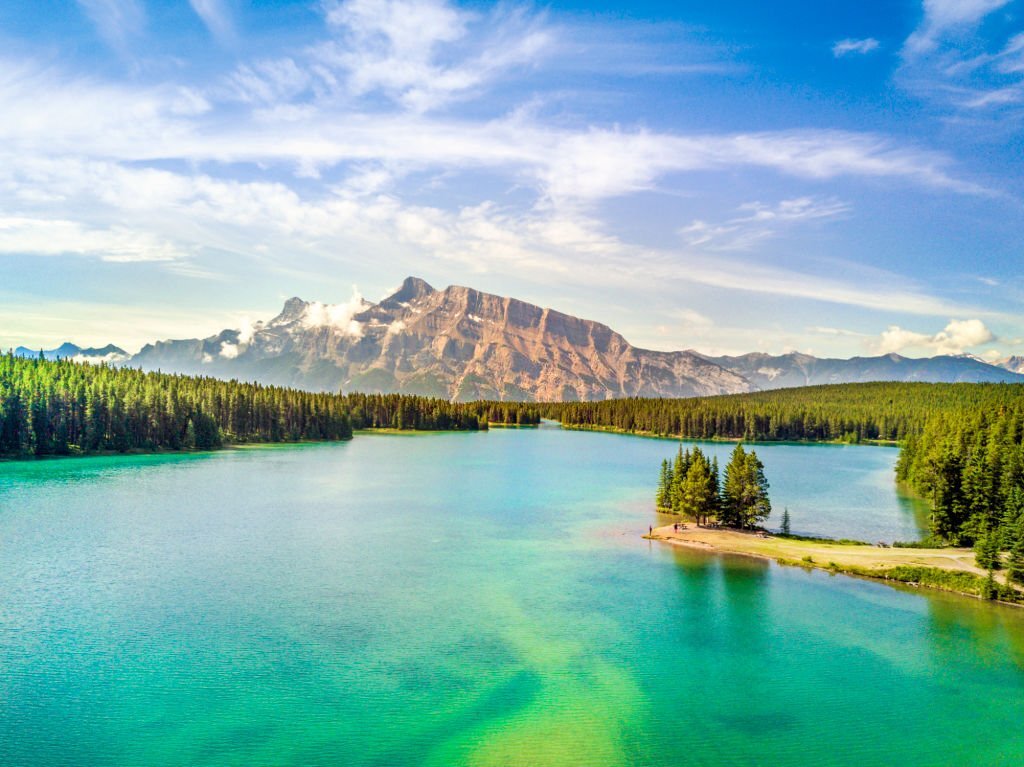 Location: Google Maps
15 – Waterton Lake
Waterton Lake, located in Waterton Lakes National Park, is a picturesque paddleboarding destination. Surrounded by rugged mountains and vibrant wildflowers, it offers a serene and enchanting experience. Explore the lake's tranquil waters, and be captivated by the harmonious blend of nature's colors.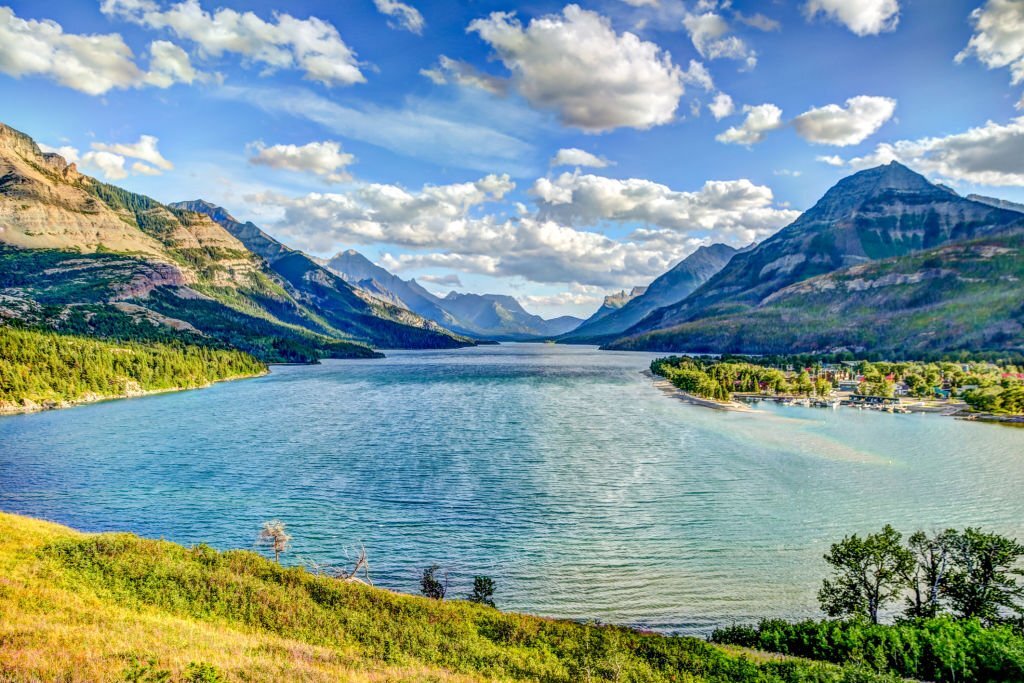 Location: Google Maps
Should You Rent Or Buy A Paddle Board?
This is a question that always comes up, and the answer is – "it depends".
If you are someone that is brand-new to paddleboarding and you don't actually know if you like it then it is 100% the right option to rent a SUP to try it out. It makes complete sense, right?
But if you're someone that is looking to bring this sport into your life and experience all the health benefits that comes from it then you can't beat owning your own board.
Where To Stay When Paddleboarding In The Rocky Mountains?
You can see that there are more amazing paddleboarding locations than you could explore in the entire summer. We really are spoiled for choice in the Rocky Mountains! But if you want to make the trip then I recommend that you stay in the Banff area because there is a large concentration of great spots there.
Here Are My 5 Top Spots To Stay In Banff:
Fairmont Banff Springs: Experience luxury at this iconic castle-like hotel, nestled amidst the picturesque Rocky Mountains. Enjoy world-class amenities, exquisite dining, and stunning views.
Rimrock Resort Hotel: Perched on Sulphur Mountain, this elegant hotel offers breathtaking views of Banff and the surrounding peaks. Indulge in the spa, savor fine dining, and relax in luxurious accommodations.
Moose Hotel & Suites: Combining rustic charm with modern comfort, this boutique hotel offers cozy rooms and suites. Unwind in the rooftop hot pools and enjoy convenient access to downtown Banff.
Buffalo Mountain Lodge: Embrace the cozy mountain lodge ambiance at this rustic retreat. Set in a serene location, it offers comfortable rooms, a renowned restaurant, and easy access to hiking trails.
The Juniper Hotel & Bistro: Enjoy a contemporary mountain getaway at this stylish hotel. Marvel at panoramic mountain views, dine at the award-winning bistro, and unwind in the peaceful surroundings.
Conclusion
The Rocky Mountains provide an abundance of breathtaking paddleboarding locations, each with its unique charm and beauty. Whether you're a seasoned paddleboarder or just starting out, these 15 destinations offer an array of experiences for every skill level. Immerse yourself in nature, embrace the serenity of the lakes, and create unforgettable memories in the heart of the Rocky Mountains. Ready for a Rocky Mountain paddleboard?
FAQs
Is paddleboarding suitable for beginners?
Absolutely! Many of the locations mentioned in this article cater to beginners and offer calm waters for a smooth paddleboarding experience. However, it's always essential to start in a controlled environment and take lessons if you're new to the sport.
What equipment do I need for a Rocky Mountain paddleboard?
You'll need a paddleboard, a paddle, a personal flotation device (PFD), and a leash for safety. It's also advisable to wear appropriate clothing, sunscreen, and bring drinking water.
Can I rent paddleboarding equipment at these locations?
Yes, many of the popular paddleboarding destinations in the Rocky Mountains offer equipment rentals. Check with local rental shops or tour operators in advance to ensure availability.
Are there any restrictions or regulations for paddleboarding in these locations?
Some lakes may have specific regulations or permits for paddleboarding. It's important to familiarize yourself with the rules and regulations of each location and follow them accordingly to ensure safety and preserve the environment.
Paddleboarding is allowed in 29 of the 43 areas in the Colorado State Parks:
Arkansas Headwaters Recreation Area
Barr Lake
Boyd Lake
Cherry Creek (mentioned above)
Chatfield (mentioned above)
Crawford
Elkhead
Eleven Mile
Harvey Gap
Highline Lake
Jackson Lake
James M. Robb
John Martin Reservoir
Lake Pueblo
Lathrop
Navajo
North Sterling
Paonia
Pearl Lake (mentioned above)
Rifle Gap
Ridgway (mentioned above)
Spinney Mountain
Stagecoach (mentioned above)
State Forest
Steamboat Lake (mentioned above)
Sylvan Lake
Sweitzer Lake
Trinidad Lake
Vega
Can I paddleboard in the Rocky Mountains year-round?
While some lakes may freeze over in winter, preventing paddleboarding, the summer and early fall months offer the best conditions for a Rocky Mountain paddleboard. Always check the weather and local conditions before planning your paddleboarding trip. Colorado is also an incredible ski destination in the winter, so if you don't want to SUP then rent some ski's and have fun!