*We may earn a commission for purchases made using our links. Please see our disclosure to learn more.
Seattle paddleboarding truly is some of the best in the world!

This city offers a diverse range of picturesque locations that are perfect for gliding across the water. In this article, I'll share with you 12 incredible places to paddle board in Seattle, each with its own unique charm and appeal. Whether you're a local or a visitor, these spots are bound to elevate your paddle boarding experience to new heights.
Top Destinations For Seattle Paddleboarding:
1 – Green Lake
Green Lake is a true gem nestled within the heart of Seattle. This pristine lake offers a serene environment, making it an ideal location for paddle boarding. The calm waters and beautiful surrounding scenery create a tranquil ambiance that is hard to resist. When paddle boarding at Green Lake, you'll be treated to picturesque views of lush greenery and the Cascade Mountains in the distance. It's the perfect escape from the hustle and bustle of the city.
Paddle boarding at Green Lake is a delightful experience for beginners and experienced paddlers alike. The lake's calm waters provide a stable platform, allowing you to comfortably navigate and enjoy your paddle. Be sure to bring your camera along as you may encounter a variety of waterfowl and other wildlife during your adventure. You can't miss this location on your Seattle paddleboarding adventure!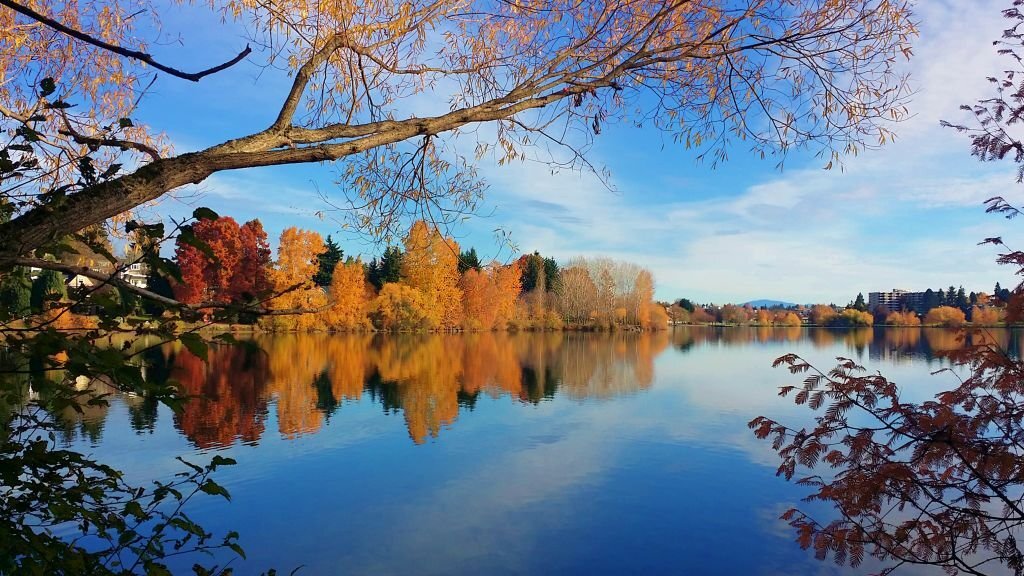 Best Place To Rent:
Greenlake Paddleboard Rentals
Address: 5900 W Green Lake Way N, Seattle, WA 98103
Phone: (206) 557-4407
Website: greenlakepaddleboards.com
Location: Google Maps
2 – Lake Union
Lake Union is a popular destination for paddle boarders due to its vibrant atmosphere and iconic landmarks. This urban lake offers a unique paddle boarding experience, allowing you to soak in the city's rich history and modern charm. As you paddle across Lake Union, you'll pass by iconic sights such as the Space Needle, Gas Works Park, and the Fremont Bridge. The juxtaposition of nature and cityscapes creates a visually stunning backdrop for your paddle boarding excursion.
While enjoying Seattle paddleboarding on Lake Union, keep an eye out for wildlife encounters. Ducks, geese, and even the occasional seal can be spotted along the shoreline. The lake's calm waters and relatively low boat traffic make it an excellent choice for beginners. However, always be mindful of other watercraft and adhere to safety guidelines to ensure a smooth and enjoyable experience.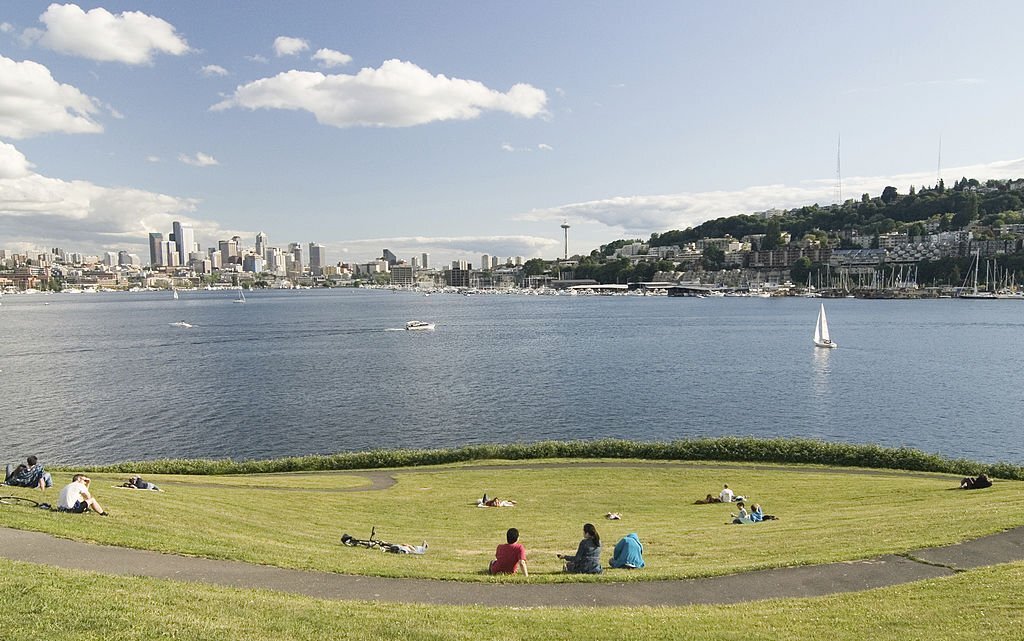 Best Place To Rent:
Northwest Outdoor Center
Address: 2100 Westlake Ave N, Seattle, WA 98109
Phone: (206) 281-9694
Website: nwoc.com
Location: Google Maps
3 – Alki Beach
For those seeking a Seattle paddleboarding adventure with a touch of beachside charm, Alki Beach is the place to be. Located in West Seattle, Alki Beach boasts a long stretch of sandy shoreline and mesmerizing views of the Olympic Mountains. Paddle boarding here offers the perfect combination of sun, sand, and serenity.
One of the highlights of paddle boarding at Alki Beach is witnessing the stunning sunsets that paint the sky with vibrant hues. Gliding across the water as the sun dips below the horizon is an experience that words cannot adequately capture. Additionally, Alki Beach is home to a variety of beachside attractions, including beach volleyball courts, fire pits, and waterfront restaurants, making it an ideal spot for a post-paddle relaxation session.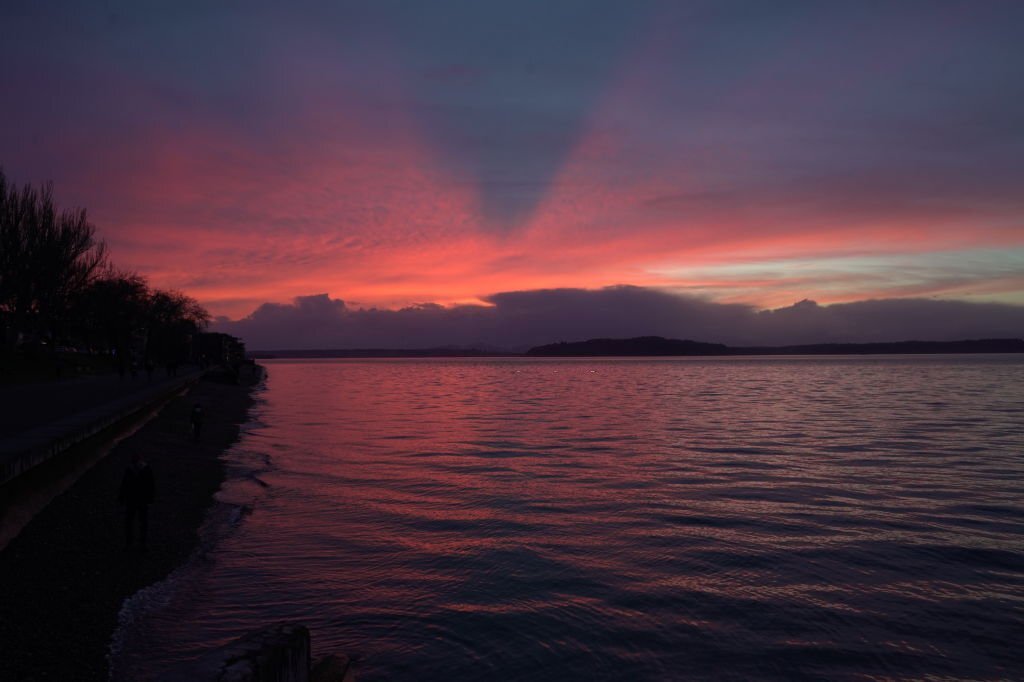 Best Place To Rent:
Alki Kayak Tours
Address: 1660 Harbor Ave SW, Seattle, WA 98126
Phone: (206) 953-0237
Website: kayakalki.com
Location: Google Maps
4 – Elliott Bay
Elliott Bay provides paddle boarders with an extraordinary blend of urban and natural beauty. Situated along Seattle's waterfront, this bay offers stunning views of the city skyline, the Olympic Mountains, and the Puget Sound. Paddle boarding here is a truly immersive experience that allows you to soak in the essence of Seattle.
As you navigate the waters of Elliott Bay, you'll have the opportunity to spot various marine creatures, such as seals, sea lions, and even pods of dolphins if you're lucky. The bay's proximity to the Seattle Aquarium and the Olympic Sculpture Park adds an artistic and educational touch to your paddle boarding excursion. It's advisable to paddle closer to the shoreline to ensure safety and avoid larger vessel traffic.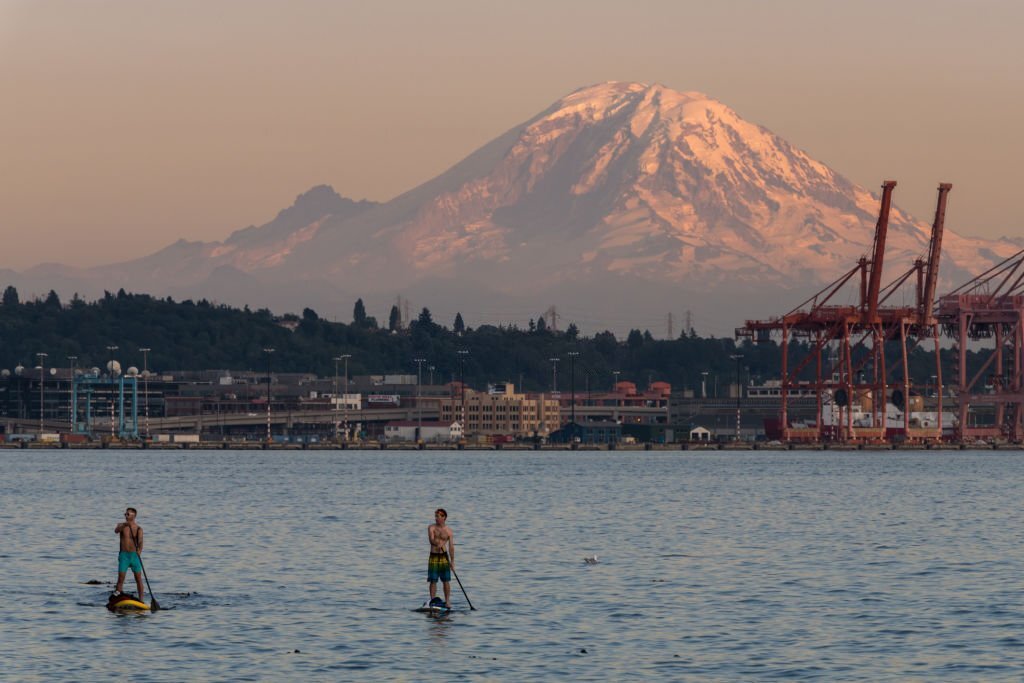 Best Place To Rent:
Moss Bay Kayak, Paddle Board & Sail Center
Address: 1001 Fairview Ave N, Seattle, WA 98109
Phone: (206) 682-2031
Website: mossbay.co
Location: Google Maps
5 – Mercer Island
Just a short distance from downtown Seattle, Mercer Island offers a peaceful and idyllic setting for paddle boarding. Surrounded by Lake Washington, this island boasts lush green landscapes, charming neighborhoods, and hidden coves waiting to be explored. Paddle boarding around Mercer Island is like entering a tranquil oasis within the bustling city.
The calm and pristine waters of Lake Washington make it an ideal location for paddle boarders of all skill levels. You can leisurely paddle around the island, discovering secret coves and marveling at the luxurious waterfront homes. Remember to respect private property boundaries and adhere to safety guidelines to ensure a pleasant experience for everyone.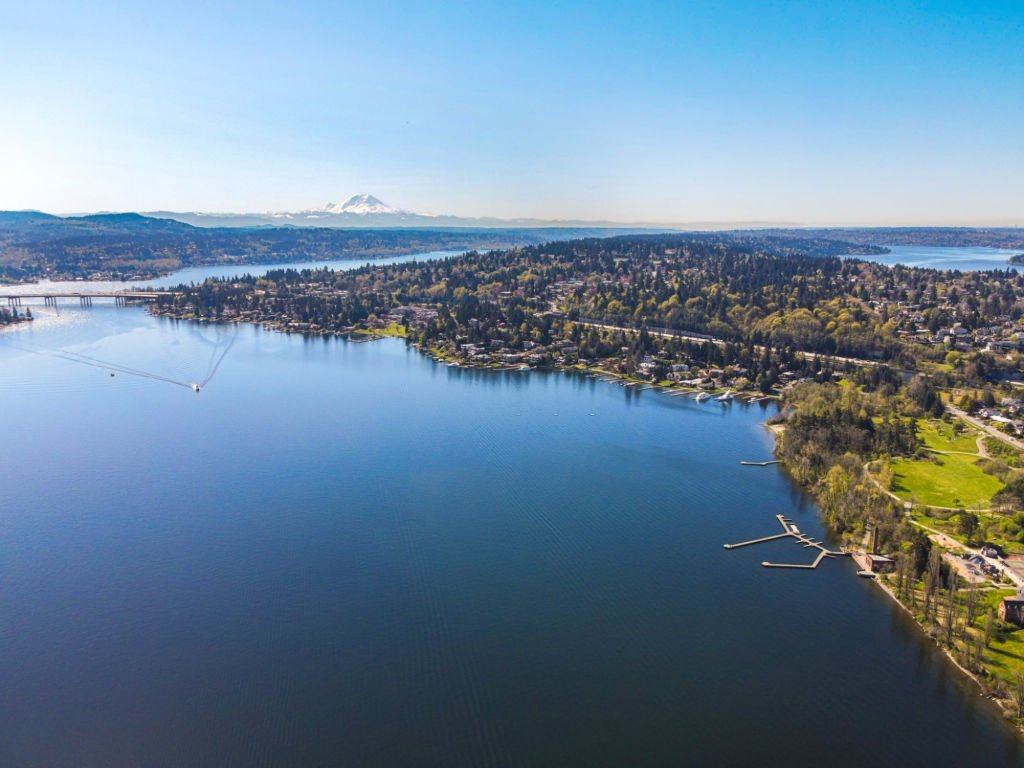 Best Place To Rent:
Cascade Canoe & Kayak Centers
Address: 12242 SE 59th St, Bellevue, WA 98006
Phone: (425) 430-0111
Website: https://cckrt.org/
Location: Google Maps
6 – Puget Sound
The Puget Sound is a vast and captivating waterway that offers paddle boarders endless opportunities for exploration. This intricate network of inlets, bays, and islands provides a diverse and captivating paddle boarding experience. From urban waterfronts to secluded beaches, Puget Sound has something to offer for everyone.
Paddle boarding in the Puget Sound allows you to embark on island hopping adventures, visiting scenic spots such as Blake Island and Vashon Island. These islands offer secluded beaches, picturesque hiking trails, and opportunities to immerse yourself in nature. Keep in mind that the Puget Sound's currents can be strong, so it's important to plan your routes carefully and stay aware of changing tides.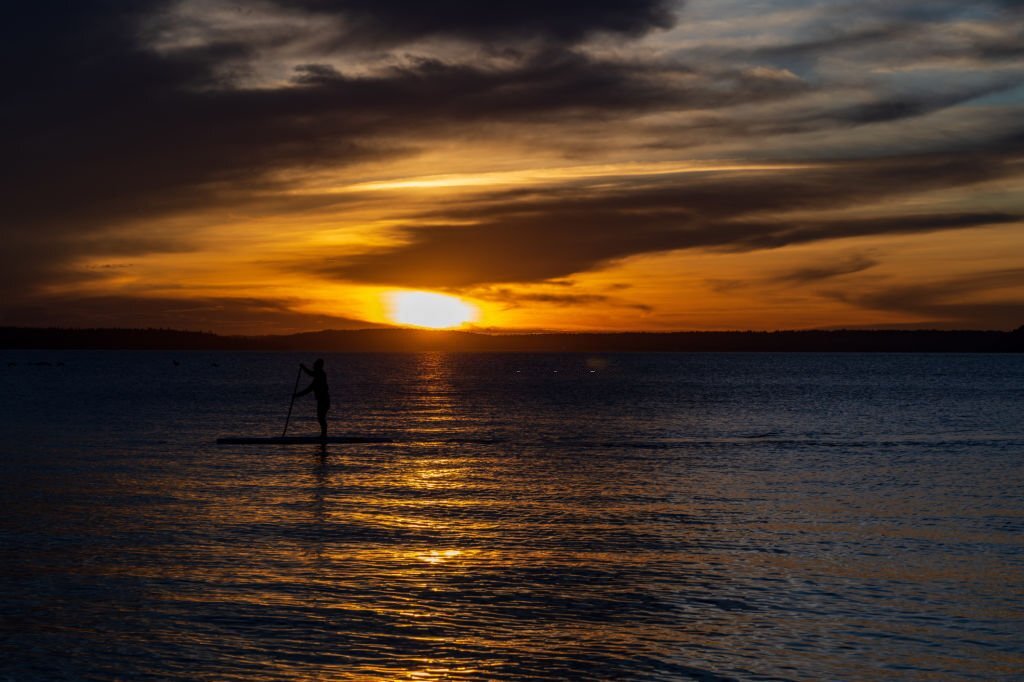 Best Place To Rent:
Olympic Outdoor Center
Address: 32379 Rainier Ave NE, Port Gamble, WA 98364
Phone: (360) 297-4659
Website: olympicoutdoorcenter.com
Location: Google Maps
7 – Lake Washington
Lake Washington is a true paradise for water sports enthusiasts, and paddle boarding is no exception. This expansive lake stretches across the eastern border of Seattle, offering ample space for paddlers to explore and enjoy. With floating bridges, waterside parks, and stunning waterfront properties, Lake Washington offers a myriad of sights and experiences.
Whether you're looking for a challenging paddle or a leisurely cruise, Lake Washington caters to all skill levels. The lake is a hub for various watersports activities, and you'll often see sailboats, kayaks, and other paddle boarders sharing the water. Take advantage of the lake's vastness and discover hidden coves, navigate under the floating bridges, and enjoy the breathtaking views that surround you.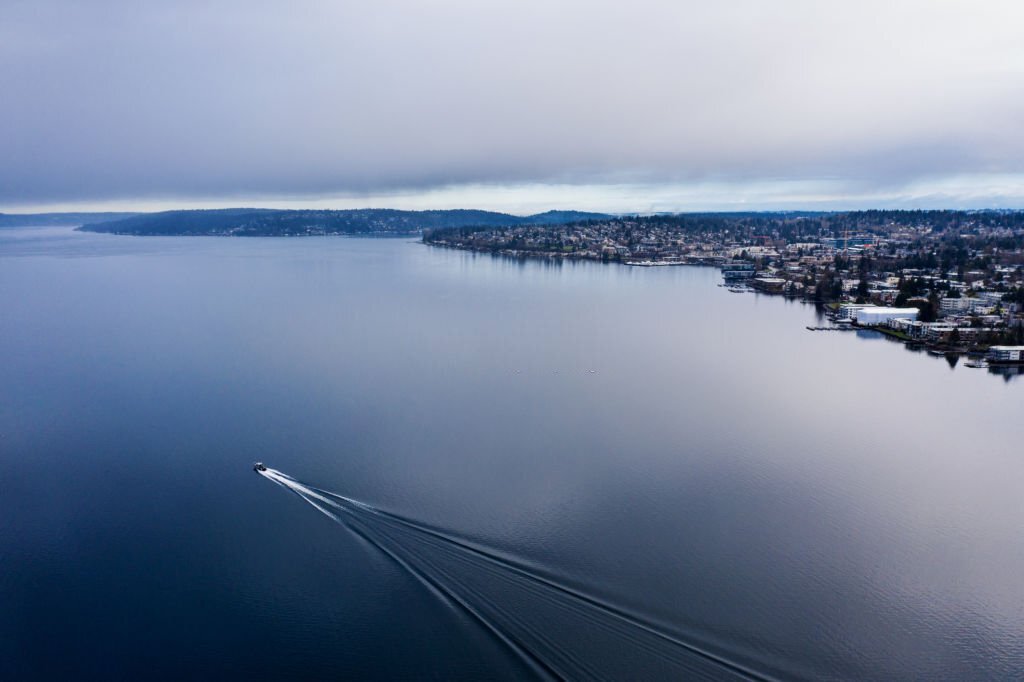 Best Place To Rent:
Surf Ballard
Address: 6300 Seaview Ave NW, Seattle, WA 98107
Phone: (206) 387-9014
Website: surfballard.com
Location: Google Maps
8 – Green River
The Green River provides paddle boarders with a tranquil and picturesque escape from the city. Flowing through the scenic Green River Valley, this river offers calm waters and stunning canyons that create a serene and immersive paddling experience. Paddle boarding on the Green River is like gliding through a postcard-worthy landscape.
The river's calm and gentle currents make it an ideal location for beginners or those seeking a leisurely paddle. As you navigate the Green River, you'll be surrounded by towering trees, lush vegetation, and rocky cliffs. Take your time to appreciate the natural beauty that envelops you and keep an eye out for wildlife sightings, such as eagles soaring above or otters playing in the water.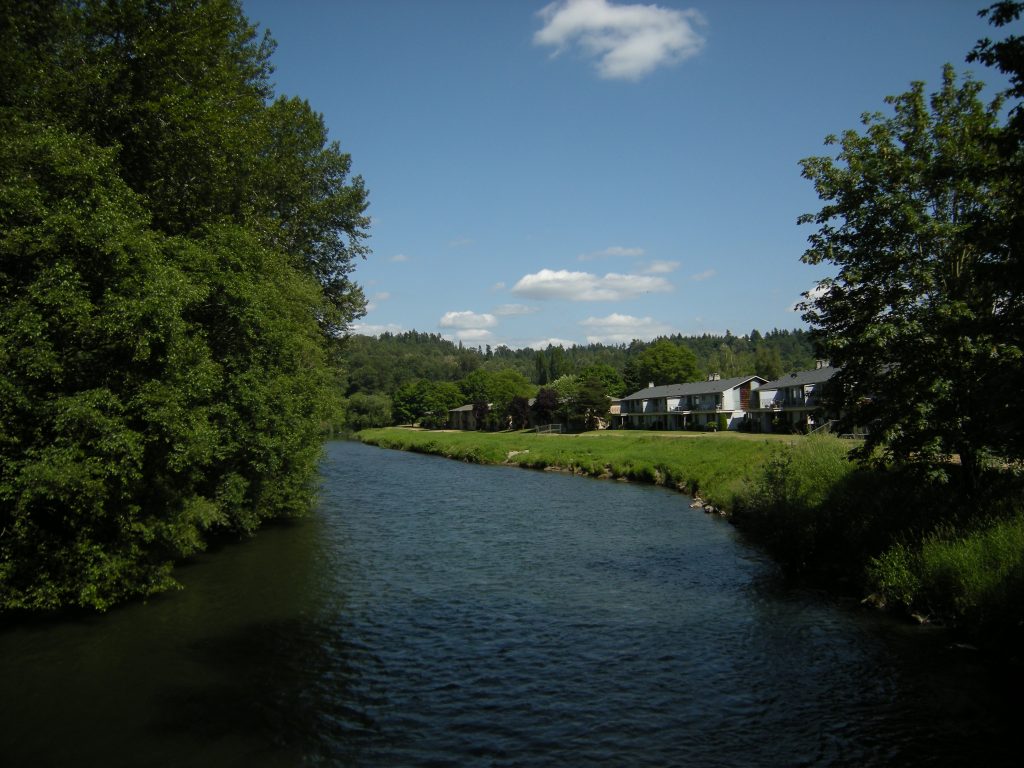 Image Source: By Joe Mabel, CC BY-SA 3.0, https://commons.wikimedia.org/w/index.php?curid=7135629 (Seattle Paddleboarding)
Best Place To Rent:
Enatai Beach Park
Address: 3519 108th Ave SE, Bellevue, WA 98004
Phone: (425) 452-6885
Website: https://bellevuewa.gov/
Location: Google Maps
9 – Juanita Bay Park
Located on the shores of Lake Washington, Juanita Bay Park offers a unique paddle boarding experience centered around wetland exploration and birdwatching. This park is a haven for nature lovers and provides an opportunity to observe a diverse range of bird species in their natural habitat.
Paddle boarding through the wetlands of Juanita Bay Park allows you to quietly glide through the water, immersing yourself in the serene surroundings. Keep your eyes peeled for herons, ducks, and other waterfowl that call this park home. The calm and shallow waters of the bay make it an accessible and enjoyable spot for paddle boarders of all levels.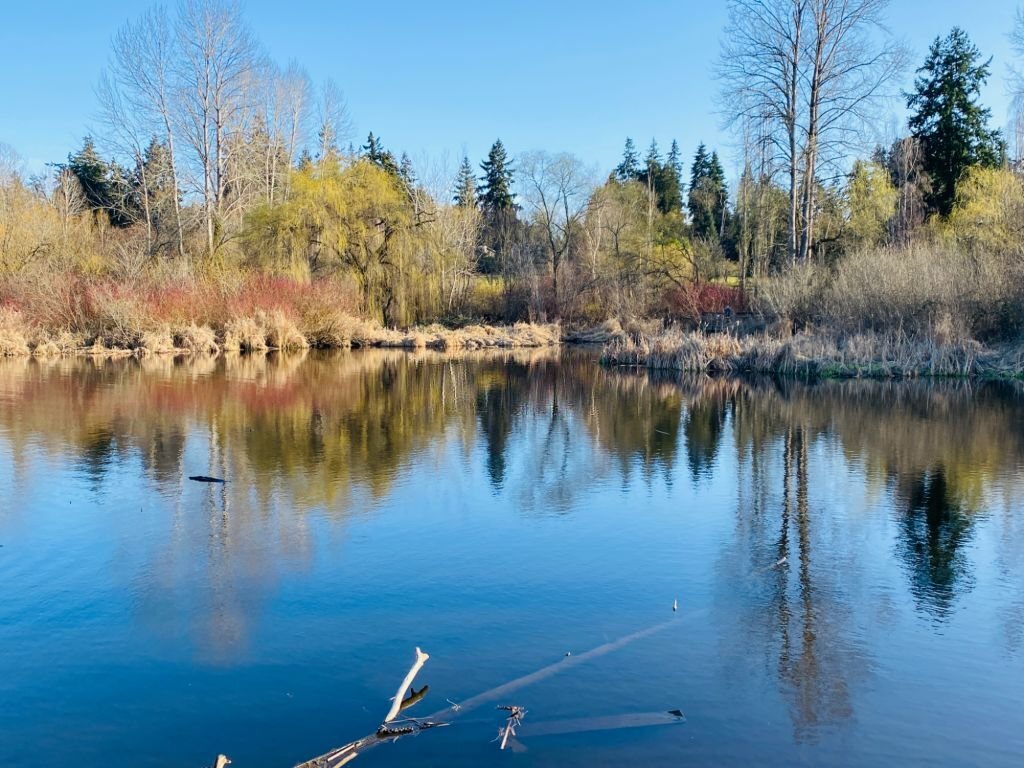 Best Place To Rent:
Northwest Paddle Surfers
Address: 55 W Juanita Dr, Kirkland, WA 98033
Phone: (425) 957-3575
Website: northwestpaddlesurfers.com
Location: Google Maps
10 – Lake Sammamish
Lake Sammamish, located east of Seattle, is a picturesque lake surrounded by sandy beaches and waterside parks. Paddle boarding on Lake Sammamish offers a refreshing escape from the city and allows you to enjoy a day of fun in the sun.
With several public parks and access points, Lake Sammamish provides ample opportunities for launching your paddle board and exploring the lake's serene waters. Paddle along the shoreline, take breaks on sandy beaches, and enjoy the scenic beauty that encompasses the lake. Whether you're looking for a relaxing paddle or an active day on the water, Lake Sammamish has it all and it is a true gem when it comes to Seattle paddleboarding.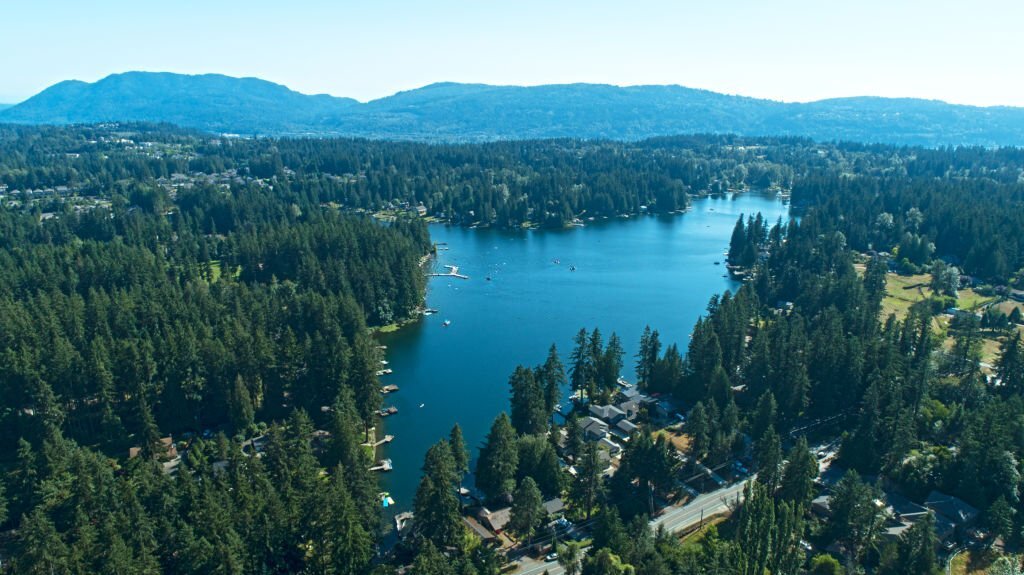 Best Place To Rent:
Issaquah Paddle Sports
Address: 175 NE Juniper St, Issaquah, WA 98027
Phone: (425) 396-1410
Website: issaquahpaddlesports.com
Location: Google Maps
11 – Lake Tapps
If you're willing to venture a bit outside of Seattle, Lake Tapps is well worth the visit. Located in Pierce County, this reservoir offers crystal clear waters and stunning mountain views. Paddle boarding on Lake Tapps is like stepping into a pristine paradise, surrounded by nature's wonders.
The lake's calm and inviting waters are perfect for paddle boarders seeking a peaceful and rejuvenating experience. Explore the lake's many nooks and crannies, paddle along its tree-lined shores, and enjoy the refreshing feeling of being immersed in nature. Lake Tapps also provides water sports facilities, making it an excellent choice for those looking to combine paddle boarding with other aquatic activities.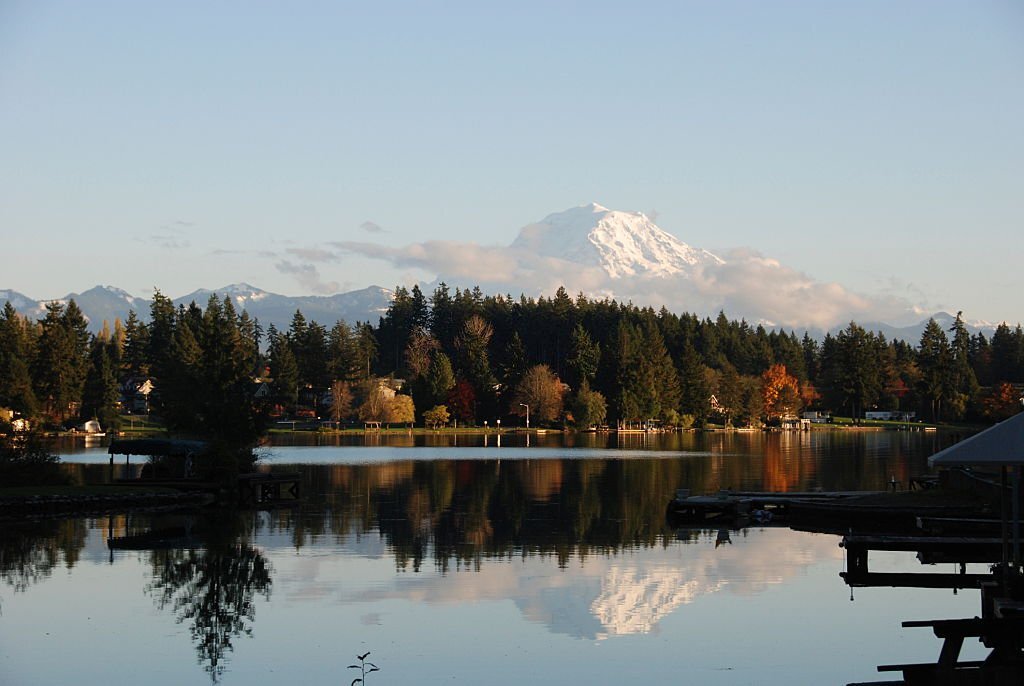 Best Place To Rent:
Northwest Paddleboarding
Address: 4105 W Tapps Dr E, Lake Tapps, WA 98391
Phone: (253) 653-8360
Website: https://www.northwestpaddleboarding.com/
Location: Google Maps
12 – Lake Washington Arboretum
The Lake Washington Arboretum, located on the shores of Lake Washington, offers a unique paddle boarding experience immersed in nature's tranquility. This urban oasis is a haven for outdoor enthusiasts and provides a perfect blend of paddle boarding and nature exploration.
Paddle boarding through the floating gardens of the arboretum allows you to observe a variety of plant species and marvel at the vibrant colors that surround you. The calm waters of Lake Washington provide a peaceful environment as you navigate through the arboretum's interconnected waterways. Immerse yourself in the beauty of nature, listen to the sounds of birds chirping, and take in the serenity that the arboretum has to offer.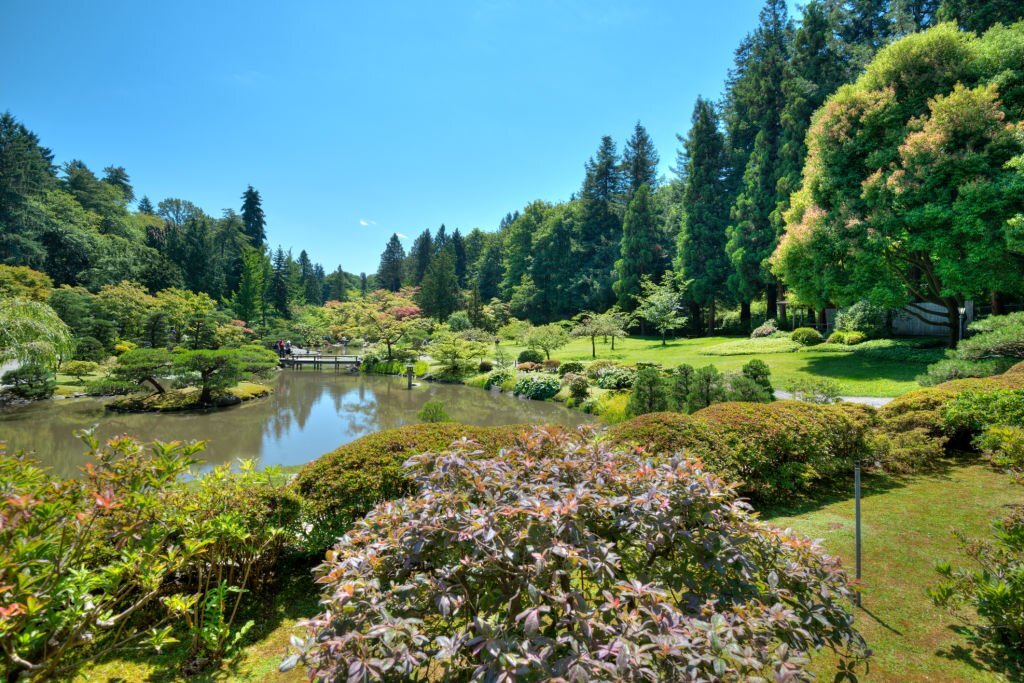 Best Place To Rent:
Agua Verde Paddle Club
Address: 1303 NE Boat St, Seattle, WA 98105
Phone: (206) 545-8570
Website: https://aguaverdepaddleclub.com/
Location: Google Maps
Conclusion: Seattle Paddleboarding
Seattle, Washington, is undoubtedly a haven for paddle boarders, offering a wide array of remarkable locations to explore. From serene lakes to bustling urban waterways, each spot has its own unique charm and beauty. Whether you're a local resident or visiting the city, these 12 incredible places will undoubtedly provide unforgettable paddle boarding experiences. So grab your paddle board, embrace the serenity of the water, and embark on an adventure to discover the beauty of Seattle paddleboarding from a whole new perspective.
FAQs (Frequently Asked Questions)
Can I rent paddle boards at these locations?
Yes, many of these locations offer paddle board rentals either on-site or nearby. It's recommended to check ahead of time to ensure availability.
Are there any age restrictions for paddle boarding?
Age restrictions may vary depending on the rental provider and location regulations. Some places may have minimum age requirements, while others may require adult supervision for younger paddlers. It's best to inquire beforehand.
Do I need prior experience to for Seattle Paddleboarding?
No, paddle boarding is suitable for all skill levels. Beginners can start with calm and easy locations, while experienced paddlers can explore more challenging waters.
What safety equipment do I need for paddle boarding?
It's important to wear a personal flotation device (PFD) or life jacket while paddle boarding. Additionally, a leash attached to your board and a whistle for signaling are recommended safety measures.
Can I bring my pet along while paddle boarding?
Some locations may allow pets on paddle boards, but it's important to consider their comfort, safety, and any local regulations. Ensure your pet is comfortable with water activities and follow leash rules if applicable.