*We may earn a commission for purchases made using our links. Please see our disclosure to learn more.
For many people – used paddleboards are a really smart and sensible purchase! A new paddleboard can easily put you back anywhere from $500 – $1,200 and if you're not sure if it's the right hobby for you then grabbing a second-hand board is most likely the right move!
That's why – In this article, I'll guide you through five effective ways to locate a great used paddleboard, ensuring you make a well-informed and satisfying purchase
Ready to get into the strategies?
5 Simple Strategies To Find A Great Used Paddleboard
These strategies are done in no particular order, just find one that is easy to do for you and then try it out. If you have no luck then just try the next one 🙂
Strategy 1: Asked For Damaged Goods At Paddleboard Stores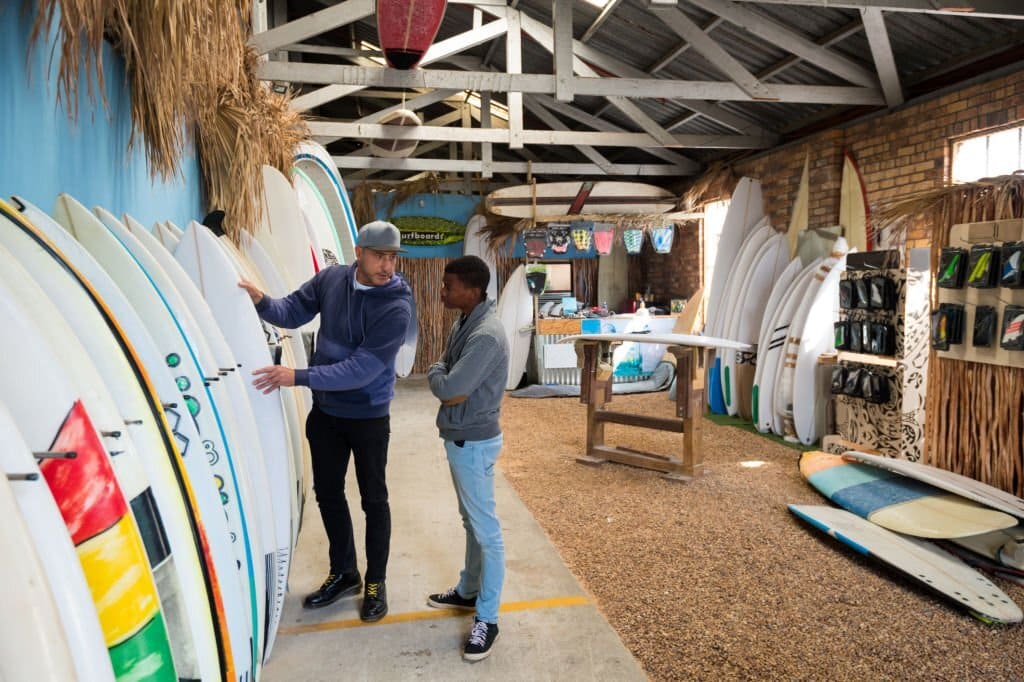 This approach might take some bravery from you, but it works really well! Essentially, the idea is to visit a store that sells paddleboards and then ask them if they have 'almost new' products with minor defects, such as scratches or dents, which make them challenging to sell.
Many of the stores do have these products, you just need to ask. And if you find one then offer to buy it at a discounted rate. It's a win-win because they get a sale and you get a major discount on a SUP that's barely used or completely new.
I like to find coastal areas for this strategy because there are often clumps of stores near each other, and they have a bigger movement of inventory which means the chances of finding a slightly damaged SUP is much higher.
Strategy 2: Look Into Demo Days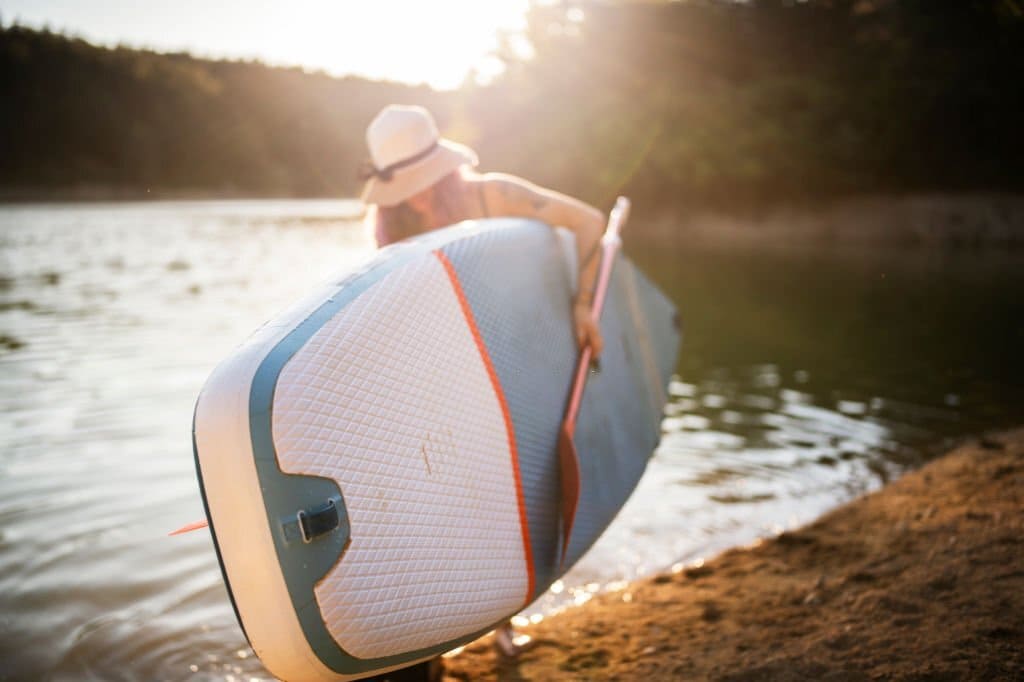 Here's another awesome strategy – there are many companies that will do 'demo days'. This is a fancy name for a day where they let people try out their paddle boards to see if they like it. And these demo boards often get damaged and are difficult to sell afterwards (because people want new boards 99% of the time).
That's why you can search for a 'Demo Day' and then offer to buy the demo board at a lower price, it will be hardly used and you can snag a great discount on it.
Strategy 3: Ask Stores If They Have "Rent To Own" Paddleboards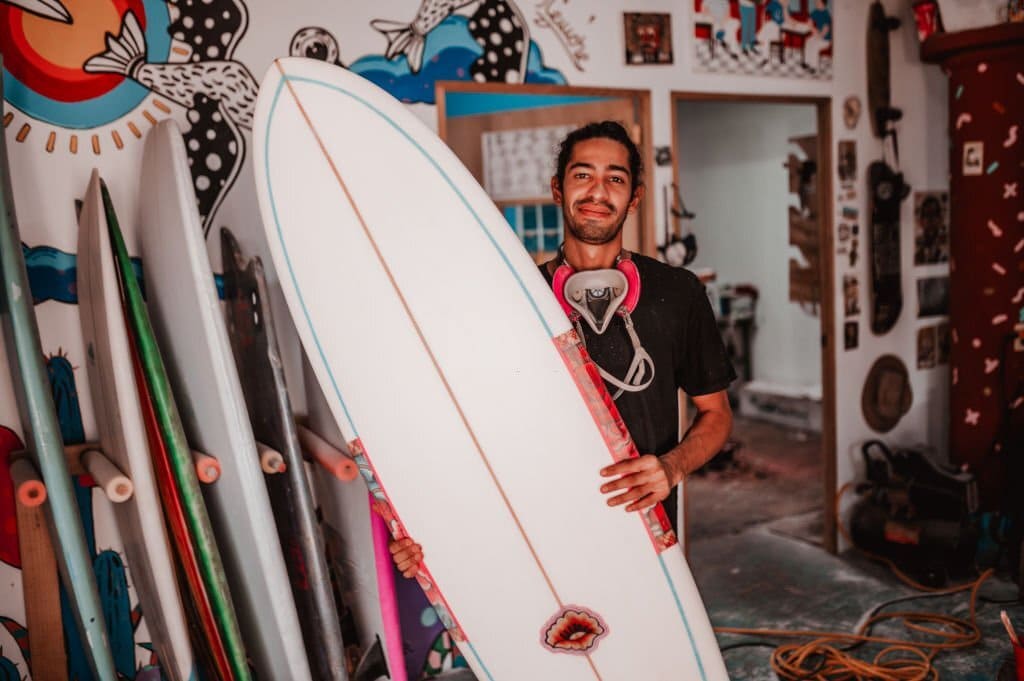 There are also many stores that have "rent to own" programs. The idea of this is that they allow people to rent a paddleboard and then pay it off each month until they own it. Make sense?
Now here's where you come in… There are many instances where you can ask a store that has a "rent to own" program if they have any paddleboards that were returned. I.e. Someone that has paid off 50% and then returned the paddleboard for some reason.
This happens more than you think and it creates a nice opportunity for you to get a used board at an amazing discount. It might be a bit of a harder strategy to get right, but when you do it will really be worth it 🙂
Strategy 4: Use Online Marketplaces and Forums
The internet is a vast resource for finding paddleboard sales. You want to try and explore websites, auctions, and second-hand sales to discover competitive prices on used boards.
Here are some of my favorite sources to find a good used paddleboard:
Craigslist often has some really interesting stuff on there (often at a discount). This is a source that is definitely worth looking into to find a used SUP.
Just add your location in the top of the website and then search for a "paddleboard" and you're ready to go. This is what I found with one quick search, so keep your eye on this: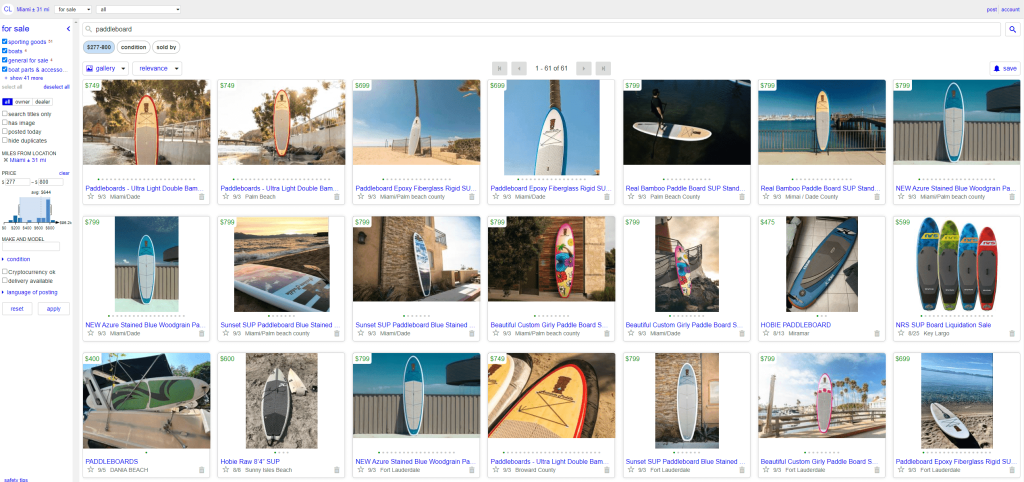 Make sure that you filter based on price or else you could get a big shock at how expensive some of these paddleboards are… You just need to look for the hidden gems.
eBay is another awesome opportunity to grab a used paddleboard for a discount. All you need to do is search for auctions on paddleboards and you'll see some really nice options.
Here is what I found with one quick search: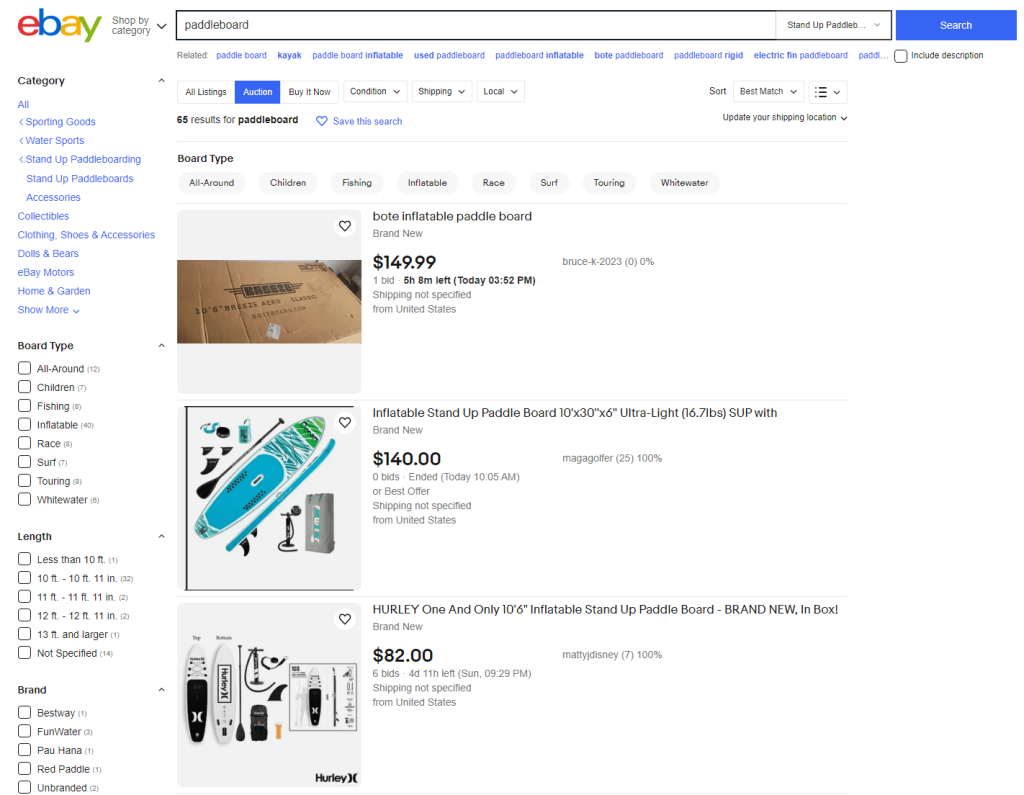 Source 3: Facebook Marketplace
Another extremely under-utilized source is Facebook marketplace. If you log into Facebook then you can search for Marketplace and look at some of the things that people are selling around you.
If I do a quick search for paddleboards around Miami, I find some interesting paddleboard sale items that I'd definitely look into.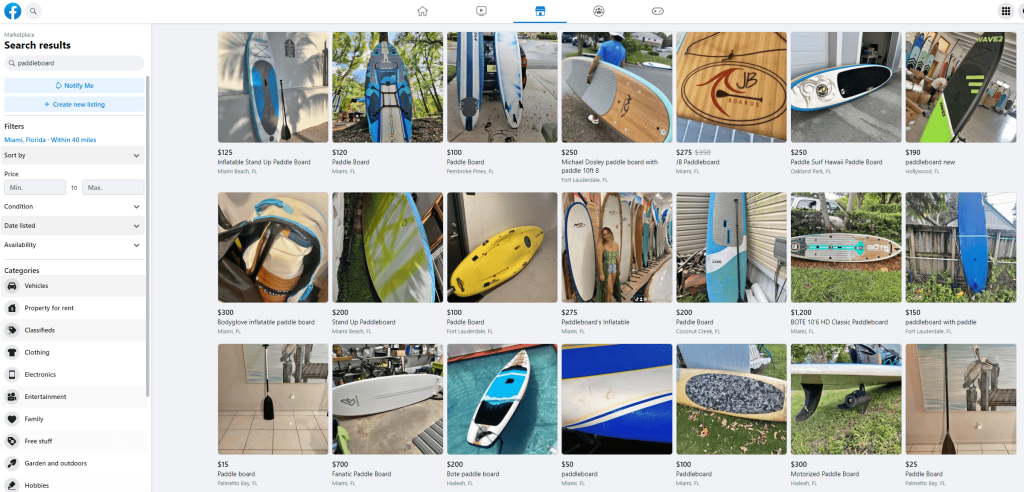 These listings are constantly changing so if you don't find something the first time – then just visit the page again a little while later.
Strategy 5: Buy Bundle Deals
Now this might be a controversial strategy because it's NOT actually about getting a used paddleboard. But I felt like I would include it because you can get some seriously nice inflatable paddle board equipment at great prices if you look into a bundle deal.
Bundle deals are packages where are retailer will give a paddleboard, pump, fin and everything else that you need to get started fast.
Buying everything you need in one go can result in significant cost savings compared to purchasing each item individually. Plus, it ensures that you have all the necessary gear to hit the water right away.
Here are some bundle recommendations: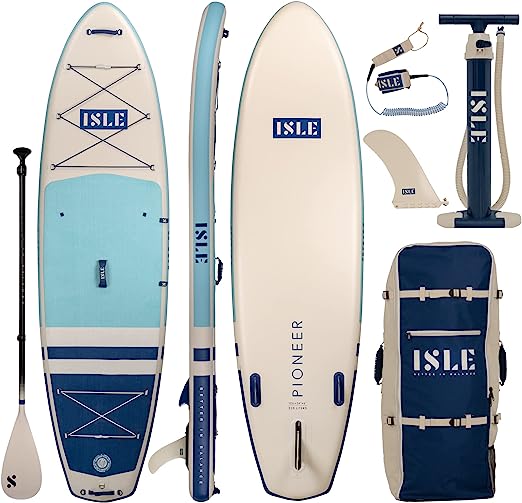 Where To Buy: Amazon
Key Features:
– Allows up to 285lb in weight
– 10'6″ in size
– Comes with bag, leash, fin and paddle
– 2 Year warranty on materials
– 60 day return policy
The ISLE Pioneer paddleboard holds the distinction of being their flagship bestseller, crafted as a versatile all-rounder board. Tailored for both flat water and modest waves, it offers a broad range of options for your paddleboarding adventures.
They also have paddleboards that are specifically created for children that you can check out if that's what you're looking for.
Where To Buy: Amazon
Key Features:
– Allows up to 400lb in weight
– 11'0″ in size
– Comes with bag, leash, fin and paddle
– 2 year warranty on materials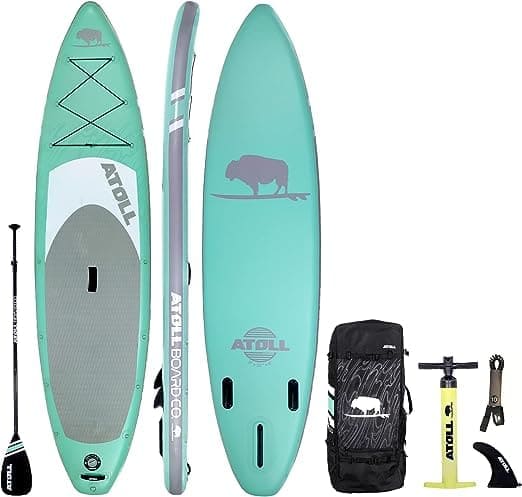 I have friends who, being on the heavier side, have faced challenges finding paddleboards that don't sink under their weight. The Atoll board, in my opinion, stands out as the best SUP on the market to address this need. It excels in various water conditions and, considering its affordable price, is a paddleboard that I highly recommend exploring.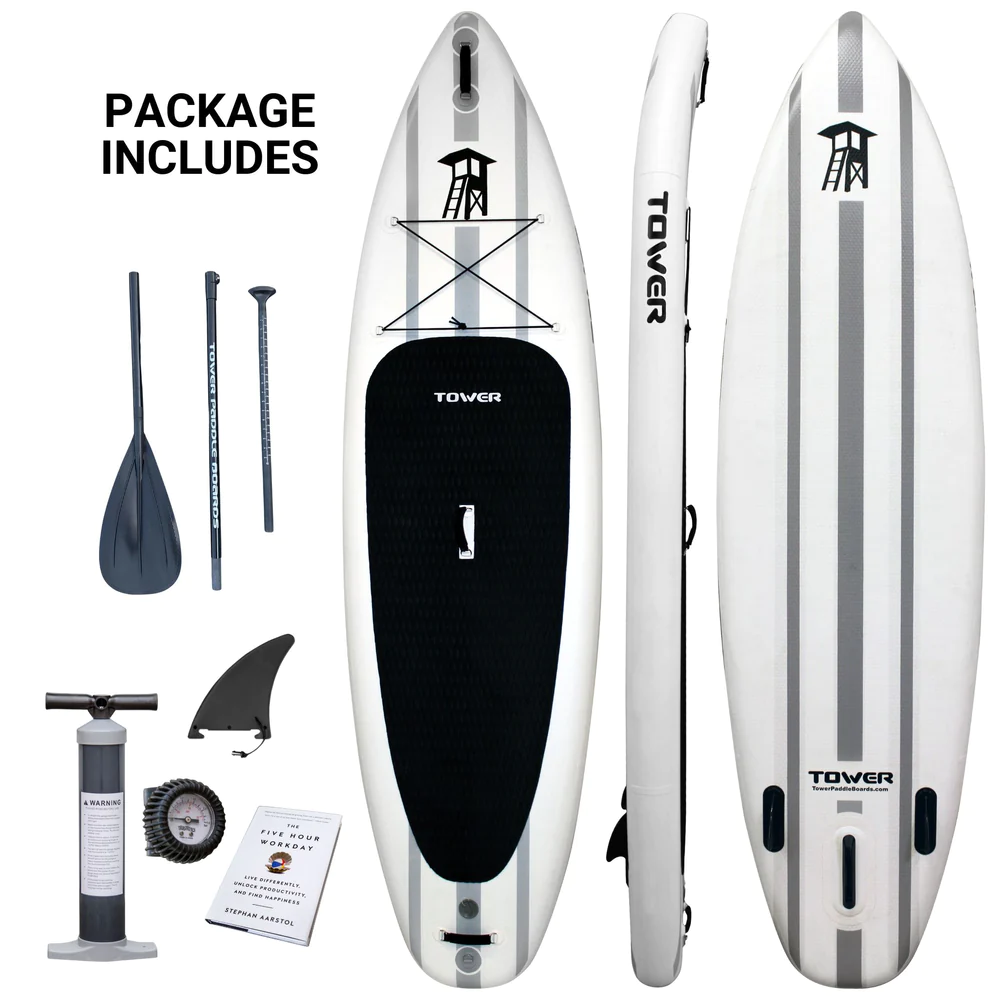 Where To Buy: Tower Paddleboards
Key Features:
– Sturdy design that is extremely durable and stable – this SUP makes balancing easy.

– Comes with a large deck pad that covers up most of the board for easy balance

– It has a great value price for a top board.

– It comes with a 2 year warranty against defects
The Tower paddleboard stands out as an excellent stand-up paddleboard (SUP). Crafted from premium materials that mimic the performance of a hardboard, while also delivering all the associated benefits.
What sets it apart is its remarkable durability. The board undergoes rigorous testing, including case studies where it withstands being driven over by a car. This showcases its robust build. If you're in search of a high-quality SUP that combines durability with budget-friendliness, I highly suggest considering this Tower paddleboard.
How To Check If A Used Paddleboard Is In Good Condition
When you are buying a used paddleboard, it's critical to make sure that the board is in good condition. You can either do this in person or through photos, but here's a comprehensive guide on how to assess a used paddleboard:
| | |
| --- | --- |
| Inspect the Hull | Look for Dings and Cracks: Run your hands along the hull, feeling for any dings or cracks. Even small damages can affect performance and stability. |
| Evaluate the Deck | Feel for Soft Spots: Press down on the deck with your hands, checking for soft spots or areas that give more than others. Soft spots could indicate water damage or delamination. |
| Look for Signs of Waterlogging | Check for Bubbles: Bubbles or discoloration on the board's surface may indicate waterlogging. This compromises the board's buoyancy and performance. |
| Check for Excessive Wear and Tear | Inspect the Surface: Look for areas with excessive wear, scratches, or deep gouges. While some wear is expected, extensive damage may indicate a rough history. |
| Perform a Weight Test | Test the Rigidity: Press down on the center of the board with your knee. A sturdy board should not flex excessively. Excessive flex can be a sign of internal damage. |
By following this guide, you'll be equipped to make an informed decision when purchasing a used paddleboard. Remember, a careful inspection ensures you not only find a great deal but also guarantees countless enjoyable hours on the water with your new paddleboard companion.
Happy paddling! 🌊🏄‍♂️
Conclusion
In conclusion, finding a great used paddleboard in 2023 is an exciting journey. By researching brands, exploring online and local options, seeking recommendations, and carefully inspecting and testing boards, you'll be well on your way to paddling bliss. Remember, the perfect board is out there waiting for you… You just have to find it 🙂
Used Paddleboard FAQs
How do I know if a used paddleboard is in good condition?
Look for signs of wear, check for repairs, and ensure there are no structural issues. A thorough physical inspection is key. Look at the guide above for how to inspect a paddleboard for damage to make sure that it's in good condition before you buy it.
Is it better to buy from a local store or online marketplace?
Both options have their advantages. Local stores allow physical inspection, while online marketplaces offer a broader selection. Consider your preferences and priorities. Make sure that you are using reliable online marketplaces that have some kind of buyer protection. The recommendations that I gave above are all great for this.
What questions should I ask about a board's history?
Inquire about the number of owners, any repairs or modifications, and how frequently the board has been used.
Can I negotiate the price of a used paddleboard?
Absolutely. Negotiation is common, especially if you can justify your offer based on the board's condition and market value.
How important is it to test paddle a used board before buying?
Extremely important. Testing a board on the water gives you a feel for its performance and helps identify any issues that may not be evident on land.