*We may earn a commission for purchases made using our links. Please see our disclosure to learn more.
Take my advice… Paddleboard San Antonio, Texas as soon as you can! While it may might not be instantly associated with paddleboarding, it's a really good spot to go!

Whether you're a beginner or a seasoned pro, the city and its surroundings offer a diverse range of paddleboarding spots that promise unforgettable experiences.
Let's dive into the top 12 epic places to paddleboard in San Antonio 🙂
12 Best Locations To Paddleboard San Antonio
San Antonio isn't just about its historic sites and culinary delights; it's also a haven for paddleboarders. Whether you're seeking calm or adventure – the city and its outskirts have something for everyone.
Location #1: Mission Reach Paddling Trail:
The Mission Reach paddling trail offers a unique blend of urban and natural beauty. Stretching along the San Antonio River, this 8-mile paddling trail takes you through lush landscapes, passing by the historic San Antonio Missions. The calm waters make it ideal for beginners and families.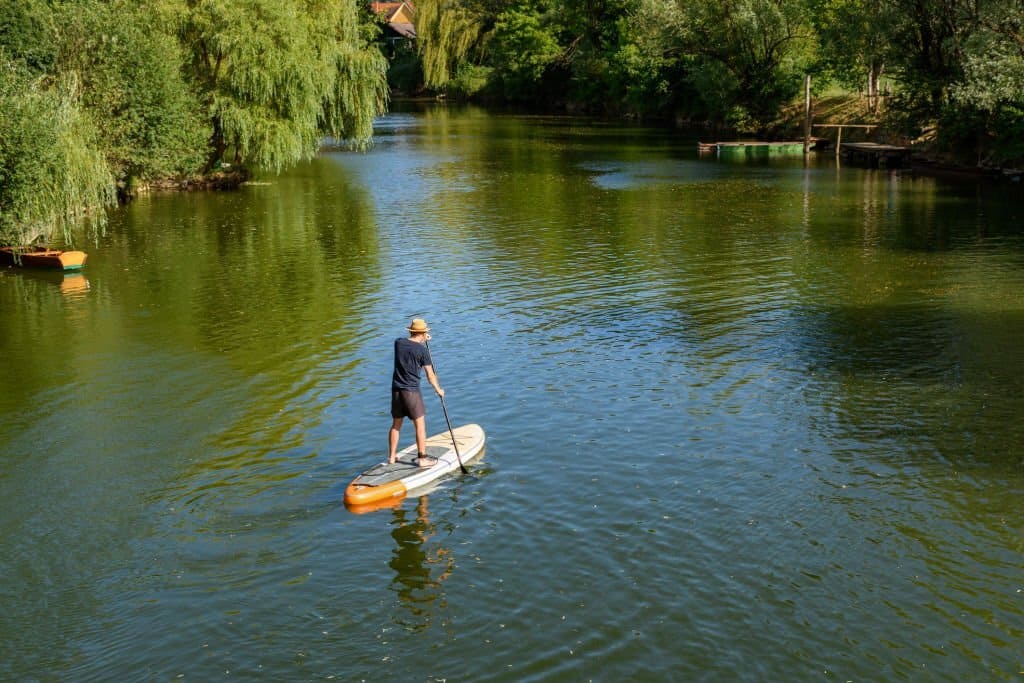 Location: Google Maps
Location #2: Medina Lake:
If you're in search of serene waters, Medina Lake is your destination. Just a short drive from downtown San Antonio, this lake offers crystal-clear waters surrounded by rolling hills. It's perfect for a peaceful paddle as you soak in the picturesque views.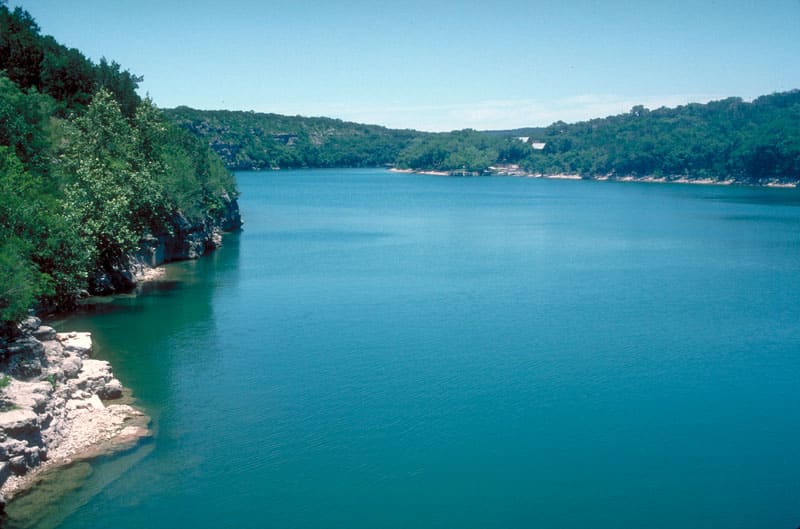 Location: Google Maps
Location #3: Canyon Lake:
Canyon Lake caters to adventure seekers. With its expansive waters and stunning cliffs, this lake provides an exhilarating paddleboarding experience. You can explore hidden coves and even find spots for a refreshing swim.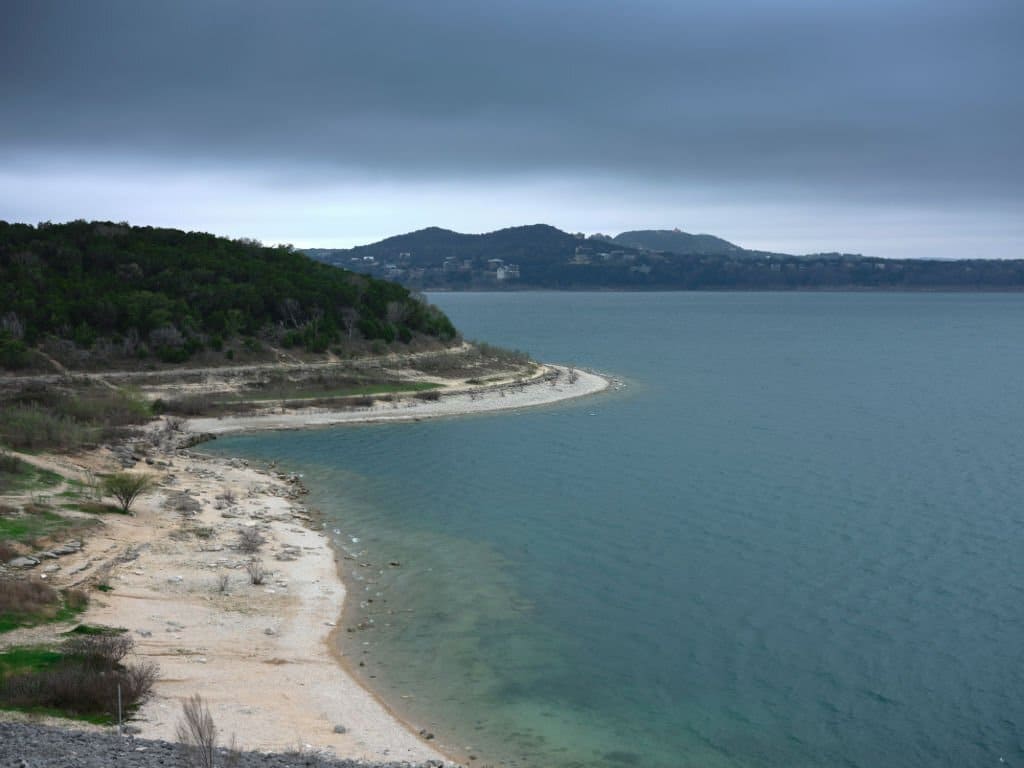 Location: Google Maps
Location #4: Boerne Lake:
For a family-friendly outing, Boerne lake ticks all the boxes. With calm waters and beautiful picnic spots, it's an ideal location for a relaxed paddleboarding session. Don't forget to bring along some snacks and enjoy the day.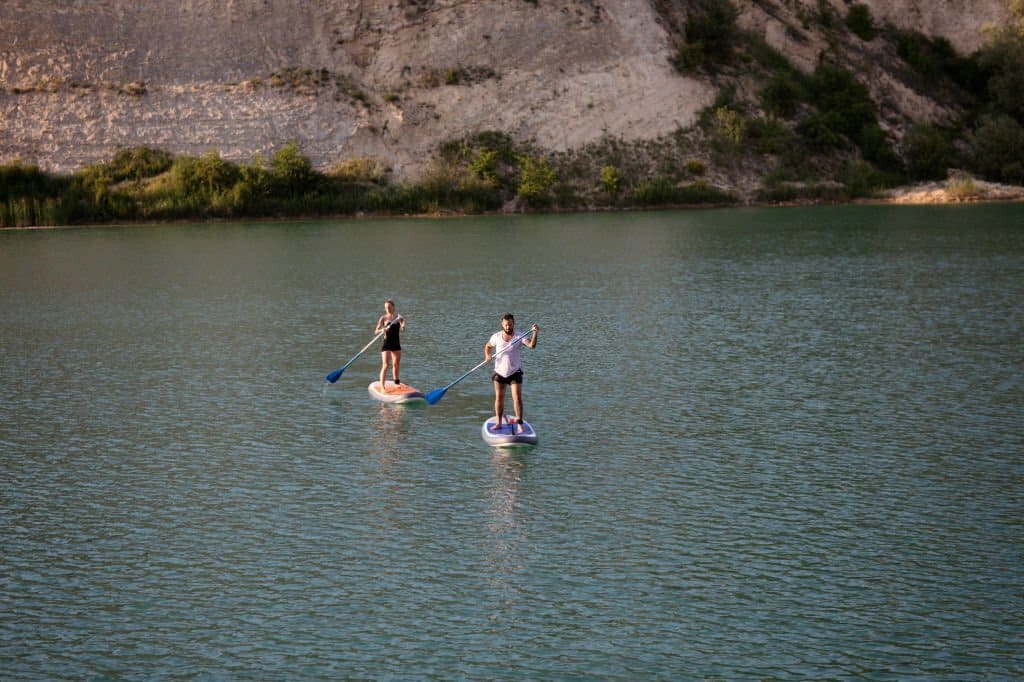 Location: Google Maps
Location #5: Victor Braunig Lake:
Victor Braunig Lake is known for its peaceful ambiance and impressive bird-watching opportunities. Paddle along the shores and watch as nature unfolds around you. It's a rejuvenating experience that lets you reconnect with the natural world.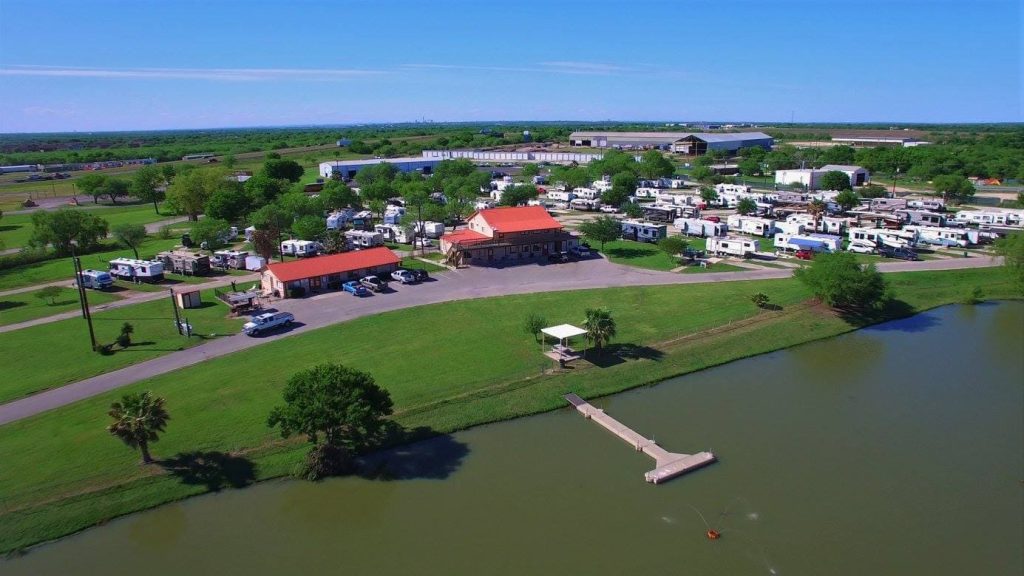 Location: Google Maps
Location #6: Calaveras Lake:
If you're a paddleboarder with a love for fishing, Calaveras Lake is your go-to spot. Paddle around, cast your line, and wait for the thrill of a catch. It's a unique way to combine two enjoyable activities into one memorable day.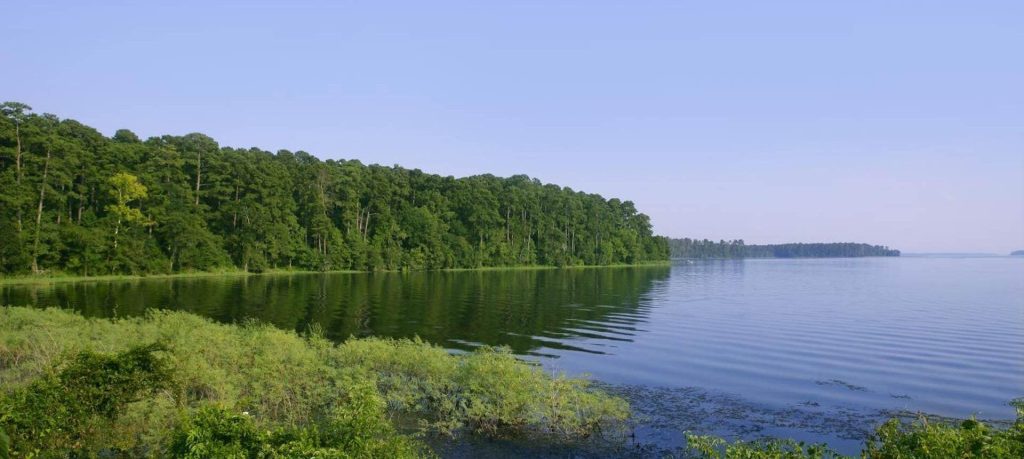 Location: Google Maps
Location #7: Woodlawn Lake:
Woodlawn Lake offers both paddling and recreational activities. After your paddleboarding session, you can enjoy a game of basketball or have a leisurely picnic by the lake. It's an excellent spot for a full day of fun.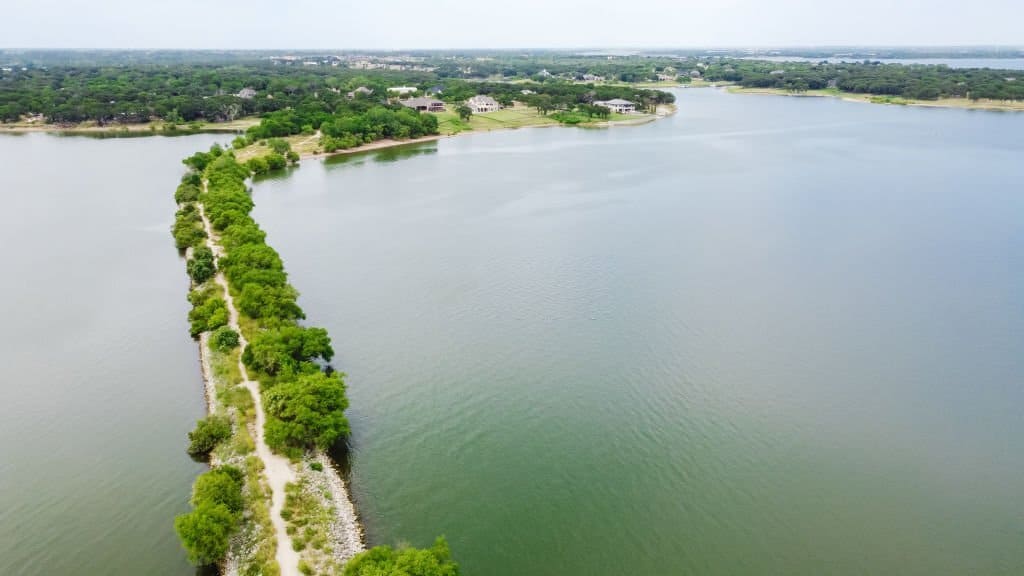 Location: Google Maps
Location #8: Elmendorf Lake:
Elmendorf Lake provides an urban escape for city dwellers. This small lake offers a quiet place to paddle, surrounded by city views. It's a convenient spot to get your paddleboarding fix without venturing too far.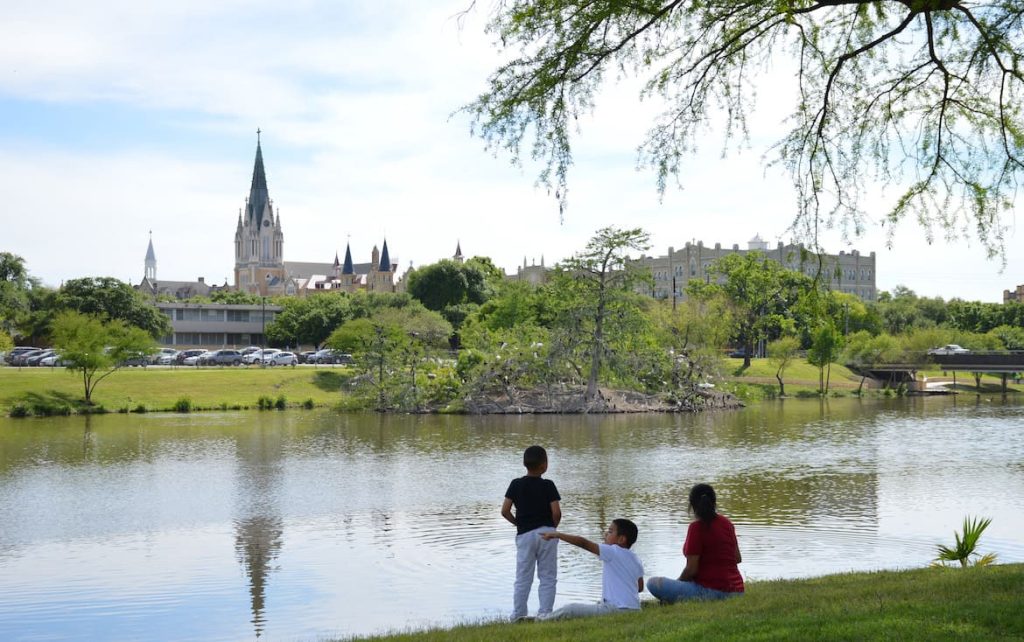 Location: Google Maps
Location #9: Lake Dunlap:
Lake Dunlap boasts stunning views that make your paddleboarding adventure a visual delight. The calm waters reflect the surrounding beauty, creating a serene atmosphere that's perfect for unwinding.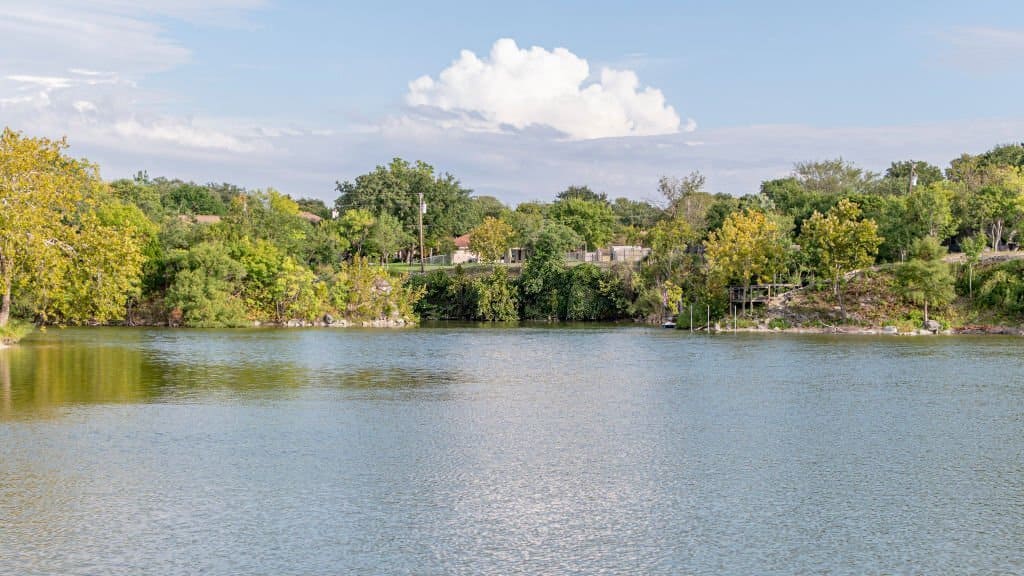 Location: Google Maps
Location #10: Live Oak Lake:
Live Oak Lake offers a chance to paddle amidst wildlife. Keep an eye out for various bird species and enjoy the tranquil setting. It's an escape from the hustle and bustle, allowing you to immerse yourself in nature.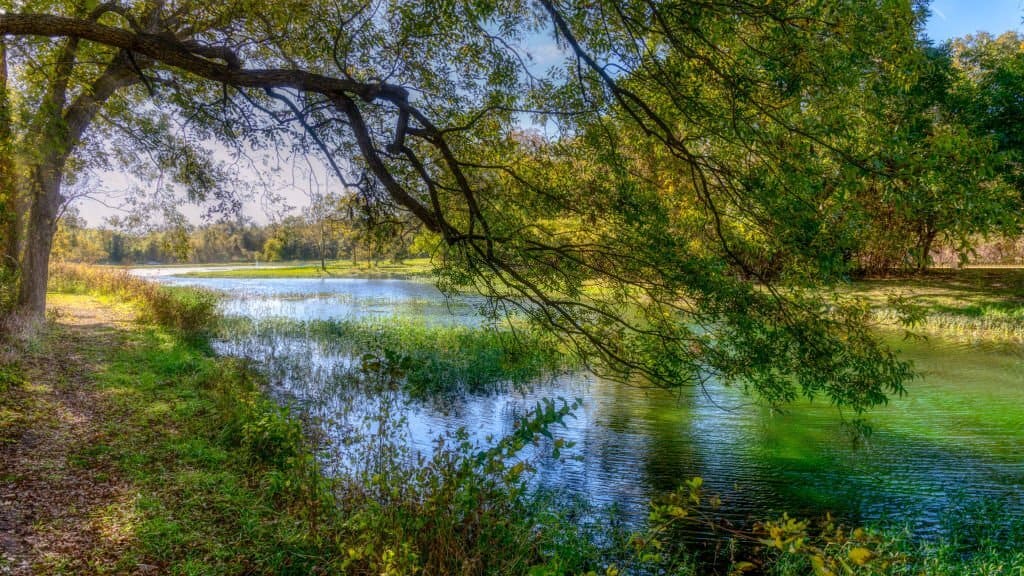 Location: Google Maps
Location #11: Landa Park Lake:
Landa Park Lake's charm lies in its simplicity. It's a peaceful spot where you can paddle at your own pace. Whether you're looking for a solo retreat or a bonding session with friends, this lake provides the ideal backdrop.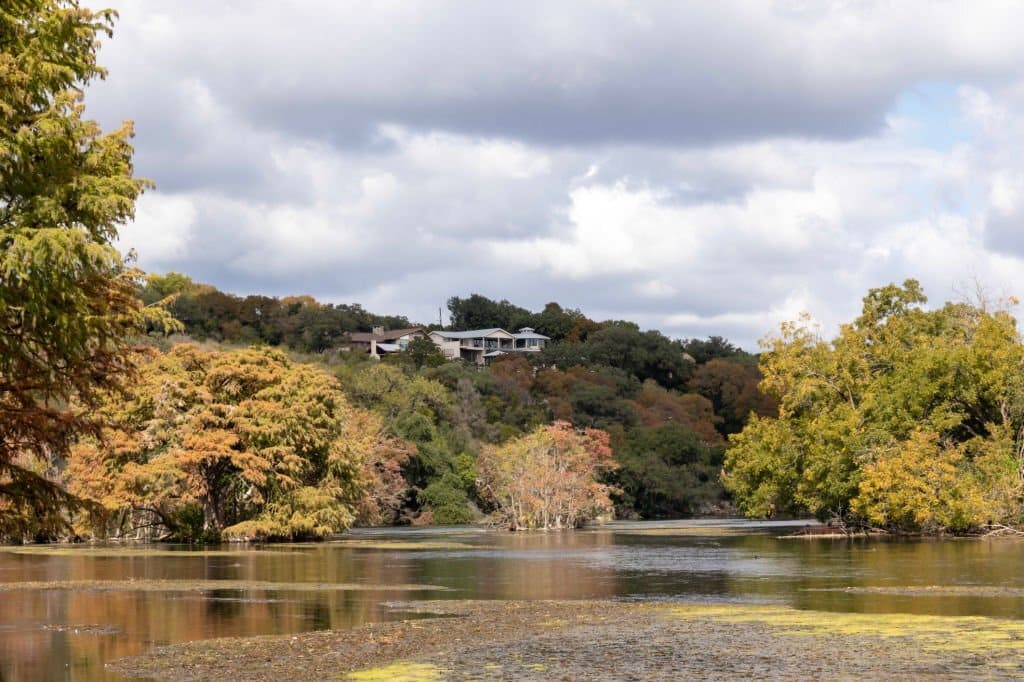 Location: Google Maps
So now that you know the locations, you might be wondering…
"Should I Buy A Paddleboard/Kayak Or Just Rent One?"
In response to this – my advice always remains the same:

Owning your own paddleboard will always be better than renting. If you genuinely want to start paddleboarding and want all the benefits that it provides then you can't go wrong buying one.
And the best part is that because the sport has evolved so much, there are so many paddleboards that you can get at a great price… So there isn't much of an excuse not to grab one if you want to bring it into your life 🙂
But then again – if you decide that you don't want to buy a paddleboard then you probably want to rent one…
Paddleboard San Antonio: Rental Spots
Here are some of the best places that you can use to rent a paddleboard in San Antonio:
This is a really awesome company that does glow kayak tours at night, it is a really fun experience and worth your time.
Prices: $44.95
Address: 555 Cheatham St, San Marcos, TX 78666, United States
Directions: Google Maps
Contact Number: +1 512-400-6259
Prices:
– Paddleboard = $35 per hour
– Kayak Tours = $75 for a 2 hour tour
Contact Number: +1 210-383-0872
The Best Time to Paddleboard San Antonio:
Each season offers a unique experience at San Antonio. Spring and summer provide warm weather and abundant wildlife, while autumn showcase beautiful visuals along the shoreline. Be mindful of weather conditions before planning your trip to make sure that it's not too hot.
You can see a detailed and up-to-date weather guide below:
SAN ANTONIO WEATHER
Choosing the Right Gear
For a memorable SUP adventure, it's crucial to select the right gear. A stable and beginner-friendly paddleboard or kayak will make a significant difference in your experience. Thankfully, various rental options are available in San Antonio, so you don't have to worry about lugging your equipment around.
Getting Started with Paddleboarding
If you're new to SUP, don't worry about it! It's much easier than it looks, and with a bit of practice – you'll be paddling around with no problems. Start by kneeling on the paddleboard to get your balance and then slowly shift into a standing position. Keep your feet hip-width apart and your gaze forward to maintain stability.
Safety Tips for Paddleboarding
While SUP is generally a safe activity, it's essential to be prepared for any situation. Be aware of tidal changes, weather forecasts, and potential hazards in the water. Always wear a life jacket and bring along necessary safety equipment, such as a whistle and a leash for your paddleboard.
Packing Essentials for a SUP Trip
To ensure a smooth and enjoyable SUP trip, pack wisely. Don't forget essentials like sunscreen, a reusable water bottle, snacks, and a waterproof bag to protect your belongings. Additionally, consider the weather forecast and dress appropriately in layers for added comfort.
Benefits of Outdoor Water Activities
Engaging in water activities like kayaking and paddleboarding offers numerous health benefits. Apart from the physical exercise and improved balance, spending time in nature has been scientifically proven to reduce stress and boost mental well-being. Embrace the opportunity to disconnect from the hustle of daily life and reconnect with nature.
And make sure that you can remember your beautiful moments because science has also proven that looking back on magical moments can create a surge of positive emotions.
Tips for Capturing Your Experience
To make sure that you actually remember your SUP adventure, bring along a waterproof camera or smartphone and take pictures of the scenery. Take creative shots of the wildlife, picturesque shoreline, and maybe even some selfies to cherish the memories for years to come.
My recommendation is always a GoPro Hero Black 11 for this because you just can't beat them:
Where To Buy: Amazon

Key Features & Benefits:
– Completely waterproof

– Ultra HD Video

– 27 Megapixel Camera

– Image stabilization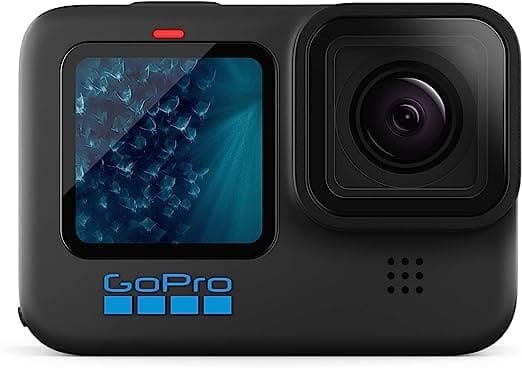 The new GoPro Hero 11's are truly incredible. And one of the biggest changes that you'll see is the wide angle lense that they've included with the Hero 11. Now every photo or video has an extra-large canvas for you to use by capturing more of the sky and horizon in the lense. Not to mention that the pixel quality of the photo's is so high now (27MP) that you can zoom in and crop your shots in perfect quality.
On top of that – these cameras are fully waterproof so you can use them underwater when you paddleboard San Antonio
My advice – Grab one of these GoPro's because you won't regret it 🙂
Conclusion:
San Antonio, Texas, might not be the first place that comes to mind for paddleboarding, but it's a destination that's brimming with picturesque locations for this exhilarating water activity. From serene urban trails to lakes nestled amidst rolling hills, the city and its surroundings cater to all types of paddleboard enthusiasts. So, grab your paddleboard, soak in the breathtaking views, and embark on an unforgettable paddleboarding adventure in the heart of Texas.
Paddleboard San Antonio: FAQ's
Is paddleboarding suitable for beginners in San Antonio?
Absolutely! Many of the mentioned locations, such as Mission Reach and Woodlawn Lake, are great for beginners due to their calm waters and ease of access.
Are there any guided paddleboarding tours available in San Antonio?
Yes, several outfitters in San Antonio offer guided paddleboarding tours, which can be a fantastic way to explore the waters with the guidance of an expert.
Can I rent paddleboarding equipment in San Antonio?
Definitely! Most of the major paddleboarding spots offer rental services for paddleboards and other equipment, making it convenient for both locals and visitors.
Is paddleboarding a family-friendly activity in San Antonio?
Absolutely. Many of the lakes mentioned, like Boerne Lake, provide a family-friendly environment with calm waters and picnic areas, perfect for a day of fun.
Do I need to be physically fit to enjoy paddleboarding in San Antonio?
While a basic level of fitness is helpful, paddleboarding can be enjoyed by people of various fitness levels. Choose locations like Elmendorf Lake for a more leisurely experience if you're concerned about physical exertion.