Have you ever wondered – "Can you sit on a paddleboard?"
Well – If you think that stand-up paddleboarding is all about, well, standing… then think again!
Today, I'm here to spill the beans on how you can have a blast on your paddleboard without ever getting on your feet.
Whether you're a SUP aficionado or a newbie, these seated activities will take your seated paddleboarding experience to a whole new level.
Can You Sit On A Paddleboard?
The answer is YES!
Stand-up paddleboarding, or SUP, is more than just a sport; it's a lifestyle. While many folks associate paddleboarding with gracefully gliding across the water while standing, there's a world of fun to be had without ever leaving your seat.
8 Best Seated Activities On A Paddleboard:
Let's explore eight exciting things you can do on your paddleboard while sitting down.
ACTIVITY 1: SEATED YOGA ON A PADDLEBOARD
Picture this: You, your paddleboard, and a session of yoga poses that'll leave you feeling both zen and accomplished. Seated yoga on a paddleboard adds an extra layer of challenge, as you engage your core for stability while finding your inner peace amidst the ripples.
Here are 3 simple paddleboard yoga poses you can without standing:
Pose 1: Child's Pose (Balasana)
Pose 2: Seated Forward Bend (Paschimottanasana)
Pose 3: Downward-Facing Dog (Adho Mukha Svanasana)
---
ACTIVITY 2: STARGAZING ON THE PADDLEBOARD
As the sun sets, swap the city lights for the stars above.
Paddleboarding at night offers a front-row seat to a celestial spectacle. Check the lunar calendar, choose a clear night, and let the gentle lapping of the water accompany your stargazing adventure.
Here are some quick tips to improve your stargazing experience:
---
ACTIVITY 3: SEATED MEDITATION ON THE WATER
Experience the serenity of sitting meditation on your paddleboard. Let the gentle movement of the water beneath you and the sounds of nature create a meditative ambiance. It's a mindful way to connect with both yourself and the natural world.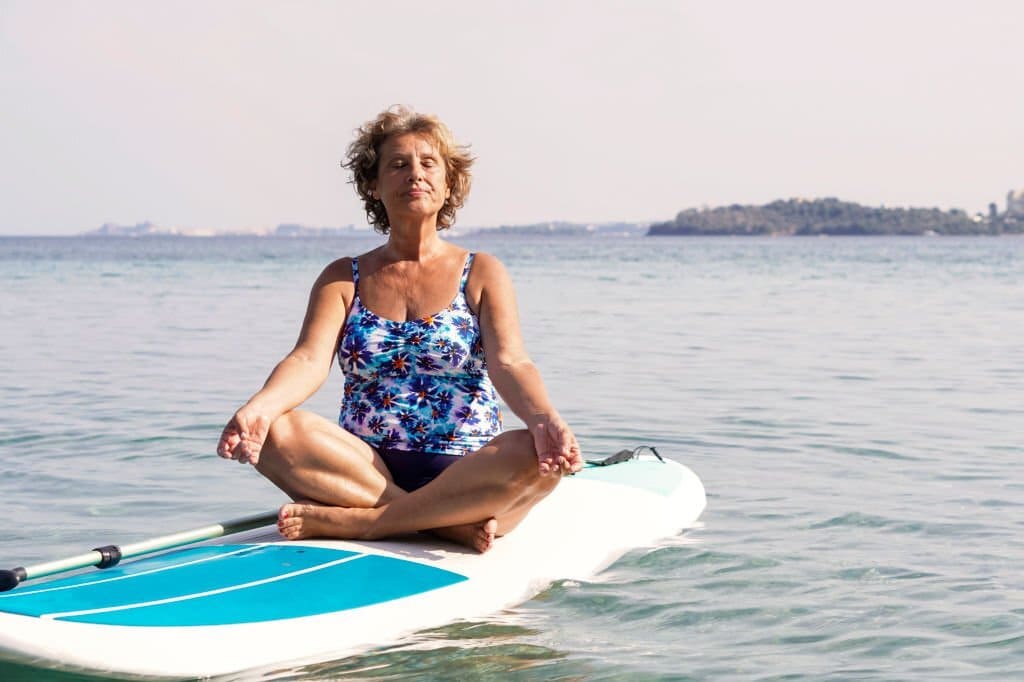 Here are some basic instructions to get you started:
Got it? Now go practice 🧘
Here is a great seat for you to use for your meditation sessions:
---
ACTIVITY 4 – PADDLEBOARD PICNIC
Who said picnics are reserved for dry land? Imagine floating on the water, surrounded by nature, while enjoying your favorite snacks. Pack a waterproof bag with some easy-to-eat treats, and turn your paddleboard into the ultimate floating picnic spot.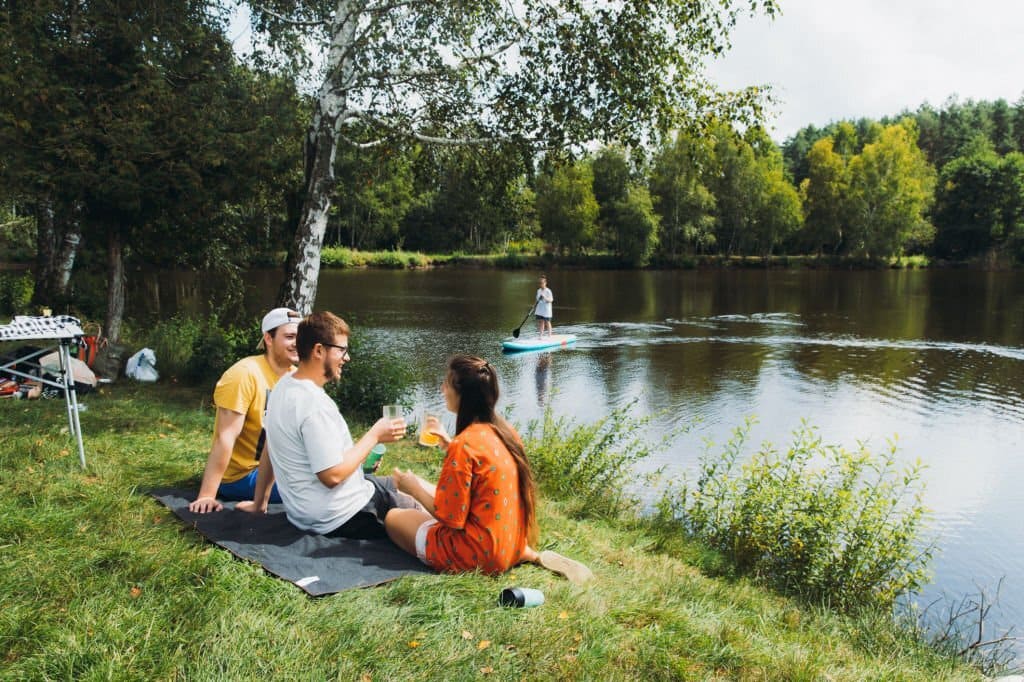 If you don't want to do it in the water, then you can also paddle out to a little island or inlet for your picnic and enjoy fun with your friends and family (don't forget the food) 👩‍🍳
Can you sit on a paddleboard while eating something…. um YES! (yummy)…
Here is a great waterproof bag to use for a picnic:
---
ACTIVITY 5 – CREATIVE PHOTOGRAPHY ON YOUR SUP
Can you sit on a paddleboard while taking photos? If the answer is yes, then unleash your inner photographer as you capture breath-taking scenes from the unique vantage point of your paddleboard.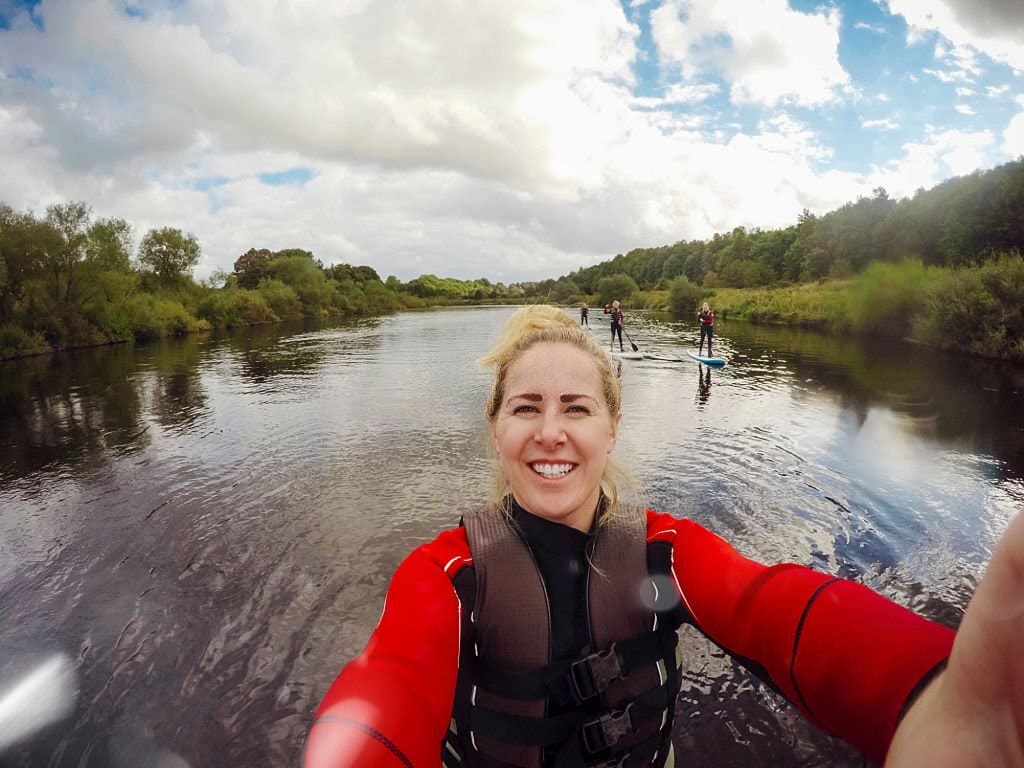 The low angle over the water offers a perspective that's hard to beat, and you can easily get really close to nature to make it a great shot.
Make sure that you are using a waterproof camera though because you don't want to take a spill and ruin your beautiful camera.
Here is a great camera for paddleboarding:
---
ACTIVITY 6 – FISHING ADVENTURES ON YOUR PADDLEBOARD
For those who love the thrill of the catch, why not turn your paddleboard into a fishing vessel? Fishing from a seated position provides a relaxed and enjoyable angling experience. Pack your fishing gear, find a cozy spot on your board, and let the gentle rocking of the water enhance your fishing zen.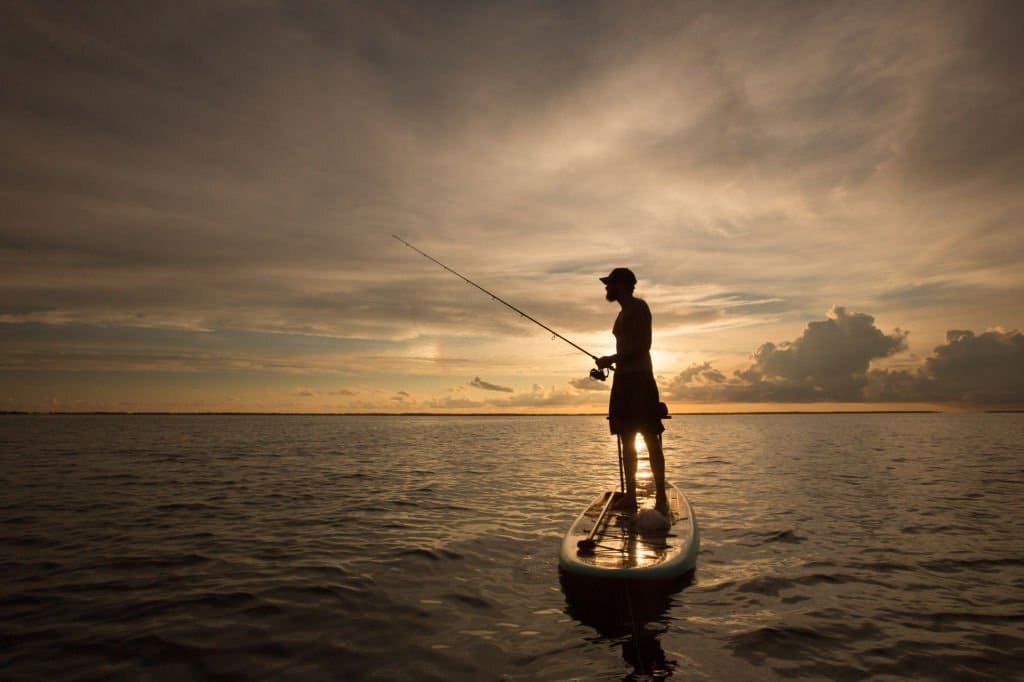 Can you sit on a paddleboard to fish? Heck yes! I know the picture isn't but you can ;)!
Here is my favorite fishing paddleboard:
---
ACTIVITY 7 – BIRD WATCHING FROM THE WATER
Bird watching takes on a whole new dimension when done from the tranquillity of a paddleboard. Glide silently through the water and observe feathered friends up close. Don't forget your binoculars and a waterproof camera to capture those avian moments.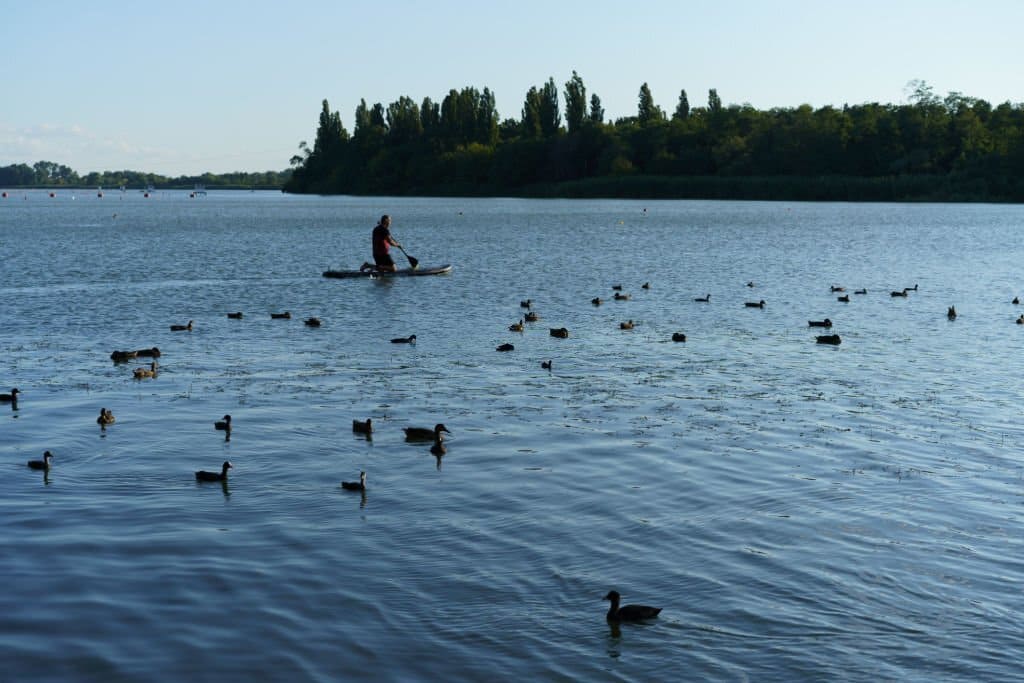 Here is my recommendation for nice binoculars (that are waterproof):
---
ACTIVITY 8 – PADDLEBOARD WITH YOUR PUP
Paddleboarding with your furry friend transforms your SUP experience into a delightful adventure for both you and your canine companion.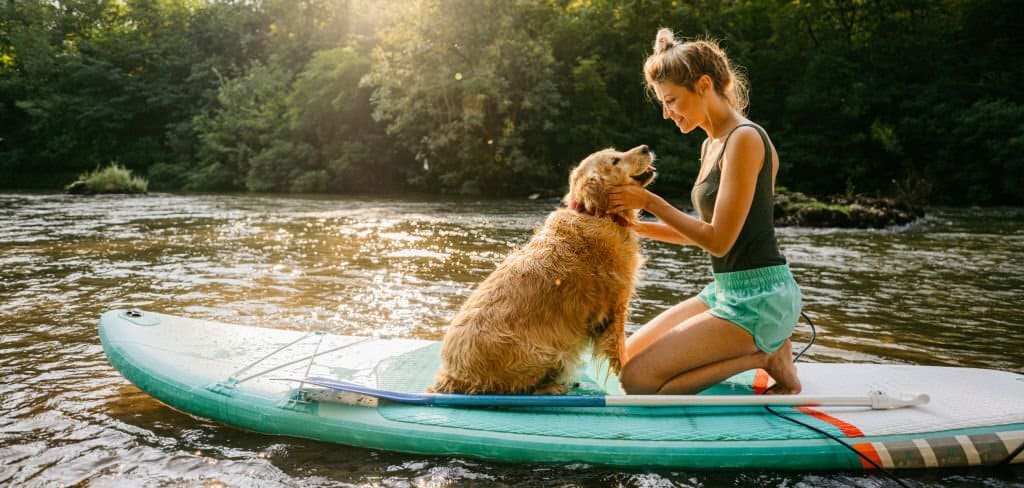 Picture this: you, your trusty paddleboard, and your dog, gliding through the water in perfect harmony. Taking your dog on a SUP adds an extra layer of joy as you navigate the gentle waves together. Your pup, securely perched on the board, becomes your water-loving co-pilot as you paddle through nature's wonders.
Here is a really awesome traction pad that you can add to your SUP:
---
Can You Sit On Your Paddleboard? Yes – And There Are Benefits:
There are actually some really nice benefits to sitting while SUPing…
Conclusion
There you have it, fellow paddleboard enthusiasts – eight fantastic ways to enjoy your paddleboard without ever standing up. If you've ever thought to yourself: "can I sit on a paddleboard?" Then I hope that you have your answer. Whether you're seeking relaxation, adventure, or a bit of both, these seated activities guarantee a memorable time on the water. So, the next time you grab your paddle, consider taking a seat and exploring a whole new dimension of paddleboarding fun.
Can You Sit On A Paddleboard FAQs
Can I use any paddleboard for seated activities?
While many paddleboards can be used, it's advisable to choose one with a stable design and features that enhance sitting comfort.
Is it safe to fish from a paddleboard?
Fishing from a paddleboard can be safe if you follow safety guidelines, wear a life jacket, and choose suitable fishing gear.
Can I practice yoga on a paddleboard as a beginner?
Yes, seated yoga on a paddleboard is beginner-friendly. Start with simple poses and gradually progress as you gain confidence.
What should I pack for a paddleboard picnic?
Pack easy-to-eat snacks, a waterproof bag, and consider bringing a small cooler with refreshing beverages.