*We may earn a commission for purchases made using our links. Please see our disclosure to learn more.
Do you know what the key to a long and vibrant paddleboarding life is? A top-notch paddleboard cover!
In this article, I'll guide you through the best paddleboard covers for 2024, providing insights and recommendations to ensure your board stays protected and ready for your next adventure.
Why Do You Need A Paddleboard Cover?
Before we dive into the specifics, let's establish why investing in a quality paddleboard cover is crucial.
Paddleboards are expensive, and anytime that you can protect your board from damage or exposure to the elements then you're going to extend the lifespan and maintain longevity of the board.
Now – the thing with paddleboarding is that these boards take a beating from everyday use. When you transport them they are stacked on top of other things like cooler boxes and surfboards that can scratch them…
There are many moments where your children or family members are dropping them, paddling into rocks or leaving them outside… And the biggest culprit is the salt and sand that acts as an exfoliant every time that you use your board!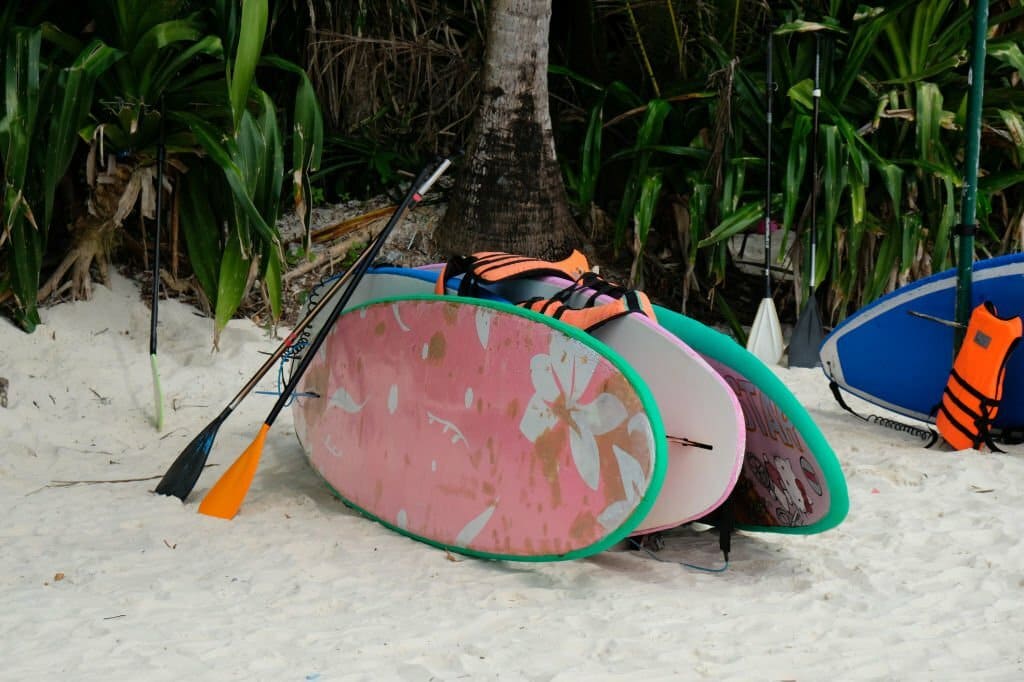 (This is a common scenario with paddleboards and the sand damages board)
You really want a paddleboard cover to protect your board from all of that, so let's get into which paddleboard cover is right for you.
The Best Paddleboard Cover To Protect Your SUP In 2024
As we step into 2024, paddleboard cover technology has evolved. New trends and advancements promise even better protection for your cherished board.
Let's explore some of the top contenders for 2024: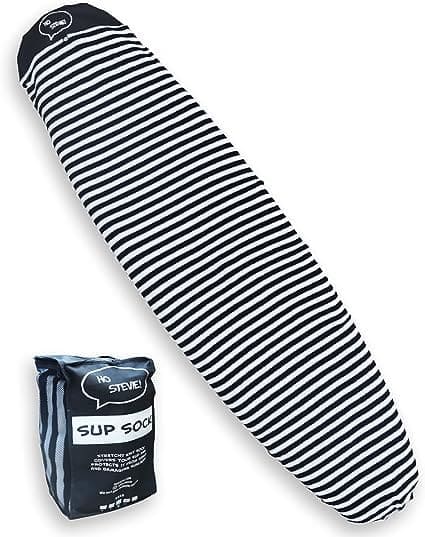 Where To Buy: Amazon
Key Features & Benefits:
– Stretch fabric covers all sizes of paddleboards

– Thick fabric protects your board from scrapes and bumps.

– UV Resistant to protect your board from sun damage

– 100% Money back guarantee for 30 days
Not everyone requires a heavy-duty stand-up paddleboard bag. If you're seeking a bag perfect for tossing your SUP in the car or leaving it on the beach while you swim, this is the ideal choice.
Ho Stevie! is renowned for crafting practical products that excel. Their SUP sock is a versatile option for any size paddleboard (inflatable or hard) and it stands true to its reputation. It is crafted from a robust fabric that it shields your board from bumps and scrapes. Moreover, the UV protective fabric ensures defence against sun damage, making it a reliable choice. It is also a very good fit for hotter climates because it allows ventilation to your paddleboard.
If I was going to buy a paddleboard cover for myself then it would be this hands-down!
---
Where To Buy: Amazon
Key Features & Benefits:
– Universal fit so it will fit all inflatable paddleboards

– Top-quality materials and includes wheels for easier transportation

– You can use it as a backpack or as a wheelie bag

– 100% Money back guarantee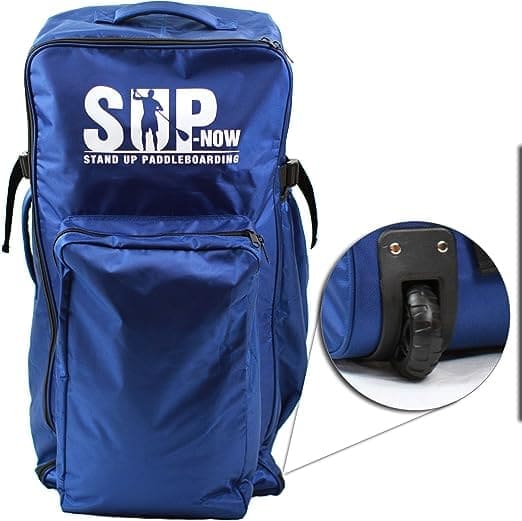 SUP-NOW, a reputable paddleboarding company, is renowned for its commitment to quality. Their paddleboard bag is a testament to this ethos, crafted with premium materials ensuring durability, protection from bumps, and resistance to sun damage—all while maintaining a stylish appearance.
Deliberately designed with travel in mind, this bag accommodates any inflatable paddleboard. Its versatile design allows it to function as both a backpack and a wheelie bag, complete with wheels for easy manoeuvring at airports. If you seek a reliable stand-up paddleboard bag, look no further—this is your optimal choice.
---
#3: Best Bag For Hard (Epoxy) Paddleboards: ISLE 10'6″SUP Bag

Where To Buy: Amazon
Key Features & Benefits:
– Fits any hard paddleboards under 10'6″

– Padded SUP case with 5mm water-resistant, closed-cell foam padding to protect your board.

– Easy to carry – has a side handle and shoulder strap

– Has a heat-reflective covering that will protect your paddleboard from sun damage.

– 1 Year manufacturer warranty
Without a doubt, if it's from ISLE, I'm buying it for paddleboarding. Renowned for the best paddleboards, everything they produce is top-notch. Yes, it's an investment, but the assurance of exceptional quality and functionality is worth it hands down.
This bag is tailored for a 10'6″ board and is a guardian angel for your board. From foam padding to thwart bumps, sun-resistant coverings for preventing damage, to anti-corrosion zips, it's a fortress of protection. Though specific in size, I wholeheartedly recommend this bag to anyone—it's simply fantastic.
---
Where To Buy: Amazon
Key Features & Benefits:
– Available in all different sizes

– Canvas cover protects your board from scrapes and bumps.

– UV Resistant to protect your board from sun damage

– 100% Money back guarantee for 30 days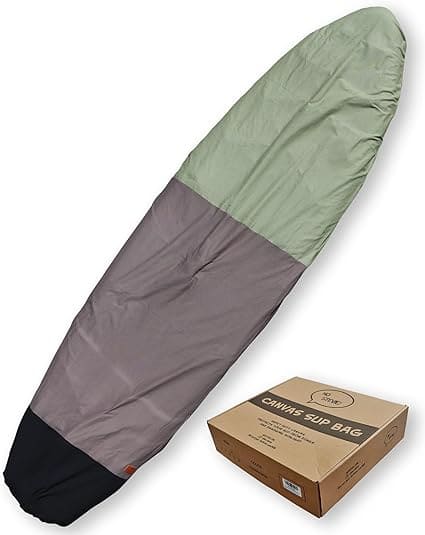 I'm a big fan of the company Ho Stevie! for a reason… Because they are a surfing company that makes really good products. I have never had a bad experience with them, they are friendly and easy to talk to (online and offline)…
And then really back their products with great satisfaction guarantees that let you return your products for any reason whatsoever. I can highly endorse this company – their cover will keep your board safe from damage… And it will do it for a price that you won't find many other places.
---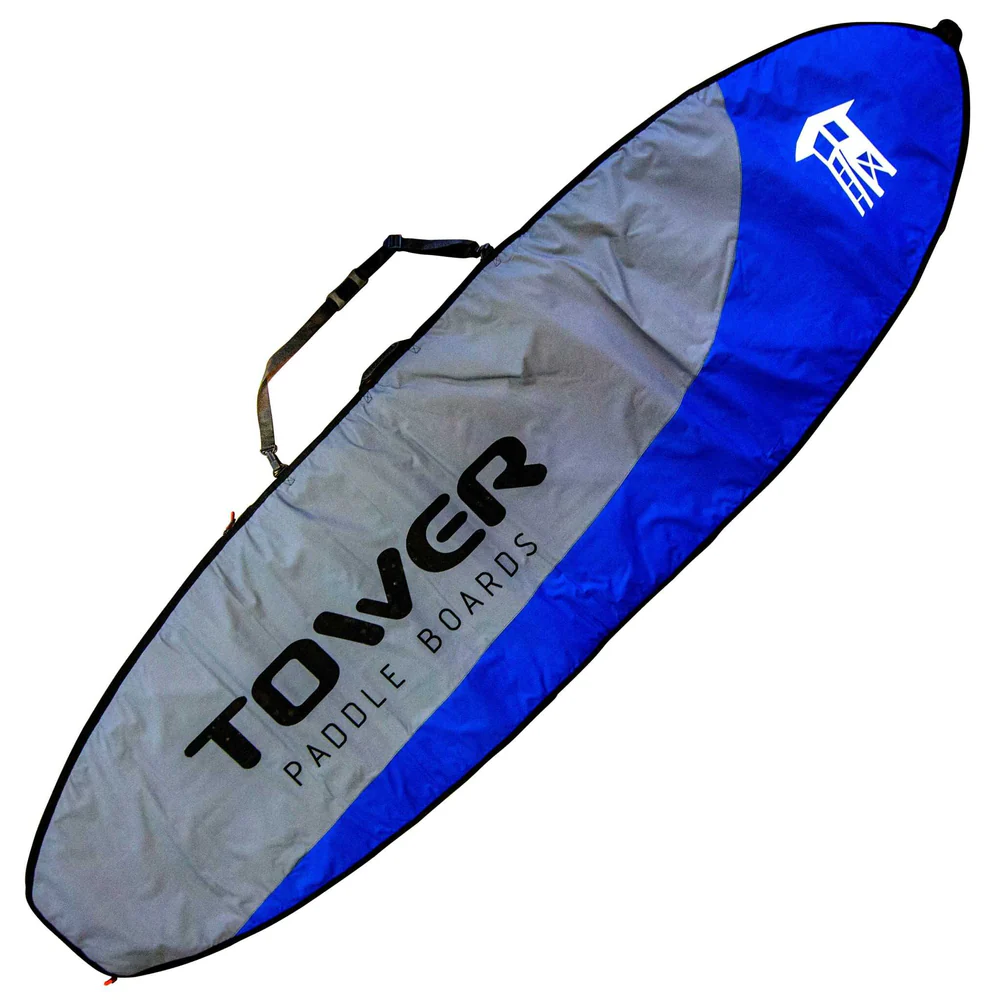 Where To Buy: Tower Paddleboards
Key Features & Benefits:
– Available in many different sizes

– Expanded tail zipper for easer access sliding your board in and out.

– Reinforced with extra padding on the most susceptible spots (nose and tail)

– 100% Money back guarantee for 30 days
Tower Paddleboards is one of the worlds most famous paddleboard companies. You can consider them the ORIGINAL paddleboard company and they have constantly been pushing the boundaries when it comes to creating a great product.
This paddleboard cover is extra reinforced so that it offers world-class protection for your paddleboard. They have added extra padding to the nose and tail of the board which are most susceptible to damage, and they've done all of this in a top-tier paddleboard cover that will cater to every one of your needs for years to come.
If you're looking for the best paddleboard cover on the market – it's this!
---
The Major Benefits Of A Paddleboard Cover:
Wondering whether you should get a paddleboard cover? There are some really significant benefits of owning one.
Here are just a fraction of them:
| | |
| --- | --- |
| Protection from Elements: | Shields your board from UV rays, rain, and environmental elements, preventing damage and discoloration. |
| Prevents Scratches and Dings: | Acts as a barrier against scratches, dings, and abrasions, preserving the aesthetics and integrity of your paddleboard. |
| Extended Lifespan: | Prolongs the lifespan of your board by minimizing wear and tear, ensuring it remains in top condition for more extended periods. |
| Easier Transportation: | Some covers are designed for short-distance transport, adding an extra layer of protection when moving your paddleboard. |
| Moisture Control: | Certain covers incorporate features like ventilation to control moisture, preventing mold and mildew growth, especially in humid conditions. |
How To Choose Your Perfect Paddleboard Cover
Selecting the perfect cover involves considering various factors, here are just a few tips to keep in mind when choosing which one you want to buy.
Tip 1: Know Your Board's Dimensions:
You want to make sure that you measure your paddleboard's length, width, thickness & nose shape accurately. Choose a cover that matches these dimensions for a snug fit. The entire point of a paddleboard cover is to protect your SUP so you don't want to get something that is too big.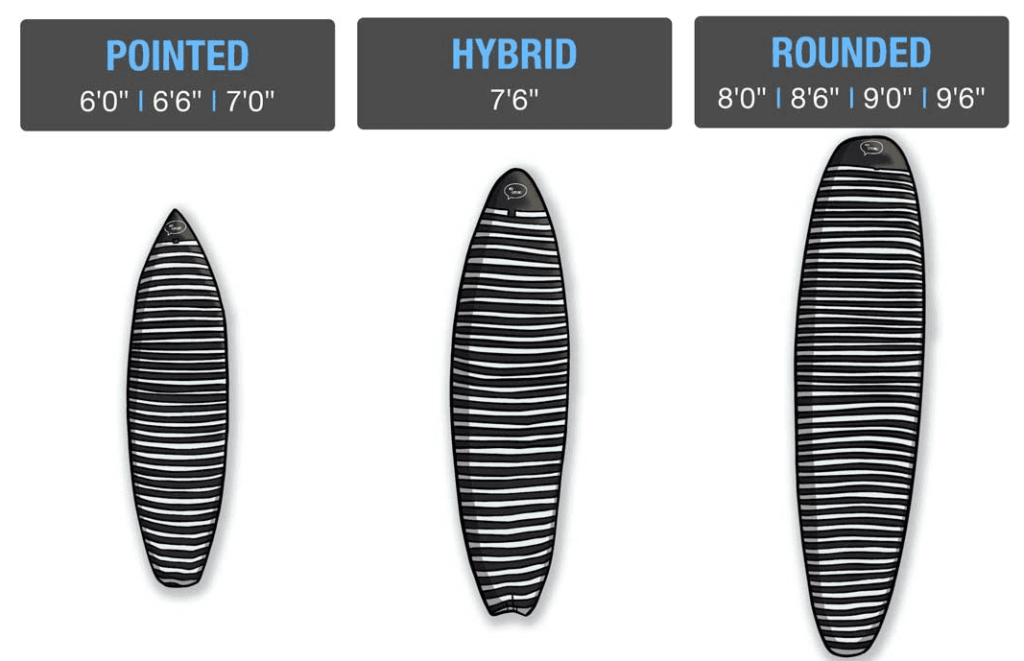 (These are the most common shapes and sizes)
If you are in a situation where your cover is a little bit big for your board then you can get around it by stuffing towels into the board cover to make it a closer fit (while being kind to your SUP).
Tip 2: Consider Material and Durability:
You only want to buy a cover that is made from a durable material like polyester, nylon, or other UV-resistant fabrics. These are designed to protect your board, so you want to always ensure that the material can withstand various environmental conditions that your board will likely face.
The main contenders are usually:
Sun damage (UV Rays)
Dust collection during storage
Minor bumps and scratches from things like cars (or dropping your SUP)
Salt if you're paddling in the sea
Moisture build-up that can cause mold and mildew
You want your paddleboard cover to protect from all of those, and if that's the case then you're all good!
Tip #3: Make Sure It Has Ventilation Features:
Covers with ventilation features help prevent moisture build up inside, reducing the risk of mold and mildew. This is particularly important in humid climates. Most of the top board covers will have these features, but if you're in a hot climate then you might want to consider buying a paddleboard sock instead of a cover. I gave some recommendations of socks above.
Tip #4: Consider Brand Reputation:
If you are buying something to protect your cellphone or your car, you wouldn't just buy anything…right?
It's the same thing with your paddleboard – Consider reputable brands with a track record of producing quality paddleboard covers. A well-established brand is more likely to deliver a reliable product.
All of the products that I have recommended above are great covers that come from reputable brands so you don't need to worry about this here 😉
Tip #5: Warranty and Return Policy:
Check the warranty and return policy of the cover. A good warranty indicates the manufacturer's confidence in their product, and a flexible return policy ensures you can make changes if needed.
There have been so many instances in my life where I have accidentally bought the wrong cover or it just didn't fit as expected. That's why you want to make sure that there is a solid return policy or warranty with the company when making your choice.
How to Properly Care for Your Paddle Board Cover
Caring for your paddleboard cover is as crucial as maintaining your paddleboard. Follow these effective practices to guarantee the bag's durability and your board's protection: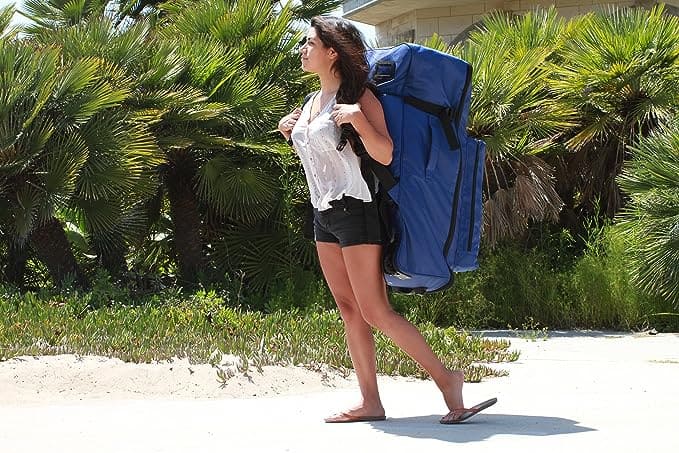 1. Keep it Clean and Dry:
Preserve the bag's quality by ensuring it's clean and dry.
Never store a wet paddleboard inside to prevent mold growth.
After each use, thoroughly dry your board before placing it in the bag.
Avoid water accumulation at the bag's bottom, which can lead to mold formation.
2. Avoid Prolonged Exposure to the Elements:
Shield your bag from prolonged exposure to harsh sunlight, preventing material deterioration.
Minimize leaving the bag exposed to the elements for extended periods.
3. Protect Your Bag from Physical Damage:
While designed for board protection, the bag needs care too.
Avoid excessive yanking, bumping, or rough handling to prevent tears, scratches, or holes.
Treat the bag with care for continued excellent protection.
4. Proper Carrying Technique:
Ensure longevity by carrying your bag correctly.
Use designated handles or straps as intended, distributing weight evenly to prevent strain.
Proper handling safeguards against accidental damage during transportation.
Adopt these best practices to keep your paddleboard bag in optimal condition, ensuring reliable protection for your board and countless enjoyable paddleboarding adventures ahead.
Conclusion
In conclusion, the right paddleboard cover is the unsung hero of your aquatic adventures. Invest wisely, considering the factors that matter to you, and enjoy the peace of mind that comes with knowing your board is well-protected.
Remember, the right paddleboard cover is an investment in the longevity and performance of your board. Taking the time to choose wisely will pay off in the form of enhanced protection and a prolonged lifespan for your paddleboard.
Paddleboard Cover FAQs:
How often should I clean my paddleboard cover?
Regular cleaning is recommended, especially after saltwater use or prolonged exposure to the sun. A gentle rinse with fresh water and mild soap does the trick.
Can I use any paddleboard cover for inflatable boards?
Not all covers are suitable for inflatables. Ensure the cover is compatible with the specific dimensions and features of your inflatable paddleboard.
Do paddleboard covers protect against UV rays?
Yes, most high-quality covers offer UV protection, shielding your board from the harmful effects of prolonged sun exposure.
What's the best way to store my paddleboard with the cover on?
Store your covered board in a cool, dry place, away from direct sunlight. Avoid placing heavy objects on top of it to prevent deformation.
Can I use a paddleboard cover for transportation?
While covers primarily protect during storage, some are designed for short-distance transport. Check the cover specifications for transportation suitability.