Clearwater paddleboarding is like something out of a movie! The Florida clear water beaches are just waiting to be put into a photo album.
Not to mention – with its stunning beaches and crystal-clear waters, it's a haven for paddleboarders. From the pristine shores of Clearwater Beach to the serene waters of Caladesi Island State Park, there's a spot for everyone to paddleboard and soak up the sun.
In this article I'm going to be going through everything you need to know to make sure that you have an amazing experience while paddling in Clearwater, Florida.
So first up, let's talk about what the most popular spots are when it comes to Clearwater paddleboarding.
5 Most Popular Spots For Clearwater Paddleboarding
Clearwater Beach:
Known for its soft white sands and clear blue waters, Clearwater Beach is a popular choice for paddleboarding. Glide along the coastline, take in breathtaking views, and even spot dolphins if you're lucky. A great place to paddle is the Clearwater Beach pier at sunset if you're looking for some spectacular views.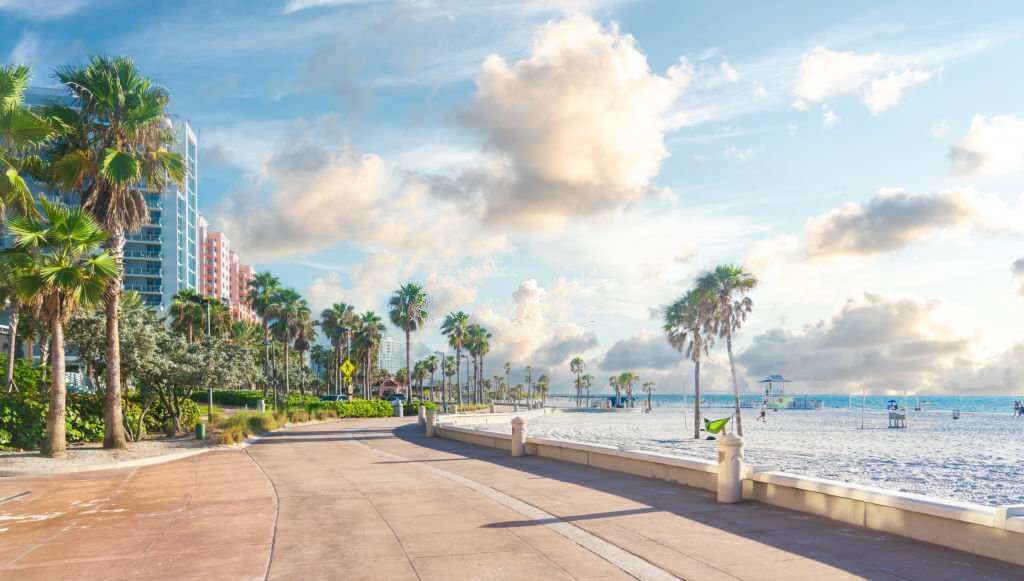 Location: Google Maps
Caladesi Island State Park:
Accessible by ferry or private boat, Caladesi Island offers a tranquil paddleboarding experience. Explore the mangrove-lined trails, encounter various bird species, and revel in the unspoiled beauty of this natural paradise.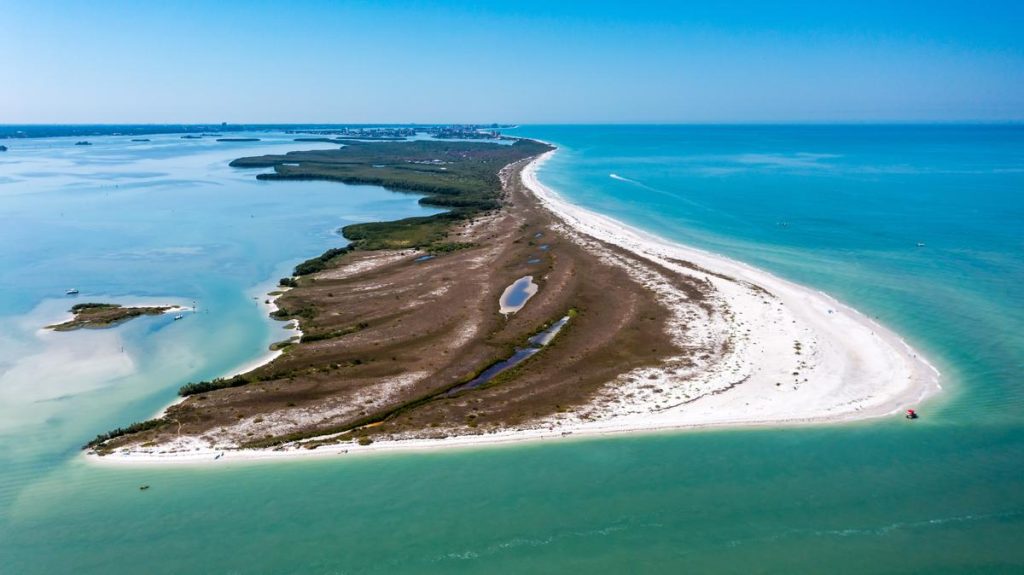 Location: Google Maps
Sand Key Park:
Located just south of Clearwater Beach, Sand Key Park is another excellent spot for paddleboarding. Enjoy a peaceful paddle amidst the mangroves, witness marine life, and embrace the serenity of this hidden gem. Make sure that you go early though because it can get really busy (and hot).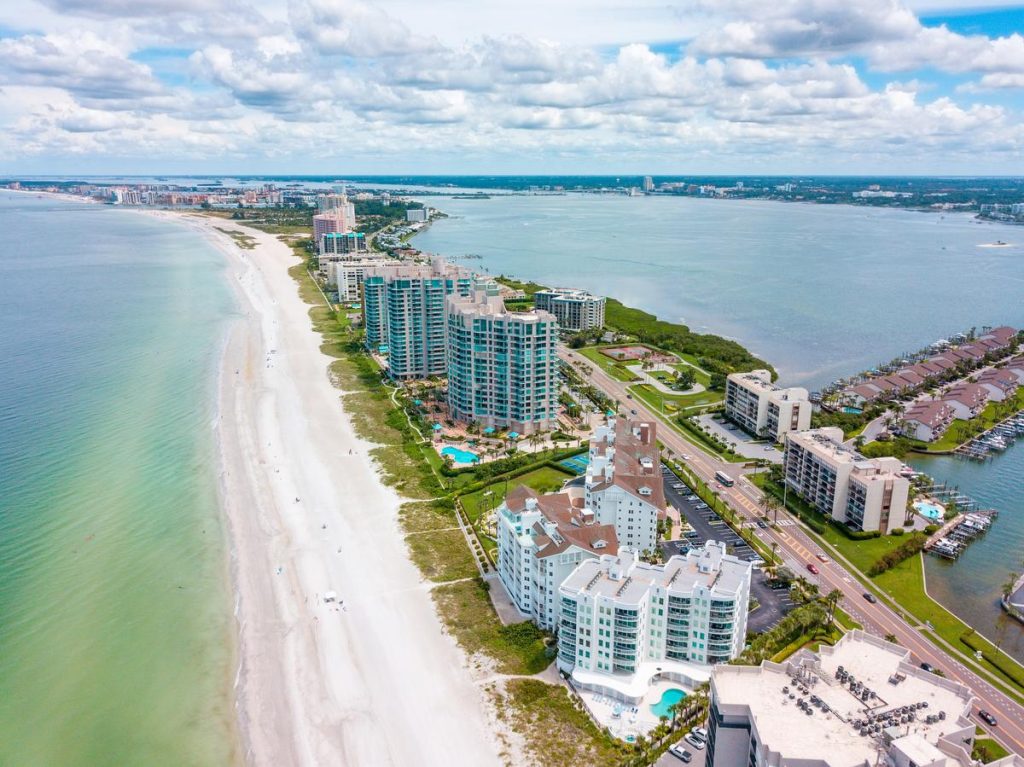 Location: Google Maps
Honeymoon Island State Park:
Located just off the coast of Dunedin, Honeymoon Island State Park offers a picturesque setting for paddleboarding. Explore the tranquil waters around the island, navigate through mangrove trails, and keep an eye out for a variety of bird species and marine life.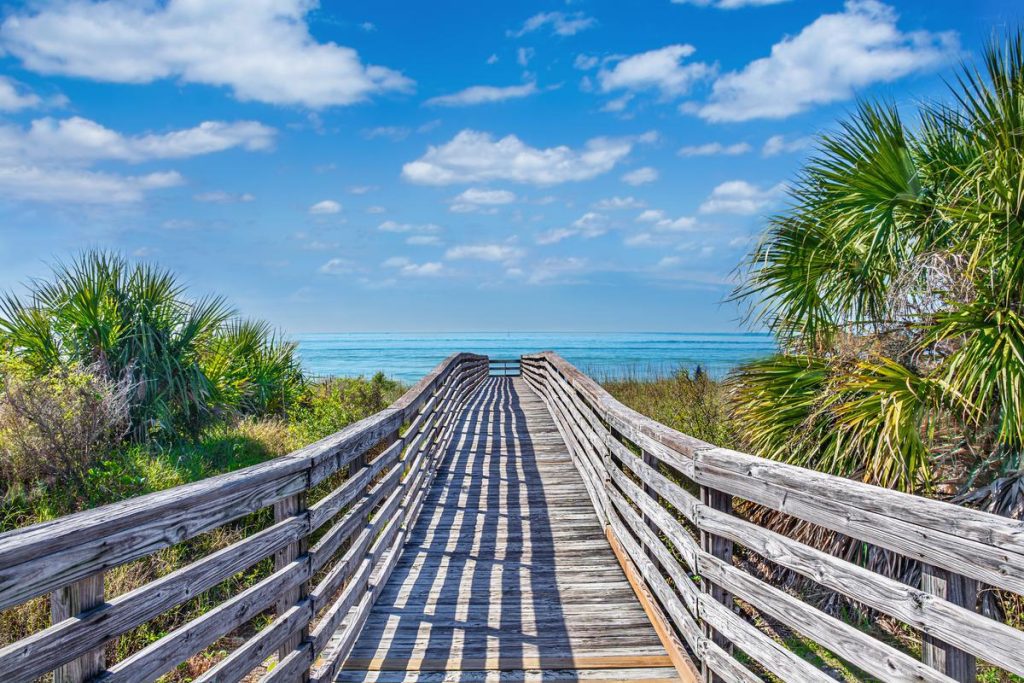 Location: Google Maps
Weedon Island Preserve:
Situated near St. Petersburg, Weedon Island Preserve provides a unique paddleboarding experience through its mangrove-lined waterways and scenic trails. Paddle along the preserve's designated routes, witness the beauty of the natural habitat, and appreciate the abundance of wildlife in this protected area.
Location: Google Maps
Best Time for Clearwater Paddleboarding
Clearwater's warm and sunny climate makes paddleboarding possible year-round. However, the best time to paddleboard in Clearwater is during the spring and fall seasons when temperatures are pleasant, and the water is comfortably warm. Avoiding the peak summer heat and humidity can enhance your paddleboarding experience.
Make sure that you check the weather before you go to make sure that it's not too hot or windy and that you're prepared with exactly what you need for your adventure.
CLEARWATER WEATHER
Best Paddleboarding Tours In Clearwater, Florida
Clearwater paddleboarding has a bunch of awesome companies that you can go on a tour with. There are some great paddleboard and kayak tours that let you paddle with manatees… And that's such a special experience.
Here are some of my favorite companies to take a Clearwater paddleboarding tour with:
Adventure Outdoor Paddle (You're going to have to drive because it's a bit far out, but worth it)

Directions: Google Maps
Address: 210 E Ruby Street, Tavares, Fl 32778
Phone: (352) 217-5012
This is a great company to look at. They have paddle tours where you can explore Florida while also getting local food or beer. This is a great way to spend a day out on the water exploring Florida.
Here's where you can get more details:
1: Paddle & Bru Beer Tour
Price: $69.95 for a 2-3 hour tour

2: Paddle & Grub Tour
Price: $69.95 for a 2-3 hour tour
Paddle Out Adventures

Price: $70 for a 2 hour tour
Directions: Google Maps
Address: 25 Causeway Boulevard Slip 57
Clearwater Beach, FL 33767
Phone: (727) 223-4900
Price: $79 for a 2 hour tour
Directions: Google Maps
Address: 423 Lafayette Blvd, Oldsmar,
FL 34677, United States
Phone: (813) 448-5635
Best Places To Rent A Paddleboard In Clearwater, Florida
Clearwater Beach PaddleBoard & Rental

Price: $35 per hour ($75 for the full day)
Directions: Google Maps
Address: 439 Poinsettia Ave
Clearwater Beach, FL 33767
Phone: (727) 444-0441
Hours: 9am to 8pm daily
Price: $25 per hour ($65 for the full day)
Directions: Google Maps
Address: 20045 Gulf Blvd
Indian Shores, FL 33785, United States
Phone: (727) 513-8098
Hours: 9am to 8pm daily

Required Equipment For Clearwater Paddleboarding
To enjoy paddleboarding to the fullest, it's essential to have the right equipment. And it's important to know that you should get some equipment BEFORE you rent, you can find out more here:
11 Essential Items To Buy BEFORE You Get A Paddleboard Rental

But here's a quick summary of a few of the essentials below if you don't want to rent them.
Paddleboard:
Choose a stable and durable paddleboard suitable for your skill level. There are various types available, including all-around boards, touring boards, and inflatable boards. If you're not looking to rent then I recommend the following for anyone that's beginner to advanced in paddleboarding.
* Roc Inflatable SUP (Best Budget SUP OF 2024)
---
* Portal 11'6″ Paddle Board (Best Overall SUP)
---
* MYBOAT 11'6″Extra Wide SUP (Best Full Length Deck)
---
Paddle:
Invest in a high-quality paddle that's the right length and weight for you. Adjustable paddles are convenient, allowing you to customize the length based on your preference and the water conditions.
* Super Paddles Elite 12k Bamboo (Best Overal Paddle)
---
Personal Flotation Device (PFD):
Safety should always be a priority. Wearing a US Coast Guard-approved PFD is crucial, especially for beginners and those paddleboarding in unfamiliar waters.
---
Leash:
A leash connects you to your paddleboard, ensuring it stays nearby even if you fall off. It's a vital safety accessory, preventing your board from drifting away in case of an accidental spill.
* BPS 'Storm' 10 Foot SUP Leash
---
---
Waterproof Phone Case
A waterproof phone case allows paddleboarders to capture their adventures without worrying about water damage to their devices. It's such an inconvenience when you are worrying about your phone when all you want to do is take some pictures. So this solves that problem.
---
Dry Bag
A dry bag keeps belongings safe and dry when you're out on the water. And not only that – But it also provides storage for essentials like keys, snacks, and extra clothing so you're not stuck in wet shorts or even worse a sandy wetsuit after paddling!
---
Safety Tips for Clearwater Paddleboarding
While paddleboarding is a fun and thrilling activity, it's essential to prioritize safety. Here are some safety tips to keep in mind:
Learn the Basics:
Take a beginner's paddleboarding lesson to familiarize yourself with the proper techniques, including balancing, paddling strokes, and navigating through the water.

Here is a detailed guide to get you going if you don't want to take a lesson:
How To Stand On A Paddleboard: The Definitive Guide

Use Sun Protection:
Protect your skin from the sun's harmful rays by applying sunscreen, wearing a hat, and using UV-protective sunglasses. Prolonged sun exposure can lead to sunburn and dehydration. Here are my recommendations:
* Sun Bum SPF50 Anti-Stick Sunscreen
---
* KUGUAOK Polarized Sports Sunglasses
---
---
Stay Hydrated:
Bring water with you and stay hydrated throughout your paddleboarding session, especially on hot and sunny days. Dehydration can affect your performance and overall well-being. You want to be drinking about 6-8 glasses of water each day (more if you're exercising).
Benefits of Clearwater Paddleboarding
Apart from the sheer enjoyment and adrenaline rush, paddleboarding offers numerous benefits:
Full-Body Workout: Paddleboarding engages your core, legs, arms, and back muscles. It improves balance, strength, and cardiovascular fitness, making it an excellent low-impact exercise.
And it's really good for burning calories:
A Simple Formula To Calculate How Many Calories You Burn Paddle Boarding
Stress Relief: Immersing yourself in the serene waters of Clearwater and gliding across the surface can help reduce stress and promote relaxation. The rhythmic motion of paddling creates a calming effect.
Connection with Nature:
Paddleboarding allows you to connect with nature on a deeper level. Explore hidden coves, encounter marine life, and witness stunning sunsets while paddling along Clearwater's breathtaking coastline.
Paddleboarding for Fitness
If you're looking to incorporate fitness into your paddleboarding routine, Clearwater offers fantastic opportunities. Many local fitness studios and trainers conduct paddleboard fitness classes, combining strength training, yoga, and cardio exercises on paddleboards. It's a unique and enjoyable way to stay fit while soaking up the sun.
Exploring Wildlife while Paddleboarding
Clearwater's coastal ecosystem is home to diverse wildlife. Paddleboarding allows you to get up close and personal with nature. Spotting dolphins, manatees, birds, and even sea turtles while paddling through the calm waters is a truly remarkable experience. Remember to respect the wildlife and observe from a safe distance.
Paddleboarding with Kids
---
Conclusion
Clearwater paddleboarding is an experience like no other. The combination of stunning beaches, clear waters, and an array of paddleboarding spots makes it a paradise for enthusiasts. Whether you're a seasoned paddler or a beginner, Clearwater offers something for everyone. So grab your paddleboard, embrace the adventure, and discover the beauty of Clearwater from a whole new perspective.
FAQs
Can I go paddleboarding in Clearwater if I'm a beginner?
Absolutely! Clearwater has calm and beginner-friendly paddleboarding spots where you can learn and practice at your own pace. Taking a lesson with a certified instructor is highly recommended for beginners.
Is paddleboarding suitable for children?
Yes, paddleboarding can be a great activity for children. Many rental shops offer kid-friendly equipment and provide guidelines for a safe and enjoyable experience. It's important to supervise children and ensure they wear appropriate safety gear.
Do I need to be a strong swimmer to paddleboard?
While it's advisable to have basic swimming skills, wearing a PFD and practicing paddleboarding in calm waters significantly reduces the risks. Start in shallow areas and gradually build your confidence before venturing into deeper waters.
Can I bring my own paddleboard to Clearwater?
Absolutely! If you have your own paddleboard, you can bring it to Clearwater and explore the various paddleboarding spots. Just ensure that your equipment is in good condition and follow local regulations.
Are there guided paddleboarding tours available in Clearwater?
Yes, there are guided paddleboarding tours available in Clearwater. These tours provide an opportunity to explore the best paddleboarding routes, learn about the local ecosystem, and spot wildlife with the help of experienced guides. For more information see the recommended tours above.