*We may earn a commission for purchases made using our links. Please see our disclosure to learn more.
ISLE Surf and SUP is a renowned American paddleboarding brand that was established in 2004 and has been relentlessly pushing the boundaries when it comes to inflatable and fibreglass SUPS. And I can safely say that and ISLE paddle board is the best possible choice that you can make when looking to buy a new paddleboard in 2024.
What sets ISLE apart is their streamlined approach to board selection. Instead of offering an overwhelming number of options with similar specifications, they focus on a few core boards that possess unique characteristics. This strategy provides customers with a clear and concise overview, making it easier to choose the right board for their needs.
That's why in this article, I will be showing you step-by-step how to choose the best ISLE paddleboard for you in 2024 so that you can get out and start enjoying the benefits of stand-up paddleboarding.
Let's get started 🙂
Top ISLE Paddle Boards for 2024
Based on extensive research and customer feedback, I have compiled a list of the top ISLE paddleboards for 2024. These paddleboards offer outstanding performance, durability, and value for money.
Let's go into each of these paddleboards and help you decide which one is right for you.
---
BEST ALL-ROUND BEGINNER PADDLEBOARD
---
The ISLE Pioneer paddleboard is their original bestselling paddleboard that is designed to be the ultimate all rounder board. This exceptional board features a robust double-layer construction utilizing advanced drop-stitch technology, ensuring unparalleled durability. Combining stability and lightweight design, this inflatable paddleboard is the ideal choice for riders weighing up to 285 lbs. This is an exceptional beginners board and you should 100% consider it as your next ISLE paddleboard.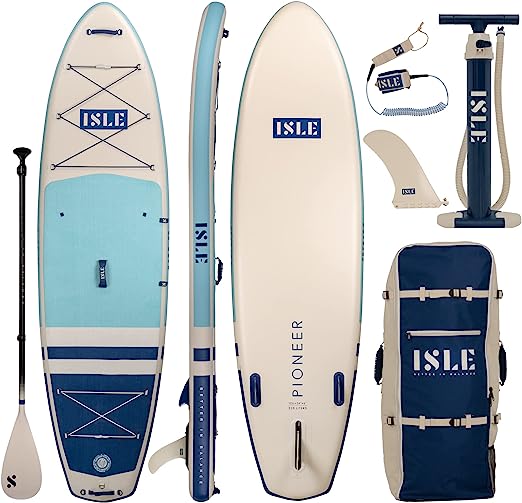 Where To Buy: Amazon

Key Features:
– Allows up to 285lb in weight

– 10'6″ in size

– Comes with bag, leash, fin and paddle

– 2 Year warranty on materials

– 60 day return policy
---
For a detailed explainer of some of the best features of this ISLE paddleboard, watch this short explainer video:
PROS
CONS
– Great all rounder board that you can do yoga or fishing on
– World-class design and materials
– Extra stable and great for beginners
– Allows you to paddle with multiple people (or your dog)
– It sacrifices speed for stability so advanced paddlers will prefer the ISLE Explorer
---
BEST HYBRID KAYAK PADDLEBOARD
---
---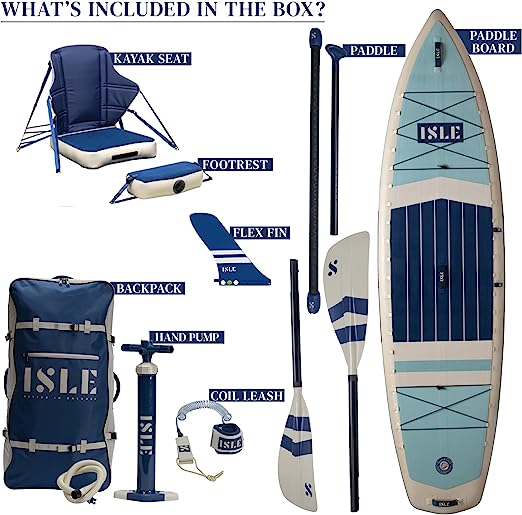 ---
BEST TOURING PADDLEBOARD
---
---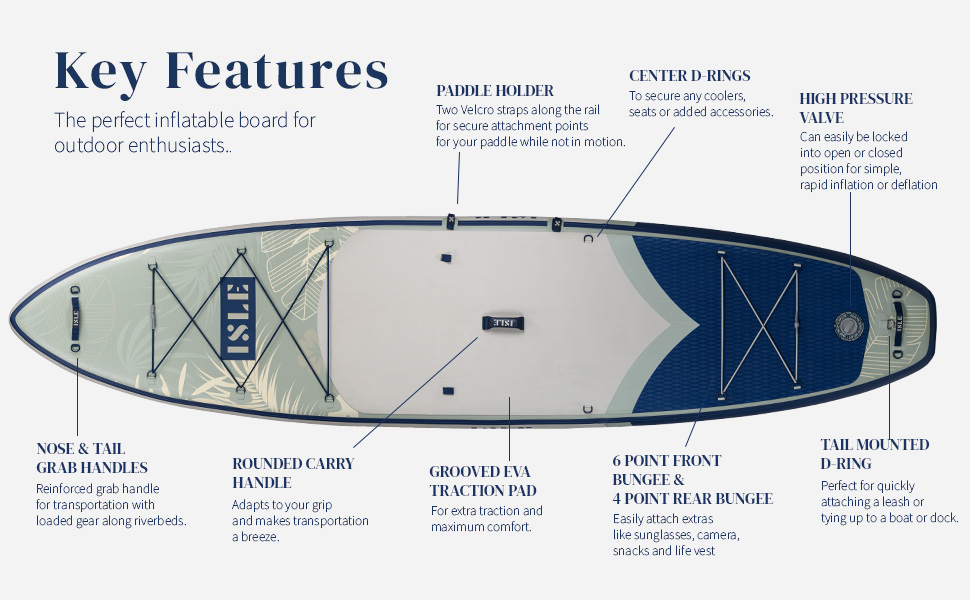 ---
BEST ISLE PADDLE BOARD FOR KIDS
---
---
---
Factors To Consider When Choosing An ISLE Paddle Board
When selecting the best ISLE paddleboard for your needs, these are the factors that you should consider:
| | |
| --- | --- |
| Paddleboard size & weight capacity | The size of the paddleboard plays a crucial role in determining its stability, maneuverability, and suitability for different water conditions. Consider your body weight, skill level, and intended use when choosing the size of your ISLE paddleboard. Additionally, check the weight capacity of the paddleboard to ensure it can support your weight along with any additional gear you may carry. |
| Paddleboard design & shape | ISLE paddleboards come in various designs and shapes, each offering unique benefits for different paddling styles. For calm water paddling and recreational use, a wider and longer paddleboard with a rounded nose may provide better stability and tracking. If you're interested in surfing or tackling ocean waves, a shorter and narrower paddleboard with a pointed nose and rocker design can enhance maneuverability and responsiveness. |
| Paddleboard materials | ISLE paddleboards are constructed using different materials, such as inflatable drop-stitch technology or rigid epoxy/fiberglass construction. Inflatable paddleboards are highly portable and convenient for storage, while rigid paddleboards offer enhanced performance and durability. Consider your transportation and storage needs, as well as the desired level of performance when selecting the paddleboard material. |
| Paddleboard stability | Stability is a crucial factor, especially for beginners or those who prefer a more relaxed paddling experience. Look for ISLE paddleboards with wider widths and thicker volumes, as they tend to offer better stability on the water. Additionally, consider paddleboards with features like wider tail designs or added stability enhancements to ensure a stable and enjoyable SUP session. |
Conclusion
In conclusion, selecting the best ISLE paddle board in 2024 requires careful consideration of factors such as size, weight capacity, design, materials, and stability. ISLE paddleboards are renowned for their quality and performance, making them a popular choice among paddleboarders around the world. The truth is that you can choose any of them and you'll love it! These are some of the best paddleboards in the world so enjoy them 🙂
FAQs
Are ISLE paddleboards suitable for beginners?
Yes, ISLE paddleboards cater to beginners as well as experienced paddlers. They offer stable options with user-friendly designs, making it easier for beginners to learn and enjoy stand-up paddleboarding.
Are ISLE paddleboards good for surfing?
Yes, ISLE paddleboards are designed to handle various water conditions, including ocean waves. Look for paddleboard models with narrower shapes and rocker designs for better performance in surf environments. The best example that I provided for surfing is the ISLE Explorer.
How do I choose the right size paddleboard?
When selecting a paddleboard size, consider your body weight, skill level, and intended use. A wider and longer paddleboard provides better stability, while shorter and narrower boards offer increased maneuverability.
Are ISLE paddleboards durable?
ISLE paddleboards are well known for being really durable. They are constructed using high-quality materials and manufacturing techniques to ensure longevity and withstand rigorous use.
Can you transport these paddleboards easily?
Yes, these paddleboards are all inflatable – this means that you can just deflate them and store them in a backpack (which they provide for you). So it's really easy to transport them. For more information, read this page.