*We may earn a commission for purchases made using our links. Please see our disclosure to learn more.
Paddleboarding can sometimes be hard! When you're out there exploring serene lakes, conquering rapids, or shredding ocean swells, it can be really nice to take a seat and just relax. That's why having the perfect paddle board seat can truly elevate your entire paddling experience and make your day so much better.
They prevent back, hip and waist pain when you paddle – and give you the right ergonomics so that you can paddle for longer times without feeling pain.
So – in this article, I'll be sharing my personal top picks for the 12 best paddleboard seats to consider in 2024, and what makes them stand out from the rest.
But before I give you the recommendations, let's quickly talk about what stand-up paddleboarding (SUP) is and why having a comfortable seat is an absolute must.
Why A Paddle Board Seat Is Crucial:
SUP involves standing on a board and using a paddle to move across the water. It's an amazing way to connect with nature, get a good workout, and simply have a blast on the water.
However, sitting or kneeling on a hard surface for long periods can quickly turn into a pain in the you-know-where and even impact your paddling performance. And that's where a top-notch paddle board seat comes to the rescue.
Best Paddle Board Seat Of 2024
Without further ado, here are my top 10 picks for the best paddle board seats available in 2024.
Please note that there are two types of seats available – an inflatable paddle board seat or a foam paddleboard seat, so I will divide my recommendations according to these.
---
TOP PICKS FOR FOAM PADDLEBOARD SEATS
---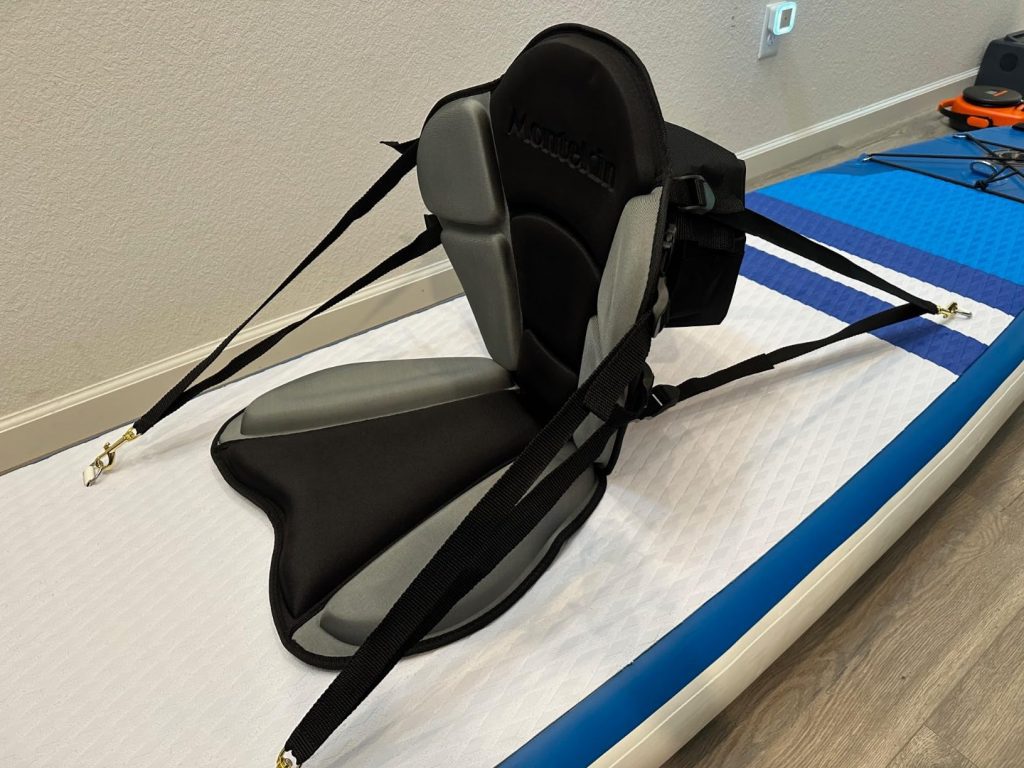 Where To Buy It: Amazon

Features & Specs:
– This is designed for people that experience hip, waist and back pain after paddling

– Comes with a large capacity water resistant storage back that you can use to store your things when paddling

– Has deep channels in the seat bottom that allow for great water drainage

– This is like the Rolls Royce of paddleboard seats!
What I Like
What I Don't Like
– Very comfortable – It has a lot of cushioning and will give your back support so you won't have any pain after paddling.

– High quality materials – You can feel the quality on this paddleboard seat and it will last for a very long time.

– Easy To Install – You just clip it to the D-Rings on your board.
– More Expensive – You are paying more for the extra cushioning, support and comfort. But if this is important to you then it's well worth it.
---
Where To Buy It: Amazon

Features & Specs:
– This seat will fit on 99% of the paddleboards out in the market.

– Built by a well-known and reputable company.

– Designed for ergonomic comfort so that you can have a more cushioned ride.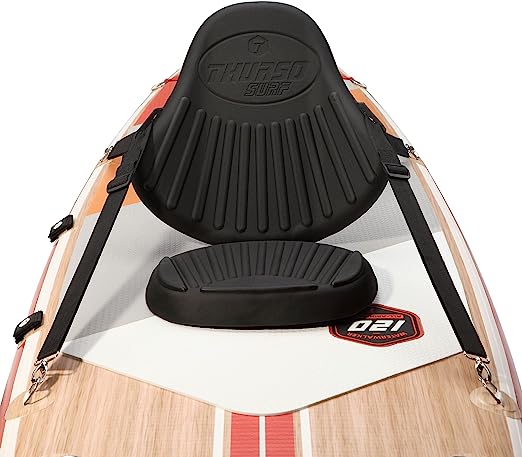 What I Like
What I Don't Like
– Rigid Design – The rigidity makes it great for people that struggle with back pain and want a more comfortable ride.

– Great Ergonomics – I didn't have any pain in my coccyx after using this seat and it was really comfortable.
– Quite Big When Folded Over – This is a seat that is for people that want to sit & it could be frustrating if you want to stand while SUP'ing.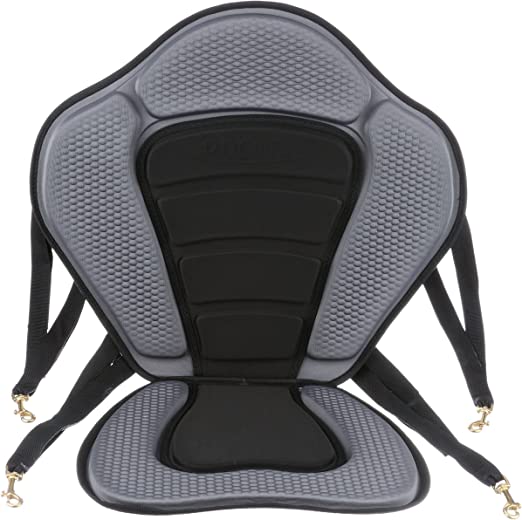 Where To Buy It: Amazon

Features & Specs:
– Made of neoprene material that is quick drying.

– High quality material that can withstand a lot of use without breaking.

– Easy to attach to your paddleboard.
What I Like
What I Don't Like
– High Quality Construction – This paddleboard seat is made by a company that specializes in paddleboarding so it will last a long time.

– The Perfect Balance Of Comfort & Performance – This seat is not to thick and not too thin, it gives a great experience when using it.
– Has A Lower Back Support – The backrest will give you nice support but it may not be high enough for taller paddlers.
---
Where To Buy It: Amazon

Features & Specs:
– High back design and padded support on your butt make it comfortable

– Has a form fitting design that will suit big and small body types

– Can be attached to paddleboards, kayakss and even rowboats.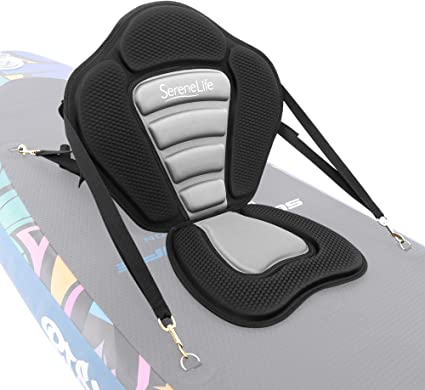 What I Like
What I Don't Like
– Goes Flat When Folded Over – Because the cushioning is less than the other paddleboard seats above, you can easily fold it over and stand on your SUP.

– Good Price – This is a great middle range seat that won't break the bank and gives you a nice product.
– Can Store Water – The material absorbs water so if you fold it over and stand then expect it to be a bit damp when you sit on it again.
---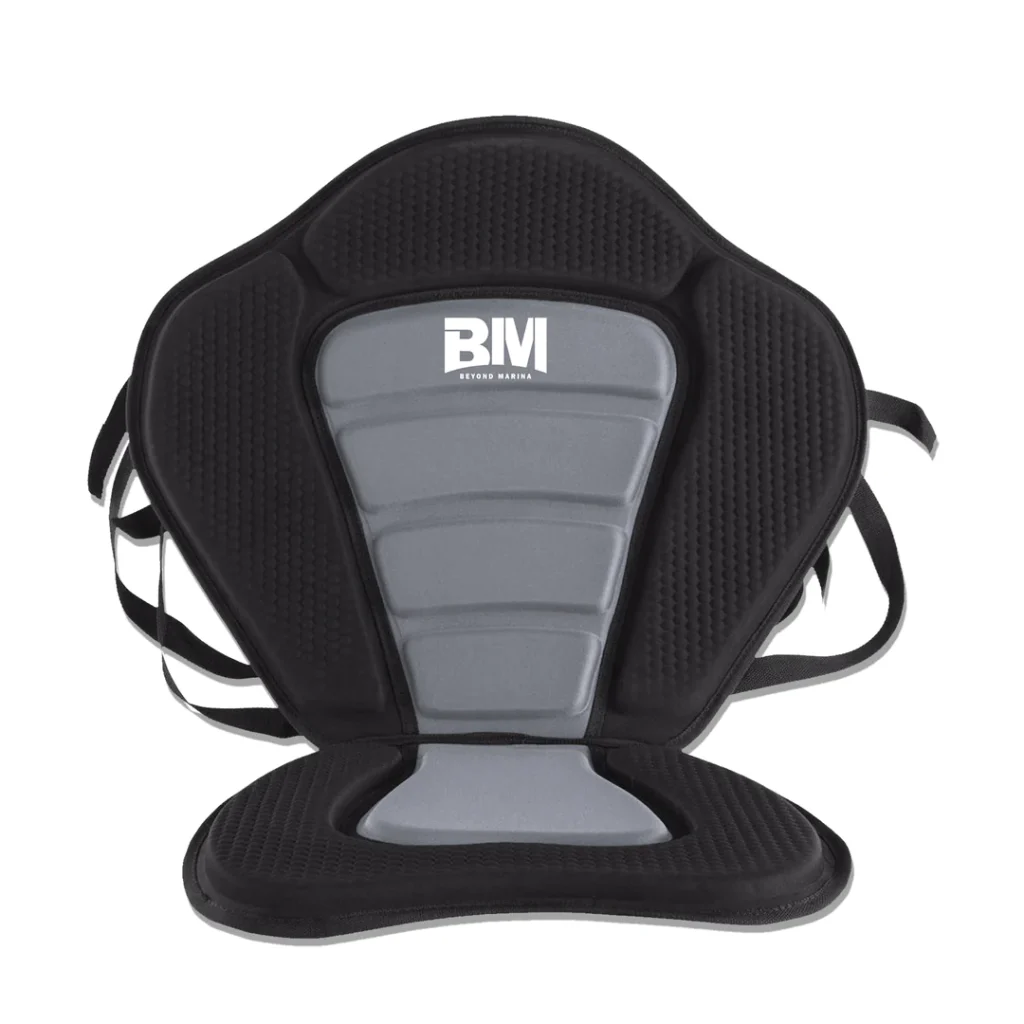 Where To Buy It: Amazon

Features & Specs:
– Has a high back design that makes it comfortable to sit on.

– Has adjustable straps that make it easy to attach to any board with D-rings.

– Includes a 1 year warranty for any issues that you may face.
What I Like
What I Don't Like
– Great For Broad Backs – It contains wide cushioning that will give you support if you have more broad back

– Fits On 99% Of Paddleboards – It is a universal design so you can feel safe knowing that it will fit.
– Could Use More Cushioning – But granted it isn't meant to be ultra-comfortable. It gives the option of sitting and standing on your SUP.
---
---
Where To Buy It: Amazon

Features & Specs:
– Gel seat cushion that is soft and spongy on your board.

– Anti-slip so will stay in place on your board

– Easy to clean and maintain (you just wash it in water)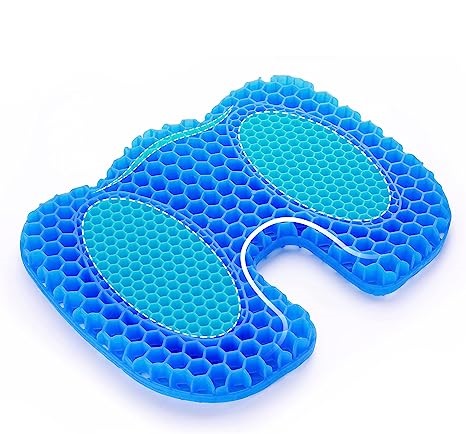 What I Like
What I Don't Like
– Great Budget Option – This is designed for kayaks and it's really inexpensive as a cushion to sit on without attaching it to your board.

– Nice Support – It is spongy and gives nice cushioning so it will protect your tailbone.

– Portable – You can store this in your backpack or paddleboard cooler and then take it out if you want to use it.
– Can Fall Off – This is just a gel cushion that is

not attached

to your SUP, so it can fall off if you fall into the water.
---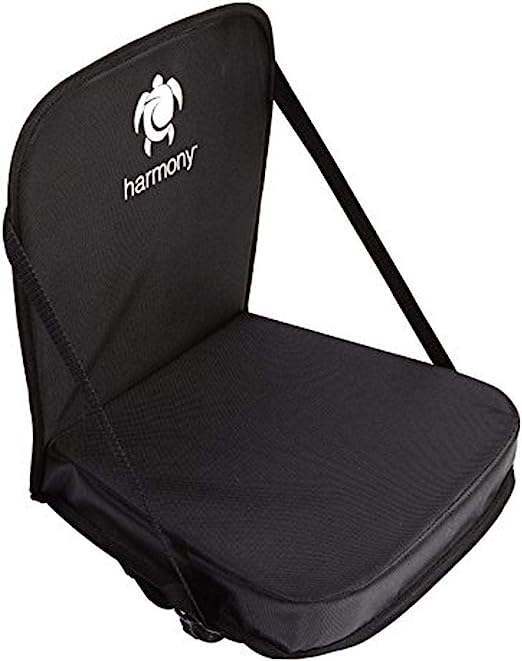 Where To Buy It: Amazon

Features & Specs:
– Skid resistant bottom that keeps it in place

– Budget-friendly and small in size for kids

– Doesn't require clipping or fastening.
What I Like
What I Don't Like
– Simple Option – This is a great budget option if you want a kid to sit on the SUP while you paddle.

– Budget Friendly – It is quite inexpensive and you can fold it up neatly
– Need Bungee Cords – You will want to fasten this to your SUP with bungee cords because it doesn't come with them.

– Weight Limit Of 85lbs – If you/your child is heavier than that then it won't be very comfortable.
---
TOP PICKS FOR INFLATABLE PADDLEBOARD SEATS
---
Where To Buy It: Amazon

Features & Specs:
– 12″x12″x30″ seat that accommodates most riders size.

– Packs and unpacks in minutes and is easy to inflate

– Includes all pumps, straps and a mesh carry bag.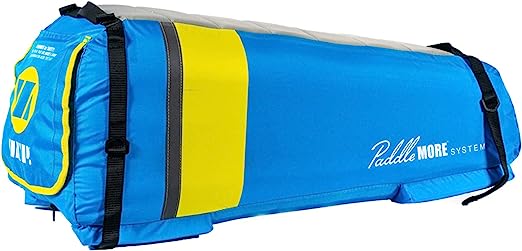 What I Like
What I Don't Like
– Stand, Sit Or Kneel – This goes long ways on the board so you can just sit on it or kneel and it will be comfortable

– Helps You Get Back On The Board – Because it is an elevated seat, it makes it easier to climb back on your SUP if you fall into the water.
– Uses A Separate Valve – This uses a different type of valve than your SUP. It comes with a pump but you cant use one pump without a separate valve.
---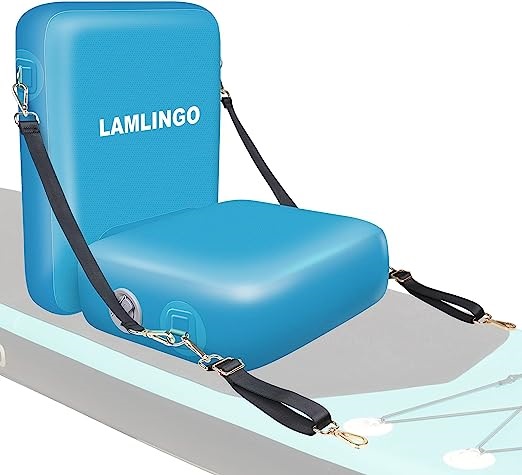 Where To Buy It: Amazon

Features & Specs:
– Thickened PVC materia that can withstand some abuse.

– Comes with all necessary straps and pumps.

– Includes a 1 year warranty
What I Like
What I Don't Like
– Easy To Use – You can just pump it up and then attach it to the D-rings on pretty much any paddleboard.

– Strong PVC Material – You can feel that this seat is high-quality. It will last for a long time and can take some hardship.
– Gets A Bit Slippery When Wet – This might not be an issue but your bum will slide around a bit when it's wet.
---
Where To Buy It: Amazon

Features & Specs:
– Non-slip, waterproof and provides thermal insulation so it doesn't get hot.

– Double wall fabric makes it more comfortable with extra support.

– Includes everything you need to attach it to the paddleboard (including a repair patch)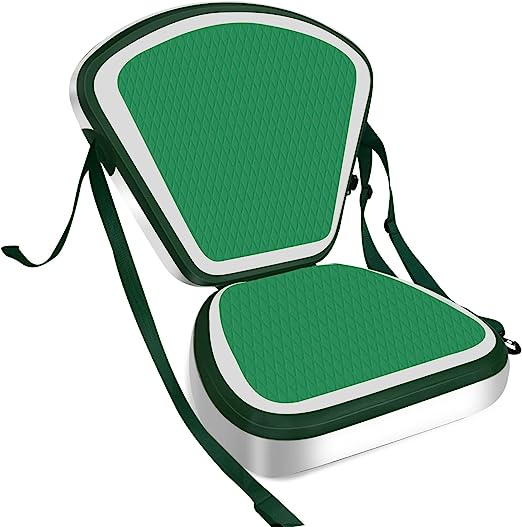 What I Like
What I Don't Like
– Non-Slip – It contains a ridged design so you won't slide around when it gets wet.

– Budget Friendly – It is really inexpensive compared to other inflatable seats.
– Less Support – It's not as supportive as other options, but it does the job for short or medium length paddles.
---
How To Install A Paddleboard Seat Onto Your SUP
I get it, you might be nervous about adding the seat to your SUP because it seems like it could be complicated. But I want to tell you how easy it is (it really is!).
Here are the steps:
1 – Place your SUP normally on the ground (or a paddleboard rack that elevates it) and then place the paddle board seat on the board where you want it to be.

2 – There are two sets of straps (one set in the front and one in the back) – These straps should be attached to the board in the front and the back.

3 – Attach both sets of straps to your SUP and then rearrange the seat so that it is sitting nice and securely.

4 – You're all set and ready to paddle!

See how easy that is?
Here is a video that will show you step-by-step how to do it in case you're still confused.
Conclusion:
Choosing if you want a paddleboard seat is a personal decision, and it depends on factors such as your paddling style, body type, and preferences. The 12 seats that I listed above give you a range of different options to suit all the different needs of a paddleboarder. Whether you prioritize comfort, durability, adjustability, or a combination of the above – there's a seat on this list that will work for you.
So, don't let discomfort stop you from getting out there on the water. Take the plunge and get a seat, you won't regret it 🙂
FAQs
Can you stand on the board that has a paddle board seat attached to it?
This depends on the seat – Many of them can fold over onto themselves so that they are flat, so if you're planning to shift between standing and sitting then make sure that you consider this with your purchase decision.
Can you add a paddleboard seat to all SUP boards?
Not every board, no. But all the more recent boards are perfect for this because of the D-rings that are attached to the board. So if you've bought your paddleboard in the last few years then you should be fine. You can also buy D-rings and glue them to your board if you don't want to replace it, but if you're in the market for a new SUP that will fit a seat then you can see my favorite paddleboards here.
Are inflatable paddleboard seats as comfortable as rigid ones?
Inflatable paddleboard seats can be just as comfortable as rigid seats, it depends on the quality that you decide to buy. They are often made of PVC so it's like an inflatable mattress. Inflatable seats are lightweight, easy to transport, and can be deflated for convenient storage, so they are worth considering.
Can I use a paddle board seat for other water activities?
Paddleboard seats are primarily designed for SUP'ing, but they can also be used for things like kayaking and boats. You just want to make sure that they match those activities if you want to use them for things besides paddleboarding.
How do I clean a paddleboard seat?
Cleaning and maintaining a paddleboard seat is relatively simple. After each use, rinse the seat with fresh water to remove any salt or sand from it. If the seat has removable covers, follow the manufacturer's instructions for washing them