*We may earn a commission for purchases made using our links. Please see our disclosure to learn more.
Looking for a paddleboard bag? My advice for anyone that is considering getting one is always the same. Do it! If you're looking to protect your board, make transportation easy and enhance the lifetime of your paddleboard then you really need a bag.
That's why I am excited to share my insights on the best paddleboard bags of 2024. Whether you're a seasoned paddler or just starting your SUP journey, investing in a high-quality paddleboard bag is essential.
In this article, I will guide you through the top paddleboard bags available, providing helpful suggestions and reasons for my recommendations.
Top 5 Paddleboard Bag of 2024
Let's go into these so you know exactly what you're getting with each paddleboard bag.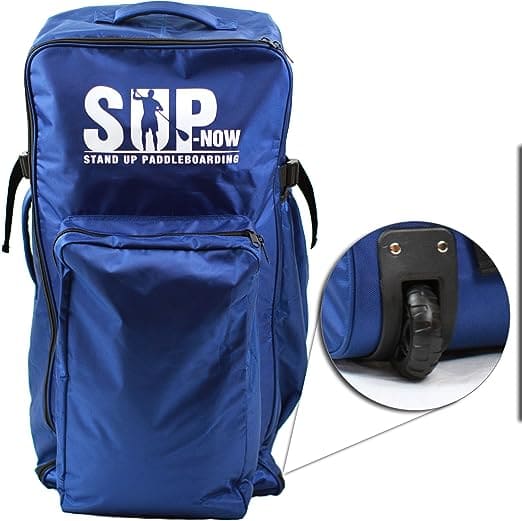 Where To Buy: Amazon
Key Features & Benefits:
– Universal fit so it will fit all inflatable paddleboards

– Top-quality materials and includes wheels for easier transportation

– You can use it as a backpack or as a wheelie bag

– 100% Money back guarantee
SUP-NOW is a company that is very well known for paddleboarding, so you know that they are good. They have often spoken out about only making products that they actually use, and when it comes to this paddleboard bag – it's something you're going to want to use. It's created with top-quality materials that will last for a long time, protects your board from bumps and sun damage… And looks good while doing it.
This bag is intentionally designed with travel in mind – it fits any inflatable paddleboard, you can use it as a backpack or wheelie bag and it also contains wheels to make airports a breeze. If you're looking for a reliable stand up paddleboard bag, then this is your best choice.
---
Where To Buy: Amazon
Key Features & Benefits:
– Stretch fabric covers all sizes of paddleboards

– Thick fabric protects your board from scrapes and bumps.

– UV Resistant to protect your board from sun damage

– 100% Money back guarantee for 30 days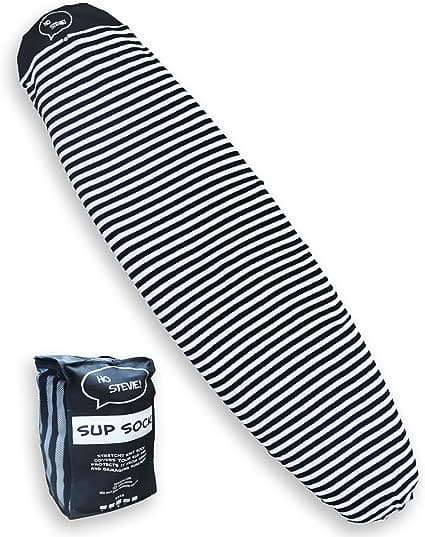 The reality is that not everyone needs a heavy-duty stand up paddleboard bag like the one before. That's why if you're looking for a bag that's great for tossing your SUP into the car or leaving it on the beach while you swim. Then this is your bag.
Ho Stevie! Is a great company that is well known for creating practical products that work really well. This SUP sock is no different. It fits any size paddleboard (inflatable or hard). It's made of a think fabric that will prevent your board from bumps and scrapes. And It also has UV protective fabric that will prevent sun damage.
If you're looking for something easy, inexpensive and that works really well… Then you won't regret this board.
---
Best Environmentally Friendly Bag: BPS ISUP Bag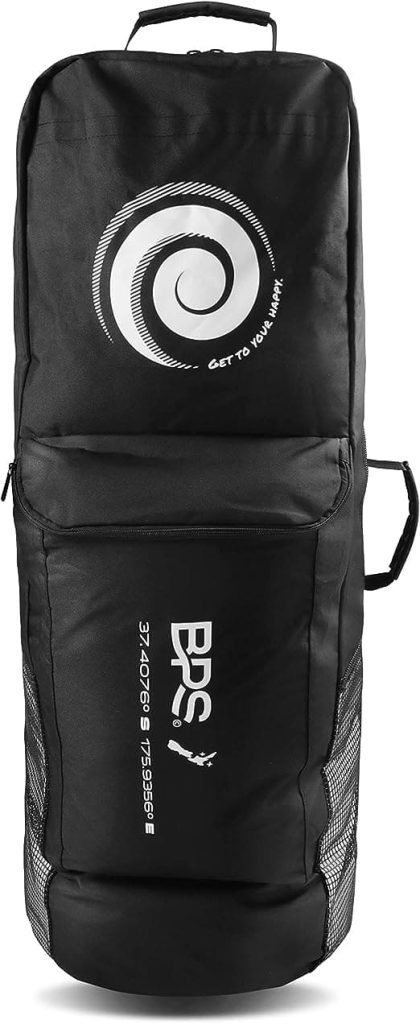 Where To Buy: Amazon
Key Features & Benefits:
– Each bag is made from the equivalent of 60 plastic bottles

– You can use it as a backpack or handheld with side handles

– High quality materials that will fit all your SUP products (inflatable or hard)

– 100% Money back guarantee
You might agree with this or not – but I believe that buying environmentally-friendly products is something that we all should be doing more of. This is the major selling point with this BPS paddleboard bag – Not only is extremely high quality, but one bag also takes 60 plastic bottles out of a landfill somewhere (or the ocean).
This bag will protect all your paddleboarding gear in one place, it contains side handles and backpack straps that let you carry it anyway you want… And it's covered by a 'Right Choice' guarantee that means that you can get your products replaced if there are quality problems. This bag comes from a small family business and i's definitely worth looking into.
---
Where To Buy: Amazon
Key Features & Benefits:
– Large capacity (90cm*40cm*30cm) that are designed for easy travel

– Good quality paddleboard bag that is easy to use and can fit all your items

– Has adjustable shoulder straps and is easy to fold and store.

– Will fit most standard inflatable paddleboards and surfboards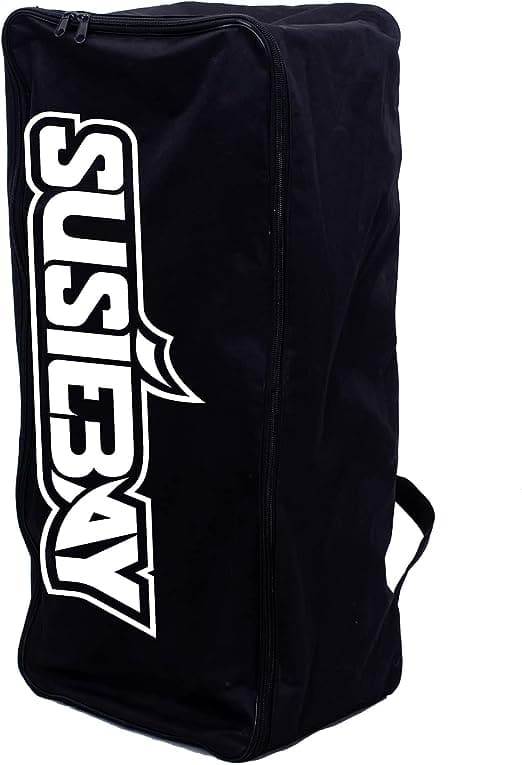 If you're looking for a budget friendly option that contains the bare-minimum of what you need with a stand-up paddleboard bag, then look no further. SUSIEBAY has created that, with the best budget paddleboard bag that I've found to date. Most budget bags are low quality and break instantly, but that hasn't been my experience with this bag at all.
It's not going to change your life, but if you want a solid bag then you won't regret it. It has a large capacity so it will fit 99% of paddleboards (make sure to check) and it will last you a long time.
---
Best Bag For Hard (Epoxy) Paddleboards: ISLE 10'6″SUP Bag

Where To Buy: Amazon
Key Features & Benefits:
– Fits any hard paddleboards under 10'6″

– Padded SUP case with 5mm water-resistant, closed-cell foam padding to protect your board.

– Easy to carry – has a side handle and shoulder strap

– Has a heat-reflective covering that will protect your paddleboard from sun damage.

– 1 Year manufacturer warranty
I'll be honest – I would buy pretty much anything that ISLE makes when it comes to paddleboarding. Not only do they make the best paddleboards on the market, but everything else that they touch is incredible. It's not cheap – but you know that you're buying something extremely high quality that does its job right.
The only downside of this bag is that it's made for a 10'6″ board, but it will protect that board like its life depends on it 🙂 It has foam padding to prevent bumps and scratches, sun resistant coverings to prevent sun damage… And it also has anti-corrosion zips that can get wet and not rust.
I love this bag and I could recommend it to anyone 🙂
Factors to Consider When Choosing a Paddleboard Bag
When selecting the perfect paddleboard bag, several crucial factors come into play. Understanding these factors will help you make an informed decision and find a bag that suits your needs.
| | |
| --- | --- |
| Size and Fit: | The bag should fit your paddleboard snugly to ensure it stays secure during transportation. Measure the length and width of your board and look for a bag with the appropriate dimensions. |
| Material and Durability: | Opt for bags made from sturdy and weather-resistant materials like nylon or polyester. A well-constructed bag will protect your SUP from scratches, UV rays, and potential damage during travel. |
| Carrying Options: | Decide between a backpack-style bag or one with a shoulder strap. Both have their advantages, and your choice depends on your preferred method of transport. |
| Additional Features: | Consider extra features such as multiple carrying handles, exterior pockets for accessories, or even wheels for easier maneuverability. |
How to Properly Care for Your Paddle Board Bag
Just like your paddleboard, caring for your paddleboard bag is essential to ensure its longevity and the protection of your board. By following some simple yet effective practices, you can keep your bag in top-notch condition and guarantee its durability.
1. Keep it Clean and Dry: Maintaining a clean and dry bag is crucial for preserving its quality. Never store a wet paddleboard inside the bag, as moisture can lead to mold growth. After each use, make sure to dry your board thoroughly before placing it in the bag. Additionally, avoid letting water accumulate at the bottom of the bag, as this can also promote mold formation.
2. Avoid Prolonged Exposure to the Elements: Just as the sun can damage your paddleboard, it can also have a detrimental effect on your bag. Try to minimize leaving the bag exposed to the elements for extended periods. Prolonged exposure to harsh sunlight can cause the bag's material to deteriorate over time.
3. Protect Your Bag from Physical Damage: While designed to shield your board from mechanical impacts, your paddleboard bag is not immune to damage itself. Avoid subjecting the bag to excessive yanking, bumping, or rough handling, as this may lead to tears, scratches, or holes. Treat your bag with care, and it will continue to provide excellent protection for your board.
4. Proper Carrying Technique: Carrying your bag correctly not only ensures your safety but also helps maintain its longevity. Use the bag's designated carrying handles or straps as intended, distributing the weight evenly to prevent unnecessary strain on the bag. Proper handling will also prevent any accidental damage while you transport your paddleboard to and from the water.
By adopting these best practices, you can ensure that your paddleboard bag remains in optimal condition, providing reliable protection for your board and contributing to many enjoyable paddleboarding adventures ahead.
Why Do You Need A Stand Up Paddle Board Bag?
Paddleboard bags play a crucial role in ensuring a smooth and hassle-free experience, whether you own an inflatable SUP or a sturdy epoxy/hard paddleboard. Let's explore the benefits of these bags for each type of board:
1: They Make Transport Easy:
Transporting your paddleboard to the water can be challenging, but paddleboard bags offer a simple solution for easy maneuverability.
Epoxy Paddle Boards:
Epoxy or hard paddle boards tend to be heavier, making it essential to have a reliable transport method. When transporting your epoxy board on a truck or roof rack, it becomes susceptible to potential damage from flying rocks or debris, risking paint chips and scratches. Moreover, prolonged exposure to the scorching sun can lead to cracks over time.
By using a heavy-duty travel storage bag, you can enclose your epoxy SUP securely before placing it on the roof rack, providing protection against flying debris and shielding it from harmful UV rays. These storage bags also offer extra padding, safeguarding your board from bumps and jolts during transportation.
For shorter distances from the vehicle to the water, a day bag is a more convenient option. Though not as thickly padded as a travel storage bag, it still ensures your epoxy SUP is shielded during this shorter journey.
Inflatable Paddle Boards
Inflatable Paddle Boards are made from durable military-grade PVC, ensuring their resilience, but they still need protection. Two types of paddleboard bags are available for iSUPs:
SUP Backpacks: Most inflatable paddleboard packages come with a SUP backpack. These bags are designed to accommodate the deflated and rolled-up paddleboard, along with accessories like the inflation pump, travel paddle, fins, and ankle leash. The comfortable straps on the backpack make it easy to carry your inflatable SUP to distant lakes or streams, ensuring convenient transport.
SUP Socks: While not intended for transport, SUP socks are lightweight protective covers for inflatable paddle boards. These socks shield the board from potential damage caused by hot sand or harmful UV rays when you take a break from the water. This extra layer of protection ensures your inflatable SUP remains in top condition.
2: They Allow For Proper Storage
Paddleboards are often not used year-round, making proper storage crucial for their longevity. Paddleboard bags offer several advantages for storing both epoxy and inflatable SUPs:
Protection from Damage: Storing your paddleboard in a padded storage bag safeguards it from accidental bumps or damages, whether it's an epoxy or inflatable board. In a garage, the paddleboard might be at risk from potential harm like falling objects.
Keeping it Clean: Paddleboard bags keep your board dry and clean at all times. For inflatable paddle boards, it's essential to dry and clean them with warm water before storing in the SUP backpack to prevent mold or odor buildup. The backpack itself can be conveniently stored on a shelf, taking up minimal space.
3: They Prevent Sun Exposure:
Prolonged sun exposure can be detrimental to both epoxy and inflatable paddle boards. Paddleboard bags act as a protective shield against harmful UV rays, preserving the vibrant colors and preventing delamination. UV SUP socks or radiant barrier bags are particularly useful for protecting epoxy paddle boards from fading colors and damage due to sun exposure. They eliminate the need to drag your SUP to the shade of a tree after each use, ensuring hassle-free protection.
With proper care and storage using these paddleboard bags, your SUPs will remain in pristine condition, ready for your next exciting paddleboarding adventure.
Conclusion
Investing in the right paddleboard bag is crucial for ensuring your board's safety and extending its lifespan. With any paddleboard bag that we discussed above – you can't go wrong. Each bag offers unique features and benefits, catering to different preferences and needs. Remember to consider the size, material, carrying options, and additional features before making your final decision.
So, gear up with the perfect paddleboard bag, and get ready for unforgettable SUP adventures (and all the benefits that come from it)!
FAQs
What size paddleboard bag do I need for my specific SUP board?
The size of the paddleboard bag should match the dimensions of your board. Measure the length and width of your board, and then look for a bag that matches those measurements.
Are paddleboard bags suitable for air travel?
Yes, most paddleboard bags are designed to withstand air travel. However, it's essential to check with the airline for any specific regulations or restrictions.
Can I carry other gear along with my paddleboard in the bag?
Yes, many paddleboard bags come with additional pockets or compartments where you can store accessories and gear.
How do I remove stains or dirt from a paddleboard bag?
For minor stains, use a damp cloth with mild soap and water to gently clean the affected area. Avoid using harsh chemicals, as they may damage the bag.
Are there any eco-friendly paddleboard bag options available?
Yes, some brands offer eco-friendly paddleboard bags made from sustainable materials, making them a great choice for environmentally-conscious paddlers.