*We may earn a commission for purchases made using our links. Please see our disclosure to learn more.
Stand Up Paddleboarding (SUP) has grown tremendously in popularity, and it's no surprise why! But the biggest problem that most people face is that the gear can get really expensive. That's why in this article I will be showing you the best paddleboard gear for people on a budget.
It's my goal to help you get out on the water without breaking the bank. Whether you're a beginner or a seasoned paddler looking to upgrade your gear, I've got you covered!
But first, let's talk about why it's so important to have the right gear.
Importance of Having the Right Paddleboard Gear
Before we dive into the gear recommendations, let's emphasize why having the appropriate paddleboarding equipment is crucial. First and foremost, safety should always be a top priority when engaging in any water activity.
The right gear, such as life jackets and leashes, can be lifesavers in case of emergencies and they are something you shouldn't skim over. High-quality paddles and boards provide better stability, maneuverability, and efficiency, allowing you to make the most out of every paddle stroke. With the right gear, you can be present on the water without any distractions or worries.
Factors to Consider When Buying Paddleboard Gear
When shopping for budget paddleboard gear, there are several important factors to consider.
Firstly, be mindful of your budget and explore options that offer the best value for your money. While it's essential to save money, compromising on quality and safety gear is not advisable.
Look for budget-friendly gear that doesn't compromise on durability and performance. After all, you want your paddleboard and accessories to last for many seasons of fun and adventure.
Additionally, consider the specific type of paddleboarding you'll be doing. Different gear may be suitable for activities like touring, yoga, surfing, or racing.
Top Budget-Friendly Paddleboard Gear for 2024
Now, let's explore some of the top budget-friendly paddleboarding gear available in 2024. From paddleboards to paddles and safety gear, we'll cover everything you need to get started on your SUP journey without breaking the bank.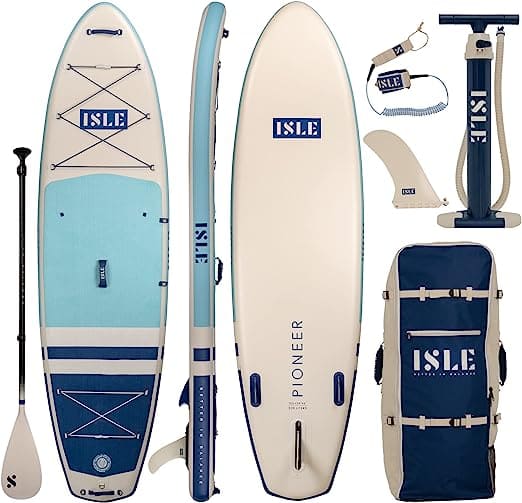 Where To Buy: Amazon
Key Features:
– Allows up to 285lbs in weight
– 10'6″ in size
– Comes with bag, leash, fin and paddle
– 2 Year warranty on materials
– 60 day return policy
The ISLE Pioneer 10'6″ is an incredible paddleboard that will last you for ages. I chose the inflatable board to make sure that it's cheaper and easier to transport, and this is a board that will give you months of joy. It's high-quality and comes with everything that you need to get started immediately and when it comes to paddleboard gear – this is the best SUP you're going to find.
---
Where To Buy: Amazon
Key Features:
– Length: 72'' to 86'' (182cm to 218cm)
– Weight: 18 oz (0.502 kg)
– Comes with bag, leash, fin and paddle
– Shaft: 3 piece adjustable carbon fiber shaft
– Blade: 15.5" (37.13cm) long 10.7" (22cm) width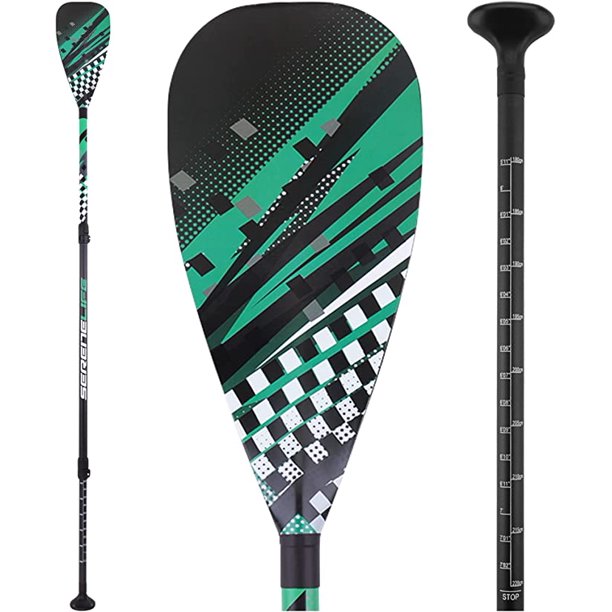 The SereneLife Free-Flow Paddle is a really good budget friendly paddle. It has a 3-piece adjustable carbon shaft that is light and will float on the water for a long period of time. It is durable and carries a lot of acceleration and power through each stroke, and it's a paddle that will last for a long time and give you hours of joy.
---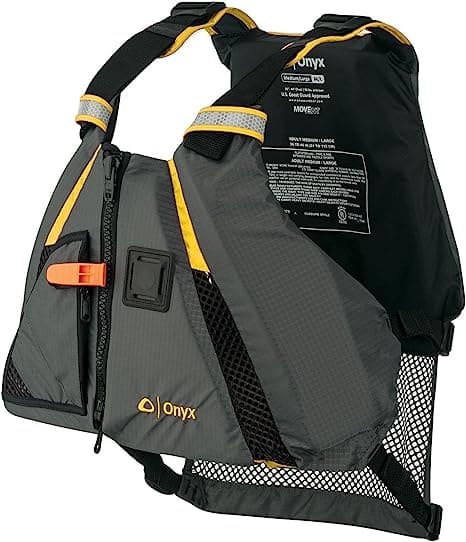 Where To Buy: Amazon
Key Features:
– Style: Vest

– Weight: 1 pound

– USCG Rating: Type III

I have tried many life jackets, and the Onyx MoveVent life jacket is the one that I always recommend for beginner and intermediate paddleboarders. It is extremely buoyant, comfortable and visible in the water (even in low light). And while it does struggle with being bigger than a belt life jacket, it will provide you with the extra buoyancy that you need. Plus – it's budget friendly 🙂
---
Where To Buy: Amazon
Key Features:
– Coiled leash

– 7.2mm cord

– 10 Foot Length

– Multiple Colors Available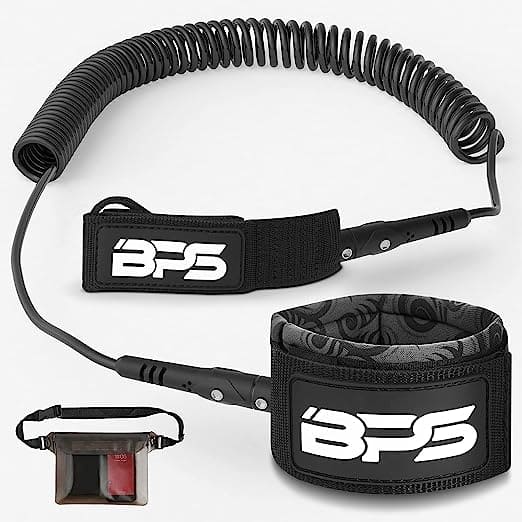 The BPS Storm is a really nice piece of paddleboard gear that you should grab. It is a coiled leash so that it doesn't drag in the water or get caught on things like rocks and weeds. It extends to 10 feet in length which is essential when you fall off the board (to give you distance from the SUP). And most importantly – It is comfortable! It has a dual swivel design so it doesn't wrap around your leg and it is made of high-quality materials that won't chafe. Plus – It comes with a waterproof phone case to keep your belongings dry.
---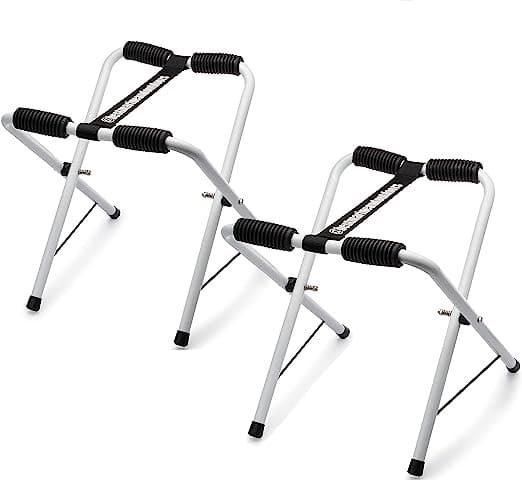 Where To Buy: Amazon
Key Features:
– Aluminium stands that weigh 2.5 lbs each

– Foldable and easy to transport

– Holds over 150 pounds of weight

– 100% money back guarantee
When it comes to a paddleboard stand, the Best Marine Folding Stands are really awesome! They are 2 small and ultra-portable stands that you can use to store your paddleboard. They are light-weight and fold basically flat, then you can just open them up and rest your SUP on them overnight or even while you are cleaning and washing it. This is a crucial bit of budget paddleboard gear that you won't regret buying.
---
Where To Buy: Amazon
Key Features:
– 20PSI High Pressure Pump

– Auto-Off Protection Feature

– Can Inflate 3x Paddleboards In A Row

– Total Charge Time Of 2.5 Hours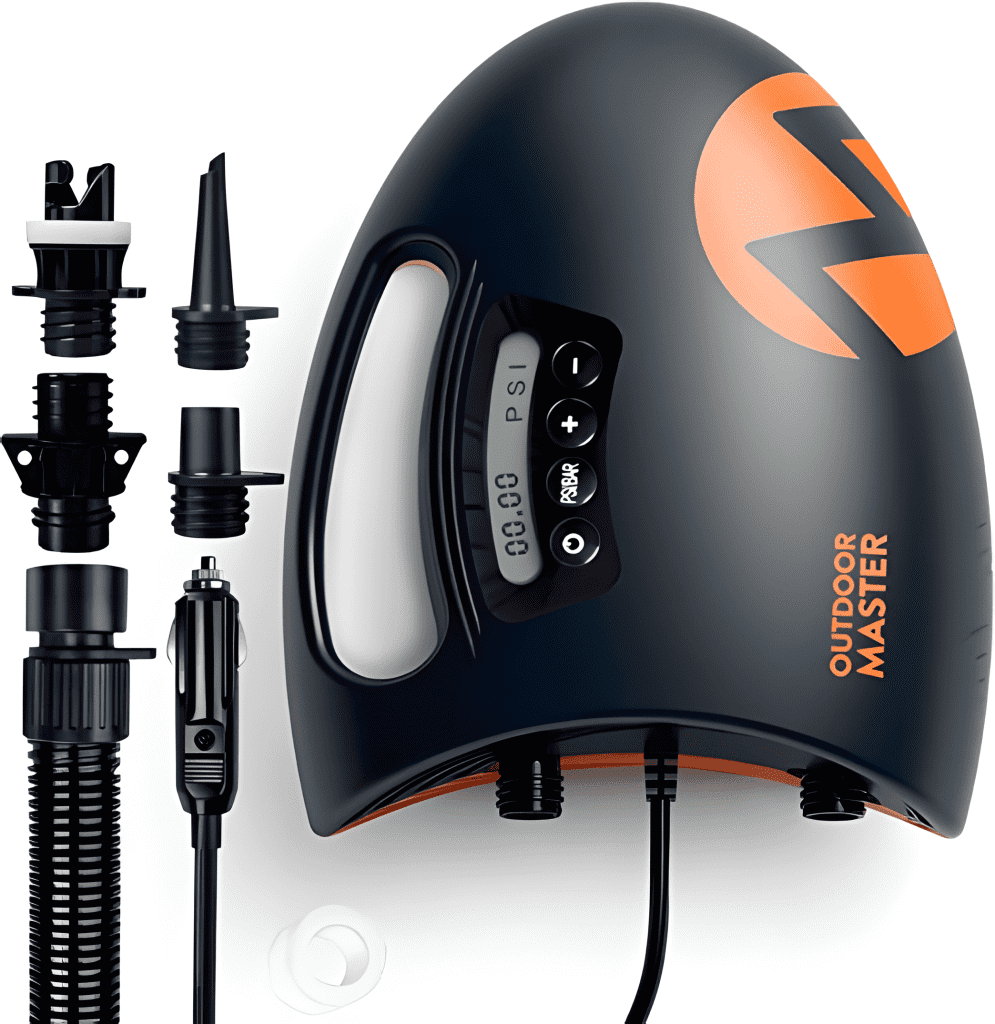 This paddleboard air pump is absolutely incredible! When you take a look at the price, you expect to get something mediocre, but I was completely blown away by this product that Outdoor Master put together. This pump can inflate 3x paddleboards in a row without resting because of it's unique cooling system. It takes about 13 minutes to inflate a regular paddleboard and it also includes an auto-off protection feature so that you don't damage your board. If you're looking for an electric pump then this is it!
---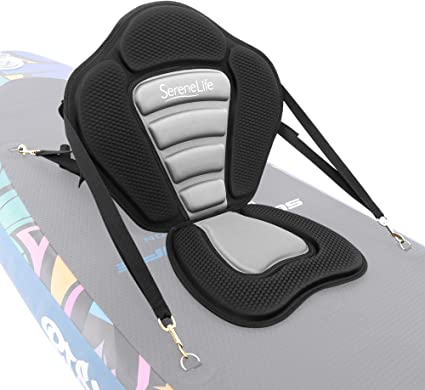 Where To Buy: Amazon
Key Features:
– High back design and padded support on your butt make it comfortable
– Has a form fitting design that will suit big and small body types
– Can be attached to paddleboards, kayaks and even rowboats

– Attaches to 99% of the boards on the market
When it comes to paddleboard gear, a great addition is always a seat. The SereneLife adjustable paddleboard seat is a high-quality and budget friendly option that you should really consider getting. It is made up of A-grade materials that are durable and will last a long time. It folds flat so you can attach it to your board and then decide if you want to SUP or kayak whenever you want. And along with all of this… it comes at a great price!
---
Where To Buy: Amazon

Key Features:
– Loading Capacity = 150lb

– Puncture Free Rubber Wheels

– Anodized Steel Design
The Bonnlo paddleboard cart is hands-down the best budget paddleboard cart on the market right now! It has a solid construction and a 150-pound weight limit. It is light-weight and made of anodized steel, which means that it is light and storable. It is easy to assemble and folds flat so you can easily toss it in the car. This is a budget option so you might deal with rust over time but it is a very well put together paddleboard cart.
---
Tips for Saving Money on Paddleboard Gear
Now that we've covered some excellent budget-friendly gear options, let's explore some money-saving tips to get the most value for your investment:
| | |
| --- | --- |
| Off-Season Sales: | Keep an eye out for sales and discounts during the off-season. Many stores offer significant markdowns on paddleboarding gear during the colder months. |
| Consider Second-Hand Gear: | Check out online marketplaces or local paddleboarding clubs for second-hand gear in good condition. You may find quality gear at a fraction of the original price. |
| Bundling Deals and Discounts: | Some retailers offer bundle deals, where you can purchase a paddleboard and accessories together at a discounted price. |
Conclusion
Paddleboarding is an incredible way to connect with nature and enjoy the water. With the right gear, you can maximize your experience and create lasting memories. Remember to prioritize safety and invest in quality gear whenever possible. Whether you're a beginner or a seasoned paddler, the 2024 budget-friendly paddleboarding gear options provide a perfect balance between cost-effectiveness and performance.
FAQs
Is stand up paddleboarding suitable for beginners?
Yes, stand up paddleboarding is beginner-friendly, especially when using stable inflatable boards.
Can I use a kayak paddle for paddleboarding?
While it is possible, it's recommended to use a paddle specifically designed for stand up paddleboarding for better performance and comfort. You can also look into hybrid paddleboard kayaks in order to get the best of both worlds.
Do I need a leash for paddleboarding?
Yes, a leash is essential for safety, as it keeps you attached to the board in case of falls. Buy a coiled leash so that it doesn't
Can I paddleboard in rough waters or strong currents?
It's best to avoid paddling in challenging conditions, especially if you're a beginner. Stick to calm and protected waters.
What clothing should I wear while paddleboarding?
Wear comfortable, moisture-wicking clothing and apply sunscreen to protect yourself from the sun.
Remember, paddleboarding is all about having fun and enjoying the great outdoors. So, grab your gear, hit the water, and have an unforgettable experience on your SUP adventure!