*We may earn a commission for purchases made using our links. Please see our disclosure to learn more.
If you're looking for a paddleboard sale, then I get it! SUPs can get super expensive and not everyone can afford to drop thousands on a hobby.
But the good news is that there are ways to get your hands on a world-class paddleboard for just a fraction of the cost.
That's why I'm here to share my insider tips on how to buy a paddleboard at a major discount. Whether you're a beginner looking to dive into this exciting world or a seasoned pro seeking an upgrade, these five strategies will help you paddle away with a great deal.
Get Comfortable With The Idea Of Buying Used:
This might seem obvious, but the easiest way to get a discount on a paddleboard is to buy it used instead of new. Some people might not be comfortable with this, but as long as you inspect the SUP and make sure that there isn't any major damage then this really isn't a big problem.
A few of the strategies that I will give you below will rely on the paddleboard being used instead of new, but there are also some great ways that you can find a new paddleboard sale that let's you snag a board for a fraction of the cost.
So with that being said – let's jump into the strategies.
---
Strategy 1: Ask For Defects At Paddleboard Stores
---
This strategy is an interesting one – its the same thing that many people do with clothes and electronics. Basically what you're doing is trying to find 'almost new' products that have some tiny defect like a scratch or dent that makes it more difficult to sell.
Then you want to go and offer to buy that product at a discount. This might sound a bit scary for you, but it works more than you would expect it to! People just don't ask 😉
How To Put This Strategy Into Action:
If you want to put this strategy into action, then just go onto Google and search for all the different stores that sell paddleboards in your area (usually surf shops) and then take a drive to visit them. I find that it's usually better to focus on coastal areas because there is usually lots of stores in one area.
It's also a smart move to talk to paddleboard rental stores because they regularly upgrade their stock and you can find a great deal with some of the SUPs that they are putting out of use.
Just make sure to inspect the board in person, ask questions about its history, and check for any signs of wear and tear before you make the purchase and you'll be golden.
---
Strategy 2: Keep A Lookout For A Seasonal Paddleboard Sale
---
Seasonal sales events can be your ticket to substantial savings. Many outdoor retailers and paddleboard shops offer discounted prices during the off-season or as part of holiday promotions. Keep an eye out for Black Friday deals, end-of-summer sales, or clearance events.
These sales can provide an opportunity to snag a high-quality paddleboard at a major discount.
Here are some of the other big sale days in the US that you can check online retailers to see if there are major discounts on that SUP that you're looking to buy.
If you're outside of the US then take a look for national holidays because there's often a correlation between those and sales.
Here are some of the other big sale days in the US that you can check online retailers to see if there are major discounts on that SUP that you're looking to buy, along with the respective dates. This strategy works extremely well in large cities with many stores. So if you're open to a trip to New York City then this would be a good idea for you.
Note – Each year these dates are different so make sure to just Google them whenever you are reading this.
Here are the dates:
New Year's Day – January 1st
Martin Luther King Jr. Day – Third Monday of January each year
Presidents Day – Third Monday of February each year
St. Patrick's Day – March 17th
Easter – The first Sunday after the full Moon that occurs on or after the spring equinox
Mother's Day – Second Sunday in May
Memorial Day – Last Monday in May
Father's Day – Third Sunday of June
Fourth of July – July 4th (duh)
Amazon Prime Day – Google this but it's usually in July
Tax-free weekends – Google "tax free weekend dates"
Labor Day – First Monday of September
Halloween – October 31st
Black Friday – Day after Thanksgiving
Cyber Monday – First Monday after Thanksgiving Day and Black Friday
Super Saturday – Google "Super Saturday dates"
New Year's Eve – December 31st
Once you have the dates then check out websites like Amazon.com or REI to see if there are great deals.
If you already know what you want then you can just visit the website directly.
---
Strategy 3: Buy Bundle Deals
---
Another way to save big is by opting for bundle deals. Bundle deals are packages where are retailer will give a paddleboard, pump, fin and everything else that you need to get started fast.
Buying everything you need in one go can result in significant cost savings compared to purchasing each item individually. Plus, it ensures that you have all the necessary gear to hit the water right away.
Here are some of my favorite paddleboard bundle recommendations: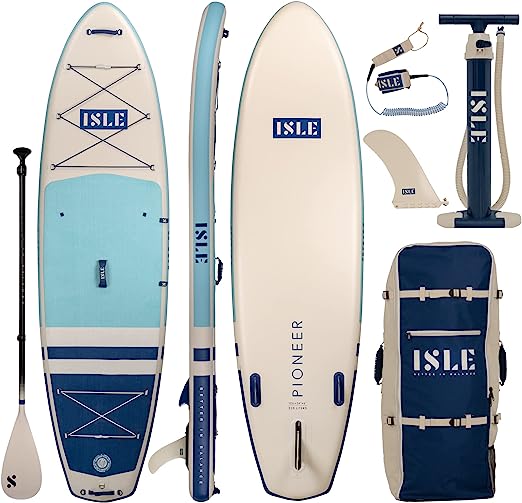 Where To Buy: Amazon
Key Features:
– Allows up to 285lb in weight
– 10'6″ in size
– Comes with bag, leash, fin and paddle
– 2 Year warranty on materials
– 60 day return policy
The ISLE Pioneer paddleboard is their original bestselling paddleboard and it's designed to be an all rounder board. It's perfect for both flat water and even small waves so you will have ample choice for where you want to paddleboard.
They also have paddleboards that are specifically created for children that you can check out if that's what you're looking for.
Where To Buy: Amazon
Key Features:
– Allows up to 400lb in weight
– 11'0″ in size
– Comes with bag, leash, fin and paddle
– 2 year warranty on materials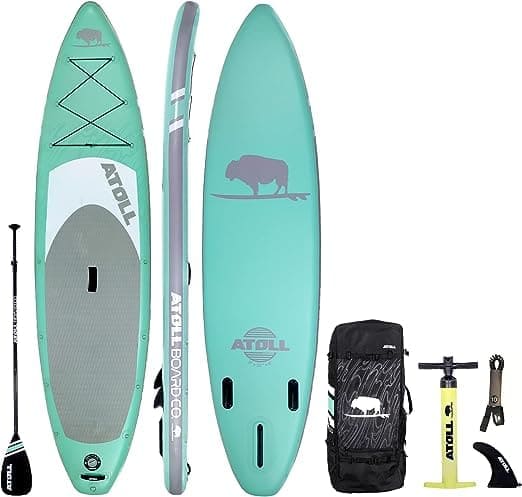 I've got friends that are on the heavier side that have constantly struggled to find paddleboards that don't sink when they sit on them. And the Atoll board is probably the best SUP on the market for that need. It's a great board for any water situation, and for its inexpensive price… it is a SUP that you should really look into.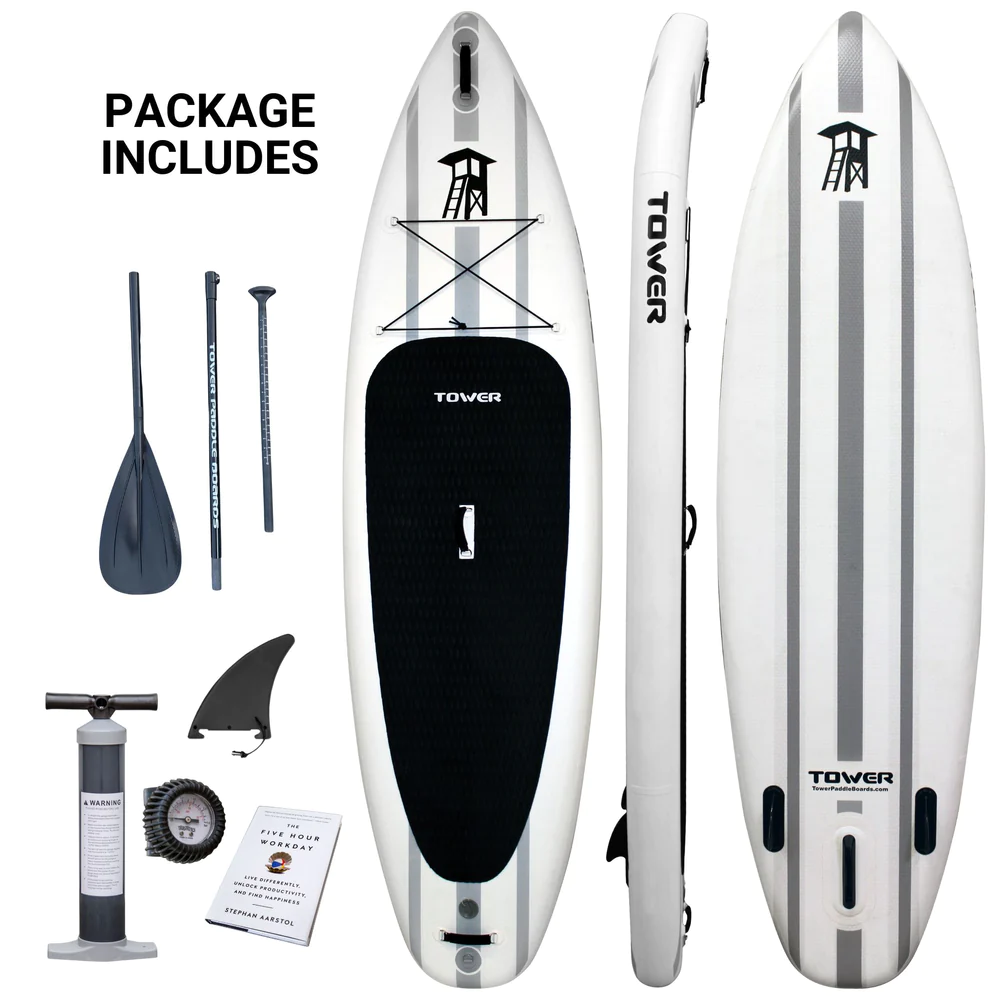 Where To Buy: Tower Paddleboards
Key Features:
– Sturdy design that is extremely durable and stable – this SUP makes balancing easy.

– Comes with a large deck pad that covers up most of the board for easy balance

– It has a great value price for a top board.

– It comes with a 2 year warranty against defects
This Tower paddleboard is a really good SUP. It is made from top-notch materials that function in a similar way to a hardboard, and because of this you'll get all the benefits that come from this.
It's also extremely durable and they even have case studies where they drive over the paddleboard with a car to show how sturdy they are. So if you're looking for a top quality SUP that doesn't destroy your budget then I would recommend you look into this.
---
Strategy 4: Demo Days and Rental-to-Own Programs
---
Check if there are any demo days or rental-to-own programs in your area. Many paddleboard shops organize demo events where you can try out different boards.
If you fall in love with a particular model, they may offer you a discount or allow you to apply your rental fees towards the purchase price. This way, you get to test the waters before committing to a full-priced board.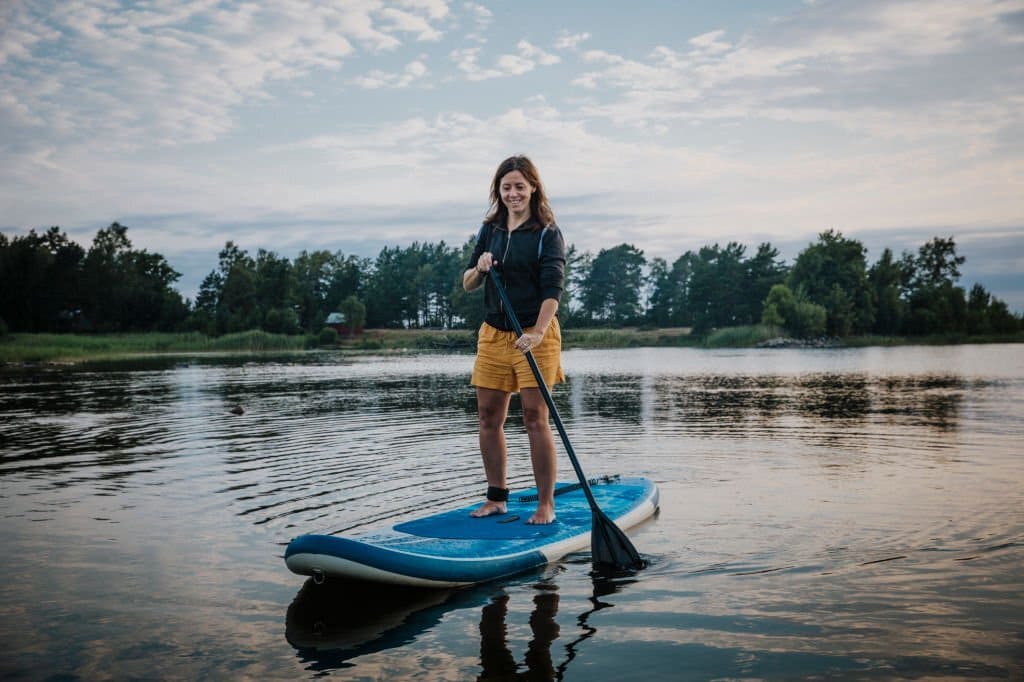 The easiest way to find out about rent to own programs is to Google it. Just type in "rent to own paddleboards" and they should give you search results within the area.
Or just ask the local stores in the area if there is a rent to own program in the area that they know about and this could be a chance to get a great paddleboard sale.
---
Strategy 5: Online Marketplaces and Forums
---
The internet is a treasure trove of opportunities to find a paddleboard sale.
There are many websites that you can visit to find competitive prices along with auctions and second-hand sales that will let you snag a top paddleboard for a fraction of the cost.
Additionally, keep an eye on classified ads in your local area; you might stumble upon hidden gems being sold by individuals who no longer have time for paddleboarding.
Here are my favourite sources to find a good paddleboard sale:
Source 1: Ebay
This one is obvious but visit Ebay, type in "paddleboard" and then seach for auctions in the area. Just from doing a quick search I already found some nice deals.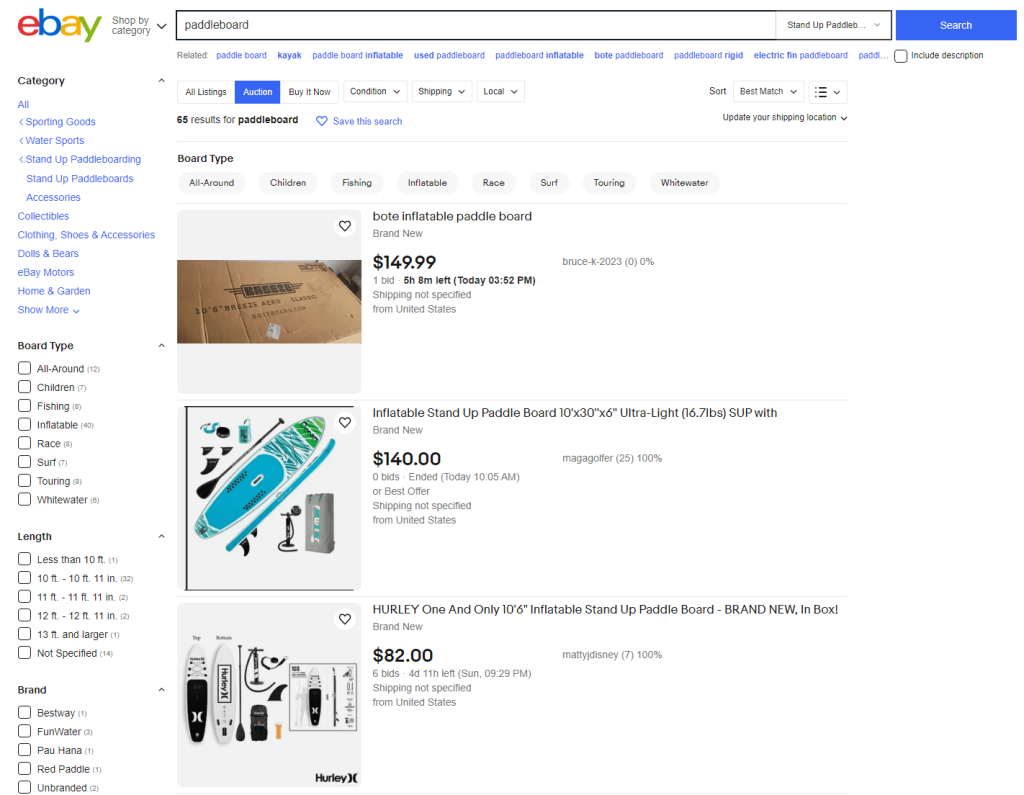 There's a really nice Bote paddleboard on there right now that could make some aspiring paddleboard out there extremely happy 😉
The next website on the list is Craigslist, which lets you find some really interesting stuff at a major discount. And this is a source that I would definitely look into if you want to find a top paddleboard sale.
Just add your location and then pop in a quick search for a "paddleboard" and presto…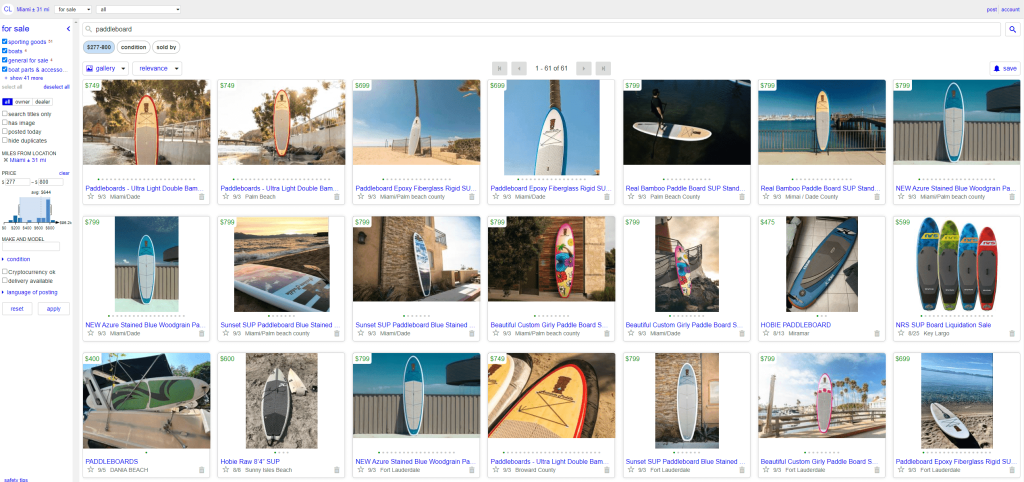 Make sure that you filter based on price or else you could get some seriously expensive paddleboards being sold to you.
Source 3: Facebook Marketplace
Another extremely under-utilized source is Facebook marketplace. If you log into Facebook then you can search for Marketplace and look at some of the things that people are selling around you.
If I do a quick search for paddleboards around Miami, I find some interesting paddleboard sale items that I'd definitely look into.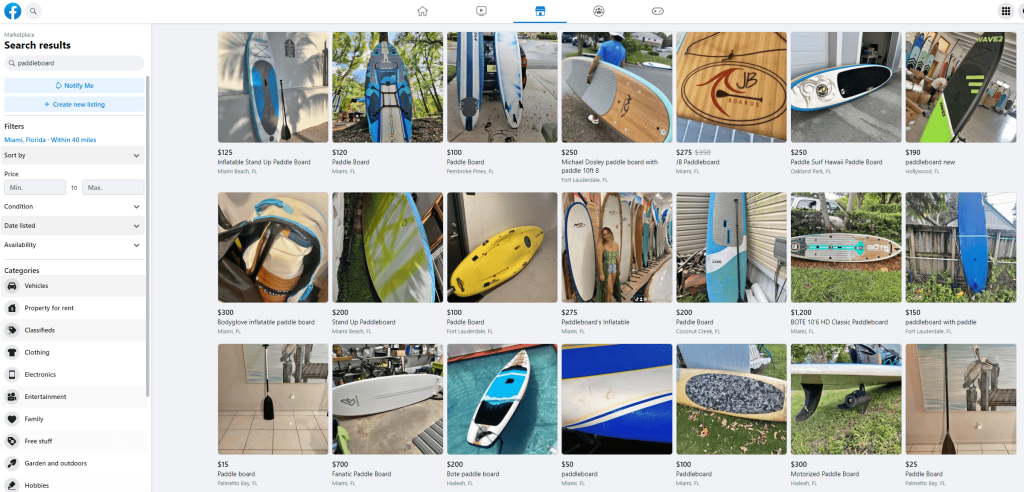 Other Interesting Sources:
Here are a few other sources that you can check out. I've never personally used them but it's worth looking into if you have some time.
If you can't find a stand up paddleboard sale with all these sources then you're not looking enough 🙂
---
Strategy 6: Custom-Design A Sample Paddleboard
---
This is a really interesting strategy if you have some time. Basically what you're going to do is find a paddleboard that you want to buy and take note of the exact specifications (size, weight, width etc.).
Then you're going to hop onto Alibaba.com and get a company to design and ship a sample item to you.
Alibaba is a website that connects you with Chinese wholesale manufacturers. So if you wanted to start selling paddleboards then you could go there and they would make the boards for you.
So what you'll do is pretend like you're starting a paddleboard business and get them to create a sample item for you so that you can see the quality of the paddleboard.
Just go into Alibaba and search for paddleboards.
Then you start talking to the different companies, give them the specs and ask them for a sample.
This is a really interesting strategy that you can use for almost any expensive product to get it at a discount, the only issue is that it will take months to get shipped to you. They have to create it and ship it so that's the only downside.
Conclusion
Buying a paddleboard at a major discount is entirely achievable if you're willing to explore your options and be patient. Whether you choose to go the used route, hunt for seasonal sales, take advantage of bundle deals, participate in demo days, or scour online marketplaces, there's a cost-effective solution out there for every paddler.
Remember, the joy of stand-up paddleboarding is not just in the activity itself but also in knowing that you scored a fantastic deal on your board.
Now, get out there, ride the waves, and make the most of your paddleboarding adventures without breaking the bank! 🏄‍♂️
Paddleboard Sale FAQs:
Can I trust buying a used paddleboard?
Absolutely! Many paddleboard enthusiasts take excellent care of their boards. Just be sure to inspect the board, ask questions, and check for any wear and tear before making a purchase.
When is the best time to find seasonal sales for paddleboards?
The off-season, Black Friday, and end-of-summer sales are great times to look for discounted paddleboards. Look at the list above for more details about the best dates.
What accessories do I need for paddleboarding?
Essential accessories include a paddle, leash, personal flotation device (PFD), and appropriate clothing for the weather and water conditions.
Are there any maintenance tips for prolonging the life of a paddleboard?
Regularly rinse your board with fresh water after use, store it away from direct sunlight and extreme temperatures, and patch up any dings or damage promptly.
Here is more information on how to extend the life of your paddleboard:
Can I return a paddleboard if I'm not satisfied with it?
Check the return policy of the retailer or individual seller. Some may offer returns within a specified period, while others may have a no-return policy for used boards. Always clarify this before making a purchase.