If you've never heard of Lifetime Products then maybe it's time that you have – because the new Lifetime paddle Board range has probably the best paddleboards available in 2024!
Lifetime started in a garage in Riverdale, Utah because a father wanted to build a better basketball hoop for his family, and his passion for innovation quickly expanded into a worldwide sensation known as Lifetime Products. Lifetime is obsessed with innovation and they are constantly looking to improve their products.
And the good news is that they just did it again! The new Lifetime Paddle Board 2024 range is sensational and it is definitely something that you will want to be looking into if you're in the market for a new paddleboard. That's why in this article I am going to be talking about the newest Lifetime paddle board that you should grab today, and why it's worth your time.
Let's jump in 🙂
Why Is A Lifetime Paddle Board So Special?
When it comes to running a business, you want to serve as many customers as possible, right? That makes perfect sense. And this is the path that most paddleboard companies take…
But the problem is that most of them get it wrong. They focus on creating paddleboards that are 'everything to everyone'. They try to make a touring SUP that can also go in the waves…. Or a yoga paddleboard that is mobile. But what happens when they do that is they create an average board that is good at many things but doesn't excel at any.
So what Lifetime Products did instead is they created one board for each type of paddleboarder. And they made sure that the boards are exceptional and really well priced so you'll find something even if you're on a budget.
So They Only Made 5 Paddleboards:
And they also understood that most people buy 2 paddleboards, so they created large discounts for grabbing 2 of them at a time. By doing this – you can get amazing paddleboards for prices that are unheard of in the market.
So what is the best Lifetime paddle board for you then?
The Best Lifetime Paddle Board Of 2024 For Each Type Of Rider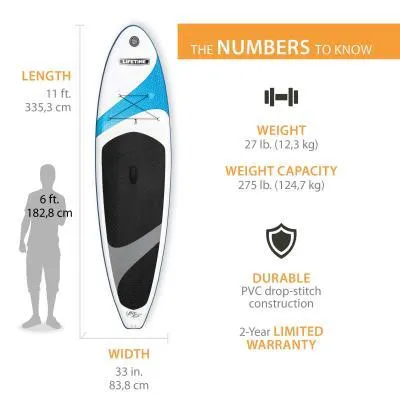 So when it comes to a Lifetime paddle board for beginners – you are looking for a few key things:
First you want to make sure that the board is long, the longer the board – the easier it is to balance on. That's why the Lifetime Vista is 11 feet long so that it has enhanced stability when to stand on it (along with being much easier to get back onto the board if you fall off).
The second key factor is the width. The wider the board the less 'wobbly' it is – so this Lifetime paddle board went with a 33 inch width that is ultra-stable and easy to stand on.
And then to make things even better, they added in a Tri-Fin setup (3 fins) that make it really easy to paddle in a straight line even with light surf.
This is an inflatable paddleboard so it's easy to deflate and transport and it's an incredibly good beginners paddleboard.
---
So that's the inflatable option, next comes the beginners hardshell option.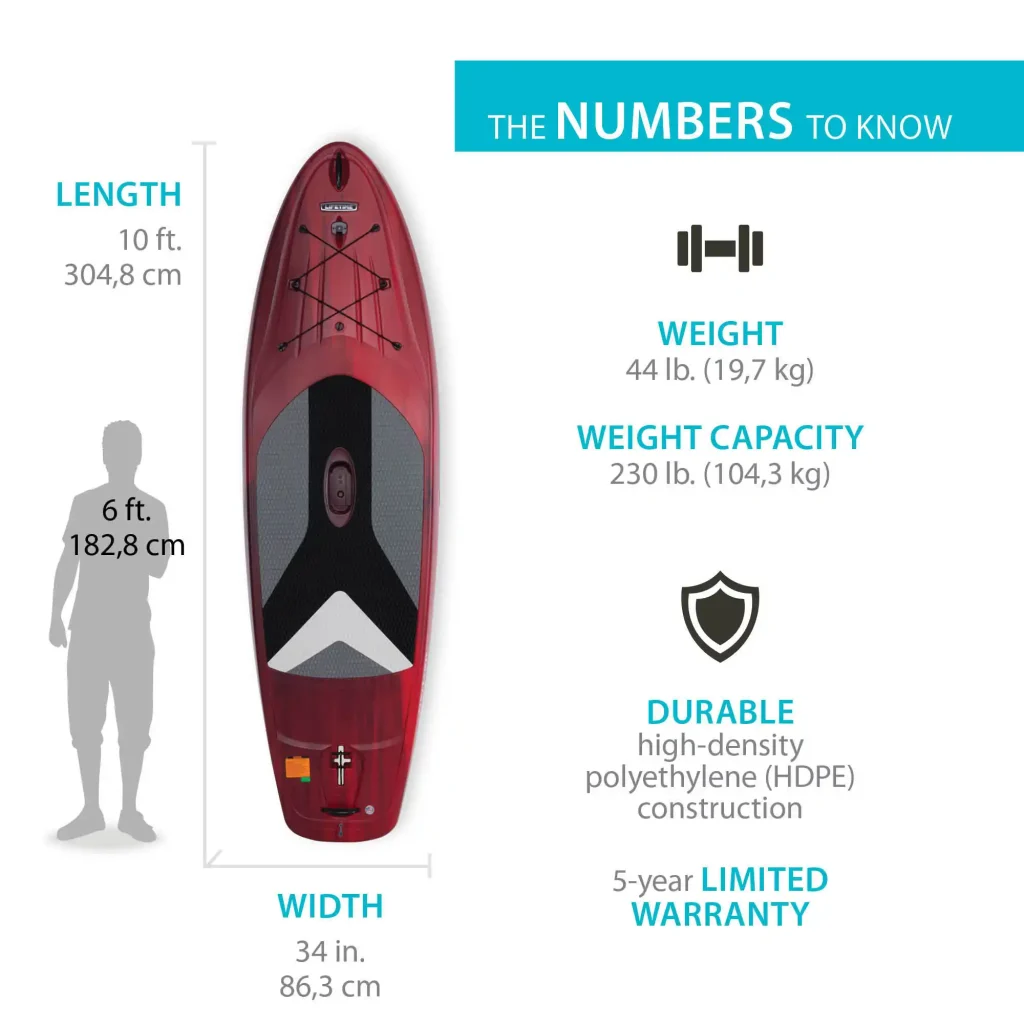 Again – this Lifetime paddle board is designed for beginners with the exception of it being a hardshell board instead of an inflatable one.
The board is 10 foot long so it's extremely easy to stand on and it will be great in flat water conditions and light waves because of the rounded nose and length. Because of the enhanced buoyancy of the hardshell board, they sacrificed 1 foot in length to enhance the maneuverability.
The board is also 34 inches in width instead of 33 inches like the inflatable option. This is because they wanted enhanced stability (i.e. less wobble) due to the material.
Instead of the tri-fin setup, they went with hull rails and one fin to ensure stability.
And remember I told you that they like to 'bundle' together paddleboards? Well you can get some amazing deals here with these bundles.
---
Lifetime Tidal 110 – Intermediate Inflatable Paddleboard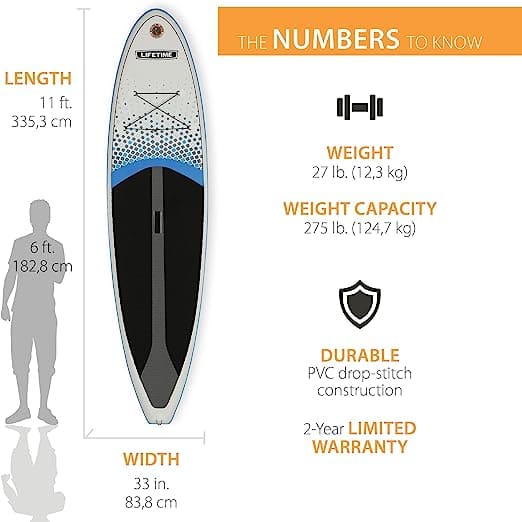 When it comes to intermediate paddleboards, this Liftime paddleboard is a seriously impressive option. When you grow into an intermediate paddler, what you're looking for is a more maneuverable board that lets you accelerate faster and navigate different waters.
This board achieves this really well… And the key difference between this and the beginner board is with the rounded nose. A rounded nose is essential for navigating choppy waters because it let's you 'cut through' the water instead of being impacted by it. This board is a little more expensive but it will give you the enhanced maneuverability that you need to grow into a better paddler.
I would recommend this board above the Vista if you're looking to grow into a better paddler in the short and medium term.
---
That's the inflatable option – next comes the intermediate hardshell option is really awesome!
Lifetime Amped 100 – Intermediate Hardshell Paddleboard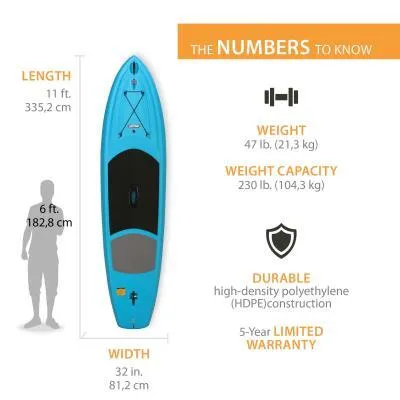 Again – this Lifetime paddle board is designed for intermediate riders (or beginners that want to get better) with the exception of it being a hardshell board instead of an inflatable one.
The board is 11 foot long so it's extremely easy to stand on and it has a rounded nose that lets it cut through the chop and rougher conditions.
The board is also 32 inches in width instead of 33 inches like the inflatable option. This is because they wanted enhanced stability (i.e. less wobble) due to the material, while allowing you to accelerate faster.
Instead of the tri-fin setup, they went with hull rails and one fin to ensure stability as you navigate more tricky conditions.
---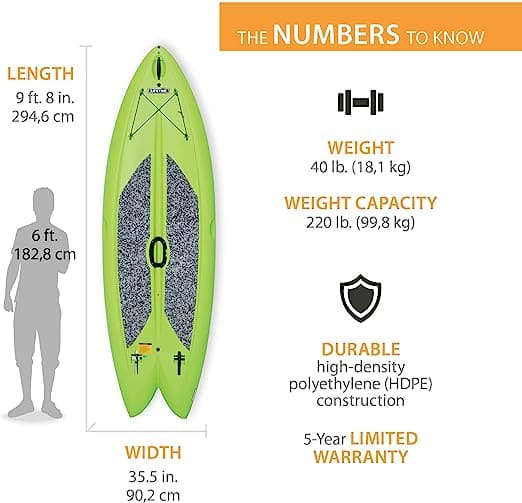 When it comes to an advanced paddleboard, then the Lifetime Freestyle XL is really REALLY awesome! It is lightweight (40 lb) and short (9ft) so it is extremely maneuverable and lets you accelerate onto waves.
It contains 2 retractable fins so you have the versatility of if you want to surf or leisurely paddle. The nose is pointed so that you can deal with choppy conditions (and waves) and it has a ton of buoyancy so that you can enjoy as many conditions as you like.
In my opinion – this is one of the best advanced boards on the market and it will be a perfect fit for anyone that wants to grow into their board and take it into any environments.
Plus you can get a great discount for one of the bundle options if you want to buy 2 of them.
---
So now that you know the different boards that make up the Lifetime paddle board bundles, how do you choose one board to get?
Choosing The Right Paddleboards
When it comes to selecting a paddleboard, there are several crucial factors to consider. These factors include stability, size, weight, materials, and specific features that align with your needs and preferences. For beginners, prioritizing stability is essential, as it provides a solid foundation for finding balance and building confidence on the water.
Before we delve into the key considerations, let's explore the different types of paddleboards available and their respective characteristics.
SUP Surfing:
All-Around SUP:
All-around paddleboards offer versatility and are suitable for various conditions. These boards are thicker, wider, and longer than SUP surfboards, making them ideal for beginners. They typically range from 10 to 12 feet in length and 29 to 36 inches in width. All-around boards provide stability and are a popular choice for beginners due to their versatility and ease of use.
Touring or Racing SUPs:
Yoga and Fitness SUP:
Engaging in Yoga-on-Water (YOW) has become a popular fitness trend. Yoga and fitness SUPs are designed to provide a stable platform for practicing yoga or pilates on the water. These boards are generally wider to enhance stability and balance during yoga sessions, allowing you to challenge your core muscles while enjoying the serenity of the water.
Here are 15 yoga poses that you can do right now on a SUP.
SUP for Kids:
Paddleboarding is an excellent activity for children, promoting outdoor fun, water confidence, and a healthy lifestyle. Kids' paddleboards are specifically tailored to their smaller size and weight. Most kids' paddleboards are shorter than 8 feet, ensuring a safe and enjoyable experience for young paddlers.
When selecting a paddleboard, it's important to consider the type of paddleboarding you plan to do and choose a board that aligns with your specific needs and skill level. Whether it's SUP surfing, all-around paddling, touring, yoga, or paddleboarding for kids, there's a perfect Lifetime paddle board out there to enhance your experience on the water.
Other Considerations:
In addition to the type of paddleboarding, there are a few other factors to consider when choosing a paddleboard:
By considering the type of paddleboarding you'll be doing and these additional factors, you can find the perfect paddleboard to suit your needs, skill level, and personal preferences.
Key Factors To Consider When Purchasing Paddleboards
There are a few more key things that you need to be aware of when buying beginner paddleboards.
Construction Quality
Ensuring the quality construction of a paddleboard is crucial for its longevity and performance. Paddleboards can be either solid or inflatable. Solid boards are typically made of materials like carbon fiber, plastic, fiberglass, or wood, while inflatable boards are constructed using PVC and Dropstitch technology. Each type has its advantages. Carbon fiber boards offer lightweight and durability, fiberglass boards are diverse but quality varies, and wooden boards provide a stylish and authentic feel. Inflatable boards are known for their durability and resistance to damage. When assessing construction quality, it's important to consider the layers, material, and warranty period provided by the manufacturer.
Stability
As a beginner, stability is paramount to ensure a comfortable and enjoyable experience on the water. Stability is influenced by the length, width, and buoyancy of the paddleboard. Longer boards offer better balance, but they can be harder to handle. A width of 30 inches or more provides increased stability, while buoyancy, determined by volume, allows the board to ride above the water's surface. A paddleboard with medium length, width of at least 30 inches, and sufficient buoyancy is recommended for beginners.
Utility
For beginners, it is advisable to choose an all-around paddleboard that offers versatility. All-around boards can be used for various activities such as yoga, touring, or recreational paddling. They are beginner-friendly, with wider widths and medium lengths that enhance stability. All-around paddleboards also cater to different price ranges, making them accessible to a wide range of budgets. Purpose-specific boards, on the other hand, may be more suitable for experienced paddlers but often come with a higher price tag.
Essential Accessories for Beginner Stand-Up Paddleboarding
After selecting your beginner SUP, it's time to consider accessories that can elevate your paddleboarding experience. These accessories range from essential safety gear to optional items for added convenience and enjoyment.
Here are some recommended accessories to enhance your SUP journey:
Paddle:
A high-quality paddle is a must-have for any SUP enthusiast. Look for a paddle that is comfortable, durable, and adjustable to your height. While some beginner SUPs come with a paddle included, you may choose to invest in a separate paddle for improved performance.
Pump:
If you opt for an inflatable SUP, you'll need a pump to inflate and deflate it. Most inflatable SUPs come with a manual pump, which gets the job done but can be labor intensive. For a more efficient inflation process, consider an electric pump that connects to your car's power source. Electric pumps save time and energy. Explore reliable electric pump options tailored for inflatable SUPs.
Leash:
A leash is a vital safety accessory that connects your ankle to the SUP, preventing it from drifting away if you fall off. It's especially crucial in windy or choppy conditions and when paddling near other people or in open water. Additionally, a leash makes it easier to get back onto your board after a fall. Ensure you choose a leash suitable for your board and intended paddling conditions.
Personal Flotation Device (PFD):
A PFD is essential safety gear that helps you stay afloat in case of an emergency. It may be mandatory in certain areas and waterways, so be aware of local regulations. Look for a PFD that fits comfortably and provides ample buoyancy.
Dry Bag:
A dry bag keeps your belongings protected from water damage, ensuring they stay dry during your paddling adventures. It's useful for storing essentials like your phone, keys, wallet, snacks, or extra clothing. Look for a waterproof dry bag that can be attached to your board's bungee cords or carry handles, or one that can be worn as a backpack or waist pack. Discover recommended dry bags for beginner paddleboarders.
Cooler:
While optional, a cooler can enhance your paddleboarding experience by keeping your beverages and food items cold and fresh. You can secure a cooler to your board using bungee cords or carry handles, or choose one that doubles as a backpack or shoulder bag.
These accessories are just a starting point, and you can explore additional items based on your preferences and needs. Optional accessories may include a waterproof speaker, waterproof phone case, sun hat, sunglasses, sunscreen, water shoes, gloves, or a wetsuit. Customize your paddleboarding experience with accessories that align with your personal style and requirements.
Conclusion
In conclusion, the new Lifetime Paddleboards of 2024 have taken the stand-up paddleboarding community by storm. With their exceptional stability, durability, and versatility, these paddleboards offer an outstanding paddling experience for enthusiasts of all levels. By investing in a Lifetime Paddle board, you're making a long-lasting commitment to quality and performance on the water.
Lifetime Paddle Board FAQs
Are Lifetime Paddle boards suitable for beginners?
Absolutely! Lifetime Paddle boards offer models specifically designed to cater to beginners, providing excellent stability and ease of use.
Do Lifetime Paddleboards come with a warranty?
Yes, Lifetime Paddleboards come with a warranty that ensures peace of mind and protects your investment. They either offer a 2 year or 5 year warranty on all their boards.
Can I use Lifetime Paddle boards for surfing?
Yes, Lifetime Paddleboards offer models suitable for surfing. They are designed to handle waves and provide the necessary responsiveness. If you want to surf then your best Lifetime paddleboard will be the Lifetime Freestyle XL
Are Lifetime Paddle boards inflatable or solid?
Lifetime has created a range of inflatable and hardshell boards for your to choose, each one has it's advantages and disadvantages so its worth considering which one is better for you.
Can children use Lifetime Paddle boards?
Yes, Lifetime paddle boards offer models suitable for children. These boards are designed with their safety and comfort in mind, ensuring an enjoyable experience for young paddlers.