Paddleboarding – often referred to as SUP (Stand-Up Paddleboarding), is an exhilarating water activity that promises adventure, relaxation, and an unforgettable time out!
If you're considering embarking on your first paddleboarding adventure, you're in for a treat!
As someone that has been obsessed with paddleboarding for years, I'm here to share 20 valuable tips that will help make your first paddleboarding experience truly remarkable (and the next one after that even better).
Introduction to Paddleboarding
Before we dive into the tips & tricks – let's start with a brief introduction to paddleboarding.
And not only is it an amazing full body workout that promises to burn countless calories everytime that you hop on the board… But it is also scientifically proven to improve your mental health and relieve afflictions like anxiety and depression.
The sport originated with the ancient Polynesians who used wooden boards called "olo" or "alaia" for transportation and wave riding. These early pioneers would lie face down on their boards and paddle with their hands to navigate through the water. Over time, prone paddle boarding became deeply ingrained in Polynesian culture and eventually spread to other parts of the world, evolving into the sport we know today.
So now that you have the low-down on what makes this such an interesting sport (that is growing like crazy by the way)… Let's jump into those tips that I promised you 😁
20 Essential Paddleboarding Tips:
Here they are…
---
Tip #1: It's All About Location
And they also give you the benefit of not having to wobble and fall on your face dozens of times before successfully standing 🙂 Personally I would teach someone in a sheltered lake that is about waist deep so that it becomes easy to stand and get back on the board if you fall.
Tip #2: Select the Right Board
Selecting the right paddleboard is crucial. There are various types available, including all-around boards, touring boards, and inflatable options. You can get an idea of the dfferent board choices based on the image below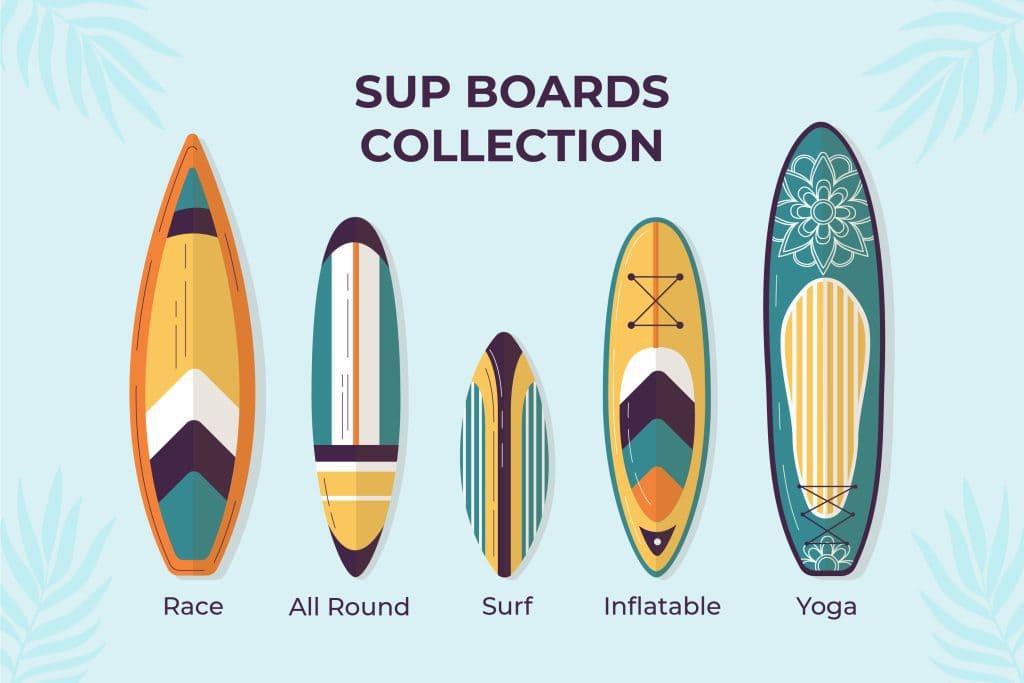 For beginners, I recommend starting with an inflatable board. They offer stability and versatility, making them ideal for honing your skills. They also have the addded bonus of being easy to transport and also very difficult to scratch or damage which is a huge win.
Tip #3: Master Basic Paddling Technique
Your paddle is your trusty companion on the water. Ensure it's the right length and material for your height and strength. When it comes to technique, remember to keep a firm grip on the paddle, engage your core muscles, and use your legs for stability. Practice your strokes on land before venturing into the water.
For a detailed video guide on how to stand, watch this video:
Tip #4: Always Prioritize Safety
Safety should be your top priority. Always wear a personal flotation device (PFD) when paddleboarding. Even if you're a strong swimmer, unexpected situations can arise. A PFD ensures your safety in case you fall into the water. And believe me you don't want to be in a situation where you need a lifejacket and it's just not there.
My recommendation for a beginners life jacket: Onyx MoveVent Life Vest
This life jacket is specifically designed for paddling! Mobility is everything and this will let you paddle without being obstructed on every stroke. It also has ventilation panels in the front and back to keep you cool. And the best part? Because of it's design it actually stays in place when you're paddling.
Tip #5: Choose The Right Size Paddle
When it comes to sizing a paddleboarding paddle, you want it to be around 8 to 12 inches taller than your height. This will give you a really good starting point but as you get more advanced then it's a smart move to adjust your paddle to match what you're doing.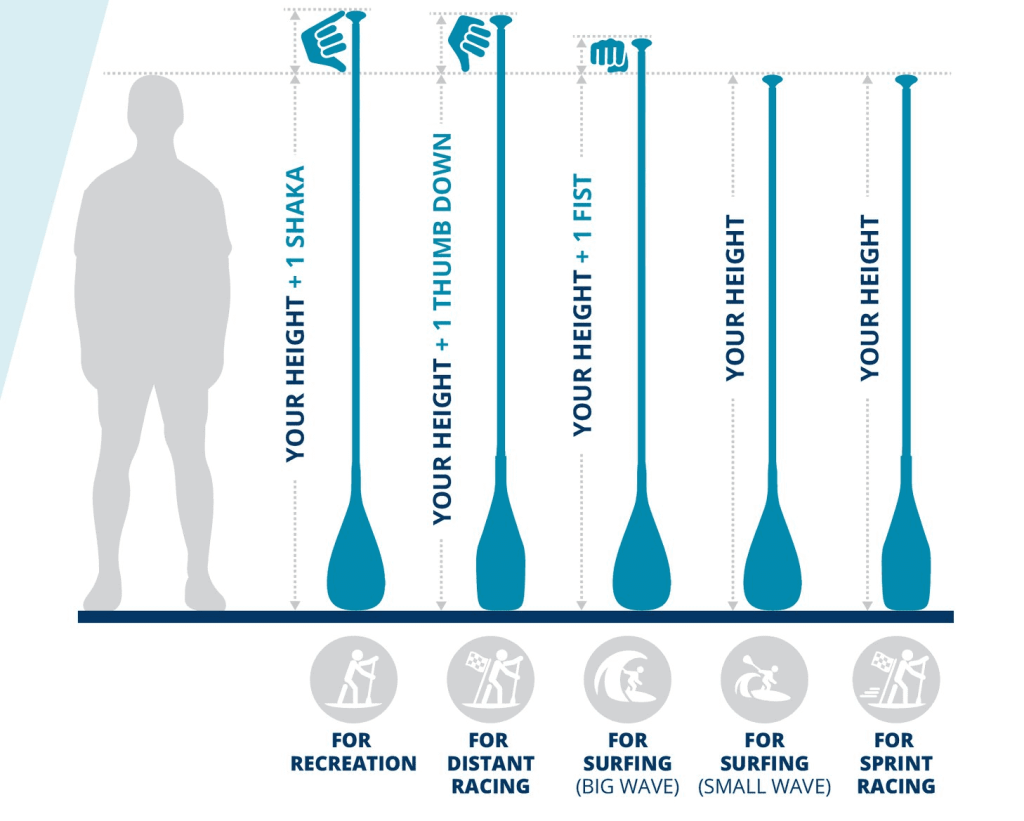 Image credit: @Starboardsup
You can use this infographic above for more information about how to size your paddle.
Tip #6: Learn to Fall Safely
Falling into the water is part of the paddleboarding journey. Embrace it with a sense of humor and learn to fall safely (Even the pro's fall off). You want to make sure that you are at least aware of how to fall properly so that you can prevent silly injuries and niggles that could have been prevented.
The trick is to try to fall away from your board to avoid collisions, and always surface with a smile – it's all part of the fun! You have a leash attached so it's not a big deal and your board isn't going to float away. But if you can fall away from the board then you'll avoid hitting the board or a nasty paddleboard fin.
That sounds like a big win to me 🙂
Tip #7: Learn To Get Back On The Paddleboard Correctly
This is a follow on from tip #6 because if you fall off the board when paddleboarding then you need to get back on, right? Here's how to do it:
Tip #8: Always Use A Coiled Leash
Now this is a bit of an abstract tip but it's crucial to use a coiled leash instead of a straight one. Now the reason that we do this is because a straight leash will drag in the water and snag on things like rocks and seaweed (you don't want this to happen). This is basically just asking for a situation where you have to constantly be pulling your leash off of random objects.
Here is my recommendation: BPS Storm Premium Leash
Once you've got one of those then you're going to have a much better experience out on the water.
Tip #9: Try To Look At The Horizon
When you first start paddleboarding and you feel all wobbly on the board, it's extremely natural to want to look down at the SUP. But if you've ever actually tried to do that then you'll quickly notice that this will make you wobble more. The reason this happens is because you will hunch over and lean back – which is a recipe for fallling.
The big secret is to look at the horizon and stare at where you want to go. What this does is it naturally lifts your posture up: It straightens your back, lifts to your head and brings your body weight over your toes. This will give you much more stability and will make it a much more pleasant experience for you.
Tip #10: Check The Weather Before You Go
This might seem really obvious, but you want to be mindful of the weather and water conditions. Wind, tides, and currents can impact your experience – if you're in the sea then the wind can make the waves much choppier and harder to manage, so it's always worth knowing this before-hand, right?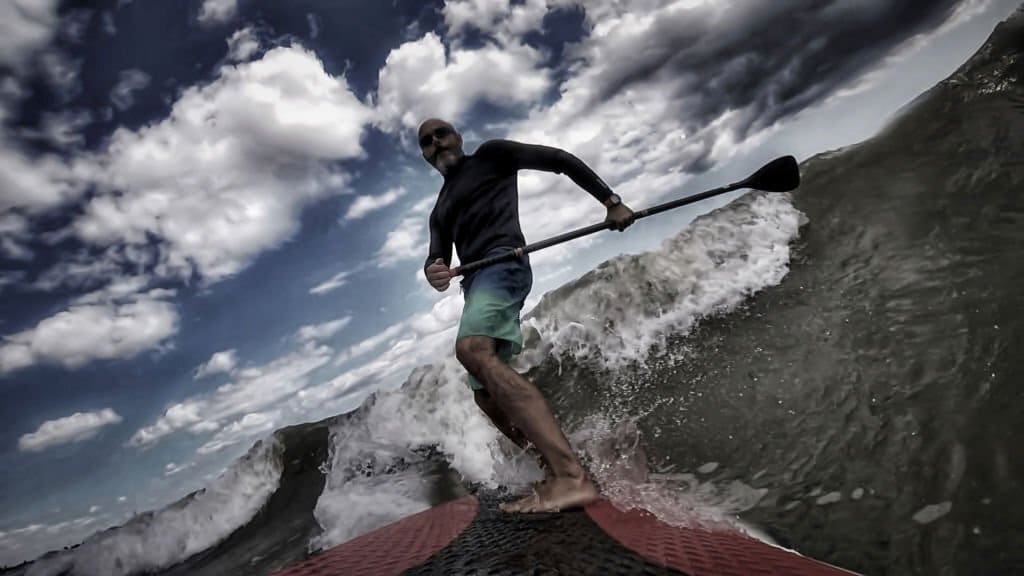 Check weather forecasts and consider postponing your trip if conditions are unfavorable. Safety should always come first. And all this will do is make sure that you have a better experience.
Tip #11: Make Sure That You're Dressed Properly
When you're out on the water, you become exposed to the elements. There's literally nowhere to go on a hot day besides hiding under your board. So make sure that you have the proper clothing for the weather conditions that you're going out in.
You want to wear a hat, sunglasses and sun cream in hot weather conditions… And a rash vest, wetsuit (or even a drysuit) in the winter to make sure that you're nice and cosy in the water.
Tip #12: Stay Hydrated
Paddleboarding can be surprisingly physical, so remember to stay hydrated. Bring a water bottle with you, and take breaks to sip water and enjoy the scenery. It's essential to keep yourself fueled and energized throughout your adventure.
Men need to drink about 15.5 cups (3.7 liters) and women need about 11.5 cups (2.7 liters) every single day. The number goes up when you're exercising because you are sweating! If you're paddleboarding casually then its a smart idea to look at a paddleboard cooler to make sure you have snacks and drinks on your journey.
My Recommendation: Yeti Hopper Flip 12
Tip #13: Share the Experience
Paddleboarding is more enjoyable when shared with others. Consider inviting friends or family to join you. Sharing laughter and memories on the water enhances the overall experience and creates lasting bonds. Not only does this keep you safer, but it also makes it more fun!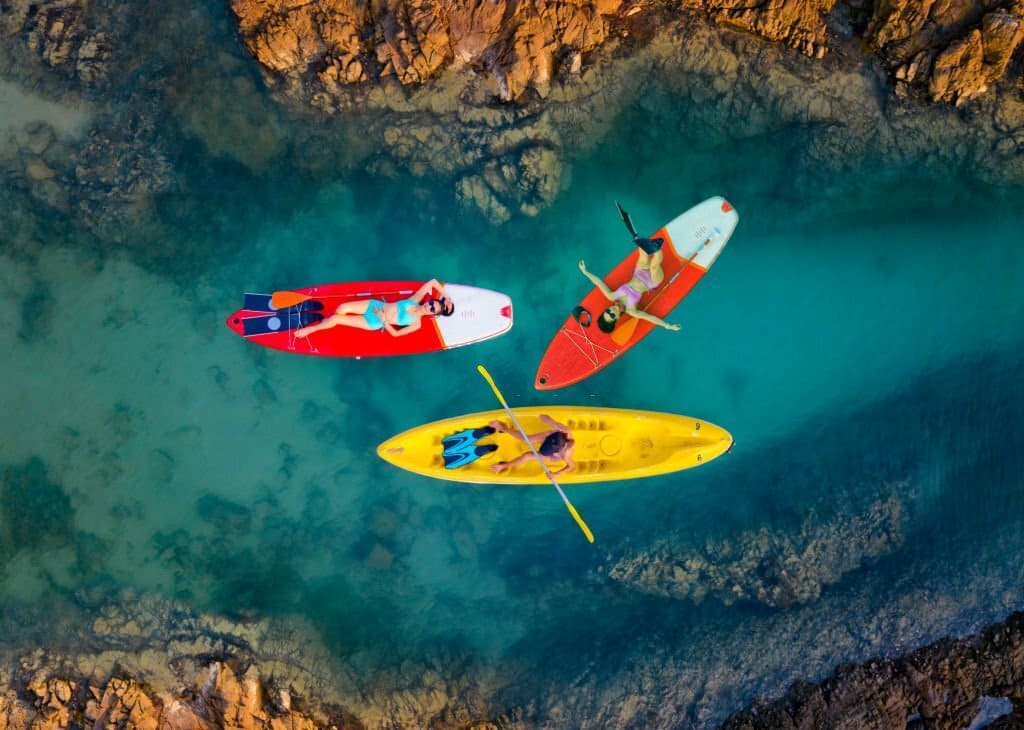 And if for whatever reason you can't go with friends or family members then I always think that it's a good idea to take a camera with you to record your experience because it's always fun to show people all the different locations that you saw (PLUS – take some fancy photo's of you standing 😉 )
My Recommendation: GoPro HERO 11 Black
Tip #14: Look After Your Board and Paddle
A beginners paddleboard is big and bulky (this makes it easier to balance). And they also cost a pretty penny if you want to get a good SUP. So my advice is to always look after your SUP and paddle because it will make them last significantly longer.
Here is a video that shows you how to maintain your SUP:
A little basic care goes a long way! Rinse them with cold water after you're done to get the salt off them, check for damage and make sure that you always leave them out the sun. A paddleboard sock is an AMAZING thing to have to prevent sund damage and basic damage.
My Recommendation: Ho Stevie! SUP Sock Cover
Tip #15: Have A Post-Paddle Routine
After your paddleboarding session, don't forget to stretch your muscles. Perform simple stretches to relieve any tension in your legs, arms, and back. If you don't do this you're going to have some seriously stiff muscles the first time that you go out there.
Some yummy recovery treats can often help you. My favorite post paddling treat is to grab a Grenade bar – these are low sugar and high protein bars that taste really nice after a paddle. Check them out.
My Recommendation: Grenade Carb Killa – White Chocolate Cookie
Conclusion
In conclusion, paddleboarding is a fantastic way to connect with nature, stay active, and enjoy quality time outdoors. By following these 15 tips, you'll set yourself up for a fantastic first-time paddleboarding experience. Remember to prioritize safety, choose the right equipment, and most importantly, have fun on the water!
You got this 🌊🏄‍♂️💦
Paddleboarding FAQs
Is paddleboarding suitable for beginners?
Absolutely! Paddleboarding is beginner-friendly, especially when you choose calm waters and follow safety guidelines. In my experience – for beginners the most important factor is to find a calm location.
Do I need prior experience to start paddleboarding?
Not at all. Paddleboarding is easy to pick up, and you can learn the basics quickly. Watch the video below to get a clear idea on how to start paddleboarding and you'll be ready to go in no time at all 🙂
What should I wear for paddleboarding?
Wear comfortable swimwear or athletic clothing, and don't forget sunscreen and a hat.
Can children join in on the fun?
Yes, paddleboarding can be enjoyed by people of all ages, but make sure children have appropriate supervision and safety gear. It's ar really good idea for children to use a paddleboard that matches their size for them to have a good experience.
How long does it take to become proficient at paddleboarding?
With regular practice, most beginners become proficient within a few outings. The more you paddle, the more confident you'll become. There are ways to improve faster, and the easiest path to doing that is to follow a step-by-step process on how to stand properly and master the basics of paddleboarding.