*We may earn a commission for purchases made using our links. Please see our disclosure to learn more.
If you're looking for an amazing SUP location then Hilton Head is a good place to look :). If you're about exploring scenic waterways and staying active, then paddleboarding Hilton Head in South Carolina is the perfect paradise for you!

Its picturesque landscapes, calm waters, and diverse wildlife make it a haven for all kinds of water sports. In this article, I'll share my favorite paddleboarding spots and tips for an unforgettable experience.
So let's get started 🙂
Why Is Paddleboarding Hilton Head So Amazing?
Hilton Head Island offers an exceptional paddleboarding experience due to its unique combination of stunning beaches, serene marshes, and beautiful estuaries. The island's commitment to preserving its natural beauty ensures that paddleboarders can explore untouched areas teeming with wildlife.
Paddleboarding Hilton Head: The Best Locations
Let's explore some of the best paddleboarding spots on Hilton Head Island:
You can view the different spots on the interactive map or you can read below for more information about each of them.
Location #1: Palmetto Dunes
Palmetto Dunes is a paddler's dream with its calm lagoon system that winds through the resort area. The lagoon's still waters are perfect for beginners and those seeking a relaxing paddle. You might even encounter some friendly dolphins along the way!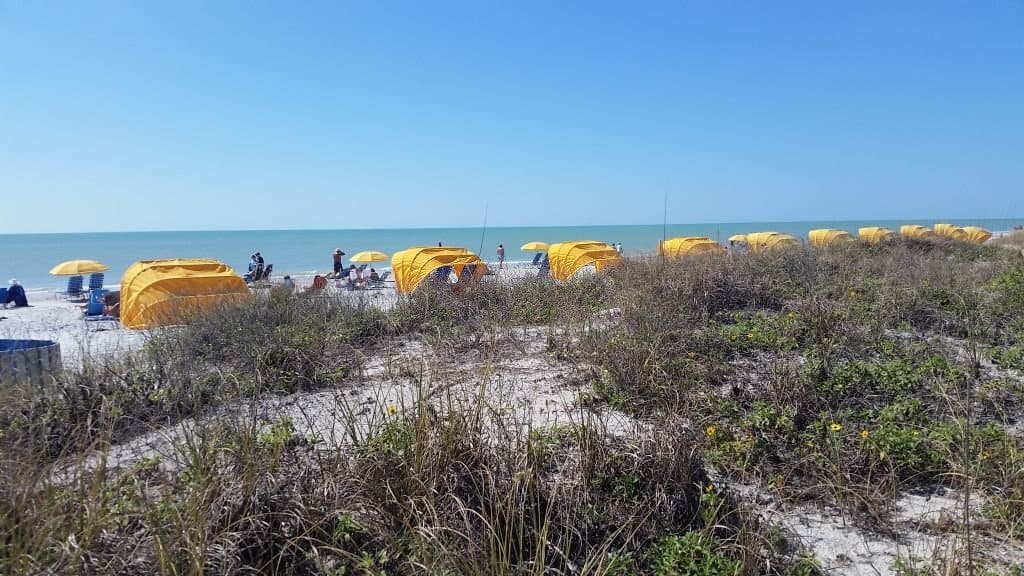 Location: Google Maps
Location #2: Shelter Cove Harbor
For a more adventurous experience, head to Shelter Cove Harbor. This vibrant marina offers paddleboarders a chance to explore the Broad Creek and its numerous little islands. The stunning views and diverse marine life will leave you in awe.
Location: Google Maps
Location #3: Pinckney Island National Wildlife Refuge
If you crave an escape into nature, Pinckney Island NWR is the place to be. Paddle through the pristine creeks surrounded by lush greenery and keep an eye out for migratory birds and playful river otters.
Location: Google Maps
Location #4: Coligny Beach Park
Coligny Beach Park offers a fantastic blend of beach and water fun. Paddle along the shoreline, soak in the sun, and enjoy the refreshing sea breeze. This spot is perfect for families and those who want to combine paddleboarding with a beach day.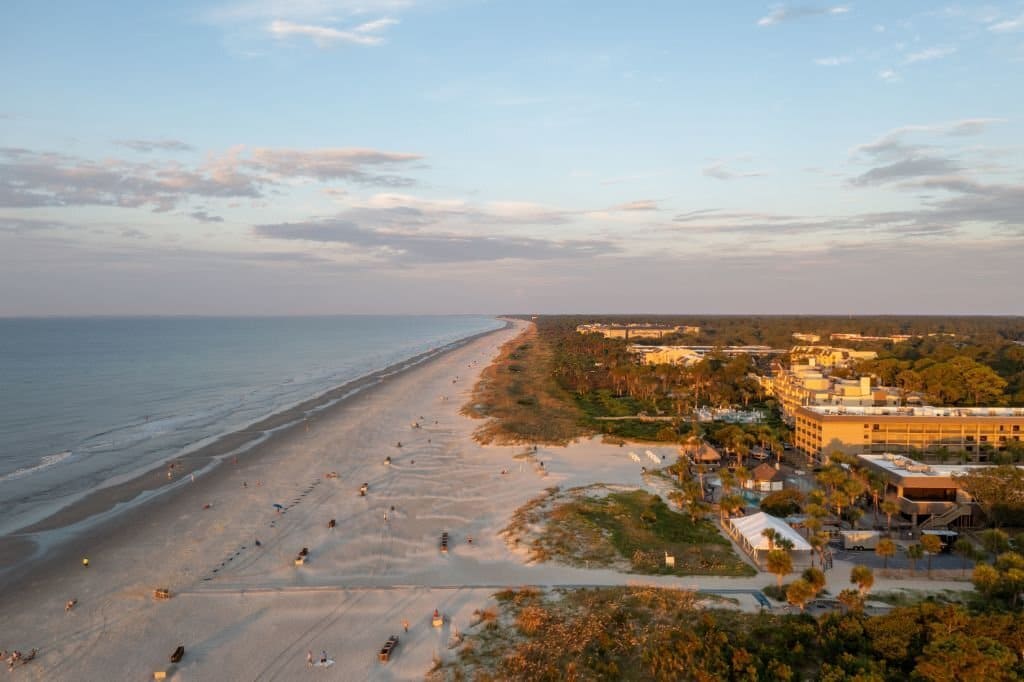 Location: Google Maps
Location #5: Jarvis Creek Park
Located off William Hilton Parkway, Jarvis Creek Park offers a serene and picturesque setting for paddleboarding. The creek's gentle currents make it an ideal spot for beginners and those looking for a tranquil paddling experience. Keep an eye out for various bird species that call this park home.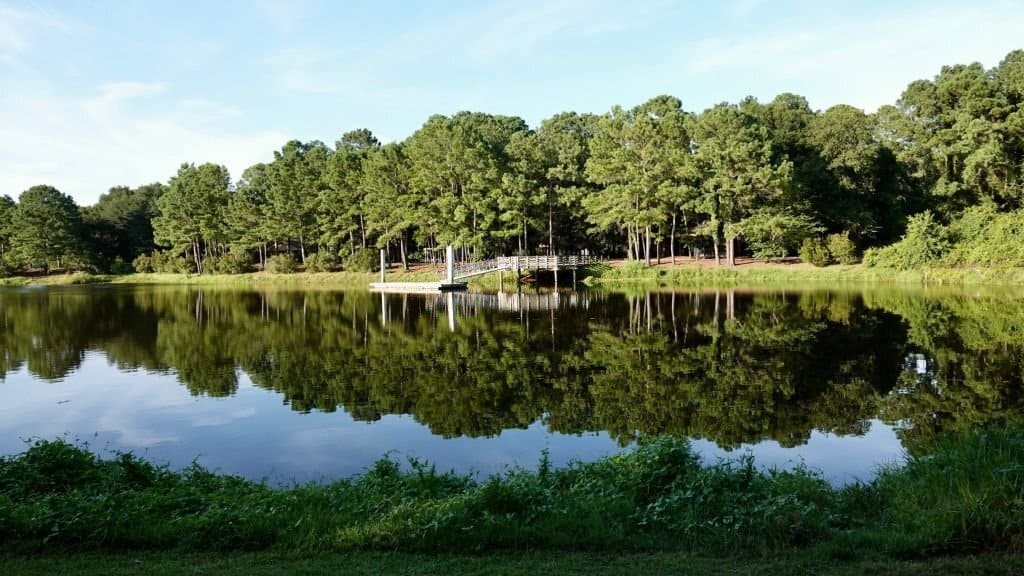 Location: Google Maps
Location #6: Skull Creek
For more experienced paddleboarders seeking a bit of a challenge, Skull Creek is a must-visit destination. Located between Hilton Head Island and the mainland, this area offers a mix of tidal currents and scenic beauty. It's also a great place for water sports enthusiasts to try paddleboarding in different conditions.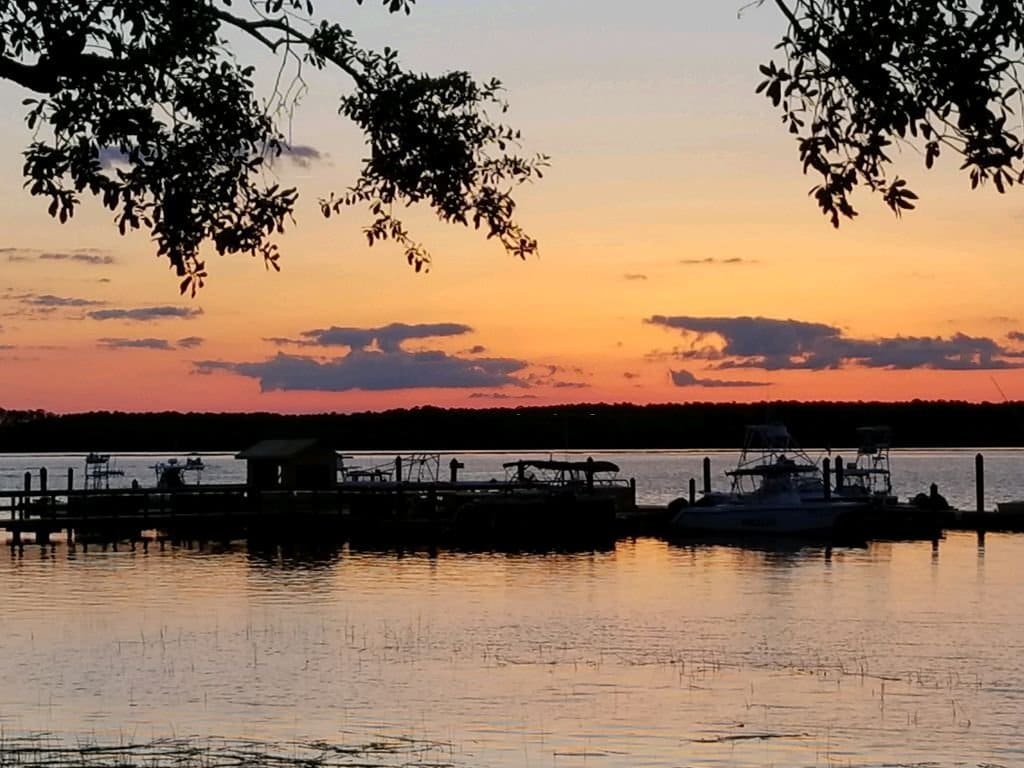 Location: Google Maps
Location #7: Daufuskie Island
While not technically on Hilton Head Island, Daufuskie Island is just a short paddle away and well worth the journey. Explore the historic island's secluded beaches and marshes, as well as its fascinating cultural heritage. Paddling to Daufuskie Island adds an adventurous element to your paddleboarding experience.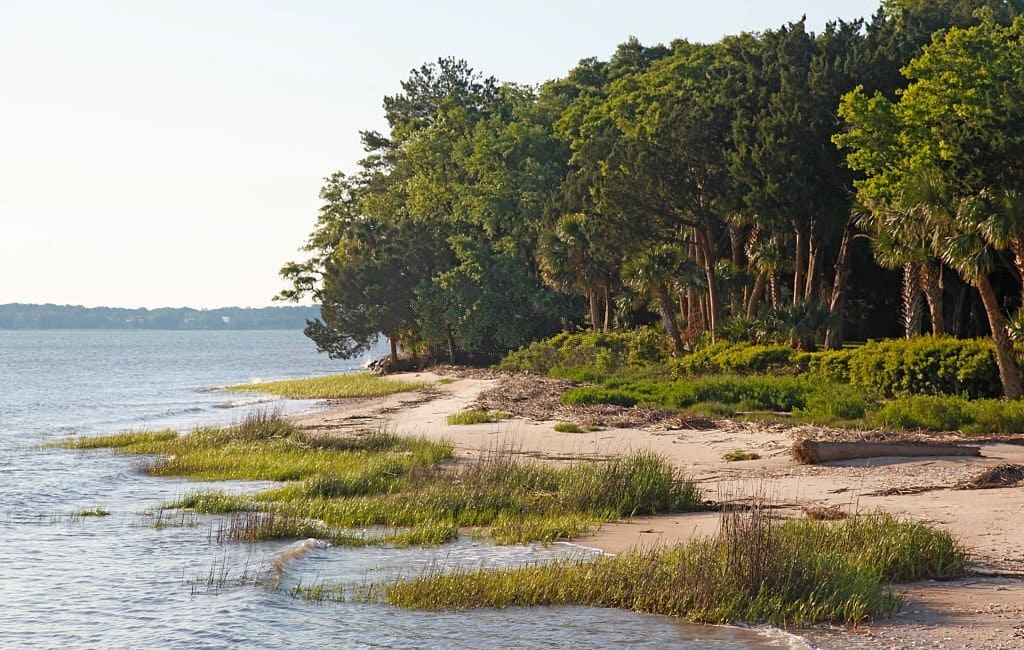 Location: Google Maps
Location #8: Calibogue Sound
Calibogue Sound is a fantastic spot for intermediate and advanced paddleboarders looking for a challenging yet rewarding experience. Located on the southern tip of Hilton Head Island, this area offers stunning views of the Atlantic Ocean and the sound's vast expanse. The best place to access it is through South Beach and then just paddle out. Be prepared to navigate through tidal currents, but the effort is well worth it for the breathtaking vistas and the chance to spot marine life such as dolphins and sea turtles.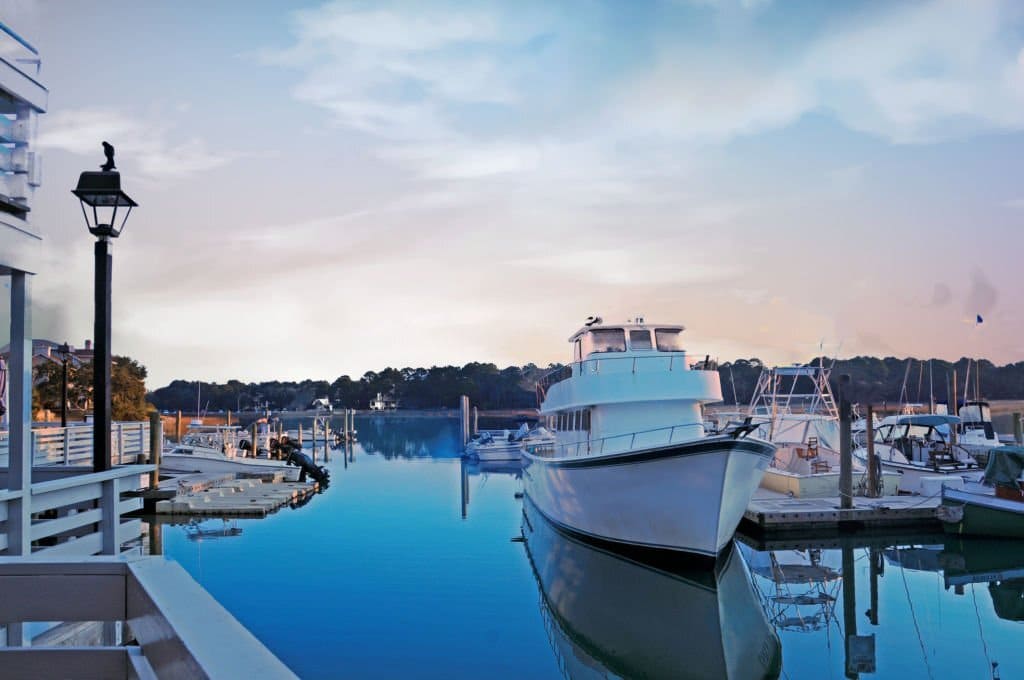 Location: Google Maps
Best Times for Paddleboarding Hilton Head
The best time to paddleboard in Hilton Head is during the early mornings or late afternoons. The temperatures are pleasant, and you'll have a better chance to spot wildlife. Avoid paddling during peak sun hours to prevent sunburn and exhaustion.
These times are also great because you avoid most of the crowds. So if you're looking for a peaceful paddling experience then this is a good move on your part 🙂 I personally love the mornings but the choice is yours.
The next question that I get all the time is…
"Do I need to buy a paddleboard or should I rent one?"
My advice for this question is always the same. You're never going to have the same experience on a rented board that you will on one you already own. So if you love paddleboarding and want to make it more of a lifestyle then go ahead and buy one.
With changes in production technology and the number of brands that are out there you can easily get a great board on a budget.
But if you don't feel like you want to regularly paddleboard or you're not quite sure…
Then you should definitely go ahead and rent a board to try it out, there's no harm in making an educated decision, right?
Here are the best rental companies and tours in the area.
Paddleboard Rental Services
If you don't have your own paddleboard, no worries! Hilton Head offers various rental services where you can find high-quality SUP boards and equipment for your adventure.
Got it? Good!
Here are some of the best paddleboard rental companies for paddleboarding Hilton Head.
SUP Rental Price: $35 for 2 hours
SUP Tour Price: $40 per person
Address: 101 Marshland Rd,
Hilton Head Island, SC 29926, United States
Directions: Google Maps
Telephone Number: +1 843-422-3965
SUP Rental Price: $40 for 1 hour
Address: 43 Jenkins Island Rd,
Hilton Head Island, SC 29926, United States
Directions: Google Maps
Telephone Number: +1 843-842-4754
Safety Tips for Paddleboarding Hilton Head
Safety is paramount when engaging in any water sport. Here are some essential safety tips for your paddleboarding expedition to make sure that it goes "swimmingly"…
Wear a Life Jacket
Always wear a properly fitted life jacket, especially if you're a beginner or planning a long-distance paddle. It ensures your safety and provides peace of mind. You never know what can happen in the water so it's always better to be prepared.
Check Weather Conditions
Before heading out, check the weather forecast and tide times. Sudden weather changes or strong currents can make paddling challenging and dangerous.
Here is a detailed 7-day weather forecast that you can use to plan your next trip:
HILTON HEAD ISLAND WEATHER
Know the Tides
Understanding tidal patterns is crucial, especially in the marshy areas of Hilton Head. Plan your paddle to coincide with the tide, making it easier to navigate through narrow waterways. Try and avoid times where the tides are changing because it can lead to strong currents.
Wear Appropriate Gear:
Wearing a life jacket or personal floatation device is crucial for your safety. Additionally, make sure that you wear a coiled leash to ensure your board stays close if you fall (especially in the ocean).
Fun Activities while Paddleboarding Hilton Head
Paddleboarding doesn't ONLY need to be about gliding on the water. You can make your experience even more memorable by trying these fun activities:
Wildlife Spotting
Keep your eyes peeled for Hilton Head's diverse wildlife. Spotting dolphins, manatees, birds, and even alligators can add an exciting touch to your adventure.
Sunrise and Sunset Paddles
Witnessing the sunrise or sunset from your paddleboard is a magical experience. The sky painted in hues of orange and pink will leave you in awe of nature's beauty. And Hilton Head really is a beautiful place, so it's really worth waking up early to catch the sun rise.
Make sure that you have the right accessories to ensure that you're visible and have a great experience.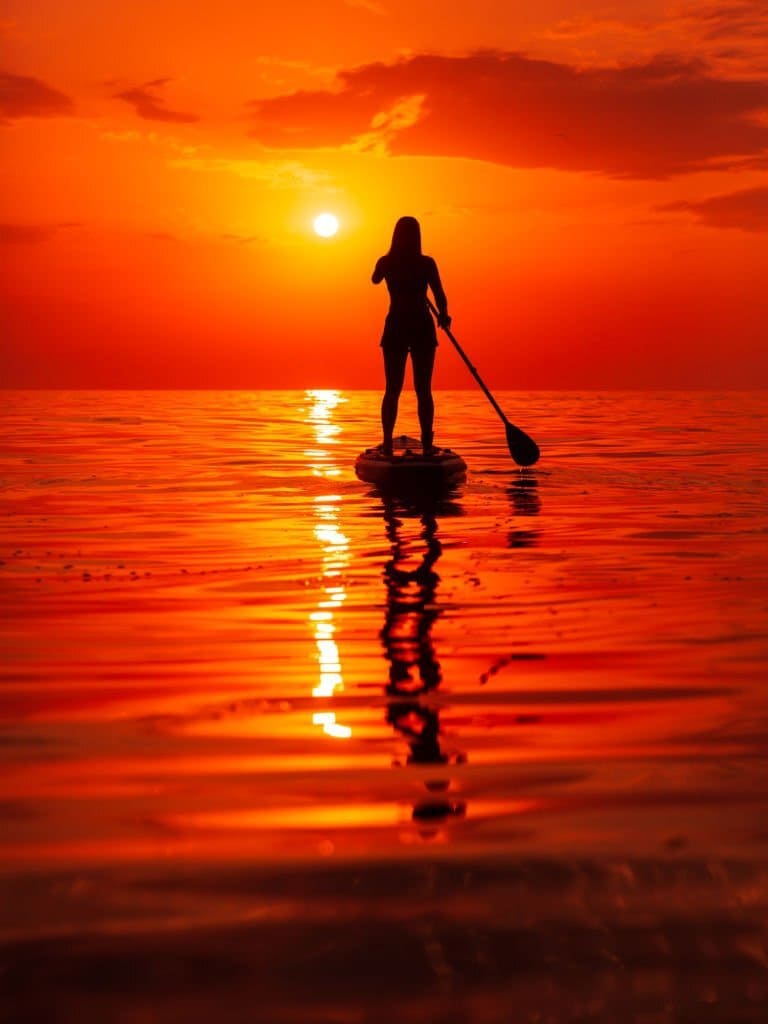 Paddleboard Yoga
You can also have a go at doing some paddleboard yoga on some of the calmer waters in Hilton Head. Doing yoga on a SUP is a really peaceful experience and the best part is that you can make it hard or as easy as you want so that it matches your body type and fitness goals.
Conclusion
Paddleboarding in Hilton Head, South Carolina, is an experience like no other. With its breathtaking landscapes, abundant wildlife, and tranquil waters, the island offers the perfect setting for paddlers of all levels. So, grab your paddleboard, embrace the adventure, and make unforgettable memories on the serene waters of Hilton Head.
FAQs
Is Paddleboarding suitable for beginners?
Absolutely! Hilton Head's calm waters and rental services cater to beginners, providing a safe and enjoyable experience. Make sure that you know how to stand and you're all good.
Do I need to be a strong swimmer to paddleboard?
While being a strong swimmer is beneficial, a life jacket and staying in shallow waters ensure safety for non-swimmers. So you don't need to worry about it 🙂 Just don't go into the deep waters and you'll be perfectly fine.
Can I paddleboard alone?
Yes, you can paddleboard alone, but it's always safer and more fun to have a buddy or join a guided tour. It's also always more fun to SUP with someone else because its a bonding experience.
What should I wear while paddleboarding?
Wear comfortable clothing suitable for water activities and apply sunscreen to protect against sunburn.
Are there any age restrictions for paddleboarding?
There are no strict age restrictions, but young children should be supervised by adults, and older individuals should assess their physical capabilities before paddling.
Which is a more popular SUP destination? North Carolina or South Carolina?
This is a question that I get a surprising amount. I think it has to do with 'Carolina' being in both of them ;). But there's no right or wrong answer here. I love Hilton Head enough to write an entire article on it, but there are some great locations in North Carolina also like the Outer Banks region and even Canadian Hole in Hatteras Island. It's up to the paddlers invidividual preference and I recommend you try them out both and make your own mind up.