*We may earn a commission for purchases made using our links. Please see our disclosure to learn more.
When it comes to exploring beautiful locations, paddleboarding Key Biscayne is definitely one place that stands out above the rest. This barrier island paradise, located just off the coast of Miami, Florida – boasts some of the best paddleboarding spots in the region.
If you are thinking of paddleboarding Key Biscayne then I strongly suggest that you do it!
So join me as I take you on a paddling adventure through the best places to paddleboard in Key Biscayne.
Paddleboarding Key Biscayne: Best Locations
Here are some of the best locations that I've found for paddleboarding in Key Biscayne, use the interactive map below and read below for more information.
Location #1. Crandon Park Beach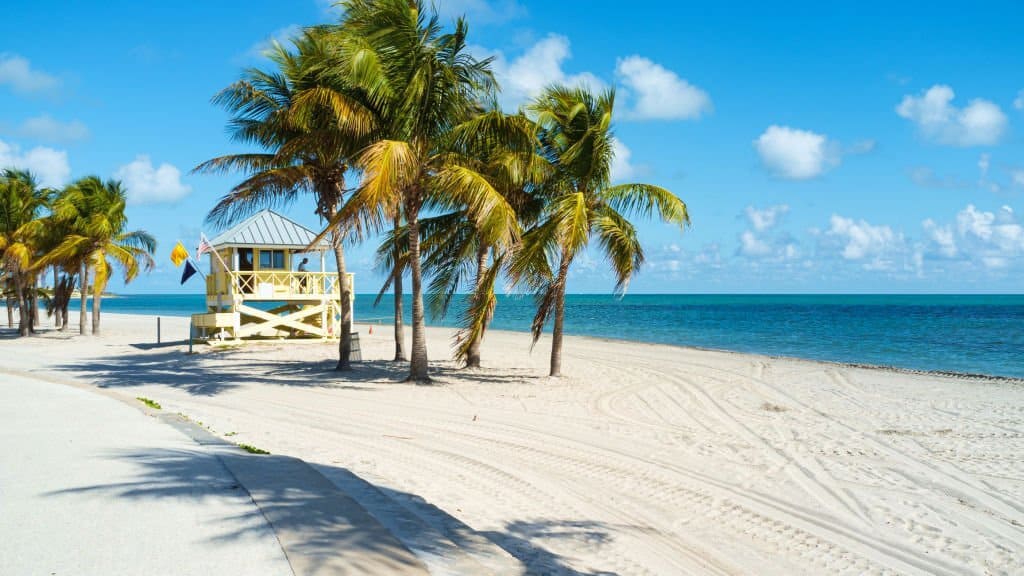 Crandon Park Beach is a slice of paradise on Key Biscayne, known for its crystal-clear waters and pristine sandy shores. As a paddleboarder, this place offers everything I could wish for—gentle waves, calm waters, and a serene atmosphere. The beach stretches for miles, providing ample space for paddleboarding fun.
One of the highlights of Crandon Park Beach is its extensive mangrove trails. These natural waterways are perfect for exploration and offer a unique opportunity to get up close to the island's vibrant ecosystem. Paddling through the mangroves is a serene and peaceful experience, with the possibility of encountering fascinating marine life.
Location: Google Maps
Location #2: Bill Baggs Cape Florida State Park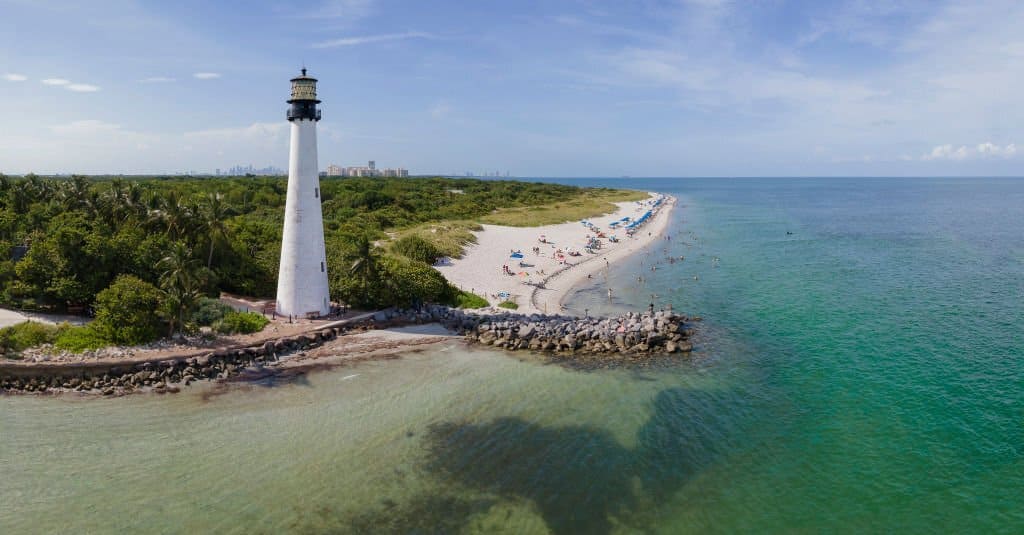 Bill Baggs Cape Florida State Park is a hidden gem nestled at the southern tip of Key Biscayne. The park's stunning landscapes and diverse wildlife make it an ideal spot for paddleboarding. The waters surrounding the park are usually calm, providing a comfortable paddling experience even for beginners.
One of the iconic landmarks within the park is the Cape Florida Lighthouse. Paddling around the lighthouse offers a unique perspective of this historic structure and makes for an unforgettable experience. Besides the lighthouse, keep an eye out for dolphins, manatees, and various bird species that call this park home.
Location: Google Maps
Location #3: Virginia Key
Virginia Key is a must-visit destination for paddleboarding enthusiasts seeking a tranquil and picturesque location. The island's serene lagoon offers a calm and gentle paddling experience, making it suitable for both beginners and seasoned paddlers. The absence of strong currents ensures a safe and enjoyable time on the water.
Apart from the peaceful lagoon, Virginia Key is known for its eco-adventures and guided paddleboard tours. Exploring the island with a knowledgeable guide opens up opportunities to learn about the local flora and fauna while enjoying the beauty of the surroundings.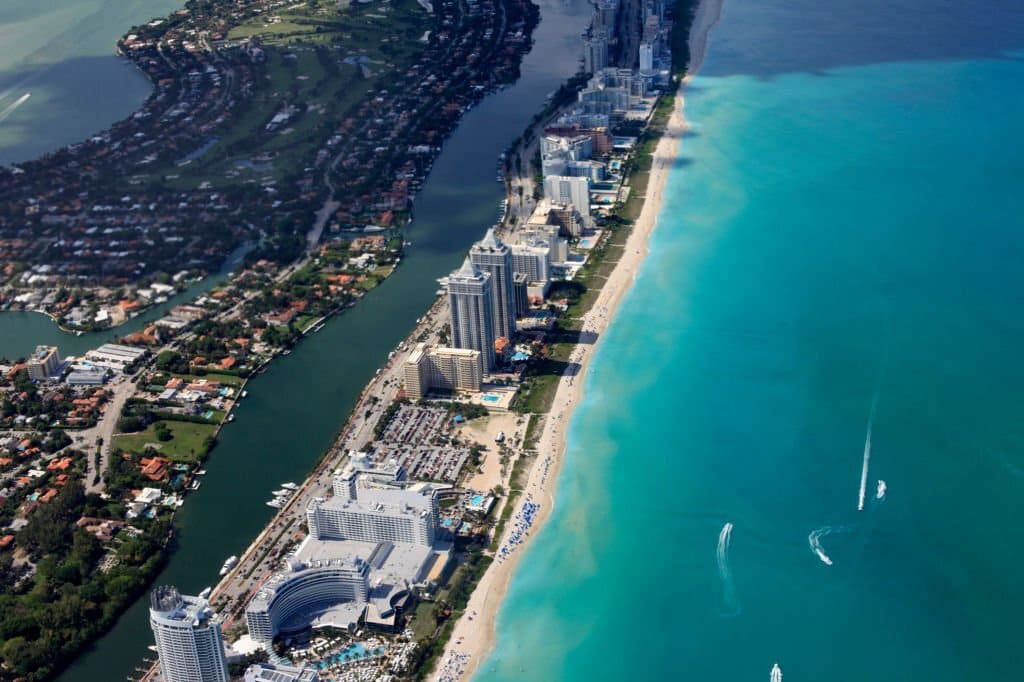 Location: Google Maps
Location #4. Bear Cut Preserve
Bear Cut Preserve is a hidden oasis on the northern end of Key Biscayne, offering paddleboarders a unique and secluded experience. This pristine location boasts stunning views and rich marine life, making it a haven for nature enthusiasts.
The area is renowned for its coral reefs, which are home to a diverse array of marine creatures. As an advanced paddler, I relish the challenge of navigating around the reefs and the sense of accomplishment that comes with it. However, I always remind fellow paddlers to be cautious and avoid disturbing the delicate marine ecosystem.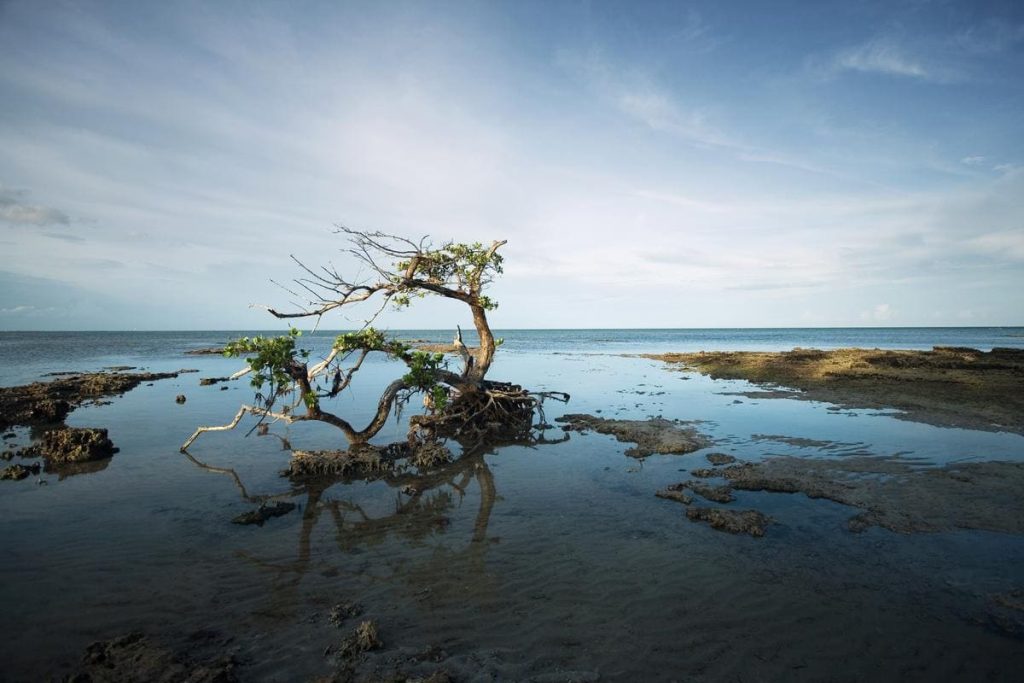 Location: Google Maps
Location #5. Hobie Island Beach Park
Hobie Island Beach Park is a paradise for paddleboarding enthusiasts seeking a quieter and less crowded spot. The beach's serene ambiance allows for a peaceful and enjoyable paddling experience. Whether you're a beginner or an experienced paddler, this spot caters to all skill levels.
One of the highlights of paddling at Hobie Island Beach Park is the opportunity to witness the breathtaking sunset views. Paddling along the calm waters as the sun sets on the horizon is a surreal experience that truly connects you with nature.
Location: Google Maps
Location #6: Crandon Marina
Crandon Marina is a fantastic location for paddleboarding in Key Biscayne, offering a unique experience of paddling within a marina environment. The marina is a popular hub for boaters, and paddleboarding here provides an opportunity to see various boats and yachts up close.
While paddling in the marina, you can enjoy panoramic views of the Miami skyline, making it a picturesque spot for paddleboarding enthusiasts who appreciate cityscapes. The waters in the marina are generally calm, making it suitable for both beginners and experienced paddlers.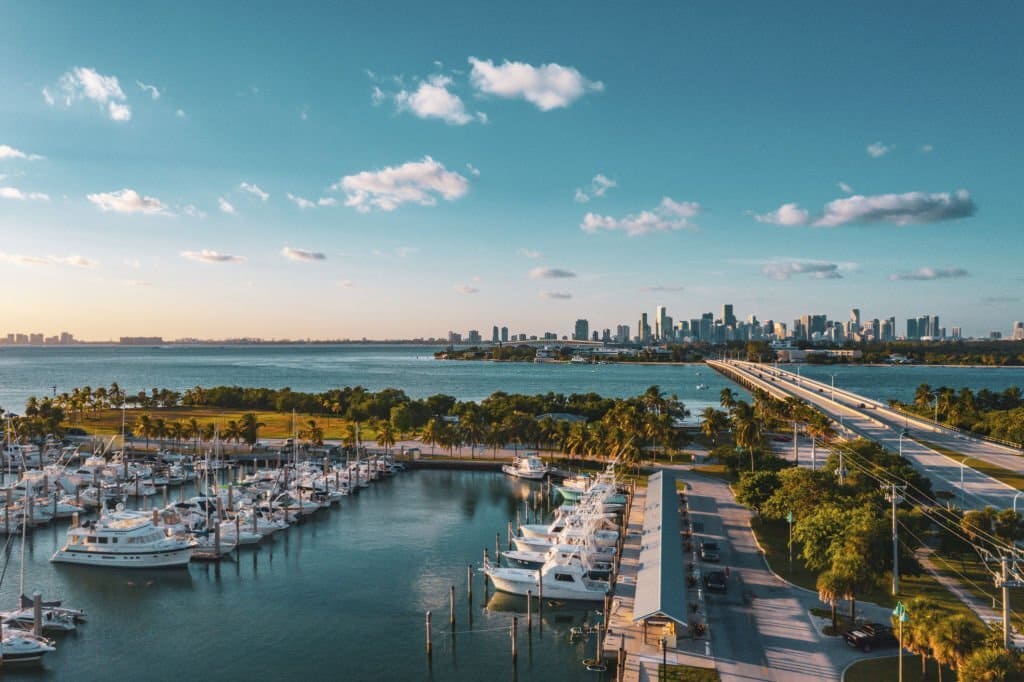 Location: Google Maps
Safety Tips for Paddleboarding Key Biscayne
While Key Biscayne offers incredible paddleboarding opportunities, safety should always be a top priority.
Before setting out on the water, there are several important safety tips to keep in mind:
Always Check Weather Conditions:
This might seem simple, but always check the weather forecast before heading out. Sudden changes in weather can impact water conditions, and it's best to avoid paddling during storms or strong winds.
You can see a detailed and up-to-date weather guide below:
KEY BISCAYNE WEATHER
Wear Appropriate Gear:
Wearing a life jacket or personal floatation device is crucial for your safety. Additionally, make sure that you wear a coiled leash to ensure your board stays close if you fall (especially in the ocean).
Be Aware of Surroundings:
Familiarize yourself with the area and potential hazards. Keep an eye out for boat traffic and respect any posted guidelines or restrictions. There are many boats in the Key Biscayne area so you really want to keep an eye out for them and make sure that you're visible.
Best Time to Paddleboard in Key Biscayne
The best time to paddleboard in Key Biscayne is during the calm seasons when the weather is favorable and tourist crowds are minimal. Consider the following factors:
| | |
| --- | --- |
| Weather Patterns: | Key Biscayne experiences a subtropical climate, with relatively warm temperatures year-round. The winter months offer milder weather and are ideal for paddling so try and prioritize visiting in the cooler seasons. |
| Off-Peak Seasons: | Avoiding peak tourist seasons allows for a more peaceful and enjoyable paddling experience. Consider visiting during spring or fall when the crowds are thinner. This can make your paddleboarding Key Biscayne experience significantly better because you won't be fighting with crowds. |
The next question that I get all the time is…
"Do I need to buy a paddleboard or should I rent one?"
My advice for this question is always the same. You're never going to have the same experience on a rented board that you will on one you already own. So if you love paddleboarding and want to make it more of a lifestyle then go ahead and buy one.
With changes in production technology and the number of brands that are out there you can easily get a great board on a budget.
But if you don't feel like you want to regularly paddleboard or you're not quite sure…
Then you should definitely go ahead and rent a board to try it out, there's no harm in making an educated decision, right?
Here are the best rental companies and tours in the area.
Paddleboard Rental and Tours
There are many different destinations that I've included above so I categorized them per location. All you have to do is choose your paddleboarding location above and then look where to rent below.
Biscayne Bay Area:
Rental Shop: Miami Beach Paddleboard
Price for 1 day: $160
Address: 1701 Sunset Harbor Drive C-102, Miami Beach, FL 33139
Contact Number: +1 (786) 428-4402
Directions: Google Maps
Virginia Key Area:
Rental Shop: Virginia Key Outdoor Center
Price for 1/2 day: $60
Address: 4020 Virginia Beach Dr, Miami, Florida, FL 33149
Contact Number: +1 (786) 224-0200
Directions: Google Maps
Key Biscayne Area:
Rental Shop: PADL
Price for 1 hour: $25
Address: 695 Ocean Dr, Key Biscayne, FL 33149
Contact Number: +1 (786) 749-6730
Directions: Google Maps
Miami River:
Rental Shop: iPaddle
Price for 1 day: $32.5
Address: 1275 NE 79th St #4206, Miami, FL 33138, United States
Contact Number: +1 (305) 472-3353
Directions: Google Maps
Guided Tours and Instructors:
If you're looking for a more guided experience, consider joining a paddleboard tour led by experienced instructors. They can take you to the best spots while sharing their knowledge about the area.
Here are a few recommendations:
Nature Paddleboard Adventures:
This company is run by a girl name Vanessa that is lovely. She has a few options for tours.
Nature on Paddleboard For First Timers:
This is a $69 tour where she takes you through the canals and mangroves around Miami and Key Biscayne. You'll get to see a lot of the wildlife and if you're lucky you can even find some manatees.
Sunset on Paddleboard Experience in FLL:
This is a tour that is through the New River in Downtown Fort Lauderdale and you can see many historic areas with sunset views. This is a romantic experience if you are going with a partner. The price is $59
Night On Paddleboard Under The Lights:
This is a $59 tour that will take you through downtown Fort Lauderdale at night with all the lights. Paddleboarding Key Biscayne areas at night is a really awesome experience that I don't think you'll ever regret.
Paddleboard Key Biscayne: Environmental Conservation
As paddleboarders, I believe that we have a responsibility to protect the marine ecosystems that we explore. Key Biscayne is beautiful and has so many different animals that call it home.
Here are some ways to practice environmental conservation while paddleboarding in Key Biscayne:
| | |
| --- | --- |
| Importance of Protecting Marine Ecosystems: | Understand the significance of preserving the delicate marine life and habitats that make Key Biscayne such a remarkable destination. |
| Responsible Paddleboarding Practices: | Avoid disturbing marine life and refrain from leaving any trash or debris behind. Always follow Leave No Trace principles. |
| Supporting Local Conservation Efforts: | Contribute to local organizations dedicated to preserving the natural beauty of Key Biscayne. Volunteering for beach cleanups is also an excellent way to give back to the community. |
Conservation is actually pretty easy – we just complicate things. All you have to do is leave the place like you found it and treat the animals with respect. If we all did that then it would be a beautiful world 🙂
What to Pack for a Paddleboarding Trip
Before going on a paddleboarding trip, make sure to pack the following essentials:
Essential Gear and Equipment: Include your paddleboard, paddle, and safety equipment like a life jacket and leash.
Sun Protection and Hydration: Wear sunscreen, a hat, and sunglasses to protect yourself from the sun. Bring enough water to stay hydrated throughout your adventure.
Snacks and Refreshments: Pack some energizing snacks to keep you fueled during your paddleboarding journey. You can even consider taking a paddleboard cooler with you and enjoy a drink or snack out in nature 🙂
Conclusion
Key Biscayne is a haven for stand-up paddleboarding enthusiasts, offering a diverse range of paddling spots suitable for all levels of experience. From the tranquil lagoons of Virginia Key to the stunning coral reefs of Bear Cut Preserve, every paddling adventure promises to be unforgettable. Remember to prioritize safety, practice environmental conservation, and fully immerse yourself in the joy of paddleboarding in this tropical paradise.
FAQs
Is paddleboarding suitable for beginners in Key Biscayne?
Yes, Key Biscayne offers several beginner-friendly spots with calm waters, making it a perfect place to start paddleboarding. Just make sure that you know exactly how to stand before you go 🙂
What is the best time of year to visit Key Biscayne for paddleboarding?
The winter months and the off-peak seasons of spring and fall offer the best weather and fewer crowds.
Can I rent paddleboards in Key Biscayne?
Yes, there are numerous shops and rental services on the island that offer paddleboard rentals. Read above for some recommendations with contact details and prices.
Are there guided paddleboard tours available?
Absolutely! Many experienced instructors offer guided tours, taking you to the best paddleboarding spots in Key Biscayne. Read above for some recommendations with contact details and prices.
What are some safety tips for paddleboarding in Key Biscayne?
Always wear appropriate safety gear, check the weather conditions, and be aware of your surroundings, especially boat traffic.
I hope you find this article helpful in planning your next paddleboarding adventure in Key Biscayne! Happy paddling!