*We may earn a commission for purchases made using our links. Please see our disclosure to learn more.
Picking the right SUP electric pump can feel overwhelming, with so many options available. Did you know that an efficient electric pump significantly reduces the time and effort of inflating your inflatable paddle board?
This article offers a truly comprehensive guide to help you navigate through the sea of pumps and choose one that fits your needs.
Skip past the hassles, dive into our ultimate guide, and let's find your perfect pump partner!
Purpose of an Electric Pump for SUP
An electric pump for SUP, or Stand Up Paddleboarding, serves a vital role. It inflates your paddle board quickly and efficiently, saving you time and energy before hitting the water.
It usually looks a little something like this: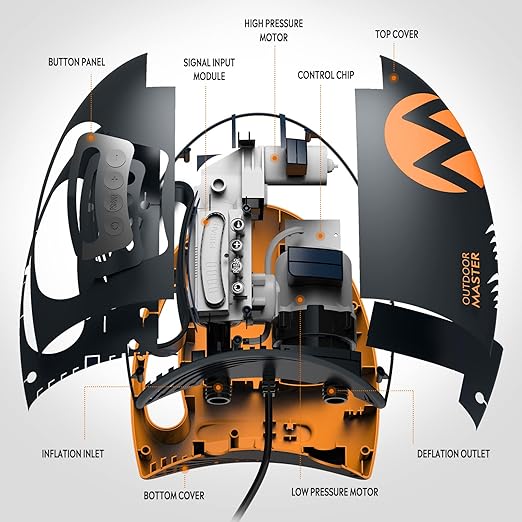 Moreover, it guarantees a consistent level of inflation that contributes to better stability and performance of your SUP.
The superiority of an electric pump over manual pumps lies in its precision. With digital displays on most models, you can set your desired PSI (Pounds per Square Inch) and let the pump do its work without worrying about under- or over-inflation.
Furthermore, many electric pumps come with auto shut-off features. This means once they reach the pre-set air pressure level, they automatically turn off – a significant benefit preventing potential damage to your inflatable paddle board.
Unquestionably suited for water sport enthusiasts who value convenience and speed above all else!
7 Amazing Paddleboard Air Pumps To Buy In 2024
So let's take a quick look at some of the best SUP electric pumps on the market right now so that you have some context about what we're talking about.
OUR 4 BEST PERFORMERS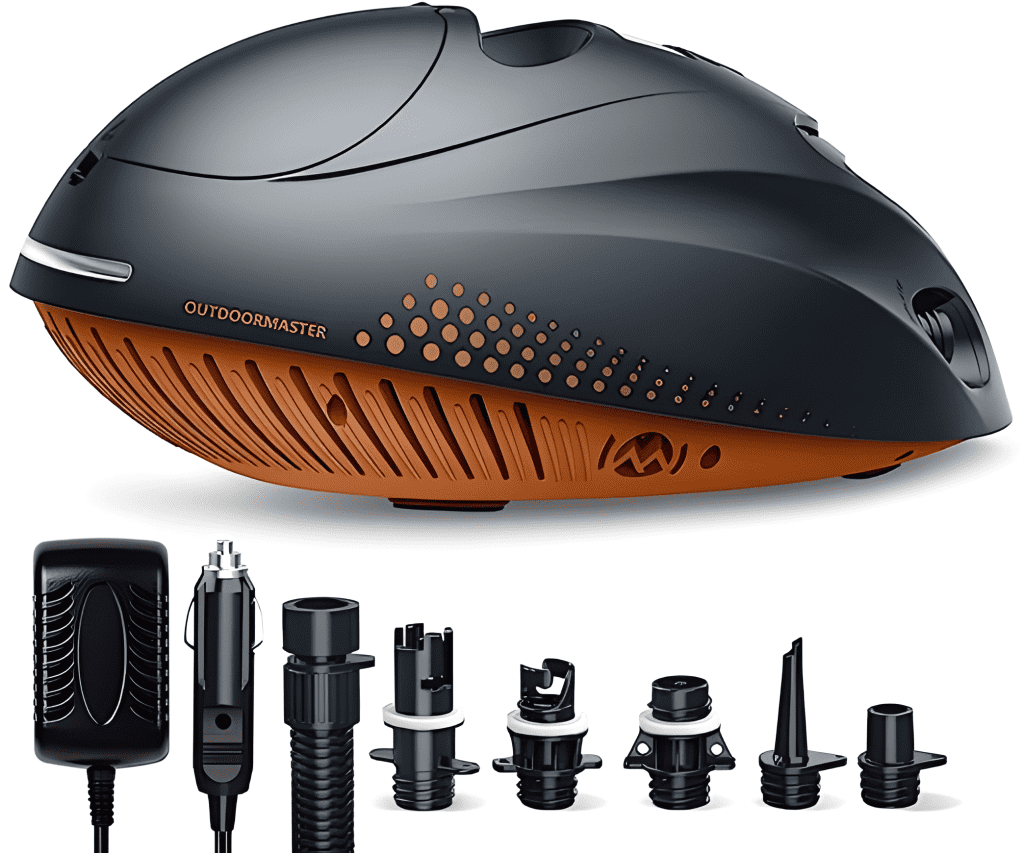 Where To Buy: Amazon
Key Specs & Features:
– 16PSI High Pressure Pump
– Auto-Off Protection Feature
– Can Inflate 3x Paddleboards In A Row
– Strong Cooling System
The top electric pump in our rankings is the Outdoor Master Whale Air Pump, consistently demonstrating unparalleled reliability and durability. Through rigorous testing under diverse conditions, it has consistently exceeded our expectations. Outdoor Master's established reputation in the electric pump market reinforces the confidence in this product.
Operating at 12 volts and delivering 16PSI, this paddleboard air pump boasts impressive power. Capable of inflating three large boards consecutively, it includes an auto-off function to prevent over-inflation, thereby enhancing the lifespan of your board. A standout feature is its dual-stage inflating process. Initially, it rapidly inflates your board at a rate of 350L/min, then seamlessly transitions to a slower 70L/min, ensuring precise inflation levels.
In our tests, this pump efficiently filled a standard paddleboard in just 11 minutes, a notably fast performance. An added advantage is its independence from the car's power source, thanks to a rechargeable battery, addressing a common limitation in many other pumps.
While it's essential to note that the pump cannot exceed 16PSI, this limitation is generally inconsequential, as most paddleboards should only be inflated to 15PSI. Overall, the Outdoor Master Whale Air Pump stands out as a top-tier choice, delivering speed, reliability, and convenience in one comprehensive package.
PROS
CONS
– Powerful pump that can quickly inflate 3x paddleboards
– Rechargeable battery (so it doesn't need to be connected to your car)
– Top notch cooling system will give it a long life span
– Higher price tag (but extra performance)
– Can't inflate above 16PSI
---
Paddleboard Air Pump #2: TOPUMP Air Pump (Best Battery Pump)
Where To Buy: Amazon
Key Specs & Features:
– 18PSI High Pressure Pump
– Auto-Off Protection Feature
– Can Inflate 3x Paddleboards In A Row
– Total Charge Time Of 2.5 Hours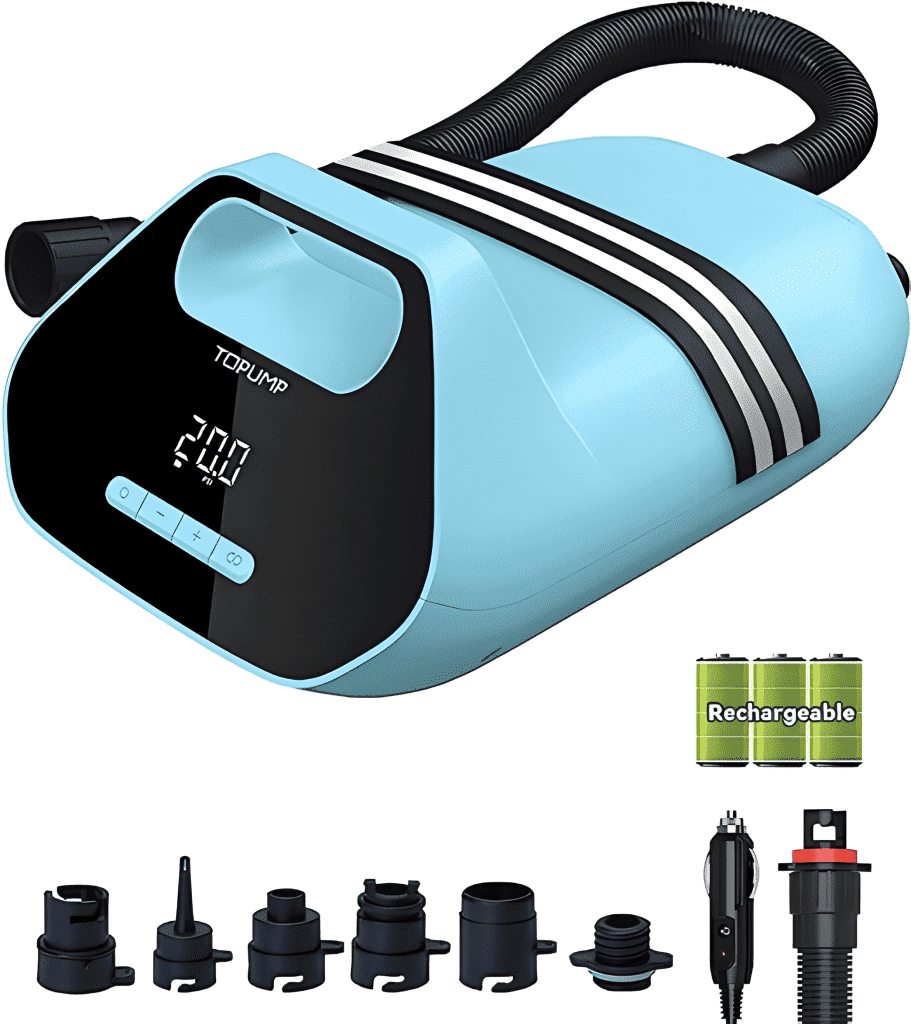 The TOPUMP stands out as an exceptional paddleboard air pump and came very close to securing the top spot in my 2023 rankings. Currently, it holds the title of the most powerful battery-operated electric pump on the market. A mere 2.5-hour charge empowers it to inflate 5 stand-up paddleboards (SUPs) consecutively, or for a quicker top-up, a 20-minute charge is sufficient for a single SUP, making it incredibly convenient.
Impressively, it achieves the inflation of a standard paddleboard in just 8 minutes, showcasing remarkable speed. What sets it apart further is its multifunctionality – it can double as a power bank, adding an extra layer of utility to the pump. Additionally, during our reviews, it stood out as the least noisy pump, providing a pleasant and quiet operation. The TOPUMP emerges as a noteworthy choice, offering power, speed, convenience, and versatility in one compact package.
And a final benefit that we found on this pump is that you can actually reverse the inflation process and use it to pull air out of your SUP to deflate. This is a really nice addition if you don't feel like rolling your SUP on itself dozens of times to get all the air out.
PROS
CONS
– Only needs 2.5 hours to charge fully
– Can fill over 5 SUPs in a row
– It's also a power bank
– You can also use it deflate your SUP quickly
– No bag included
---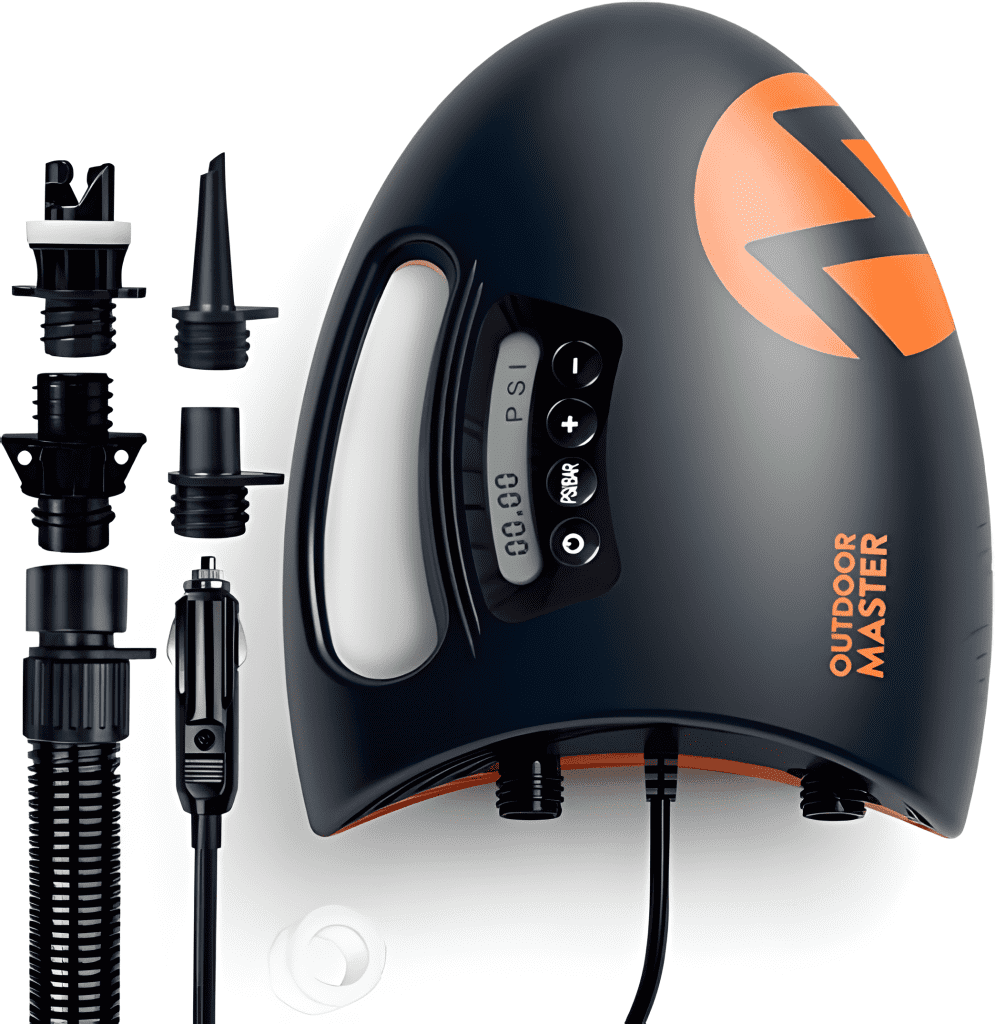 Where To Buy: Amazon
Key Specs & Features:
– 20PSI High Pressure Pump
– Auto-Off Protection Feature
– Can Inflate 3x Paddleboards In A Row
– Total Charge Time Of 2.5 Hours
The paddleboard air pump from Outdoor Master exceeded all my expectations and proved to be truly incredible. Despite its affordable price, the quality of this product is outstanding. With a unique cooling system, it can continuously inflate three paddleboards in a row without the need for rest.
Notably, it efficiently inflates a standard paddleboard in just 13 minutes, featuring an auto-off protection function that ensures worry-free inflation – set it up, let it run, and it will automatically turn off to prevent over-inflation. The inclusion of six different valves adds versatility, allowing you to inflate various beach items such as mattresses and balls.
Compact and portable, this pump easily fits into the front of your SUP bag and includes a handle for convenient carrying. The only limitation is that it requires a car connection for operation, lacking a built-in rechargeable battery. However, if this is not a concern for you, the pump stands out as an excellent investment, providing exceptional value for your money and ensuring hassle-free inflation for your paddleboards and other inflatables.
PROS
CONS
– Incredible price for what you get
– Includes a long power cord and hose so it's not a struggle to inflate your SUP
– Inflates a SUP in about 11 minutes
– Has a cooldown period of 20 minutes after use
– Needs to be plugged into the car to use.
---
Where To Buy: Amazon
Key Specs & Features:
– 20PSI High Pressure Pump
– Auto-Off Protection Feature
– Small And Portable
– Inflate 2x Boards In A Row
Consider the AIRBANK electric air pump as a strong contender for your electric paddleboard pump needs—this is a serious recommendation. Weighing in at a mere 1.3kg and compact in size, it offers unparalleled portability, easily fitting into your backpack and coming with a convenient storage bag and nylon handle for effortless carrying.
Despite its small size, it delivers remarkable performance, inflating a SUP in approximately 8 minutes. It incorporates essential features such as auto-off protection, eliminating concerns about over-inflation.
What sets this electric pump apart is its rechargeable battery, a remarkable feat given its compact design, capable of inflating two boards. The added functionality as a power bank enhances its convenience, and the impressive battery life reflects advancements in battery technology. With various valves included, it's versatile enough to inflate different items like beach balls and camping mattresses. The AIRBANK electric air pump is a testament to the strides made in portable and powerful inflation technology.
PROS
CONS
– Lightweight and portable when compared to other pumps
– Inflates a SUP in around 8 minutes
– Rechargable battery that takes 2 hours to charge
– Doubles as a power bank
– Great battery life for its size
– Bag that comes with it is a bit lower quality
---
THE BEST OF THE REST
---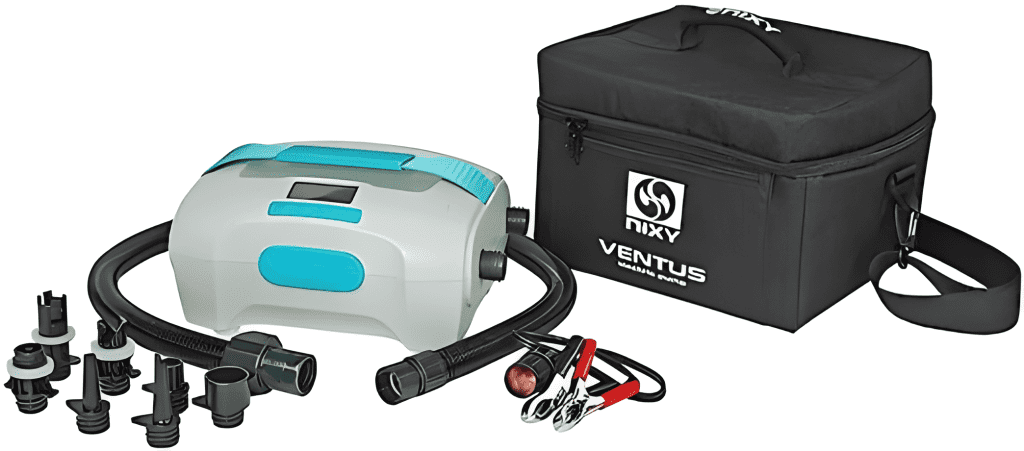 Where To Buy: Amazon
Key Specs & Features:
– 20PSI High Pressure Pump
– Auto-Off Protection Feature
– Can Inflate 6x Paddleboards Without Overheating
– 10ft power cord
While the Nixy Ventus pump narrowly missed securing a spot in our top 4 list, it remains a highly commendable choice that I would recommend considering.
Nixy has introduced noteworthy improvements with the Ventus pump, notably the incorporation of their cutting-edge cooling mechanism, 'Active Cooling Tech.' This addresses a common concern in electric SUP pumps—overheating. The Ventus pump ensures reliable and efficient operation, providing users with peace of mind. Through the digital display and automatic shutoff, setting your desired PSI (up to 20 PSI) is a breeze, and you can confidently step away, knowing your board will be fully inflated in just 10 minutes.
The inclusion of a travel bag with a carry strap and an inside zipper pocket for hose and seven valve pieces adds to the convenience. With a 10-foot cigarette lighter cord, it easily plugs into your car's power source, and optional alligator clips provide the flexibility to attach it directly to your battery if preferred. The Nixy Ventus pump stands out for its advanced features and efficient performance.
Overall, we are highly impressed with the Nixy Ventus pump, they have made big improvements with the cooling system so it's something definitely worth considering.
PROS
CONS
– Includes a convenient travel bag
– Quick inflation compared to other pumps
– Long (10ft) cord so it's easy to use it with your car
– Good price for what you get
– Includes crocodile clips if you want to use your battery to power it
– No rechargable battery so it needs to be attached to a car.
– Still overheats on hot days (especially the hose)
---
Where To Buy: Amazon
Key Specs & Features:
– 16PSI High Pressure Pump
– Auto-Off Protection Feature
– Deflation Function
– Inflate 4x Boards In A Row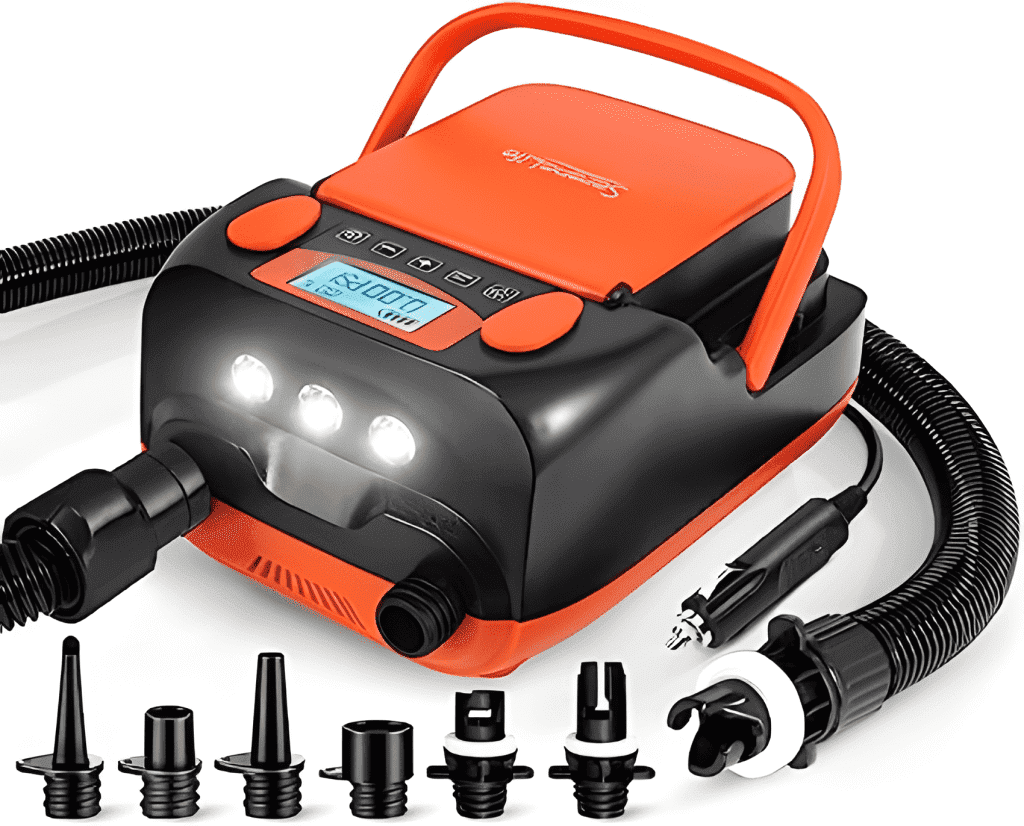 The SereneLife electric air pump distinguishes itself with its ergonomic design and the convenience of a portable rechargeable battery, offering the flexibility to inflate inflatable paddleboards anywhere.
Boasting an ergonomic design with a foldable carry handle, this electric pump ensures easy transportation and handling. Its user-friendly LCD display enhances usability, while a unique feature sets it apart – LED flashlights on the front, providing functionality during nighttime use, a feature not found in other pumps.
The standout quality of this pump lies in its rechargeable battery, allowing for inflation away from a vehicle. In the event of battery depletion, the pump includes a 12V power cord as an alternative power source for recharging.
It's worth noting that the SereneLife pump has a maximum inflation capacity of 16 PSI. However, given that most paddleboards only require inflation up to 15 PSI, this limitation proves sufficient for the majority of users. The SereneLife electric air pump combines practical design, portability, and innovative features for a reliable paddleboard inflation experience.
PROS
CONS
– Rechargable battery that can inflate 4x SUPs
– LED Flashlights for nighttime use
– Auto-Off Functionality
– Can inflate multiple SUPs consecutively
– Includes a deflation option
– Battery controls are sometimes a bit buggy
– Only inflates up to 16PSI
---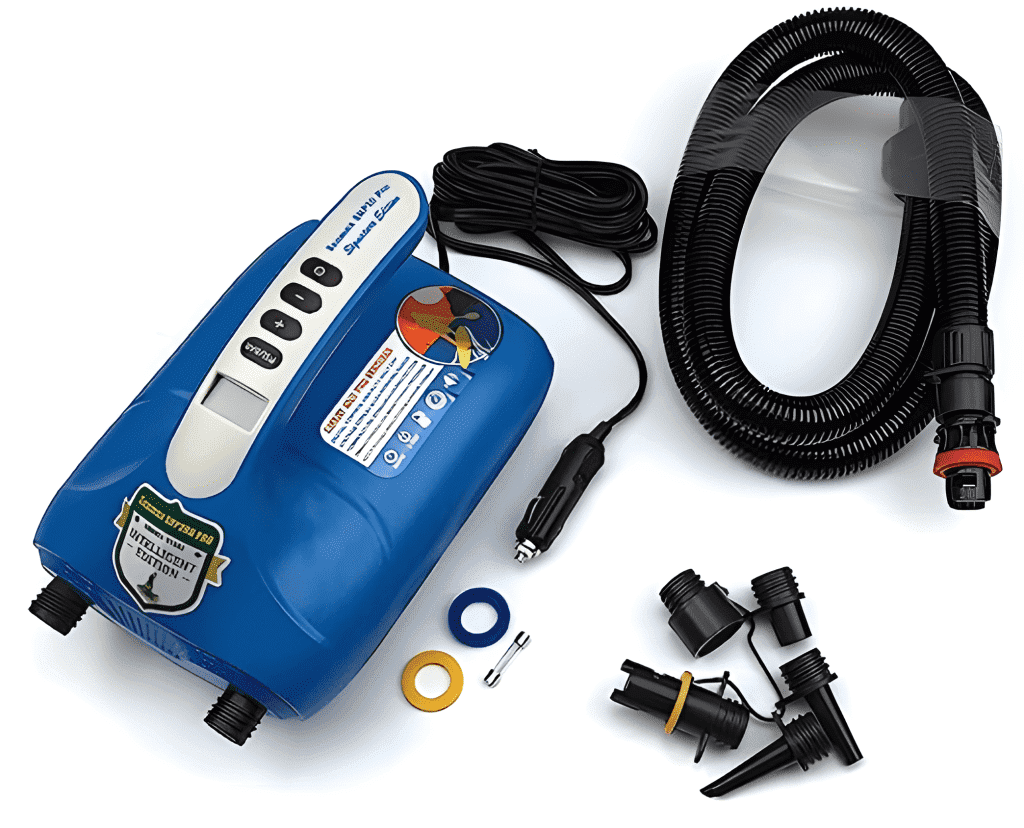 Where To Buy: Amazon
Key Specs & Features:
– 20PSI High Pressure Pump
– Auto-Off Protection Feature
– Deflation Function
– Inflate 3x Boards In A Row
The Seamax SUP20D stands out as a versatile and reliable pump, ensuring swift inflation through its one-way diaphragm valve, guaranteeing efficient and speedy performance.
Durable construction is a notable feature, with the inclusion of an integrated sand filter to protect against dust and sand particles. Adding to the user experience, the outtake chamber minimizes noise during operation, ensuring a quieter inflation process.
Portability is a strong suit of the Seamax SUP20D, featuring a convenient carry handle similar to that found in Outdoor Master pumps. Additionally, it offers a deflation function, simplifying the process of removing air from the paddleboard before packing it away.
It's important to acknowledge a potential concern with this pump – the risk of overheating, which may lead to the melting of piston seals. While the piston seals are crucial internal components, this issue typically arises when inflating one or two SUPs, making it less of a concern for most users.
Notably, the Seamax SUP20D lacks a rechargeable battery, requiring access to a car or a battery pack for power. Despite this, its overall performance, durability, and user-friendly features make it a reliable choice for paddleboard inflation.
PROS
CONS
– Has a sand filter to protect the pump from sand damage
– Great price
– You can use it for deflation also
– Comes with alligator clips to connect it directly to your car battery
– Comes with 7x different valves for all uses
– Potential for over-heating
– No rechargeable battery (so you need a car to operate it)
---
Types of Electric Pumps for SUP
There are three main types of electric pumps for SUP: 12V DC car connector pumps, rechargeable pumps, and battery-operated pumps.
12V DC Car Connector Pumps
12V DC Car Connector pumps are a popular choice for inflating Stand up Paddle (SUP) boards. These high-performing pumps often connect directly to your car's cigarette lighter, providing an efficient power source without needing an independent battery.
Taking advantage of the robust and readily available energy from your vehicle, these electric SUP pumps perform effectively even for larger inflatable items like paddle boards or inflatable boats.
These types of electric air pumps offer quick inflation speeds which can help you save time before hitting the waves. Many models feature a cooling system that prevents overheating during continuous use, ensuring long-term durability and reliable performance.
The 12V DC Car connector pump comes equipped with various nozzle attachments, making it versatile enough to accommodate most inflatable paddle boards in the market today. Plus, their compact size makes them easy to pack into a carry bag with your other water sport gear.
Rechargeable Pumps
Rechargeable pumps offer the convenience of cordless operation, making them ideal for locations where a car or other power source is not readily available. With built-in rechargeable batteries, these types of SUP electric pumps draw their energy from a battery pack that can be charged via a wall socket or even through solar panels for more environmentally mindful users.
A fully-charged pump can usually inflate an average-sized paddle board in just 10 minutes! This makes them incredibly efficient and ideal for water sport enthusiasts who value time and efficiency.
Often lightweight and compact, they're easy to transport in your carry bag along with your inflatable paddle boards or inflatable kayaks. OutdoorMaster Whale Rechargeable Electric Pump is one standout model popular among outdoor adventurers due to its durability, speed, and auto shut-off function when it reaches the desired pressure.
Battery-Operated Pumps
Battery-operated pumps are a convenient option for inflating your SUP board on the go. These pumps are powered by batteries, which means you don't have to rely on finding a power source or using your car's cigarette lighter.
With a built-in rechargeable battery, they offer portability and ease of use. Most battery-operated pumps provide strong inflation performance with the ability to reach high PSI levels for maximum firmness.
They are also lightweight and compact, making them ideal for travel and storing in your paddle board bag. Some models even come with features like automatic shut-off function and deflation capability for added convenience.
Factors to Consider When Choosing an Electric Pump
Consider the power source and inflation speed, as well as pricing and deals. Read on to find out more about choosing the best electric pump for your SUP needs.
Power Source
Most electric pumps for SUP boards are powered by either a 12V DC car connector, a rechargeable battery, or regular batteries. The 12V DC car connector pumps are convenient if you're planning to inflate your board near your vehicle, as you can simply plug it into the cigarette lighter socket.
Rechargeable pumps offer more flexibility and portability since they can be charged before use and don't require any external power source. Battery-operated pumps are another option that allows you to use regular batteries instead of relying on recharging.
Consider which power source suits your needs best when choosing an electric pump for your paddle board adventures.
Inflation Speed
Electric pumps for SUP offer fast inflation speeds, allowing you to quickly and easily inflate your paddle board. Most electric pumps can inflate a standard-sized SUP in just a few minutes, saving you time and effort compared to manual pumps.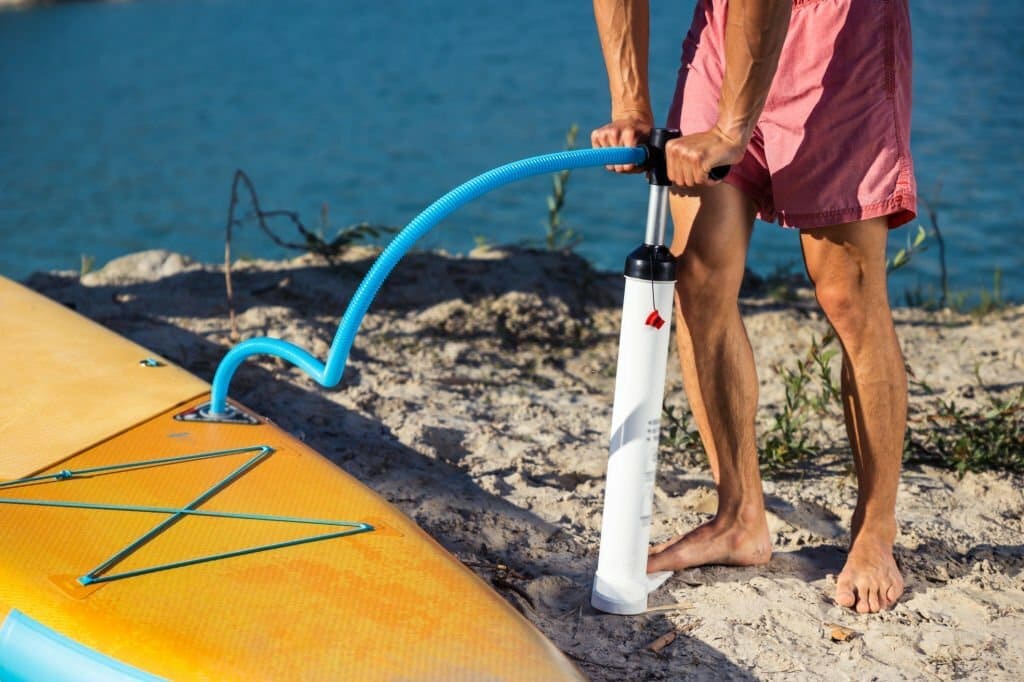 With inflation speeds of up to 20 PSI or more, these pumps ensure that your paddle board is properly inflated to the desired pressure for maximum performance on the water. So whether you're in a hurry to get out on the water or simply want a hassle-free inflation process, an electric pump with fast inflation speed is a must-have accessory for any paddle board enthusiast.
Pricing and Deals
Electric pumps for SUP boards are available at varying price points to accommodate different budgets. Most electric SUP pumps are priced under $150, making them an affordable option for both beginners and experienced paddlers.
Additionally, keep an eye out for any special deals or discounts that may be available from retailers or manufacturers. These deals can help you save even more money on your purchase.
As you consider the pricing and deals, remember that quality should also be a top priority. Look for pumps that offer a balance between affordability and performance to ensure you get the best value for your money.
How to Use an Electric Pump for SUP
Using an electric pump for SUP is a simple process that can be broken down into the following steps:
Attach the nozzle: Begin by attaching the appropriate nozzle attachment to the end of the pump's hose. Different paddle board models may require different types of nozzles, so ensure that you have the correct one.

Connect to power source: Plug in the electric pump to a power source, such as a car battery or a power bank. Make sure that the power source is compatible with the pump and can provide sufficient power.

Securely attach hose: Connect the other end of the hose to the valve on your SUP board. Ensure that it is securely attached and tightly sealed to prevent any air leaks during inflation.

Set desired pressure: Use the digital display or manual controls on the pump to set the desired PSI (pounds per square inch) for your paddle board. This information can usually be found in your board's user manual or specifications.

Start inflation: Turn on the electric pump and let it automatically inflate your SUP board. The pump will continue inflating until it reaches the set pressure, at which point it will automatically shut off.

Monitor progress: Keep an eye on the pressure gauge or digital display throughout inflation to ensure that it reaches your desired PSI level accurately.

Disconnect and store: Once your paddle board is fully inflated, disconnect the hose from both ends – the pump and valve – and safely store away your electric pump for future use.
If you prefer to watch a video guide, then this is a really good option:
Maintenance and Care Tips for Your Electric Pump
Taking proper care of your electric pump is essential to ensure its longevity and optimal performance. Here are some maintenance and care tips to keep in mind:
Clean the pump regularly by wiping it with a damp cloth to remove any dirt or debris.

Avoid exposing the pump to extreme temperatures or direct sunlight, as this can damage its components.

Store the pump in a dry and secure place when not in use to prevent any potential damage.

Regularly check the power cord for any signs of wear or damage, and replace it if necessary.

Inspect the valve attachments for any signs of wear or leakage, and replace them if needed.

Lubricate the moving parts of the pump periodically to ensure smooth operation.

Check the air filter on a regular basis and clean or replace it as recommended by the manufacturer.

Avoid overinflating your SUP board by following the recommended PSI capacity of your pump.

If your electric pump has a rechargeable battery, make sure to charge it fully before each use.

Follow the manufacturer's guidelines for deflating your SUP board using the electric pump to prevent any damage.
Do I Really Need an Electric Pump for SUP?
Having an electric pump for your SUP board can greatly enhance your paddleboarding experience. Here are some reasons why you might want to consider investing in one:
Electric pumps offer superior performance compared to manual pumps, allowing for quick and effortless inflation of your board.
They are lighter and more compact, making them easier to pack and transport.
Electric pumps save you time and energy, so you can spend less time inflating your board and more time enjoying the water.
Many electric pumps come with features like auto shut-off function and dual stage inflation, ensuring that you achieve the desired PSI without overinflating or damaging your board.
They are especially useful if you have multiple boards or frequently inflate other inflatable products like kayaks or air mattresses.
With these benefits in mind, it's clear that an electric pump can be a valuable tool for any SUP enthusiast.
Conclusion
In conclusion, selecting the best SUP electric pump is crucial for an effortless and efficient paddle boarding experience. With the information provided in this guide, you can confidently choose a reliable and high-performing electric pump that meets your specific needs.
Happy paddling! 🏄‍♂️🌊
FAQs
What features should I look for in a SUP electric pump?
When choosing a SUP electric pump, consider factors like a reliable deflation function, automatic shutoff feature, built-in rechargeable battery, and air hose connection quality.
Can one pump inflate more than one board?
Yes! Certain models can handle inflating multiple boards back to back; however it's essential to check whether it offers this capacity before purchase.
Does the "auto-off" function work well in all pumps?
The auto-off functions vary among different pumps; while many good quality ones contain this feature – you'll need to check on other characteristics that make it suitable for your needs.
Can I also use these electric pumps with my inflatable tents?
Certain universal electric pumps cater to various inflation needs including those of inflatable tents, body glove performers or other water sport equipment.
Is there any disadvantage if I choose an electric pump over a manual hand pump?
While electric pumps offer convenience and usually have useful features like automatic shutoff and LCD display; they might possess few drawbacks such as being reliant on battery power which could cause inconvenience if you're out at the car park without charging facilities.