*We may earn a commission for purchases made using our links. Please see our disclosure to learn more.
If you're on the lookout for a location that offers an unforgettable experience on the water… Then paddleboarding Lake Powell is exactly what you should do!
Lake Powell is one of the world's best paddleboard destinations and you've probably seen pictures of the sheer rock cliffs and clear water. But these pictures don't do it justice because you can only really experience Lake Powell by being there.
In this article, I will take you on a journey to explore five amazing spots where you can paddleboard on Lake Powell, and then I'll tell you everything else that you need to know to plan your next trip. Get ready for an adventure like you've never been on before – paddleboarding Lake Powell!
Overview of Lake Powell
Before we dive into the incredible paddleboarding spots, let's take a moment to appreciate the sheer magnificence of Lake Powell. Located in the Glen Canyon National Recreation Area, Lake Powell stretches across the border of Utah and Arizona. Utah is known for its incredible ski resorts in the winter and it's dramatic scenery in the summer.

Its vast expanse is formed by the Colorado River and is nestled amidst towering red rock cliffs. I The combination of the vibrant blue waters and the dramatic sandstone formations creates a breathtaking backdrop for any paddleboarding adventure.
Paddleboarding Lake Powell: The Best Spots
Spot #1: Rainbow Bridge
Our first stop on this paddleboarding journey is the iconic Rainbow Bridge. Considered one of the world's largest natural bridges, Rainbow Bridge is a sight to behold. As you paddle towards this natural wonder, the awe-inspiring scale of the bridge will leave you speechless. The vibrant colors of the sandstone, coupled with the reflection in the water, create a truly magical experience.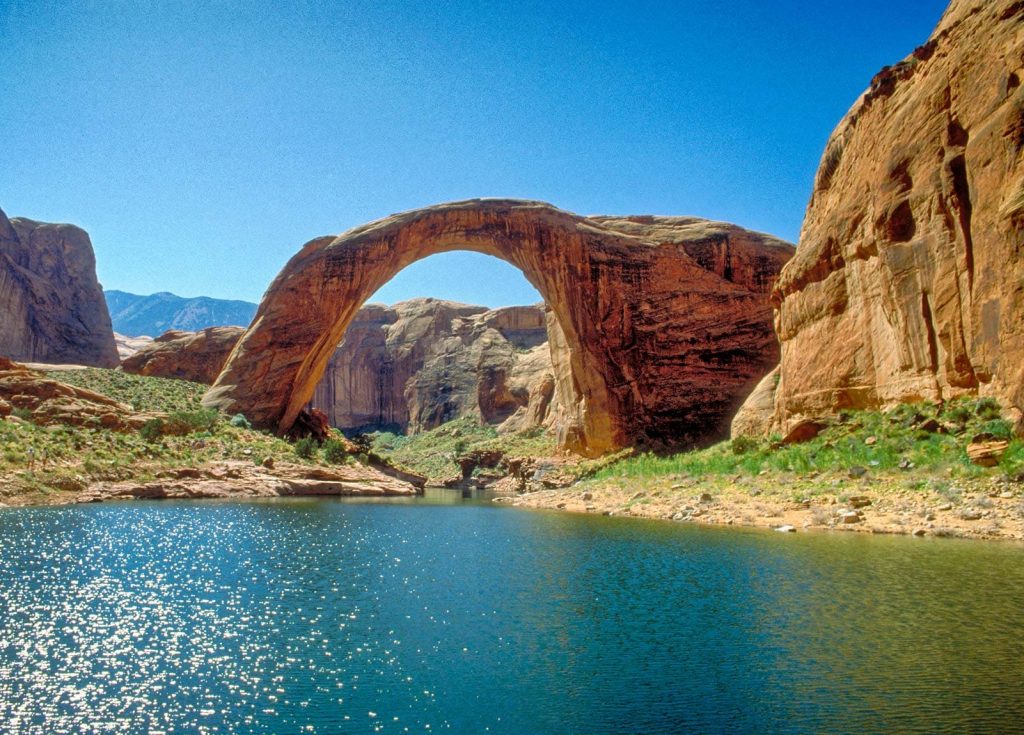 Location: Google Maps
Spot #2: Antelope Canyon
Next on our list is the world-renowned Antelope Canyon. Famous for its mesmerizing slot canyons and stunning light beams, Antelope Canyon offers a paddleboarding experience like no other. As you navigate the narrow passages, the sunlight filtering through the narrow openings above creates a surreal ambiance. The ever-changing colors and intricate rock formations make Antelope Canyon a must-visit spot for any paddleboarding enthusiast.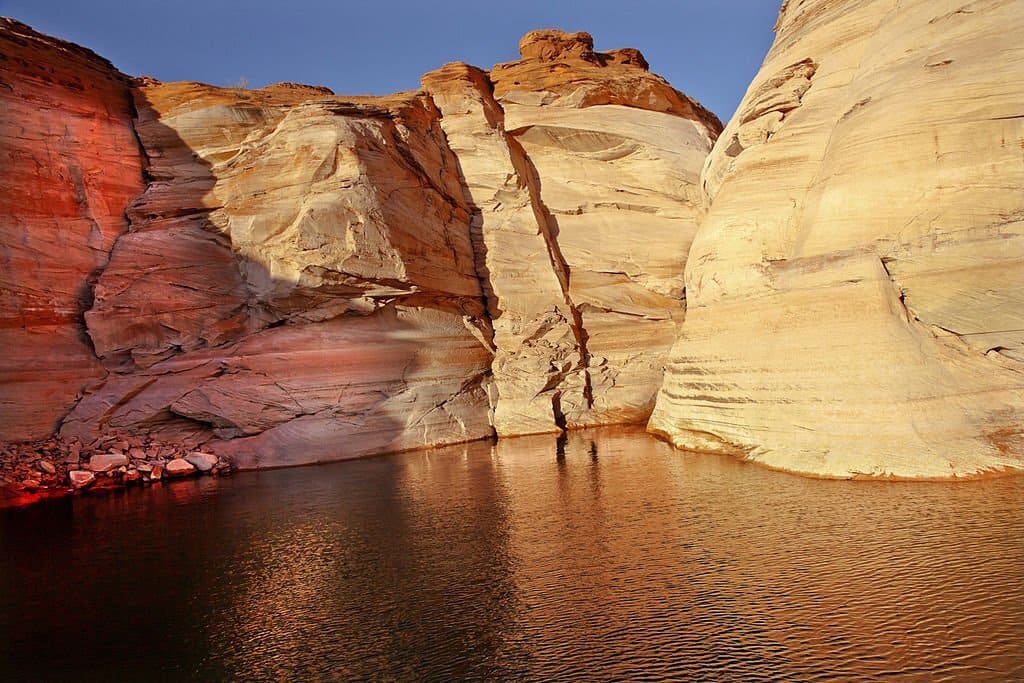 Location: Google Maps
Spot #3: Lone Rock Beach
For those seeking a combination of relaxation and adventure, Lone Rock Beach is the perfect spot. With its golden sandy beaches and crystal-clear waters, this picturesque location offers an ideal setting for paddleboarding. Explore the shoreline, discover hidden coves, and bask in the warm desert sun. Lone Rock Beach provides a serene escape where you can paddleboard at your own pace.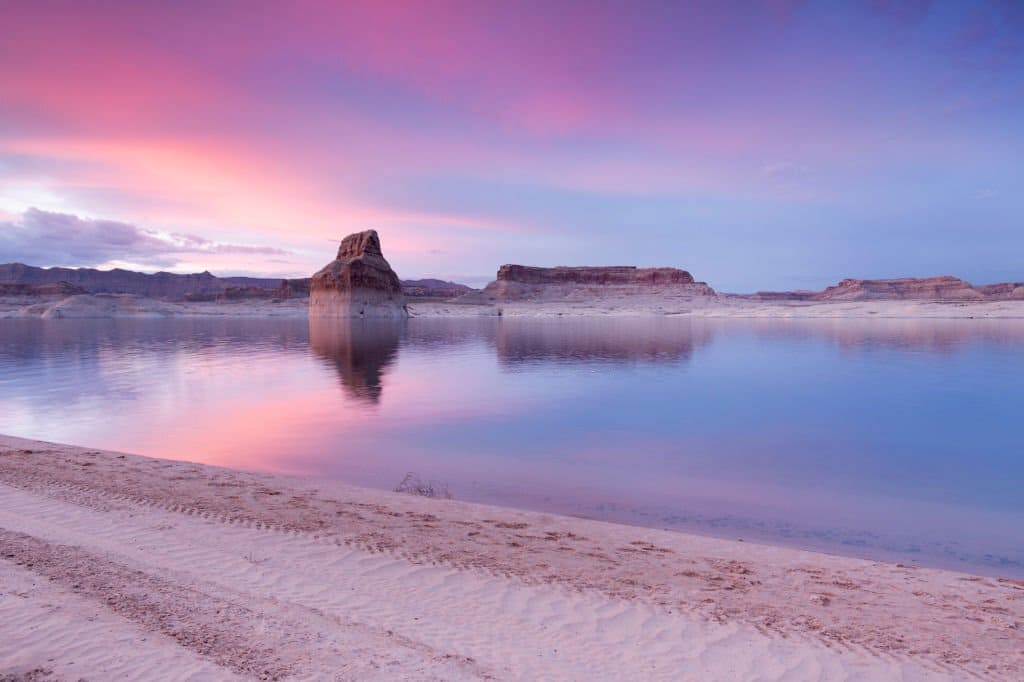 Location: Google Maps
Spot #4: Horseshoe Bend
Prepare to be captivated by the majestic beauty of Horseshoe Bend. As you paddle along the meandering curve of the Colorado River, the awe-inspiring view of the horseshoe-shaped bend will leave you in awe. The sheer cliffs that surround the bend create a dramatic backdrop, making it a perfect spot for photography enthusiasts. Paddle close to the edge and take in the breathtaking panorama that stretches out before you.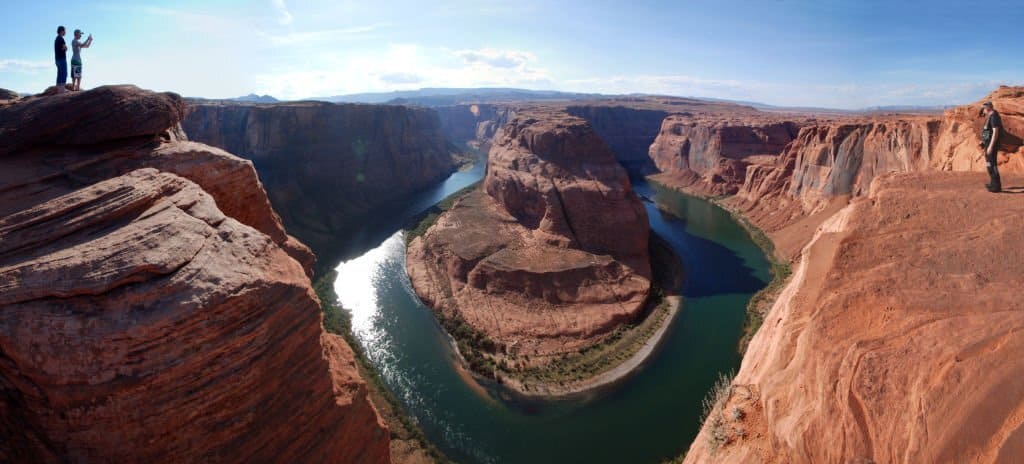 Location: Google Maps
Spot #5: Padre Bay
Our final stop is the scenic Padre Bay. Nestled amidst towering sandstone cliffs, this expansive bay offers endless opportunities for exploration. Paddle along the shoreline and discover hidden alcoves and secluded beaches. The calm and clear waters of Padre Bay provide the perfect conditions for a peaceful paddleboarding experience. Take your time and soak in the natural beauty that surrounds you.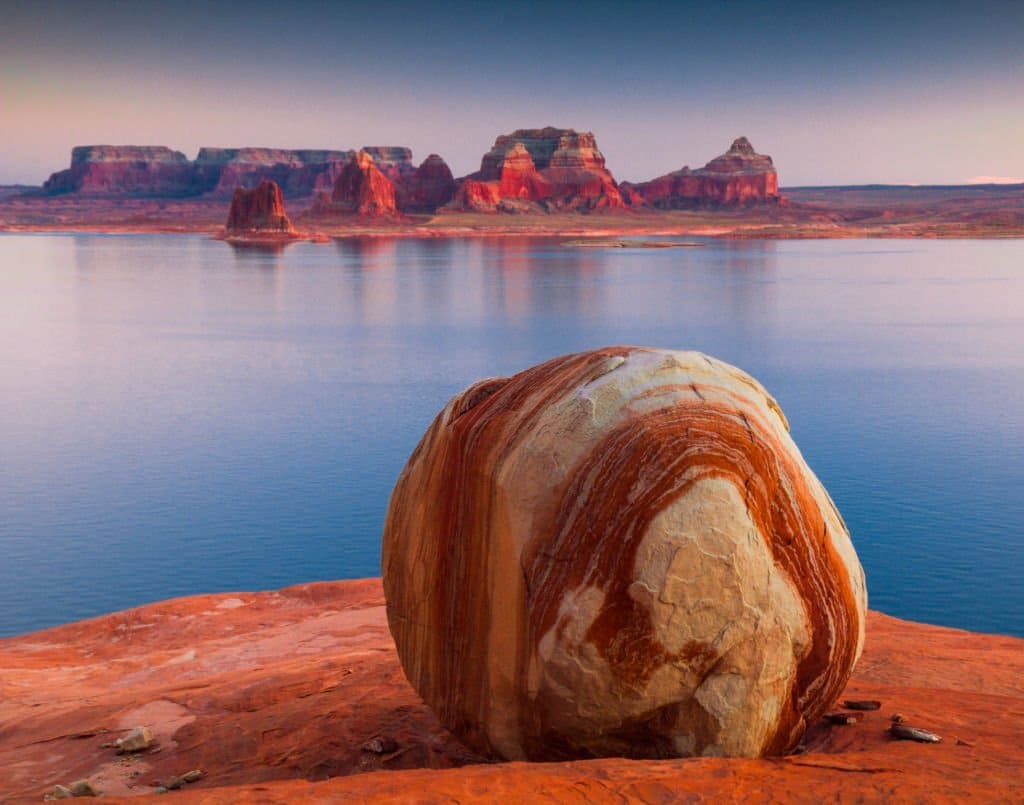 Location: Google Maps
Paddleboarding Lake Powell: Equipment and Safety Tips
When you paddleboard on Lake Powell, it's crucial to prioritize safety and have all the right information. Here are some essential tips to get you on your way:
Have The Essential Equipment:
Safety is extremely important when it comes to paddleboarding because you are out on the water, exposed to the elements and it is very easy for things like sunburn, dehydration and faulty equipment to cause you issues.
This is what you're going to need for paddleboarding Lake Powell so that you know exactly what to wear when you go out on your first paddle.
Paddleboard (opt for a wider paddleboard if you are new or a beginner)
Paddleboard paddle
Sunscreen, hat and glasses
Lifejacket
Leash
If you have those then you'll be all set and ready to go, but you might want a few more accessories:
Check the weather conditions and tide schedules before heading out.
LAKE POWELL WEATHER
This will make sure that you know exactly what to wear and whether you need sunscreen or not when you head out for your paddle.
Use a leash to ensure your board stays connected to you.
This might seem obvious but you'll be in the water so you want to make sure that the board stays attached and you don't lose it. This is the purpose of your leash, and you want to make sure that you have a high quality coiled leash so that it doesn't drag in the water or get snagged on rocks and seaweed.
Familiarize yourself with basic paddleboarding techniques.
Make sure that you have a basic understanding of paddleboarding and how to stand before you hit the water so that you aren't caught unprepared.
Stay hydrated and protect yourself from the sun with sunscreen and a hat.
This is really important because it can get hot on Lake Powell, so make sure that you protect yourself and your loved ones with the right sun equipment for paddleboarding.
Invest in high-quality paddleboarding equipment
If you're not planning on renting then you want to make sure that you have good equipment such as a stable board and a proper paddle. It's essential for a safe experience!
Paddleboarding Lake Powell: Rentals and Tours
If you don't have your own paddleboard or prefer to try different locations, Lake Powell and the surrounding areas offer various rental and tour options. Local outfitters provide a range of paddleboard rentals, including hourly and daily rates. Additionally, guided tours are available for those who want to explore the lake with the expertise of a knowledgeable guide.
Here Are Some Recommendations:
Lake Powell Paddleboards And Kayaks
They do a 2.5 hour Antelope Canyon paddleboard tour that is worth your time.
Price: $90 for a tour without the hike
Rental Only: $60 per day
Address: 836 Vista Ave, Page,
AZ 86040, United States
Directions: Google Maps
Phone: +1 928-645-4017

WazSUP Kayaks
Price: $40-50 for a full day rental
Address: 916 Vista Ave STE 1, Page,
AZ 86040, United States
Directions: Google Maps
Phone: +1 602-233-2847
Conclusion
Lake Powell offers an abundance of stunning paddleboarding spots, each with its own unique charm. Whether you're looking to see a few of the best natural wonders in Arizona, experience more tranquility and relaxation… or you want to go on an adventure that lets you escape the day-to-day. These five spots are sure to satisfy your desires. Explore Rainbow Bridge, marvel at Antelope Canyon, relax at Lone Rock Beach, gaze at Horseshoe Bend, and discover the beauty of Padre Bay. Embrace the magic of Lake Powell and create memories that will last a lifetime.
FAQs
Is paddleboarding suitable for beginners?
Absolutely! Paddleboarding is a versatile water sport suitable for all skill levels. If you're a beginner, start in calm waters and take time to practice your balance and paddle strokes before venturing to more challenging spots.
What should I wear while paddleboarding on Lake Powell?
Wear comfortable and breathable clothing suitable for the weather conditions. Opt for swimwear, board shorts, or quick-drying apparel. Don't forget to apply sunscreen, wear a hat, and bring sunglasses to protect yourself from the sun.
Can I bring my own paddleboard to Lake Powell?
Yes, you can bring your own paddleboard to Lake Powell. Ensure it meets the size and safety requirements, and secure it properly during transportation.
Are there any restrictions or permits required for paddleboarding on Lake Powell?
There are no specific permits required for paddleboarding on Lake Powell. However, be aware of any regulations, guidelines, or restricted areas enforced by the Glen Canyon National Recreation Area. Respect the natural environment and follow the Leave No Trace principles.
Can I rent paddleboarding equipment at Lake Powell?
Yes, there are several rental shops and outfitters around Lake Powell where you can rent paddleboards and other equipment. Check with local rental providers for availability and pricing. See above for more information about some good rental spots.