*We may earn a commission for purchases made using our links. Please see our disclosure to learn more.
I'm not going to lie, there is an unmistakable charm of having a wooden paddleboard. There is something so suave and sophisticated about going back to the roots of the sport and trying out one of these wooden SUPs.
That's why, in this article we're going to five into the world of wooden paddleboards, explore the nuances that make them unique and whether they're the right fit for your stand-up paddleboarding adventures.
What Is A Wooden Paddleboard?

A wooden paddleboard is just a normal paddleboard that is made from wood instead of an inflatable tube or fiberglass. They are generally more rare and harder to come by – which means that they often carrying a higher price tag that other boards.
But there's an undeniable allure to the craftsmanship of wooden paddleboards. Each board is a work of art, meticulously designed and handcrafted. The aesthetic appeal alone is often enough to turn heads on the beach and not only that but they really can perform at an extremely high level if you get the right wooden paddleboard.
Types of Wooden Paddleboards
Solid Wood vs. Wood Veneer
Understanding the fundamental difference between solid wood and wood veneer is crucial.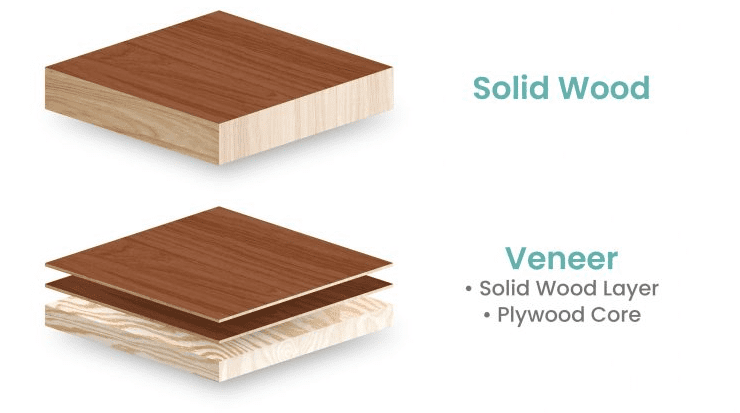 A Solid Wood Paddleboard – Is a paddleboard that is crafted completely out of a thick piece solid wood.
A Wood Veneer Paddleboard – Is a SUP that is craft with a thin layer of wood that is attached to an inner panel (which is usually made of fiberboard).
It is a common misconception to assume that a solid wood paddleboard is of higher quality than the veneers, because in many instances a wood veneer paddleboard will outperform a solid wood board in durability, strength, manageability and more.
The easiest way to explain the difference between the two is that:
Solid wood boards offer a classic feel, while wood veneer combines aesthetics with weight efficiency.
Different Wood Types and Their Characteristics
The type of wood used significantly influences a paddleboard's characteristics. From the buoyancy of cedar to the sturdiness of mahogany, each wood type brings a unique flavor to the paddling experience. So just consider what type of wood your future paddleboard is made up of to have all the different information.
So what are the pros and cons of owning a wooden paddleboard? What are you REALLY getting out of it?
Pros and Cons of A Wooden Paddleboard:
PROS:
| | |
| --- | --- |
| Aesthetic Appeal: | Handcrafted beauty adds a touch of art to your paddleboarding, and they often add a large amount of aesthetic appeal to your SUP because it is art instead of a piece of equipment. |
| Environmental Friendliness: | Often made from responsibly sourced wood, minimizing environmental impact. This stops environmental issues like plastic wastage and fiberglass off-cuts hurting the environment. |
| Durability: | Well-constructed wooden boards can be as durable as other materials. If they are well looked after then they can lost a really long time also while holding their value. |
| Performance: | Wooden boards can provide a stable and smooth paddling experience. The natural buoyancy of the wood creates a really nice paddleboarding experience that is definitely worth trying. |
| Unique Feel: | Wooden boards offer a unique connection to the water. You are as close to nature as you're going to be – It's the sport in it's most raw form and there is something really special about that. |
While there are many pro's that make a wooden paddleboard extremely attractive, I wouldn't be serving you if I didn't talk through the cons.
CONS:
| | |
| --- | --- |
| Weight: | Generally, wooden boards can be heavier than alternatives, impacting portability. They just are more difficult to transport because you can't deflate them and you need proper storage options for them. |
| Maintenance: | Wooden boards may require more maintenance to preserve their appearance. You will have to wash them after use and treat them well if you want to maintain quality. |
| Cost: | Initial investment is often higher compared to other paddleboard materials. It makes sense that this is the case because most wooden paddleboards are made by hand and also use more expensive materials. |
| Susceptibility to Water: | If not properly maintained, wooden boards can be susceptible to water damage. They can develop bubbles and cracks because of water seeping into the cracks in the wood. |
| Limited Design Options: | While beautiful, design options might be more limited compared to other materials. They are designed to look like wood and won't carry many of the bright color decals like other inflatable paddleboards. |
So now that you understand the different pros and cons of a wooden paddleboard, let's talk about how to actually choose one.
Choosing the Right Wooden Paddleboard
The first thing that you need to consider is how good you actually are at paddleboarding, this might seem obvious but it's actually really important.
Understanding Your Skill Level
Whether you're a novice or an experienced paddler, there's a wooden board suitable for your skill level. Matching the board to your proficiency ensures a more enjoyable experience on the water.
If you are more beginner then opt for a longer and wider paddleboard that is more buoyant and stable than some of the smaller counterparts.
But if you are a savvy and experienced paddler that is looking for speed and the ability to take waves with your wooden paddleboard then I would go for a smaller and more mobile version.
So once you have an understanding of that, then you're ready to take a look at some of the best wooden paddleboards on the market right now.
What Is The Best Wooden Paddleboard On The Market?
If you don't want to create a wooden paddleboard on your own DIY style, then I would strongly recommend that you buy a Tower wooden paddleboard.
Tower Paddle Boards is a company that was created in 2010 and has since sold over 100,000 paddleboards. They are thought to be the original paddle board company and have a track record of amazing quality, top customer service and quality that won't break the bank.
They have created a high-quality wooden paddleboard that is not only light, but extremely durable also.
These are my favorite paddleboards from Tower: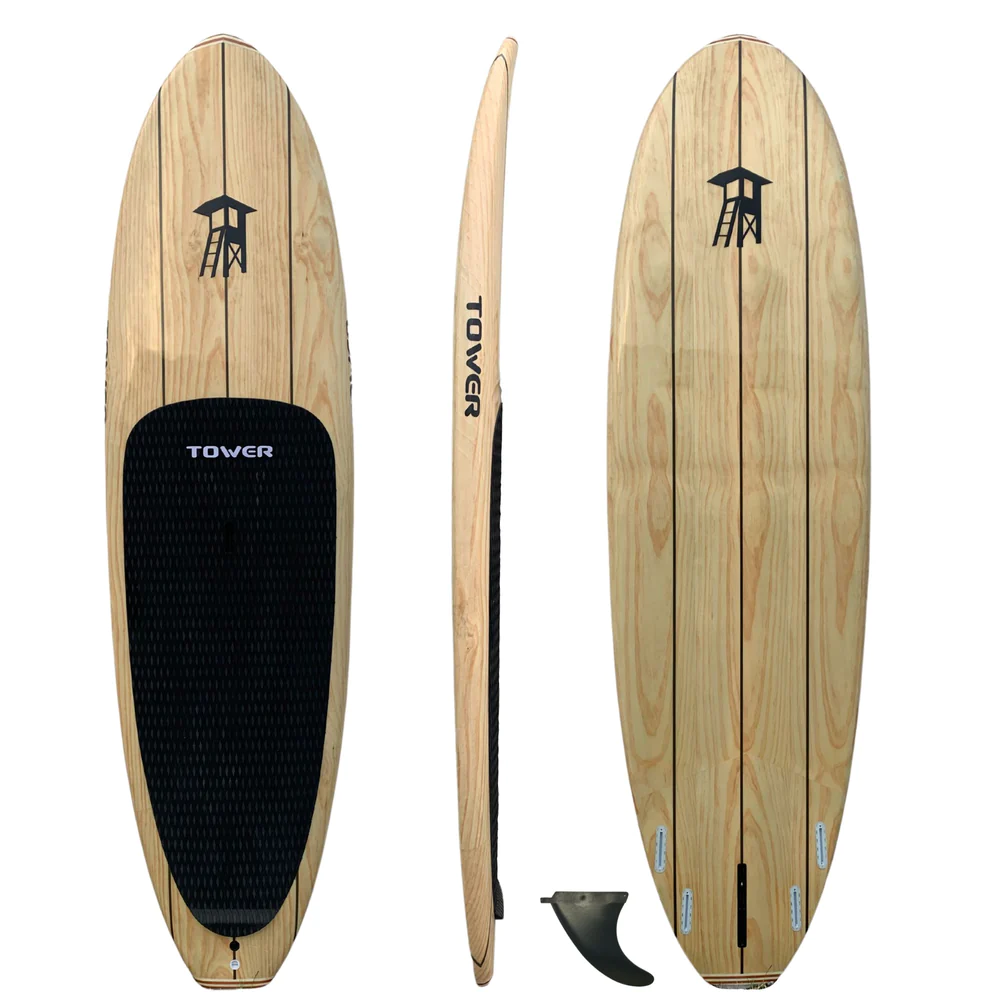 Where To Buy: Tower Paddleboards
Key Features:

– 11'5″ in length and 31″ width

– Easily floats a 350+ lb paddler

– Weight of 30lbs

– 235 liter volume
This is a great beginner wooden paddleboard! The major reason why it is so good is because of it's high volume of 235 liters which means much better flotation and glide. This is a paddleboard that can easily carry an adult with a dog or kid riding on the nose and it is an excellent touring paddleboard.
It will give you a really good high-performance ride that is easy for a beginner to stand on because of the construction. It is made with a bamboo veneer that is sandwiched between two layers of fiberglass. They use a unique construction process where they use a mold to heat and compress a combination of foam, wood, glass and resin to produce a lighter and stronger board.
Where To Buy: Tower Paddleboards
Key Features:

– 9'10" in length and 32″ width

– Easily floats a 200+ lb paddler

– Great for 4-5 foot waves

– Weight of 25lbs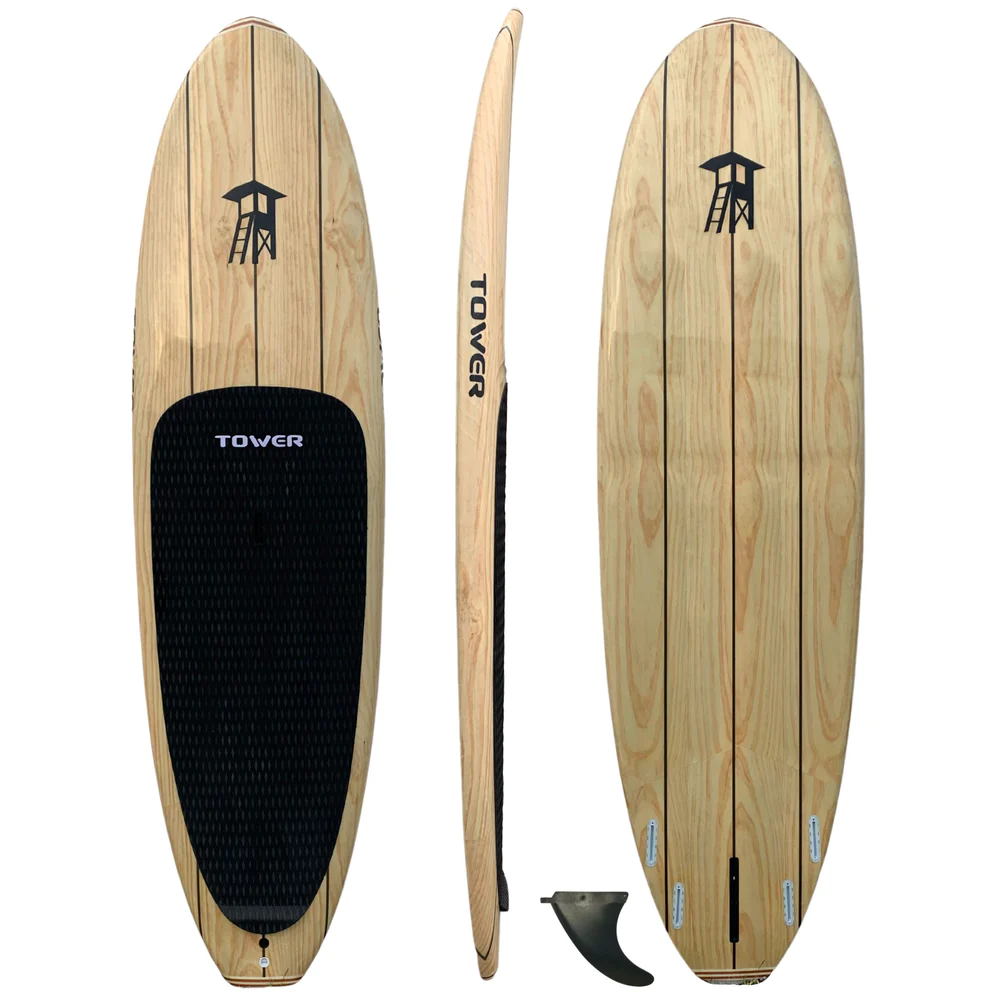 This paddleboard is great for a more intermediate to advanced paddler because of it's smaller size and greater manoeuvrability. It is made of a bamboo veneer that is sandwiched between two layers of fiberglass. They use a unique construction process where they use a mold to heat and compress a combination of foam, wood, glass and resin to produce a lighter and stronger board.
This board is truly the lightest and most durable SUP that you're going to find and it is great for small waves. It is also extremely buoyant with the bamboo veneer and it is more flotation and stability that most traditional 11'+ cruisers on the market.
Other Key Accessories
Something that you should know is that these paddleboards do not come with other accessories like paddles and covers.
And these are crucial accessories to not only protect your new wooden paddleboard, but also to get something that is more than just a pretty ornament on the wall.
Here are my recommendations:
Where To Buy: Tower Paddleboards
Key Features:

– Reinforced paddleboard bag that has additional padding on the nose and tail to prevent dings.

– Has sizes for both wood paddleboard sizes.

– Includes a comfort gip side handle for easy pickup access along with a shoulder carrying strap

– Expanded tail zipper to make is easy to slide your board in and out

This paddleboard bag is the obvious choice because it is designed by Tower specifically for your new wooden paddleboard. If you're going to invest in a high-quality board then it's crucial that you get a great carrier bag… and that's exactly what this is!
So once you've got a paddleboarding bag – you also need a paddle.
Here are my recommendations:
Where To Buy: Amazon
Key Features:

– 3-piece fully adjustable carbon fiber paddle

– Super light, portable and floats

– Adjustable height range of 175cm – 215 cm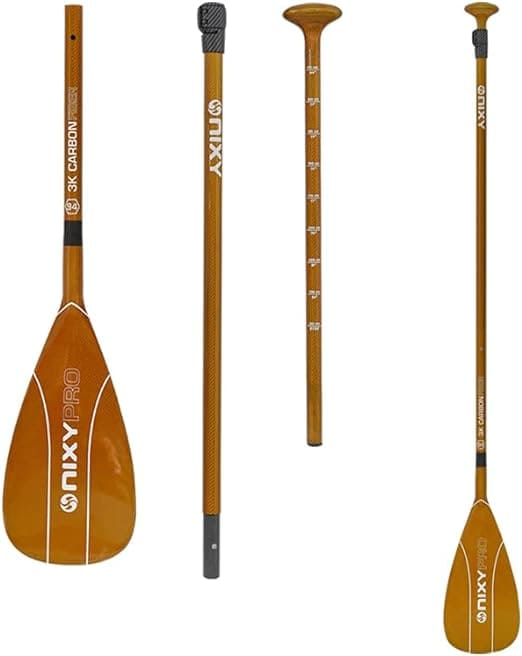 If you're getting a world-class wooden paddleboard then this is the best paddle for you. It's a reinforced 100% full carbon fiber paddle that offers an unbeatable combination of lightness, durability and strength. It's easily adjustable with an anti-twist system to fit your height and paddling style. It's lightweight, portable and floats.
This is everything that you could every want from a paddle!
Maintenance Tips for A Wooden Paddleboard
Let's go through how to properly maintain your wooden paddleboard now to make sure that you have all the information to make an educated decision.
Wooden boards require a bit more TLC, but with the right care, they can maintain their beauty for years. This is what you want to do:
Cleaning Guidelines:
Give it a gentle rinse after every use to remove salt, sand and debris
Use a mild, biodegradable soap mixed with water to clean the boards surface
Gently scrub the board with a soft brush or cloth to avoid scratching it
Make sure to avoid harsh or abrasive chemicals that could damage the wooden finish.
Storage Guidelines:
Always make sure that the board is completely dry before storing it to prevent mold or mildew
Store the wooden paddleboard in a cool, shaded area to avoid exposure to direct sunlight
Elevate the board slightly to allow air circulation underneath it (prevents warping)
Always use a board bag if transporting it to prevent scratches and dust.
Avoid extreme temperatures
Here are a few great storage solutions: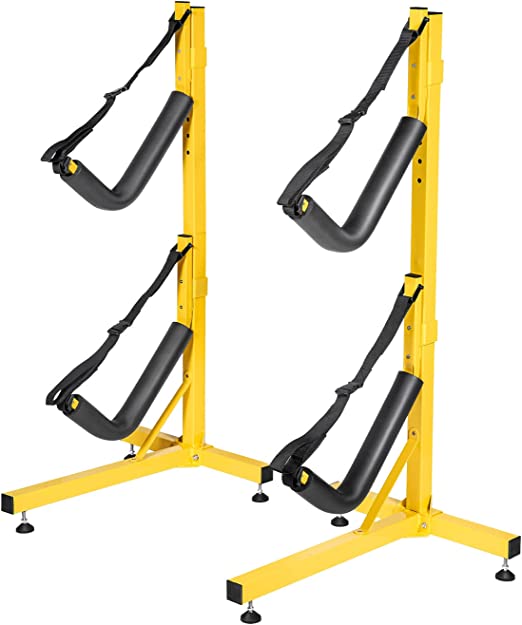 Where To Buy: Amazon
Key Features:
– These are heavy duty so you will never need to worry about weight (stores up to 240 lbs)
– You can fit 2 different SUP's on these racks.
– Rust resistant and keeps your boards extremely safe and secure.
– These are the best racks that I've found if you have space.
This is a top quality storage rack that will let you keep two paddleboards safe. It a really good solution if you have some space and you can just store it in your garage or away from the sun.
They are made of heavy duty tubular steel that is rust resistant and easy to assemble. I really like these stands and I can definitely endorse them.
But if you don't want such a large and permanent storage solution then I also like these:
Where To Buy: Amazon
Key Features:
– You don't have to assemble anything – they just fold out and store your board.
– They are lightweight (2.5lbs each) so you can easily transport them.
– They can hold up to 150lbs or weight.
– These are really good for maintenance and spraying down your SUP after use.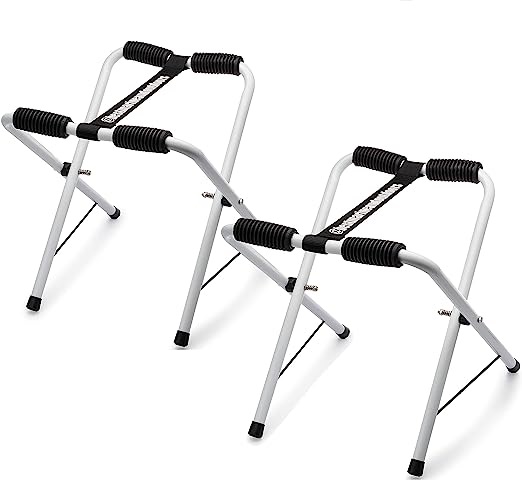 The whole premise behind these stands is that they are portable. They fold up into a small little bag the size of most camping chairs and you can use them to store a paddleboard or even kayak anywhere that you want. They are budget-friendly and really convenient if you want to travel with your wooden paddleboard.
Repairing Minor Damages
Accidents happen, but minor damages don't have to be a cause for panic. You can use these basic products if you ever face minor damages or dings on your wooden paddleboard.

Where To Buy: Amazon
Key Features:
– Quick drying liquid for sealing and reinforcing decayed or rotten wood.
– This is what builders, mechanics and repair pros use to fix wood products.
– 474 ml bottle penetrates the wood to reinforce fibers stopping further decay.
You will want to use this to deal with basic decay and rotting wood on your paddleboard. So if you notice water damage or signs of rot then this is what you should look into.
Where To Buy: Amazon
Key Features:
– Provides high performance repairs on cracks, gouges and holes in wood.
– Easy to spread for a smooth, natural finish
– 453 gram will give you ample wood filler to repair even the worst cases of damage.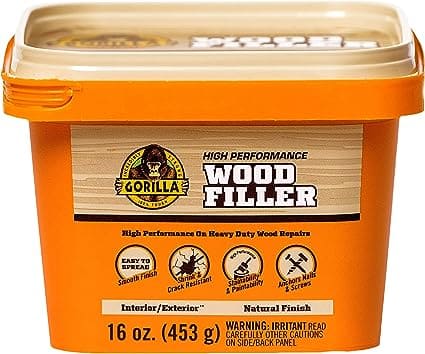 Wooden Paddleboard: Taking the Long-Term Perspective
While the initial investment might seem steep, the longevity and timeless appeal of wooden boards make them a worthwhile consideration for those in it for the long haul.
I am a big fan of wooden paddleboards if you are serious about the sport and looking for a board that you can grow with as you improve. If that's you – then you should get a wooden paddleboard. As long as you look after them – it won't let you down 🙂
Conclusion
In the world of stand-up paddleboarding, the choice of your board is a personal statement. A wooden paddleboard transcends being just a piece of equipment; it becomes a companion on your waterborne journeys. Whether you're drawn to the craftsmanship, the eco-friendly appeal, or the lasting performance, a wooden paddleboard has the potential to redefine your paddleboarding experience.
Wooden Paddleboard FAQs
Is a wooden paddleboard suitable for a beginner?
Wooden paddleboards can be suitable for beginners, especially if they choose a board that aligns with their skill level.
How do I maintain the natural beauty of my wooden paddleboard?
Regular cleaning, proper storage, and using protective coatings can help preserve the natural beauty of a wooden paddleboard.
Are wooden paddleboards heavier than other materials?
Wooden boards can be slightly heavier, but advancements in design and construction have reduced this difference.
Can I use a wooden paddleboard in different water conditions?
Wooden paddleboards are versatile and can be used in various water conditions, but it's essential to choose the right board for the specific conditions.
Do wooden paddleboards require more maintenance than other materials?
While wooden boards may require a bit more maintenance, proper care ensures longevity and optimal performance.