*We may earn a commission for purchases made using our links. Please see our disclosure to learn more.
Paddleboarding is an exhilarating water sport that allows you to glide across the water, enjoy the beauty of nature and get a great workout at the same time! Whether you are a beginner or an experienced paddleboarder, having the right gear is crucial for an enjoyable and safe experience. While many paddlers focus on choosing the perfect paddleboard and paddle, one essential piece of gear that often gets overlooked is paddleboarding shoes.
In this article, I will guide you through the best paddleboarding shoes available in 2024 and provide helpful suggestions to ensure you make an informed decision.
Importance of Paddleboarding Shoes
Paddleboarding shoes are specifically designed to offer superior performance and functionality in water sports activities. They provide excellent grip and traction on wet surfaces, preventing slips and falls while you navigate through different water conditions.
1But more importantly – these shoes protect your feet from sharp objects, rocks, and marine life that may be present in the water. They also offer comfort and support, reducing fatigue and enabling you to enjoy longer paddleboarding sessions so they are definitely worth looking into if you have sensitive feet (like me).
So what are the best paddleboarding shoes that you can get your feet into in 2024? Here they are…
The 7 Best Paddleboarding Shoes Of 2024
Based on extensive research & personal experience, I have compiled a list of the top 7 paddleboarding shoes for 2024. Each of these shoes offers unique features and benefits to cater to different preferences and requirements.
Let's take a closer look at each of them: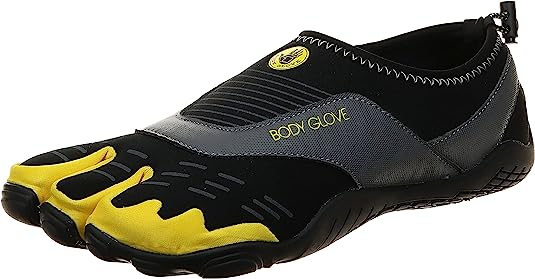 Where To Buy: Amazon
Key Benefits:
– Barefoot feeling water shoe
– Flexible, breathable and quick to dry
– Three individual toe pockets to protect your smaller toes
I was really hesitant when I first saw these shoes because I thought that it would feel weird to wear barefoot shoes. But these honestly changed my mind about it! They feel like you have a thick sole on the bottom of your feet. They are so thin and breathable that you can almost feel your SUP below your feet and this gives you that feeling of mobility. But the are thick enough that if jump onto the ground or walk on rocks then your feet don't hurt! I love them and I strongly recommend these shoes as my best paddleboarding shoe of 2024.
PROS
CONS
– Feel like you're barefoot
– I like being able to spread my toes to prevent cramping
– Dries quickly and doesn't really store water
– Nice stretch material means they are forgiving for choosing your shoe size
– Difficult to get on sometimes (they are like a wetsuit)
---
Where To Buy: Amazon
Key Benefits:
– Synthetic rubber shoes
– Breathable and stretchy
– Smooth deck anti-chafing design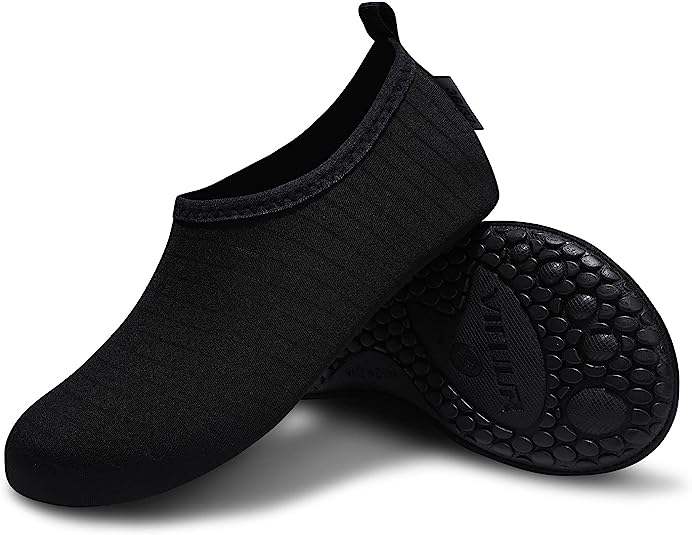 The Vifuur aqua water shoes are exactly what you would expect from water shoes. They are a well-fitting and stretchy synthetic rubber that covers your foot and protects it. They are surprisingly comfortable and well made. The lower cost of it means that you're going to get a bit more water buildup but all around I was very happy with these shoes. They didn't chafe and did the exact job they were designed to do at a great price.
PROS
CONS
– Great price
– Don't chafe and fit surprisingly well
– Protects your feet well against sharp rocks
– Are good to look at and look nice
– Less grip if you are walking on wet surfaces
– Can fill with sand if you're not careful
– Non-adjustable
---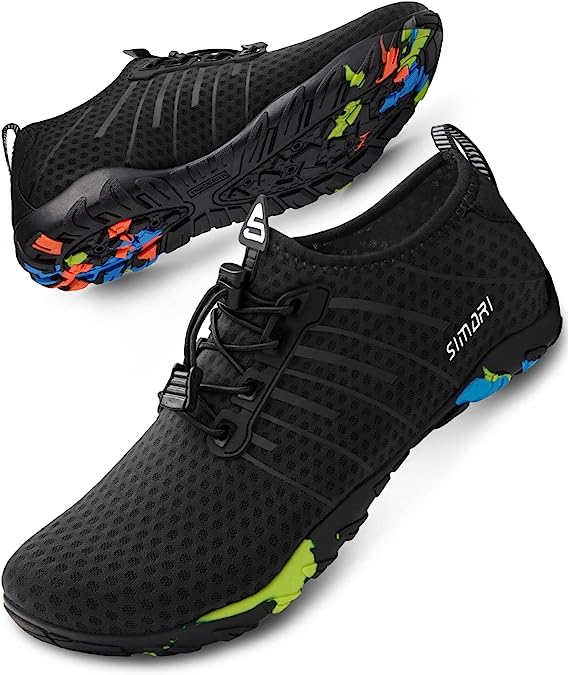 Where To Buy: Amazon
Key Benefits:
– Mesh material on the top with a protective sole on the base
– Breathable and stretchy
– Smooth deck anti-chafing design
These Simari shoes are honestly amazing! They were actually my second favorite paddleboarding shoes and a big part of that is because of how effectively they drain water. That's normally a huge problem with water shoes – they fill up and get all luggy with water. But these don't! They have an incredible drainage system, they are comfortable, adjustable and will be a great fit for your next paddleboarding adventure.
PROS
CONS
– Great water drainage system that doesn't store water
– Adjustable so you can get a great fit the laces
– Have great grip if you're on slippery surfaces
– Thicker sole means you can't feel your paddleboard as well as with other shoes.
---
Where To Buy: Amazon
Key Benefits:
– Polyester shoes with a rubber sole
– Breathable design that will naturally drain water
– Stretchy and give a great fit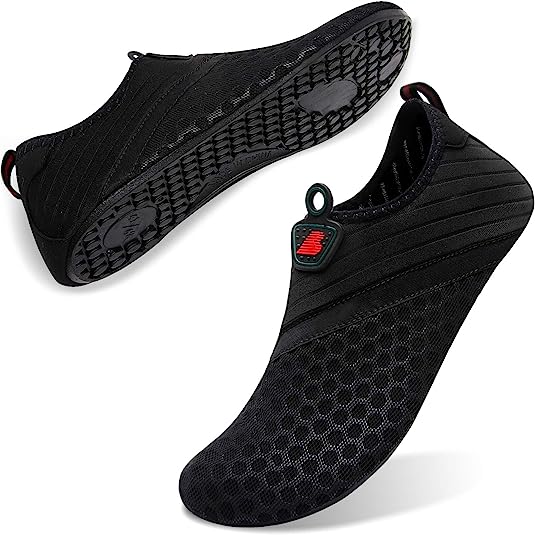 The BareRun barefoot socks are a really solid option for many people. They are thin, breathable and have a nice thin sole that gives you the feeling of being barefoot while still protecting you. These are the paddleboarding shoes that my wife has and she absolutely adores them. They fit well, don't chafe and are easy to get into because of the stretchy polyester. Another big perk is the hook at the front of the shoe that let's you hang them to dry or hook them on your bag.
PROS
CONS
– Close fitting
– Durable sole that protects your feet and will last for a long time
– Easy to attach to your paddleboard bag
– Thicket sole that will protect you from sharp objects
– More difficult to put on especially if your feet are wet
– Collect sand
– Thicker material so a little less breathable than other shoes
---
Where To Buy: Amazon
Key Benefits:
– Minimalist barefoot feel
– Include shoelaces for adjustability
– Ultra-grip sole
The Hiitave barefoot water shoes are a more rugged shoe that I view more as a hybrid between a trainer and a water shoe. You could wear these out and about and they wouldn't look like other water shoes, they have a high-grip sole that protects you and gives you support. And they are adjustable also so you know that they'll fit well. But with these comes one negative – they are more normal shoe than aqua shoe. Imagine these as fast drying everyday shoes and you'll have a good idea of what they're like.
PROS
CONS
– Ultra-grippy soles that will not only let you walk on anything, but also support you
– Comfortable and adjustable with the laces
– Great looking
– Quick drying
– Thicker shoe that is less water shoe than a normal everyday shoe
---
Where To Buy: Amazon
Key Benefits:
– High elasticity and breathable with lycra mesh fabric
– Tightening strap lets you adjust them
– Quick dry and comfortable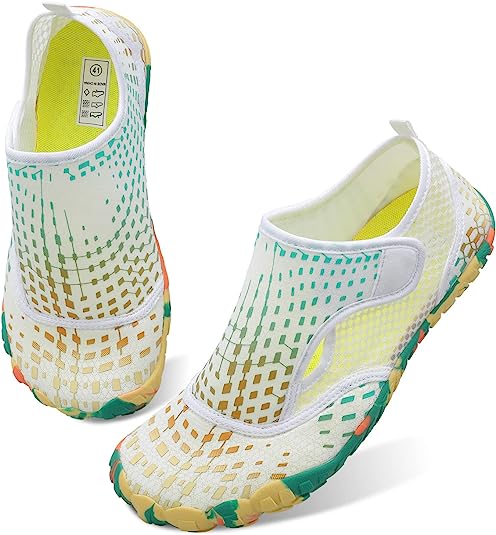 The Centipede water sneakers are a really great water shoe. I really enjoyed testing them out and the big highlight for me was that they had great drainage. My biggest annoyance with water shoes is always that they have poor drainage so that's a big reason that I like these so much. They are extremely fast drying, flexible and they genuinely feel like you're barefoot. They have a thin mesh on the side that make them really breathable and on top of that – they look really good!
PROS
CONS
– Great drainage and won't become backlogged with water
– Soft outsole means they are thin and really bendy
– Comfortable and don't chafe
– Breathable
– Extremely fast drying
– Strap is difficult to close if they are sandy
---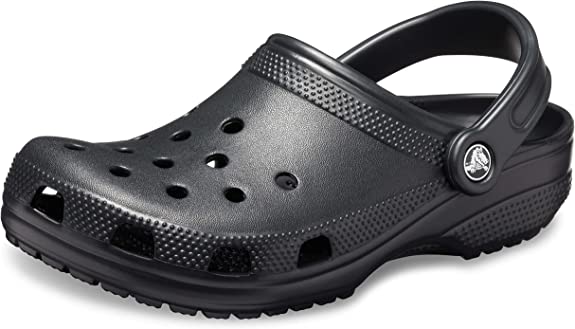 Where To Buy: Amazon
Key Benefits:
– Ultra-comfortable
– Great drainage with the side holes
– Lightweight and easy to use
Don't hate me, but Crocs are really good paddleboarding shoes! You wouldn't expect it but they are. The only single negative that comes with them is if you fall off your board then your shoe can fall off, but if you're just looking for a casual paddle without hurting your feet then I recommend these Crocs wholeheartedly. They are extremely comfortable, light, breathable and I'd argue that there are uglier shoes out there. But who cares? They work! And that's why I'm happy to recommend them.
PROS
CONS
– Lightweight
– Breathable
– Ultra-comfortable
– Great drainage
– Can be used for things besides paddleboarding
– Higher price
– Can fall off if you fall into the water
---
So now that you know what my favorite paddleboarding shoes are, how do you choose which ones you want?
Here's how…
Factors to Consider When Choosing Paddleboarding Shoes
Let's explore the key factors you should keep in mind when making your selection:
| | |
| --- | --- |
| Grip and Traction | When paddleboarding, maintaining a strong grip on your board is essential. Look for shoes with a high-quality outsole that provides excellent traction on wet surfaces. The outsole should have a non-slip pattern or rubber material that offers a firm grip, preventing any chances of slipping while you maneuver on your paddleboard. |
| Water Resistance | Since paddleboarding involves being in contact with water throughout your adventure, it's crucial to choose shoes that are water-resistant or quick-drying. Water-resistant materials like neoprene or mesh help to keep your feet dry and comfortable, reducing the risk of blisters or irritation caused by prolonged moisture exposure. |
| Comfort and Support | A comfortable pair of paddleboarding shoes allows you to focus on enjoying your time on the water without any discomfort. Look for shoes with cushioned insoles and breathable materials that provide proper ventilation. Additionally, ankle and arch support are crucial for maintaining stability and preventing strain during prolonged paddleboarding sessions. |
| Durability | Paddleboarding can be demanding on your gear, so choosing shoes that are built to withstand the wear and tear of water sports activities is essential. Look for shoes with sturdy construction, reinforced toe caps, and durable materials that can withstand the elements and provide long-lasting performance. |
Conclusion
Investing in a pair of high-quality paddleboarding shoes is a game-changer for any paddleboard enthusiast. The right shoes will not only provide you with the necessary grip, support, and protection but also enhance your overall comfort and enjoyment on the water. By considering factors such as grip and traction, water resistance, comfort and support, and durability, you can choose the best paddleboarding shoes that meet your specific needs and preferences.
Remember, each paddleboarder is unique, so take the time to evaluate your requirements and try on different shoes to find the perfect fit. With the top 5 paddleboarding shoes in 2024 mentioned in this article as a starting point, you're well on your way to selecting the ideal pair of shoes that will enhance your paddleboarding adventures for years to come.
Frequently Asked Questions (FAQs)
Can I use regular sneakers for paddleboarding?
While regular sneakers may provide some grip, they are not specifically designed for water sports activities like paddleboarding. They are likely to get damaged and fill up with water, leading to blisters and discomfort. It's best to invest in paddleboarding shoes that offer better traction and water resistance.
How often should I replace my paddleboarding shoes?
The lifespan of paddleboarding shoes depends on various factors such as frequency of use, quality of materials, and care. Generally, it's recommended to replace them when you notice significant wear and tear or a decline in grip and performance.
Can I wear paddleboarding shoes for other water activities?
Absolutely! Paddleboarding shoes are versatile and can be used for other water sports activities like kayaking, canoeing, and even just walking on the beach.
Are there any specific maintenance tips for paddleboarding shoes?
To prolong the life of your paddleboarding shoes, rinse them with fresh water after each use to remove salt and sand. Allow them to dry naturally before storing them in a cool, dry place.
Can I wear socks with paddleboarding shoes?
It's a personal preference. Some people prefer wearing thin water socks for added comfort and to prevent chafing, while others enjoy the barefoot feel. Experiment with both options to see what works best for you.