*We may earn a commission for purchases made using our links. Please see our disclosure to learn more.
Struggling to choose the perfect paddle board for your aquatic adventures? You'd be crazy not to consider iRocker paddle boards. The market is flooded with countless options, but few brands match up to iROCKER's stellar reputation in terms of quality and durability.
In this comprehensive guide, we'll dive deep into the world of iROCKER paddle boards, highlighting the best picks for 2024 while also offering tips on what you should consider when shopping.
Ready to find your ideal match? Let's get paddling! 🏄‍♂️🌊💦
iROCKER Paddle Boards: Overview
When it comes to making paddle boards, iROCKER took a more simple approach. They understood that there were really only 4x different types of customers.
The curious beginners that wanted something easy to get started – iROCKER Nautical
The budding athlete that wants a fast and nimble SUP for everyday use – iROCKER All Around Ultra
The socialite that wants to cruise with their friends or ride with two people on a SUP – iROCKER Cruiser
And the paddle boarding pro that wants enhanced speed on the water – iROCKER Blackfin
So why are iROCKER paddle boards so sought after and admired by paddlers?
Features and Benefits of iROCKER Paddle Boards
iROCKER paddle boards offer exceptional stability and maneuverability, making them ideal for beginners as well as experienced paddlers. Additionally, these boards come with a range of accessories included, such as a backpack carry bag and an electric pump, providing convenience and ease of use.
Stability and maneuverability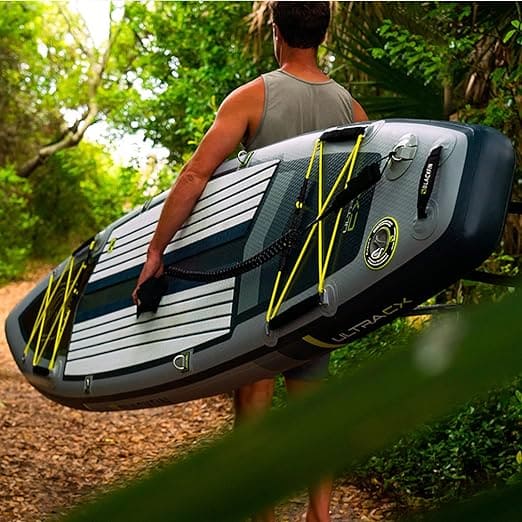 iROCKER paddle boards are known for their exceptional stability and maneuverability, making them a great choice for beginners and experienced paddlers alike. These boards are designed to offer a stable platform that allows riders to maintain balance while paddling in various conditions, including calm lakes and rivers or even choppy ocean waves.
With their wide width and sturdy construction, iROCKER paddle boards provide the stability needed for yoga sessions, fishing trips, or simply cruising along the water with confidence.
Additionally, these boards are highly maneuverable, allowing users to navigate tight turns and make quick adjustments as they explore different waterways. Whether you're looking for a board that offers stability for family outings or one that provides responsive maneuverability for more adventurous rides, iROCKER delivers impressive performance in both areas.
Accessories included
The iROCKER paddle boards come equipped with a range of accessories to enhance your paddling experience.
These include:
Removable fins for added stability and maneuverability
A sturdy carry bag for easy transportation and storage
An electric pump for quick and convenient inflation
Board accessories such as a leash, paddle, and repair kit
Wheels on the bag for effortless transport to the water
Quality, durability, and safety focus
Rocker paddle boards are renowned for their unwavering quality and durability. They use military-grade PVC material in crafting each inflatable SUP, ensuring that it's built to last while withstanding harsh weather conditions and choppy waters.
With triple-layered sidewalls, these boards provide unrivalled stiffness for excellent stability during paddling sessions.
Safety is another paramount focus of iROCKER. Their designs incorporate features such as non-slip EVA deck pads for secure footing and removable fins that enhance control over the board's direction – key elements to consider when engaging in paddle boarding activities.
Moreover, they feature D-rings where you can attach a leash or other gear, keeping everything within an arm's reach at all times.
Best iROCKER Paddle Boards in 2024
Here are the top picks for the best iROCKER paddle boards that you can choose in 2024 and beyond based on their features, your skill level and what you want to get out of your SUP.
Let's jump into each of them to help you decide which is right for you.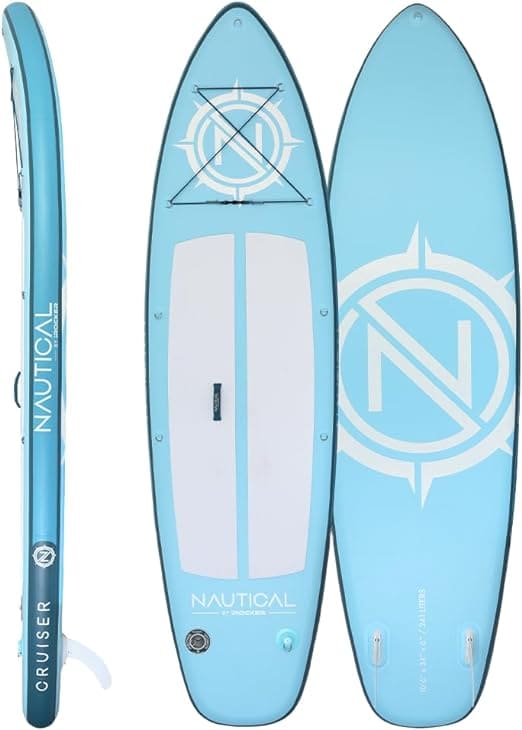 Where To Buy: Amazon

Key Specs & Features
– Dimensions of 10′

– Weight capacity of 330 lbs

– Comes with SUP, fins, leash and repair kit (No paddle, pump or bag included)
The iROCKER Nautical GO Cruiser Inflatable Stand Up Paddle Board is crafted for enthusiasts who desire a no-fuss, high-performance experience. At 10 feet long and 34 inches wide, it offers excellent stability, suitable for SUP beginners or yoga enthusiasts. Despite its 6-inch thickness for reliability, it's lightweight, prioritizing ease of use and transport.
This basic package—with board, fins, leash, and repair kit—covers your essentials and leaves room for personalization through the iROCKER store, offering a cost-effective solution without the paddle, pump, or bag. Its streamlined build caters to various paddling pursuits, from serene lake sessions to coastal explorations and gentle river rides. Perfect for solo adventures or outings with pets and young ones, the GO Cruiser invites paddlers of all skill levels to stand up with confidence and indulge in the simplicity of paddle boarding.
PROS
CONS
– Great price

– Really stable and beginner friendly.

– Easy and lightweight to transport
– Difficult to paddle with more than one person because of the lower weight capacity

– Doesn't come with a paddle so you need to buy one separately.
Where To Buy: Amazon

Key Specs & Features
– Dimensions of 10'6″

– Weight capacity of 400 lbs

– Comes with the SUP, bag, fins, leash, paddle and hand pump.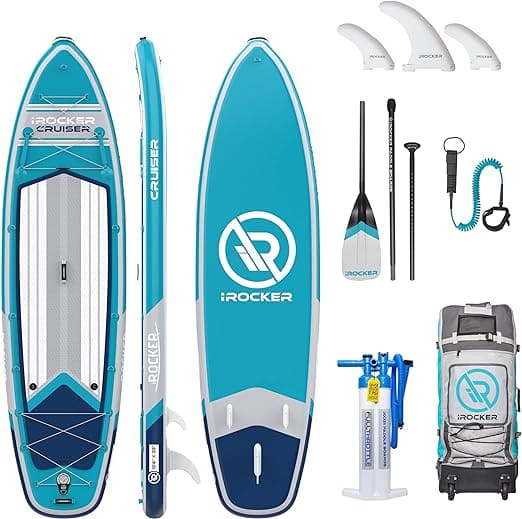 The iROCKER Cruiser Inflatable Stand Up Paddle Board is the quintessence of stability and comfort, designed for those who seek relaxation on the water. Measuring 10'6″ long, 33″ wide, and 6″ thick, it's an ideal match for all skill levels, especially beginners. This SUP boasts a stability rating of 9 out of 10, making it one of the sturdiest options available—perfect for tranquil cruising and yoga.
Included in this premium package is a sleek, full-carbon matte paddle, adjustable from 72″ to 86″ and exceptionally light at 28.8 oz, enhancing your paddling experience. Transporting your board is a breeze with the premium wheeled roller bag, featuring supportive straps, convenient pockets, and additional bungee for carrying a pump.
With the efficient triple action pump, your SUP inflates swiftly within 7-10 minutes, ensuring more time on the water. Plus, an optional electric pump is available for even greater ease. iROCKER solidifies confidence in their superior product with a 2-year warranty, inviting you to embrace paddle boarding with peace of mind.
PROS
CONS
– Great on the water and glides easily

– Really stable and easy to get started on

– Has safety side handles so that a second rider can hold on

– High quality materials that will last a long time.
– Difficult to inflate because it's a large board so consider getting an electric pump
Where To Buy: Amazon

Key Specs & Features
– Dimensions of 11′

– Weight capacity of 435 pounds

– Comes with a bag, paddle, fins, leash, SUP and hand pump
The iROCKER All-Around Inflatable Stand Up Paddle Board is a versatile marvel, designed to comfortably accommodate tall or heavier riders, as well as multiple paddlers, without losing its responsive feel. Its 32-inch width ensures outstanding stability, making it a top pick for a variety of activities from yoga to fishing.
This premium package doesn't skimp on extras, boasting a travel-friendly roller bag with supportive straps and additional bungee for your pump, mesh pockets for personal items, and multiple handles for easy transport.
For inflating convenience, the board comes with a full-throttle, dual chamber, triple action hand pump, complete with an integrated pressure gauge to get you on the water in about 7-10 minutes. And for those looking for an even easier setup, an optional electric pump is available.
Capping off this exceptional bundle is the sleek, full-carbon matte paddle, which is not only lightweight and adjustable but also buoyant, thanks to internal foam. This complete package promises a seamless paddle boarding experience for adventurers of all skill levels.
PROS
CONS
– The carbon fiber paddle is awesome and a great addition

– The pointed nose makes it stable in choppy water

– Great for heavier paddlers

– Lots of room for activities like yoga or fishing
– Difficult to inflate with the hand pump

– Quite heavy at 24 pounds
Paddle Board 4: iROCKER Blackfin CX (Best For Advanced Paddlers)
Where To Buy: Amazon

Key Specs & Features
– Dimensions of 10'6″

– Weight capacity of 320 pounds

– Comes with bag, leash, SUP, paddle, fins and electric pump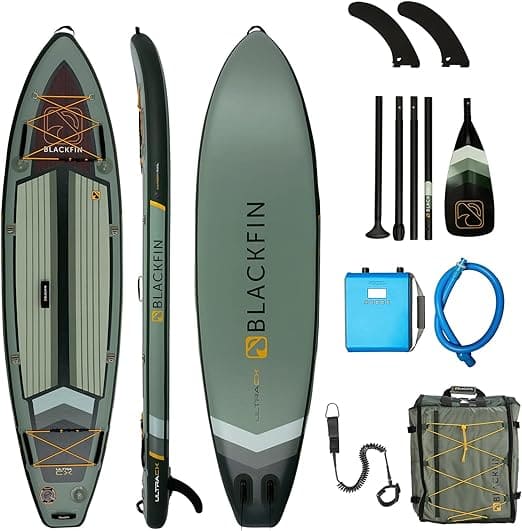 The Blackfin iROCKER Model CX Ultra Series defines elite performance in inflatable SUPs, tailored for paddlers who demand speed and stability without extra bulk. Boasting a 320lb capacity, it's ideal for solo or duo riders.
This SUP has a cross-thread drop-stitch construction that achieves a lighter, stiffer board, enhancing speed and maneuverability. It syncs seamlessly with iROCKER accessories, offering versatility on the water.
Transport is a breeze with the ultra-compact, padded backpack designed for easy storage and travel. The included 12V electric pump ensures rapid inflation in under 12 minutes, maximizing your time on the waves.
Backed by a 3-year warranty and made from top-tier materials, the Blackfin Model CX stands out as an advanced option for paddlers seeking premium quality and convenience. This SUP is a commitment to exceptional on-water experiences and durability.
PROS
CONS
– Extremely stiff design makes it maneuverable and fast on the water

– Lightweight at just 19.8 lbs

– The electric pump is a great addition
– The carry handle isn't in the middle of the board which makes carrying it harder than it needs to be.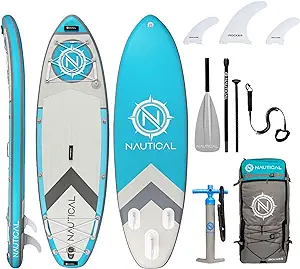 Where To Buy: Amazon

Key Specs & Features
– Dimensions of 9′

– Weight capacity of 220 lbs

– Comes with bag, hand pump, paddle, fins, leash and SUP.
The iROCKER Nautical Kids Inflatable Stand Up Paddle Board is a great choice for young enthusiasts eager to explore the waters. With its kid-friendly 9′ length and 32″ width, this board offers exceptional stability and ease of maneuverability, vital for those new to paddle boarding or progressing their skills. Its 6″ thickness ensures durability and a safe, buoyant experience on both calm lakes and gentle seas.
Ready for adventure, this lightweight board comes with all the essentials—paddle, pump, leash, and fins—and is roomy enough to bring a pet pal along. Available in four different colors, it promises high visibility for safety and style. The iROCKER Nautical is more than just a paddle board; it's a complete package for youthful adventures, fostering both the love for the sport and the confidence to master it.
PROS
CONS
– Really cheap

– Has everything that you need to get a child out on the water quickly

– Plenty of stability for an easy learning experience.
– The paddle is pretty small and will need to be replaced when the rider is above 5 foot in height
Now that you know what the different choices are, let's talk about which one to choose.
How to Choose the Right iROCKER Paddle Board
To choose the right iROCKER Paddle Board, consider your needs, preferences, size, weight, skill level, and budget.
Determine your needs and preferences
To choose the right iROCKER paddle board, it's important to determine your needs and preferences. Consider factors like your skill level, weight, and the type of paddling you plan to do.
If you're a beginner or plan to use the board for recreational purposes, an all-around board might be a great choice. For more experienced paddlers or those interested in touring or surfing, specialized boards are available.
Your budget is also important – iROCKER offers various price points to suit different budgets without sacrificing quality. Take some time to think about what you want from your paddle board before making a decision.
Consider size, weight, and skill level
When choosing the right iROCKER paddle board, it's important to consider your size, weight, and skill level. Paddle boards come in various sizes and weights, so finding one that matches your body type is essential for stability and maneuverability on the water.
If you're a beginner or a smaller paddler, opt for a board with a shorter length and narrower width for easy handling. On the other hand, if you're taller or more experienced, look for longer boards that provide greater speed and stability.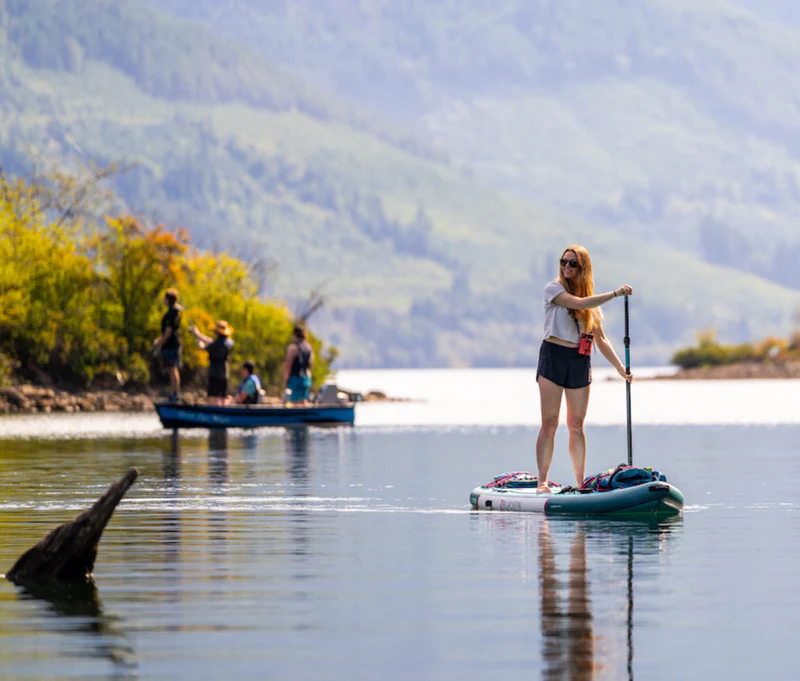 It's also crucial to assess your skill level when selecting a paddle board. Beginner-friendly boards are usually wider and more stable, making them easier to balance on. Intermediate or advanced paddlers might prefer narrower boards that offer increased maneuverability but may require more balance control.
Budget considerations
When choosing the right iROCKER paddle board, budget is an important factor to consider. iROCKER offers a range of boards at different price points, ensuring there is something for every budget.
It's important to determine how much you are willing to spend and find a board that meets your needs within that price range. Whether you're looking for an entry-level option or a more advanced board with innovative features, iROCKER has options for all budgets.
By setting a budget and understanding what features are most important to you, you can find the perfect iROCKER paddle board without breaking the bank.
Latest Innovations in iROCKER Paddle Board Technology
iROCKER Paddle Boards have recently introduced several innovative technologies that enhance the performance and functionality of their boards. AVF technology automatically adjusts filtration on the paddle board, nanotechnology improves durability, acoustic nanotube technology enhances sound quality, and photocatalytic water purification technology ensures clean water while paddling.
Automatic Variable Filtration (AVF) technology
The iROCKER paddle boards are equipped with Automatic Variable Filtration (AVF) technology, ensuring clean and pure water while you enjoy your paddling adventure. This innovative technology automatically adjusts the filtration level based on the quality of the water, providing you with optimal filtration efficiency.
With AVF technology, you can confidently explore different bodies of water without worrying about impurities or contaminants. It's a game-changer for those who value both high-performance paddle boards and pristine water conditions.
Nanotechnology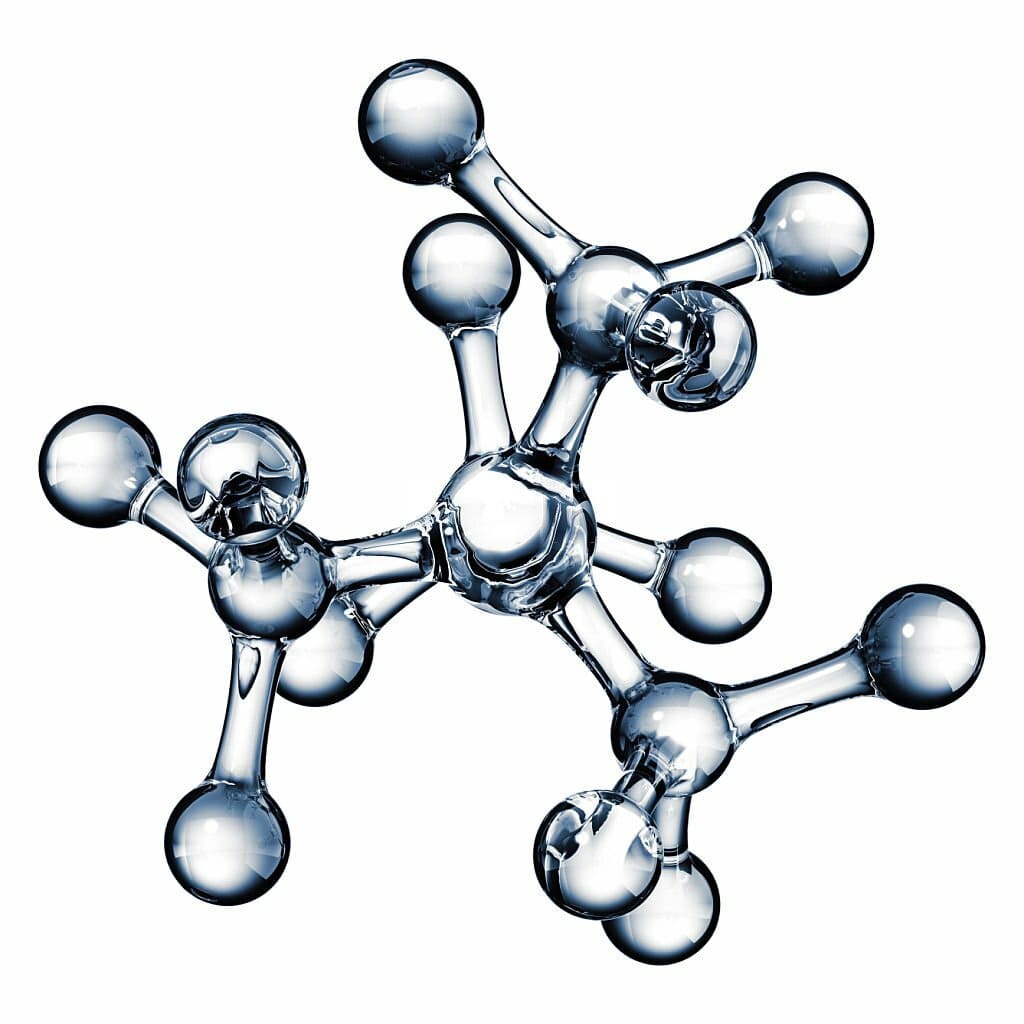 Nanotechnology is one of the latest innovations in iROCKER paddle board technology. It involves the use of tiny particles at the nanoscale to enhance the performance and features of the boards.
With nanotechnology, iROCKER can achieve remarkable advancements in areas such as durability, strength, and weight reduction. These advancements result in paddle boards that are more lightweight and sturdy, making them easier to transport and maneuver on the water.
Additionally, nanotechnology allows for improved water resistance and protection against UV rays, ensuring a longer lifespan for your paddle board. Overall, nanotechnology plays a crucial role in enhancing the quality and functionality of iROCKER paddle boards, offering an even better paddling experience for riders.
Acoustic nanotube technology
iROCKER's cutting-edge technology includes acoustic nanotube technology, which enhances the performance of their paddle boards. By incorporating tiny carbon nanotubes into the construction of the boards, iROCKER is able to achieve superior rigidity and strength without compromising on weight.
This innovative technology ensures that the paddle board remains stable and responsive in various water conditions, providing a smooth and enjoyable experience for paddlers of all skill levels.
With acoustic nanotube technology, iROCKER sets itself apart from other brands by delivering high-quality paddle boards that excel in both durability and performance.
Photocatalytic water purification technology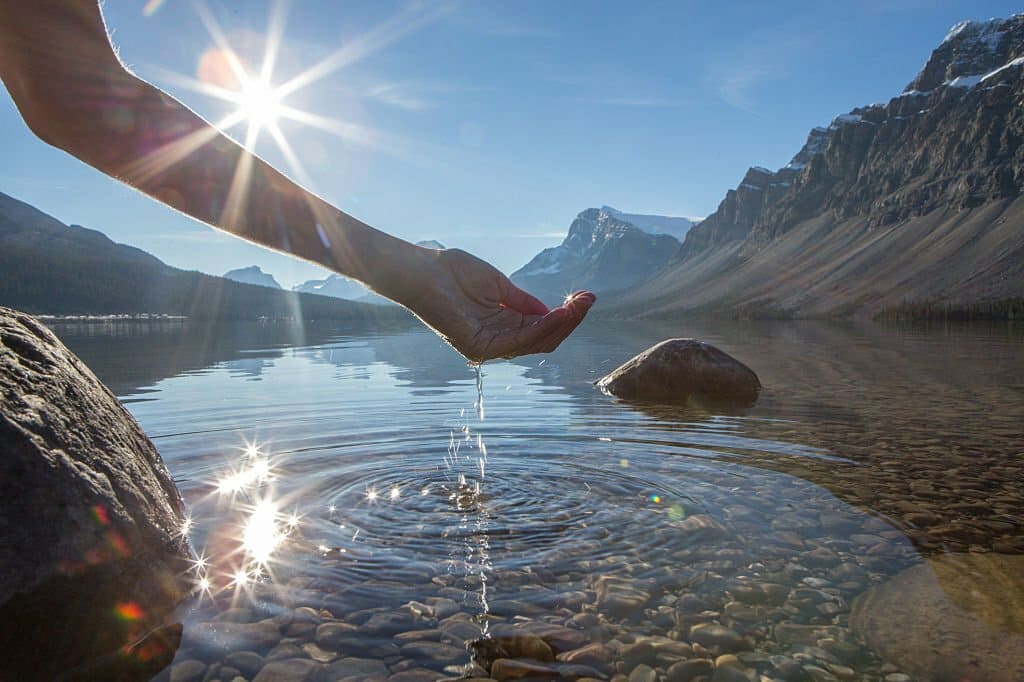 iROCKER paddle boards incorporate advanced photocatalytic water purification technology. This innovative feature helps to purify and clean the water as you paddle, making it safer and more enjoyable for your adventures.
The technology uses light energy from the sun to activate a catalyst on the board's surface.This breaks down harmful substances in the water, such as bacteria, viruses, and pollutants.
This ensures that you can have peace of mind while paddling in different bodies of water, knowing that your iROCKER paddle board is actively working to provide you with cleaner and healthier conditions.
Conclusion
In conclusion, the iROCKER paddle boards in 2024 offer a range of options for all types of paddlers. From the versatile and stable All Around Ultra to the affordable Nautical boards, there is something for everyone.
When choosing a paddle board, consider your needs, skill level, and budget. With their focus on quality, durability, and safety, iROCKER continues to be a top choice in the market.
So get ready to hit the water with confidence and enjoy your paddle boarding adventure!
FAQs
Why are iROCKER inflatable paddle boards so good?
iRocker inflatable paddle boards are versatile iSUPs that families and kids can easily inflate and carry, without sacrificing stability.
How much does an iROCKER SUP board weigh?
The weight of an iRocker sup board varies depending on the model, but all are designed to be lightweight for easy carrying.
Does the iROCKER Cruiser offer good support?
Yes, the shape of the iROCKER Cruiser has been designed specifically to provide excellent stability and support even when fully inflated.
Are there any issues with manufacturing defects in these boards?
While no product is immune from manufacturing defects, iROCKER claims to hold their products to high-quality standards to minimize such issues.
How will I know which iROCKER inflatable paddle board is best for me?
To determine the best choice for you from the available options, you need to consider what shape suits your needs, how much it weighs for carrying purposes and its cost within your budget.