*We may earn a commission for purchases made using our links. Please see our disclosure to learn more.
Siesta Key has become one of my favorite destinations to paddleboard in recent years because it is just so beautiful! It contains everything you caould need for an amazing experience wrapped up into one location. So here's everything you need to know about Siesta Key paddleboards, locations, classes and more…
Ready to get started? 🙂
Where Is Siesta Key?
Siesta Key is a stunning barrier island located off the southwestern coast of Florida. It is renowned for its soft, powdery white sands, crystal-clear turquoise waters, and abundant marine life. The island offers an ideal setting for paddleboarding, with its calm bay waters, mangrove-lined canals, and proximity to various natural wonders.
Best Paddleboard Locations In Siesta Key
Location #1: Turtle Beach
Turtle Beach, located at the southern end of Siesta Key, offers a serene and picturesque paddleboarding spot. Glide along the calm waters, enjoy the stunning views, and keep an eye out for turtles and various bird species that inhabit the area.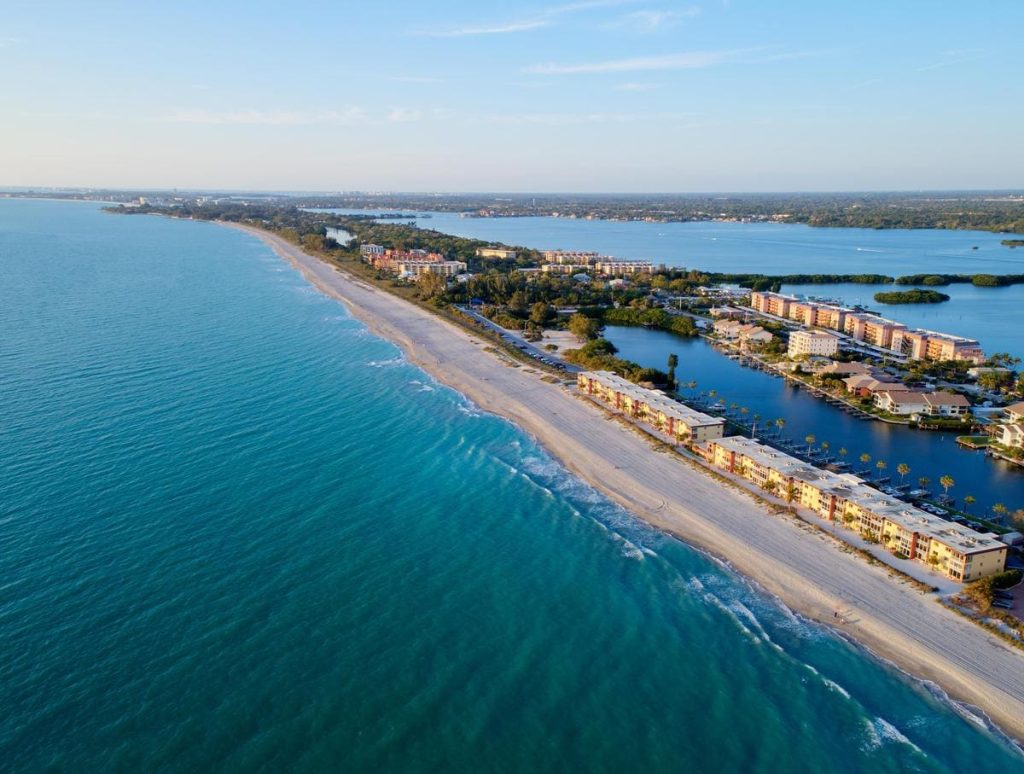 Location: Google Maps
Location #2: Crescent Beach
Crescent Beach is a popular destination for paddleboarding enthusiasts, thanks to its calm, turquoise waters. Explore the mangrove-lined channels and take in the breathtaking beauty of the surrounding nature. Don't forget your waterproof camera to capture memorable moments.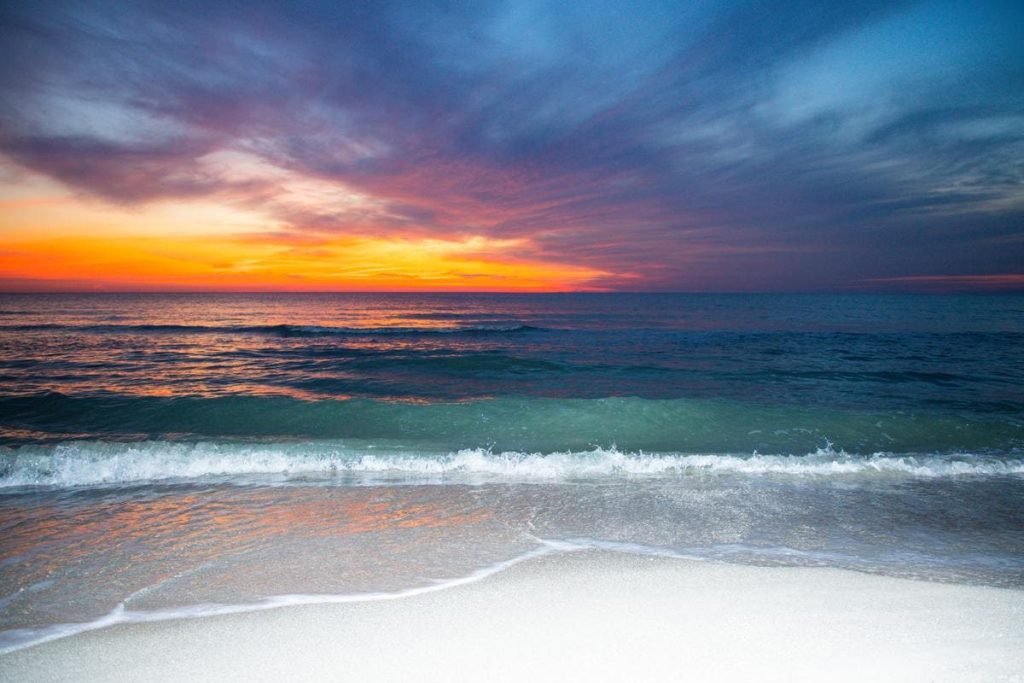 Location: Google Maps
Location #3: Siesta Beach
Siesta Beach, recognized as one of the top beaches worldwide, provides an incredible paddleboarding experience. The clear waters, gentle waves, and expansive shoreline make it an ideal location for both beginners and experienced paddleboarders. Enjoy the warm sun and the vibrant atmosphere while paddling along the coast. Remember – It's better to go early because it can get really busy here!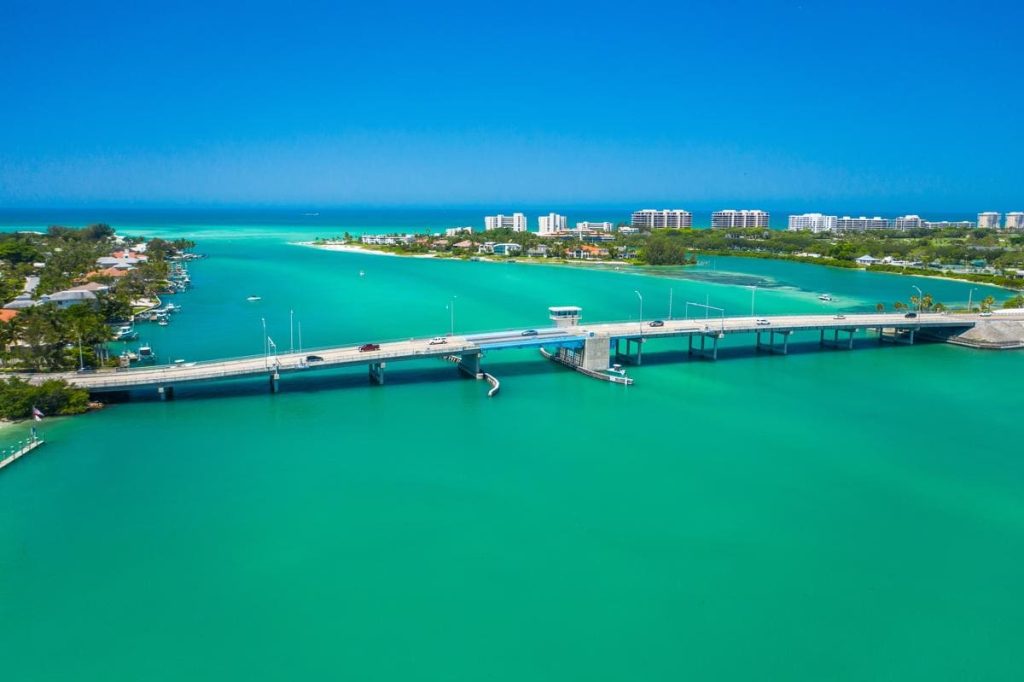 Location: Google Maps
Location #4: Bay Island Park
Bay Island Park, situated on the eastern side of Siesta Key, is a hidden gem for paddleboarding enthusiasts. This park offers access to the calm bay waters, where you can paddle along the mangrove-lined channels and observe the abundant marine life. With its peaceful ambiance and beautiful natural surroundings, Bay Island Park is an idyllic spot to enjoy paddleboarding in Siesta Key.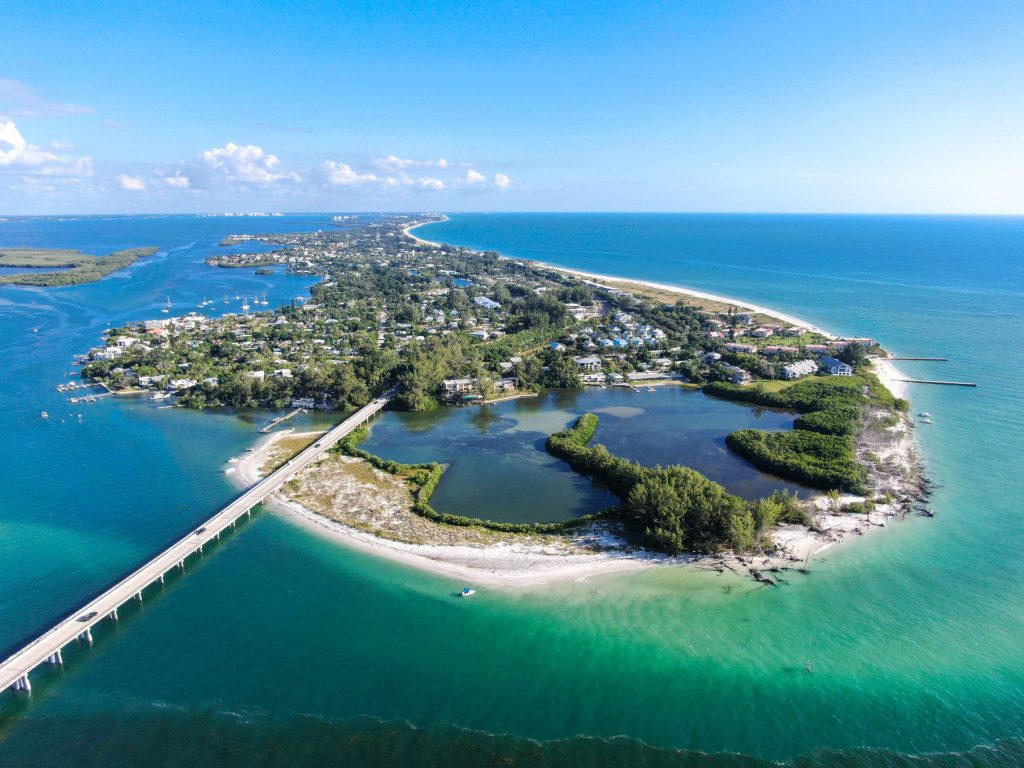 Location: Google Maps
So now that we know some of the best locations to paddleboard. Let's talk about Siesta Key paddleboards and where to rent them…
Best Siesta Key Paddleboards To Rent:
If you don't own a paddleboard or prefer not to travel with one, fret not! Siesta Key boasts several reputable rental shops where you can find a wide selection of paddleboards to suit your needs. Renting a paddleboard provides convenience and eliminates the hassle of transporting your own equipment.
Here are a few of my favorite locations for Siesta Key paddleboards that I'd recommend you go to:
Ride & Paddle by Siesta Sports Rentals
This is a great company that you can use to rent anything from e-bikes all the way to kids strollers. They are reliable and also have really nice paddleboards that you can rent for a great price. If you're looking for Siesta Key paddleboards then this is a really good place to look.
Price: $40 for 3 hours
Address: 6551 Midnight Pass Rd,
Sarasota, FL 34242, United States
Directions: Google Maps
Telephone Number: +1 941-346-1797
You can also do kayak tours around the area with them for just $54 per person.
---
If you're looking for Siesta Key paddleboards then this is another really good option for you to check out. They even give you free delivery on Siesta Key so it's really convenient. Here are their details:
Price: $65 for 1 day
Address: 1224 Old Stickney Point Rd,
Sarasota, FL 34242, United States
Directions: Google Maps
Telephone Number: +1 941-346-0891
Which SUP Do You Choose?
Here are some important facts about different paddleboards that you can choose:
| | |
| --- | --- |
| Paddleboard Types | When selecting a paddleboard, it's crucial to understand the different types available. There are three main types: all-around, touring, and surfing paddleboards. All-around paddleboards are versatile and suitable for beginners, while touring boards are designed for longer expeditions. Surfing paddleboards, on the other hand, are built for riding waves and require more skill. |
| Board Size and Shape | The size and shape of the paddleboard play a significant role in its performance. Longer and wider boards provide better stability, making them ideal for beginners. Conversely, narrower and shorter boards offer increased maneuverability, catering to more experienced paddleboarders. |
| Stability and Maneuverability | Consider your skill level and the type of water conditions you'll be facing. Beginners should prioritize stability to ensure balance and build confidence. If you're more experienced and enjoy exploring various water environments, a more maneuverable board would be suitable. |
Group Paddleboard Tours
If you're looking to join a paddleboarding community or meet fellow enthusiasts, consider joining a group paddleboard tour. These tours offer a fantastic way to explore Siesta Key's waters while learning from experienced guides and connecting with like-minded individuals.
Here is a good company to go through for $55 per tour:
Key Details:
– 12 people per tour
– Beginner friendly
– You have a highly experienced tour guide
– Tour is usally around 3 hours long
How does it work?
You can book the tour here
Locations Visited:
The tour starts on the intercostal and then you paddle down a short canal to the Bay. Then you paddle around the mangrove islands along a bird rookery. We paddle around the mangrove islands of Jim Neville Marine Preserve and then to a "secret" beach. This beach is only accessible by boat so we may have it to ourselves. Such a beautiful place for a quick swim or just stopping for a few moments to relax.
You might even get lucky and see a manatee on the tour!
You can either use paddleboards or kayaks, whichever is easier for you 🙂
Paddleboard Yoga Classes
For those seeking a unique and serene experience, paddleboard yoga classes are a must-try. Combine the tranquility of yoga with the challenge of maintaining balance on the water. Engage your mind, body, and spirit as you practice yoga poses on the paddleboard, surrounded by Siesta Key's natural beauty.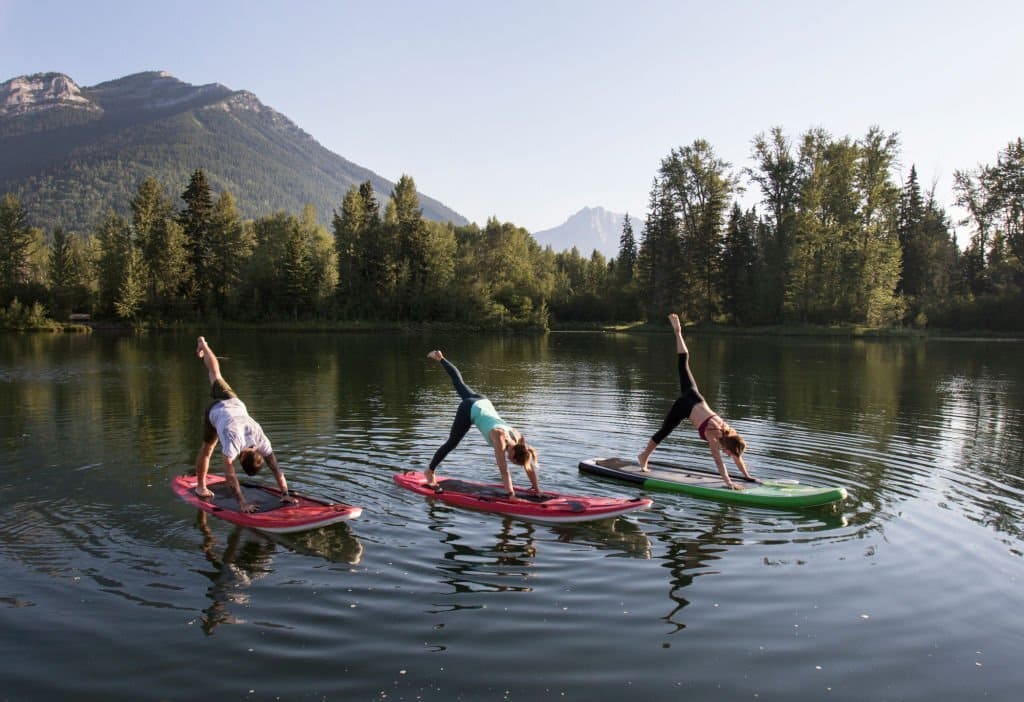 Here's a good company to use for yoga.
They have a bunch of different classes each day and it costs $65 for 2 hours but its a really unique experience. This class is designed for beginners so you don't have to be experienced at all with SUP yoga. Groups are limited to 8 people per class so you need to book (they also do private classes).
Remember to visit one of the Siesta Key paddleboards from a store before because the SUP yoga company doesn't provide boards as of the time I was writing this.
Best Time to Paddleboard:
When planning your paddleboarding adventure in Siesta Key, it's essential to consider the best time to hit the water. Mornings and evenings tend to offer calmer conditions, with gentle breezes and fewer crowds. However, the choice ultimately depends on your personal preference and skill level.
Make sure that you check the weather before you go:
SIESTA KEY WEATHER
Paddleboarding Techniques:
| | |
| --- | --- |
| Getting Started | To start paddleboarding, find a calm and shallow area in the water. Begin by kneeling on the board, ensuring your knees are centered. Slowly stand up, maintaining a balanced posture, and keep your feet shoulder-width apart. |
| Proper Paddling Techniques | Mastering proper paddling techniques is crucial for an efficient and enjoyable paddleboarding experience. Hold the paddle with one hand on the handle and the other hand on the shaft. Keep your arms straight and twist your torso as you paddle, rather than relying solely on your arms. |
| Maintaining Balance | Balance is key to paddleboarding. Engage your core muscles and keep your gaze forward to maintain stability. If you feel unsteady, slightly bend your knees and adjust your weight distribution to find your equilibrium. |
If you learn better using video then here is a detailed guide on how to stand so that you can feel calm and confident when you get on your paddleboard:
Safety Tips for Siesta Key Paddleboards:
Wearing a Personal Flotation Device
Although paddleboarding is a low-impact activity, wearing a personal flotation device (PFD) is essential for your safety. Even confident swimmers should have a PFD readily available, as it provides buoyancy and serves as a crucial lifesaving device in unexpected situations.
Being Aware of Surroundings
Stay vigilant and aware of your surroundings while paddleboarding. Be mindful of other watercraft, including boats and jet skis, and give them ample space. Additionally, pay attention to potential hazards such as rocks, submerged objects, or shallow areas.
Make You Have The Essentials:
When you are paddleboarding you are exposed to the elements, so you want to make sure that you have everything that you need to have a safe experience.
Conclusion:
Paddleboarding in Siesta Key is an incredible adventure that combines fitness, relaxation, and exploration. With its breath taking beaches, calm waters, and diverse marine life, Siesta Key offers the perfect backdrop for paddleboarding enthusiasts of all levels. Remember to choose the right paddleboard, practice proper techniques, and prioritize safety throughout your journey. So, grab your paddleboard, dive into the Siesta Key experience, and create unforgettable memories on the water!
FAQs
Is paddleboarding suitable for beginners?
Absolutely! Paddleboarding is a versatile water activity suitable for beginners. Start in calm waters and choose a stable paddleboard to build your confidence.
Can I rent paddleboarding equipment on Siesta Key?
Yes, Siesta Key has several rental shops where you can easily find paddleboards for rent. It's a convenient option for travelers or those who don't own their own equipment. Most of them also deliver your equipment to wherever you're staying in Siesta Key.
Are there any paddleboarding events or competitions on Siesta Key?
Siesta Key hosts various paddleboarding events throughout the year. Keep an eye out for local announcements or check with tour operators for upcoming events. I also gave a bunch of details above about different Siesta Key paddleboards, group classes and events.
Can I paddleboard with my pet?
While it's possible to paddleboard with pets, it's essential to consider their safety and comfort. Ensure your pet is comfortable with water and always have a well-fitted life jacket for them.
What should I wear while paddleboarding?
Opt for comfortable, lightweight clothing suitable for water activities. Consider wearing a rash guard to protect your skin from the sun and apply sunscreen for added protection.