*We may earn a commission for purchases made using our links. Please see our disclosure to learn more.
If you're looking for Stony Brook harbor kayak & paddleboard rentals, then I can't help but share my excitement about you exploring this location! It's awesome 🙂
I can confidently say that this hidden gem on Long Island offers a captivating experience for kayaking and paddleboarding enthusiasts all around the world, and that's what inspired me to write this article.
Understanding Kayaking and Paddleboarding
Before diving into the specifics of Stony Brook Harbor, let's quickly differentiate kayaking and paddleboarding. While both activities involve propelling oneself through the water using a paddle, kayaking involves sitting inside a closed kayak, while paddleboarding requires standing on a larger board and paddling with a single-bladed paddle.
Apart from the physical benefits of engaging your core and upper body, SUP offers a unique mental escape. The gentle rocking of the board and the sounds of water create a calming environment, perfect for relaxation and meditation.
So now that that's out of the way, let's get into the reason that you're here…
Best Paddleboard & Kayak Locations In Stony Brook Harbor:
Stony Brook Harbor boasts a stunning landscape, making it a paddler's paradise. The harbor's calm waters and diverse ecosystems make it an ideal spot for beginners and seasoned paddlers alike. As you glide through the crystal-clear waters, you'll be greeted by lush vegetation, breathtaking cliffs, and a variety of wildlife.
Here are some of the best spots to keep an eye out for:
Location #1: Flax Pond
Flax Pond is a serene and sheltered body of water, perfect for both beginners and experienced paddlers. Its calm and tranquil environment allows for a peaceful exploration of the surrounding natural beauty. Paddle along the lush vegetation and keep an eye out for the diverse wildlife that calls Flax Pond home.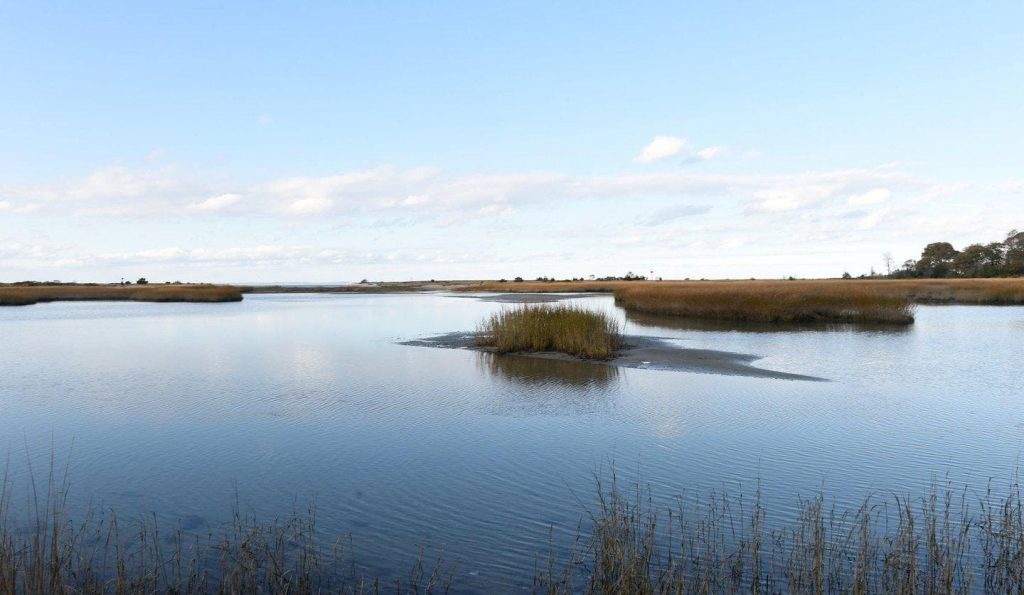 Location: Google Maps
Location #2: West Meadow Creek
West Meadow Creek offers a fantastic mix of marshlands and estuaries, providing a unique and ever-changing landscape for your paddleboarding or kayaking escapades. The gentle currents and serene atmosphere make it an ideal spot for birdwatching and wildlife observation.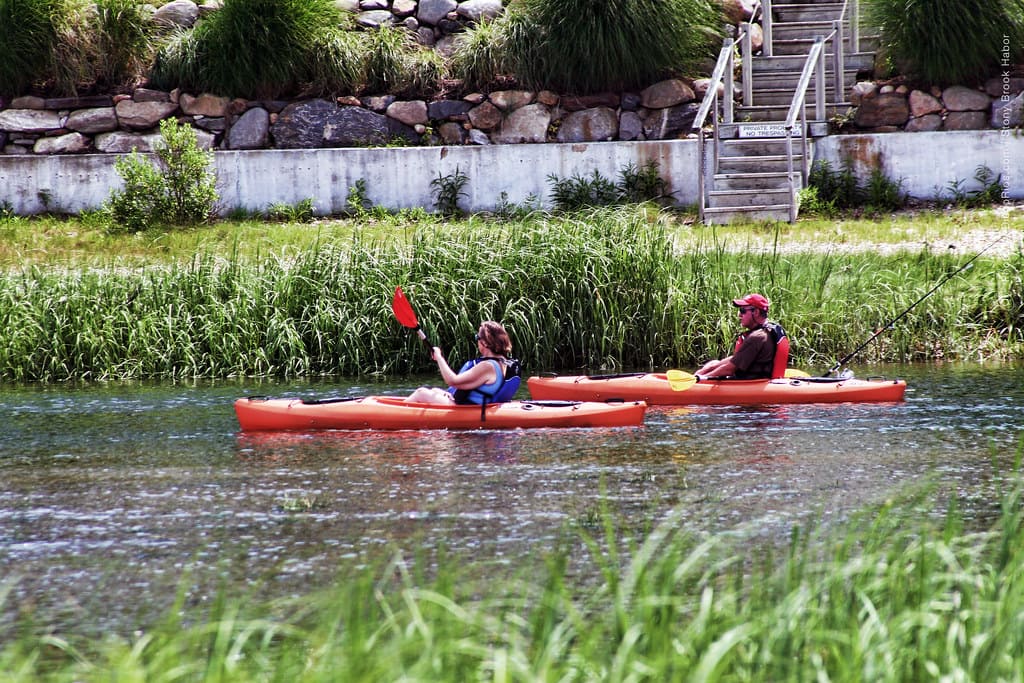 Location: Google Maps
Location #3: Stony Brook Grist Mill Pond
Paddleboarding or kayaking around Stony Brook Grist Mill Pond is like stepping back in time. The historic grist mill, surrounded by charming scenery, creates a picturesque setting for your aquatic journey. Enjoy the tranquil waters and the sense of history that envelopes this enchanting location.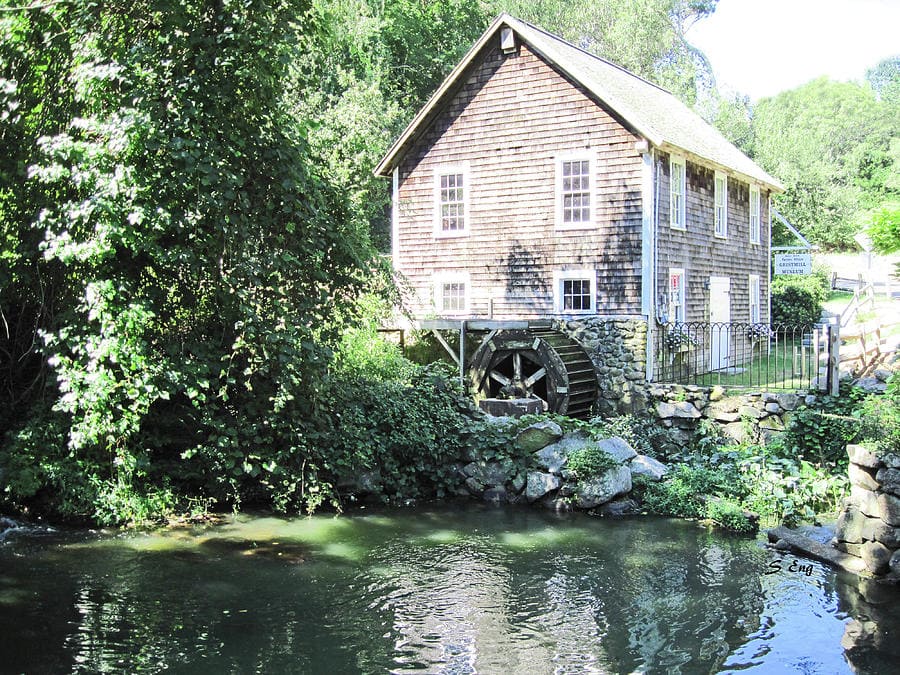 Location: Google Maps
Location #4: Setauket Harbor
Setauket Harbor, known for its rich maritime history, offers paddlers an opportunity to explore the stunning waterfront homes and historic landmarks from a unique perspective. The harbor's protected waters make it an excellent choice for paddleboarders and kayakers of all skill levels.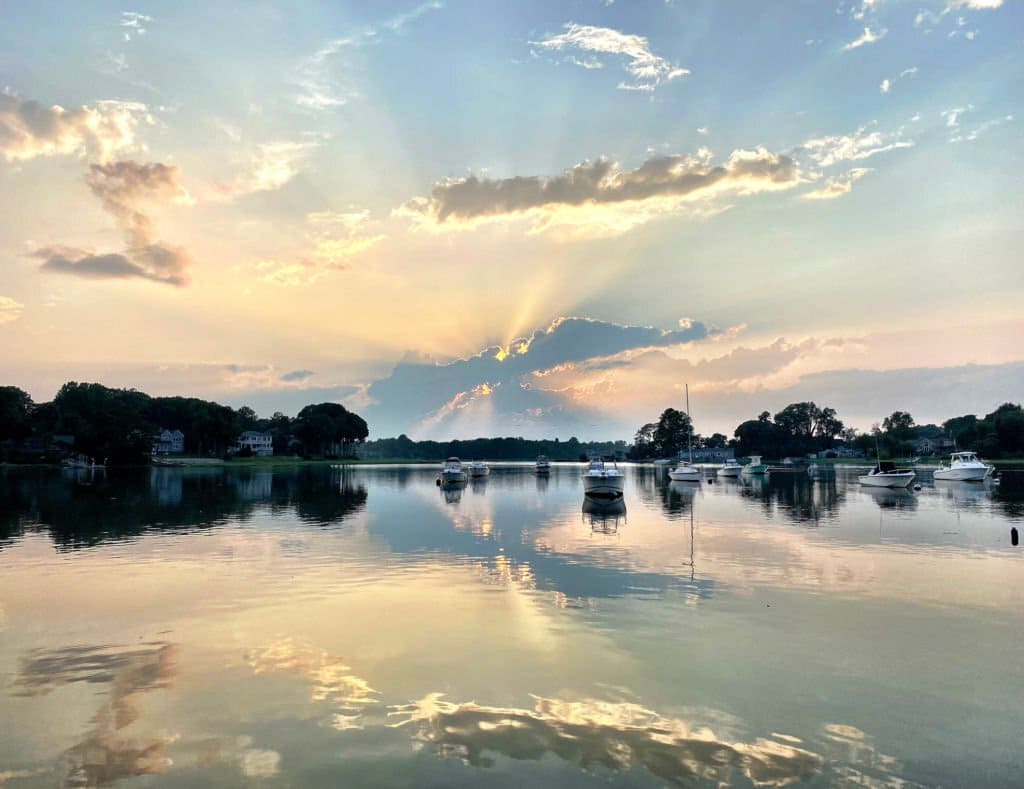 Location: Google Maps
Location #5: Old Field Beach
For those seeking a more leisurely paddleboarding experience, Old Field Beach is the ideal destination. The sandy shores and shallow waters allow for a relaxing and enjoyable time on the water. It's a great spot for families and individuals looking to unwind and soak in the beauty of Stony Brook Harbor.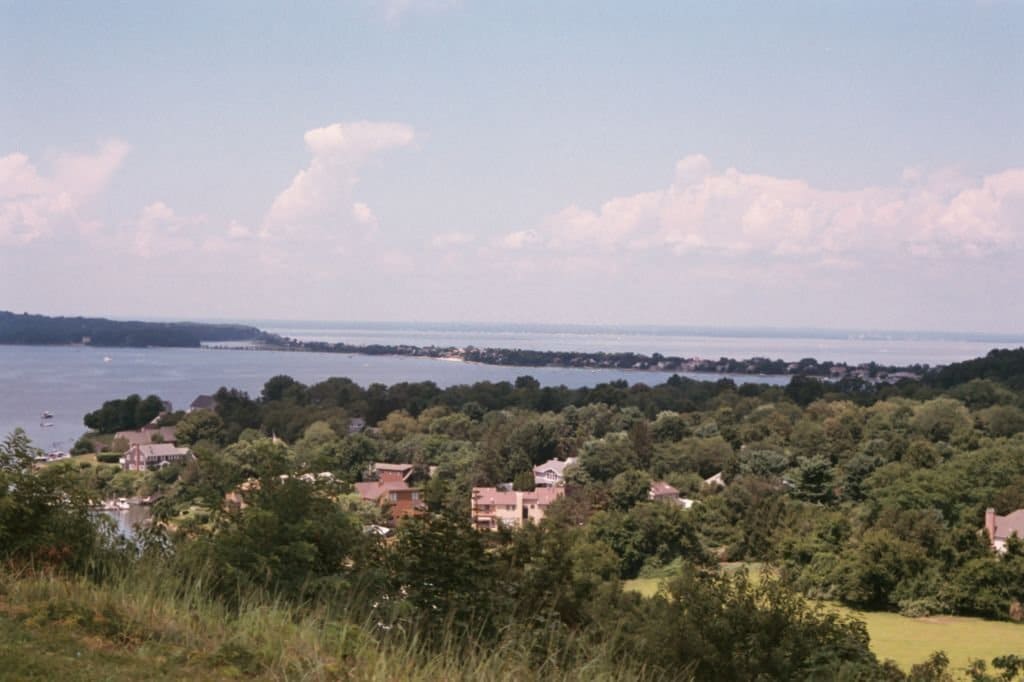 Location: Google Maps
Location #6: West Meadow Beach
With its wide expanse of sandy beach and crystal-clear waters, West Meadow Beach is a favorite among locals and visitors alike. Paddle along the coast and take in the breathtaking views of Long Island Sound. Don't forget to snap some photos of the stunning sunsets that paint the sky with vibrant colors.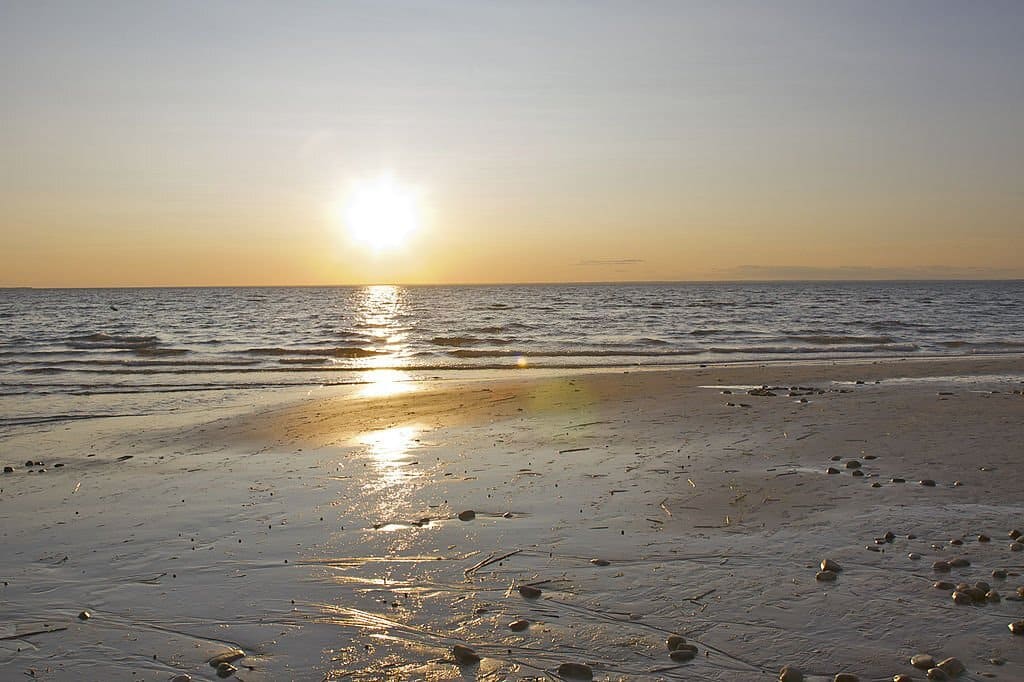 Location: Google Maps
Location #7: Mill Pond at Avalon Park & Preserve
Avalon Park & Preserve is a hidden gem in Stony Brook, and its Mill Pond is a delightful destination for paddleboarding and kayaking. The calm waters, surrounded by lush greenery, offer a peaceful retreat from the hustle and bustle of everyday life.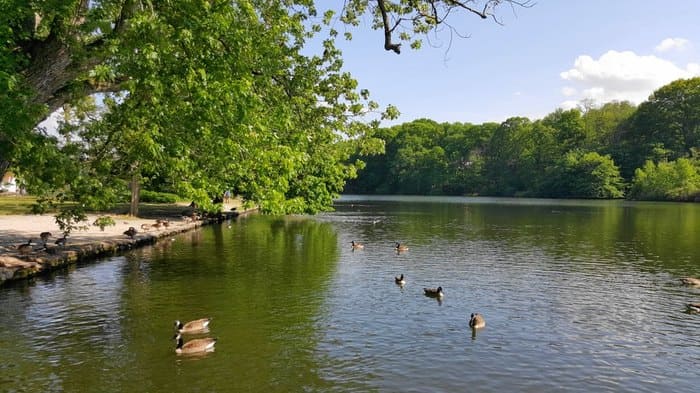 Location: Google Maps
Location #8: Stony Brook Yacht Club
Stony Brook Yacht Club provides easy access to the harbor's waters and is a great starting point for your paddleboarding or kayaking adventure. Explore the nearby coves and discover secluded spots along the coastline.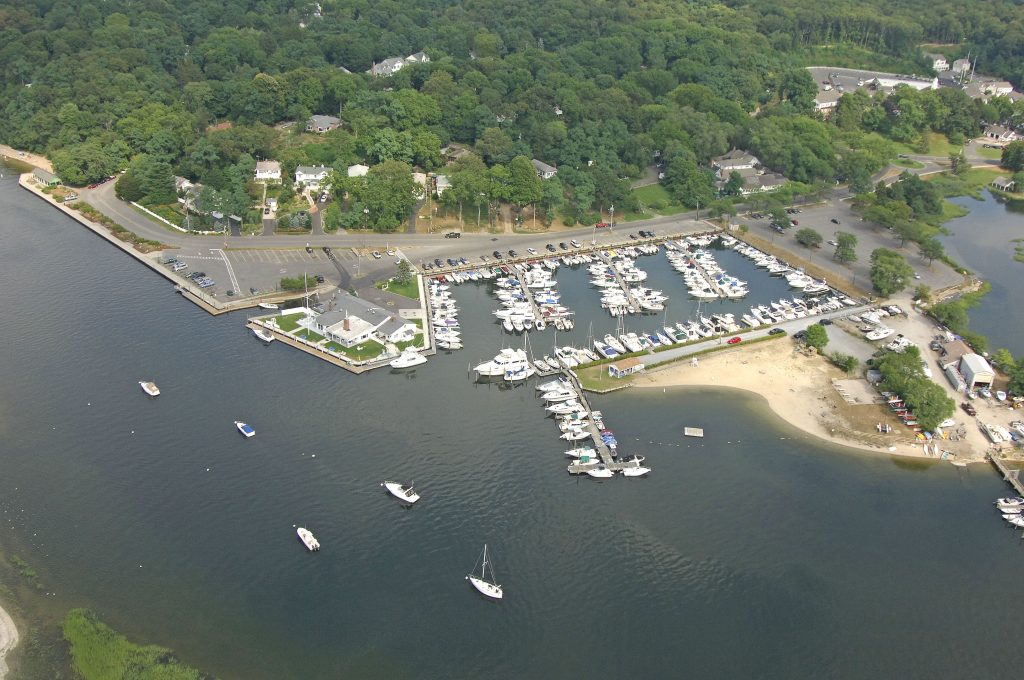 Location: Google Maps
Location #9: Frank Melville Memorial Park Pond
Frank Melville Memorial Park's serene pond is an excellent spot for a leisurely paddle. The park's tranquil setting and beautiful scenery create a peaceful ambiance, perfect for reconnecting with nature.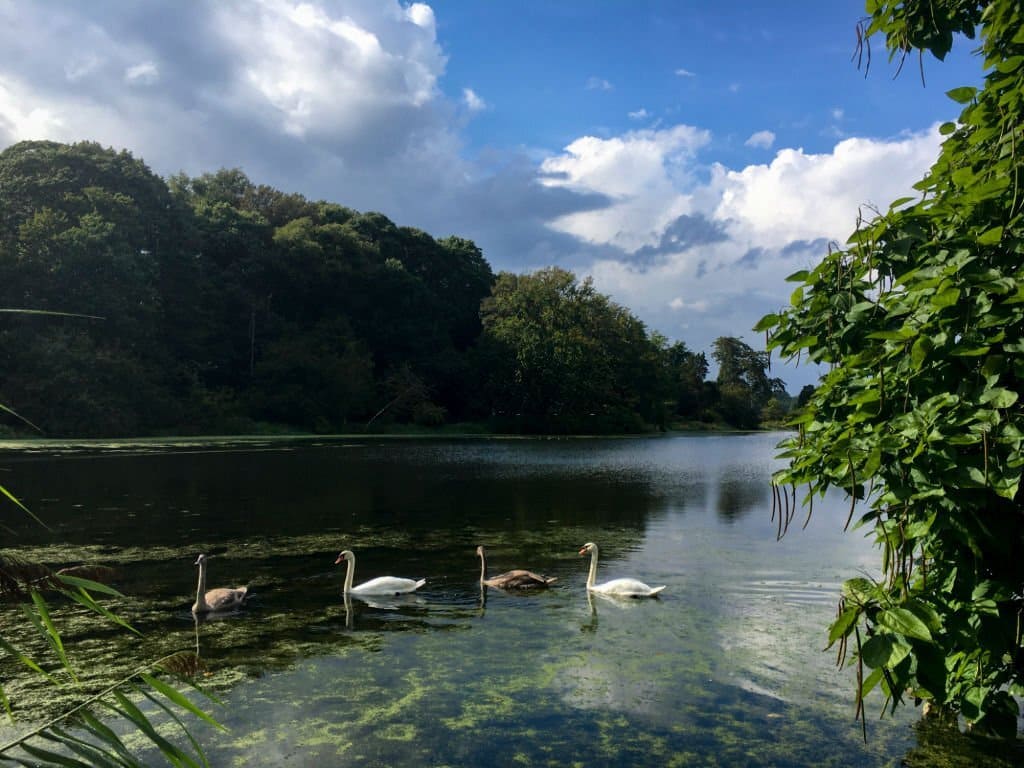 Location: Google Maps
Location #10: Old Field Point
For more experienced paddlers, Old Field Point offers a thrilling journey with its open waters and occasional mild currents. It's an exciting destination for those seeking a bit of adventure on their paddleboard or kayak.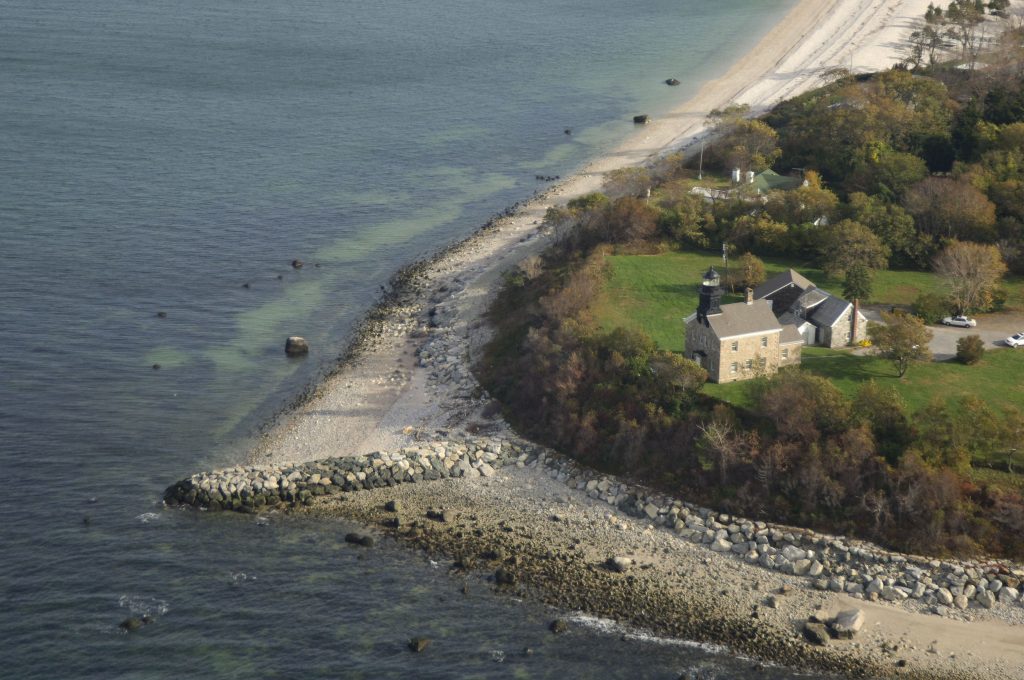 Location: Google Maps
So now that you know the locations, you might be wondering…
"Should I Buy A Paddleboard/Kayak Or Just Rent One?"
In response to this – my advice always remains the same:

Owning your own paddleboard or kayak will always provide a more fulfilling experience compared to renting. If you have a genuine passion for paddleboarding and wish to integrate it into your lifestyle, purchasing a board is a great decision.
Today, advancements in production technology and the increasing number of brands in the market have made it much more accessible to find excellent paddleboards even on a budget. So, if you want to fully immerse yourself in the joys of paddleboarding, I encourage you to go ahead and make that purchase. You won't regret it!
But then again – if you decide that you don't want to buy a paddleboard then you need to know about rentals right?
Stony Brook Harbor Kayak & Paddleboard Rentals
Here are some of the best places that you can use to rent a paddleboard or kayak:
Stony Brook Harbor Kayak & Paddleboard Rentals
Prices:
– Paddleboard = $45 for 2 hours
– Single Kayak = $45 for 2 hours
– Double Kayak = $70 for 2 hours
Address: 51 Shore Rd, Stony Brook, NY 11790, United States
Direction: Google Maps
Contact Number: +1 631-834-3130
This company is the best one in the area and its definitely worth working with them. They are professional and have really high quality paddleboards and kayaks. So when it comes to Stony Brook harbor kayak & paddleboard rentals… this is your place!
They also have paddleboard yoga classes that you can take part of, which is definitely worth trying if you're into yoga.
The Best Time to Visit Stony Brook Harbor
Each season offers a unique experience at Stony Brook Harbor. Spring and summer provide warm weather and abundant wildlife, while autumn showcases vibrant foliage along the shoreline. Be mindful of weather conditions before planning your trip to ensure a comfortable and pleasant journey.
You can see a detailed and up-to-date weather guide below:
STONY BROOK WEATHER
Choosing the Right Gear
For a memorable SUP adventure, it's crucial to select the right gear. A stable and beginner-friendly paddleboard or kayak will make a significant difference in your experience. Thankfully, various rental options are available at Stony Brook Harbor, so you don't have to worry about lugging your equipment around.
Getting Started with Paddleboarding
If you're new to SUP, don't fret! It's easier than it looks, and with a bit of practice, you'll be gliding effortlessly across the water. Start by kneeling on the paddleboard to gain balance and gradually transition to a standing position. Keep your feet hip-width apart and your gaze forward to maintain stability.
Exploring Nature and Wildlife
One of the most incredible aspects of paddleboarding in Stony Brook Harbor is the opportunity to immerse yourself in nature. As you paddle along, keep an eye out for various marine life, including fish, crabs, and seabirds. Always maintain a respectful distance from wildlife and refrain from disturbing their natural habitat.
Solo or Guided Tours?
Whether you prefer a solitary adventure or a guided tour depends on your personal preferences. Solo paddling allows for a more intimate connection with nature, while guided tours provide insightful information about the area's history and wildlife. Consider both options to find the one that aligns with your goals for the trip.
Exploring Surrounding Attractions
Stony Brook Harbor is just one of the many attractions on Long Island. Take advantage of your visit by exploring nearby landmarks and points of interest. From historic sites to charming seaside towns, there's no shortage of things to see and do in the area.
If you're an article skimmer (like me), then make sure that you go through the best locations in the Stony Brook surrounding areas that I spoke about above.
Safety Tips for Paddleboarding
While SUP is generally a safe activity, it's essential to be prepared for any situation. Be aware of tidal changes, weather forecasts, and potential hazards in the water. Always wear a life jacket and bring along necessary safety equipment, such as a whistle and a leash for your paddleboard.
Packing Essentials for a SUP Trip
To ensure a smooth and enjoyable SUP trip, pack wisely. Don't forget essentials like sunscreen, a reusable water bottle, snacks, and a waterproof bag to protect your belongings. Additionally, consider the weather forecast and dress appropriately in layers for added comfort.
Benefits of Outdoor Water Activities
Engaging in water activities like kayaking and paddleboarding offers numerous health benefits. Apart from the physical exercise and improved balance, spending time in nature has been scientifically proven to reduce stress and boost mental well-being. Embrace the opportunity to disconnect from the hustle of daily life and reconnect with nature.
And make sure that you can remember your beautiful moments because science has also proven that looking back on magical moments can create a surge of positive emotions.
Tips for Capturing Memorable Moments
To preserve the beauty of your SUP adventure, bring along a waterproof camera or smartphone and capture the stunning scenery around you. Take creative shots of the wildlife, picturesque shoreline, and maybe even some selfies to cherish the memories for years to come.
My recommendation is always a GoPro Hero Black 11 for this because you just can't beat them: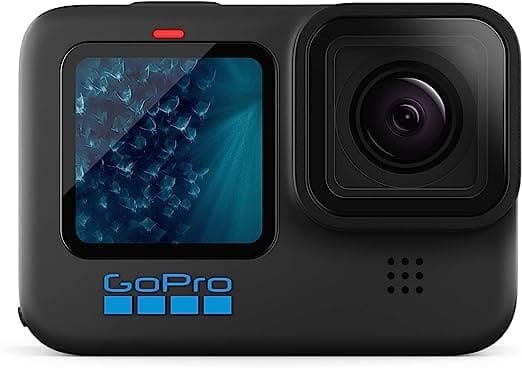 Where To Buy: Amazon

Key Features & Benefits:
– Completely waterproof

– Ultra HD Video

– 27 Megapixel Camera

– Image stabilization
The new GoPro Hero 11's are truly incredible. And one of the biggest changes that you'll see is the wide angle lense that they've included with the Hero 11. Now every photo or video has an extra-large canvas for you to use by capturing more of the sky and horizon in the lense. Not to mention that the pixel quality of the photo's is so high now (27MP) that you can zoom in and crop your shots in perfect quality.
On top of that – these cameras are fully waterproof so you can use them underwater when you grab your Stony Brook Harbor kayak & paddlebaord rentals to explore.
My advice – Grab one of these GoPro's because you won't regret it 🙂
Conclusion
Stony Brook Harbor provides a perfect sanctuary for those seeking a unique and captivating paddleboarding experience. Whether you're a seasoned paddler or a beginner, the tranquil waters and stunning surroundings of this hidden gem will leave you with unforgettable memories. Embrace the opportunity to connect with nature, boost your well-being, and embark on an adventure like no other.
Stony Brook Harbor Kayak & Paddleboard Rentals: FAQs
Is paddleboarding suitable for beginners at Stony Brook Harbor?
Absolutely! Stony Brook Harbor's calm waters and rental options make it an excellent spot for beginners to try SUP.
Can I bring my own paddleboard or kayak?
Yes, you can bring your own equipment if you prefer. However, rentals are readily available if you'd rather travel light.
Are there any age restrictions for paddleboarding in Stony Brook Harbor?
Most rental providers have age restrictions for safety purposes. Check with the rental company before planning your trip. If you have young children with you then its important to make sure that they have lifejackets and are always supervised.
Are there restroom facilities available near the harbor?
Some rental facilities and nearby parks may offer restroom facilities. Plan accordingly and inquire about amenities beforehand if your sensitive to public restrooms (like me).
Can I bring my furry friend on the paddleboard?
While some rental providers may allow pets on board, it's essential to ensure your pet is comfortable and well-behaved around water.