*We may earn a commission for purchases made using our links. Please see our disclosure to learn more.
If you've been around the paddle boarding space for any amount of time, then you've probably come into contact with a BOTE paddle board. BOTE, a brand synonymous with innovation and quality, has caught my attention yet again with their impressive line-up for 2024.
In this article, I'll guide you through five amazing BOTE paddle boards that are worth considering for your next paddle boarding adventure. 🏄‍♂️
Why A BOTE Paddle Board?
Before diving into the specific models, let's briefly explore why BOTE has become a go-to choice for many paddleboarders. BOTE has earned a stellar reputation in the stand-up paddleboarding community, thanks to its commitment to innovation and quality craftsmanship.
The brand consistently pushes the boundaries, introducing unique features that cater to both beginners and seasoned paddlers and they are one of the best brands in the business.
Why BOTE paddle boards are so special:
There are a few reasons why BOTE is widely regarded as such a good company:
| | |
| --- | --- |
| Innovative Designs: | BOTE is recognized for its innovative approach to paddleboard design. They often incorporate unique features into their boards, such as integrated coolers, attachment points for fishing gear, and versatile configurations. |
| Durability: | These paddle boards are typically built with durability in mind. They use quality materials to ensure their boards can withstand the rigors of paddle boarding, whether in calm waters or more challenging conditions. |
| Inflatable and Hard Boards: | BOTE produces both inflatable and hard (rigid) paddleboards. Inflatable boards are convenient for storage and transportation, while hard boards often provide better performance in terms of speed and stability. |
| Accessory Options: | They provides a variety of accessories and add-ons to enhance the paddleboarding experience. This may include paddle holders, fishing racks, and customizable deck pad options. |
The Best BOTE Paddle Boards Of 2024
BOTE has a large range of different paddle boards, so I will base my recommendations on the different skill levels that the boards cater.
---
BEST BEGINNER PADDLE BOARDS
---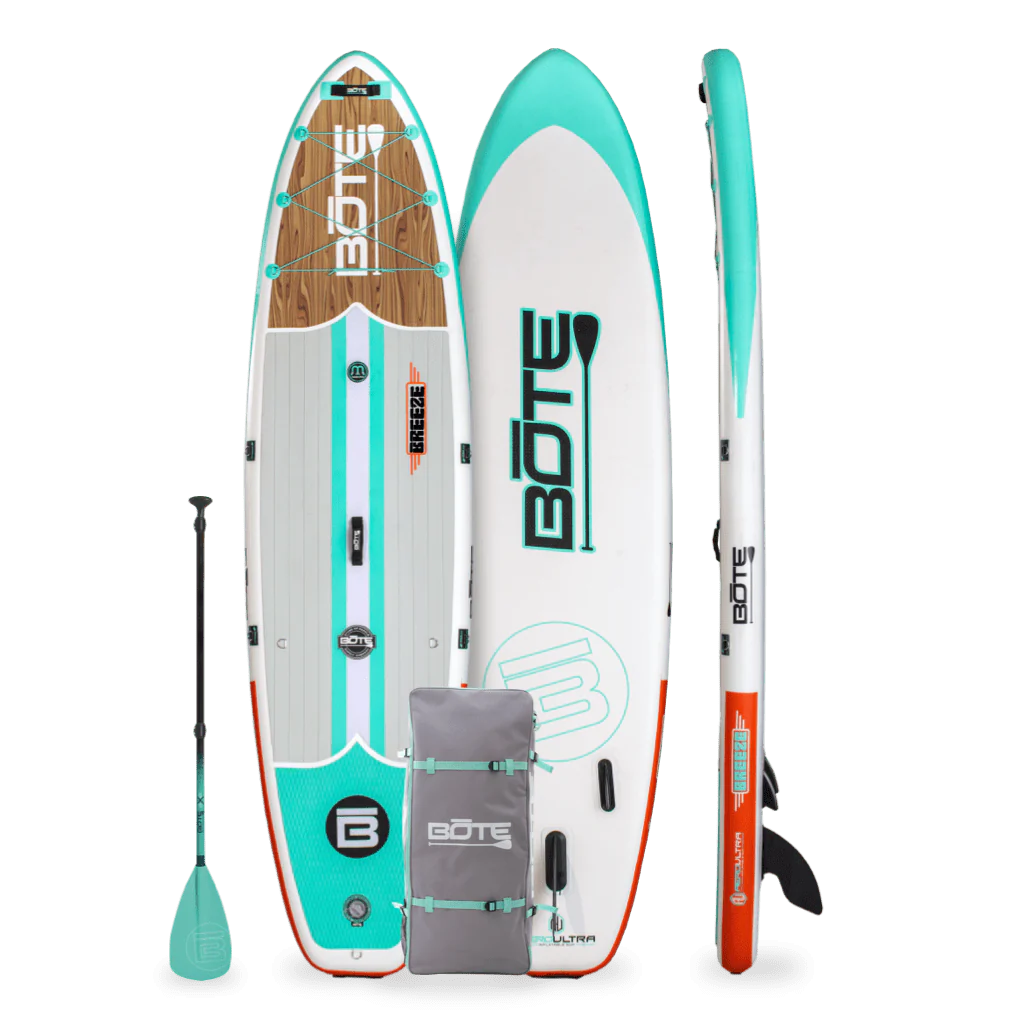 Where To Buy: Amazon
Key Features:
– Great "grab and go" paddle board for casual riders that want to experience paddle boarding.

– 11′ 6″ inflatable stand up paddle board

– Capacity of 250 lbs
Our first recommendation for 2024 is the Breeze Aero. This is the perfect board so get your toes wet in the world of paddle board. It is their flagship SUP that was designed to be the easiest to use for the average beginner. It is extremely lightweight and stable SUP that is made with their new AeroULTRA technology. Made for the first-timer, part-timer, or weekend warrior, the Breeze will make sure your next paddle is a great one.
PROS
CONS
– Lightweight design
– Extremely stable & maneuverable
– Great for beginners and flat water conditions
– Limited accessories
– The leash is sold separately
– Glide performance is a little slower than intermediate boards.
---
Where To Buy: Amazon
Key Features:
– Great budget entry level paddle board that will work for most people.

– 10′ 4″ inflatable stand up paddle board

– Capacity of 250 lbs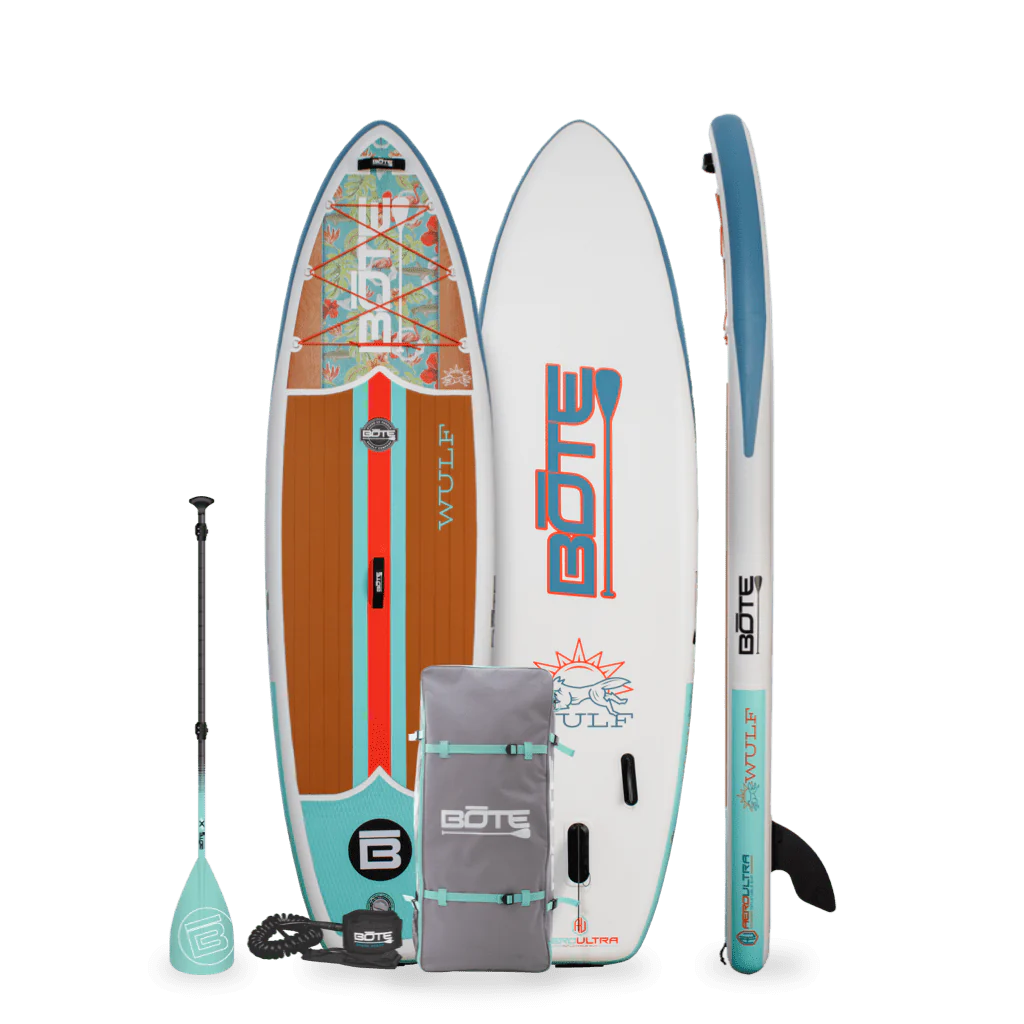 The BOTE Wulf Aero 10'4″ has specifically been created as an affordable entry level paddle board that can be enjoyed by a wide audience of people. The major pulling point is the low price, which will be attractive to many people. It's 34 inches wide and this gives extra stability and allows even beginner paddlers to quickly stand without much struggle. It's faster and lighter than the Breeze Aero (at 20 lbs it's super lightweight), which gives it a boost to maneuverability.
Overall the Wulf Aero is a great choice for all paddlers who want stability without getting a large and heavy SUP. This is a sportier all-round option that won't let you down.
PROS
CONS
– Super stable in the water with a 34″ wide deck
– Faster and more maneuverable because of smaller size
– Big deck pad gives you room for many activities like yoga or paddling with your dog.
– Side fins are easily bent out of shape
– Paddle isn't the best (aluminium instead of fiberglass)
---
BEST INTERMEDIATE PADDLE BOARDS
---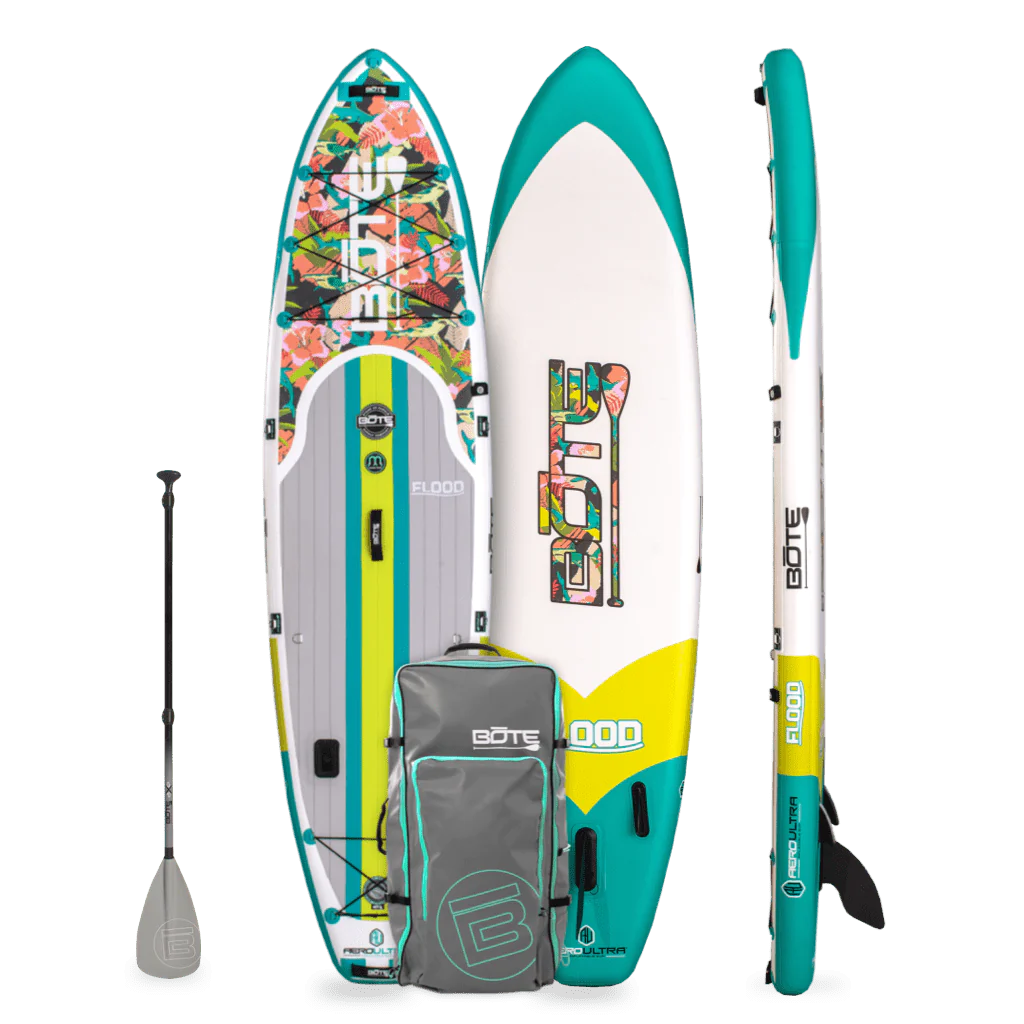 Where To Buy: Amazon
Key Features:
– High performance intermediate paddle board that will give you the ability to explore any water conditions

– 11′ inflatable stand up paddle board

– Capacity of 275 lbs
Paddle boarding is supposed to be fun and easy! This is the motto of the Flood Aero – because BOTE tried to create a super stable, convenient to store, easy to carry and simple to paddle SUP. And they've achieved that with the Flood Aero. This is a paddle board that is made for someone that is looking for a quality board that won't slow you down. It's fast, nimble and has a really awesome design.
This SUP is a great choice for the intermediate paddler that is looking for speed and the ability to take it into any conditions, whether it's the flat water or in the choppiest seas.
PROS
CONS
– High quality construction board that will last for a very long time if you look after it.
– Has a solid performance for paddlers that are under 250 lbs
– Decent price compared to other intermediate paddle boards on the market.
– The mounting points on the board are quite abrasive and often get caught on your feet or hands when using the board.
---
Where To Buy: Amazon
Key Features:
– An all-purpose paddle board that will let you explore any conditions with a great SUP

– 11'6″ inflatable stand up paddle board

– Capacity of 315 lbs
The HD Aero paddle board is designed to be a versatile board that can be used for many different activities. It has a wide deck pad that will allow for paddle board yoga, it has mounts for fishing and it also easily allows for kayak seats. It is a little bit more expensive but you are paying for the ability to turn this SUP into anything that you want it to be. It has high performance, is extremely high quality and it will treat you extremely well if you look after it.
PROS
CONS
– Accessory compatible – you can attach a kayak seat or fishing racks easily
– Really high carrying capacity of 315 lbs so it's great for heavier riders
– Extremely stable and has some good acceleration on it when in the water.
– Leash is not included so you will need to buy it separately for safe paddling
– Bag frays easily and also has no wheel options
---
BEST ADVANCED PADDLE BOARD
---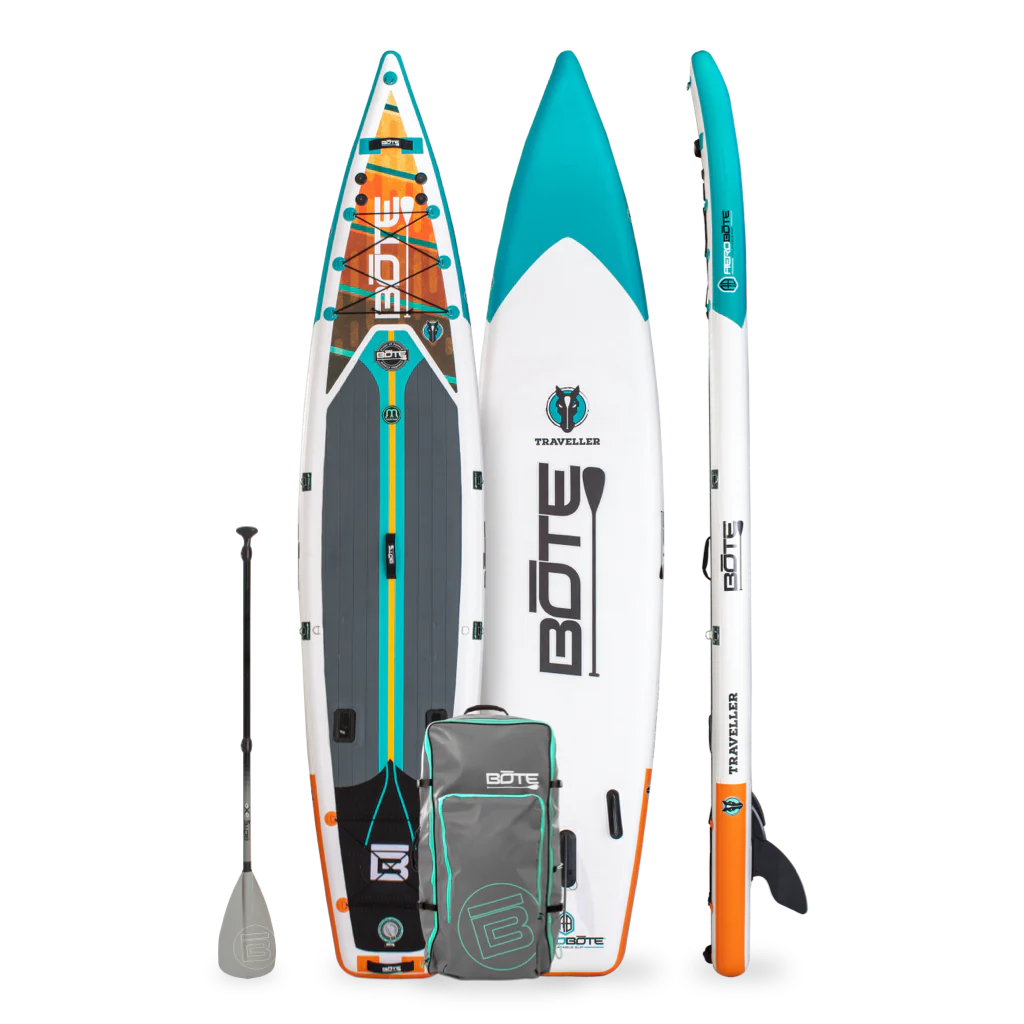 Key Features:
– This is an incredibly versatile touring SUP that will function well in any condition.

– 12'6″ inflatable stand up paddle board

– Capacity of 275 lbs
The BOTE Traveller Aero is one of the nicest touring paddle boards that I've ever used. It is a versatile board that can be used for almost any activity on the water. You can adapt it and mold it to fit your needs so you'll never be stuck not being able to use your board in any condition. It is slightly less stable than the wider boards (it is 30″ wide) but it makes up for this by being more speedy and able to cut through waves and chop with its sharp nose.
This is an advanced paddle board that is well worth your time if you want a SUP that will last forever and will allow you to use it for any activity on the water.
PROS
CONS
– Compatible with many BOTE accessories so you can customize this to fit your needs
– Great for touring – you can take it into any water conditions and it will handle it well
– Less stable than the beginner paddle boards but it makes that up with speed in the water.
---
Factors to Consider When Choosing a BOTE Paddle Board
Paddleboarding is a personal experience, and the right board for you depends on various factors, including your skill level, preferred activities, and whether you prefer an inflatable or hard board.
Here are some key considerations that you should go through when choosing the best BOTE paddle board for you. These will help align your choice with your preferences and needs: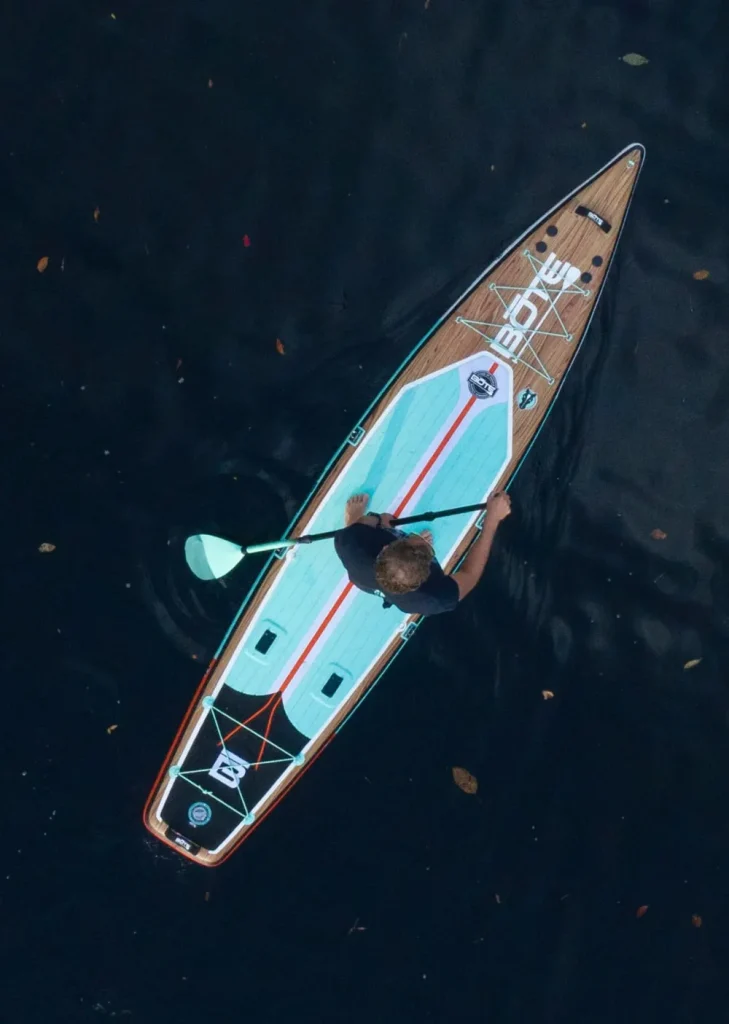 Skill Level
Consider your level of paddleboarding experience. Whether you're a beginner, intermediate, or advanced paddler, BOTE offers a diverse range of boards tailored to different skill levels, ensuring an optimal experience for everyone.
Board Type
Choose between inflatable and hard (rigid) paddle boards. Inflatable boards are convenient for storage and transportation, while hard boards may offer enhanced performance and speed.
Board Dimensions
Consider the length, width, and thickness of the board. Longer boards provide better speed and tracking, while wider boards offer stability. Thickness can impact buoyancy.
Weight Capacity
Ensure that the board's weight capacity accommodates your weight and any additional gear you might carry. Exceeding the weight limit can affect performance and stability and you might even end up in a situation with the board sinking on you.
Stability vs. Maneuverability
Balance your need for stability and maneuverability. Wider boards are more stable, making them suitable for beginners, while narrower boards are more maneuverable.
Deck Features
Consider deck features such as traction pads, bungee cords, and attachment points. BOTE boards often come with innovative deck designs that enhance functionality and convenience.
So you want to think about the intended use that you have for your SUP. Do you want to fish with it? Are you into yoga?
These will be key factors when you look at the available deck features.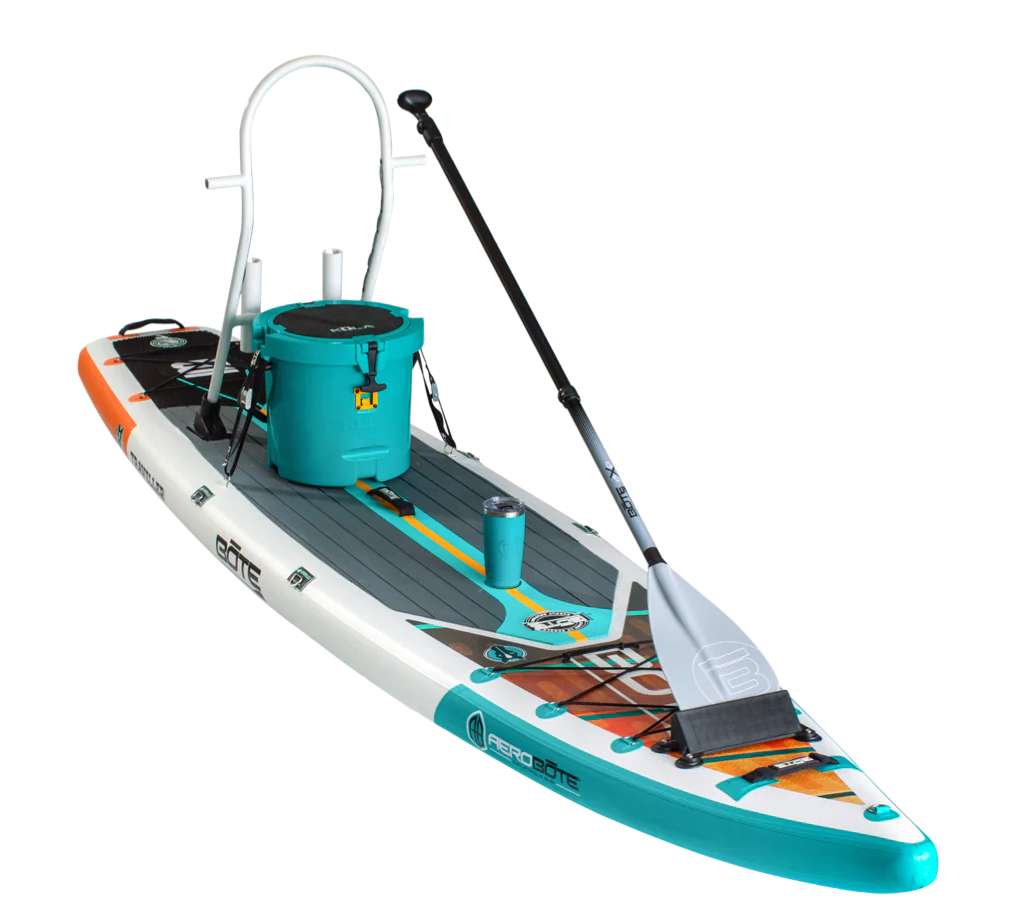 Budget
Set a budget for your paddleboard purchase. BOTE offers a range of boards at different price points, allowing you to find one that fits your budget.
Aesthetics
While not a primary consideration, the visual appeal of the board may influence your decision. BOTE boards often feature stylish designs, so choose one that resonates with your personal taste.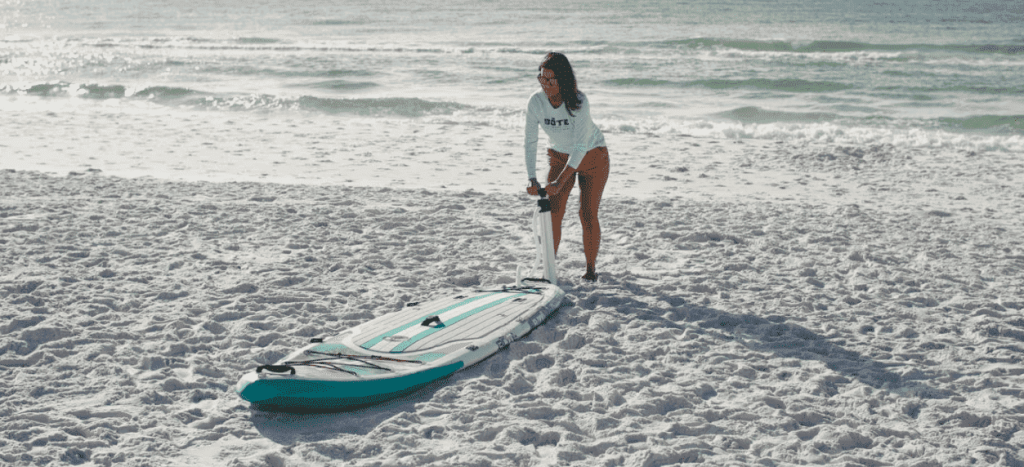 By carefully considering these factors, you can confidently choose a BOTE paddle board that aligns with your preferences and ensures a rewarding paddleboarding experience.
Conclusion
In conclusion, the world of stand-up paddleboarding is thriving, and Bote continues to shine with its exceptional 2024 line up. Whether you're a seasoned paddler or a newbie, the versatility, durability, and innovation of Bote paddle boards make them a fantastic choice for your next aquatic adventure.
So take a look at the range, and if they capture your interest then take the plunge and try their SUPs out.
You won't regret it 🏄‍♂️🌊
FAQs
Are BOTE paddle boards suitable for beginners?
Absolutely! BOTE offers a range of boards suitable for all skill levels. Choose a model that aligns with your experience and preferences.
Can I use BOTE paddle boards for fishing?
Yes, many models are equipped with features like fishing racks, making them ideal for paddleboard fishing.
Are inflatable BOTE paddle boards durable?
Yes, BOTE uses high-quality materials to ensure their inflatable boards are durable and reliable.
How do I store my BOTE paddle board during the off-season?
Store your board in a cool, dry place, and consider using a board bag for added protection.
Can I attach accessories to my BOTE paddle board?
Absolutely! There are various attachment points for accessories like coolers, cup holders and even entire fishing platforms.