*We may earn a commission for purchases made using our links. Please see our disclosure to learn more.
Looking for hard paddle boards without emptying your savings? You're not alone, as many outdoor enthusiasts are seeking quality gear that fits their budget. The good news is 2024 offers an array of affordable options with excellent features.
Read on to discover five fantastic and pocket-friendly hard paddle boards you can buy this year! 🏄‍♂️
What to Consider When Buying a Hard Paddle Board On a Budget
Consider the weight and size, as well as the quality and durability of the paddle board.
Weight and size
Weight and size play a crucial role in choosing the right hard paddle board. A lighter paddleboard makes it easier to carry around, whether you're moving it from your vehicle to the water or storing it at home.
More compact boards, offer excellent stability without compromising on their wave-riding ability. However, larger boards might be more beneficial for beginners due to their added balance and space.
Paddleboards can vary significantly in size – ranging anywhere from short lengths perfect for children or teens up to long lengths designed specifically for adult users. It's essential to consider your own physical capabilities and intended use before making a purchase decision based entirely on weight and size of the paddle board.
Quality and durability
Hard paddle boards show their true worth in terms of quality and durability. Crafted from rugged materials like durable plastic, hardshell EPS foam, fiberglass or even carbon fiber, these boards withstand wear and tear better than most inflatable options.
A well-constructed board can last for years, making it a cost-effective investment over time.
Some top-notch affordable models come with unidirectional stringer bands and solid railnose reinforcements that boost strength without adding weight. These budget-friendly yet sturdy designs hold up to regular use whether you're cruising calm waters or navigating rough surf.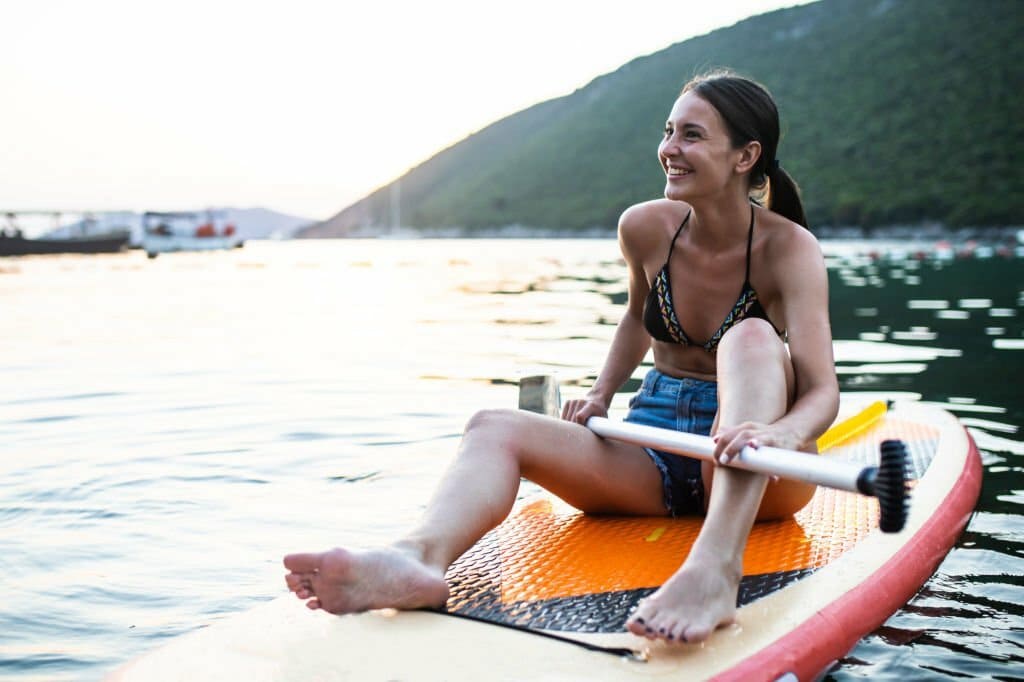 Type of paddle board (e.g. surf, race, all-purpose)
Surf paddle boards, race paddle boards, and all-purpose paddle boards each have unique features tailored to different activities. Surf paddle boards are smaller with a curved design that allows better maneuverability on waves – the 2024 Wide Ride is an excellent choice in this category.
Race paddle boards, on the other hand, are longer and narrower for higher speed while maintaining stability; ideal for competitions or covering long distances quickly. Lastly, all-purpose paddle boards offer versatility in terms of usage.
They're usually medium-sized with a good balance between length and width to cater to various water conditions and user levels from beginners to experts.
The Latest Innovations in Hard Paddle Boards
Hard paddle boards have seen a range of exciting innovations in recent years, including the use of lightweight materials, and non-slip deck designs.
Lightweight materials
Paddleboarding has become more accessible with the use of lightweight materials in paddleboard construction. These boards are designed to be easier to carry and transport, making them ideal for beginners or those who enjoy traveling with their boards.
This is how most fiberglass paddle boards are made in 2024: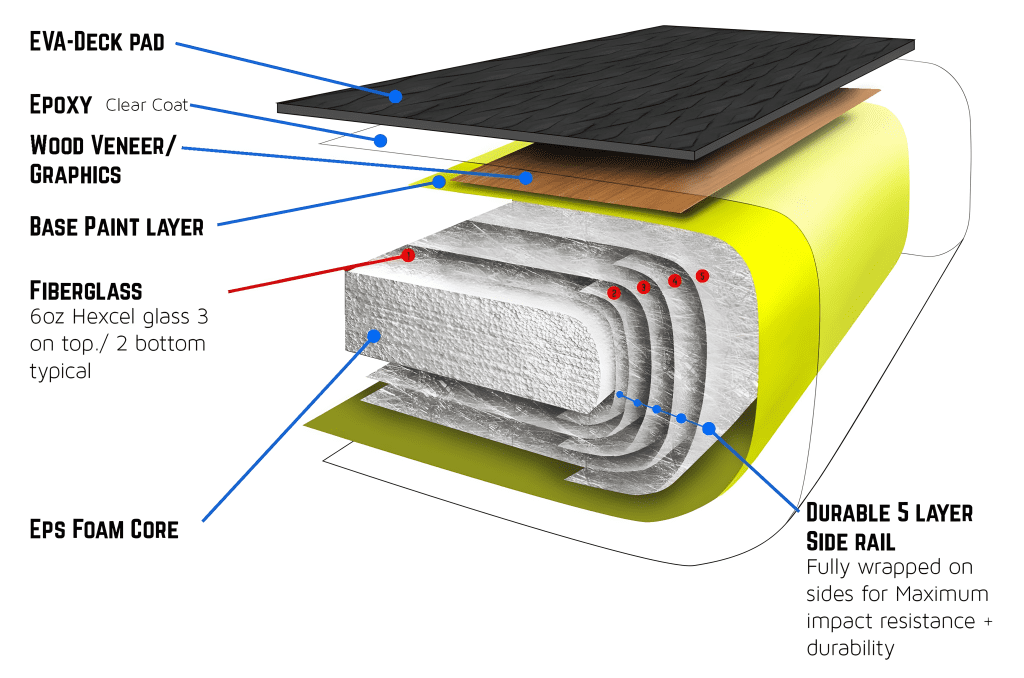 The use of materials such as carbon fiber and fiberglass allows for a lighter yet durable board that maintains stability on the water. With these lightweight options, paddlers can experience the joy of paddleboarding without feeling weighed down.
Non-slip deck designs
Hard paddle boards with non-slip deck designs provide added stability and safety while out on the water. These specially designed decks feature textured surfaces that help to prevent slips and falls, even when the board gets wet.
The non-slip deck ensures that you can confidently maintain your balance, whether you're paddling in calm waters or riding waves. With a secure footing, you'll be able to focus on enjoying your paddleboarding experience without worrying about slipping off the board. Non-slip deck designs are an essential feature for beginners and experienced paddlers alike, providing peace of mind and enhancing overall performance on the water
Top 5 Hard Paddle Boards to Buy On a Budget
Discover the top 5 hard paddle boards that won't break the bank in 2024. Find out which affordable options provide quality, durability, and the latest innovations in paddle board technology.
Board 1: ISLE Versa (Best All-Around)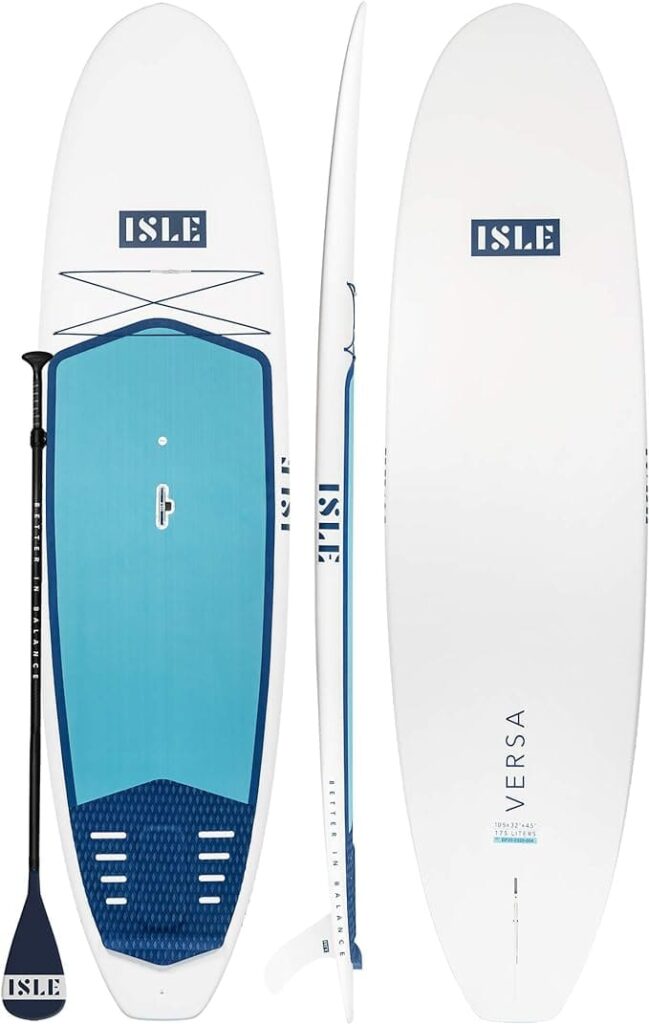 Where To Buy: Amazon
Specs & Features:
– Size of 10'5″

– Made of light-weight epoxy that uses thermal molding technology to eliminate waste and be more eco-friendly.

– This is an incredibly well-rounded and high quality board that is made by a company that is at the top of its game in the paddleboarding space.
Ready to hit the water without breaking the bank? The ISLE Versa Rigid Stand Up Paddle Board is your all-in-one solution. It's a solid pick for anyone, whether you're just starting out or you've got plenty of paddles under your belt. Ideal for smooth sailing on flat water, some SUP yoga, or even fishing. The Versa stands out with its new thermal-molded tech, which means it's not only light and super strong but also kinder to the planet.
It comes with everything you need: a carbon hybrid paddle that adjusts to your height, a comfy 8' coil leash, and a sturdy nylon fin, all without stretching your wallet. Choose your fit with two size options catering up to 300 pounds. Plus, ISLE's got your back with a 60-day love it or return it guarantee and a 1-year warranty. Quality gear, San Diego-born and tested, at a price that lets you paddle more and worry less. How's that for awesome value?
---
Where To Buy: Amazon
Specs & Features:
– Size of 10'6″

– Made of epoxy with bamboo with a honey foam embossed deck pad and extra wide nose.

– The epoxy and wood combination creates extreme buoyancy so it's really easy to stand on and even beginners won't struggle with it.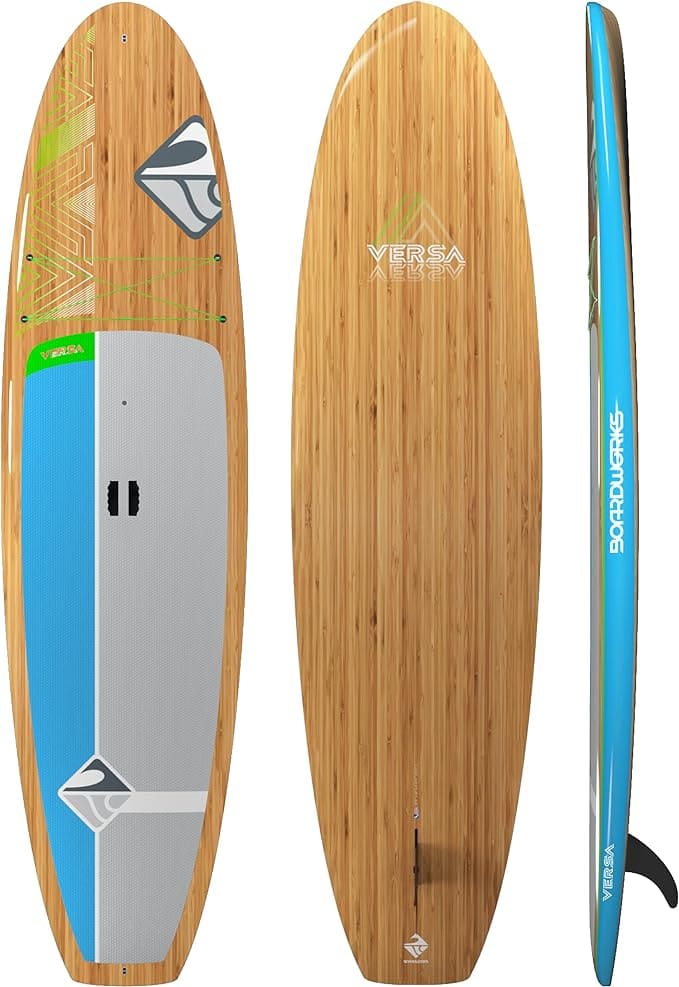 Dive into paddleboarding with the Boardworks Versa, the ultimate all-rounder that excels in every setting. Its stable, wide design is perfect for family outings on calm waters or for those looking to catch a few waves. The honeycomb deck pad ensures your feet stay put, and the wide nose and tail promise improved control in varied conditions.
Carrying is a cinch with the LiftSUP handle, and the D-ring tie-downs with bungee cords keep your gear secure. The included 9" FCS2 Dolphin fin makes for swift, toolless installation, enhancing your board's agility.
The Versa's Bombshell construction combines an EPS core with robust materials like Kevlar and bamboo, offering durability with a touch of style. At 10'6", it's suitable for every skill level, promising a stable and enjoyable paddleboarding experience.
---
Board 3: Lifetime Amped (Best For Everyday Use)

Where To Buy: Amazon
Specs & Features:
– Size of 11'0″ (Width of 32 inches)

– Made of high density polyethylene that is strong, buoyant and fade resistant even when you take it out into the sun.

– An extra perk is the large cushioning (EVA foam pad) that will give you ample space to paddle with your dog or another person on the nose.
If you're looking to up your paddleboarding game, the Lifetime Amped Hardshell Paddleboard is your trusty companion. It's 11 feet of glacier blue coolness, crafted for those with some experience on the water. The EVA deck means you're staying put, no slipping — even when you're pushing your limits.
It's super easy to lug to the shore, thanks to the center carry handle. Plus, there's a handy front deck bungee to stash all your stuff within reach. Whether you're cutting through waves or cruising on a lake, the retractable fin adjusts to your scene, giving you top-notch control.
Built tough with high-density polyethylene, this board won't bail on you — it's UV-protected to keep looking sharp season after season. And it comes with an adjustable fiberglass paddle, so you're all set to hit the water. With a 5-year limited warranty, it's a solid choice. Ready to amp up the fun?
---
Where To Buy: Amazon
Specs & Features:
– Size of 10'6″ (Width of 32 inches)

– Made of patented RAM-X material, it is extremely durable and will last for a long time if you look after it.

– Has really good cushioning and will handle well in the waves.

If you're interested in getting more into surfing then you can hit the water with confidence on the Pelican SUP Hardshell Stand-Up Paddleboard. Whether you're a first-timer or an avid paddler, this lightweight board is designed for resilience and ease. Keep your essentials tied down with the handy bungee cord and bottle holder, ensuring your gear stays secure and hydration is within reach.
The non-slip cushioned deck pad means you can stand firm and comfortable, reducing slips and softening falls. With multiple handles, transporting this board is a breeze, no matter where your paddling takes you. Crafted from durable RAM-X material, the Pelican Flow 106 is built to withstand the rigors of boating and stand up paddleboarding.
It's perfect for lighter paddlers looking for a versatile board to make their summer adventures unforgettable. Ready, set, paddle!
---
Board 5: Tower SUP (Best Wooden Paddle Board)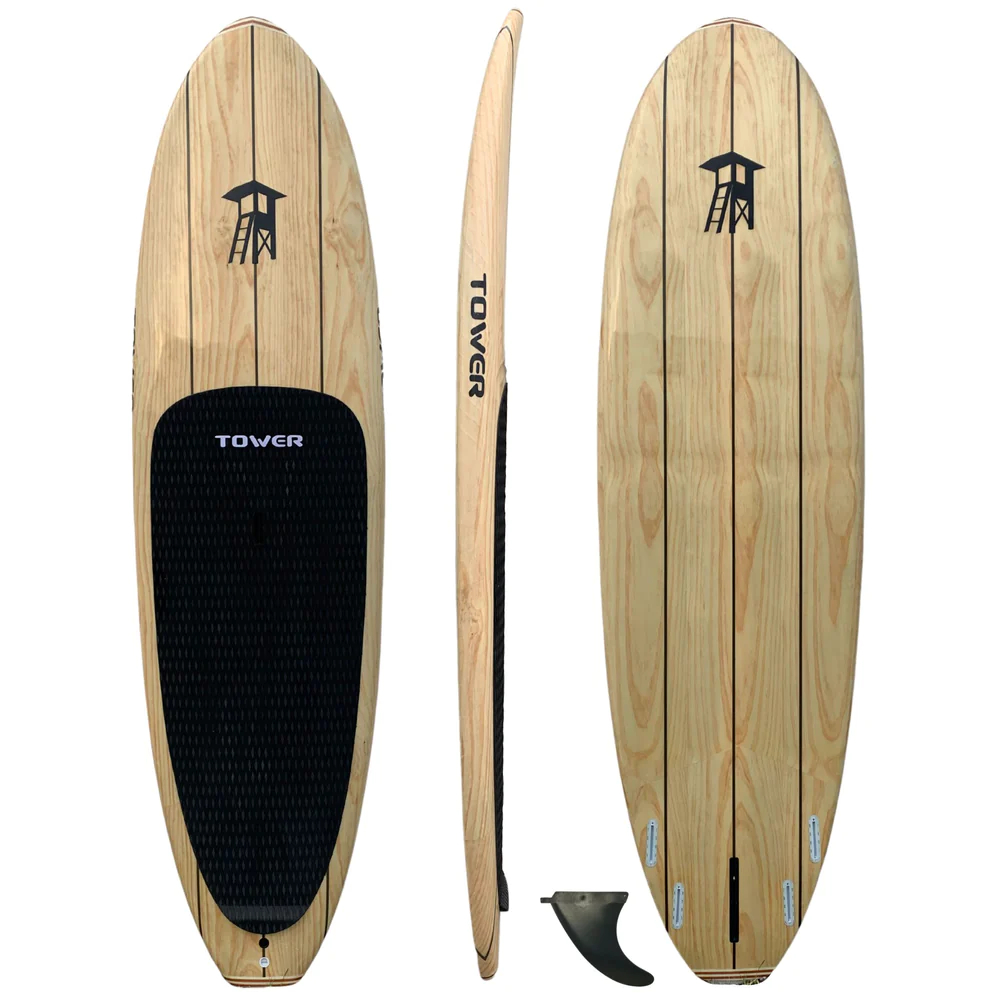 Where To Buy: Tower
Specs & Features:
– Size of 9'10" (Width of 32 inches)

– Made of sandwich-construction (bamboo veneer compresssed between two layers of fiberglass).

– Exceptional for flat water paddling.
This Wood Paddle Board is truly world class. It's extremely versatile – It's a breeze to balance on when you're paddling around on flat water, which is awesome for beginners. But it also has the chops to handle some wave action when you're up for it.
Plus, it's built super light and tough. With its 9'10" length and 32″ width, it's stable and buoyant enough to carry someone over 200 lbs or even you with a little one up front. Plus – It looks seriously good! With it's beautiful wooden design you'll have people walking up to you on the beach and asking you about it… Guaranteed!
The best part is that it truly isn't very expensive for what you're getting. This is great for anyone looking to glide on water or catch a few waves without swapping boards. And that is truly a gamechanger as you become more experienced.
---
Benefits of Buying a Hard Paddle Board on a Budget
Buying a hard paddle board on a budget allows beginners to enjoy the sport without breaking the bank. Find out more about these affordable options and why they still offer quality and durability.
More affordable options for beginners
Beginners who are interested in paddleboarding can find more affordable options that suit their budget. These budget-friendly paddleboards offer a great starting point for those new to the sport.
Despite being more affordable, these boards still provide quality and durability. They may not have all the advanced features of higher-end models, but they are designed to meet the needs of beginners while staying within a reasonable price range.
With these more affordable options, beginners can get started with paddleboarding without breaking the bank.
Still provides quality and durability
Hard paddle boards on a budget in 2024 not only offer affordability but also maintain quality and durability. These budget-friendly options are designed to withstand the rigors of paddleboarding, providing you with a reliable and long-lasting board.
You can enjoy the same level of performance and reliability without breaking the bank. With advancements in materials and construction techniques, manufacturers have created high-quality hard paddle boards that cater to those on a tighter budget.
So, even if you're shopping within a limited price range, you can still find a durable and dependable paddleboard that will stand up to your adventures on the water.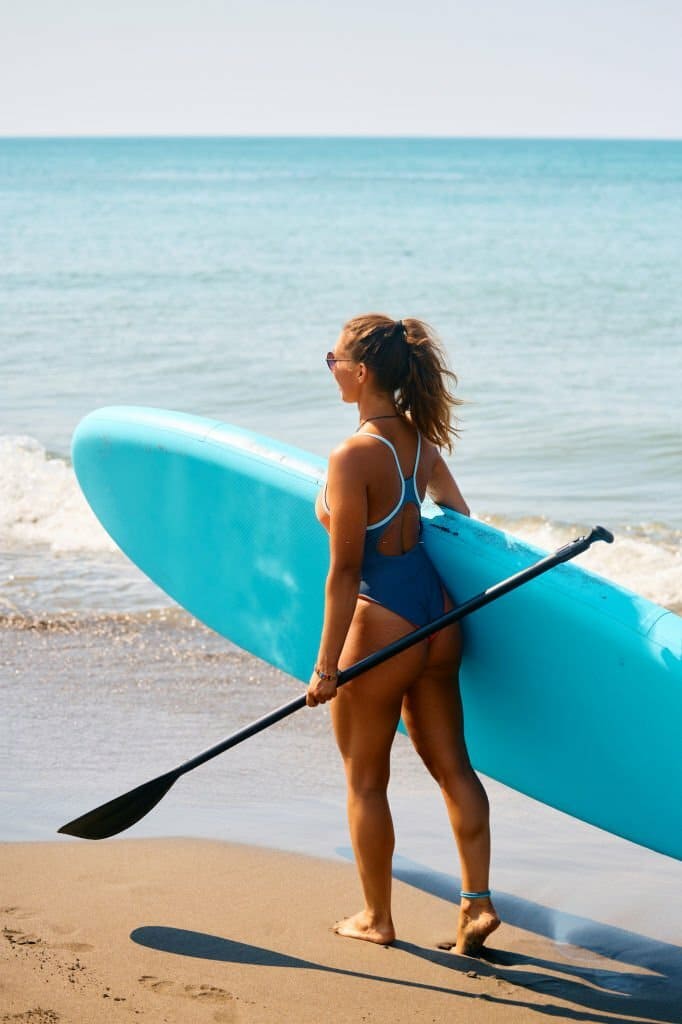 Access to the latest innovations
The world of hard paddle boards is constantly evolving, and buying on a budget doesn't mean you have to miss out on the latest innovations. In 2024, affordable options are available that incorporate lightweight materials, non-slip deck designs, and even inflatable features.
These innovations make paddle boarding more accessible for beginners and provide added convenience for travel. By choosing a budget-friendly paddle board, you can still enjoy all the benefits of the latest advancements in this exciting water sport without breaking the bank.
Tips for Maintaining Your Hard Paddle Board
To maintain your hard paddle board, be sure to rinse it off with fresh water after each use, store it properly in a cool and dry place, and regularly inspect for any signs of damage or wear.
Rinse off after each use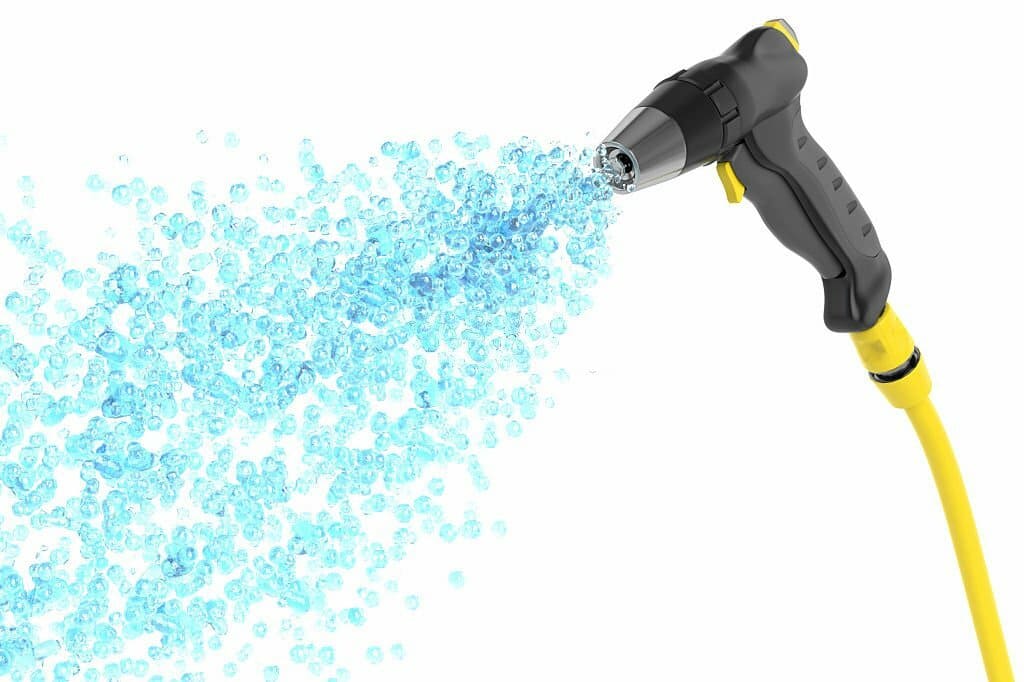 After enjoying your paddleboarding session, it's important to rinse off your hard paddle board. This helps remove any saltwater or debris that may have accumulated during use. By rinsing off your board after each session, you can prevent the build-up of grime and prolong its lifespan.
It's a simple step that only takes a few minutes but can make a big difference in maintaining the quality and durability of your hard paddle board over time.
Store properly
To keep your hard paddle board in top shape, it's important to store it properly. Find a cool, dry place where the board won't be exposed to direct sunlight or extreme temperatures.
Make sure it is stored flat or vertically with proper support to prevent warping or damage. Avoid stacking heavy objects on top of the board and consider using a protective cover for extra protection against dust and scratches.
Regularly inspect your stored paddle board for any signs of damage or wear so you can address them before they become bigger issues. With proper storage, your hard paddle board will be ready for many fun-filled adventures on the water!
Regularly inspect for damage
To ensure the longevity and safety of your hard paddle board, it's important to regularly inspect it for any signs of damage. Check for any cracks, dings, or delamination on the board's surface.
Pay attention to the fins, leash attachment points, and handle as well. Look out for any loose screws or other hardware that may need tightening. By regularly inspecting your paddle board for damage, you can catch any issues early on and prevent further damage during use.
Conclusion
In 2024, there are plenty of hard paddle boards available for budget-conscious buyers. These affordable options provide quality and durability without breaking the bank. Whether you're a beginner or a seasoned paddler, these budget-friendly paddle boards offer access to the latest innovations in design and materials.
Don't miss out on the opportunity to find your perfect board at an affordable price!
Hard Paddle Boards FAQs
Are the hard paddle boards in this budget-friendly list suitable for beginners?
Yes, the hard paddle boards included in this budget-friendly list are suitable for beginners as they offer stability and ease of use.
Can I use these budget paddle boards for different water activities?
Absolutely! These budget-friendly hard paddle boards are versatile and can be used for various water activities such as recreational paddling, yoga, fishing, and even small wave surfing.
What is the typical weight capacity of these affordable paddle boards?
The weight capacity of these affordable hard paddle boards varies, but most have a range between 200-300 pounds (90-136 kilograms), making them suitable for a wide range of users.
Do these paddle boards come with any additional accessories or features?
Some of the hard paddleboards on this budget-friendly list may come with additional features or accessories like bungee cord storage areas, carrying handles, and removable fins to enhance your paddling experience.
Where can I purchase the paddleboards mentioned in the article?
The hard paddleboards mentioned in the article can be purchased from various retailers both online and offline including sporting goods stores, outdoor outfitters, and e-commerce platforms like Amazon or Walmart. I've given recommendations of the best places to buy them above next to each item.