Are you confused about which paddle board offers the best value for your money? With countless options in the market – is a Retrospec paddle board a good option?
This blog post will simplify your search by reviewing the top five Retrospec paddle boards based on features such as durability, performance and price range. Let's dive into these refreshing choices together!
The Importance of Choosing the Right Paddle Board
Selecting an ideal paddle board can elevate your water adventures considerably. The Retrospec Weekender 10′, for instance, is not only a top-rated choice among paddle board enthusiasts but also incredibly affordable.
Its lightweight design allows easy transportation and storage, making it a popular choice among users globally. Adhering to the maximum weight limit on each paddle board ensures optimal performance and longevity.
A robust material like ArmorStrength PVC makes the Retrospec line of boards durable enough to handle waves, rocks, and even light rapids with ease. Inflatable SUPs such as these are notably versatile used in various aquatic settings – rivers, lakes or small rapids.
Choosing a sturdy and stable model will help both beginners grasp fundamentals quicker while experienced riders get to enhance their skills further.
Types of Retrospec Paddle Boards
Retrospec offers core two types of paddle boards: inflatable paddle boards and hard paddle boards.
Inflatable Paddle Boards
Inflatable paddle boards have revolutionized the world of standup paddleboarding. Offering a combination of convenience and performance, these types of paddles are lauded for their portable, lightweight design.
Retrospec utilizes cutting-edge technology in manufacturing its inflatable standup paddle boards. Crafted from high-quality, military-grade PVC drop stitch technology, Retrospec's boards boast durability and resistance to damage from sharp rocks.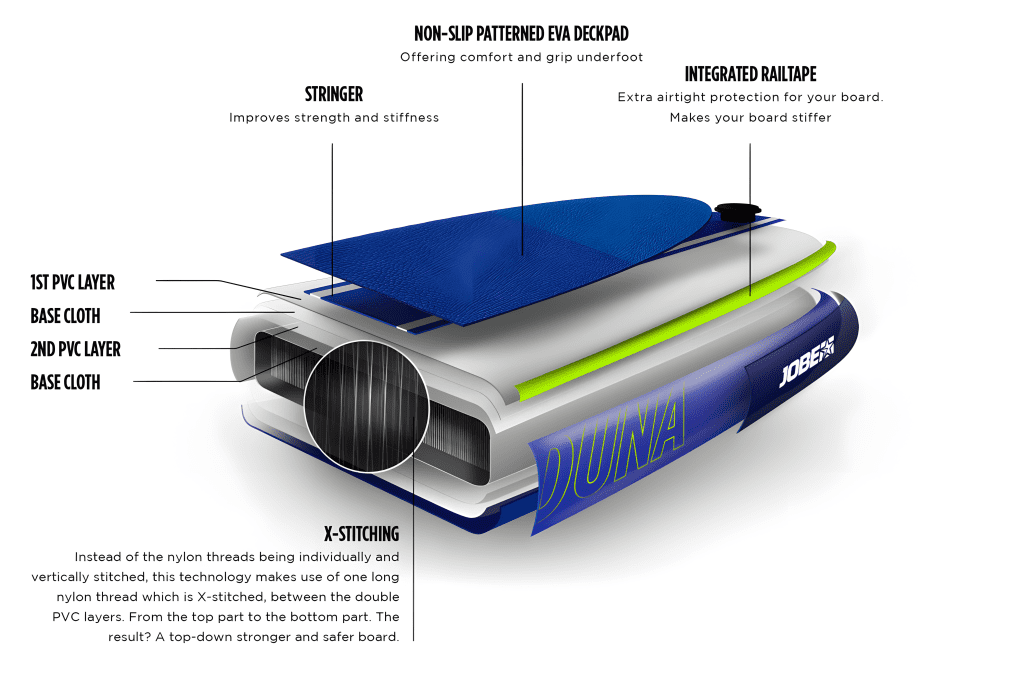 An ideal example is Retrospec's Weekender 10′ iSUP board that weighs only 17lbs when inflated making it easy to transport and store. It stands as an affordable yet robust choice among paddleboard aficionados due to the ArmorStrength PVC construction which guarantees sturdiness during use.
Not only does it bear aesthetic appeal but also has proven itself a versatile performer on rivers, lakes, and small rapids alike.
Hard Paddle Boards
Hard paddle boards are another versatile option for water sport enthusiasts. They're known for their exceptional durability, thanks to the ArmorStrength PVC construction. This makes them resistant to damage, even when navigating rocky waters or encountering sharp objects.
Their lightweight design, often weighing around 17lbs, allows you to transport and store them easily after a day out on the lake or river. Moreover, they offer greater stability than their inflatable counterparts due to their rigidity, making them an excellent choice for those new to stand-up paddleboarding or those challenging themselves with wave riding activities.
With Retrospec hard paddle boards' stylish design and easy-to-maneuver performance, you're sure of enjoying your paddling experience whether in calm or rough waters.
The Top 5 Retrospec Paddle Boards Reviewed
The entire idea behind Retrospec is that they have created a different paddle board for the most common uses of paddlers. There is one exclusively for kids, touring, yoga and even multiple adults.
Here are our top picks for Retrospec paddle boards:
Let's dive into each of these SUPs, talk about the pros and cons of each and whether it's worth buying.
Paddle Board 1: Weekender 2.0 (Best All-Around)
If you're looking to hit the water with an all-around, high-performing paddle board… Then you've gotta check out the Retrospec Weekender 10′ Inflatable SUP. It's a breeze to carry at just 17 lbs when inflated, but strong enough to hold up to 275 lbs—yeah, your pup can hop on too!
This board is a dream to paddle with its comfy, grippy EVA deck. When you're done, just deflate, roll it up, and pop it in your closet or trunk. It's tough as nails with ArmorStrength PVC, so don't stress about bumps or scrapes.
Plus, it comes with all the goodies: paddle, pump, fins, leash, and even a waterproof phone case. Whether you're a weekend warrior or a daily paddler, this board is all about making your time on the water easy, fun, and unforgettable.
---
Paddle Board 2: Weekender – Crew 16ft (Best For Multiple Adults)
If you're into paddle boarding adventures that include the entire crew – then the Retrospec Weekender-Crew is your go-to board! This extra-wide, inflatable paddleboard is a party on water, stretching 16 feet long and 52 inches wide, with a robust capacity of 500 lbs—bring friends, family, and Fido too! It's only 51 lbs inflated, so you can still move it around without a team lift.
The cushy EVA deck keeps everyone stable and happy as you paddle out. When the fun's done, it rolls up to fit in tight spaces, even in your closet. Crafted with tough ArmorStrength PVC, this board laughs in the face of rough rocks and rogue branches.
And with all the essentials included—like an aluminum paddle, pump, fins, leash, and a phone case—your crew will be all set for an unforgettable day on the water. Whether it's family fun or a squad gathering, the Weekender-Crew is a really fun time on the water.
---
Got a little explorer eager to conquer the waves? The Retrospec Weekender-Nano is the perfect paddleboard for the young adventurers. Designed just for kids, its 8ft size with a wider build and a rounded hull ensures top-notch stability and control, making it a breeze for them to steer through lakes, rivers, or the sea.
The board's surfboard-like design isn't just for cool looks—it's shaped for smooth sailing and precise steering. Made with ArmorStrength PVC and AerGlide-Lite technology, this little iSUP is so tough and puncture-resistant, it feels like a solid board. Weighing a featherlight 12.2 lbs and rolling up super compact, your kiddo can easily tote it along to any destination.
Plus, it comes with all the essentials: pump, backpack, paddle, fins, leash, repair kit, and even a smartphone case to capture those moments of triumph on the water. Let the Weekender-Nano be the start of a lifelong love affair with paddling for your young one!
---
Ready for an adventure that stretches beyond the shore? Meet the Weekender-Tour 11ft Inflatable Stand Up Paddleboard, your new best buddy for touring and all-around paddling. At 11 feet long and 30 inches wide, it's got the perfect balance of stability and performance, holding up to 275 lbs with ease. And guess what? At 29 lbs inflated, it's no sweat to transport.
The top-notch EVA deck is all about comfort and non-slip paddling, plus it's totally cool if your furry friend tags along. Done for the day? It deflates in a snap and rolls up to a neat package that fits just about anywhere. Built with ArmorStrength PVC, this board is a champ at shrugging off scrapes and bumps with traditional SUPs wouldn't handle.
And it comes with all the trimmings: a slick aluminum paddle, a nifty carry bag, a high-pressure pump for quick inflation, removable fins for that just-right steering, a leash for safety, and even a waterproof phone case for those Insta-worthy moments. So grab a Weekender-Tour and make every paddle an epic tale!
---
Take your yoga practice from the mat to the water with the Retrospec Weekender-Yogi 10′ Extra Wide Inflatable Stand Up Yoga Paddleboard. Perfectly balanced at 10 feet long and an extra-wide 36 inches, this board ensures you have plenty of space to stretch, pose, and find your flow with a maximum weight capacity of 275 lbs. And at 29 lbs when inflated, it's no hassle to get it to your tranquil water spot.
The EVA deck isn't just comfortable and grippy for those challenging asanas; it's also dog-friendly, so your pup can zen out with you. When you're done, it deflates and rolls up to a compact size, ready to be tucked away until your next session. Secure your gear with the 6 stainless steel D-rings and bungee connections as you paddle to peace.
Built from durable PVC, this board is designed to stand up to the occasional bump or scrape with more grace than traditional SUPs. Whether you're flowing through a sunrise vinyasa or simply paddling around, the Weekender-Yogi is your floating yoga sanctuary
---
Features to Consider When Choosing a Paddle Board
When choosing a paddle board, it's important to consider the features such as inflatable paddle board shapes and sizes.
Inflatable Paddle Board Shapes
Inflatable paddle boards come in a variety of shapes to suit different paddling styles and conditions. The most common shapes are the all-around shape, the touring shape, and the yoga-specific shape.
The all-around shape is versatile and stable, making it suitable for beginners or those who want to use their paddle board for various activities such as cruising, yoga, or fishing.
The touring shape has a more streamlined design (similar to a racing SUP) that allows for faster speeds and better tracking on longer paddles. It's great for exploring lakes or going on adventures down rivers.
Inflatable Paddle Board Sizes
Inflatable paddle boards come in different sizes to accommodate various paddlers and their specific needs. Choosing the right size is crucial for ensuring a comfortable and enjoyable experience on the water.
The Retrospec Weekender 10′ Inflatable Stand Up Paddleboard, for example, offers a versatile size that is suitable for most riders. It provides a stable platform for beginners while still allowing experienced paddlers to maneuver easily.
Additionally, its compact size makes it easy to transport and store when deflated. So whether you're looking for a board that's perfect for solo adventures or one that can accommodate multiple riders, there's an inflatable paddle board size out there to suit your preferences and style of paddling.
Tips for Setting Up and Using Your Retrospec Paddle Board
Setting up and using your Retrospec Paddle Board is a breeze with its practical setup, lightweight yet sturdy design, making it a worthy investment for summertime fun.
Practical setup
Setting up your Retrospec paddle board is quick and easy, allowing you to spend more time enjoying the water. With its lightweight design, you can easily carry and transport the paddle board wherever adventure takes you.
Simply inflate the board using the included pump, ensuring it reaches its optimal firmness for stability on the water. The durable materials used in construction make it resistant to damage from rocks or rough surfaces, giving you peace of mind during your paddle boarding excursions.
Once inflated, you'll be ready to hit the water and experience all that stand-up paddleboarding has to offer.
To enhance your experience further, consider adding accessories such as an electric pump and a textured foam surface for added stability while maneuvering through waves. Additionally, take advantage of the easy-to-carry paddle board bag that comes with many Retrospec models for convenient storage and transportation.
Lightweight yet sturdy design
Retrospec paddle boards are renowned for their lightweight yet sturdy design. The Weekender 10′ iSUP board, for example, weighs a mere 17lbs when inflated, making it easy to transport and store.
Despite its lightweight construction, the board is made with ArmorStrength PVC, ensuring durability and strength during use. This combination of lightness and sturdiness allows users to easily maneuver the board on different bodies of water without sacrificing stability or performance.
Whether you're exploring calm lakes or tackling small rapids, Retrospec paddle boards provide a reliable and durable option for all your stand-up paddleboarding adventures.
A worthy investment for summertime fun
Plus, it's stylish and affordable, making it a great option for those looking to have some summer fun without breaking the bank. So grab your Retrospec paddle board and get ready to make memories in the sun!
Conclusion
After reviewing the top 5 Retrospec paddle boards, it's clear that these inflatable SUPs offer a lightweight and affordable option for paddle board enthusiasts. With their sturdy construction and versatile performance on various water conditions, these boards are perfect for beginners and experienced paddlers alike.
So whether you're looking for a portable option or want to try out stand-up yoga, Retrospec has got you covered with their stylish and high-quality paddle boards.
FAQs
What are the top features of the Retrospec paddle boards?
The top features of the Retrospec paddle boards include durable construction, stable design for beginners, multiple size options for various skill levels, comfortable deck padding, and convenient carrying handles.
Can I use a Retrospec paddle board for surfing?
Yes, some models of Retrospec paddle boards are designed specifically for surfing with their maneuverability and wave-catching ability. I would look into the Weekender 2.0 for surfing.
Are the Retrospec paddle boards suitable for beginners?
Yes, many of the Retrospec paddle boards have a wide and stable design that makes them ideal for beginners who are learning how to balance and navigate on water.
Do the Retrospec paddle boards come with any accessories?
Some Retrospec paddle board models may come with additional accessories such as paddles, leashes, fins, or carrying bags. It is important to check the product description or consult with the manufacturer to know what is included.
How do I choose the right size of a Retrospec paddle board?
To choose the right size of a Retrospec paddle board, consider your weight and skill level. Heavier individuals may require larger sizes for increased stability while lighter individuals may prefer smaller sizes for easier maneuverability. Beginners generally benefit from wider and longer boards that offer more stability in calm waters.