*We may earn a commission for purchases made using our links. Please see our disclosure to learn more.
There is something truly amazing about paddle boarding Gold Coast waters. With its stunning coastline, crystal-clear waterways, and vibrant marine life, this region attracts paddle boarders from all corners of the globe, and there's a very simple reason why… It's awesome!
That's why – I'm excited to share my top 8 picks for the best paddle boarding spots on the Gold Coast.
Unique Features of the Gold Coast
The Gold Coast isn't just a surfer's paradise; it's a paddler's dream. Its unique geographical layout, encompassing tranquil rivers, picturesque creeks, and expansive ocean fronts, offers a diverse range of environments to suit every paddler's preference.
Whether you're a beginner seeking calm waters or an experienced paddler looking for a challenge, the Gold Coast has something for everyone.
So let's get into the destinations you can explore today.
Paddle Boarding Gold Coast: 8 Best Locations To Explore Today!
You can use the map below to check out the different spots, or read below for more information about why I chose them.
Location 1: Burleigh Beach
Burleigh beach is a favorite among local and visiting paddle boarders alike. Known for its clear, turquoise waters and gentle waves, it's an ideal spot for those who want a blend of serene paddling and the option to catch a few gentle waves.
When paddling at Burleigh beach, be sure to explore the area around Burleigh Head National Park. The calm waters here are perfect for beginners, and the views of the lush park are simply stunning. Also, keep an eye out for the local dolphins that occasionally play in these waters.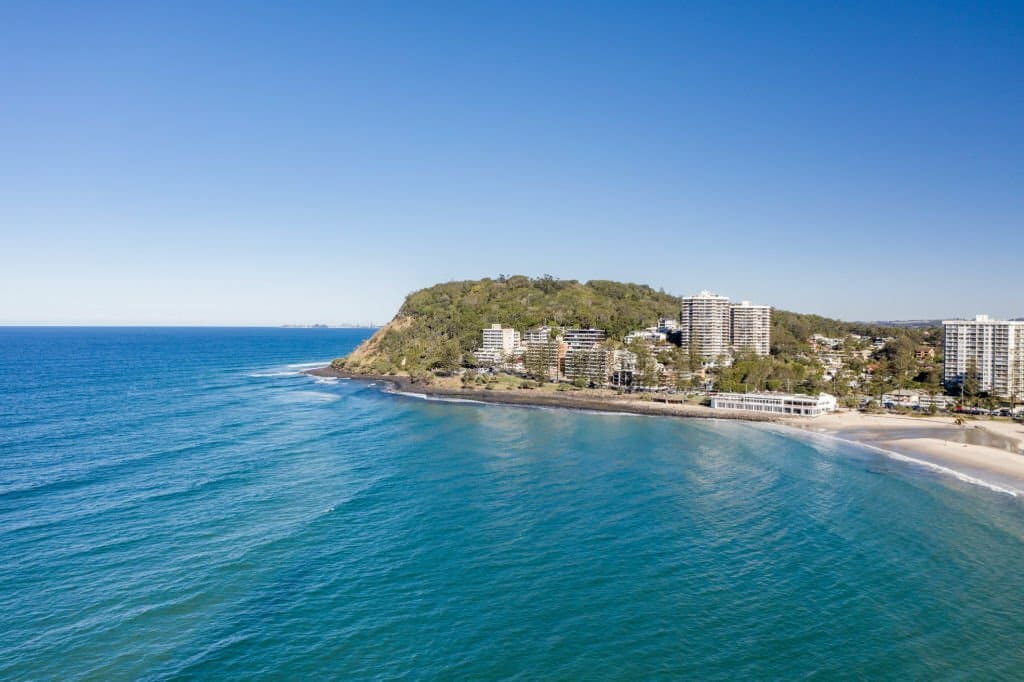 Location: Google Maps
Location 2: Tallebudgera Creek
Tallebudgera Creek offers a peaceful escape, with its still waters providing a mirror-like surface ideal for paddle boarding. This spot is particularly popular for families and those seeking a relaxing paddle, as the creek's protected waters ensure a safe and enjoyable experience.
The creek is lined with beautiful sandy beaches and parklands, perfect for a mid-paddle break. For a more secluded experience, paddle towards the Burleigh Head National Park, where the creek meets the ocean, offering a stunning natural backdrop.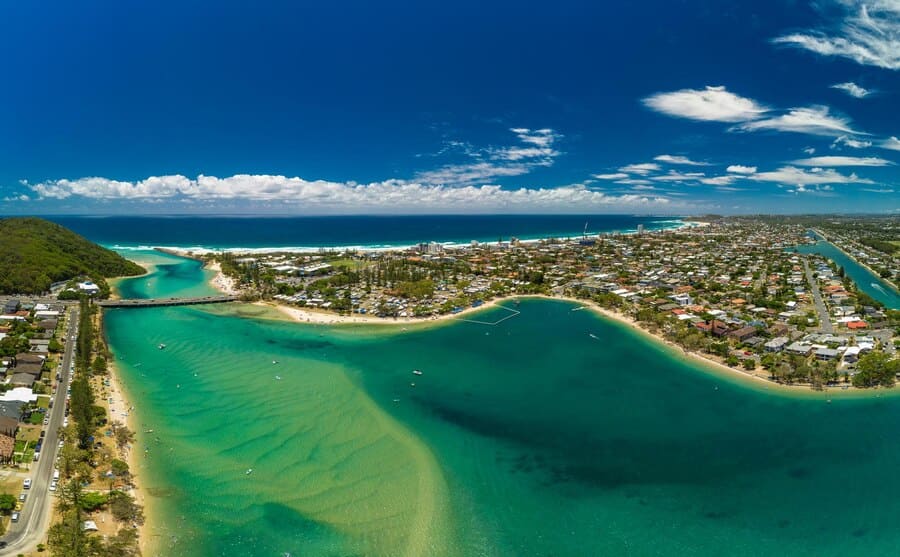 Location: Google Maps
Location 3: Currumbin Creek
Currumbin Creek is a hidden treasure, less crowded than some of the other spots on this list but just as beautiful. The creek's calm waters are ideal for beginners and offer a tranquil paddling experience surrounded by nature.
As you paddle along, keep an eye out for the diverse birdlife that inhabits the area. The mangrove-lined banks also offer a unique ecosystem to explore, making it a fantastic spot for nature enthusiasts.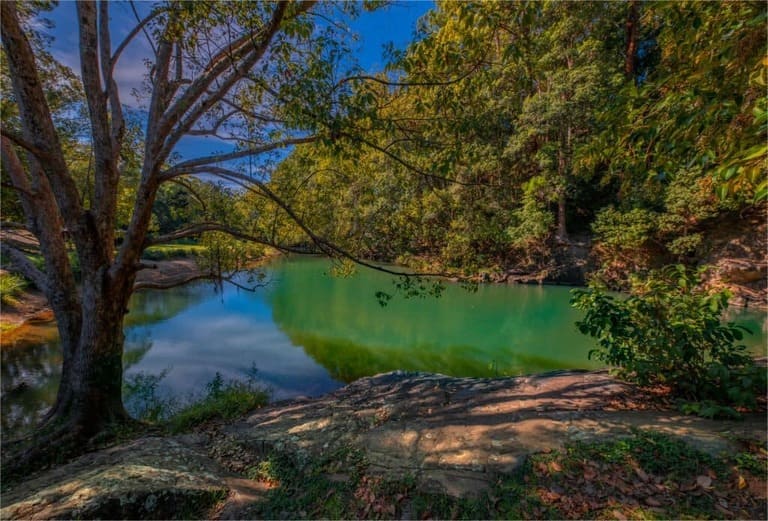 Location: Google Maps
Location 4: Gold Coast Broadwater
The Broadwater is a large, sheltered waterway that's perfect for longer paddle boarding adventures. Its wide expanse accommodates paddlers of all skill levels, and the views of the Surfers Paradise skyline are breathtaking.
Given its size, it's important to be aware of other watercraft in the area. Stick to the designated paddle zones for a safe and enjoyable experience.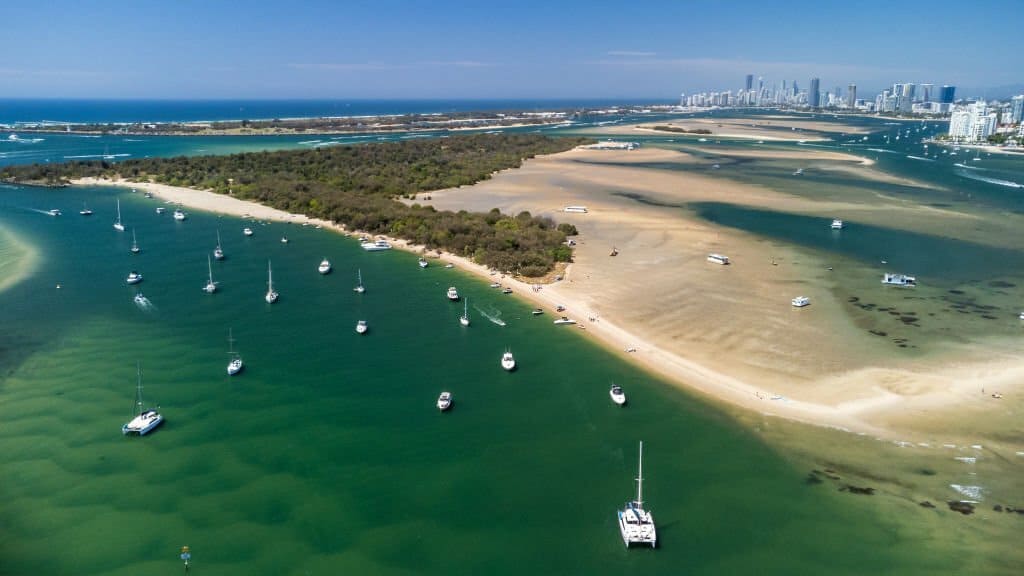 Location: Google Maps
Location 5: North Stradbroke Island
North Stradbroke Island, affectionately known as "Straddie" to locals, is a paddle boarding haven. The island's clear waters and diverse marine life make it an unforgettable destination for paddle board enthusiasts.
When heading to Straddie, be sure to pack your snorkeling gear. The island's waters are teeming with marine life, and many spots are perfect for a quick snorkel session during your paddle boarding adventure.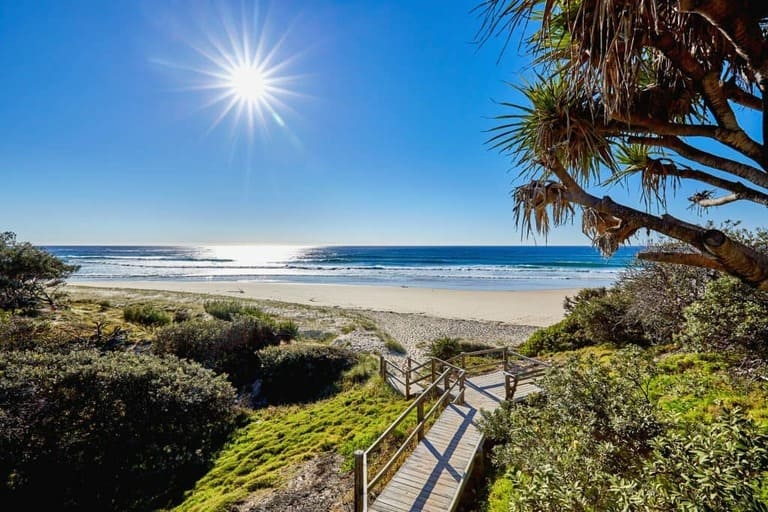 Location: Google Maps
Location 6: Kirra Beach
Kirra Beach is renowned for its surfing, but it's also a fantastic spot for paddle boarding. The beach offers a unique combination of gentle waves and calm sections, suitable for both wave-riding and leisurely paddling.
After a session on the water, explore the local cafes and eateries along the beachfront. They are the perfect spots to refuel and enjoy some of the Gold Coast's local flavors.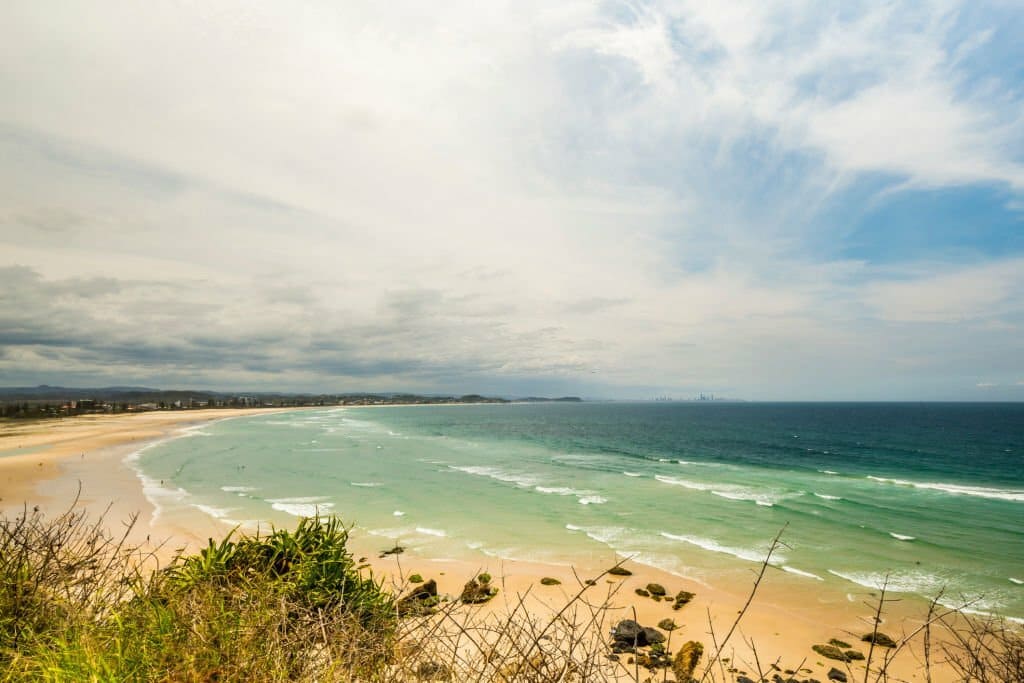 Location: Google Maps
Location 7: Snapper Rocks
Snapper Rocks is a more challenging spot, known for its famous surf breaks. It's ideal for experienced paddle boarders looking to test their skills in the waves.
For the best experience at Snapper Rocks, aim to paddle during low tide when the waves are more manageable. Always be mindful of surfers and respect the local surfing etiquette.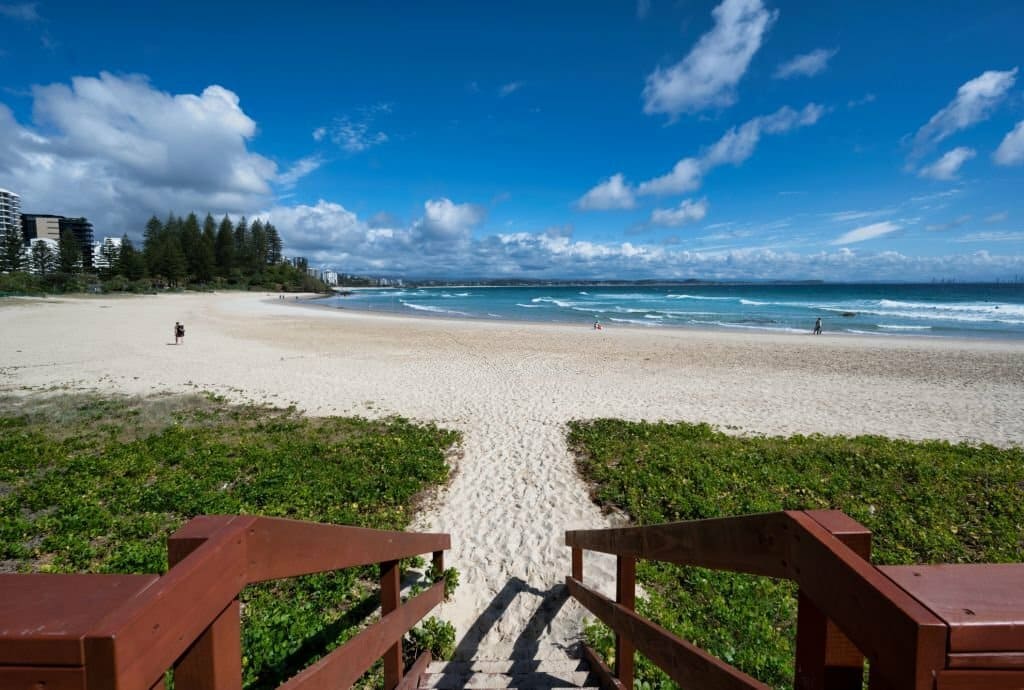 Location: Google Maps
Location 8: Moreton Island Shipwreck (Tangalooma Wrecks)
The Moreton Bay Islands offer a serene paddle boarding experience, with crystal clear waters and abundant wildlife. These islands are a bit further afield but are well worth the trip for the tranquil and picturesque paddling conditions. You can also explore the shipwreck which is really nice to see (also known as Tangalooma wrecks)
Consider a guided tour to make the most of your island-hopping adventure. Local guides can show you hidden spots and provide insights into the area's natural beauty and wildlife.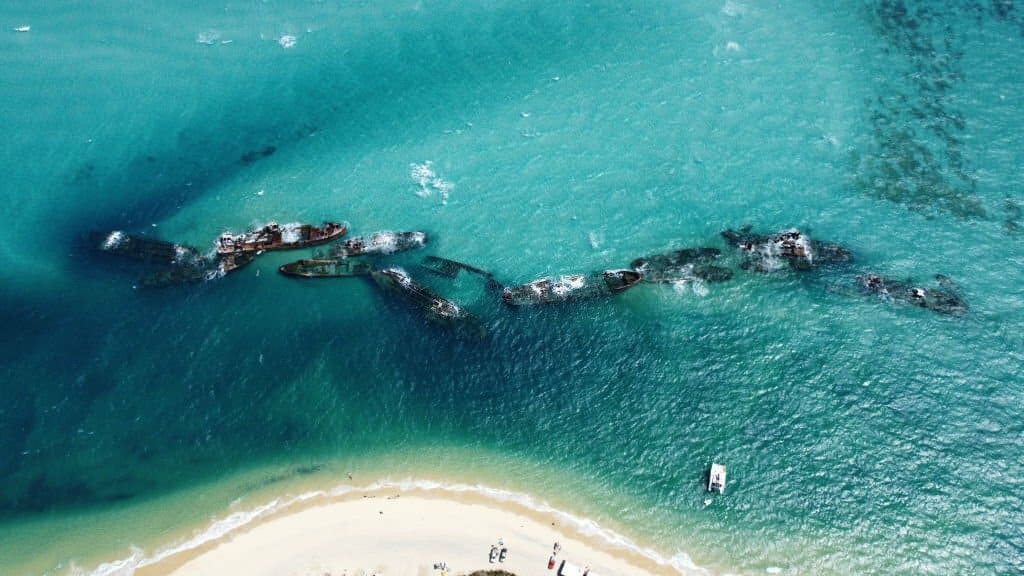 Location: Google Maps
Preparing For Paddle Boarding Gold Coast
Essential Gear and Safety
Before embarking on your paddle boarding journey, ensure you have the right gear. A good quality board, paddle, life jacket, and sun protection are essential. Always check the weather and water conditions before heading out and be aware of your own skill level and limitations.
Here are the essential items that you need:
Local Paddle Board Rentals
If you don't have your own board, there are plenty of local shops that offer rentals and lessons. These shops are also great resources for local paddling information and tips.
Here are a few great spots to rent from:
Go Vertical Stand Up Paddle Board & Kayak
This is a really nice and professional company to rent from. They are friendly and have many different options available to you. You can rent, get lessons or go on tours all for a reasonable price. They also have options available for kids which is great.
Rental Price: $25 per hour
Tour Price: $75 for a 2-hour SUP tour
Lesson Price: $65 for a 1-hour SUP lesson
Address: Shop 4/19 River Dr, Surfers Paradise QLD 4215, Australia
Directions: Google Maps
Contact Number: +61 423 716 625
The website might be a little bit understated but this is a good spot for you to rent from. They even have options to deliver your SUP to you and you can also hire kayaks, surfboards and bikes here to explore around the area.
Rental Price: $30 for 2-hours
Address: Tallebudgera Dr, Palm Beach QLD 4221, Australia
Directions: Google Maps
Contact Number: +61 466 816 754
Don't Forget To Have Fun (And Take Photos)
Bringing a camera along on your paddleboarding journeys can lead to unforgettable moments. The unique perspective from your paddleboard offers extraordinary photography opportunities. If it fits your budget, consider investing in a GoPro. These cameras are unparalleled in capturing the true spirit of paddleboarding experiences.
My Recommendation: GoPro HERO 11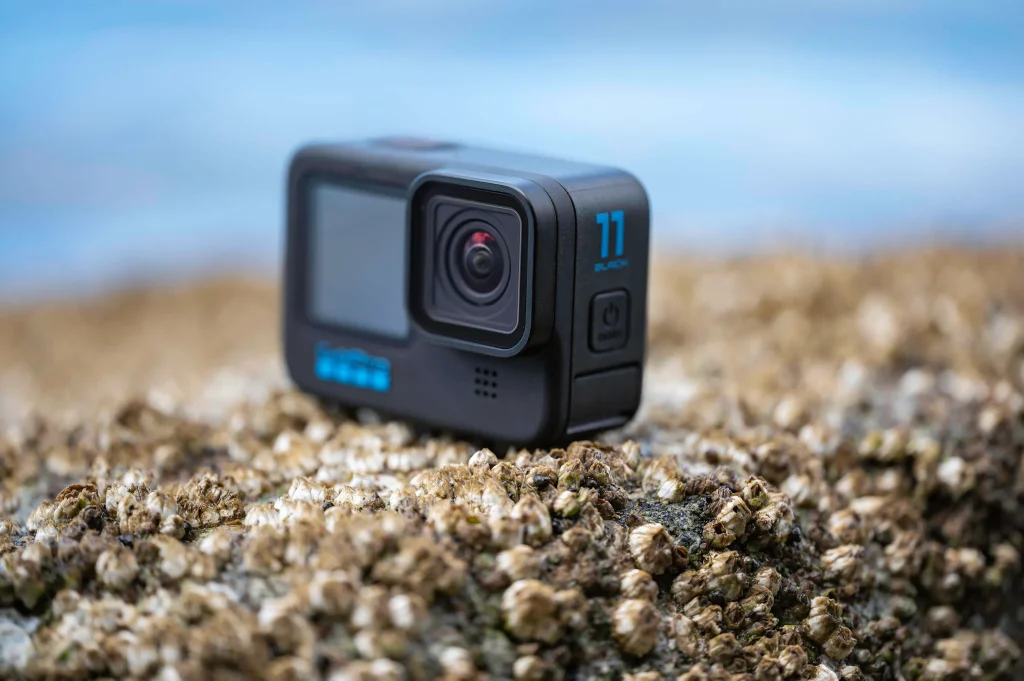 Where To Buy: Amazon
Key Features:
– 27MP Camera
– Waterproof
– 1.9 Inch Screen Size
– Emmy Award Winning Hypersmooth 5.0 Stabilization
– Great Battery life.
The Health Benefits Of Paddle Boarding
Paddleboarding offers more than just enjoyment; it's an excellent form of exercise. Balancing on the board activates your core muscles, while each paddle stroke provides a full-body workout. Additionally, the soothing presence of the water and the invigorating ocean breeze help in lowering stress levels. This activity thus serves as a dual benefit for both your physical health and mental wellness.
Conclusion
The Gold Coast is a paddle boarder's paradise, offering a variety of stunning locations to explore. Whether you're seeking serene creeks, open ocean adventures, or wildlife encounters, there's a spot here for everyone.
So grab your board, hit the water, and experience the magic of paddle boarding Gold Coast waters.
Paddle Boarding Gold Coast: FAQs
What is the best time of year for paddle boarding on the Gold Coast?
The ideal period for paddle boarding on the Gold Coast spans from late spring to early autumn. During these months, the weather conditions are most favorable – warm temperatures and calm waters make for an enjoyable and safe paddle boarding experience. This time of year also coincides with longer daylight hours, allowing for more time on the water.
Do I need any special training to paddle board?
While paddle boarding is relatively straightforward, basic training is beneficial, especially for beginners. Such training typically covers fundamental skills like balancing on the board, proper paddling techniques, and safety protocols. Many local shops along the Gold Coast offer beginner lessons, which can be a fun and informative way to get started. These lessons often include tips on navigating different water conditions, which can be invaluable for new paddlers.
Can I paddle board if I can't swim well?
Being able to swim is vital for paddle boarding. Even with a life jacket, knowing how to swim can be crucial in case of a fall into the water. Non-swimmers should take extra precautions, such as paddling in shallow waters where they can stand if needed, staying close to the shore, and always paddle boarding with a more experienced companion. Additionally, wearing a well-fitted life jacket is a non-negotiable safety measure for all paddle boarders, regardless of their swimming ability.
Are there any age restrictions for paddle boarding?
Paddle boarding is a family-friendly activity suitable for most ages. However, it is crucial for children to be accompanied by an adult at all times. For younger children, or those who are just learning, tandem paddle boarding with an adult is a safe way to introduce them to the sport. Also, ensure that children have appropriate safety gear like a child-sized life jacket. Some paddle boarding schools offer specific classes for children, focusing on making the learning process fun and safe.
How do I protect myself from the sun while paddle boarding?
Protecting yourself from the sun is essential during paddle boarding, as water bodies can reflect and intensify sun rays. High SPF sunscreen, reapplied every two hours, is crucial. Wearing a hat and UV-protective clothing can provide additional protection. These clothes are designed to block harmful UV rays while being lightweight and quick-drying. It's also advisable to avoid paddle boarding during peak sun intensity hours, typically from 10 a.m. to 4 p.m. Seeking shade during breaks and staying hydrated are also important to prevent sunburn and heatstroke.