*We may earn a commission for purchases made using our links. Please see our disclosure to learn more.
Technically all you need to SUP is a board, paddle and lifejacket. But there are ways that you can make your time on the water even more enjoyable and safer. Enter paddle board accessories! These are the little goodies that make your experience that much better.

In this article, I will guide you through the 23 best paddle board accessories that everyone needs, providing helpful suggestions and reasons for each recommendation.

Let's begin 🙂
Essential Paddle Board Accessories:
1. Paddle
The paddle is an essential component of paddleboarding, and investing in a high-quality paddle can greatly improve your performance. Look for a paddle that is lightweight, adjustable, and made from durable materials such as carbon fiber or fiberglass. Adjustable paddles allow you to customize the length based on your height and paddling style, ensuring optimal comfort and efficiency.
My Recommendation: The Yvleen Adjustable Aluminium Paddle
This is a really great paddle for beginners because it is heavy-duty (so it can take a beating) while also being adjustable. It's made of an aluminium alloy that's lightweight and it's really easy to use. This is a great paddle if you're looking for a replacement (or a spare to take two people on your board)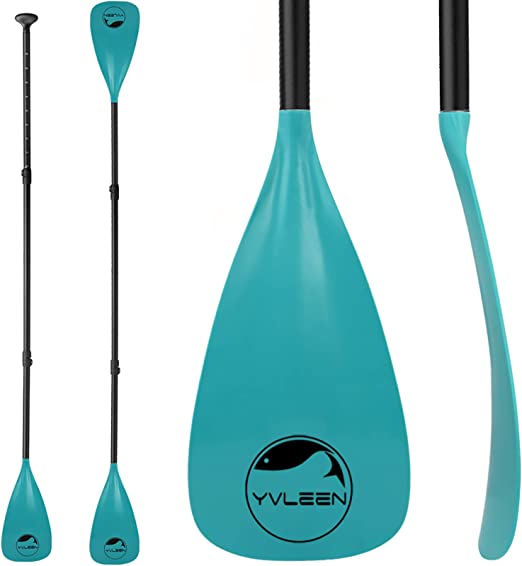 2. Life Jacket
Safety should always be a top priority when paddleboarding, and wearing a life jacket is crucial, especially for beginners or when paddling in rough waters. Choose a life jacket specifically designed for paddleboarding, ensuring it offers a comfortable fit, freedom of movement, and ample buoyancy.
My Recommendation: Onyx MoveVent Life Vest
The best thing about this life jacket is that it's specifically designed for paddling! Mobility is everything and this will let you paddle without being obstructed on every stroke. It also has ventilation panels in the front and back to keep you cool. And the best part? Because of it's design it actually stays in place when you're paddling.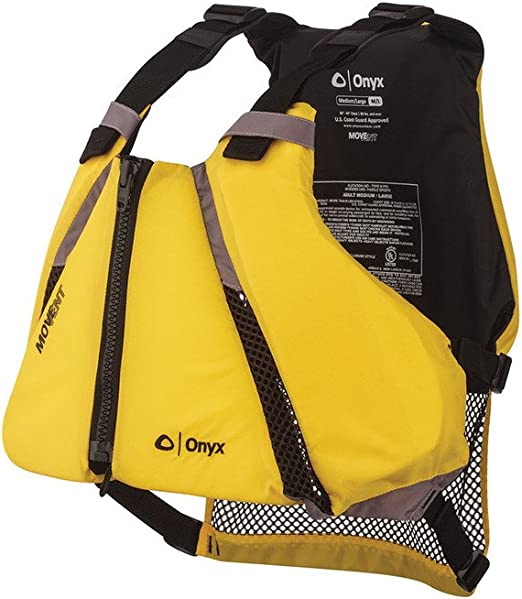 3. Leash
A leash is one of those must-have paddle board accessories that keeps you connected to your board at all times. It prevents your board from drifting away in case of falls or strong currents, enhancing your safety. Opt for a coiled leash to minimize drag and tangling while paddling.
My Recommendation: The BPS Storm Premium Leash
A high-quality leash is incredibly important because if it snaps then you can lose your board! I would highly recommend this leash because it's super comfy (it's has a neoprene cuff) so it will never hurt you. It's 10 foot long so it gives you space to move without it wrapping around everything and it also has a fast release function that's essential if you need to unclip quickly. And additional perk – It's coiled so it won't snag on underwater objects all the time. If you need a leash then this is for you!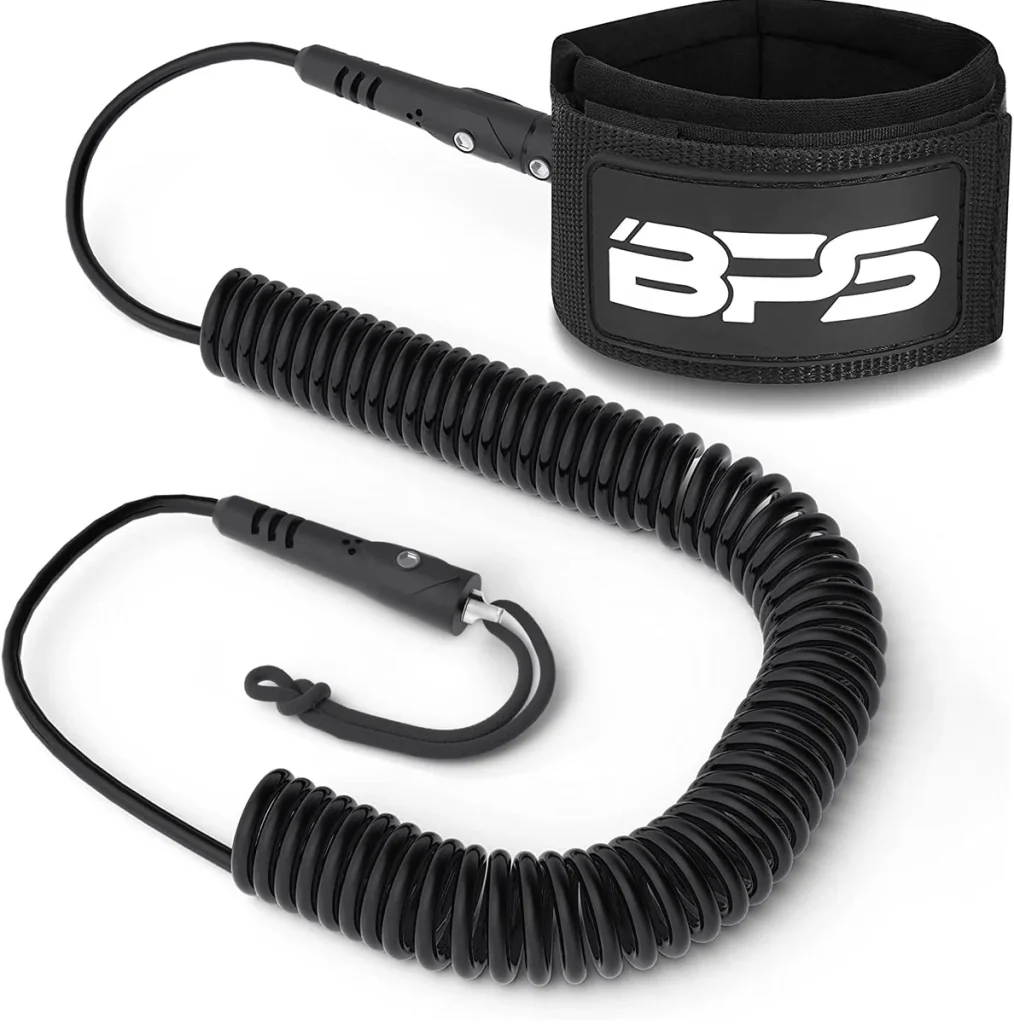 4. Board Bag
A board bag is one of the most essential paddle board accessories when it comes to transporting and storing your SUP board. It provides protection from scratches, UV rays, and transportation hazards. Look for a bag with padding, reinforced handles, and shoulder straps for easy carrying.
My Recommendation: Abahub Premium Travel Board
I love this board bag! It's comfortable to carry and has a strap that you can put on your shoulder. It's made up of foam and nylon to protect your board and it's also really sturdy to make sure that your board isn't damaged when transporting it. You can get multiple different sizes to match your board also, so that's a win for me!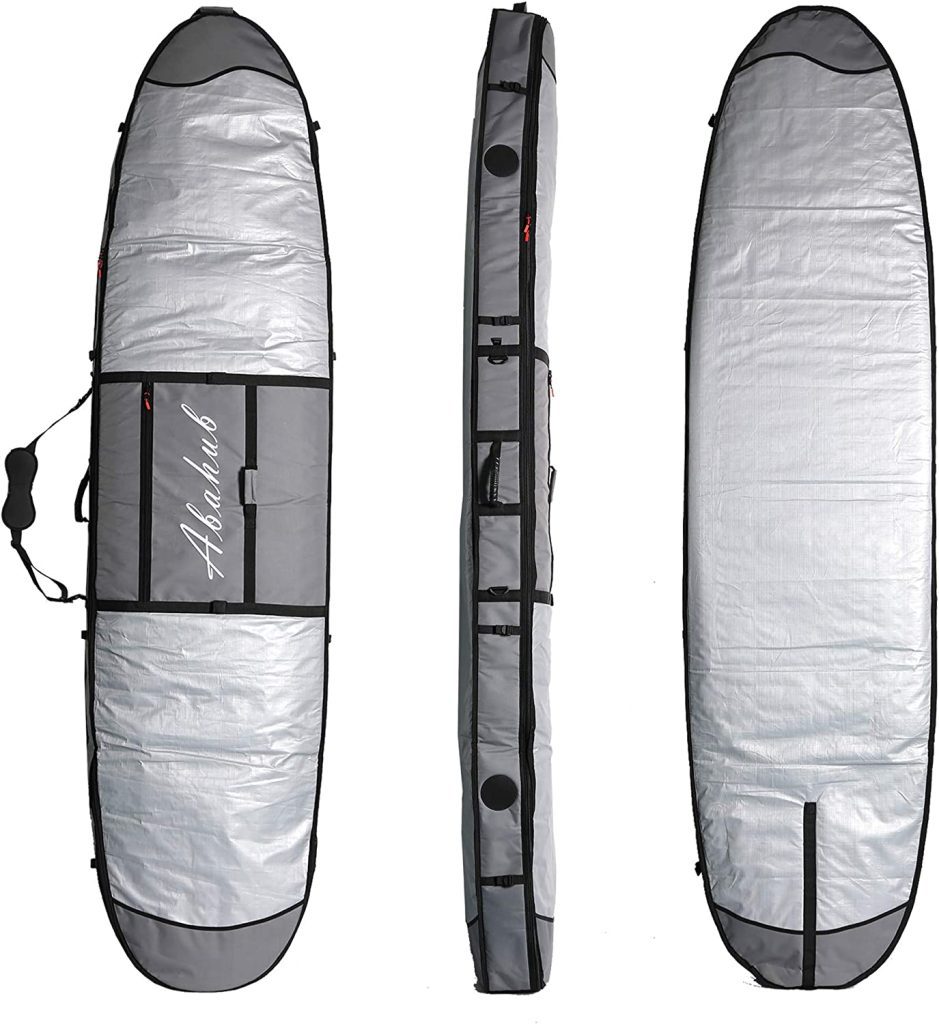 Safety Equipment:
5. First Aid Kit
Having a first aid kit on board is essential in case of minor injuries or emergencies. Include items like bandages, antiseptic wipes, pain relievers, and any necessary medication. Familiarize yourself with basic first aid procedures to handle common paddleboarding injuries.
My Recommendation: First Aid Only Emergency Kit
The 298 piece emergency kit is small and portable, but it also contains everything that you need to handle any potential emergency at home (or while paddleboarding). It's the perfect option to leave in your car because you never know when you might need it.
6. Whistle
A whistle is a simple yet effective safety accessory that can attract attention in case of emergencies or when you need assistance. Attach it to your PFD or board to ensure it is easily accessible when needed.
My Recommendation: LuxoGear Survival Whistle
The best part about this whistle is that you can easily attach it to your life jacket and then you never need to worry about it again. Because it's always available when you need it! It's extremely loud and can be heard over a mile away. This in my opinion is an essential item to have on you all the time.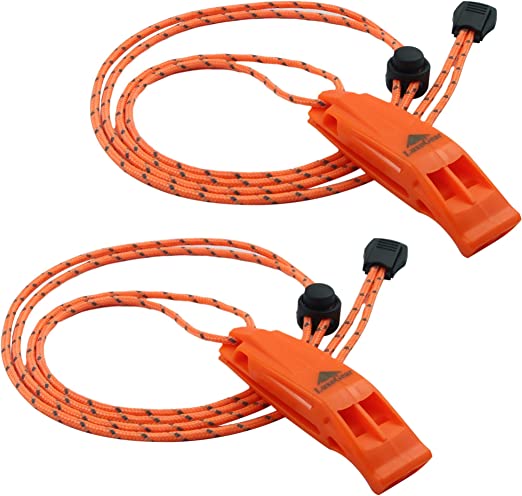 7. Anti-Theft Security Lock
This is something that completely changed my life! How many times have you wanted to quickly leave your board somewhere without feeling paranoid that it will be stolen? That was me all the time until I got myself one of these locks. It's similar to a bicycle lock so you wrap the cable around a tree and then hook it into your board to keep it safe. This is a gamechanger! This is one of those paddleboard accessories that you skip… then lose your board!
My Recommendation: DocksLocks Anti-Theft Security System
This lock is surprisingly secure and you can use to it attach your board to any stationary objects like car roof racks, park benches and even a tree. You can attach it to your boards leash plug or the fin box and they work just as well. And you can also use it to lock multiple boards up. It comes with a single cable along with the lock so you have everything you need to keep your board safe.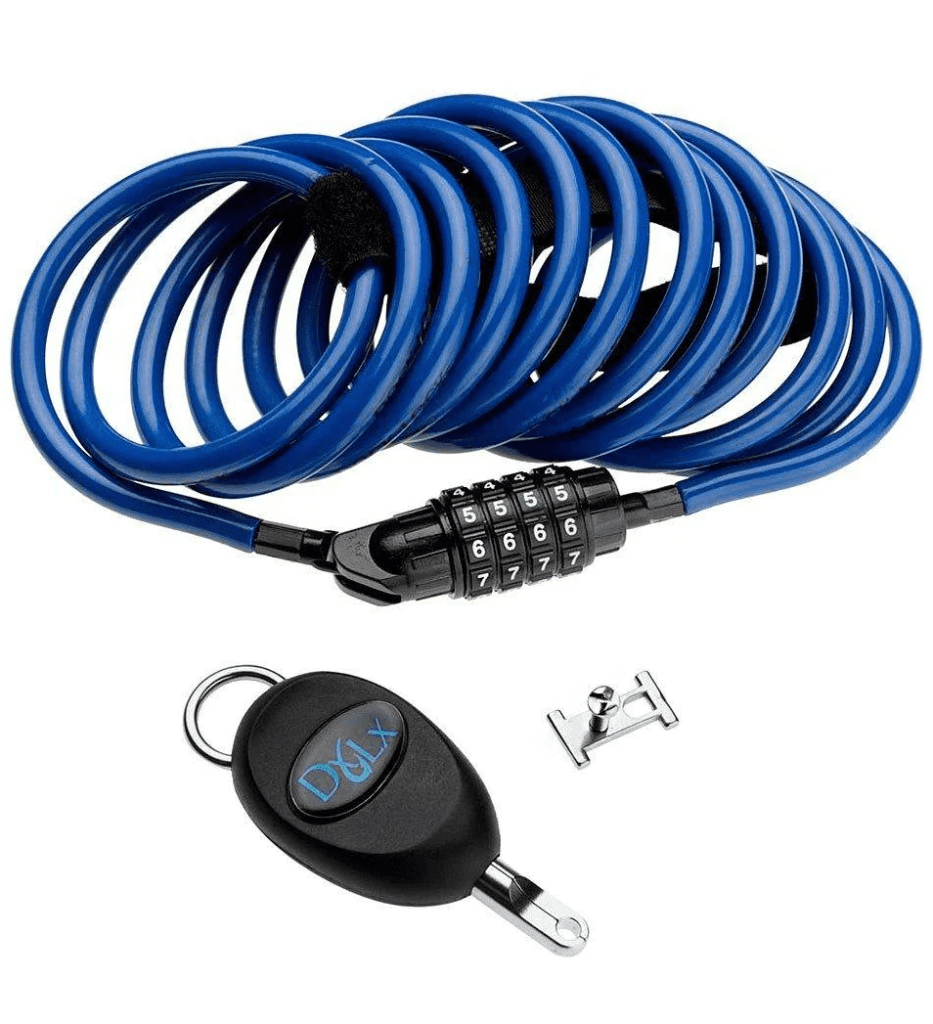 Great Paddle Board Accessories for Comfort
8. Paddle Board Seat
For longer paddling sessions or when taking a break, a paddle board seat can provide extra comfort and support. Look for a seat that is adjustable, easy to install, and offers ergonomic back support.
My Recommendation: The SereneLife Detachable Paddle-Board Seat
This is a universal seat that you can use for kayaks, rowboats, SUP's and paddleboards so it's really handy to have one around. It's made of an extremely durable EVA foam that cushions your back and butt when sitting on the board. It's amazing if you're putting 2 people on a paddleboard or spending a long time on the water.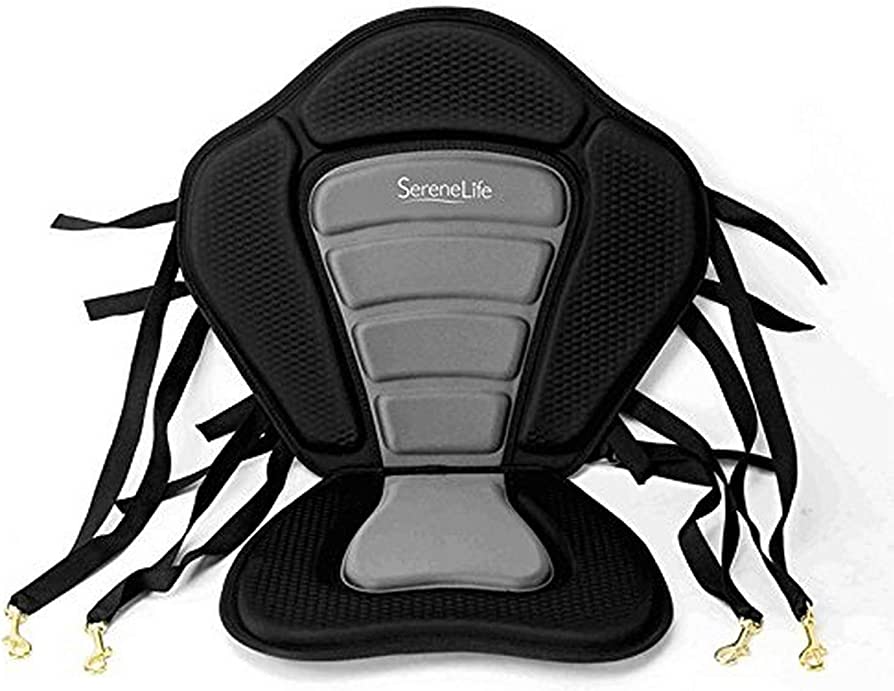 9. Dry Bag
A dry bag is essential for keeping your valuables and belongings safe and dry while paddleboarding. Choose a waterproof bag with a secure closure, and ensure it has enough capacity to hold items like your phone, keys, wallet, and extra clothing.
My Recommendation: Skog Å Kust DrySåk
Not only is this dry bag rugged and pretty-much impossible to break. But it looks good too! You can choose from over 27 designs and also the size. I find that a 10 litre size is more than enough for most people's purposes and this is also completely waterproof so it's perfect for your SUP adventures.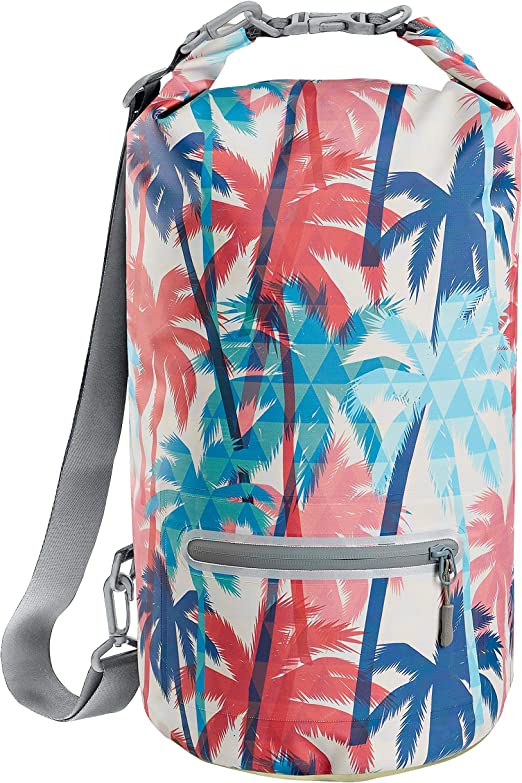 10. Sun Protection
Protecting yourself from the sun is crucial during prolonged hours on the water. Wear a wide-brimmed hat, apply waterproof sunscreen, and consider wearing sun-protective clothing. Sunglasses with UV protection are also important to shield your eyes from harmful rays and glare.
My Recommendation: Sun Bum Spf 50 Sun Lotion
This is the stuff that every watersport enthusiast should be using every day! It's moisturizing, water resistant for 80 minutes… And it smells like summer. I really like this sunscreen lotion and I couldn't recommend it more. If I had to give a water lover a gift… It would be this.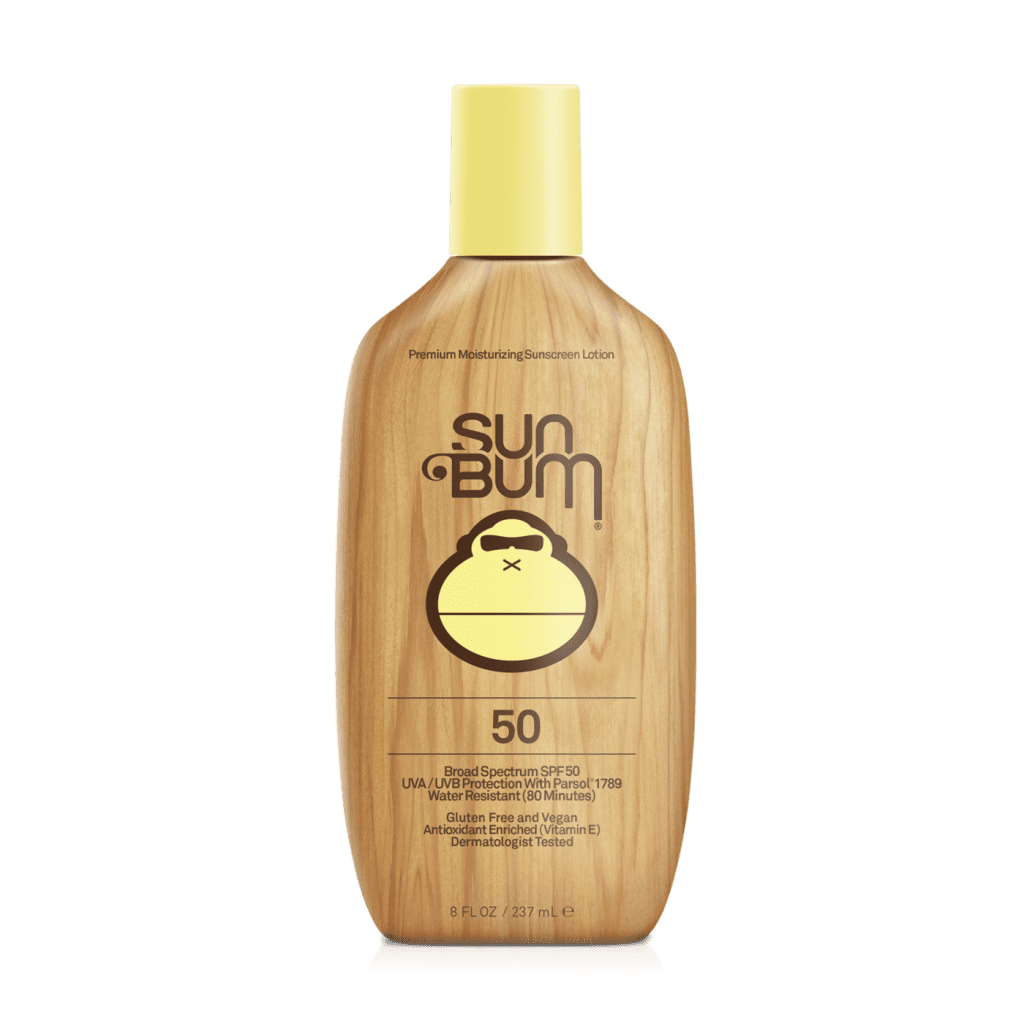 11. Waterproof Phone Case
A waterproof phone case allows you to take your phone on the water without worrying about water damage. This accessory ensures you can capture memorable moments, use navigation apps, or make emergency calls without the risk of water exposure. This is one of those must-have paddle board accessories that you can never go wrong with.
My Recommendation: Pelican Marine Phone Case
This waterproof phone case is awesome! It floats, is highly visible and even allows you to touch screen without taking it out the case. It's made up of a strong Thermoplastic Polyurethane that keeps your phone safe and also protects it from sun damage. This is so waterproof that you can even take it underwater to take photos. Check the website for more information on compatible phone models.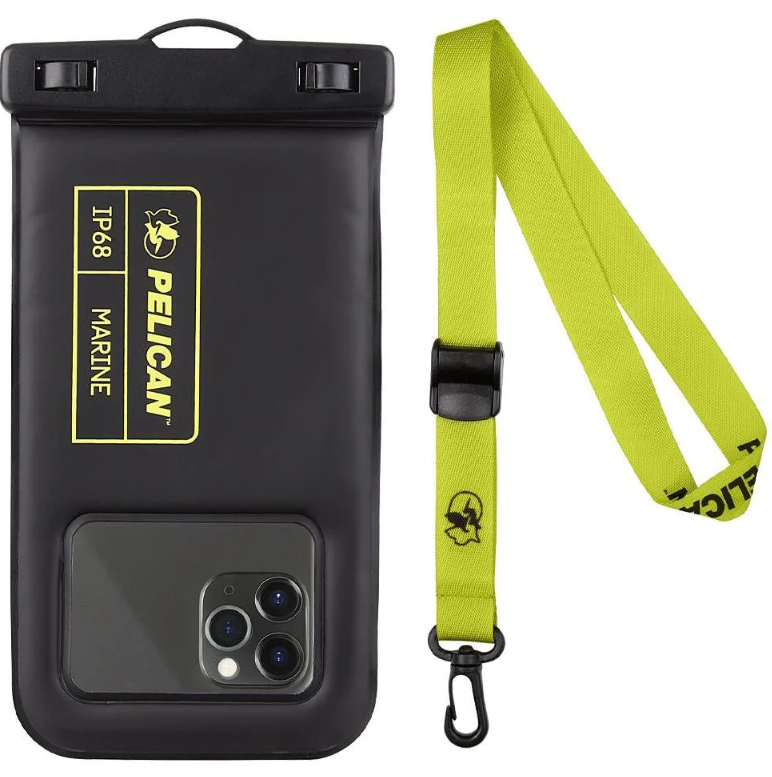 Storage Solutions
12. SUP Rack
If you have limited space at home, a SUP rack is an excellent investment. It provides a safe and organized storage solution for your board, keeping it off the ground and protected from damage. Choose a rack that is sturdy, easy to install, and can hold the weight of your board.
My Recommendation: StoreYourBoard Paddleboard Dock
This storage rack stores up to 4 paddleboards and you can use it to spray them down after use and store them out the way. They are quick and really easy to install and you can even mount them on the roof. They have adjustable pins so that you can fit any size boards on it.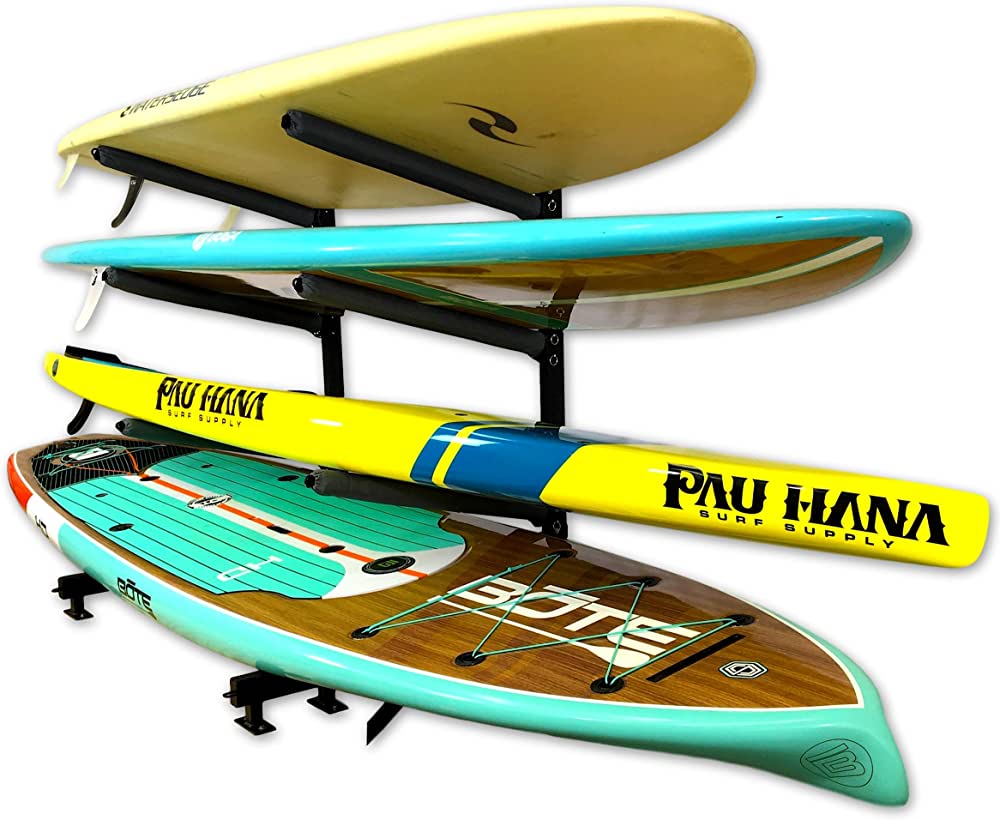 13. Tie-Down Straps
When transporting your SUP board on a car roof rack or trailer, secure it with reliable tie-down straps. These straps prevent your board from shifting or falling during transportation, ensuring it remains secure and undamaged.
My Recommendation: Dorsal Tie Down Straps
I've bought so many straps, but most of them don't work! They are either too short, have bad design and fray or don't hold the board in place. But not these – Dorsal straps are 15 feet long and are made of premium materials that makes it easy to keep your board in place. They are great and you can also use it for kayaks and surfboards.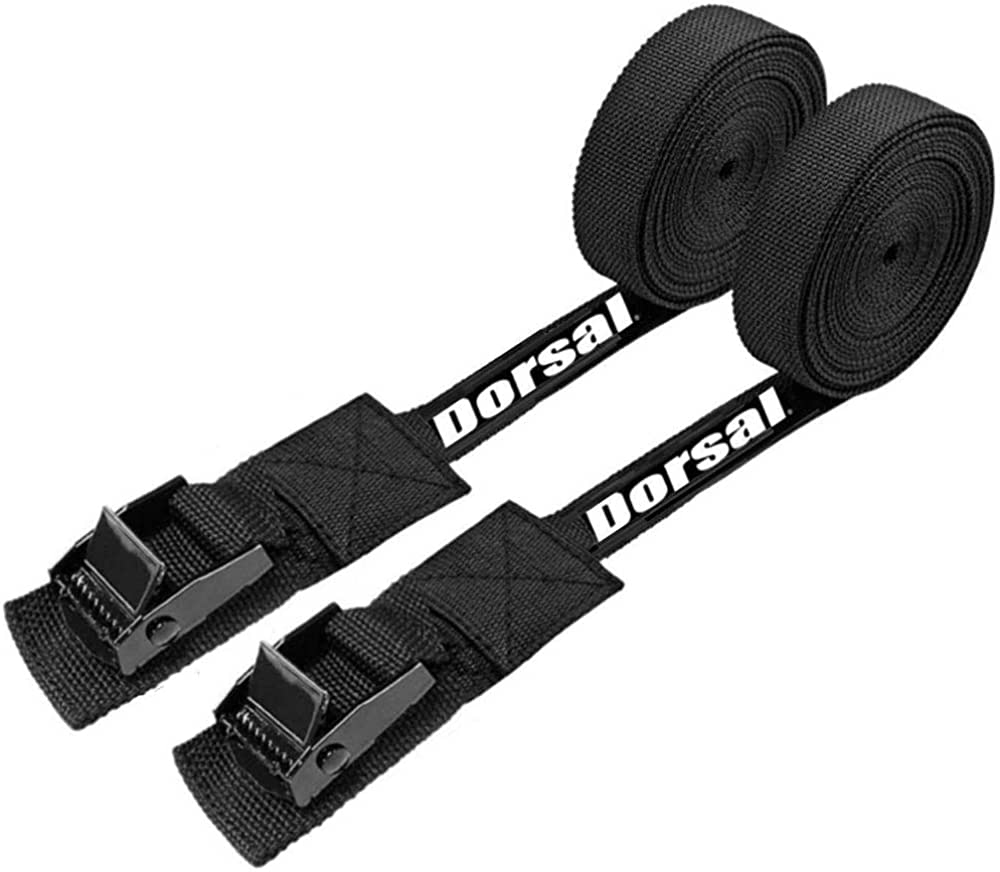 14. Paddleboard Carrier Straps
If you've been in the paddleboarding space for any amount of time, you've probably realized how frustrating it can be when you need to park your car away from water and then carry your board on your shoulder. Well worry no more – because these carry straps will legitimately change your life. Just fit them around your board and then put it on your shoulder. And as an added bonus – you can use them to hang your board on a tree to keep it safe.
My Recommendation: The SUP-NOW Paddleboard Carrier
The company SUP-NOW has made some huge advancements in their paddle board accessories. These straps used to break all the time, but now they are using 100% metal hardware and no plastic pieces. This has made it much more durable and it's so strong that you can use your paddle as a handle.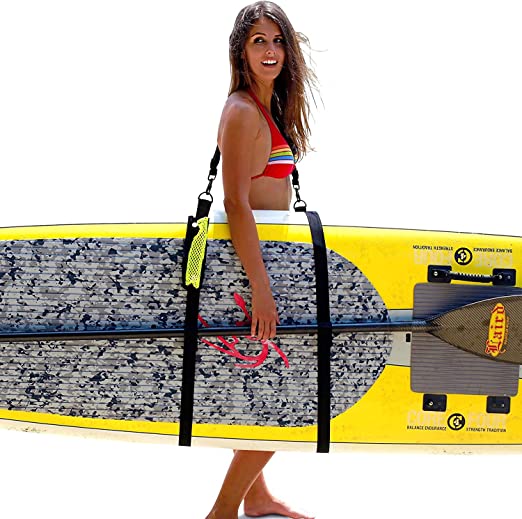 Enhancing Performance
15. Fin Upgrades
Upgrading your fin can significantly improve your board's performance and maneuverability. Different fin designs offer varying levels of stability and control, allowing you to customize your board based on your skill level and the water conditions you'll encounter.
My Recommendation: SBS 10″ SUP Fin
This is a classic fin template that is designed be incredibly versatile and great for all conditions. It will give you enhanced stability with it center fin placement and you don't need tools to install it. Highly recommend this fin.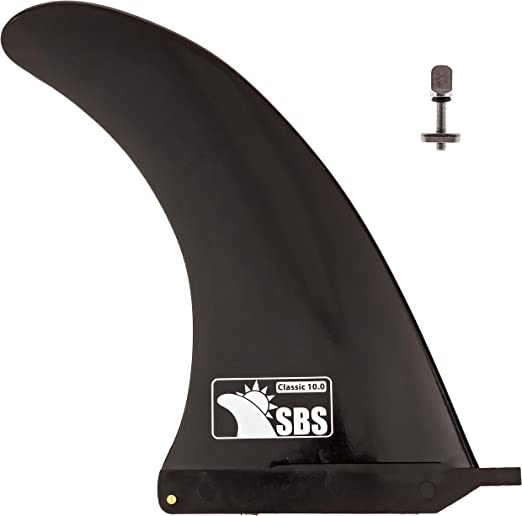 16. Deck Pad
A deck pad provides additional traction and comfort while paddling, especially during longer sessions. It prevents your feet from slipping and reduces fatigue. Choose a deck pad with a textured surface and strong adhesive backing for easy installation.
My Recommendation: BPS 12-Piece Deck Pad
This is a premium traction pad that's made for surfers initially. And this great news! Because if it can handle the biggest waves then it can handle almost anything you can put it through when SUP'ing. It's extremely grippy and you can get it in 3 different colors. And because it is self-applied, you can use it to fit any board. Plus it's comfortable.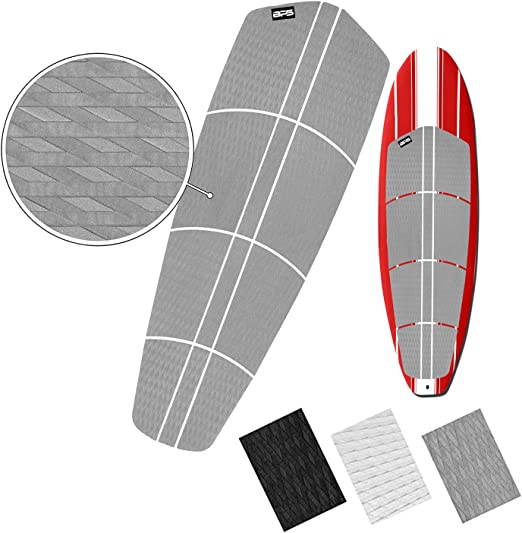 17. Paddleboard Anchor
And anchor is a must-have paddleboarding accessory if you plan to hang out in the water. It becomes a nightmare having to constantly fetch your board if you fall off or want to swim. This solves that problem by allowing you to lock your board in place out on the water so that you have the freedom to do whatever you want while your board stays in one place.
My Recommendation: Gradient Fitness Marine Anchor
This folding anchor is really awesome! It weighs 3.5 lbs and comes in a pouch that you can strap onto your board when you take it out on the water while avoiding scratching your board. And something that's extremely handy is the floating buoy that they've included so that you can easily spot it if you accidentally drop it in the water (I've done this before). Anyone that enjoys paddleboarding will LOVE this anchor.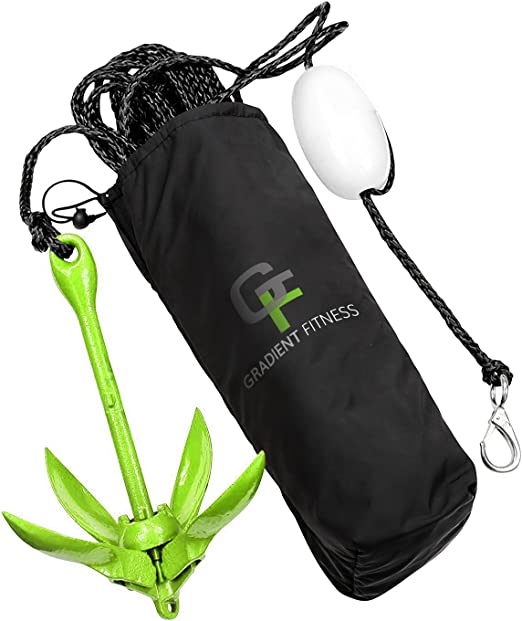 Optional Extras
18. Paddleboard Car Roof Racks
If you enjoy taking your paddleboard on adventures, then roof racks could be an amazing purchase for you. They stop you from having to constantly inflate and deflate your board (if it's inflatable) and just generally makes like easy if you're heading to the water.
My Recommendation: Thule SUP Taxi XT
These racks are designed specifically for paddleboards and they are designed by one of the top car rack companies in the world. They come with everything that you need (even the straps and SKS locks) and they are extremely easy to install. And the best part is that it allows for tool-free mounting.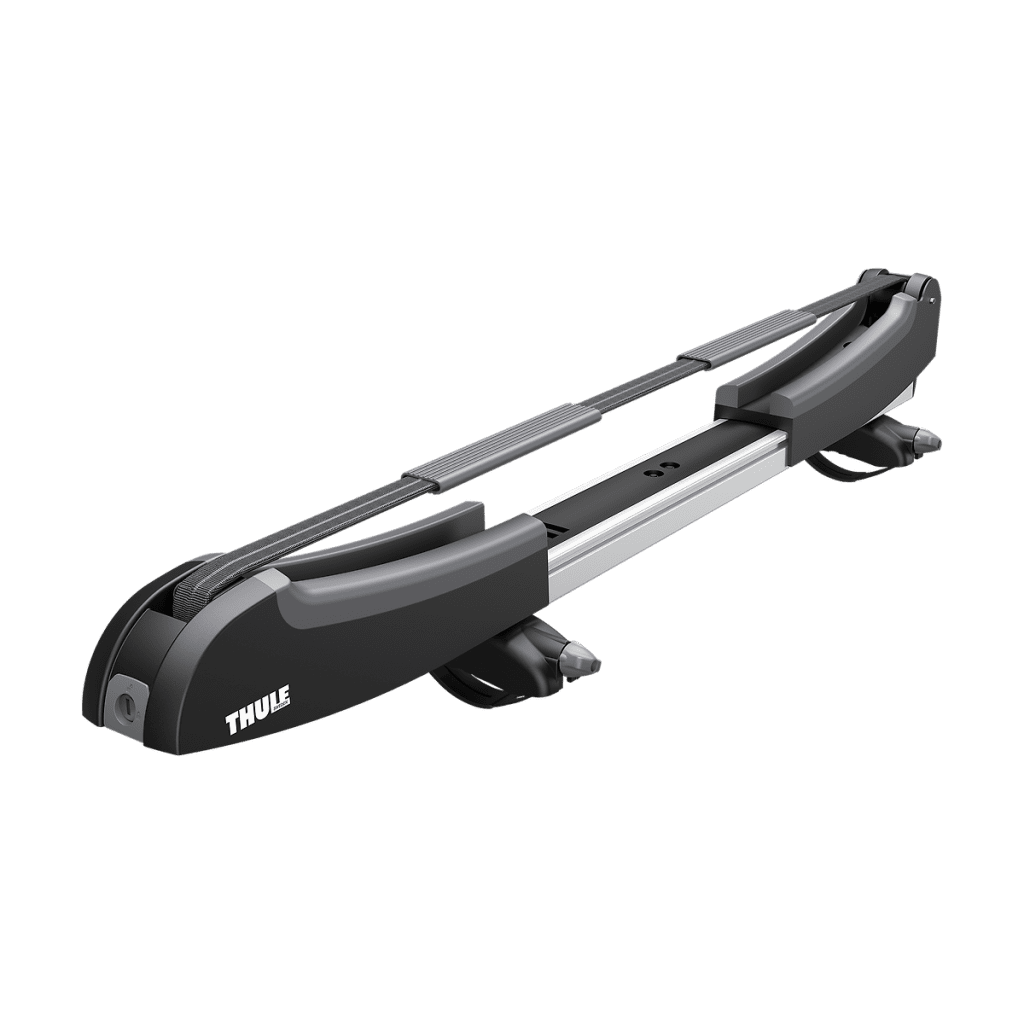 19. Paddle Board Navigational Lights
For those who love paddleboarding at dawn or dusk, paddle board lights are a great accessory to ensure visibility and safety. These LED lights attach to your board and provide illumination, making you visible to other water users.
My Recommendation: Botepon Navigation Lights
These lights are great if it's dark when you are paddling. They are super bright so you will be visible from all directions, they attach horizontally and vertically to your paddleboard cables and they are completely waterproof so you run no risk of them dying on you. I love these for my board!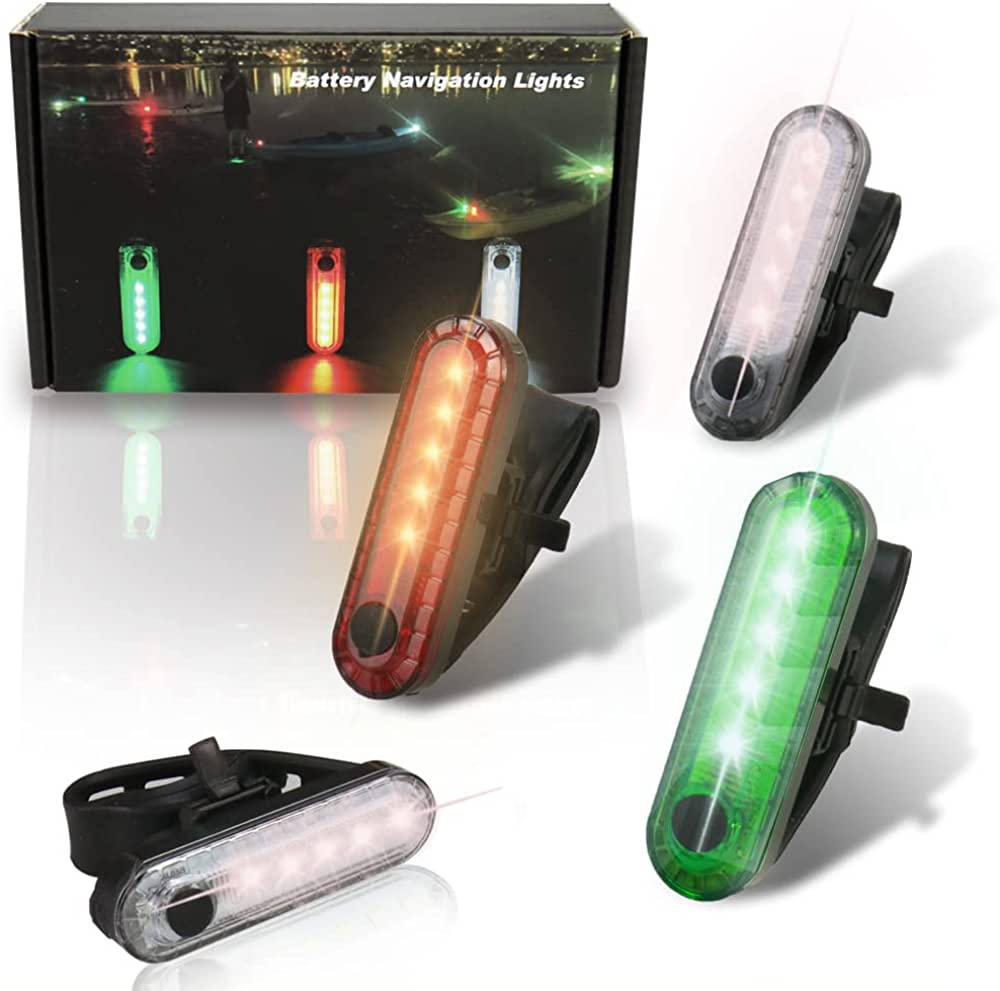 20. Waterproof Drink Cooler
A waterproof drink cooler is one the paddleboarding accessories that I didn't know I wanted until I finally bought one. It lets you keep cool and hydrated when you're SUP'ing, and I love bringing some beers out and hanging out with my friends on the water.
My Recommendation: The SUP-NOW Paddleboard Cooler & Deck Bag V2
I love this drink cooler because it contains a rope tightening system with 4 clips so that you can easily connect it to any paddleboard. And they REALLY nailed the design! It's splash resistant so it won't absorb water, it can fit up to 10 cans. And it also has space for your suncream and cellphone.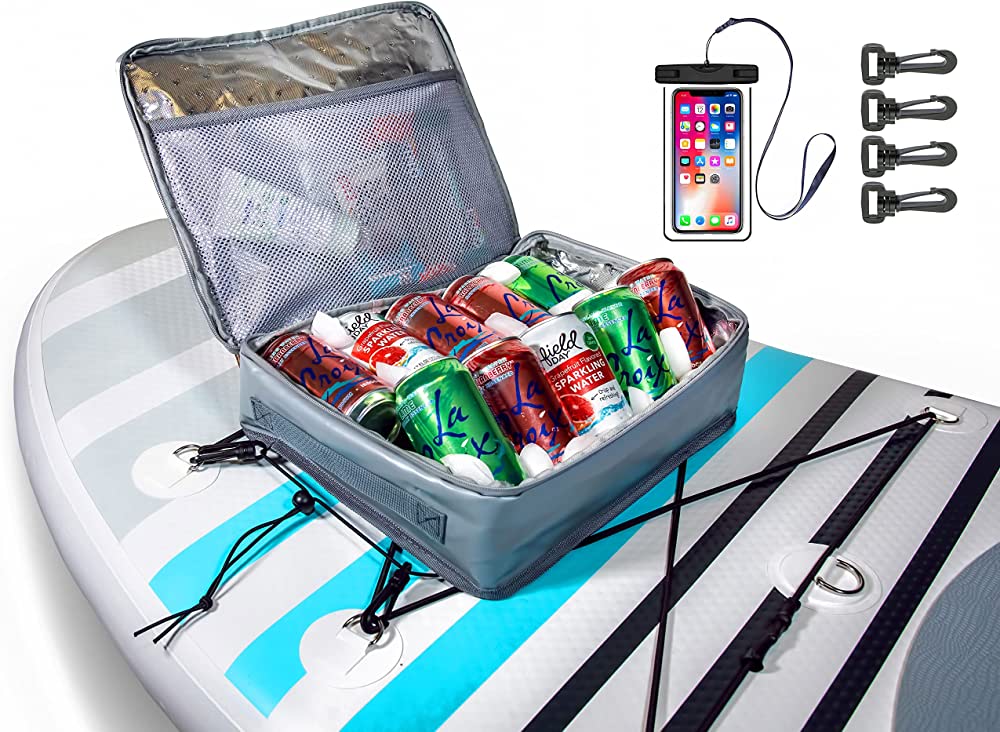 21. Electric Paddleboard Pump
An electric pump is the ultimate luxury when it comes to paddleboarding. Honestly I can't count how many times I've had to pump up my inflatable SUP with a tiny little pump with my arms burning. But my life completely changed when I got an electric pump because it takes minutes to be ready to hit the water. This is also a must have if you have kids paddling with you because let's be honest… They aren't pumping up their boards.
My Recommendation: Outdoor Master Electric Air Pump
One of the most important things when it comes to buying an electric pump is getting one that automatically switches off. This stops you from over-inflating and damaging your board. For this reason – the Outdoor Master is the only electric pump you should EVER buy for board… Because it's the best. It contains all the different valces that you need and it can get pump up multiple boards within minutes. I highly recommend this pump.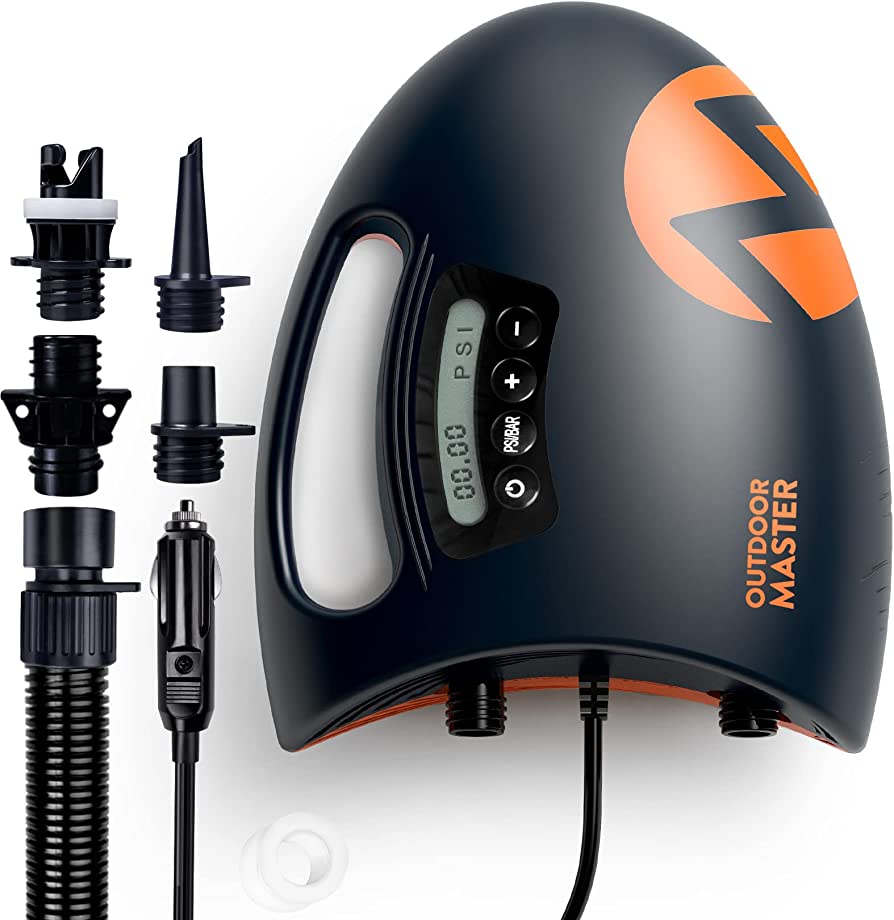 22. Waterproof Bluetooth Speaker
If you enjoy hanging out on the water with your friends then a bluetooth speaker is amazing. All you do is find a good spot, connect your phone and play some tunes while you relax and recover from your session. Open some beers or have a water and it's an amazing afternoon in the sun!
My Recommendation: JBL Flip 6 Waterproof Speaker
When it comes to a bluetooth speaker, the best in the business is JBL. Their speakers are small, waterproof and last for over 13 hours. It's incredibly loud for its compact size. I love my JBL and you can never go wrong with this brand.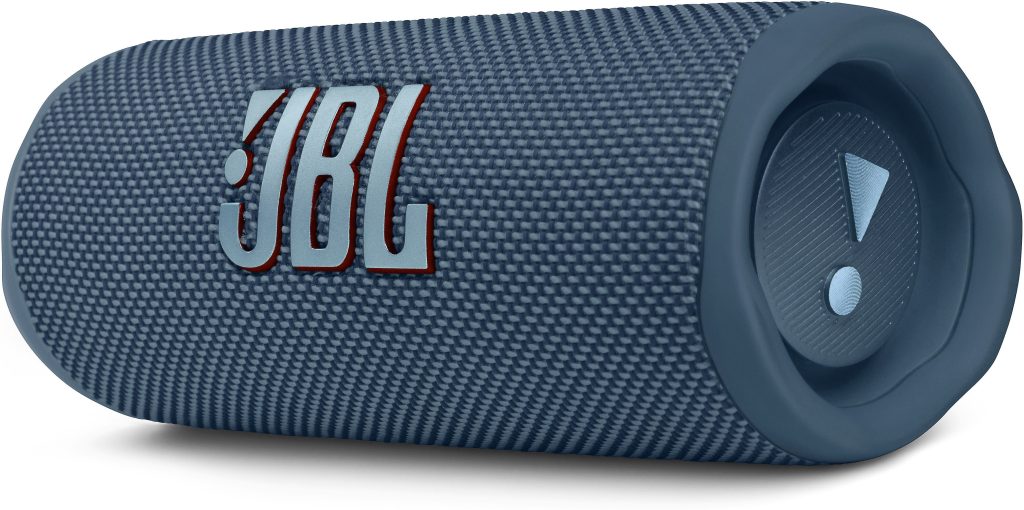 Bonus Paddleboard Accessories
23. Inflatable SUP Unicorn
Your kids are going to absolutely love this SUP unicorn! Just attach it to their paddleboard and watch them smile as they paddle around as a magical unicorn. This is an great gift idea for kids that love being on the water.
And it's one of those paddleboard accessories that are hilarious!
My Recommendation: Stand Up Floats Inflatable Unicorn
DISCLAIMER – I've never actually used this product. I just thought that I had to include it because it's amazing. It even has a spot for a child to sit at the back. You can also get a shark if that's what you're into 🙂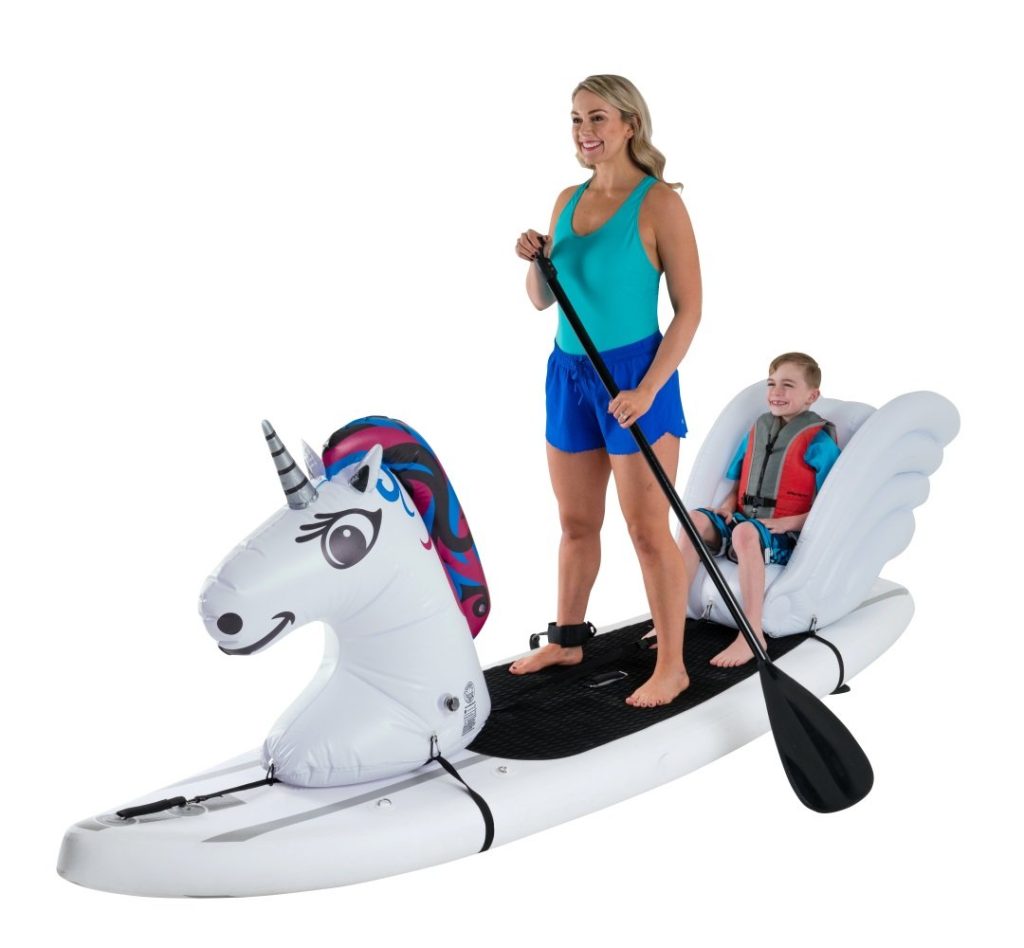 Conclusion: Paddle board Accessories
In conclusion, the right paddleboard accessories can significantly enhance your paddleboarding experience in terms of safety, comfort, storage, performance, and even capturing memories. Prioritize essential accessories like a high-quality paddle, life jacket, leash, and board bag. Don't forget safety equipment such as a personal flotation device, first aid kit, and whistle. For comfort, consider a paddle board seat, dry bag, sun protection, and a waterproof phone case. Storage solutions like SUP racks and tie-down straps can keep your equipment safe, while fin upgrades and deck pads enhance performance. Optional extras like GoPro mounts and paddle board lights add extra excitement to your adventures on the water.
FAQs
Do I need to wear a life jacket while paddleboarding?
Yes, wearing a life jacket is highly recommended, especially for beginners or in challenging conditions. It ensures your safety and provides buoyancy in case of emergencies. It's one of the most important paddle board accessories that you can ever buy.
Can I use any regular backpack as a dry bag?
Regular backpacks are not designed to be fully waterproof. It is advisable to invest in a specialized dry bag that offers reliable waterproof protection for your belongings.
Are paddle board seats compatible with all SUP boards?
Paddle board seats are usually adjustable and can be used with most SUP boards. However, it's always best to check the compatibility and installation instructions provided by the manufacturer.
Do I need to remove the fins on my SUP board to upgrade them?
Fin upgrades can usually be installed without removing the existing fins. However, it's recommended to refer to the specific instructions provided by the manufacturer or seek professional assistance.
Are paddle board lights necessary for daytime paddleboarding?
Paddle board lights are primarily used for enhanced visibility during low-light conditions. For daytime paddleboarding, they are not essential but can be beneficial if you anticipate being on the water near sunrise or sunset.